We use affiliate links. If you buy something through the links on this page, we may earn a commission at no cost to you. Learn more.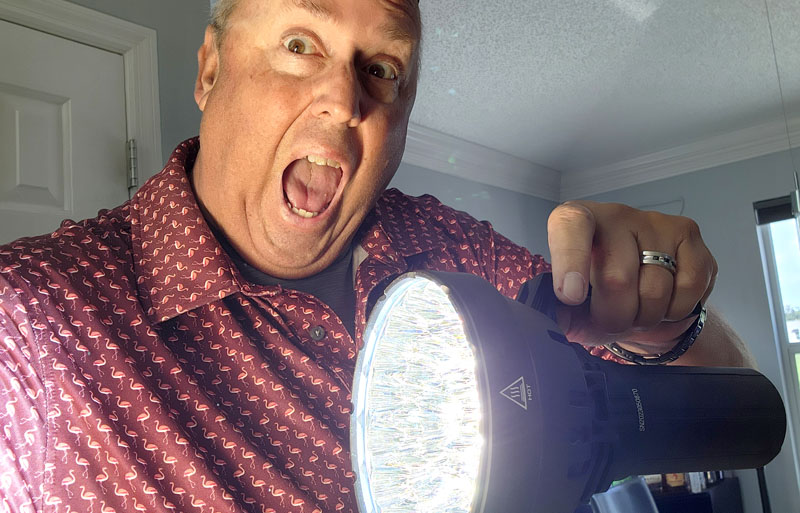 REVIEW – When is enough, enough? I don't know yet, but I'm having fun finding out!  Today, I'm looking at the SR32 Polaris flashlight from Imalent.  I previously tested the Imalent MS08 and RS50 flashlights that put out 34,000 lumens as a floodlight and 20,000 lumens as a spotlight respectively.  Both are incredibly bright, but is that enough? No, it is not!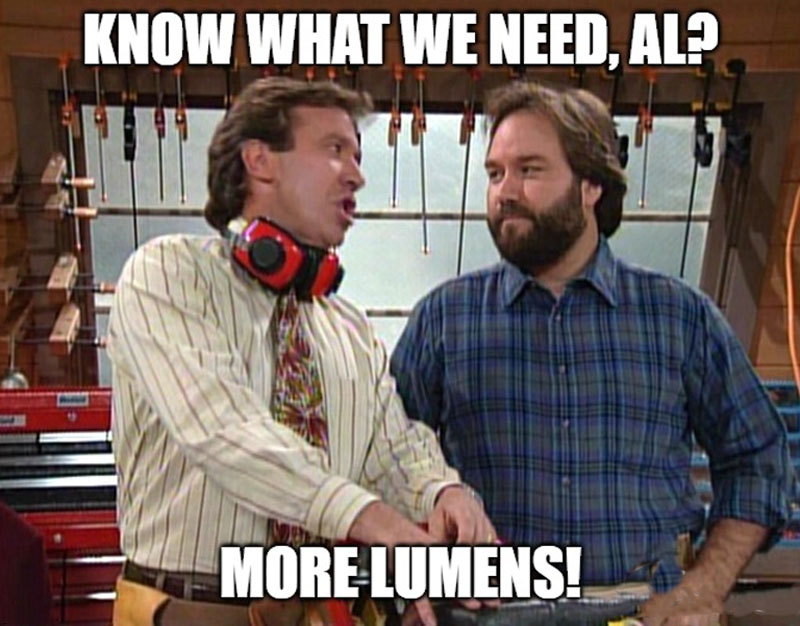 The SR32 Polaris can crank out an eye-searing 120,000 lumens at peak output and as a spotlight, theoretically throw that light more than 2,000 meters. That's more than 1.25 miles!  Buckle up and put on some shades.  We're going to light this thing up!
What is it?
The Imalent SR32 is a flashlight. But it isn't just a flashlight.  It is a flashlight capable of low light output for days, unbelievable light output for nearly an hour, and multiple steps in between. It also doubles as a power bank in case your other electronics need a little juice.  With its massive light output and excellent runtimes, even at high intensities, it is a light designed for search and rescue and other first responder and professional operations more than home use.  But, if you're an outdoorsy type, being able to light up the night can have its benefits.
What's in the box?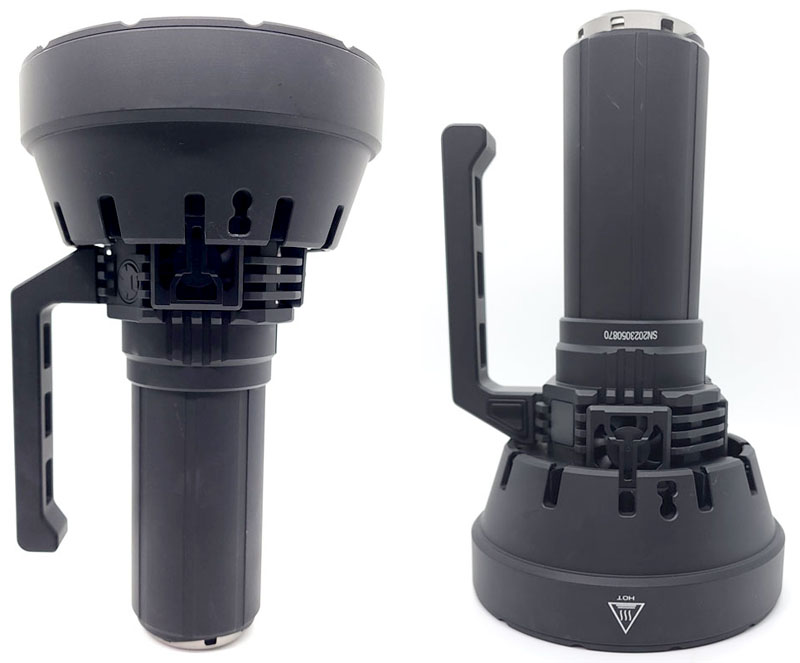 Imalent SR32 flashlight with handle installed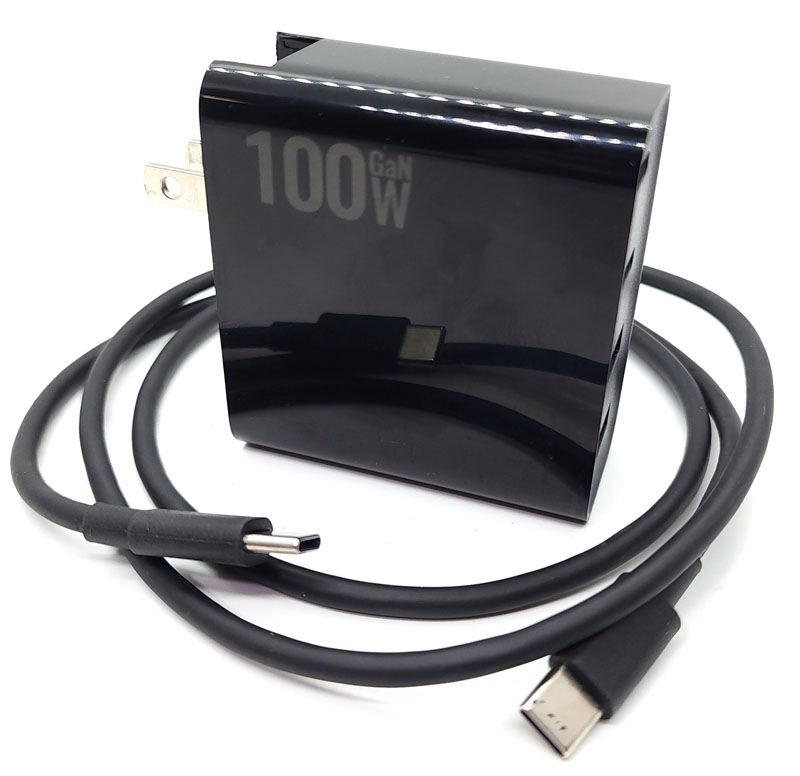 PD100W GaN Charger
USB-C – USB-C 100W cable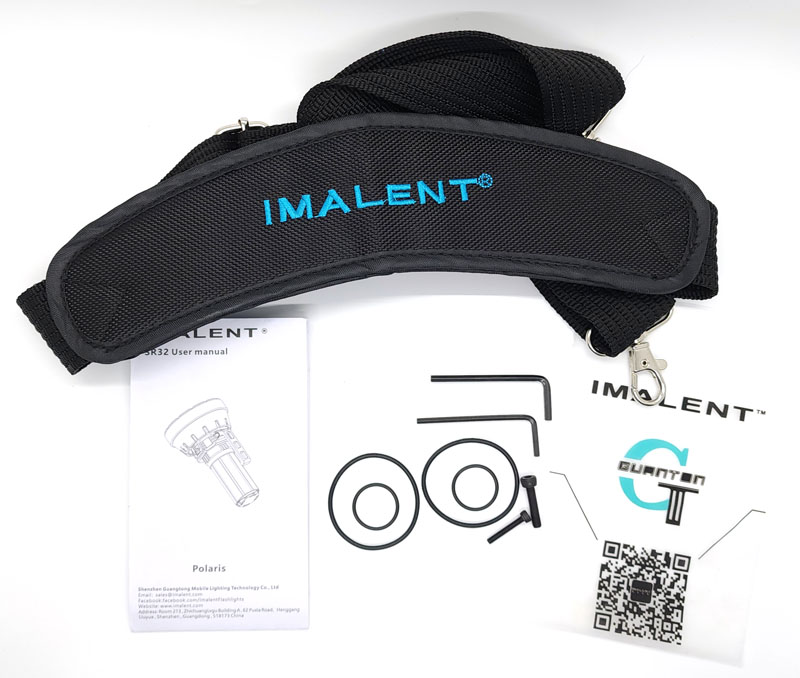 Extra O-rings – two large, two small
Extra handle attachment screws – one large, one small
Hex wrenches for the handle – one larger, one smaller
Shoulder strap
User manual
Storage box
Let's talk about the 12″ x 8″ x 6.5″ storage box.  It is very nice. It even comes with a handy carry handle.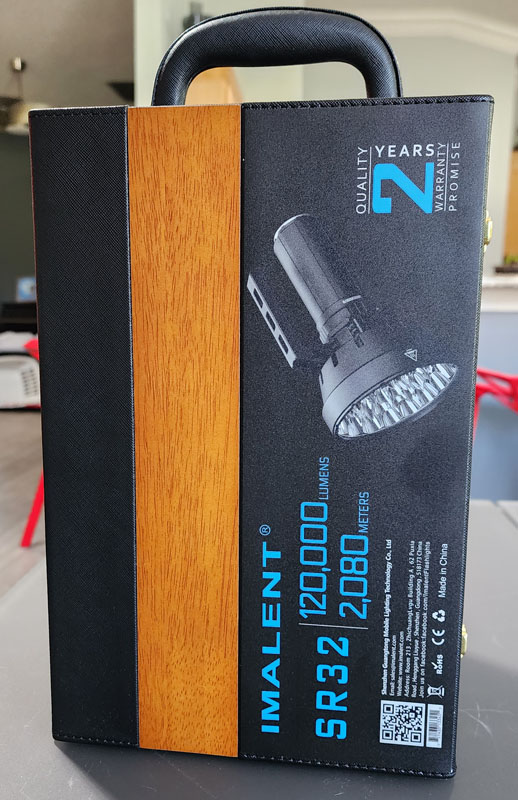 Two brass clasps secure the hinged lid.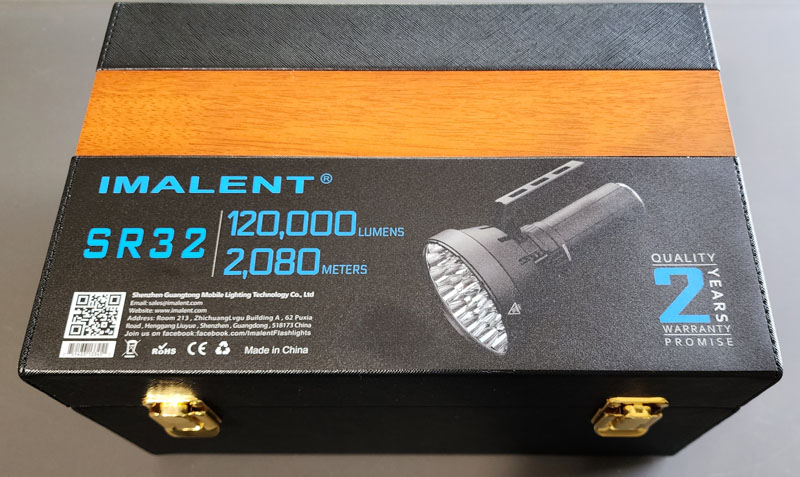 Inside, we find nice padded cutouts for everything.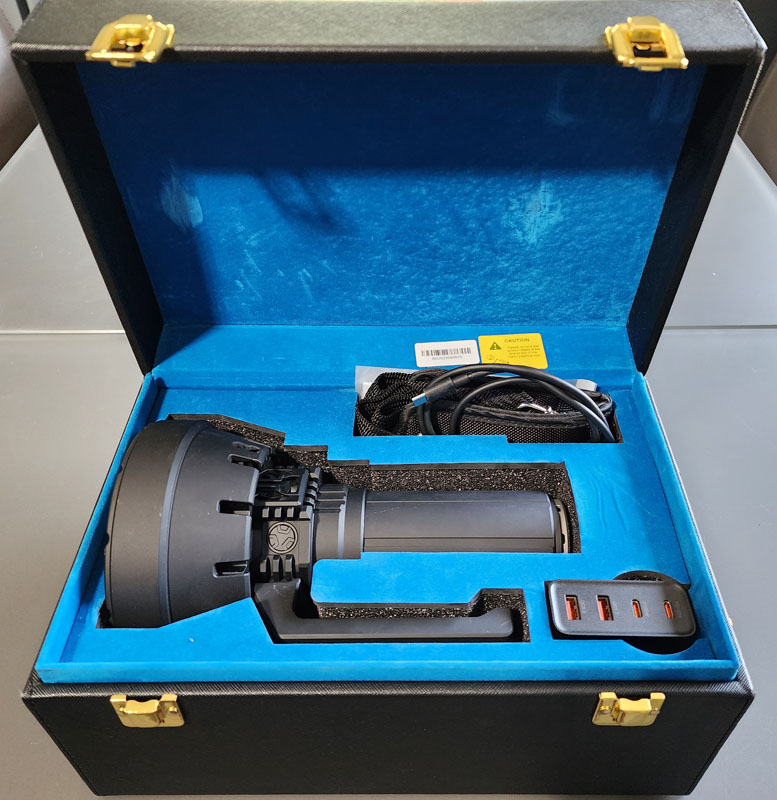 Hardware specs
Dimensions: 220mm(length)*138mm(head diameter)*56mm(body diameter)
Weight: 2166g(battery included)
Body material: Aerospace-grade aluminum alloy body with wear-resistant Type-III matte hard-anodized surface treatment
Reflector: Aluminum – smooth
Lens: polished, ultra-clear mineral glass
LED Type: 3

2 pieces of American CREE XHP50.3 Hi LEDs, 50,000-hour lifespan

Information display: OLED
Batteries: Battery pack(21700-4,000mAh*8) with power bank capability
Recharging: Included 100W Gan charger, USB-C, 1.5-hour rapid charge at 100W (can also function as a charger for other electronics)
Luminous Flux Up To 120,000 Lumens
Run Time: Up To 360h at 30lm
Intensity: 1,090,000cd (Max.)
Throw Distance: 2,080m (Max.)
Operating Modes: Turbo / High / Mid-High / Mid-Low / Low / Ultra-Low / Moonlight Mode / Strobe
Output and Runtime

Turbo output : 120,000~25000 Lumens; Run-time : 45s+45min
High output: 50,000-25000 Lumens; Runtime: 60s+50min
Mid-High output: 25,000 Lumens; Runtime: 55min
Mid-Low output: 9,000lumens; Runtime: 2h
Low output: 4,500 Lumens; Runtime: 4h25min
Low output: 1,500 Lumens; Runtime: 15h
Moonlight output: 30 Lumens; Runtime: 360h
Strobe output and runtime are not listed

Thermal protection: automatic step-down and automatic cooling fan operation (10,500 RPM max)
Impact Resistance: 0.5m
Waterproof: IP-56 standard waterproof – Protected from limited dust ingress. Protected from high-pressure water jets from any direction.
Design and features
The Imalent SR32 is a giant flashlight!  Seriously big!  Here's a look at the SR32 Polaris next to its Imalent siblings, the MS08 34,000 lumen floodlight, and the RS50 20,000 lumen spotlight.  Those are beefy but look absolutely diminutive next to this monster!  This is certainly not an EDC flashlight.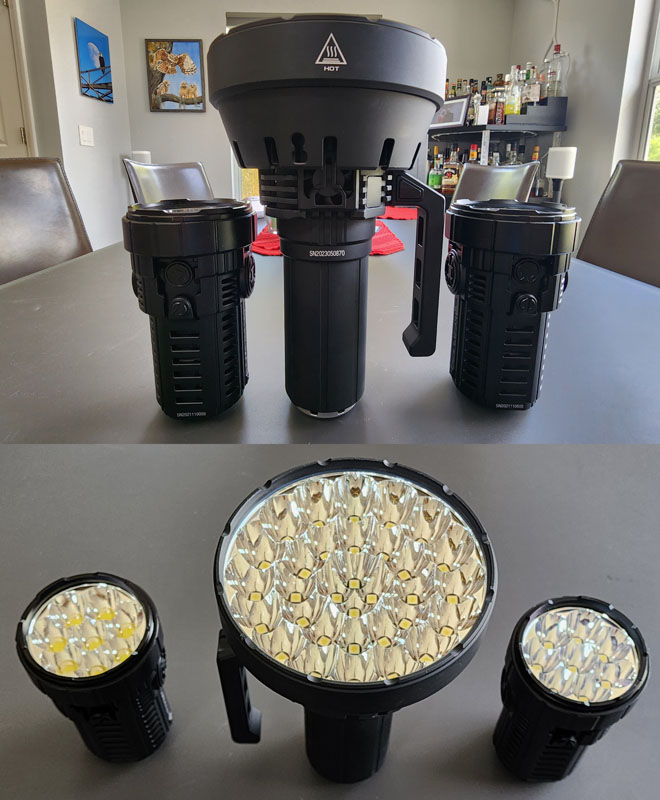 Here's a side view.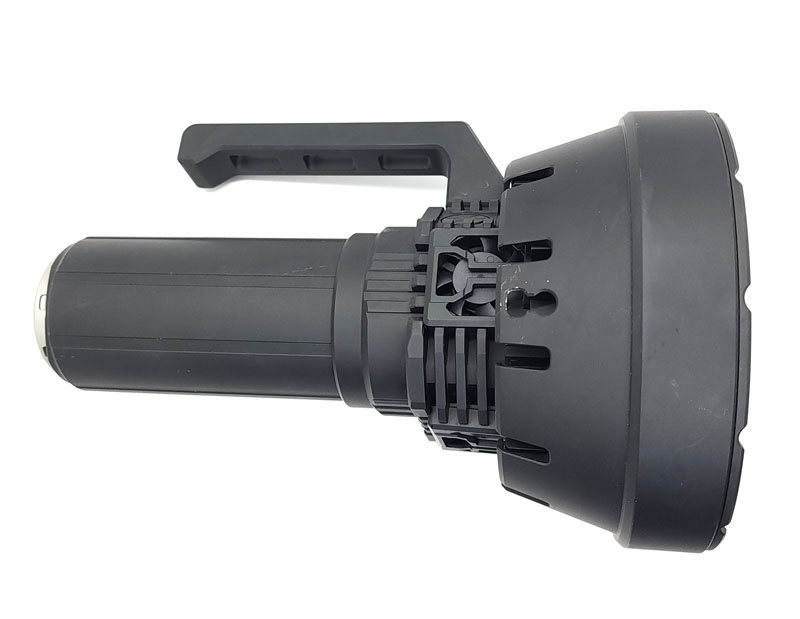 Right in the middle, just below the base of the handle, you can see one of the three 10,500 RPM cooling fans.  These activate automatically whenever the light is at 25,000lm or higher.  You can also manually activate them with a long press of the power button.
The on-body power button is located on the right side of the body if you're holding the handle on top.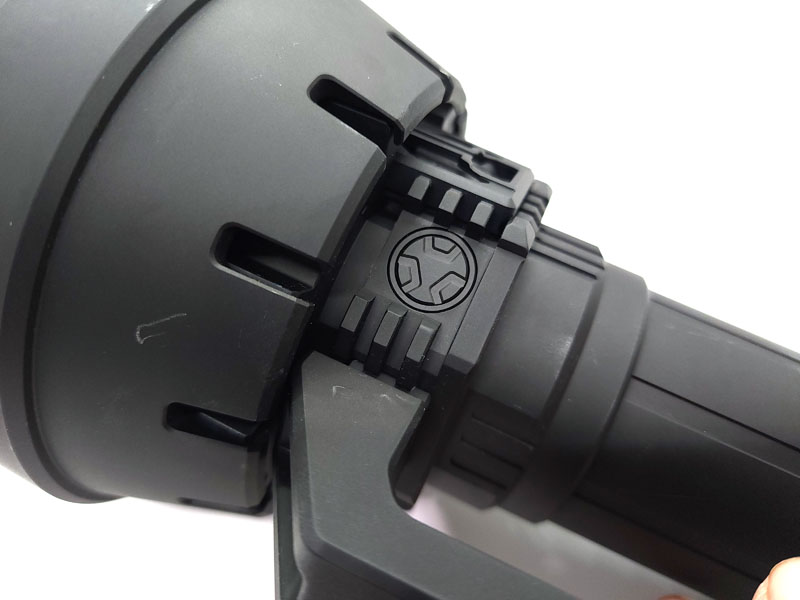 A second power button is integrated into the left side of the handle.  Here, you can see it just above the OLED information display.
The buttons both work the same and as follows:
Click – turn on to the last-used mode or turn off
When on, holding the button cycles through 30/1,500/4,500/9,000/25,000/50,000 lumens
When off, holding the button turns the fans on or off
When on or off, double-click turns on Turbo mode – 120,000 lumens
When in Turbo mode, double-click turns on strobe mode
When off, triple-click displays the current battery voltage
When off, quad-click locks or unlocks the flashlight – locking prevents accidentally turning on the light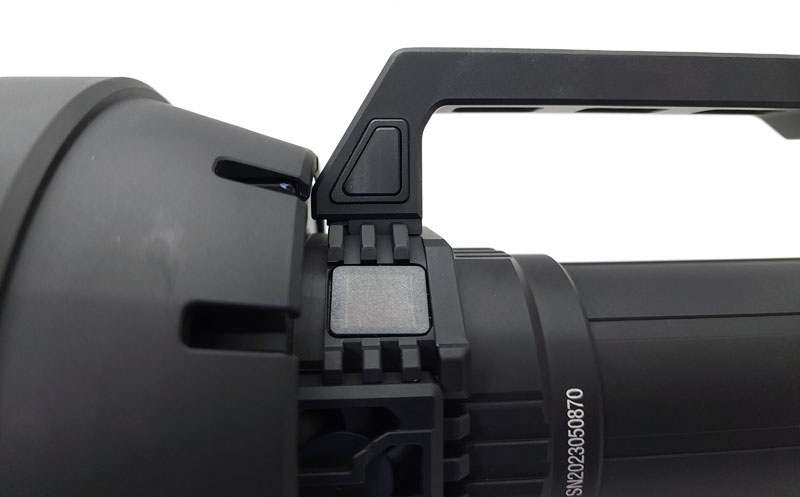 The Imalent SR32's handle attaches with two different screws.  Imalent includes two hex wrenches to facilitate removal.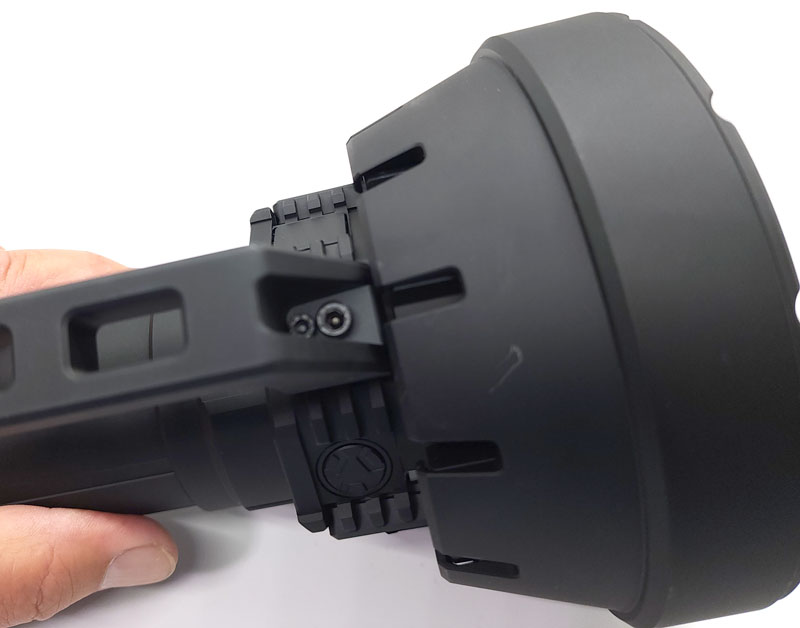 Removing the handle, we can see the connection contacts and alignment pins, and the socket for the handle.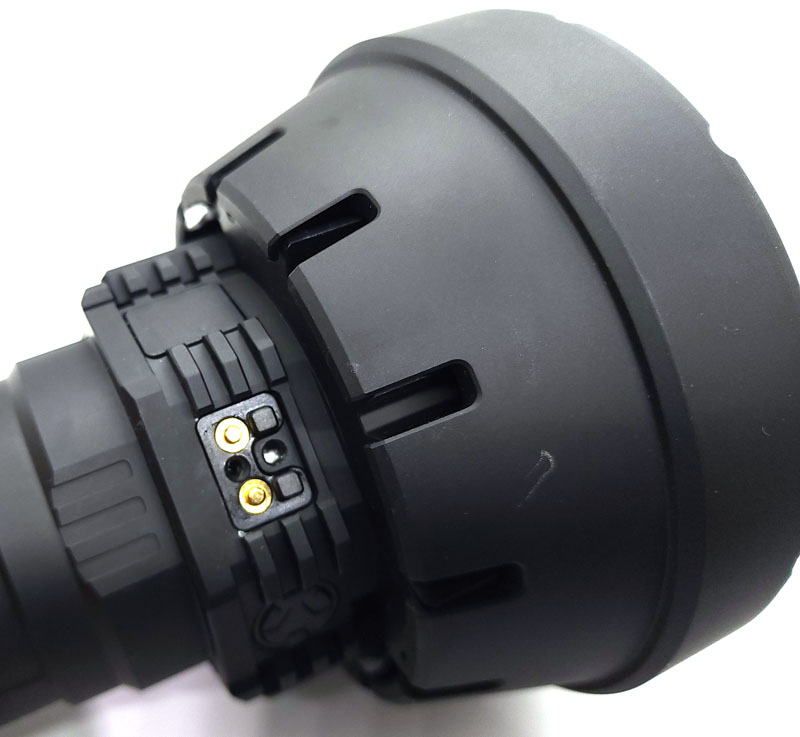 Looking at the handle, we see the contacts and the alignment sockets and pin.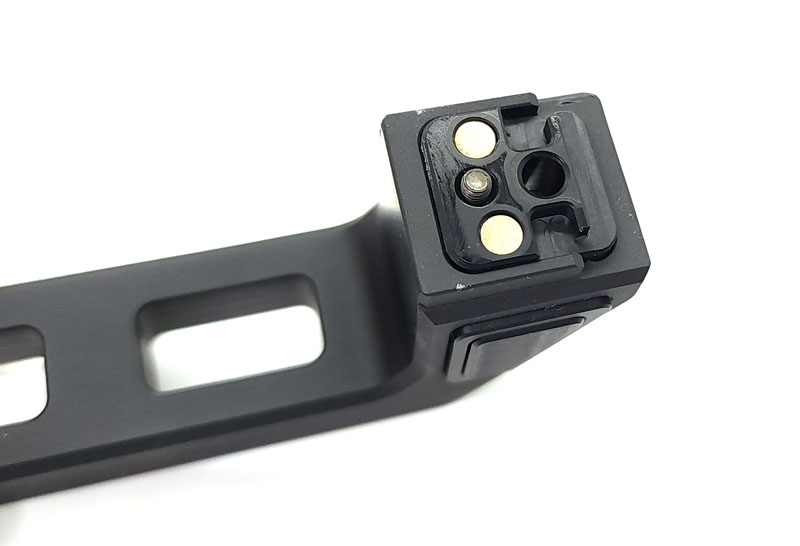 The information display can show the current charge state.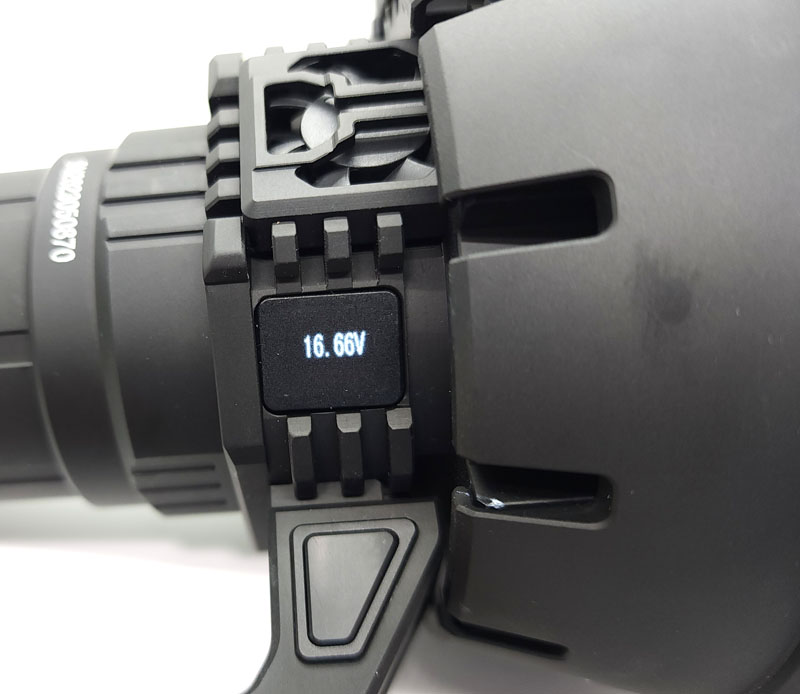 If you manually start the fans, the display flashes "FAN" briefly.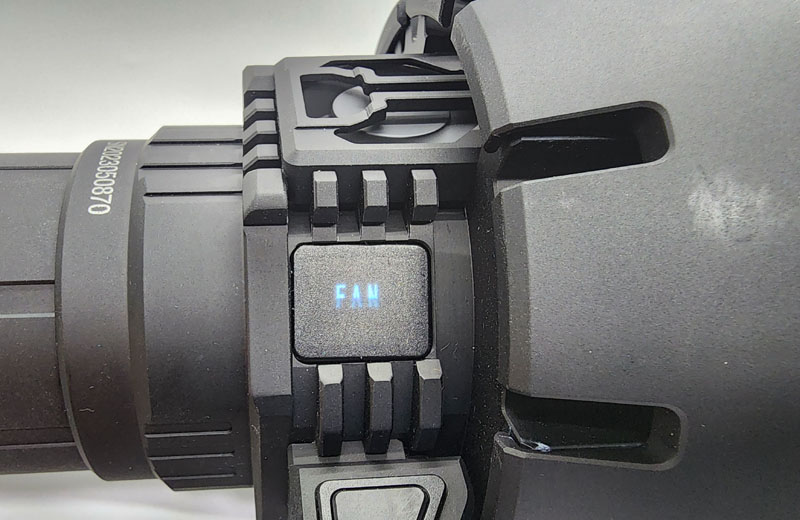 Locking or unlocking the flashlight also displays the lock status on the screen.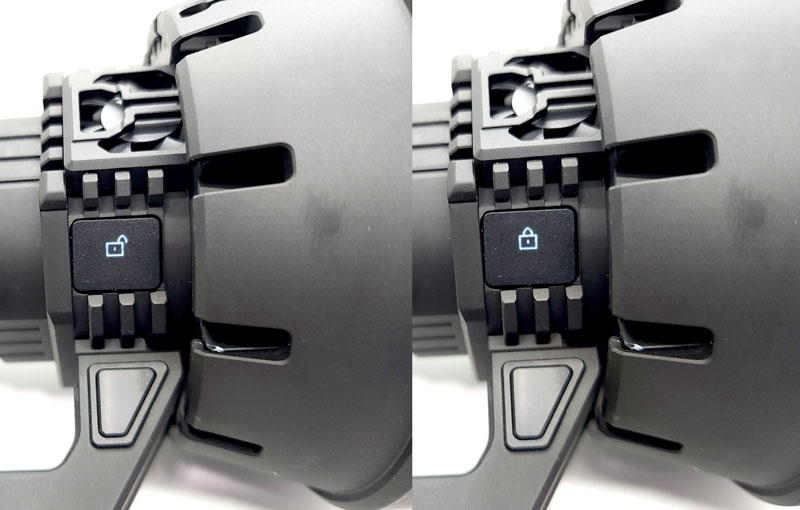 When you change lighting modes, the current output is shown on the display.  There was so much light output, I couldn't get a "120,000LM" photo.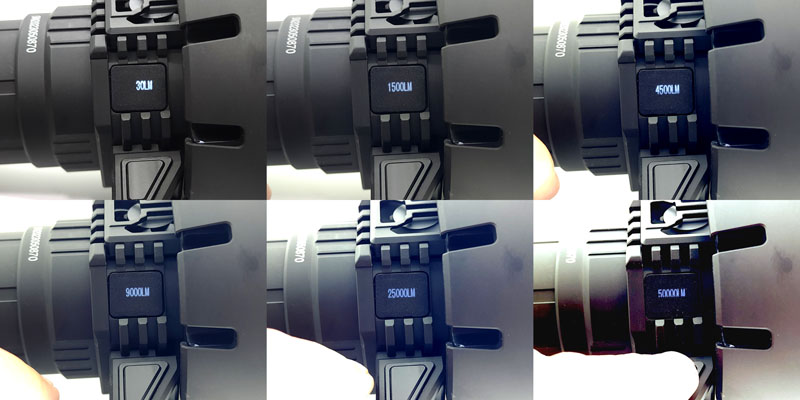 A cutout is included for attaching the shoulder strap.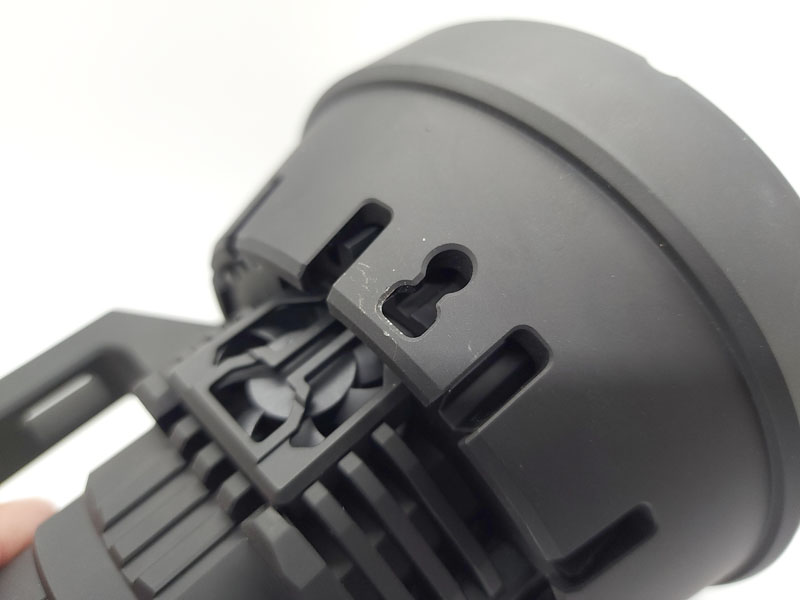 The other end of the lanyard clips to the end cap.  As I mentioned earlier, this is where they were hiding the charging port.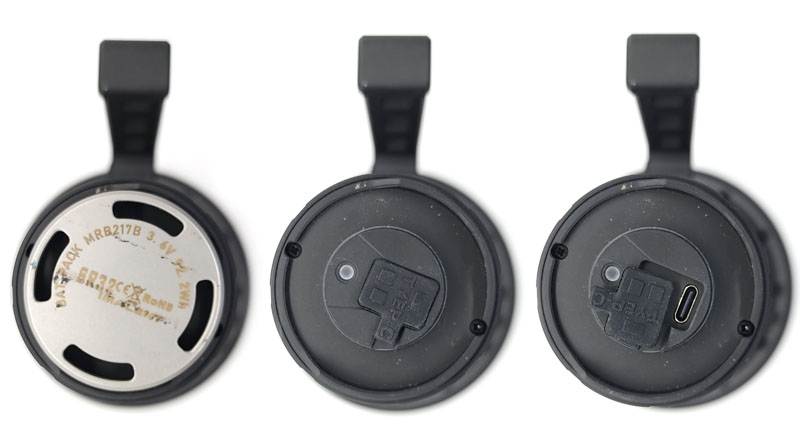 The cap seals the charging nub with an O-ring.  Two small replacement O-Rings are included. You can plug your USB-C device into the flashlight to use the light as a portable charger – great in a pinch.  It effectively fast-charged my Samsung Galaxy S22 Ultra.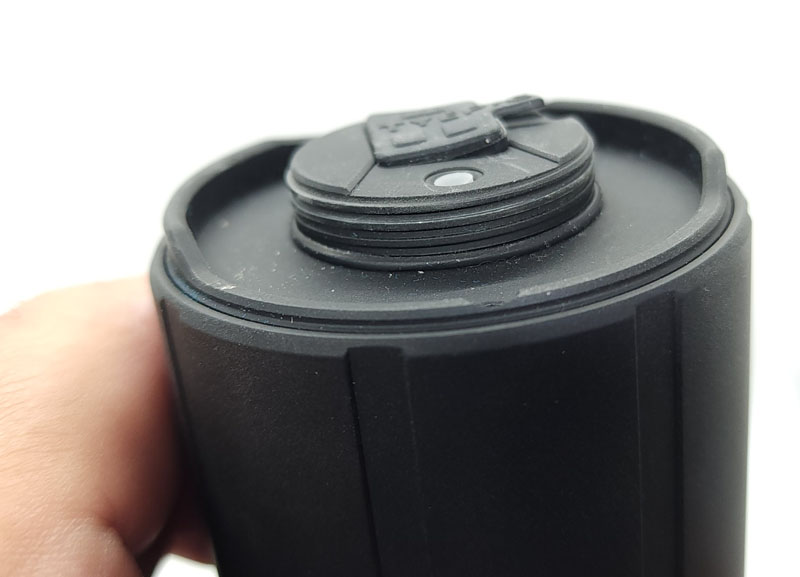 The battery cartridge also seals with an O-Ring.  Two additional large O-Rings are included.  There isn't a reason to remove the battery pack other than removing the shipping protector.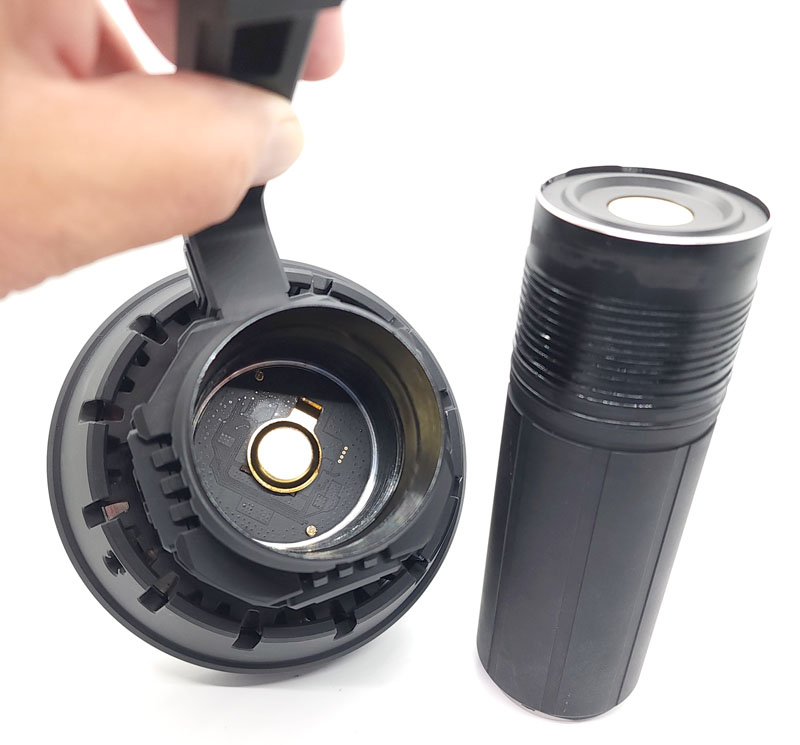 Here is the second of the three cooling fans.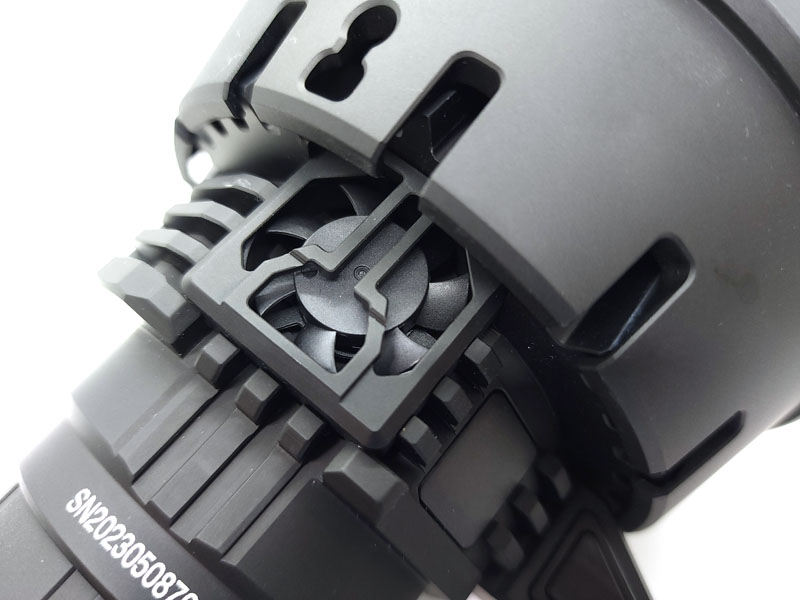 This is simply an imposing flashlight.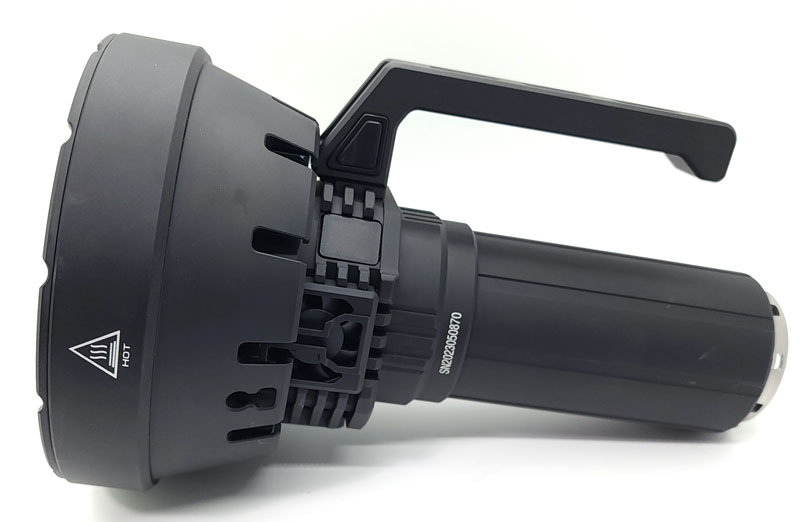 At over 5.5″ across, the business end is huge.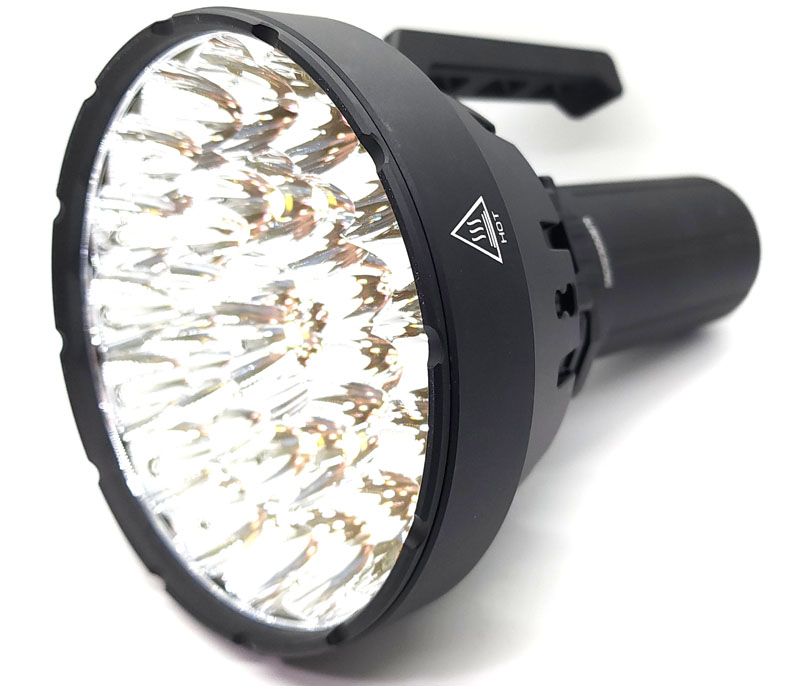 Here's a top-down view of the 32 American CREE XHP50.3 Hi LEDs and polished aluminum reflectors.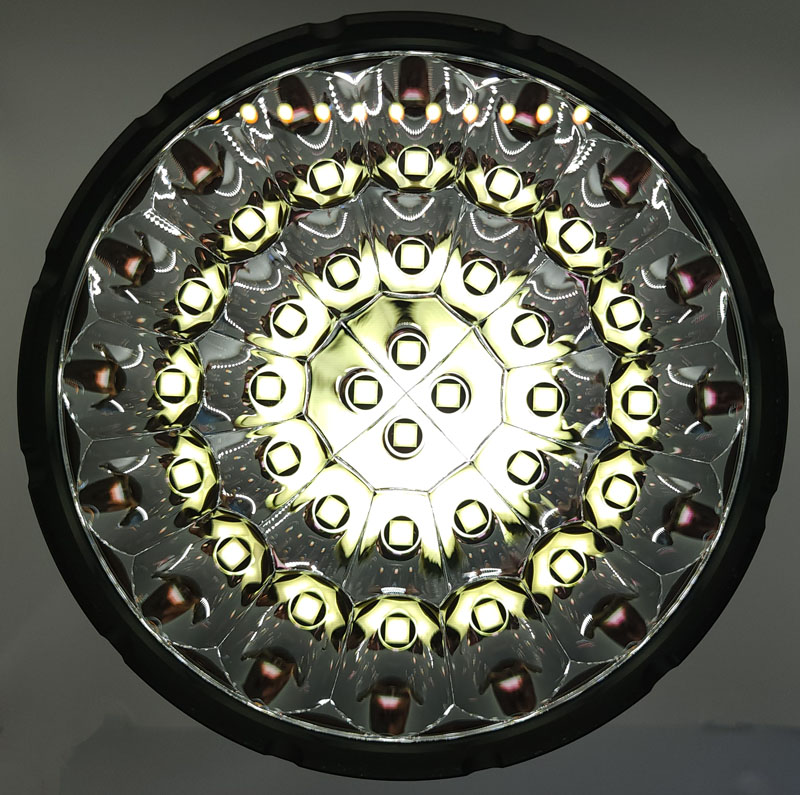 Setup
The Imalent SR32 flashlight comes fully assembled. There are three steps to be ready to go.  First, peel the protective film off the lens.  Second, unscrew and remove the battery pack and take out the plastic guard that prevents the battery from making contact during shipping.  Third, charge the battery.  Well, that's what I thought.  It turns out that the third step is to find the USB-C port on the flashlight.  The diagram in the manual is less than obvious.  It turns out that I needed to unscrew the cap on the end of the battery, revealing the battery charging USB-C port and the charging status indicator LED.  So that's step three.  Step four is charging the flashlight.

Performance
To test performance, I like to start by seeing if the manufacturer's battery life claims resemble reality.  I set the Imalent SR32 flashlight on the counter and double-pressed the power button, summoning the full 120,000 lumens Polaris can kick out.  The fans immediately began spinning, cooling the light.  I decided to use the Teslong thermal camera to see how hot the light was getting.
It was pushing 150 degrees before it stepped down to 25,000 lumens.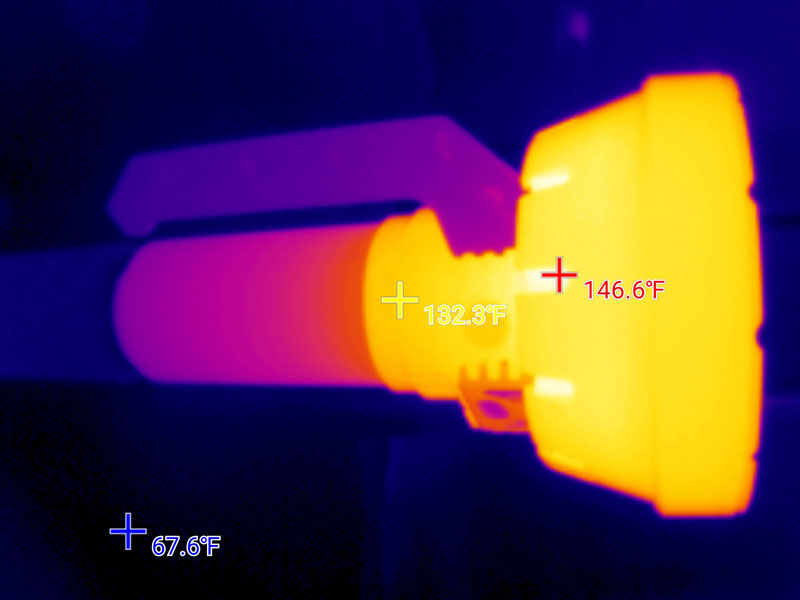 True to claim, right about 45 seconds later, the thermal protection kicked in, and the light dropped to 25,000 lumens.  Then, it settled in just under 140 degrees.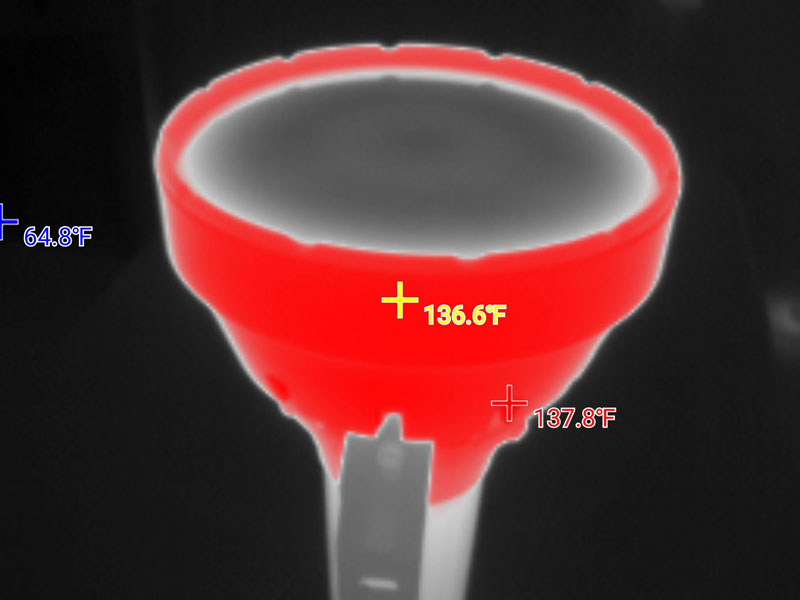 I thought it was interesting how dark the lens looked.  I decided to mark a separate measuring area to check the temperature there.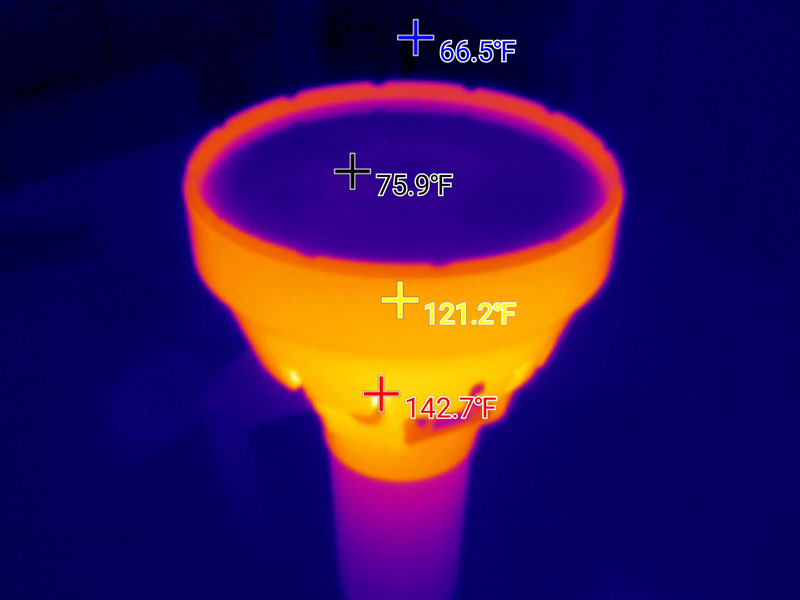 Much to my surprise, the lens area does remain relatively cool.
46 minutes after powering up, the SR32 gave up the ghost and shut down.  Based on my math, the claim of 45 seconds on turbo plus 45 minutes at 25,000 lumens and the reality of 45 seconds and a total runtime of 46 minutes means that the stated spec is right on the money.  Good job, Imalent!
Next up was the charging test.  I plugged the included USB-C cord into the included 100W GaN charger's 100W port and the flashlight's USB-C port and started timing.  unfortunately, we missed the spec of 1.5 hours, finishing in just over two hours.  What I don't know is whether there was a delay in charging as the light was hot.
As a first test of lighting, I took advantage of a dark and stormy day here in central Florida.  With the lights low, I lit up a wall about 14 feet away.  If you listen closely, you'll hear the cooling fans kick on when I hit 25,000 lumens.
All of this is neat, but it is time to test this baby out.  Let's light up the night!
But…before we do, a little science.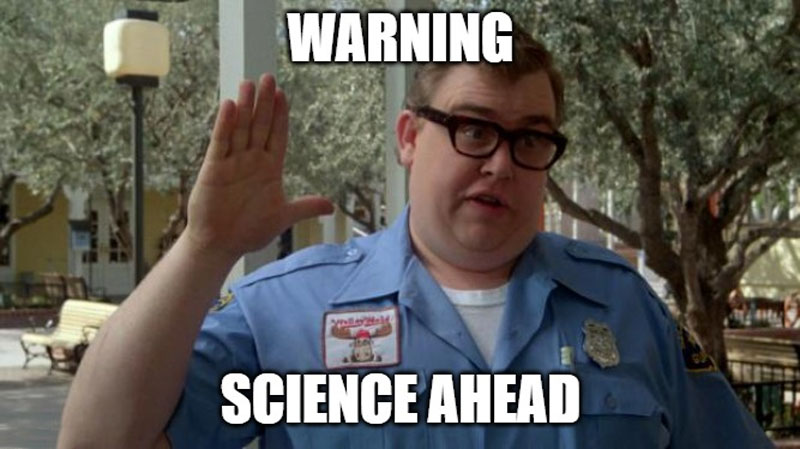 The stated specs for this light are up to 120,000 lumens, 1.090M candela, and a throw distance of 2080 meters or 1.29 miles.  What does that actually mean?  The throw distance is defined as how far the light can project sufficient light to produce illuminance equal to 0.25 lux.  Got it?  But, what is "lux"?  Lux is a measure of illuminance.  An illuminance of one lux is defined as the illumination of a one-meter square surface that is one meter away from a single candle.  So, put a candle one meter away from a one-meter square surface and take a look at it.  That's one lux.  But the throw distance is based on an illuminance of one-quarter of that or 0.25 lux.  That is roughly the amount of light that is produced by a full moon on a clear night.  Theoretically, if You were 1.29 miles away from me, and I was blasting all 120,000 lumens of LED brightness in your direction, it would look like a moon-filled night to you.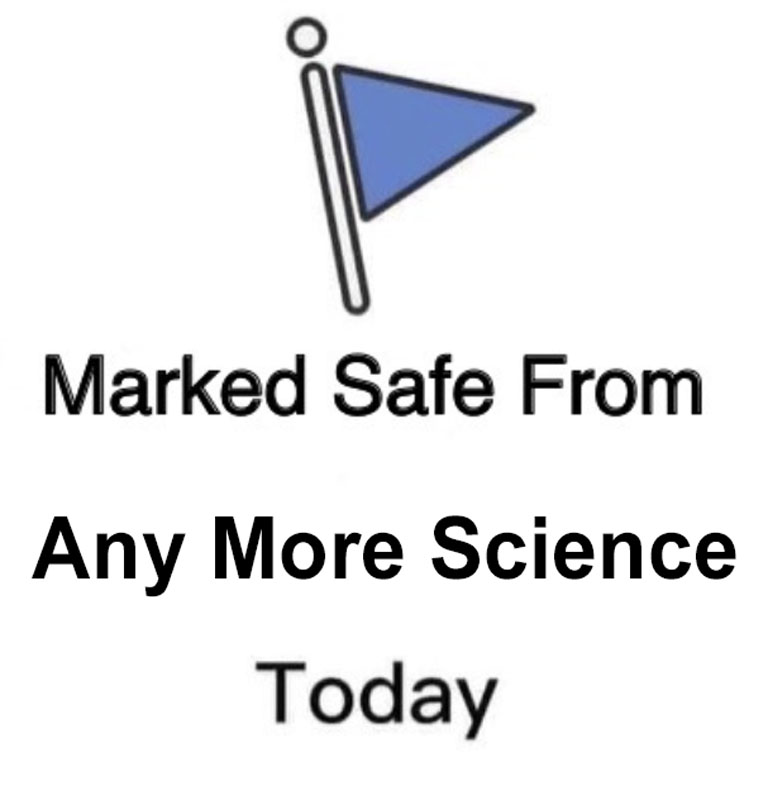 And now, back to our regularly scheduled review.
I took the Imalent SR32 flashlight out after dark and ran it through all the illumination steps.
Here are some things to note.  If you look in the center of the video, you can see a sign facing away on the left side of the path.  To the right of that, there is another, smaller sign that is facing toward the camera.  I used my FineCaddie UPL100 golf laser rangefinder to measure how far that was from where I was standing.  It was 420 yards or nearly 1/4 of a mile away. If you look very closely, you can make out the structure of a power tower farther down the path.  It is really difficult to see in the video as the overlit trees are blowing the video out.  But standing there, I could clearly see the tower from 25,000 lumens and up.  That tower was closer to 600 yards away.
Next up, my lovely wife drove over 1/2-mile away in our golf cart.  When she turned around, I could see her LED headlights, but they were just points of light.  We got on our phones and started testing.  I turned on the SR32 at 30 lumens.  She could see it, barely, but it was visible.  A quick double-tap took the SR32 up to 120,000 lumens.  That yielded a loud, "Oh my goodness!"  She said that it was much brighter than a full moon. She further stated that she squinted a little as it was so bright.  It was also lighting up a power tower that was near where she was parked.  Unfortunately, limitations in the cameras on our phones didn't allow for useful photos, but she was shocked at how much light this was throwing more than half a mile away.  Of course, I only had 45 seconds of this massive light blast before it stepped down to 25,000 lumens, but even at that intensity, it was still lighting the area near her, at least a little bit.
Here are a couple of photos from a golf course with the SR32 tossing out all 120,000 lumens.  The buildings that you can see lit up are more than 1/3-mile away and weren't visible to my eyes until I turned on the light.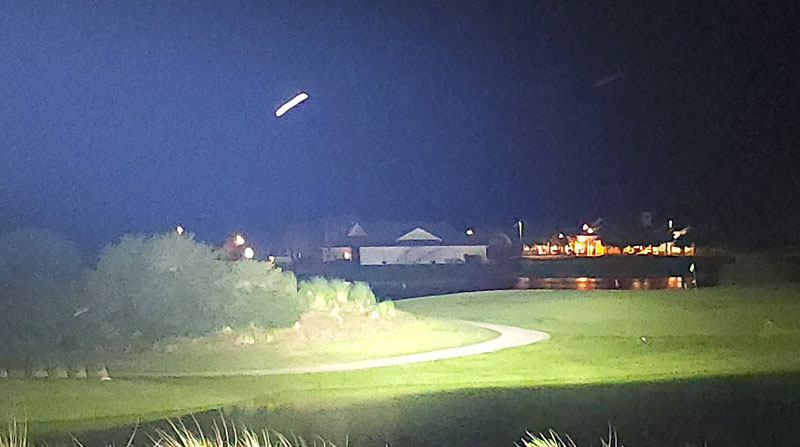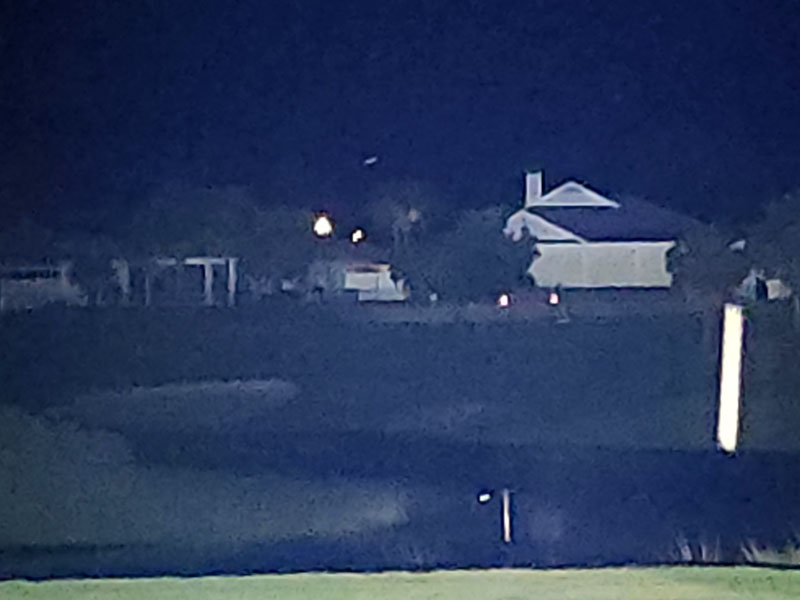 Here is a quick sweep of the area at 120,000 lumens.  Again, the building you can clearly see next to the lights is more than 1/3-mile from where I'm standing.
These photos also clearly show a limitation of a light like this.  It is so bright that it lights up everything, including anything in the air itself.  That means dust, bugs, and water vapor in the humid Florida air all light up like they're filled with neon.  That result is dispersed light and the appearance of fog in the air. This reduces your eyes' natural ability to see the impact of the light at its maximum distance because so much in the air is lighting up closer to you.  That's not the fault of the Imalent SR32 flashlight, but it does impact the light's effectiveness at great distances.
What I like
Amazing light output
Impressive runtimes
The automatic cooling system seems to do a good job managing the heat
Including the 100W GaN charger, cable, and great storage box is a nice touch
What I'd change
It is expensive, but it is more of a professional tool than a home tool
It can be heavy to carry, especially if you use the case
While the 120,000-lumen and 50,000-lumen rating makes big headlines, they are available for such a short time that they aren't really practical, but they're sure great for an impressive albeit short show
Final thoughts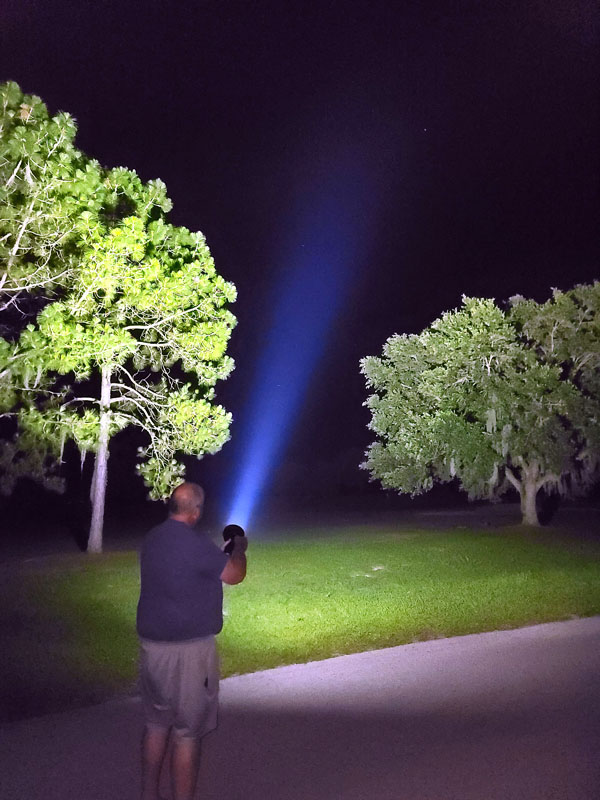 There's no getting around this – the Imalent SR32 Polaris is one impressive lighting device.  The 120,000-lumen and 50,000-lumen intensity levels are absolutely insane.  The more practical 25,000-lumen output level is good for nearly an hour making this an incredible tool for search and rescue.  The lower lighting levels all are great for more general-purpose lighting needs.  The sum of all those makes this a great all-around flashlight.  The two downsides are the hefty weight and even heftier price tag.  If those two things don't scare you away, you will be hard-pressed to find a better or brighter flashlight to add to your lighting arsenal.
Price: $679.95
Where to buy: Imalent; Amazon
Source: The sample of this product was provided by Imalent.