We use affiliate links. If you buy something through the links on this page, we may earn a commission at no cost to you. Learn more.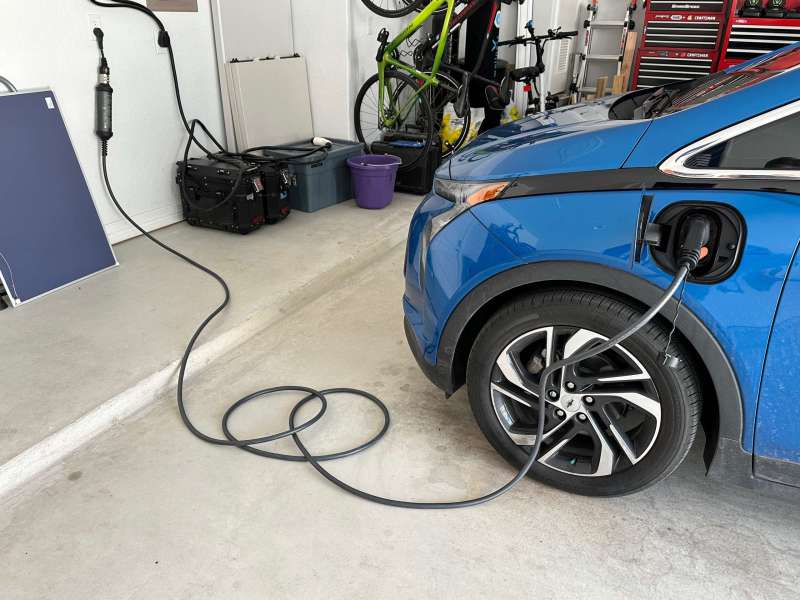 REVIEW – I entered the world of electric cars last year in July when I purchased a Chevrolet Bolt.  I went for the Bolt over a Tesla, mainly because of the significant price difference.  I love the car; it has been a very enjoyable experience.  99.9% of my charging is done at home on a Type-2 charger.  Chevrolet had a promotion when I bought my car where they would spend up to $1,000 to install a 240-volt outlet at my home.  This outlet is a NEMA 14-50, allowing up to 50 amps of charging power.  As my car is not a Tesla, the availability of external chargers is not always what it should be.  I wanted a way to carry a charging unit with me that would allow for various types of outlets.  The J+ Booster 2 seemed to be an answer to my prayers.  Let's see how it works out.
What is it?
The J+ Booster 2 is a portable 9.6 Kw EV charging station compatible with cars with a J1772 charging socket.  Note Tesla has its own propriety charging socket, but they can buy an adapter that will allow them to use a J1772 charging device.  The J+ has seven different adapters that can be plugged into the charging station to allow it to work with almost every socket in the US.
What's in the box?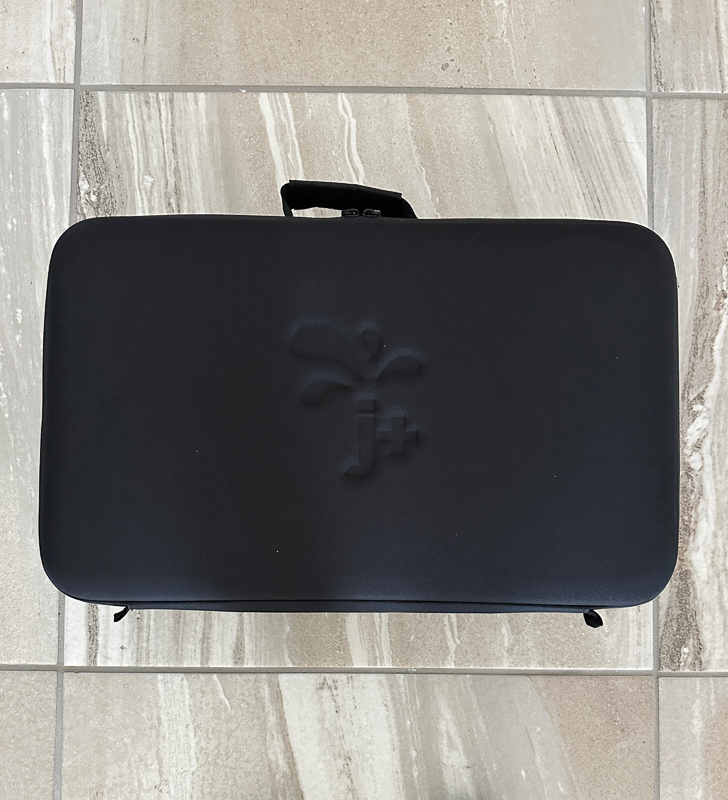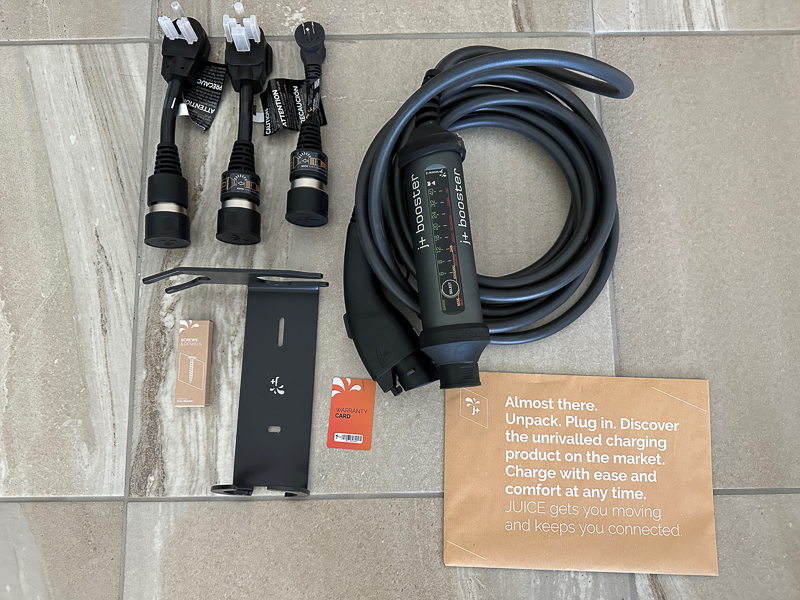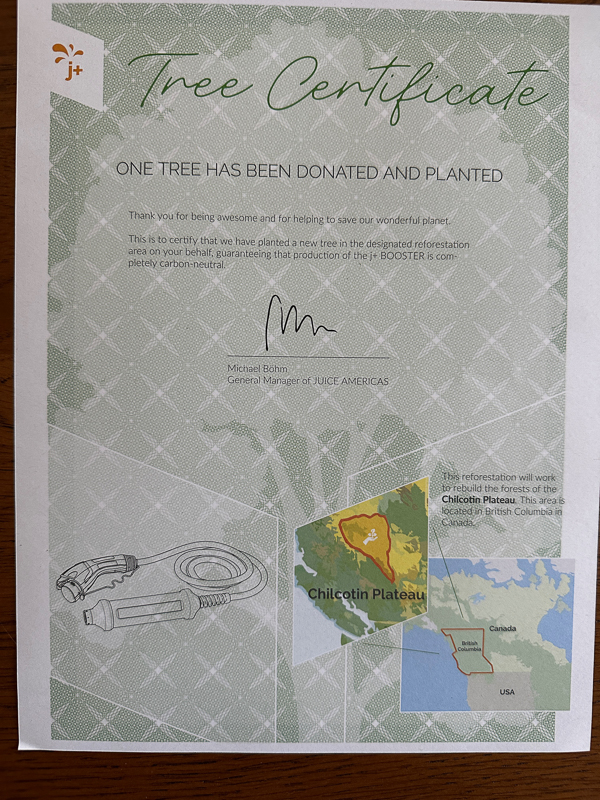 Hard-sided zippered carrying case
three power adapters – NEMA 6-50, 14-50, and 5-15
J+ charging device and 25 ft cord
Wall bracket with mounting screws
Instruction packet
warranty card
Tree certificate – nice!
Hardware specs
Housing Dimensions: Length: 11" (280 mm), diameter: 2.76" (70 mm)

Rate: 2.2 lb (1.0 kg) excluding cables, 7 lb (3.2 kg) with cables and adapters
Power: 720 W – 9.6 kW AC
Rated Current: 6 A to 40 A
Main Voltage: 120-240 VAC
Residual Current Device: CCID 20mA
Protection class: class I
Type Rating: 6 (protects against damaging quantities of dust and immersion in water for short periods)
Vehicle End Connector – Type 1 (SAE J1772)
End Plug: 8 self-detecting domestic adapters are available – NEMA 5-15; 5-20; 6-15; 6-20; 6-50; 14-30; 14-50; TT-30
Cable Length: approx. 25 feet / 7.6 m
Temp Range Storage: -22 °F / -30°C to +140 °F / +60°C
Temp Range Operation: -22 °F / -30°C to 122 °F / +50°C
Operating Elevation: Up to 10,000 ft (3,000 m) above sea level
Impact and drop proof:  Able to withstand a wheel load of 6,600 lb (3,000 kg) should you drive over it by mistake (the rubber casing may burst, and the housing and plug may be scratched or bent, but live components will not be exposed).

Drop-proof from heights up to 3 ft (100 cm)

Color: Metallic anthracite, black rubber caps, and cables

Material: Anodised aluminum with rubber caps

Standards: UL2594, UL2231-1, UL2231-2, IEC 62196, IEC 61851-1, RoHS
Design and features
The J+ Booster 2 package I received came with three different types of plug adapters.  I have a standard wall plug (5-15), a four-prong 14-50, and a three-prong 6-50.  All three adapters have a rubber cap on the connection end side to protect the port.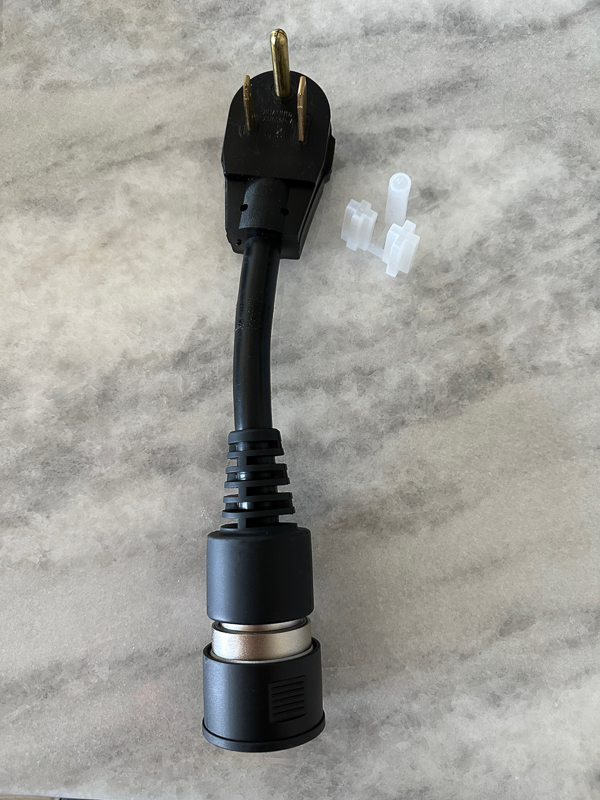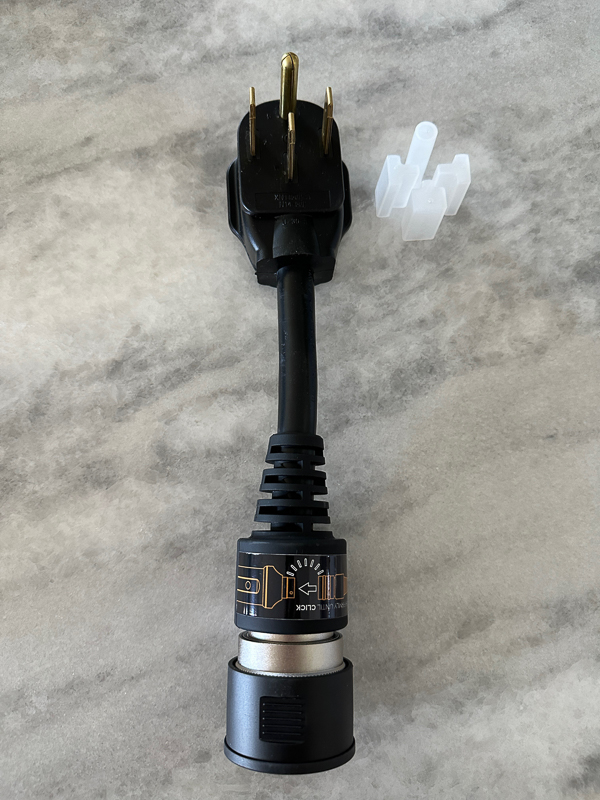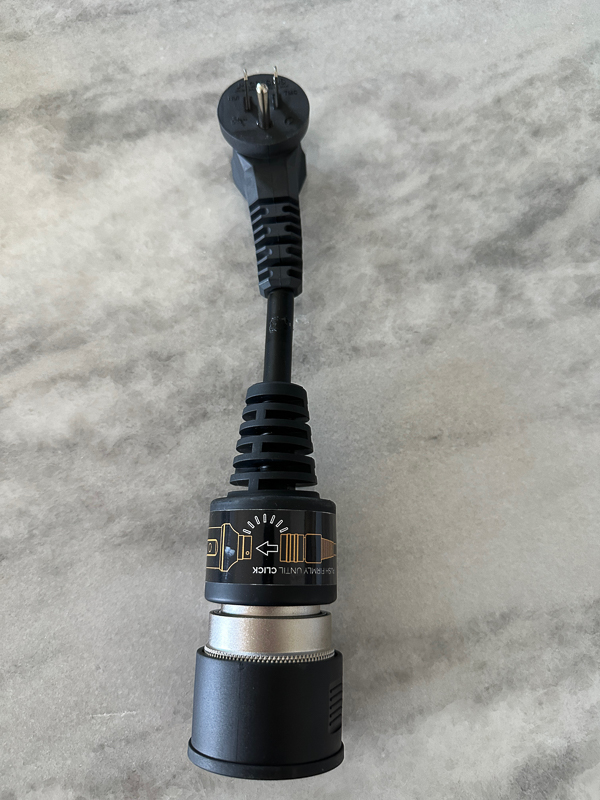 Juice sells a total of eight adapters for the J+ Booster EV charger.  I included a screenshot of the available adapters.  The package I received for review came with the three above.   They sell multiple options on Amazon.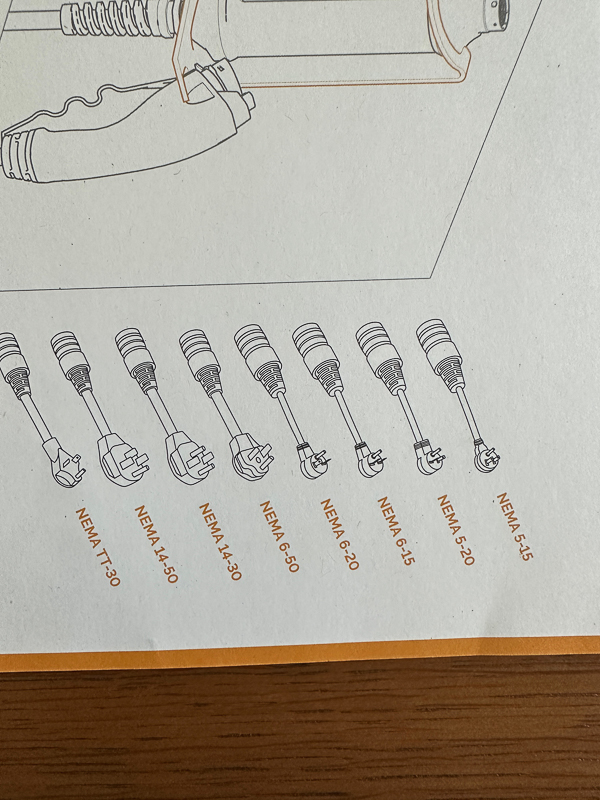 They also include a wall mount should you choose to have a more permanent installation in your garage.  I included a picture from the installation instructions.  I already have a permanently installed Type-2 charger in my garage and intend on using the J+ strictly as a portable device.  They also sell a lock separately, allowing you to lock the charger to the bracket and/or the adapter to the charging station.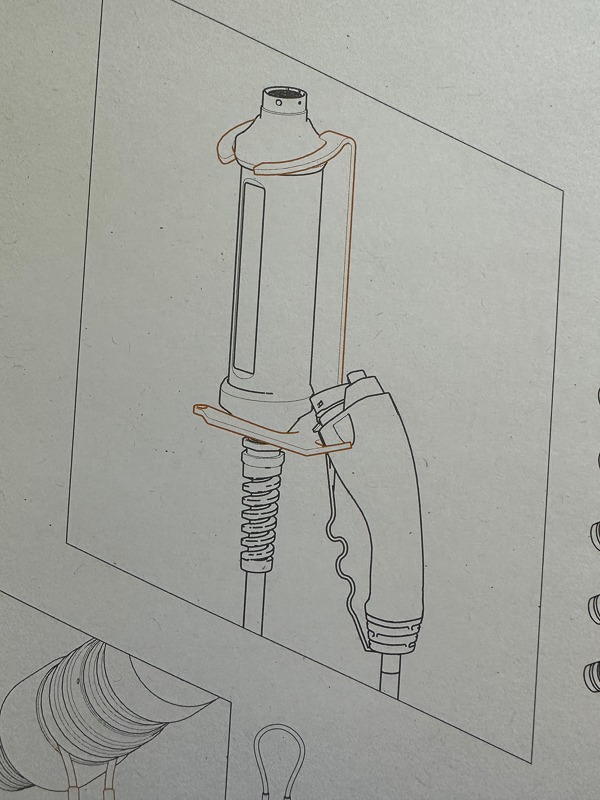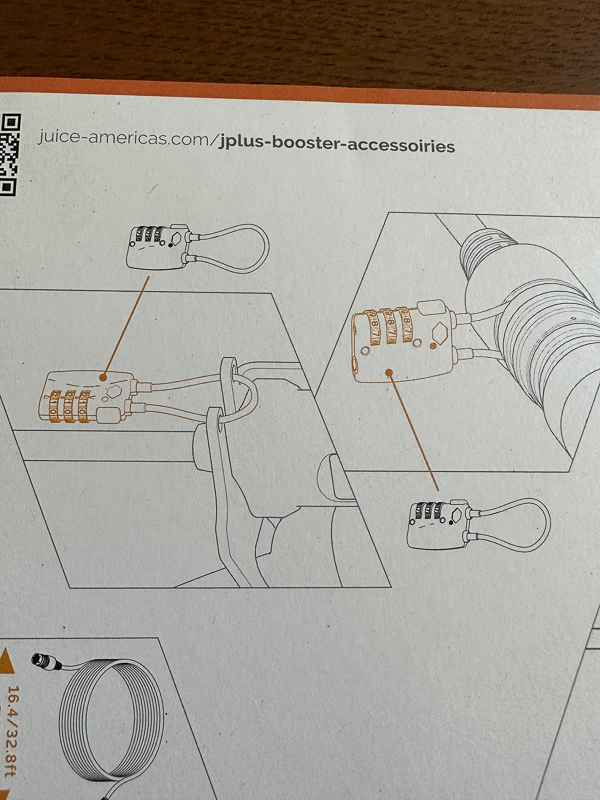 Pulling the end cap off any plug adapters exposes the port that plugs into the charging device.  These plug adapters feel very heavy-duty.  The end of the adapter where the port sits is made of metal and has rubber o-rings inside to waterproof the connection.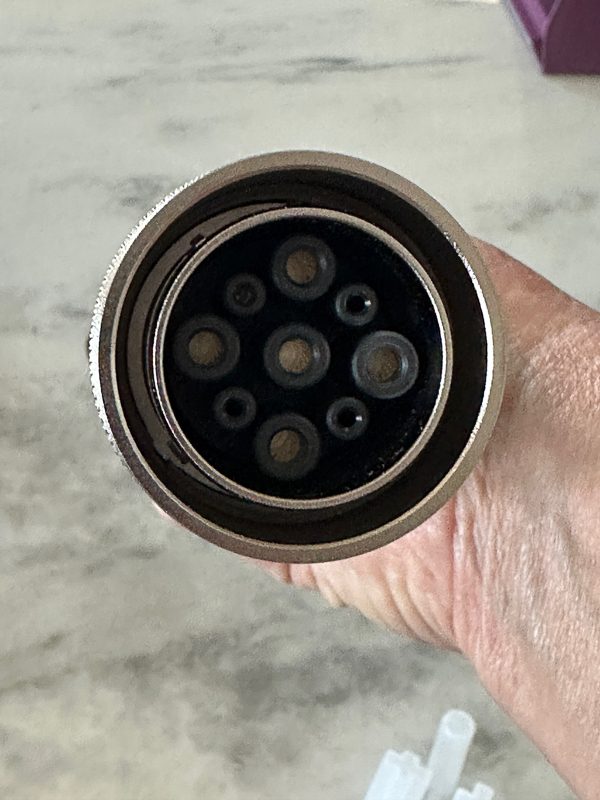 A sticker on the adapter tells you to push firmly until you hear a click.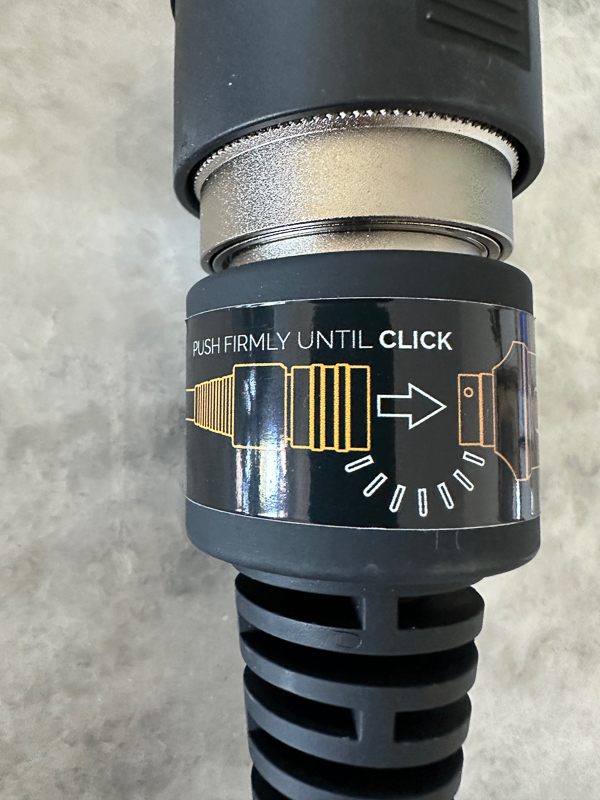 A rubber cap also protects the port on the end of the charging unit.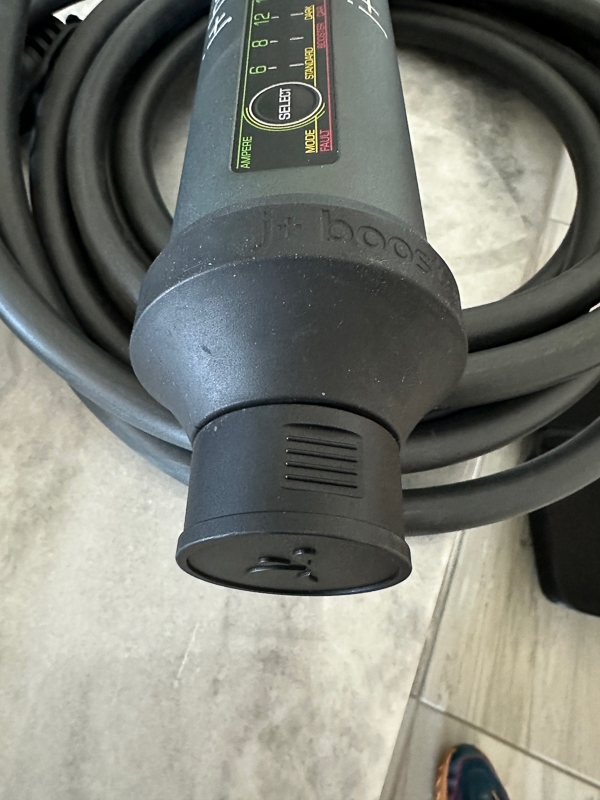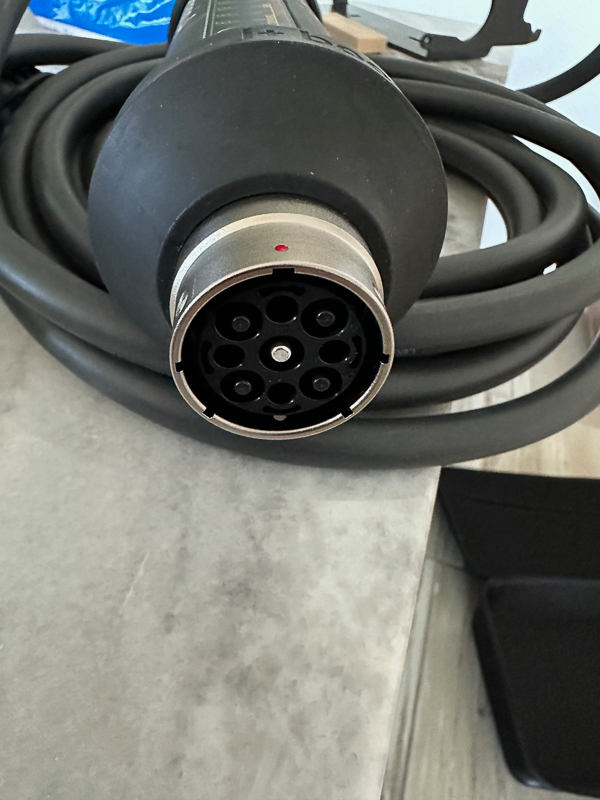 To plug the adapter into the charging unit, you line up the red dots and push the two together until you hear a click.  It reminds me of a quick disconnect connection you see on many water connections.  The connection is very 'solid.'  So much so that they advertise that the connection is drive-over and impact resistant.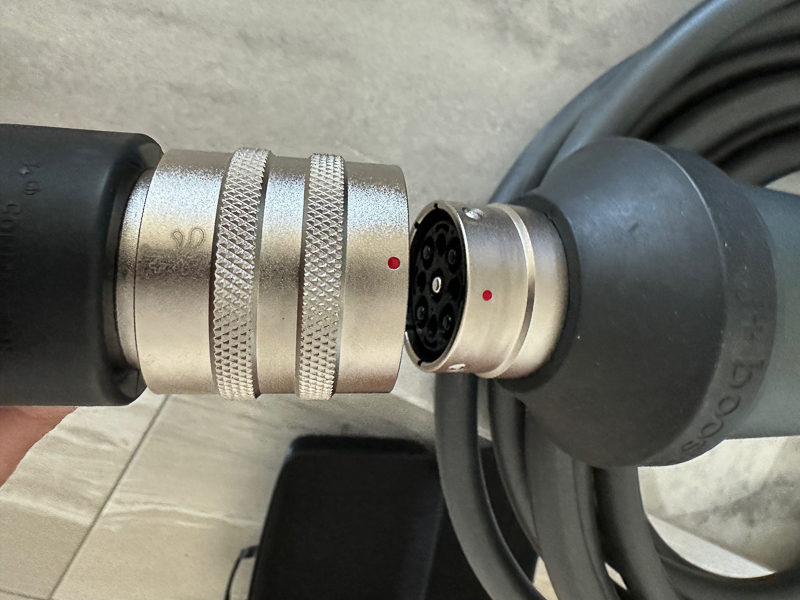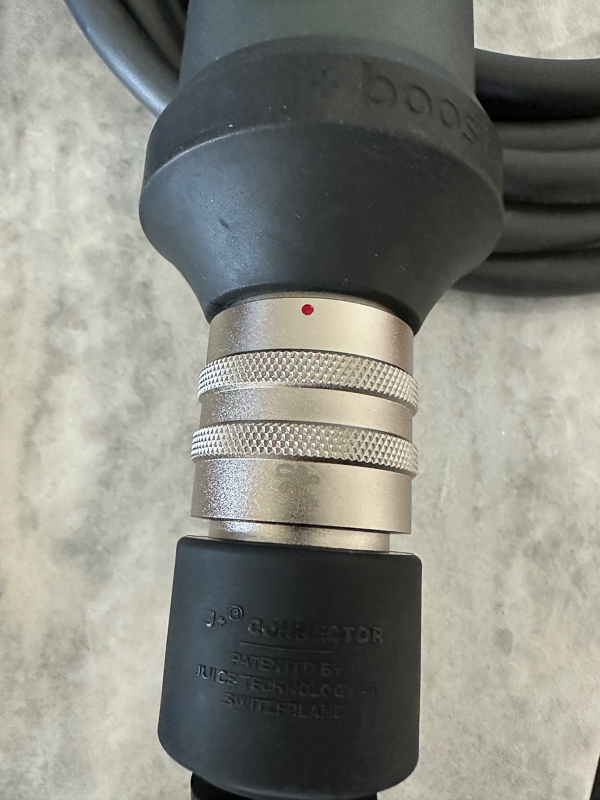 The picture below shows you what the charging unit looks like.  From left to right, the red line is the fault line.  Should a fault occur, a red LED will light up along that line indicating the type of fault.  The yellow line changes the display mode of the unit.  Standard means constantly seeing blinking LED lights as the unit charges your vehicle.  If that annoys you, you can press the select button, change it to dark mode, and eliminate any charging LEDs.  The Green line will indicate the max number of amps the connected socket will supply to your car.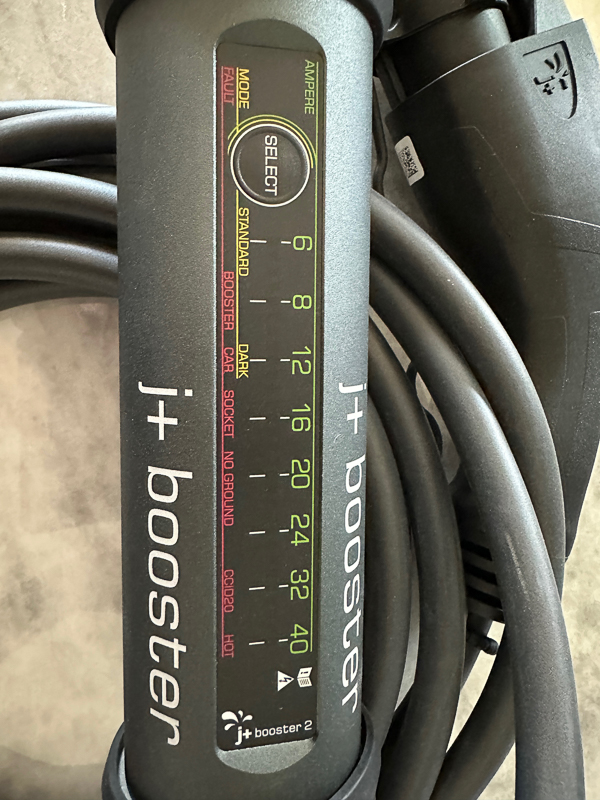 The J+ Booster 2 EV charger provides a lot of protection for the device.  The charging socket that plugs into your car is also protected with a rubber cap.  A nice feature is that the cap is tethered to the main power supply cord.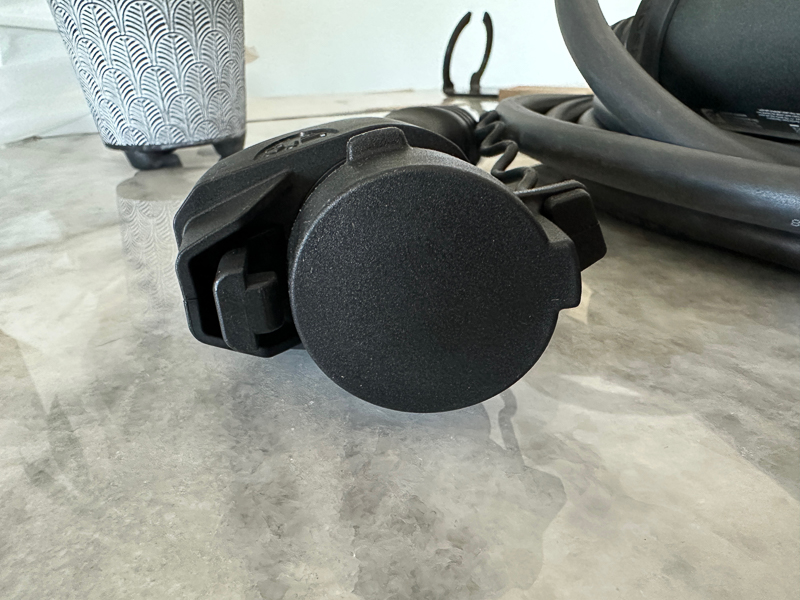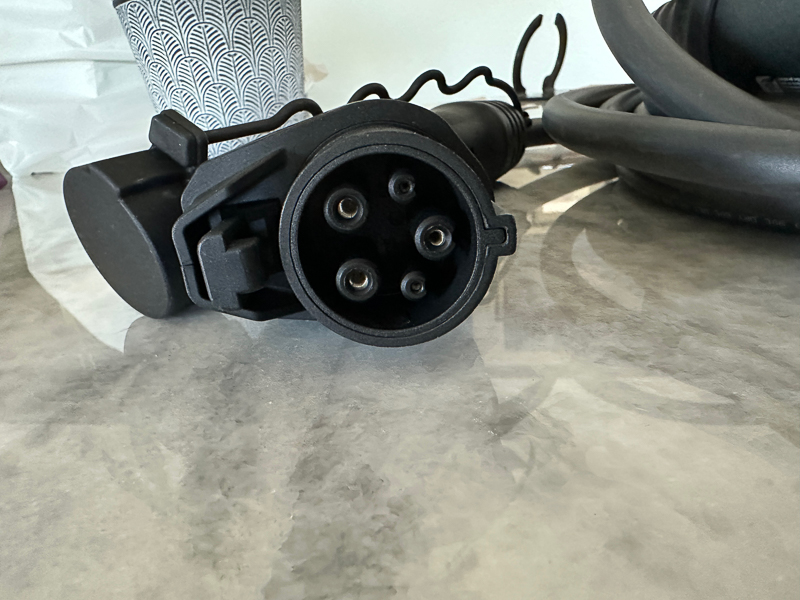 I took a picture of the charging port on my Bolt.  The orange cap is flipped down to expose the extra two ports that are used if you want to do Type-3 fast charging on the car.  Type-1 and Type-2 level charging only require the round area with the five ports.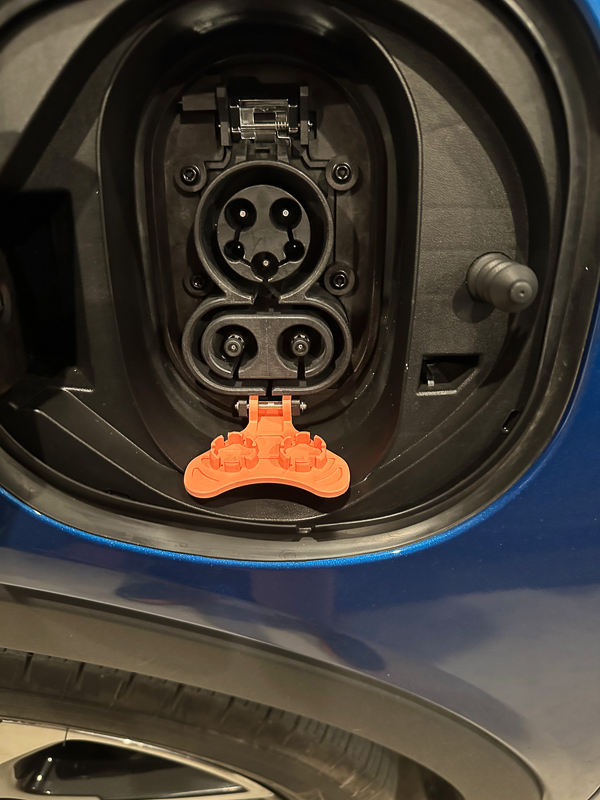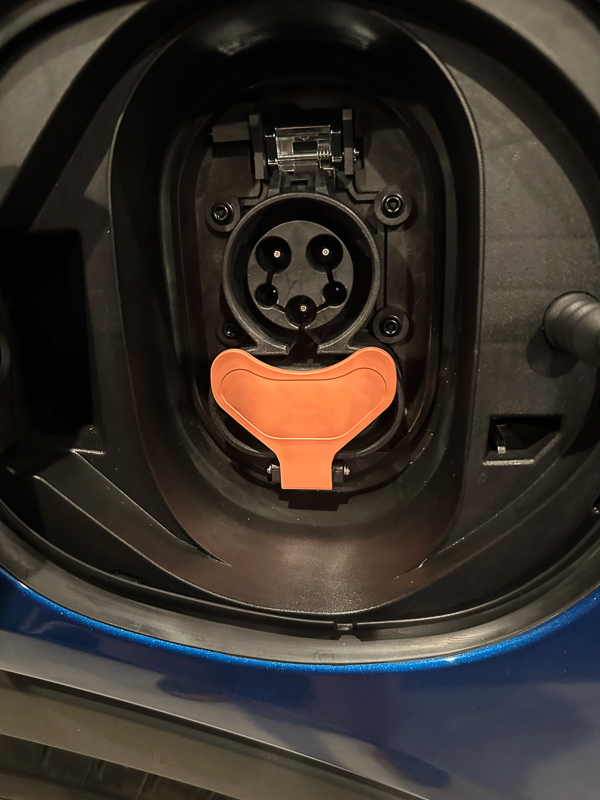 I plugged the unit into the wall and my car.   Plugging the charging port into the socket in my card was easy, and I heard a distinct click when it was locked into place.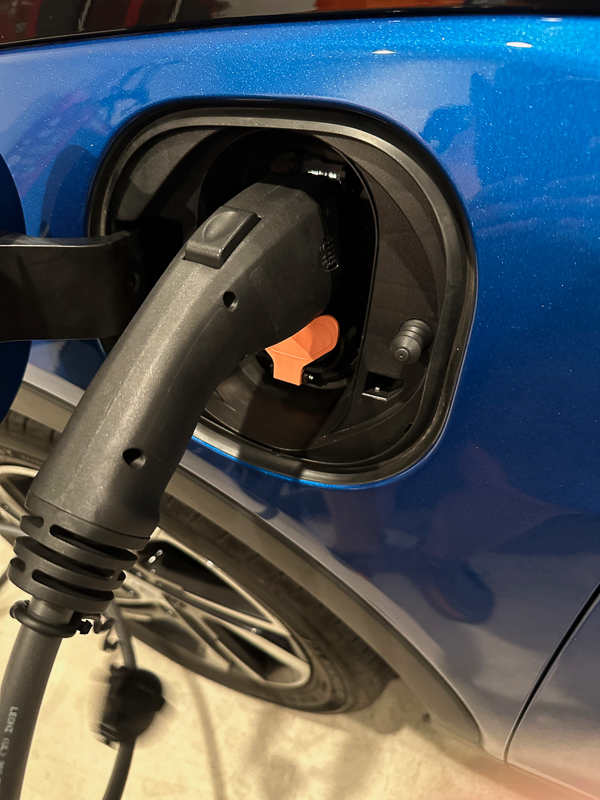 Performance
As stated above, I want to use the J+ Booster 2 as a portable charging device for my electric car.   The next time I might need an emergency charge somewhere; hopefully, the J+ will come to the rescue.  The J+'s carrying case seemed to come designed specifically for my car.  The bottom of the case has velcro strips built into it.  This allows the case to stick to the floor without bumping into things as I drive.   My car has a false bottom in the hatchback area that is the perfect place to store the J+ Booster.  No one can even tell it is there when I open the hatchback.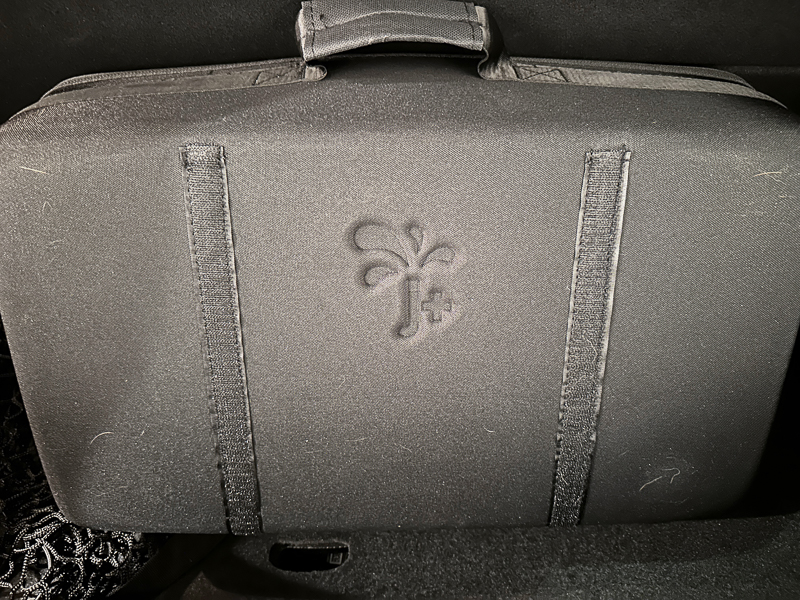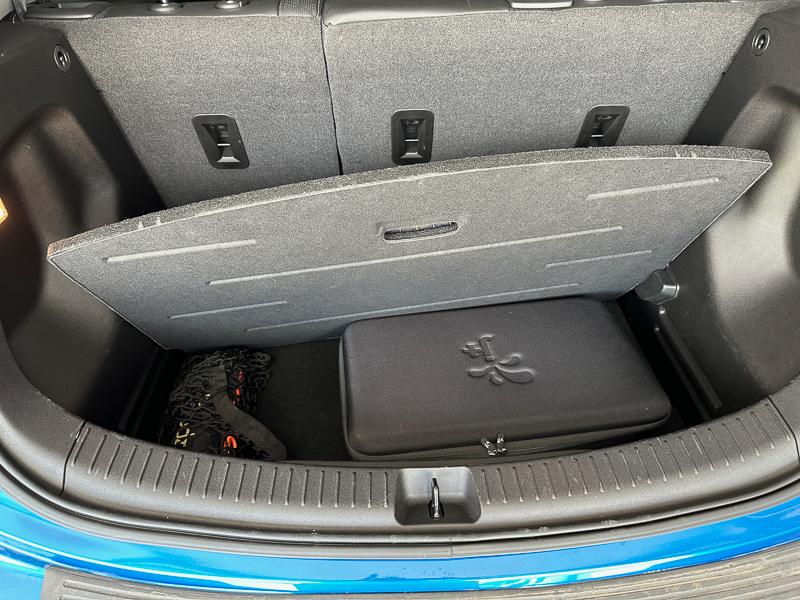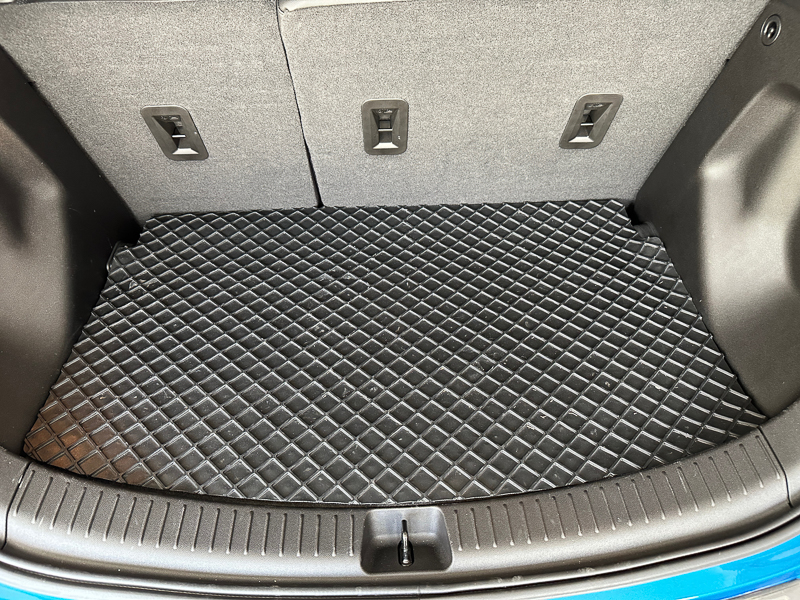 The first plug adapter I used was the standard outlet 5-15.  The picture below shows that the yellow LED is on the standard, indicating that the LED lights will display.  The Ampere green light shows a max of 12 amps.   My Bolt will gain a max of about four miles an hour using a standard outlet.  I let it charge my car when it was well below 80% battery left, and I did gain right at four miles an hour.  When the Bolt hits 80% battery charge, the charging slows down to help preserve the battery.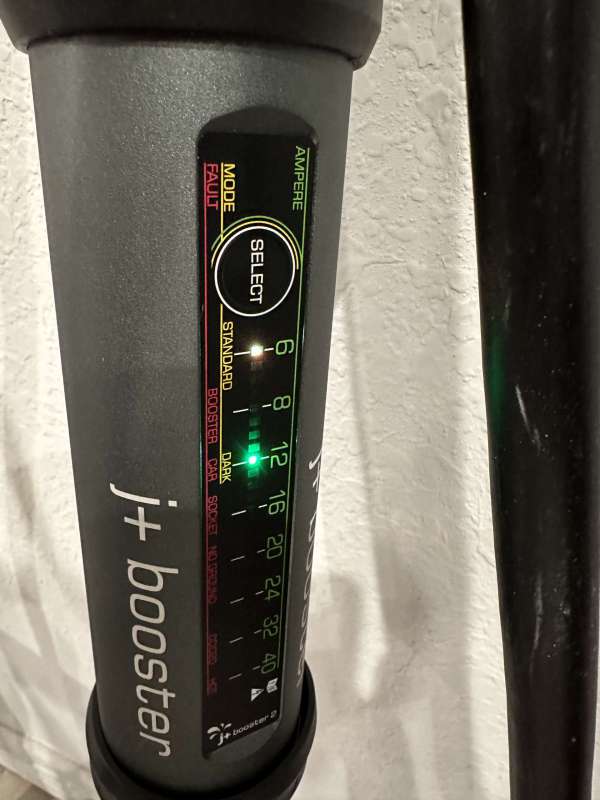 No one wants to charge their EV on a Type-1 charger if they don't have to.  So next, I used the 14-50 plug adapter and plugged it into the 240-volt socket I had installed by Chevrolet.  The green LED shows the max 40 amps that will push to my car.  On a 240 volt 32 amp socket, the Bolt will gain 25 miles per hour with about 10 hours from 0 to max charge.  On a 240-volt outlet pushing 40 amps, the Bolt will get 37 miles per hour with a full charge in about 7 hours.   What is nice is if you are unsure of the capabilities of your outlet, you can always back down the max amps by pressing the select button.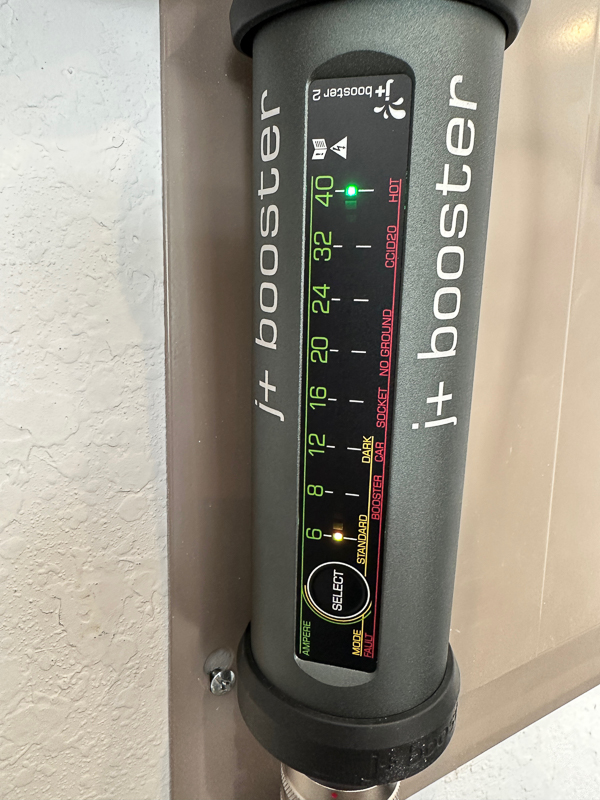 I made a short video of it charging to show you what the LEDs look like.
I was a goober, thinking I could use the 6-50 on the three-hole outlets that older homes have for their dryers.   Unfortunately, I found out those outlets are 30 amp 10-30 outlets. So I was unable to test with that plug.  The 6-50 and 14-50 outlets will provide 50 amps of power, but the 14-50 has the extra ground.
I could charge just as fast and efficiently with the J+ Booster 2 as with my current EV charging station at home.  Swapping out the adapters was easy, and I love how solid they feel.  The charging unit itself feels pretty indestructible.  The cable length was 21 feet, with about 25 feet total when you add the plug adapter and charging unit.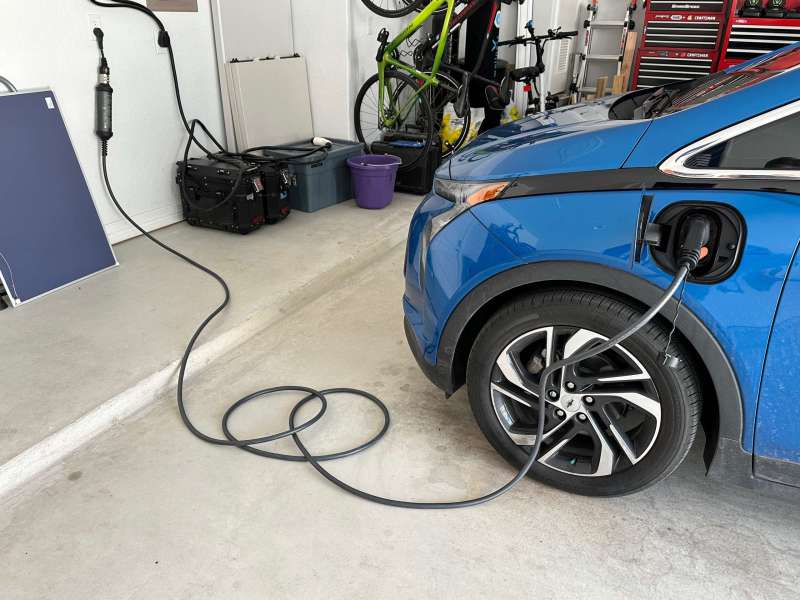 What I like
Eight different adapters to choose from in the US.
It is Completely waterproof, so charging your car out in the rain is okay.
Very durable design.
You can adjust the amount of amps from the unit if you need less power.
Nice long charging cable.
Great storage case that does not slide around in your car.
What I'd change
I only wish it were a bit cheaper.
Final thoughts
The J+ Booster 2 has a permanent spot in the trunk of my car.  It packs up nicely in the carrying case and does not slide around the trunk.  I love the ability to swap out plug adapters easily.   The unit is very durable, and I am not worried about it wearing out.   I am now confident that no matter where I travel, I should be able to find a plug that I can at least add a few miles to my car in an emergency.  If you want a well-built, adaptable, and portable EV charging solution, I don't think you can go wrong with the J+ Booster 2. Currently, Amazon is offering $80 off their charging kits with 1 or 2 plug adapters.
Price: $749 as reviewed with the 3 adapters, $679 with the 5-15, 14-50, and 25 ft cable, $649 with the 5-15, 14-50, and 15 ft cable, $599 with the 14-50 and 21 ft cable
Where to buy: Juice Americas and Amazon 3 adapters, Amazon with 2 adapters and 25ft cable, Amazon with 2 adapters and 21 ft cable, Amazon with 1 adapter
Source: The sample of this product was provided by Juice Americas.