We use affiliate links. If you buy something through the links on this page, we may earn a commission at no cost to you. Learn more.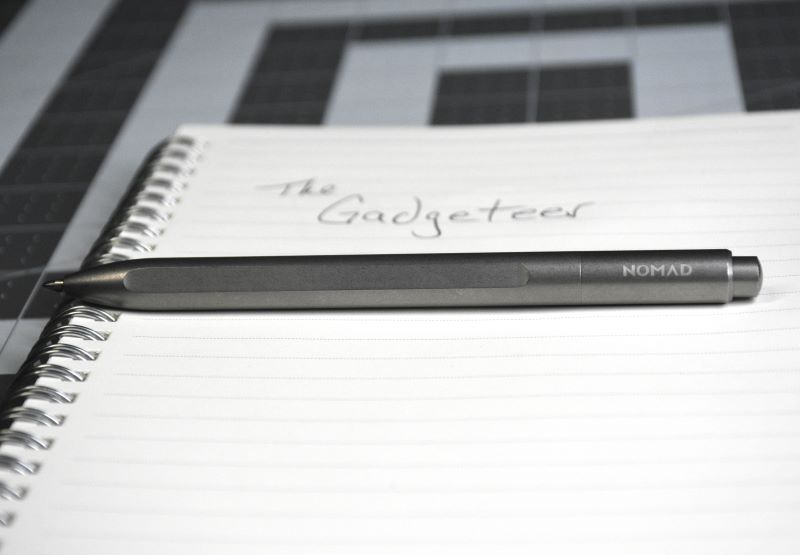 REVIEW – I'm pretty sure if you're reading this, you're into EDC. Me, too! I scour the interwebs for the latest and greatest even if I can't exactly afford them. The biggest trend going I've seen is titanium.  Everyone is using it in their products, like pocket knives, prybars, keyrings, multi-tools to fit your keyring, and pens.  Not having any titanium in my collection, I was very interested in Nomad's Pen – titanium. Is a pen in titanium as cool as it sounds? How does it compare to the other EDC pens I own? Is it worth the asking price? Let's find out.
What is it?
The Nomad Pen in titanium is a ballpoint retractable, refillable ink pen.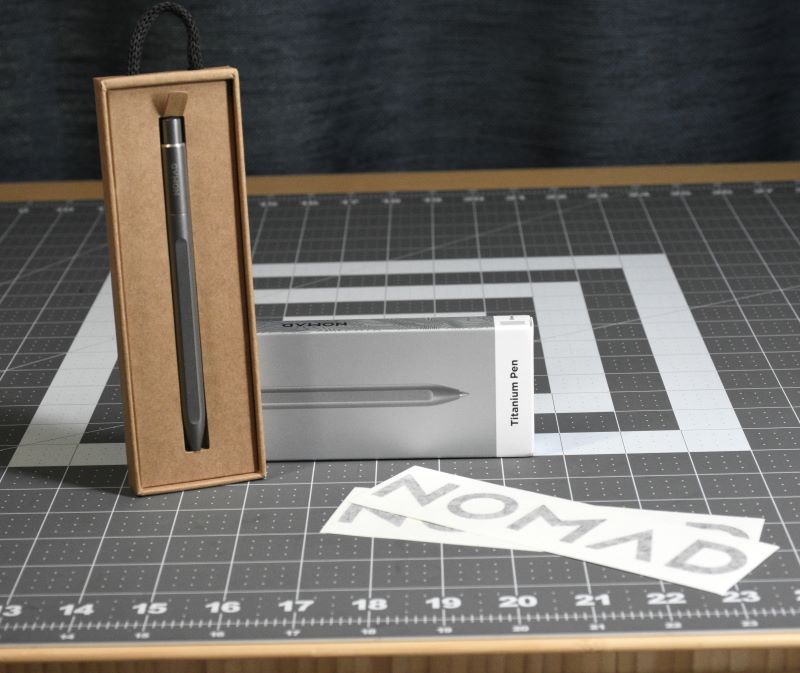 What's in the box?
Nomad Pen
2 – Nomad transfer stickers
Hardware specs
Solid titanium body
Click button mechanism
Black Schmidt P900 ink cartridge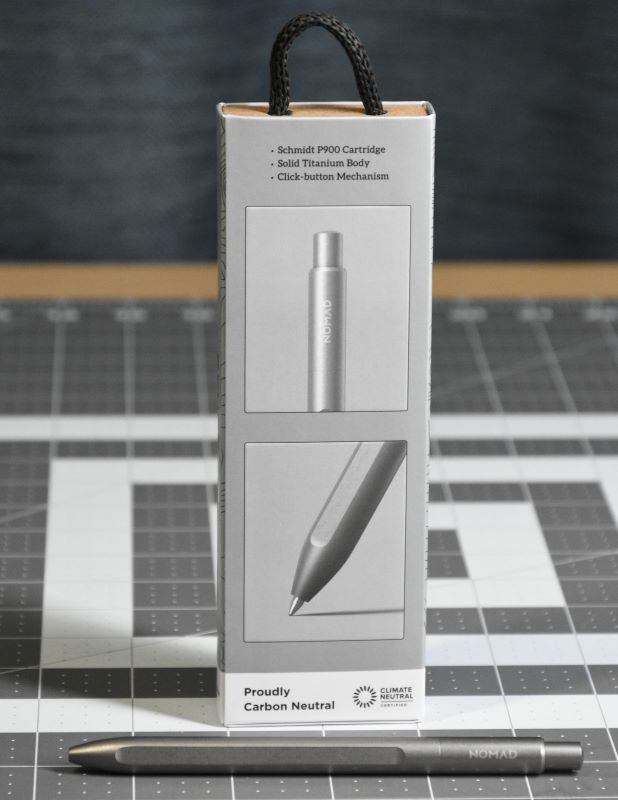 Design and features
I have to admit I don't do a lot of handwriting these days, what with all the texts, chats, emails, etc. that we're all bombarded with. But when I do have to, I prefer a full-sized retractable pen with a bit of weight to it and if it's a ballpoint, I want a pressurized cartridge. I have a couple of EDC pens and I always carry one with me when out and about. One is the Fisher Space pen and the other is a Pokka pen.  The Space pen is too short so it's usually left behind. The other is good because its cap snaps onto the rear of the pen and stays there, but it is plastic and doesn't have much weight to it. It gets the job done though. Neither though are retractable.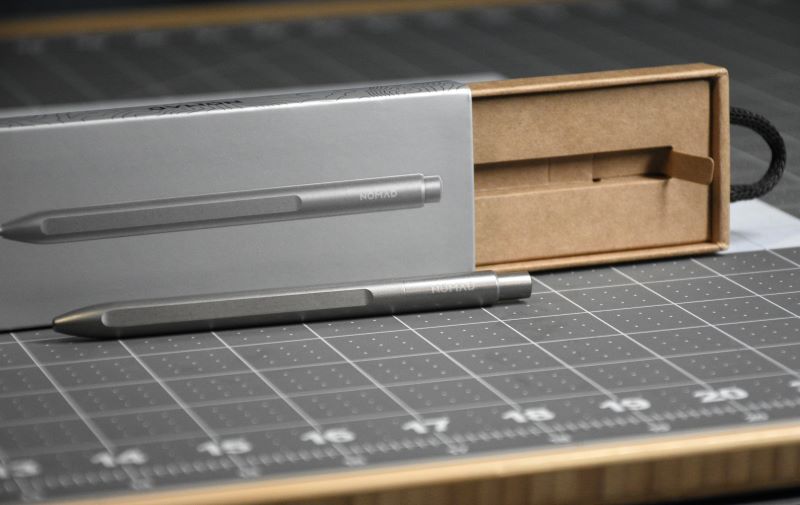 Enter the Nomad Pen.  I wouldn't say the Pen is heavy but in comparison to the other two, there's a noticeable difference in the hand which I appreciate. Yet, it's light enough that it isn't going to be noticeable should you decide to incorporate it into your EDC.
The body of the Pen is constructed of solid titanium and looks great. Nomad says it also has a PVD, physical vapor deposition coating to protect the Pen's finish from abrasion and corrosion. If you don't know what that means, don't feel bad. I didn't either. PVD is a process in which a solid material is vaporized in a vacuum and deposited onto the surface of a part. Now I don't know if that is what is the reason for the look of the Pen's finish, but it looks like it's been tumbled or bead blasted. Whatever it is, it's a matte finish and I like it. The Pen also has two milled, flat sides about 3/4 of the length of the body. They won't keep the Nomad Pen from rolling away, but they do help when gripping it.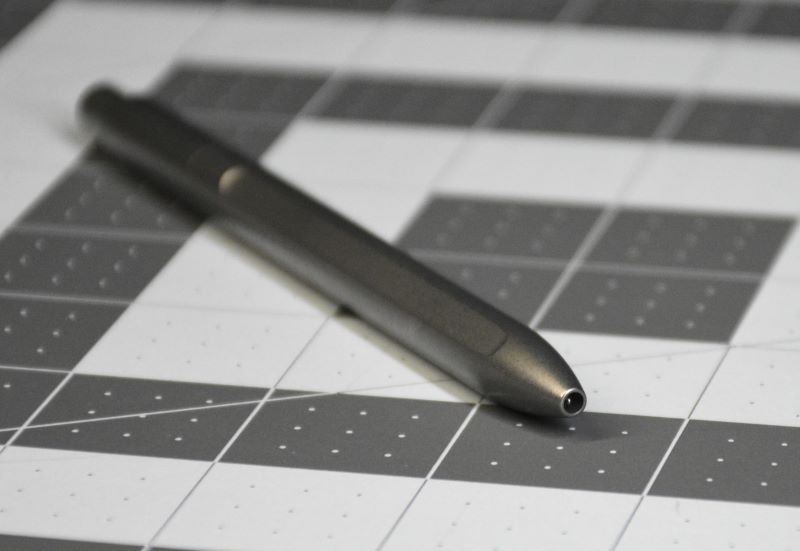 The Nomad Pen that I received came with a Schmidt P900 pressurized ballpoint ink cartridge, but Nomad also has a flash dry gel refill along with a mechanical pencil one.  Nice range of options in my opinion. Is the writing experience with the Pen life-changing? No, I mean it's a pen, however, it is much smoother than my other EDC pens.  Just another reason to choose it when going out.
I'm a very tactile person so anything that I'm going to use on a regular basis needs to feel good to me. Sound can also be a factor. I use a mechanical keyboard just for these reasons. But what does sound have to do with a pen? Well, think of those cheap, clicky pens you come across.  The click is pretty high-pitched and can get annoying quickly when fidgeting with them. The Nomad Pen produces a lower-pitched muted sound, which I'm assuming is because of the build materials. That pleases me. It's ok. I know I'm weird.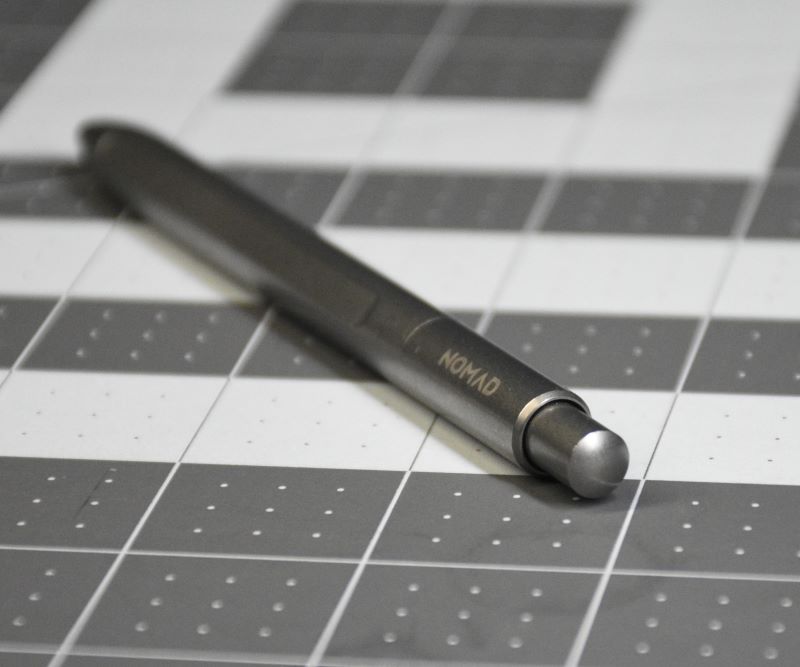 The only thing I don't like about the Nomad Pen is there's no clip. This is a problem for me because I tend to lay something down and promptly forget what I did with it. My other two pens have a clip but had to be purchased separately and look like afterthoughts. While I would like the Pen with a clip, I don't want one that affects the overall look of it. Could Nomad make one to match its aesthetics? Maybe.  Could they machine a top with an integrated clip? Probably, but it's probably cost prohibitive, and the Pen in titanium is already $100. Yep, it's a $100 ballpoint pen albeit an extremely nice one.
What I like
Smooth writing
Titanium construction
Retractable
Feels good in the hand
What I'd change
Add a clip if it could be done and maintain the design
Final thoughts
The Nomad Pen is a wonderful writing instrument. I certainly prefer it to the other options I currently have. Is it worth the asking price? That all depends on you. Titanium EDC isn't cheap and does mark up easily from what I've seen of other products.  The Pen has a PVD coating to prevent it, so there's that to consider as well. If you're in the market for such a pen or know someone who'd love something like this and doesn't have my proclivity for misplacing things, check it out. The Nomad Pen in titanium is pretty sweet.
Price: $100
Where to buy: Nomad
Source: The sample of this product was provided by Nomad.