We use affiliate links. If you buy something through the links on this page, we may earn a commission at no cost to you. Learn more.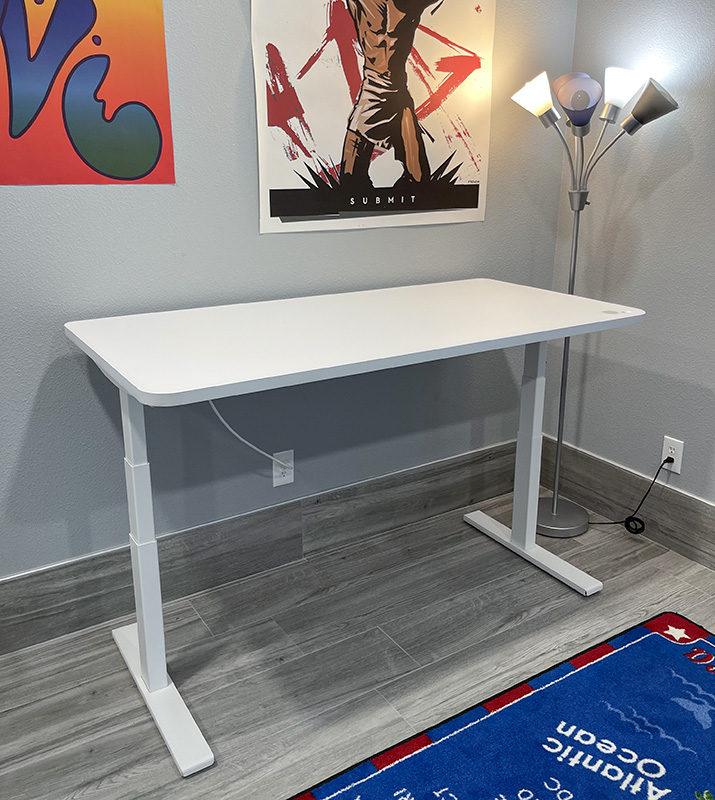 REVIEW – If you are thinking of purchasing a sitting/standing desk and have perused many websites to gather information, you may have noticed that most—if not all—desks are hydraulic frames with a laminate/solid wood top attached. And while that's a great combination, someone has come up with what they say is a better idea. The Charcoal Desk is a two-legged standing desk with a ceramic top that houses a couple of surprises. Is the Charcoal something that will make you reconsider the standard laminate/wood standing desk? It depends.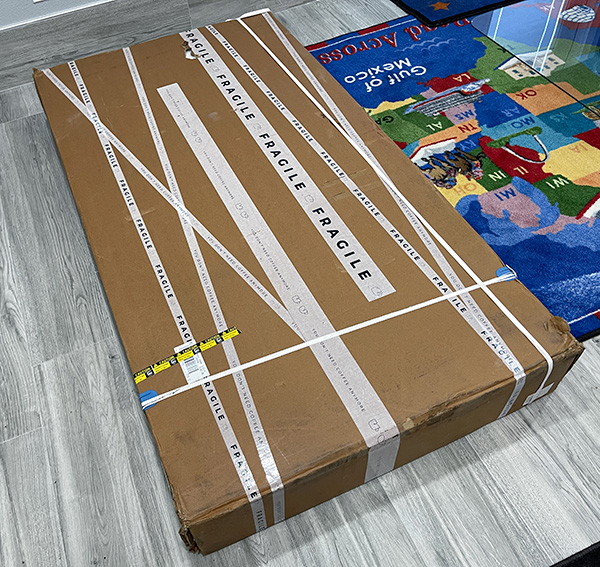 What is it?
The Charcoal Desk is a sitting/standing desk that can be risen to standing or lowered to sitting heights. It utilizes Danish motors in its columns. The beautiful, bright white desktop is a translucent ceramic, giving the top an illusion of depth.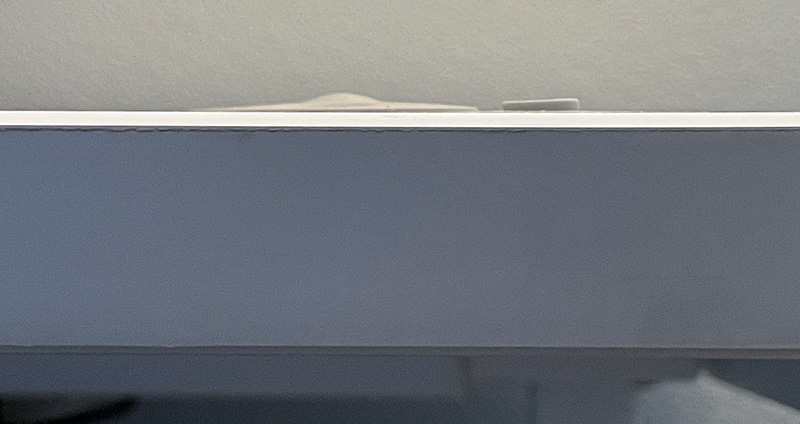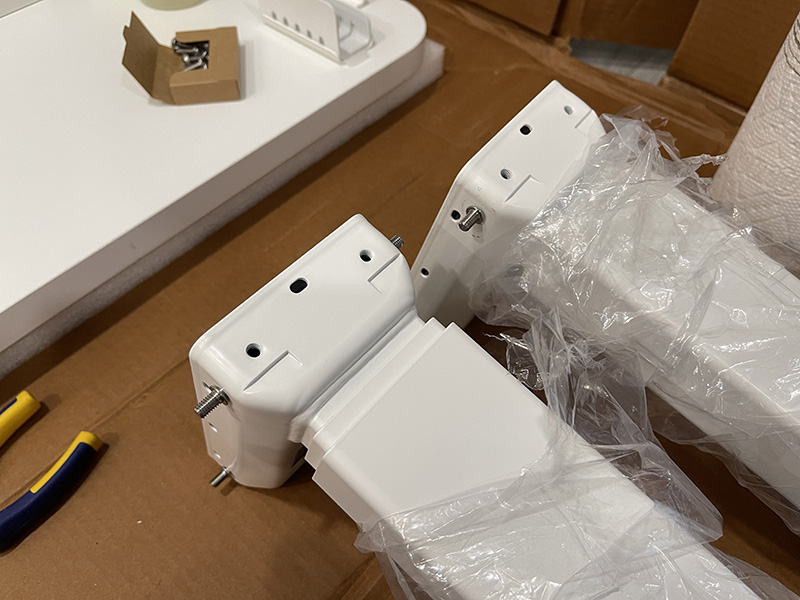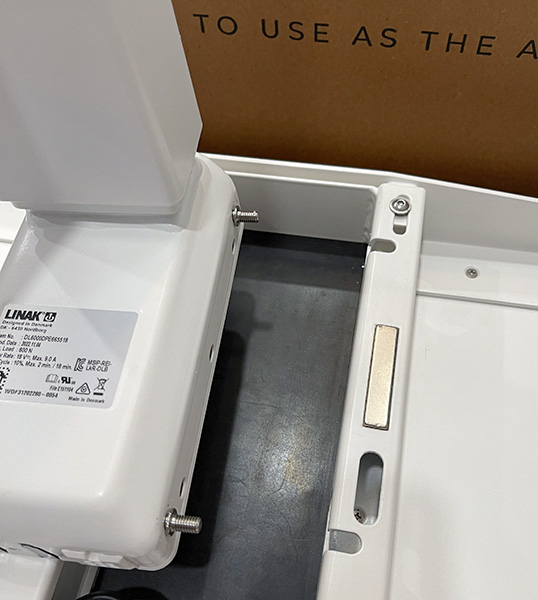 The base is white painted metal. The legs are heavy, making the desk bottom-heavy, which increases the feeling of stability. Charcoal states that the desk will support 300 lbs. They even show users sitting on top of the desk while working. While the weight claim may be correct, I'm not testing it with my 210+ lb. body.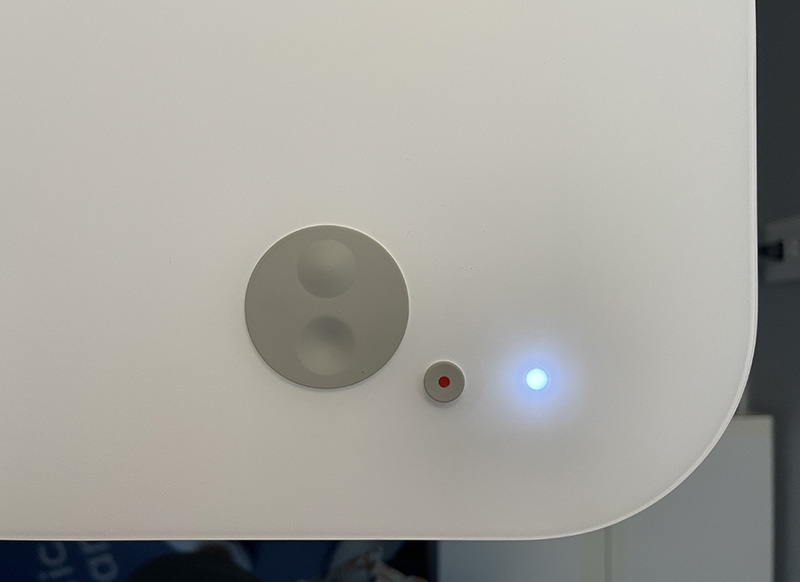 Controls are as simple as they come. A two-button circle raises or lowers the desk to a preferred height. Heights can be customized for easy access to two desired heights—one for sitting and another for standing. The desk can accommodate almost any human's height.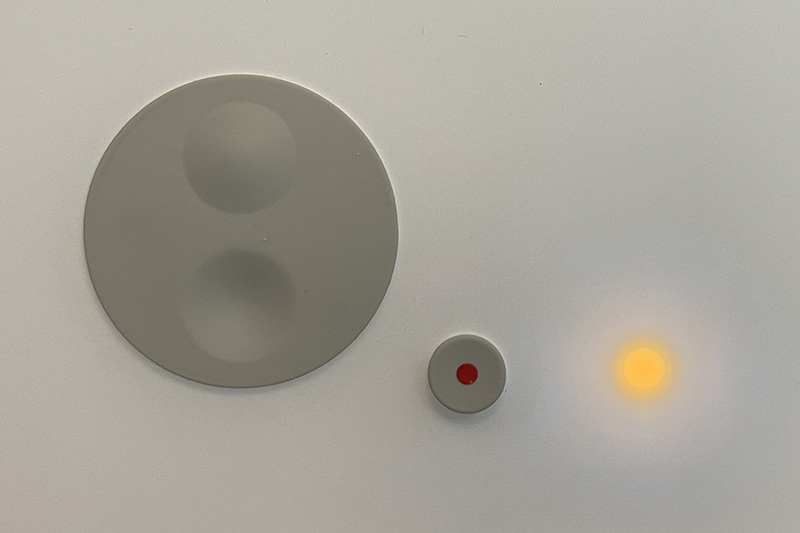 A built-in light next to the up/down button glows yellow to warn (more like a suggestion) the user to take a break. For instance, it could include suggesting you go for a walk, stretch, or even take a short nap. It glows orange to warn of a burn-out and to take a break immediately. These warnings can also be turned off.
Charcoal states that the breaks are timed based on how the brain functions throughout the day based on EEG scans from a study that Charcoal initiated. The 1-in. thick top houses built-in sensors that scan and use predictable data to know when you need a break and then remind you before you burn out.
Hardware specs
60 in. x 30 in. top
Desk height range: 22 in. — 48 in.
Built-in sensors for reminders to take a break
Smooth, quiet motors
Danish design
Simple Up/down functions
Supports up to 300 lbs.
Design and features
First off, the Charcoal Desk is the best-looking standing desk I've seen. It looks as premium as its build would indicate. Charcoal did not cut any corners with this desk. (That's all they call it—The Desk—no fancy, dumb model numbers or letters that mean nothing to normal people) 
Like most standing desks, it arrived in two boxes. The top is packaged separately from the base, legs, and motors. The desk I received is their larger 60 x 30 in. top. The other choice is 48 x 27 in. I wish Charcoal offered an 80 x 30 in. version—my preferred size. Hopefully, in the future, this will be an option.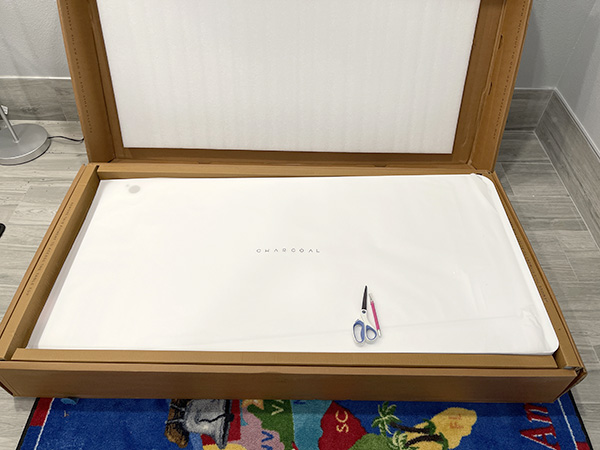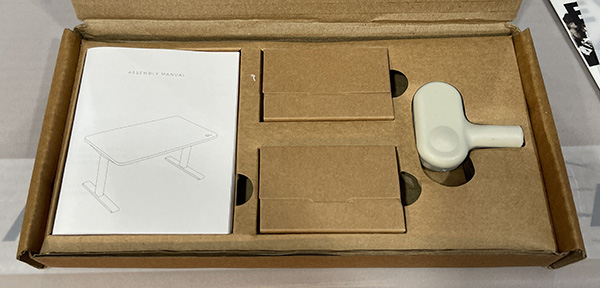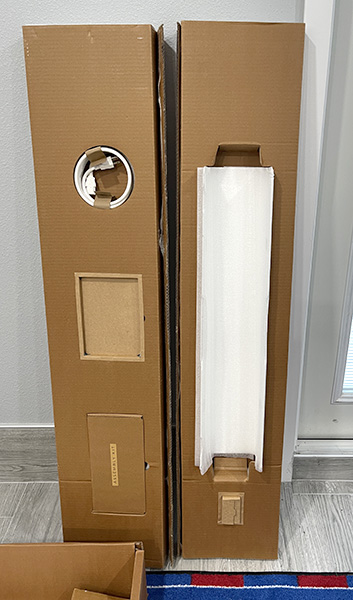 When the desk arrives, it must be assembled. Most recently, I had issues assembling another standing desk, the Flexispot Odin four-legged desk. While these issues were nothing I couldn't figure out, they did require a bit of knowledge with careful measuring. The Charcoal Desk had no such issues, although I did notice a couple of "glitches".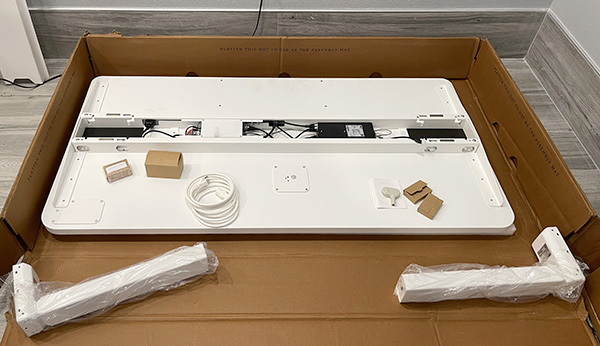 To begin assembly, I laid the box containing the top flat on the floor. Only after opening it did I see a card stating which end should be up when opening. Something printed on the outside of the box would have been more helpful. Luckily, I placed the box on the correct side up—a 50/50 chance.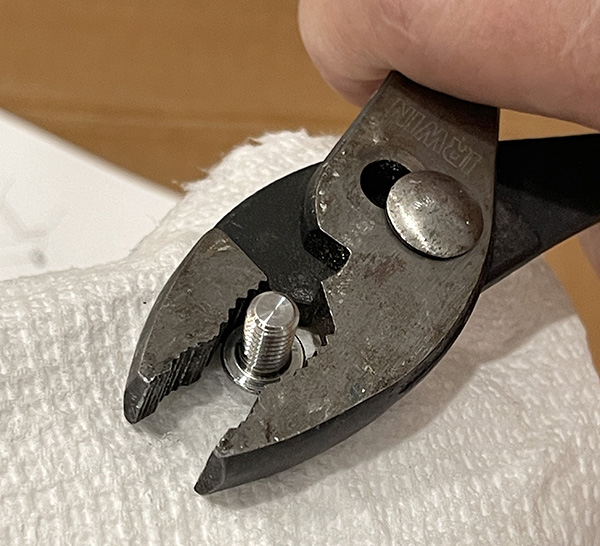 Charcoal supplies all the necessary (and some extra) hardware, including the tools. Charcoal states in the manual that the screws can be hand tightened. Unfortunately, a couple of the screws were too tight-fitting to be done by hand and required me to dig out a pair of pliers from my tool bag.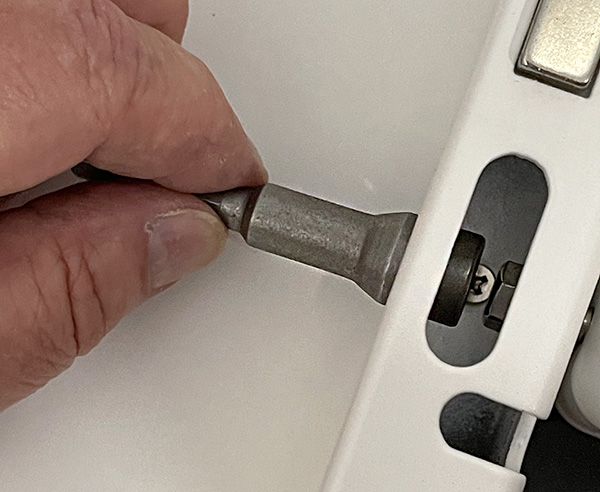 The supplied Phillips-head screwdriver for the cable tray assembly was a bit small for the screws. I relied on a larger screwdriver for a better and more secure fit.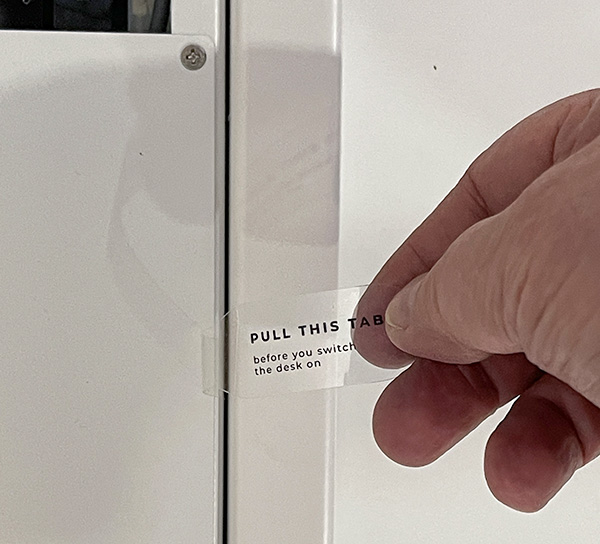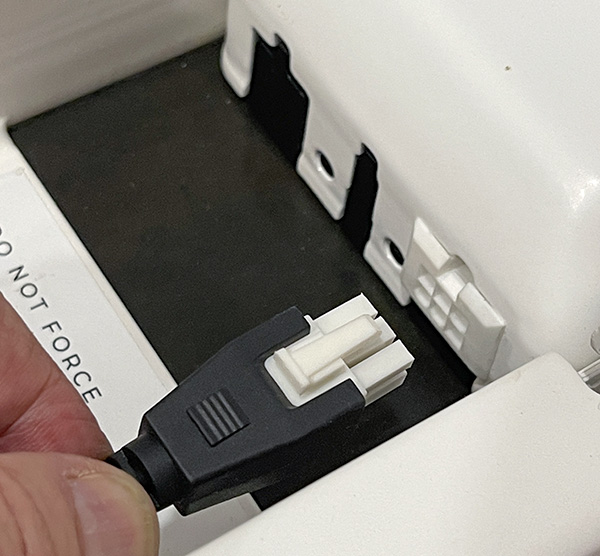 Note that there is a small, but important pull tab underneath the table top that—when pulled—allows all electrical connections to be made. This needs to be pulled before the magnetic central panel is placed. The instructions make no mention of this tab. If not pulled, one might wonder why the table isn't working. At least the covering panel is magnetic and is easily removed to pull the tab and then replaced.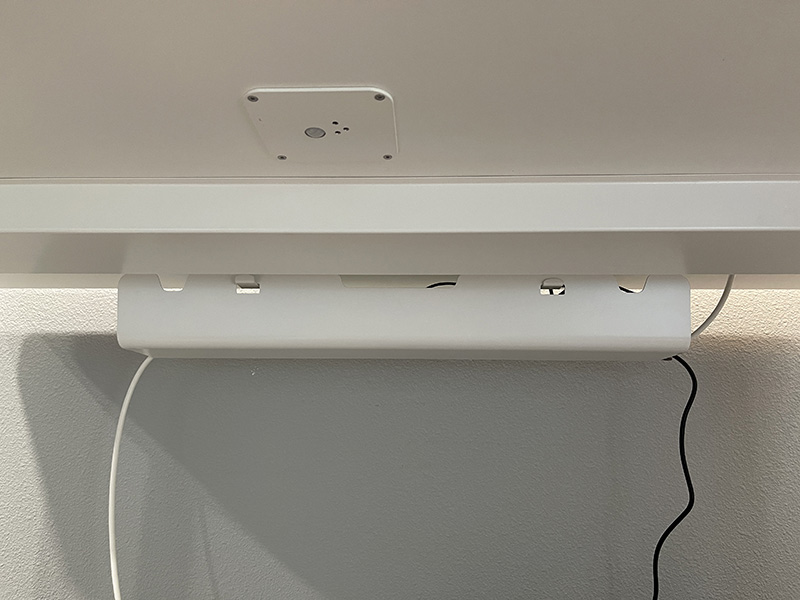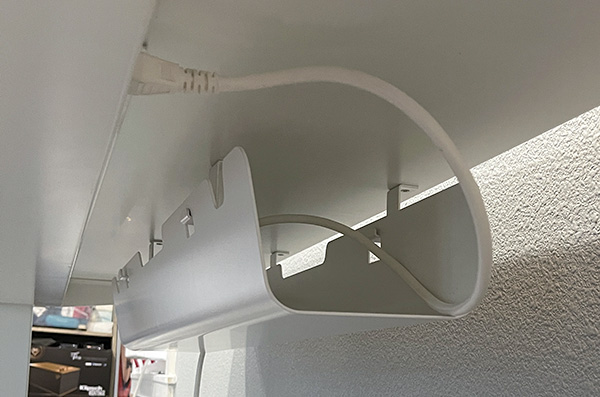 Charcoal provides a hidden tray that hangs down from the underside of the desk. It's much more convenient and useful than the pouch the Flexispot desk provided. This tray will easily support a hard drive or a power hub.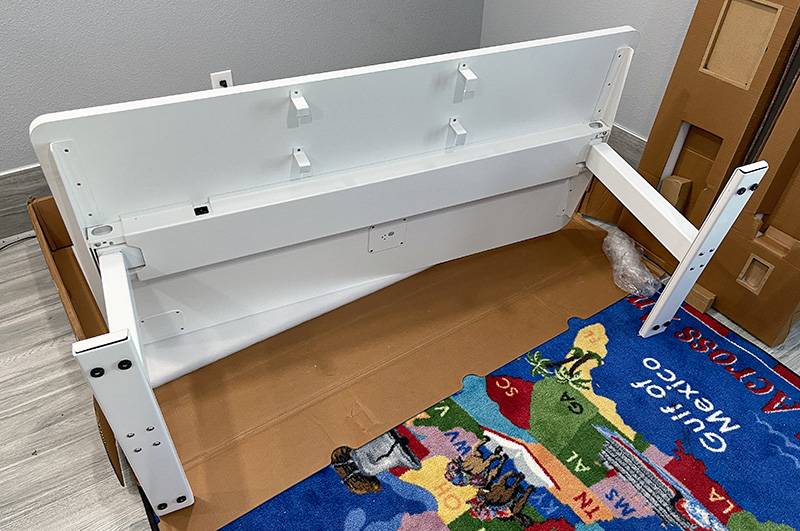 Other than those minor issues, assembly was the easiest of any table I've done. Everything just fits. It took about one hour to unbox and assemble—and that included stopping to take photos. Not bad at all!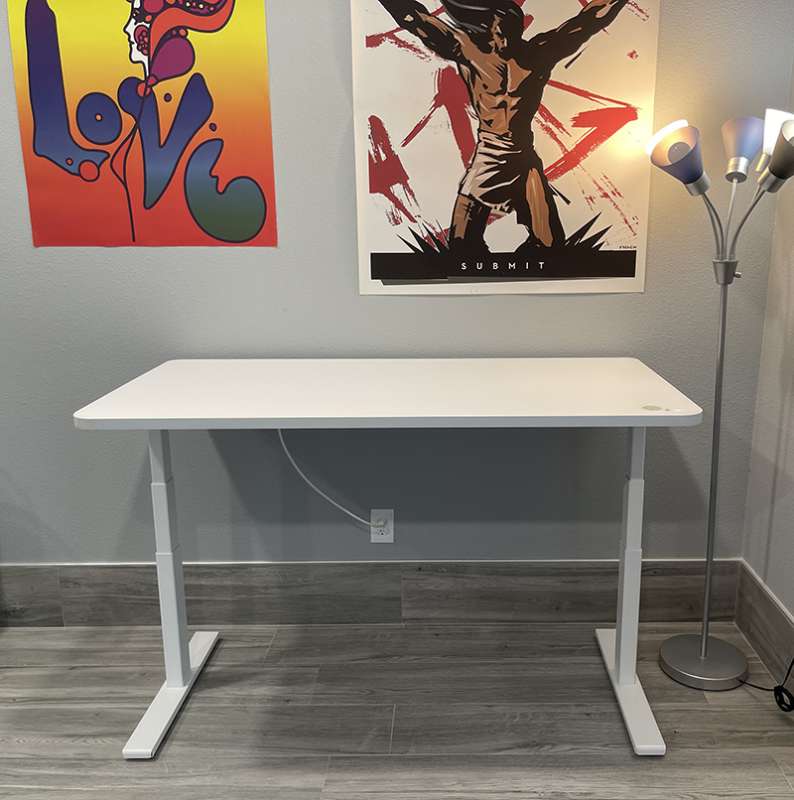 Once the table was assembled, it needed to be turned over. Charcoal recommends a friend to help with this as the desk (especially the larger one) is quite heavy. Of course, I didn't follow their recommendation and almost threw my back out. You've been warned. After much grunting and sheer force of will, I did manage to right the table. Since I have new tile flooring, It was easy to slide the desk into place.
As I said, I prefer 80 in. over the 60 in. desk Charcoal provided for this review, but I can't complain since it's the largest size they offer. Using the desk has been a breeze in efficiency.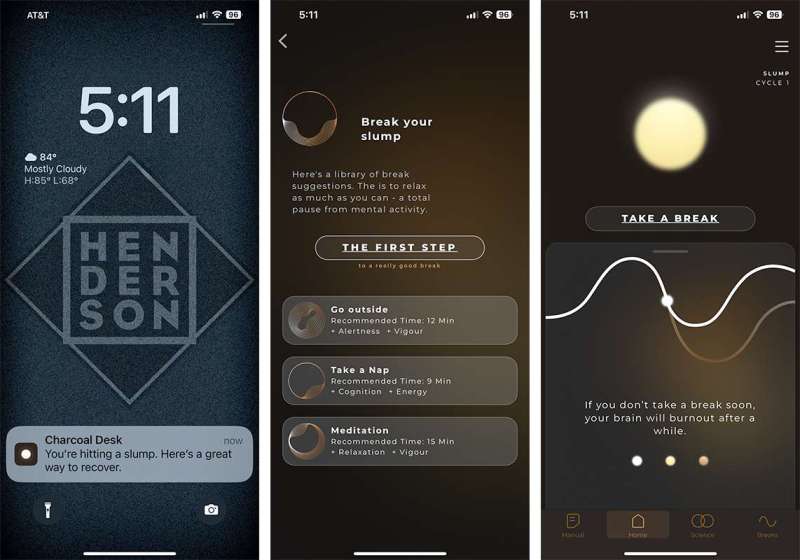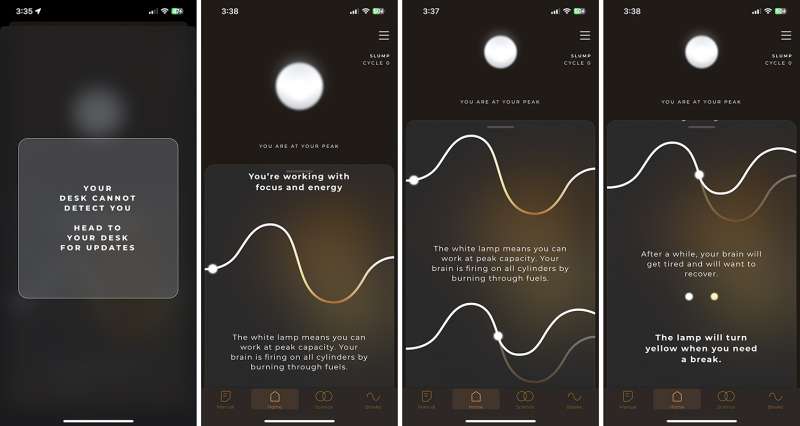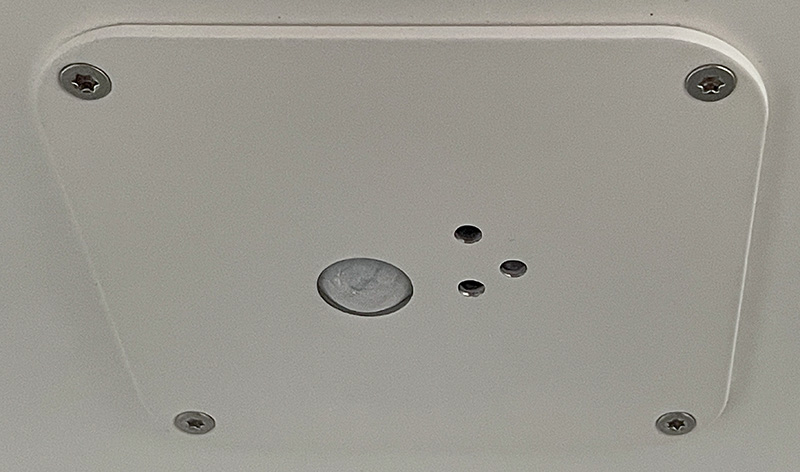 How does the Charcoal Desk know when to send a reminder to take a break? Underneath the table, there's a small "bubble" that is a sensor of some kind that can tell if your legs are underneath the table while sitting. If these legs don't get up and move, the Charcoal "clock" starts counting down to break time. At least, that's how I think it works. A Charcoal app (iOS/Android) lets you give a time when you start your day, what sex you are (not sure why that matters), and your age. That's all they ask, so I'm not sure if Charcoal can do much with the info.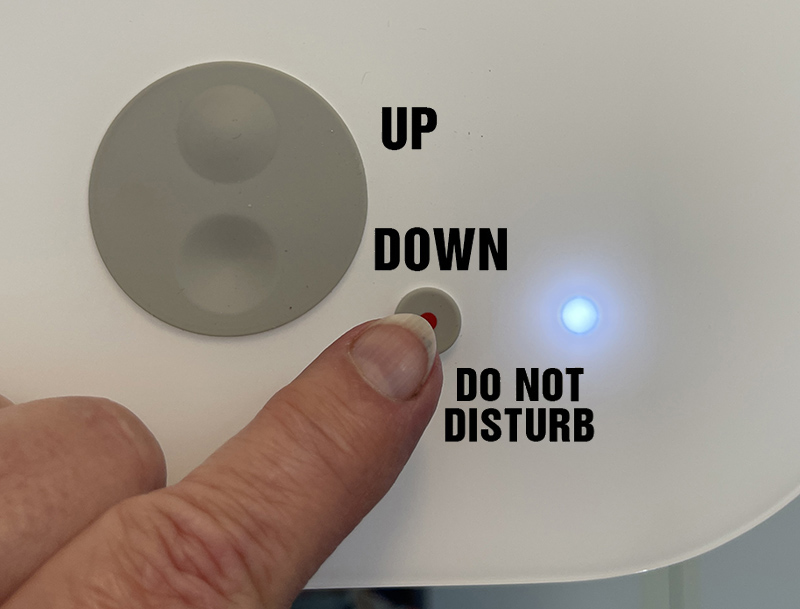 As simple and intuitive as the up/down buttons on the Charcoal Desk are, setting and saving height presets is not as simple as having attached preset buttons other standing desks utilize. The instructions state that once the desk is at the desired height, press the small "Do not Disturb" red-dot button until a green light flashes. This sets the preferred height. I did that but needed to reset it a few times before I "trusted" the selection. Once, I gave the down button a short-press to activate what I thought was a (sitting – 30 in.) preset. However, when it reached 30 in., it didn't stop, and proceeded to press down on my legs. Only when I pressed the up button did it stop and raise back up.
Once I'm comfortable with the presets being properly set, the Charcoal Desk will be in service for quite a while. It's incredibly well-built, looks gorgeous, is almost totally silent when raising or lowering, and is stable at all heights. I still won't climb on it though.
If you're curious how the tabletop feels, Charcoal provides a small free sample of the ceramic material available through their website.

What I like
Well-built
Silent motors
Clean, modern Danish design
Supports up to 300 lbs.
Translucent ceramic top
Looks great in an office setting
Notifies you when to take a break
What I'd change
Not offered in larger sizes
Only comes in white
Presets can be tricky

Final Thoughts
The Charcoal Desk is not cheap, but any standing desk worth using won't be. The mark of a good desk is stability. The Charcoal Desk is stable at all heights. It's heavy and well-made. Once the desk is in place, you may not want to move it too many times. But then again, you will probably like it so much, you won't want to move it or replace it. 
Price: $1199.99
Where to buy: Charcoal.inc
Source: The sample of this product was provided by Charcoal.