We use affiliate links. If you buy something through the links on this page, we may earn a commission at no cost to you. Learn more.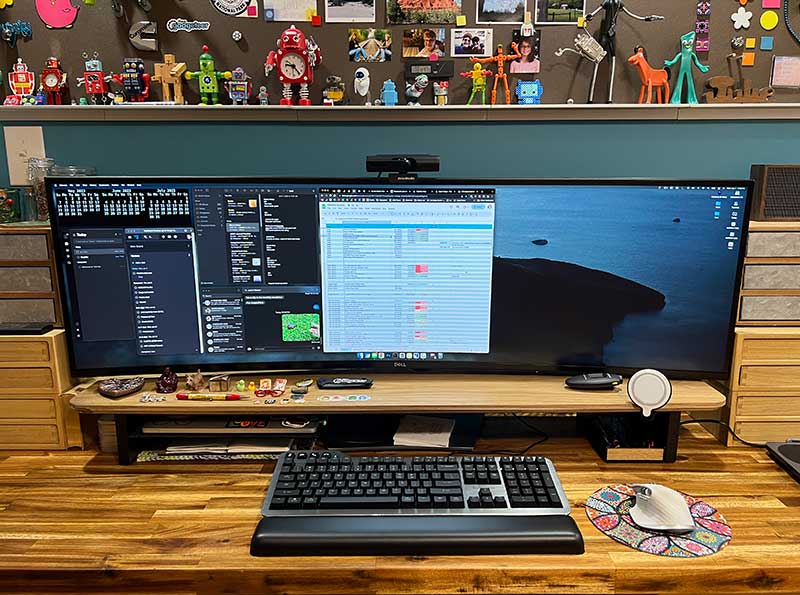 REVIEW – I've been enjoying reviewing a variety of mechanical keyboards for the past few months. The latest one that I've been testing is the Kensington MK7500F QuietType Pro silent mechanical keyboard. Is this my new favorite? Let's find out!
What is it?
The Kensington MK7500F QuietType Pro is a full-sized mechanical keyboard that uses special tactile switches that are designed to cut down on clickity-clackity noise that can annoy co-workers while still providing a satisfying typing feel that mechanical keyboardists love.
What's in the box?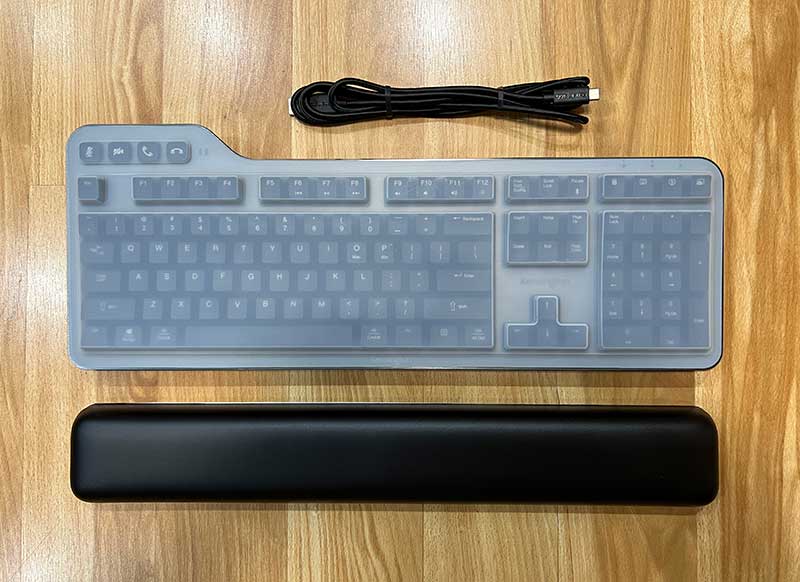 Kensington MK7500F QuietType Pro mechanical keyboard
Keyboard cover
USB cable
Wrist rest
Manual
Design and features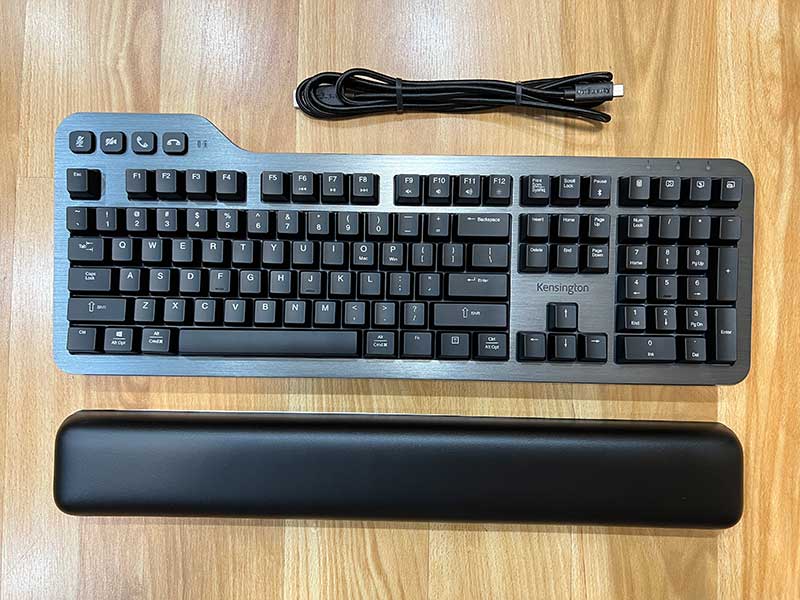 The Kensington MK7500F QuietType Pro mechanical keyboard has a brushed aluminum frame and an all work and no play type style that you would expect to see in a corporate business setting.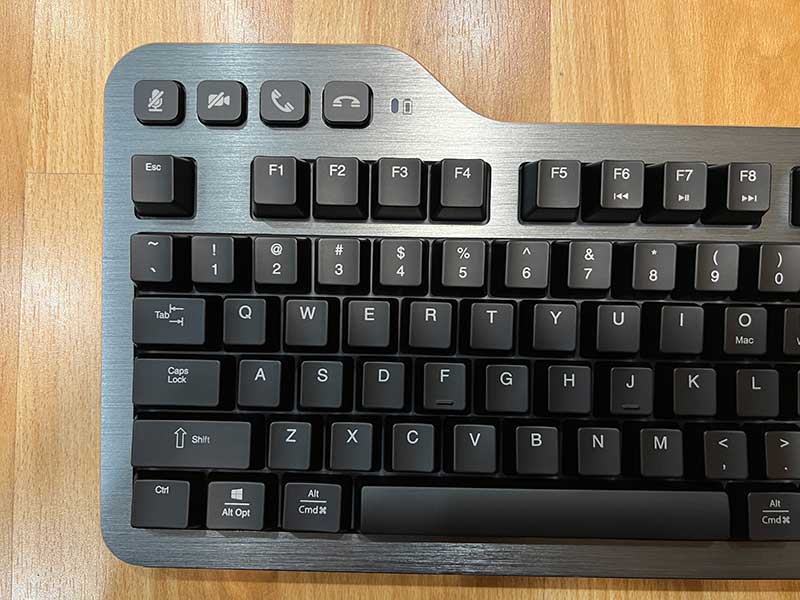 In addition to a full QWERTY keyboard with laser-etched ABS keycaps, this keyboard has a full row of function keys that double as media control keys. There is also a row of built-in meeting control buttons for video conferencing in the upper left corner. These buttons are designed to work with other Kensington Professional Video Conferencing products including Kensington's W1050 webcam and the H3000 Bluetooth over-ear headset but if you don't have that equipment, don't worry because you can reprogram the buttons. More on that later.
The Kensington MK7500F QuietType Pro mechanical keyboard is also IPX4 spillproof so you won't have a heart attack if you accidentally spill your favorite beverage on it.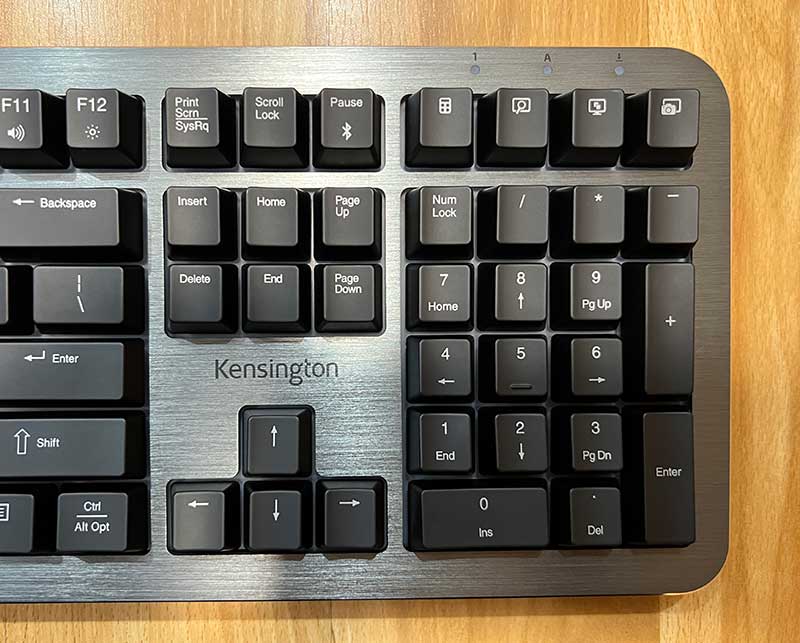 The Kensington MK7500F QuietType Pro mechanical keyboard isn't compact by any means. It has a wide footprint due to the dedicated number pad on the right side.
Above the number pad is another row of special keys that have their own functions: calculator, search, clear desktop, and screenshot. All but the calculator performed the desired function when connected to my MacBook Pro.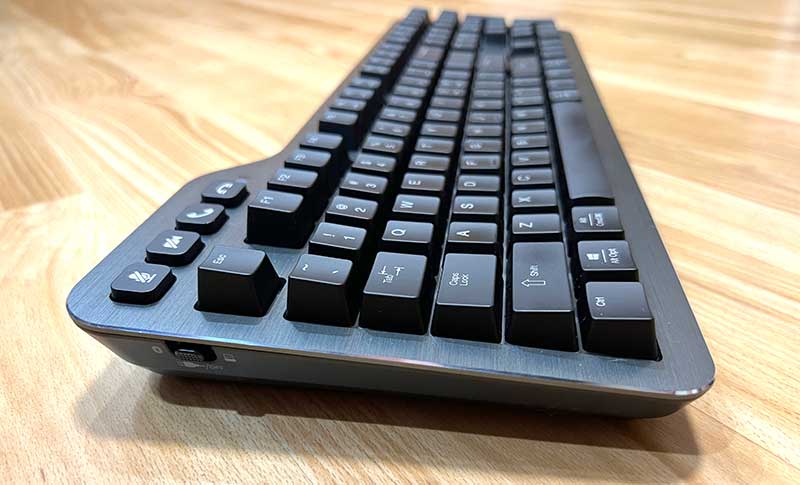 The left edge of the keyboard has a switch that allows you to set the connection mode from Bluetooth (left), hard wired (center), or the included USB dongle (right). You can connect this keyboard with up to 5 devices, 3 Bluetooth, 1 with the 2.4GHz dongle, and 1 with the USB-A cable.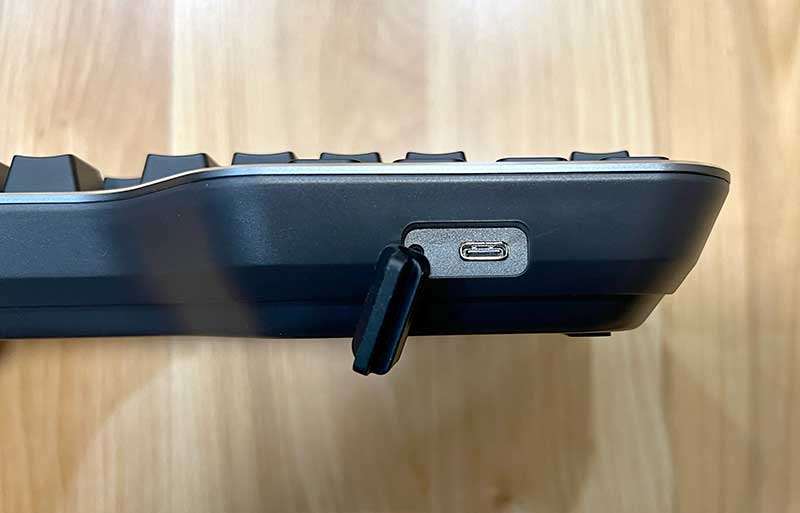 The back left "shoulder" has a USB-C port that is used to charge the keyboard's internal battery or use it in hard wire mode.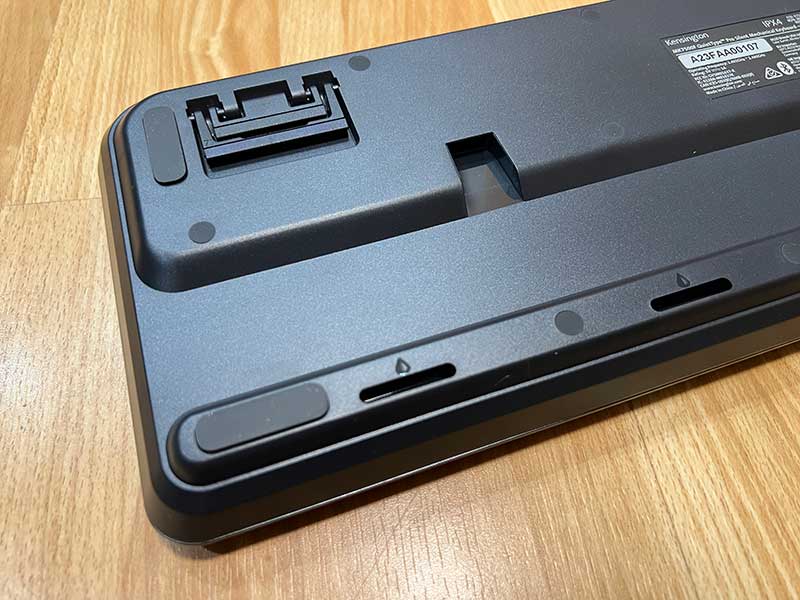 The bottom of the Kensington MK7500F QuietType Pro mechanical keyboard has 2 dual position feet that raise the back of the keyboard 5 or 7 degrees.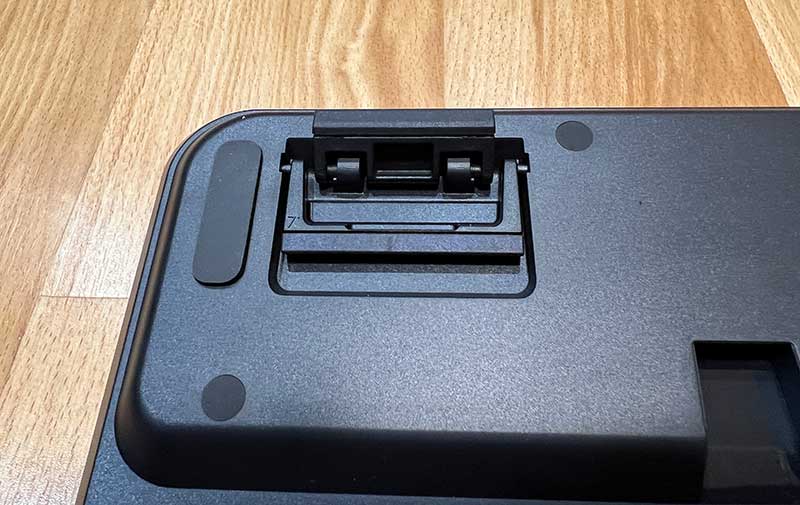 Each side has 2 flip out feet. There's a smaller one for a 5 degree lift…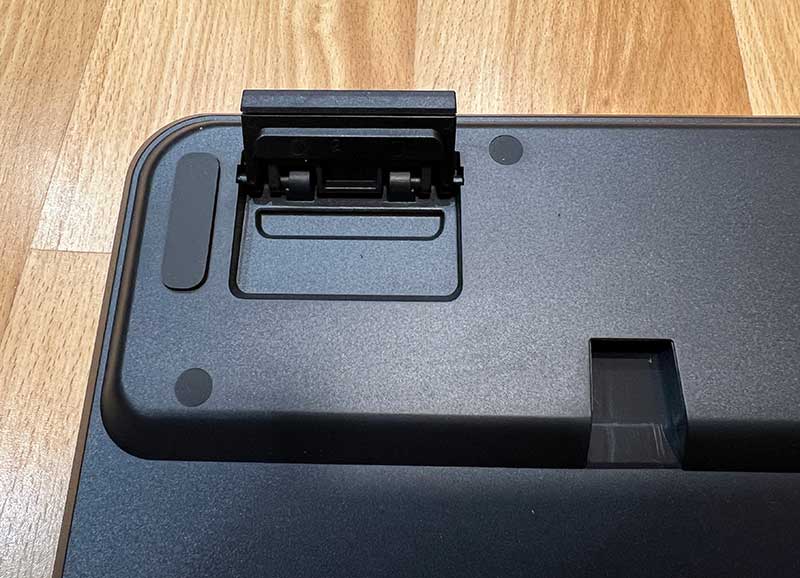 And a larger one for a 7 degree lift. Both feet have non-skid rubber on the edge to keep the keyboard stable on your desktop.
In the image above, you'll also notice the slot in the center of the keyboard. That slot holds the included USB dongle when it's not being used.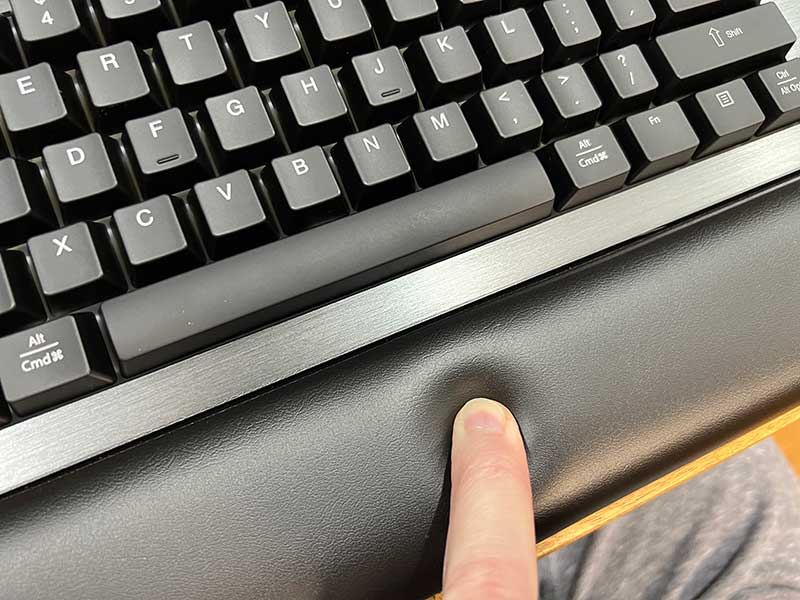 In addition to the ability to raise the back of the keyboard, the MK7500F QuietType Pro mechanical keyboard includes a cushioned wrist rest. The gel feel of this wrist rest is very comfortable.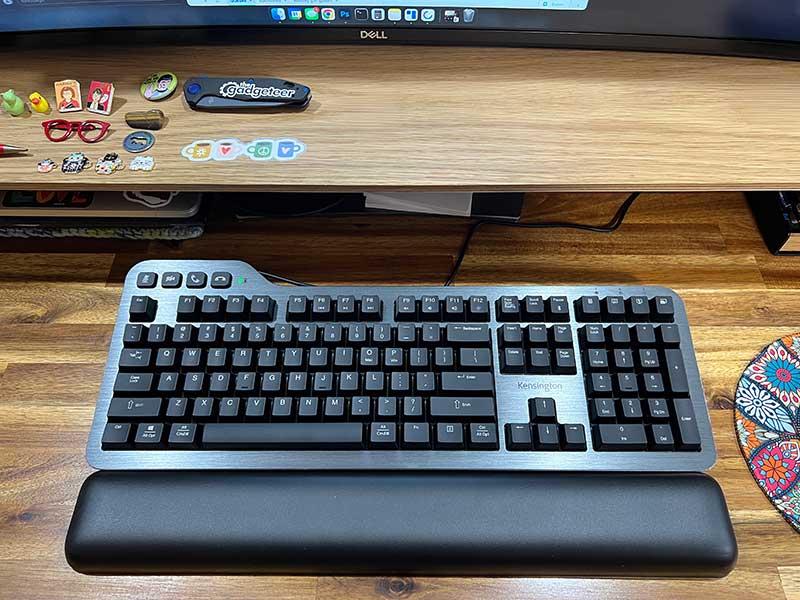 The keyboard uses Kailh Midnight Pro Silent Tactile Switches and sound-dampening pads that really cut down on the noise. But the keyboard is not silent. The keys still make noise when you type. I had planned to do some noise testing comparing this keyboard with another full-sized keyboard with Cherry Red tactile switches but I don't have a keyboard right now with that type of switch… But I did do a quick video where you can watch and hear me typing on this keyboard. You can check that out below. I also show the backlight option.
Note that while the keycaps are replaceable, the switches themselves are not. If that bums you out because you won't be able to customize it, maybe the fact that you can customize the actual key functions will cheer you up.
Customize the keyboard with the Kensington Konnect app
One of the things I noticed right away when I started testing the Kensington MK7500F QuietType Pro mechanical keyboard is that the media controls (mainly volume up and down) required me to press the FN and a function key instead of just one key when I wanted to adjust the volume on a video. That really drove me crazy. That and the calculator button above the numpad which did nothing when connected to my MacBook Pro. So, I installed the Kensington Konnect app.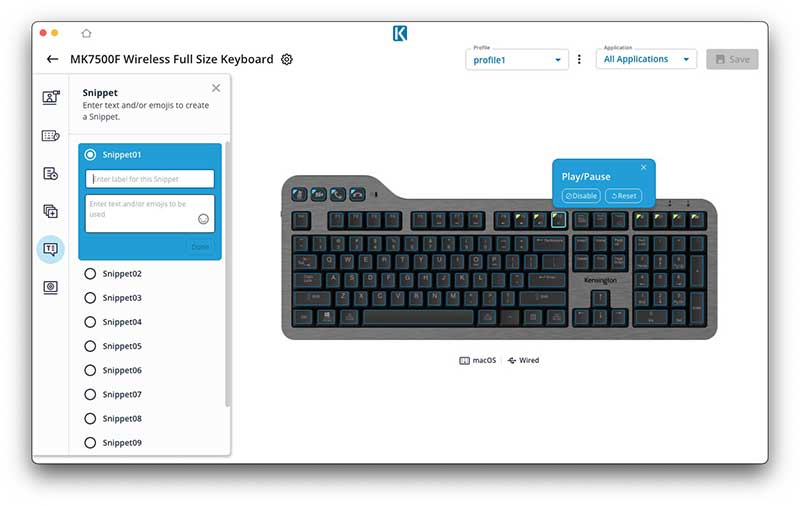 This app allows you to change the function of any key on the keyboard. You can reprogram a key to launch an app, type full snippets of text, provide multi-key macros, and more.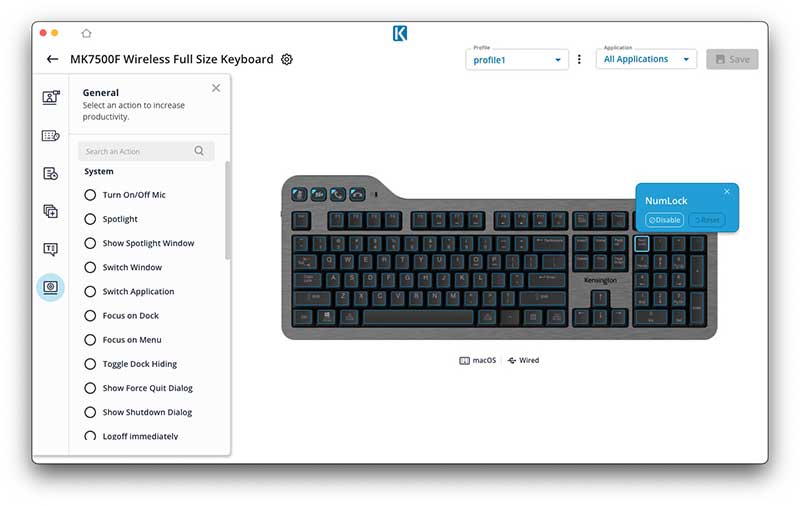 I immediately used the app to fix the calculator button and reassign the F10 and F11 buttons to one-key press volume up and volume down functions. 
These remapped keys worked great but only while the Kensington Konnect app was running. Quitting that app causes the keyboard to go back to the default settings because this keyboard doesn't have its own memory to save the new settings and the software can not flash the keyboard's firmware.
See and hear it in action?
As you can hear in the video above, the Kensington MK7500F QuietType Pro mechanical keyboard isn't silent, but it is quieter than other mechanical keyboards with tactile keys. The video didn't pick up that the S key/switch on the left side of my keyboard has a tendency to squeak. It does not squeak with every press but it does it often enough that I've noticed it.
Do I like the Kensington MK7500F QuietType Pro mechanical keyboard?
Choosing a mechanical keyboard is like choosing a pair of shoes, a smartphone, or a pair of jeans… everyone will have a different set of wants and needs that will make a keyboard feel comfortable to them. The Kensington MK7500F QuietType Pro mechanical keyboard is comfortable to type on. The keys have good tactile feedback and just enough noise to put me in the zone when I'm working on reviews or other long-form writing.
That's the good news. The not so good news is that one of the keys (S) squeaks a bit here and there. That's not a huge gotcha, but my biggest issue with this keyboard is its size. I've become accustomed to using a 65% sized keyboard and that makes this one feels like it's 3 feet wide and that I have to stretch my right hand too far away to use my mouse. I know I'm exaggerating a bit, but it's a comfort thing. If you prefer a keyboard with a small footprint, you will most likely not enjoy using this one if only for that reason alone.
What I like
Built like a tank
Can connect up to 5 devices
Dedicated video conference buttons
Included wrist rest
What I'd change
Add memory to save keymapping changes
Ability to replace switches
Final thoughts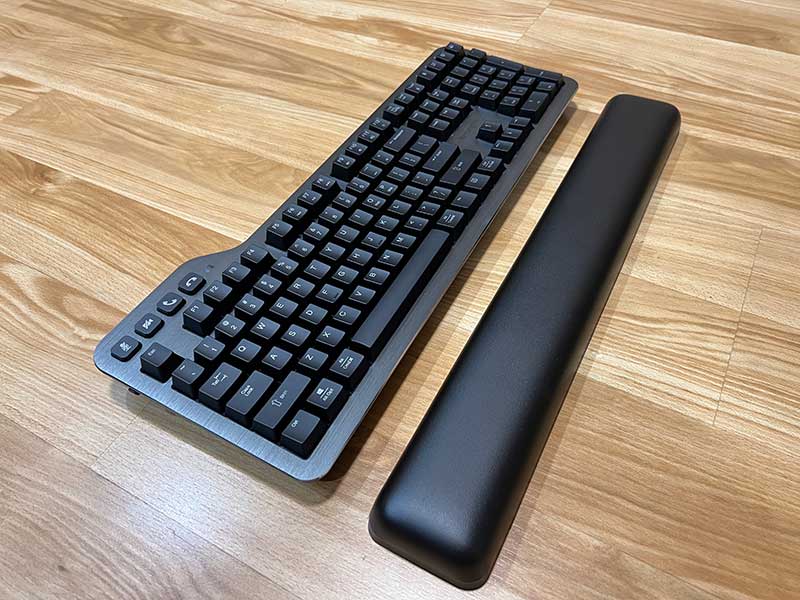 Kensington says that the Kensington MK7500F QuietType Pro mechanical keyboard is 15db quieter than other mainstream office keyboards. If you enjoy the feeling of typing on a mechanical keyboard but don't want to distract your co-workers all day with your clickity-clackity typing antics and you also want a full-sized keyboard that looks professional, this keyboard could become your next favorite keyboard.  
Price: $199.99
Where to buy: Amazon
Source: The sample for this review was provided by Kensington.