We use affiliate links. If you buy something through the links on this page, we may earn a commission at no cost to you. Learn more.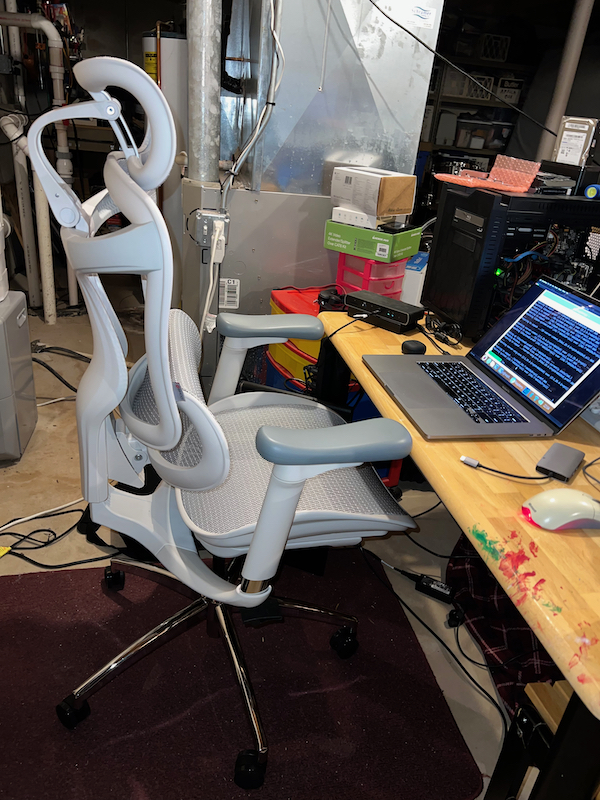 REVIEW – A good office chair is crucial if you spend very much time sitting at a desk. If you aren't comfortable, sitting at the right height, with the right back, neck, and arm support, it can take its toll on your body. I've never had what I'd consider a good office chair. Years ago I was given a decent chair that we use in our office but it doesn't sit as high as I'd prefer and there are no armrests. While I don't always need to support my arms it is nice to have something to rest them on when they get tired or when I take my hands down from the keyboard and mouse. I was excited when the opportunity came up to review the SIHOO Doro-C300 Ergonomic Office Chair because I wanted to see how much better a good office chair would be.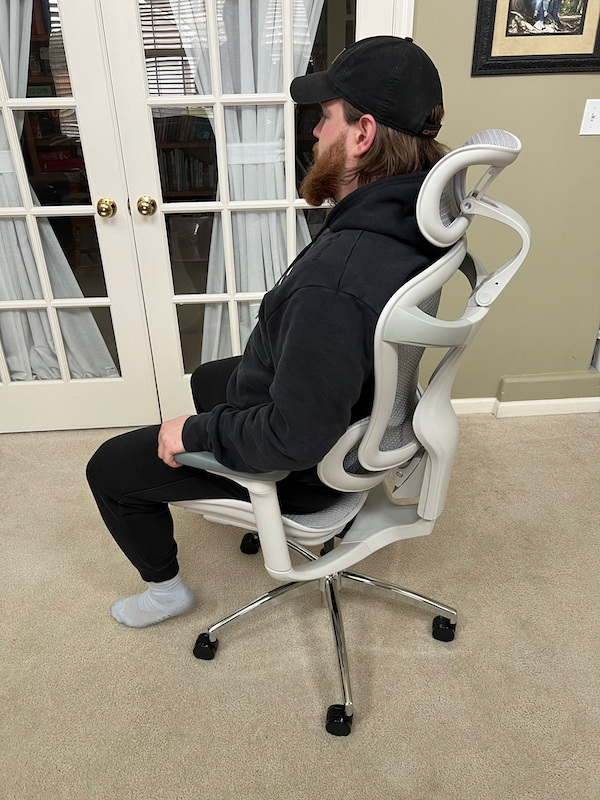 What is it?
The SIHOO Doro-C300 is an ergonomic office chair with a wide range of adjustable features to help you dial in just the right feel for your body style and desk layout.
What's in the box?
All the parts of the SIHOO Doro-C300 chair
T-handled Allen key
Standard Allen key
Hardware specs
FABRIC: Mesh Back and Seat with Soft PU Coated Armrests
ARMRESTS: 3D coordinated armrests
MAXIMUM LOAD: Up to 300 lb
MAXIMUM SEAT HEIGHT: 17.72"
SEAT DEPTH: 16.53″
MAX HIP WIDTH: 20″
CHAIR BACK LIFTING HEIGHT: 2.36″
GROSS WEIGHT: 66.36 lb
PACKAGE DIMENSIONS: 30.51 x 22.05 x 15.35 inch
COLOR OPTIONS: Black, white
Design and features
The SIHOO Doro-C300 is an ergonomic office chair that comes in black or white, full of features designed to let you adjust the chair to your liking. Design-wise it looks like a lot of other recent office chairs – mesh fabric seat, back, and headrest; adjustable arms and armrests; lumbar support, etc. Feature-wise it's packed with adjustable parts to let you dial in just the right comfort level for your setup and preferences. Available adjustments include:
Ergonomic lumbar support for constant back comfort that adjusts its position with the seat back
Flexible seat back that matches and relaxes your back, with multiple back support locking positions
Wide multi-adjustable headrest for high-precision neck support
3D coordinated armrests to relax your arms in all positions. Armrests can be raised & lowered and rotate toward and away from the body for just the support you want.
Smart weight-sensing chassis for effortless and balanced reclining, with adjustable seat height
In addition, there is what SIHOO calls a "waterfall-shaped seat" with plenty of support to adjust to your weight and balance.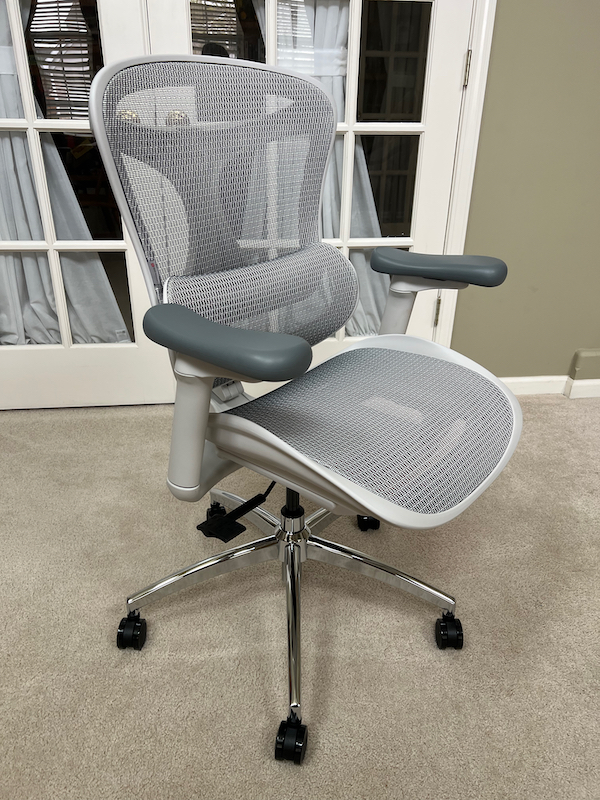 Installation and setup
The SIHOO Doro-C300 chair was quite easy to assemble, especially for someone who has put together an office chair before. It took me approximately 43 minutes from opening the box to having the chair assembled. I then took it apart again (most of the way) to take pictures of the various pieces. I didn't feel like taking the time to take apart the seat base and wheels for the product photos after initial assembly because it would have taken more force than I wanted to exert to get them apart, but they were some of the easier parts to put together. The rest of the seat went together pretty easily as well. There were some parts I had to hold in place above my body when I was screwing them together while laying on the floor, which could have been a pain, but I found them easy to keep in place while I was putting in the screws, so it didn't end up being a problem. 
All the tools you need (which are only two) are included in the box. It comes with two Allen wrenches – a T-handle and a standard 90º angled wrench. I chose to use the one with the t-handle. It gave me the leverage I preferred to tighten the included screws.
The last thing required for setup is adjusting all the various parts to your liking. Since there are so many it will take a while to figure out what works best for you for seat height, headrest angle, armrest height/rotation/and forward-backward positioning, etc. More on what I think about each of these adjustments below.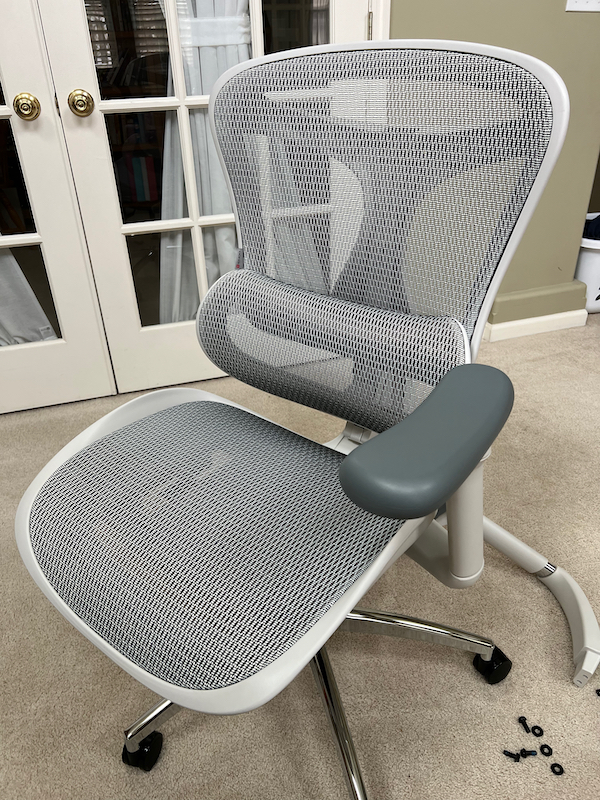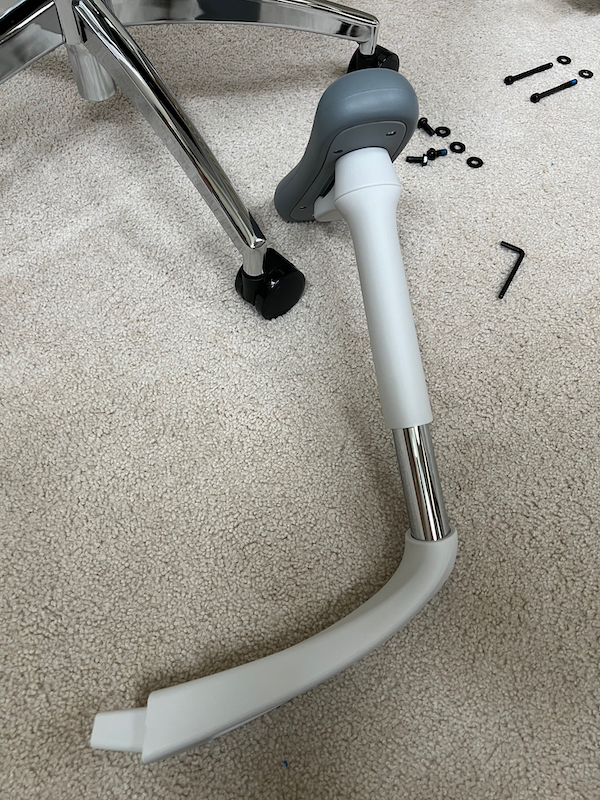 In use
Overall this has been a comfortable chair for me. I don't often work from a desk at home right now – pretty much all my reviews are written on my MacBook Pro while sitting in my La-Z-Boy recliner. This is partially due to the fact that the desk I work from is in my basement and I usually prefer to be upstairs with my wife while writing. I also don't really have a good working space set up in my basement anymore. Since I left my temporary work from home job in mid-2020 I've let my former desk space turn into a junk storage center. I'm working on cleaning that up while also trying to work on an old PC that I built as well as resurrecting my daughter's old laptop to put it to use again. Along with some RGB lighting and hopefully a better external monitor someday, I'll be turning this space into an office again. Having a nice chair to sit on is an important part of my plan for this desk so I'm looking forward to getting used to the SIHOO chair.
The SIHOO Doro-C300's lumbar support feels nice. Other than some of my vehicles I've never had a chair with real lumbar support. I'm in my fifties so my back has been through a lot and my lower back often gets tired and sore when sitting in various chairs. Having lumbar support makes a big difference in my comfort level when sitting in this chair for long periods of time. I would have liked to have the ability to adjust the tension or raise/lower it to a more specific part of my back but I'm not going to complain. It does move and adjust its position with the back of the chair so when you lean back it repositions a little higher on the back, which feels good to me when I lean back to rest my eyes and think (of course by this I mean taking a nap…).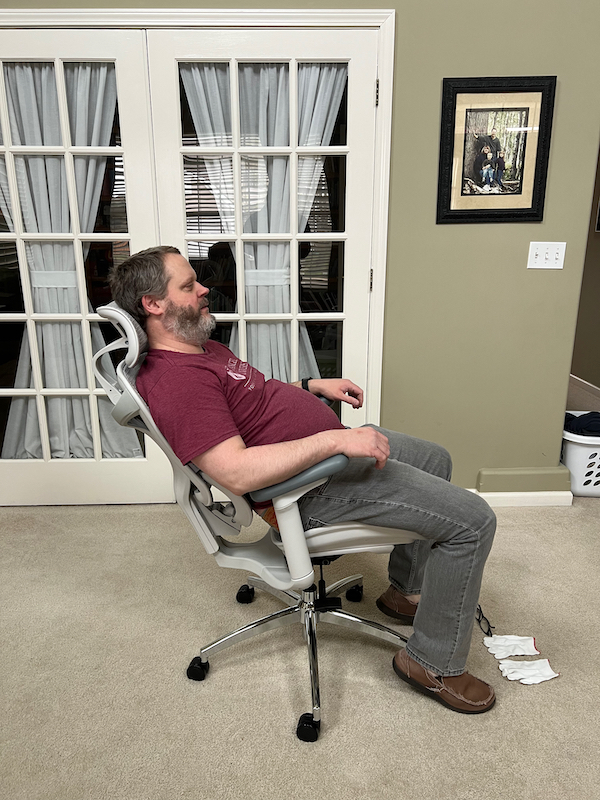 Another nice feature for resting my eyes and thinking is the neck support. For my height (think average American male) I was easily able to find a perfect position to support my neck when leaning back. There is a sliding mechanism for raising and lowering the headrest, a three-position rotating mechanism to adjust the angle of the headrest, as well as a ratcheting mechanism to adjust the angle of the support arm for the headrest. I'm sure just about anyone will be able to find a comfortable position for their neck with this amount of adjustability.
The seat back is made from the same mesh material as the seat and the headrest. It provides plenty of support for my upper back and although it feels rigid while I'm leaning against it I can feel it moving to adjust to my position as I adjust my position in the chair.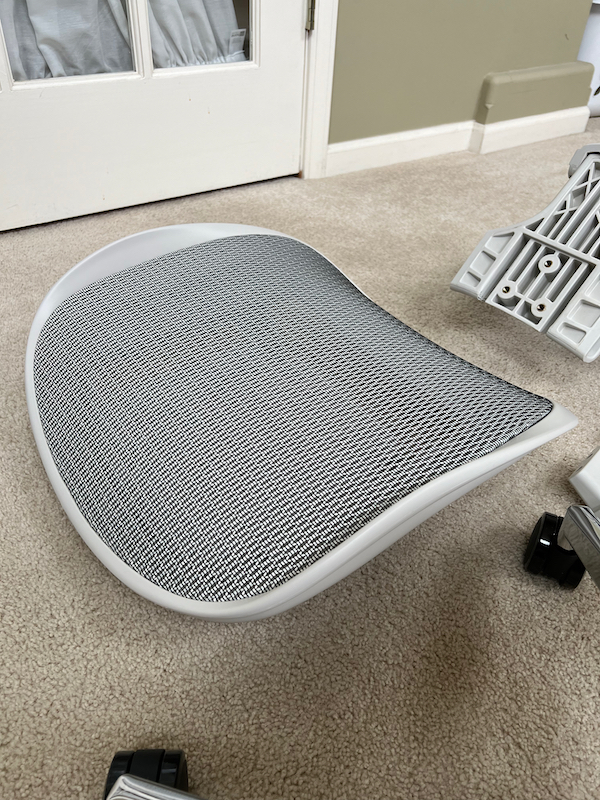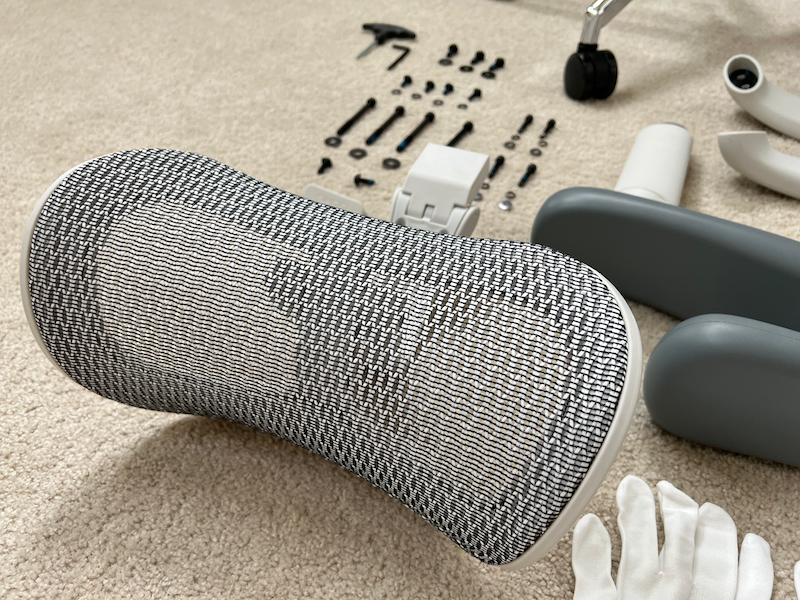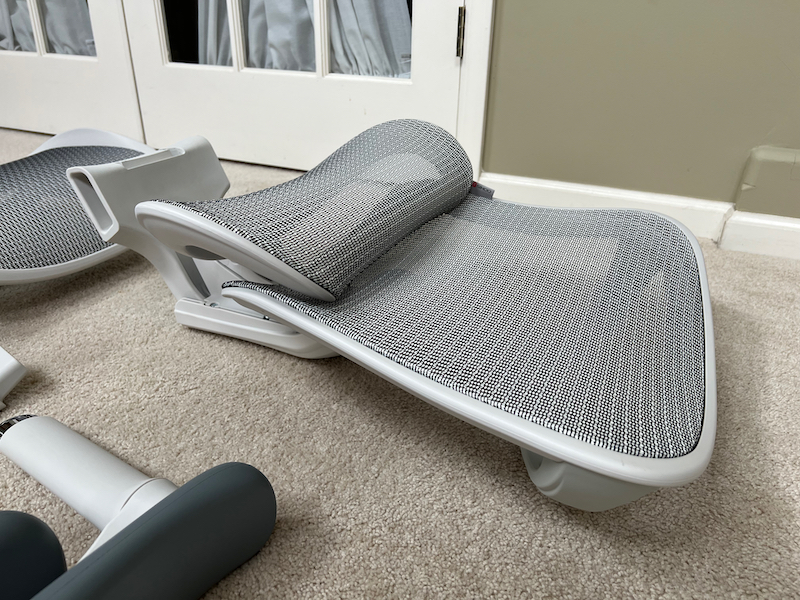 For both seat height and the backrest lock there is just one lever. I like having only one lever to adjust so I don't have to remember which lever raises and lowers and which one locks the seat back. I don't like to sit low at a desk or table and many office chairs don't raise up high enough for the way I like to sit at a desk. This one, which has a maximum seat height of 17.72", works perfectly for the desk setup I have in my basement. I also work a lot at various counters and desktops in sound booths and media production rooms for work; this seat would be a perfect height for some of them but we often get drafting stools for the higher counters to sit at the right height. This wouldn't suffice for the higher counters but it would be perfect for the lower ones where I work.
The SIHOO Doro-C300 chair also features multiple locking positions for the backrest. There are three positions – all the way forward, all the way back, and one spot in between. I know I wouldn't want to lock this chair into the forward position because I always want the ability to lean back whenever I feel the need, and I'm not sure I'd ever want to lock it in the middle or back positions either, but I'm sure some people will enjoy having the option there. It's not in the way and it's always good to have more options available for those who want them. Speaking of the backrest, it takes a little bit of force to start pushing it back, which I like because I want to be able to put my weight against the back of my chair without necessarily leaning back. I also like that once I do lean back, it's easy to maintain the position where I stop – I don't feel like the chair is going to fall back further or try to push me forward; it doesn't take a lot of effort to keep the chair where I stop, and this is what I like in a chair that I'm going to be spending a long time in.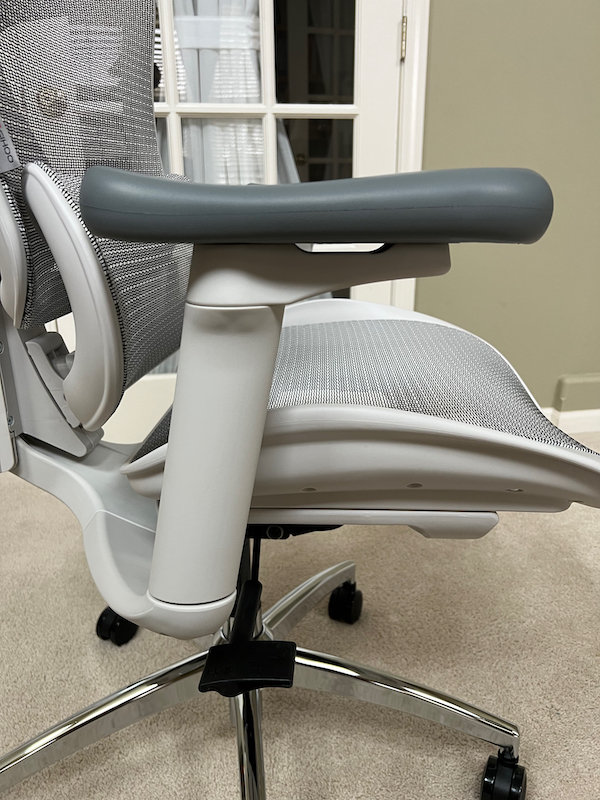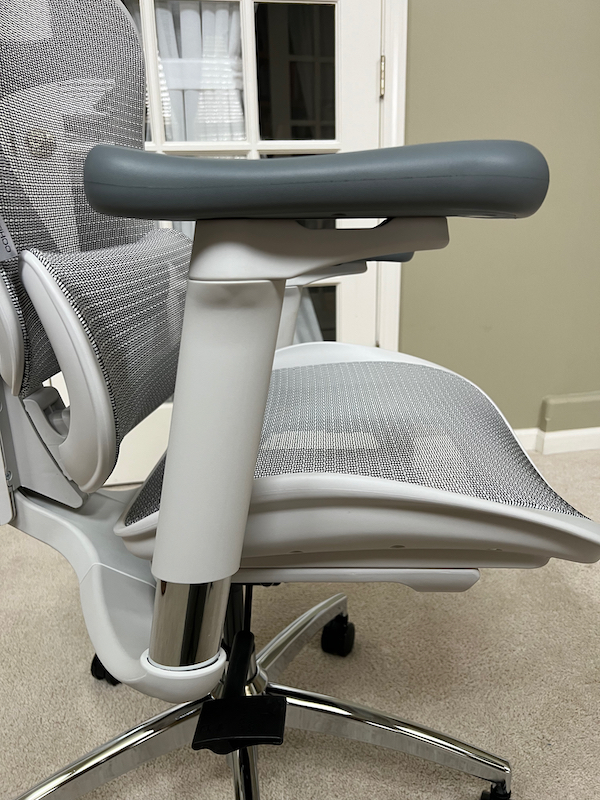 I like the mesh fabric vs. a leather or faux leather material. I feel like this is going to breathe well and keep me from sweating on hotter days. Nothing like getting up from a chair and sticking to it.
I did have one frustration with this chair as I used it. The rotation and forward/back adjustment on the armrests are a little too easy to change. I can't even spin the chair or adjust my weight by pushing off on the armrests without having them rotate or slide forward. A little more tension or a ratcheting mechanism that locked into position might have been nice here.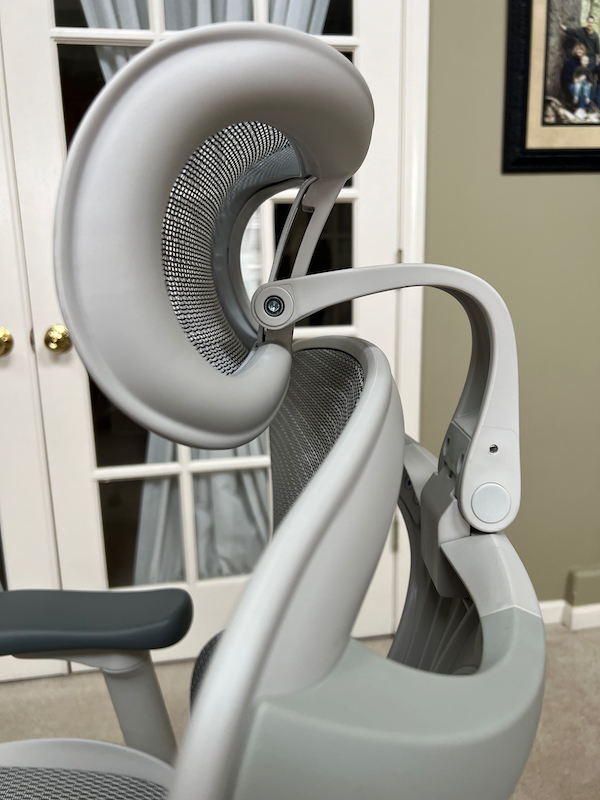 Finally, this chair spins really smoothly. You can briefly see at the end of my timelapse video that I spun around several times with just one push. If nothing else you can release your inner child for a few minutes and have fun spinning effortlessly in your chair while you take a break from filling out your TPS reports or whatever it is that you do.
What I like
Two color choices – black or white
Plenty of adjustments for height, seat back, headrest, armrests, etc.
Mesh fabric that supports your weight and keeps air flowing
What I'd change
Add a locking mechanism for armrest adjustments
Adjustable lumbar support
Final thoughts
In the crowded field of office chairs, if you're looking for something with a good seat height and a large variety of adjustable features for your neck, back, and arms, you owe it to yourself to consider the SIHOO Doro-C300 Ergonomic Office Chair. For the price and available features, you might just find the perfect office chair for your particular needs.
Price: $299.99 ($270 pre-order)
Where to buy: sihoooffice.com
Source: The sample for this review was provided by SIHOO. For more information visit their site.