We use affiliate links. If you buy something through the links on this page, we may earn a commission at no cost to you. Learn more.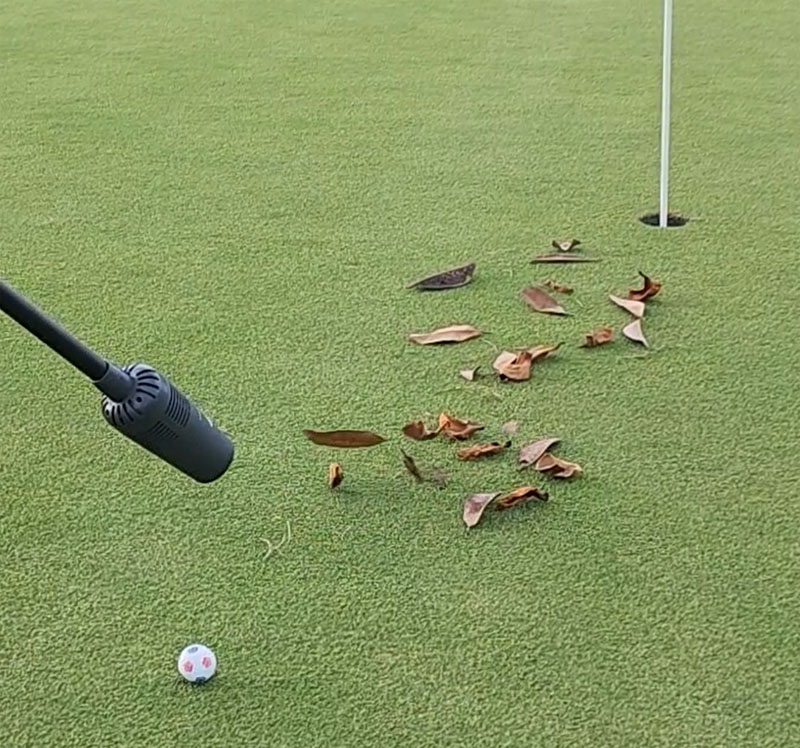 REVIEW – Excuses are as much a part of golf as dimpled golf balls and loud pants.  It was windy.  The sun was in my eyes.  It took a bad bounce.  The list is endless.  If you play golf in an area with trees, then you know a standard excuse for missing a putt is, "My ball took a weird turn – it must have hit something".  Zoombroom wants to take that excuse out of your golf bag by putting the Golf Breeze blower in your bag.  Let's see what the Golf Breeze is and whether it is a game changer or just a lot of wind.
What is it?
The ZoomBroom Golf Breeze is a portable, battery-powered blower.  It is designed to fit in a golf bag and be used to clear leaves and other debris from a putting green, RV, pickleball court, or other on-the-go location.
What's in the box?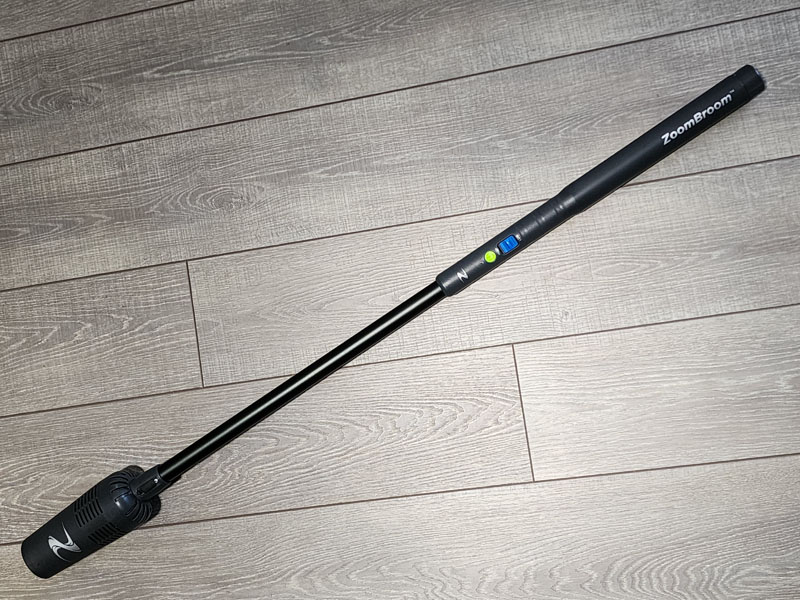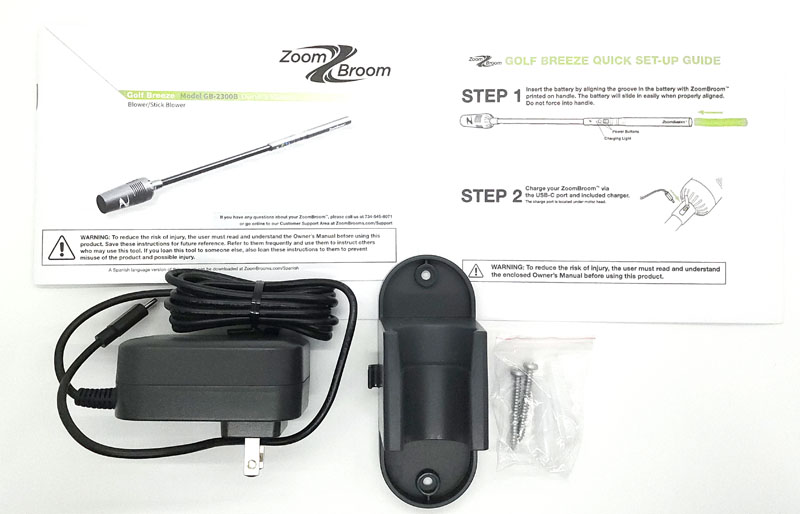 Charger with USB-C connector
Battery pack (installed in the photo)
Wall hanger with mounting anchors and screws
Owner's manual (the version included with production models will be larger and easier to read)
Head cover (not included with this early production model)
Hardware specs
Dimensions: 44.5″ l, 3.5″ max width, 2.375″ blower opening, 1.5″ max handle width at base
Weight: 30.8 ounces
Materials: High-impact plastic and aluminum
Battery: 3800 mAh, 10.8V Li-Ion pack – charges in the blower only
Charging: USB-C port on the blower but it requires the included power supply as standard USB-C will not charge it
Controls: On/Off pushbutton and standard/turbo slide switch
Air velocity: 70MPH on standard, turbo was not listed
Stated run times: 30 minutes on standard, 15 minutes on turbo boost
Design and features
Golf Breeze is, well, a big stick.  But that's the beauty of it.  It's thin, with a handle that is thick enough to fit in your hand but thin enough to fit into a golf bag.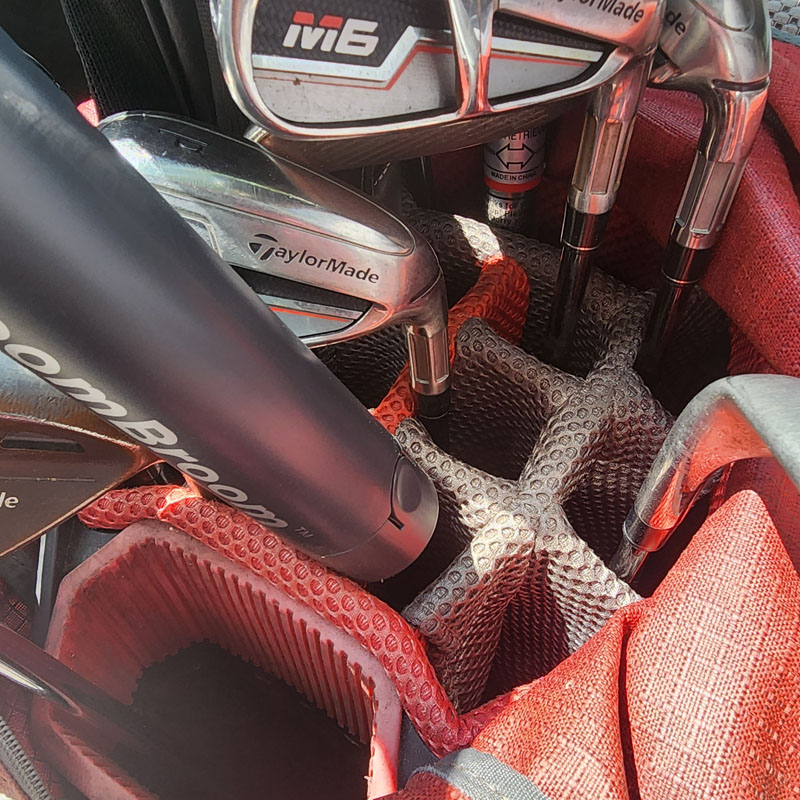 It is long enough to reach the ground without you having to bend, but short enough to fit in a golf bag without sticking up above your driver.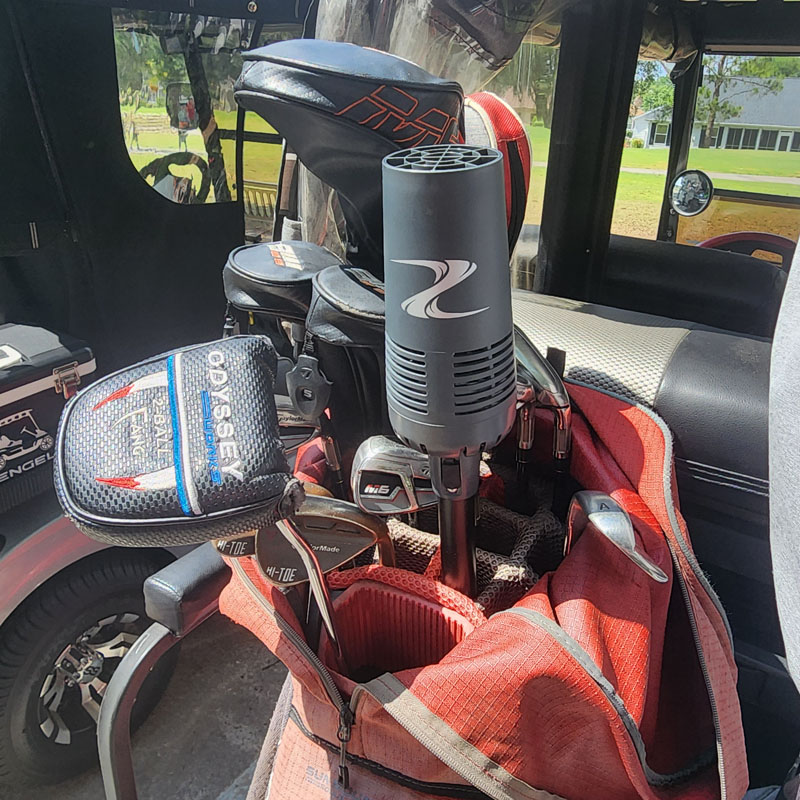 The battery is a long cylinder with a clip on the end.

The other end contains the power connection ports.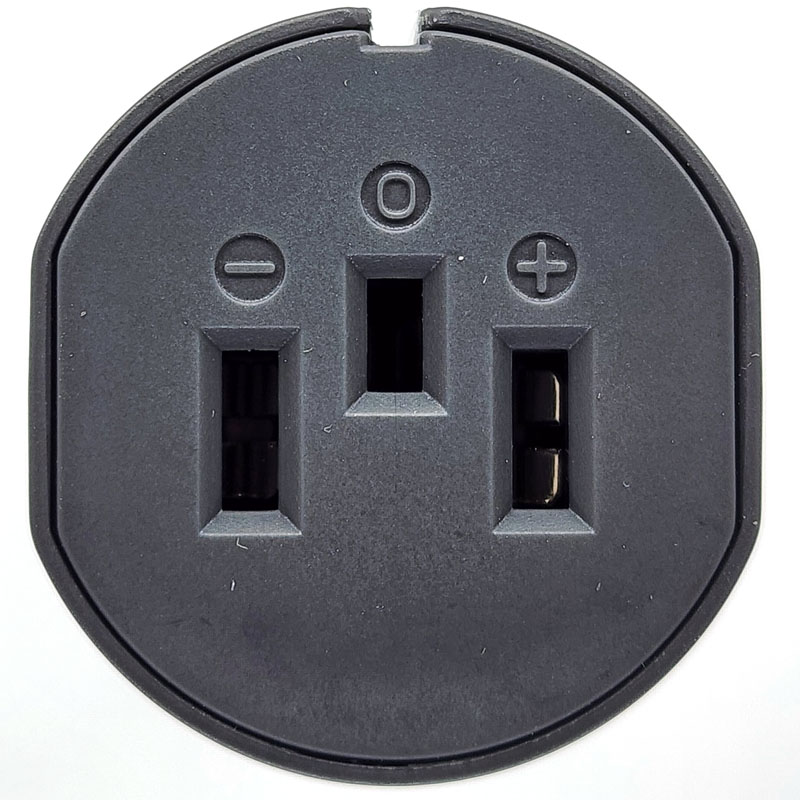 The pack slips into the end on the Golf Breeze and locks into place with thumb tabs.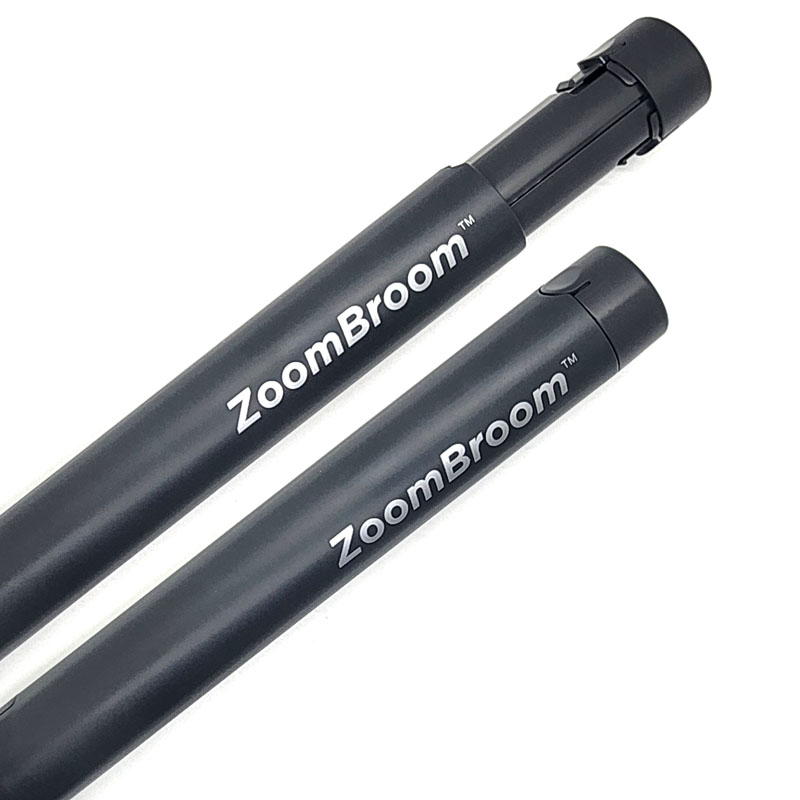 The controls are on the plastic handle.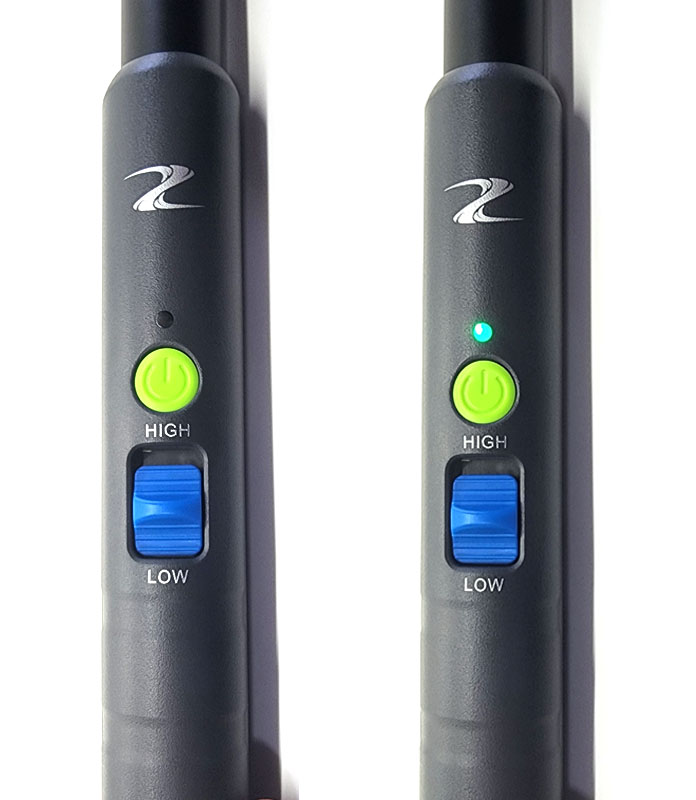 The pushbutton power button turns the unit on and off.  When on, the indicator LED glows green.  The slide switch lets you choose between low and high speed.  The manual says that you should always turn it on at low speed.  The switch should be a momentary switch that only goes to high speed when you hold it there, but it is not.  I think it will be easy to turn it off at high speed and then turn it on the next time at high speed.  This seems like a design defect to me based on the warning in the manual.
The center aluminum section has an information label on the back.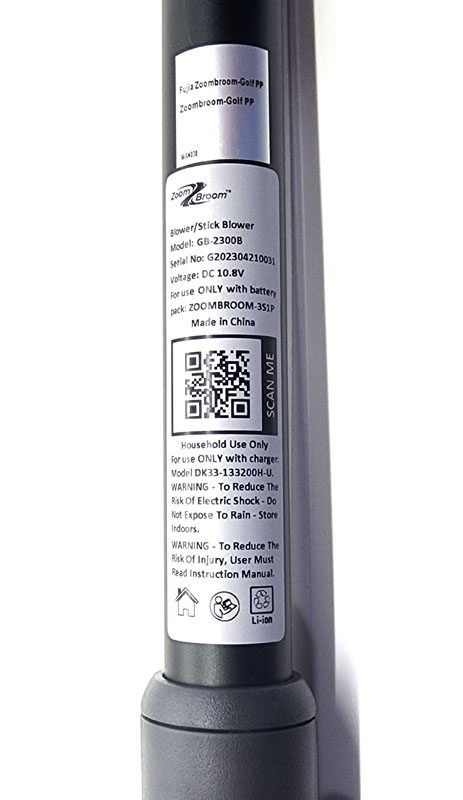 The business end of the Golf Breeze has a tapered look to it.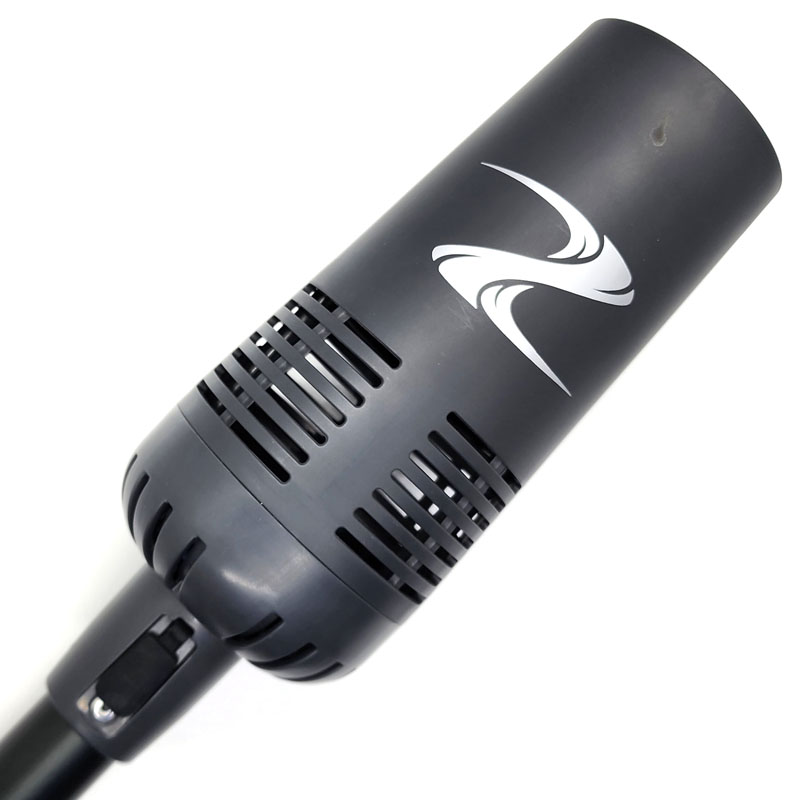 At the base of it, you can see the rubber cover over the USB-C charging port.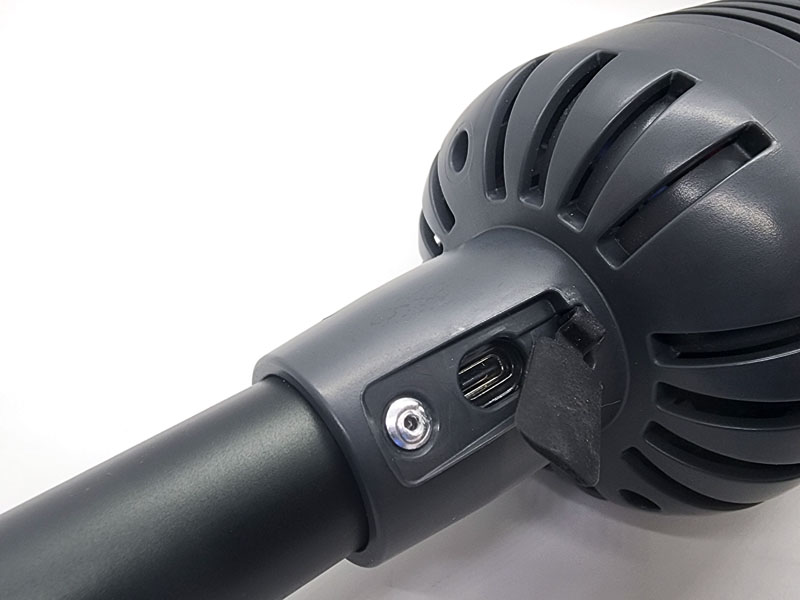 The Golf Breeze will not charge with a standard USB-C charger.  You must use the included charger – again, this seems like a design defect to me.  If you're using a USB-C connector, let it charge with a USB-C charger.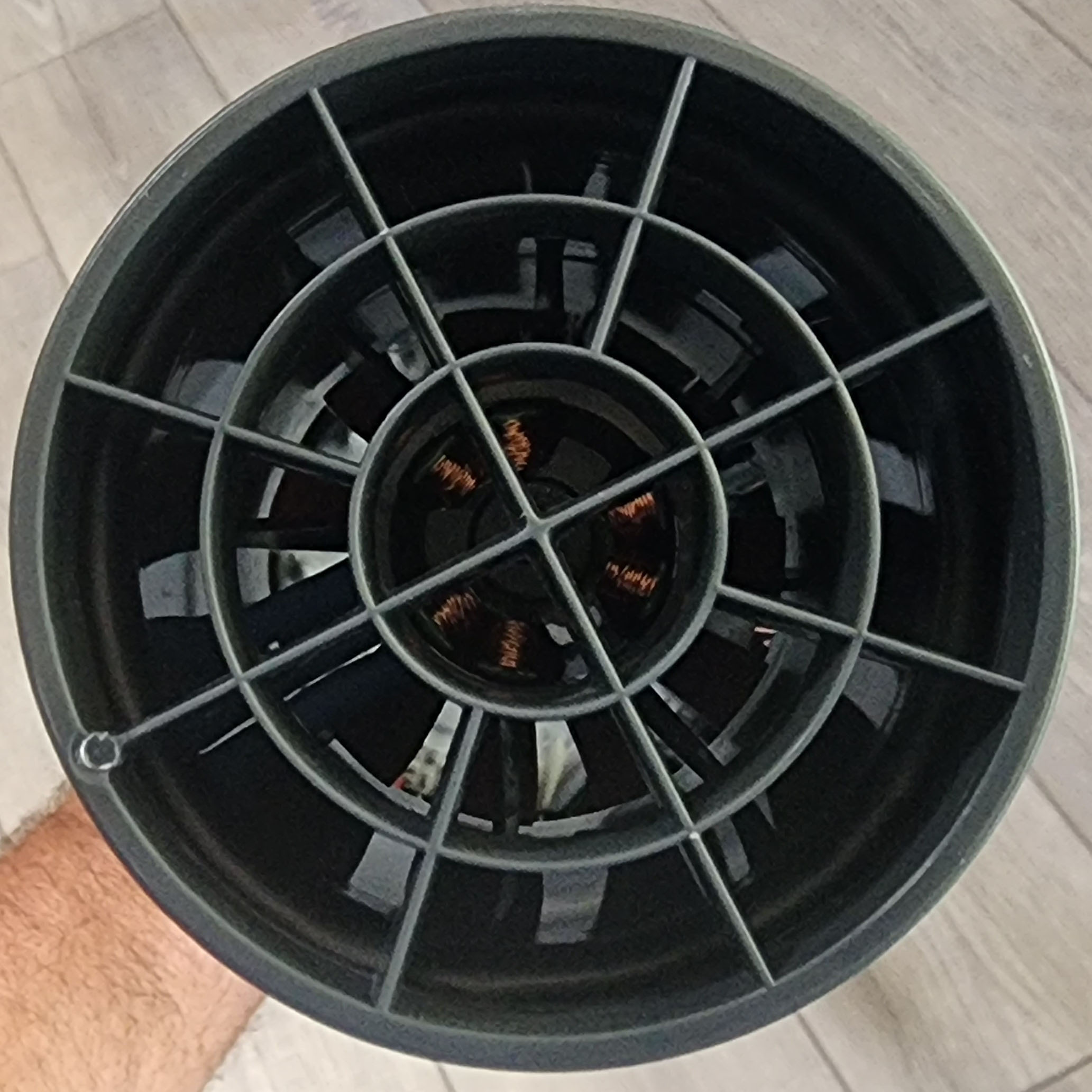 The output end has multiple output slots to direct the strong stream of air it produces.
The Golf Breeze ships with a wall hanger.  The hanger has a clip to hold the power supply cord, making it easy to hang and charge.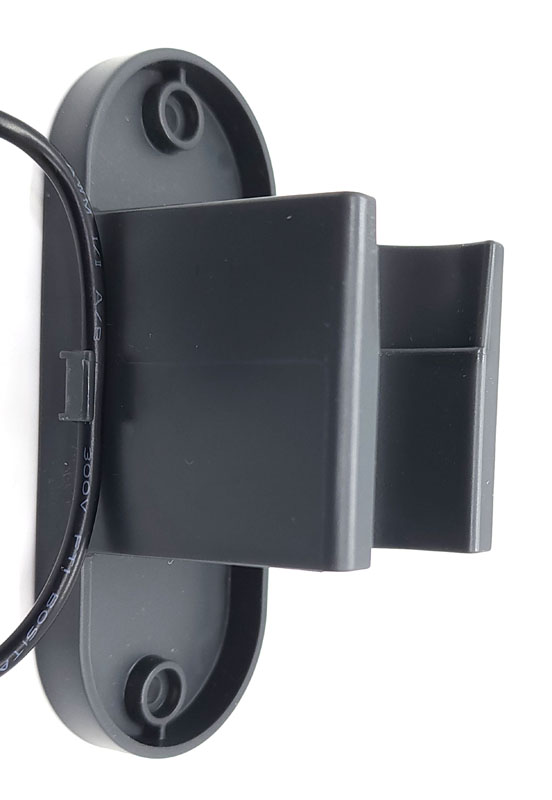 Setup
After inserting the battery, plug in the charger and insert the USB-C connector into the charging port near the output head.  The status LED will turn red. Once the status LED turns green, unplug the charger and start blowing debris.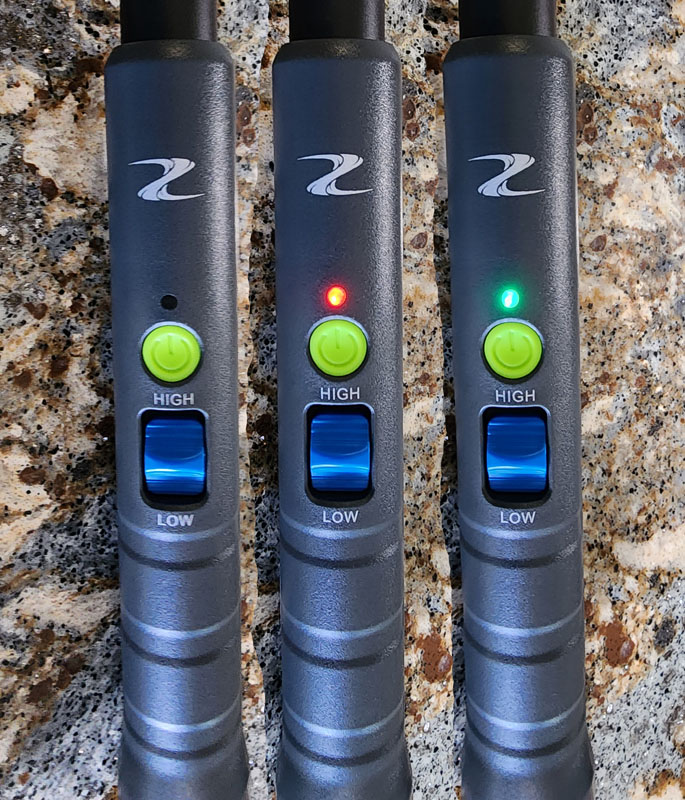 Performance
I started with a battery test as manufacturers are notoriously bad and publishing correct specs.  I turned on the blower in standard mode and started a stopwatch.  When the blower died, the stopwatch was within a couple of seconds of 30 minutes – dead on the claimed battery life.  So far, so good!
Time to blow stuff!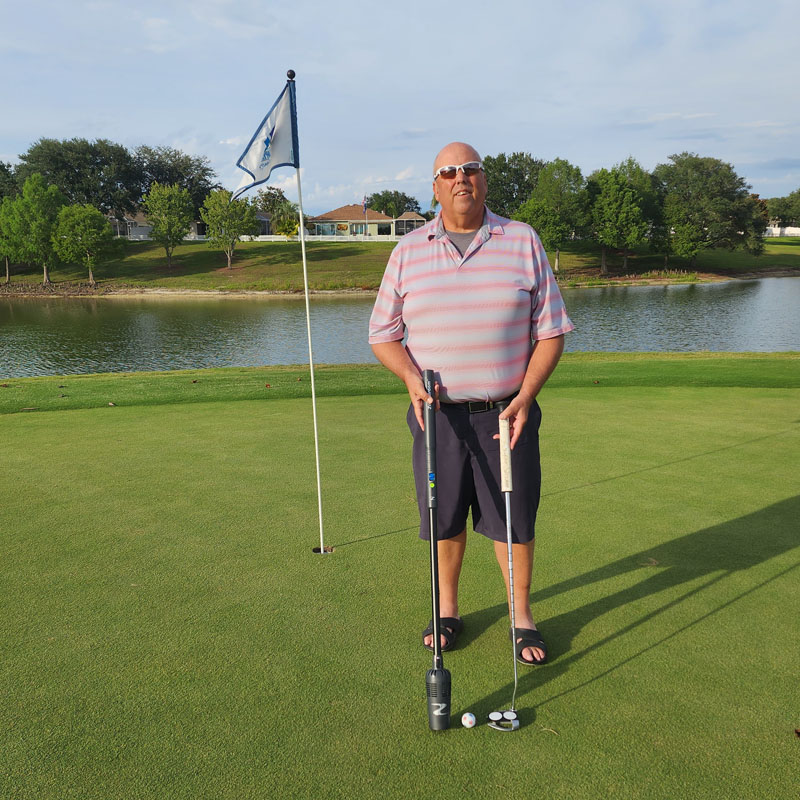 So here's the scenario: you hit the perfect approach shot to the green.  It looks like you have a short putt for birdie.  But…when you get up to the green, here's what you're facing.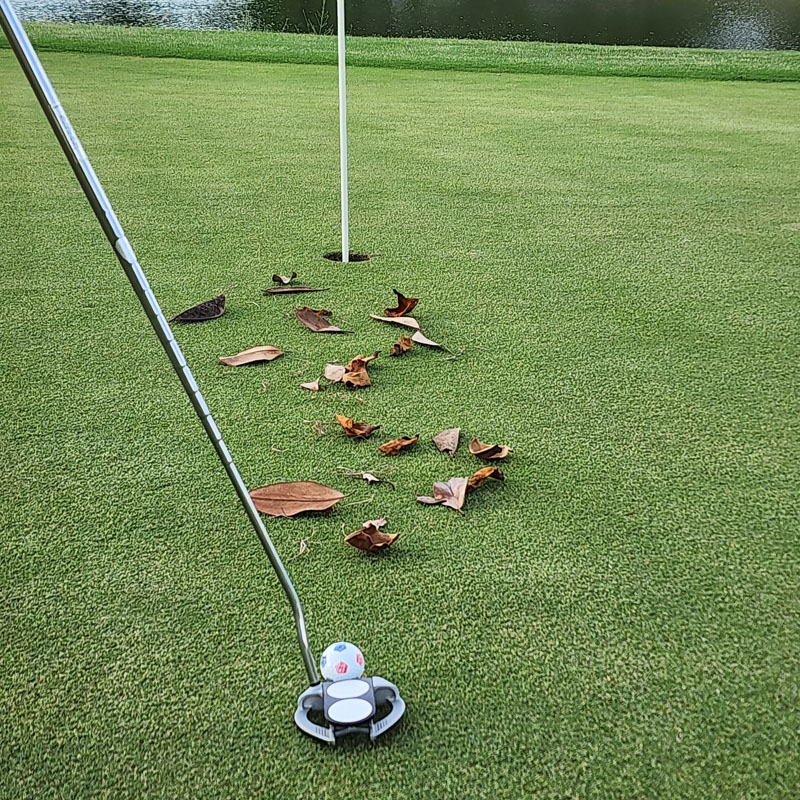 What a pain to pick up all those leaves by hand or try to sweep them away with your putter!  Let's bring out the ZoomBroom Golf Breeze!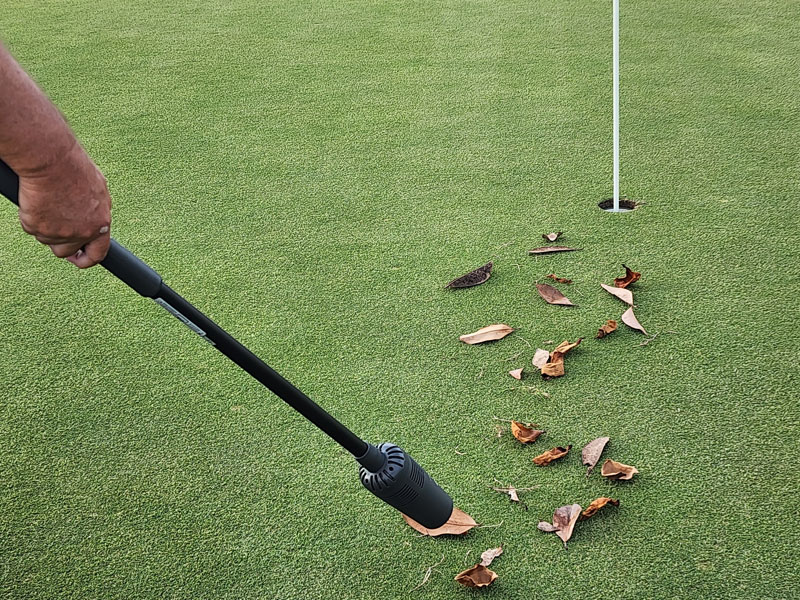 As you can see, the Golf Breeze has plenty of power to move debris out of your putting line.  These were relatively heavy magnolia leaves and the Golf Breeze swept them away easily.  Most of the video was done on standard speed with a brief boost to high speed.  Given that it should only take a few seconds to clear a putting line, the Golf Breeze should run through several rounds of golf between charges.
What I like
Reasonably quiet operation
Good output velocity
It fits well in a golf bag, even one with club dividers
Good battery life
What I'd change
Figure out how to charge with standard USB-C chargers and not require a special charger
Change the high/low switch to a momentary switch for high so the blower can't be started on high
Final thoughts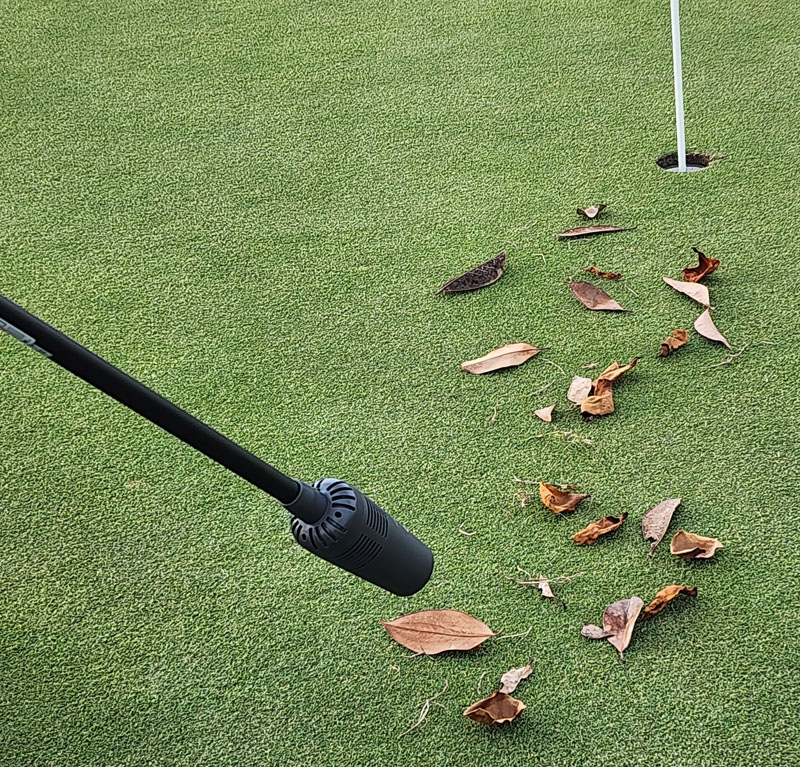 Let's face it, Golf Breeze is somewhat of a golf novelty.  For most golfers, it is more of a nicety than a necessity.  But, if you golf in an area where leaves are plentiful, it might make the difference between an enjoyable round and one that resembles more work than pleasure.
Its good battery life and easy fit in a golf bag make Golf Breeze a tremendous gift for the golfer in your life, or even yourself if you hate fighting leaves on the green.  Golf Breeze has found a home in my golf bag.  ZoomBroom also suggests this is great for clearing dirty pickleball courts.  Perhaps it will get even more use!
Price: $179 – as of this writing, it is on pre-order for $159
Where to buy: ZoomBroom
Source: The sample of this product was provided by ZoomBroom.