We use affiliate links. If you buy something through the links on this page, we may earn a commission at no cost to you. Learn more.

SPONSORED NEWS – On May 24, 2023, XPPen, as a leading digital brand of digital art innovation, joined hands with Tourbox to launch the "Creative Upgrade" campaign. This campaign features the combination of XPPen's drawing tablets and TourBox's professional controllers, simplifying creative workflows with seamless integration of advanced tools that empower digital artists with an all-in-one solution. The collaboration enables users to unlock their full potential and focus on producing exceptional outcomes in less time, making it the "best partner" for digital creators. Furthermore, "Creative Upgrade" will run from May 24th to July 24th and will be released on XPPen Online Store. In order to meet the creative needs of users in different scenarios, it provides a variety of discount combinations for designers, including illustrators, industrial designers, animation designers, etc. It is believed that the combination of the "Creative Upgrade" of XPPen and Tourbox can bring consumers a perfect creative upgrade experience.
What Does This Seamless Creative Solution Mean to Artists?
The XPPen and Tourbox co-branding campaign offers artists the best Seamless Creative Solutions. By combining the XPPen drawing tablet and TourBox controllers, artists can experience a more streamlined workflow, improving their efficiency and productivity. The co-branding campaign also offers a discount on the bundle, making it a more affordable option for artists looking to upgrade their digital drawing experience. If you're a content creator looking for more efficient and innovative tools, the XPPen and TourBox collaboration is definitely worth checking out. Don't miss the opportunity to be part of the future of digital art and design! For more information and benefits, visit here: https://www.xp-pen.com/store/buy/artist-24-pro-tourbox-bundles.html.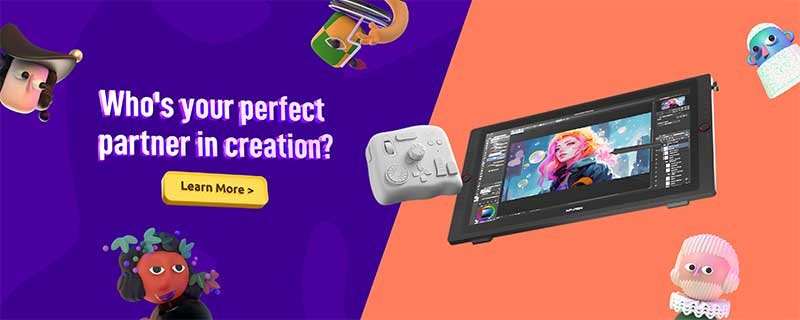 Innovative Co-branding Between XPPen & TourBox
Today, XPPen & Tourbox join forces to create the ultimate artistic experience for artists. As two leading technology companies, XPPen and TourBox find each other to make artists' work easier and more efficient. For digital content creators, the demand for more innovative and efficient tools is constantly increasing. To meet the ever-growing needs of these creators, XPPen & TourBox have come together in a unique collaboration to bring forth a new wave of co-branding.
XPPen is a well-known provider of digital styluses and digital drawing boards and other art supplies. Their mission is to provide creators with high-quality and affordable products that help unleash their inner creativity. XPPen's X3 chip stylus aims to provide users with the most delicate and accurate strokes with its super-sensitive pen pressure.
TourBox, on the other hand, is the ultimate custom console for digital artists specializing in illustration, concept art, photo retouching, color grading, graphic design, and more. Whether you work with a drawing tablet, pen display, or mouse, TourBox enhances your creative experience with improved productivity and precision.
Join the "Who's your best artistic partner" Campaign
The activity "Who's your best artistic partner" is also online on the official website. Through this activity, you can understand your own personality characteristics and help you find the most suitable partner for you.
The perfect partner are people who are willing to go the extra mile for others and don't mind taking on new challenges. They're not afraid to take risks, because they know that failure is often part of success. It's great and lucky to have the best partner in your life or work; if you don't find one yet, here is a personality test for content creators: https://www.xp-pen.com/store/xppen-tourbox-2023.html. Provided by XPPen & TourBox for your to know about yourselves and find your perfect match. Go explore! Find your ideal partner and start building a fulfilling relationship now!
For more information please visit: https://www.xp-pen.com/store/xppen-tourbox-2023.html. Pick your favorite, and find your best XPPen & TourBox combo!
About XPPen
Originating in 2005, XPPen is now one of the top brands under HANVON UGEE, integrated with digital drawing products, content, and service as a globally notable digital brand of digital art innovation. Headquartered in Shenzhen, China, XPPen boasts 6 overseas subsidiaries(branches) and more than 50 agents, covering over 130 countries and regions with its products. By virtue of its progressive digital handwriting technology after more than 10 years of accumulation and innovation, XPPen believes that innovative, trendy, and leading products and ecosystem can bring more abundant visionary inspiration to the new generation of artists and enthusiasts, encouraging them to courageously pursue dreams and realize their authentic self-expression. To learn more, please visit https://www.xp-pen.com/.