We use affiliate links. If you buy something through the links on this page, we may earn a commission at no cost to you. Learn more.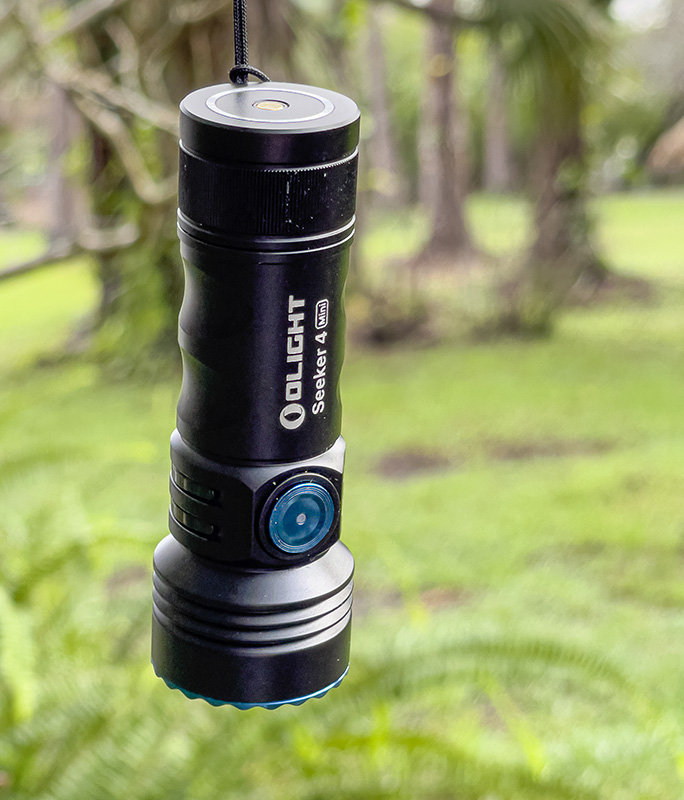 REVIEW – I never used to pay attention to flashlights. If I needed one, I would trot down to Home Depot or Lowes and grab one—usually a Maglite (pre LED). My, how times have changed. I was blown away by a recent flashlight I reviewed, the Imalent MS12 Mini LED at 68,000 Lumens! It's an expensive beast that most people will never need. However, most people will need one or two flashlights in their home and as an EDC (everyday carry) item. That's where the Olight Seeker 4 Mini White and UV LED Flashlight comes in with its impressive brightness and a surprising feature that is both useful and a bit scary—if you're a germaphobe.

What is it?
The Olight Seeker 4 Mini White and UV LED Flashlight is a small, hand-held flashlight that is easily portable and bright enough for camping in the woods. It sports a max lumen rating of 1200 (turbo mode). There are four brightness modes to choose from: Moonlight (5 Lumens), 120, 600, and 1200 lumens. There are two white-light choices: CW (cool) or NW (neutral). CW is better for concentration while NW can be less fatiguing over longer time periods. This review is the CW version.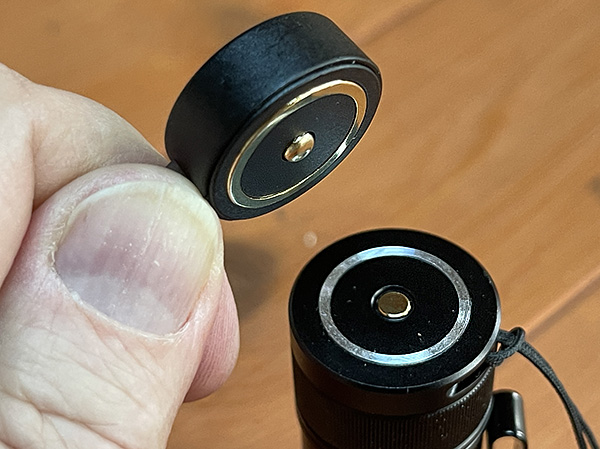 Charging the removable battery takes about 1.5 hours. Battery life is dependent on the brightness level. Charging is via a magnetic snap-on charger USB A cable.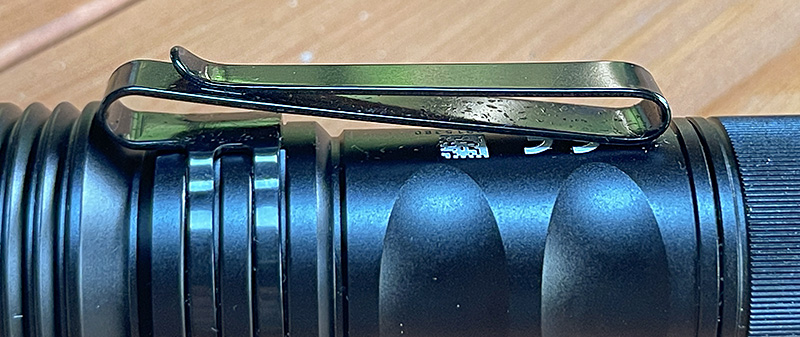 The Olight Seeker 4 Mini flashlight is made of an aluminum alloy that comes in three colors: Red, Black, and OD Green. It measures a bit over 3 inches long. A clip is permanently attached, but a small lanyard is included adding drop avoidance. 
The Seeker 4 Mini has an IPX8 water-resistant rating, meaning it can be submerged up to 3 feet for 30 minutes.

Specs
Aluminum Alloy body
USB Magnetic Charging Cable
Lighting levels: 1,200~600~120-15-2 lumens
CW or NW LED
IPX8 waterproof rating

 

Weight: 4 oz.
Length: 3.5 in.

Design and features
In my everyday life, the Olight Seeker 4 Mini White and UV LED Flashlight is turning into an indispensable tool to have within grabbing distance. It's great for searching for any item in the dark. Either the 120 or 600-lumen brightness levels work well indoors while the 1200 Lumen turbo mode is good for lighting up a yard at night.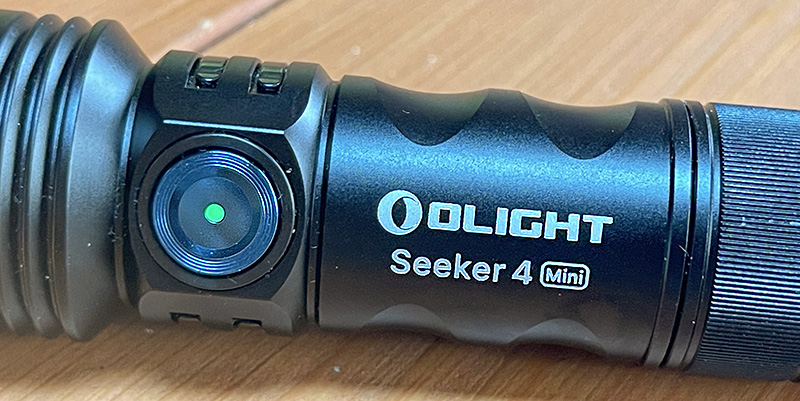 The On/off switch is housed in a metal casing. A bulb built into the On/off switch highlights the remaining battery life from green (charged) to orange to red to flashing red (time to recharge now). 

The charger is a magnetic circle attached to one end of a USB A cable. I wish the cable was the newer, faster, and more reliable USB-C. The charger's strong magnet snaps securely onto the Seeker 4 Mini"s base. Think Apple Watch charging and you get the picture.
Run times for the battery depend on the brightness level—from a little as 3 minutes in the brightest turbo mode (1200 lumens), 50 minutes in high mode (600 lumens), 5 hours in Medium mode (120 lumens), and 33 hours in low mode (15 lumens)  Moonlight mode (2 lumens) can last for 12 days but no one will care.

Switching between the lighting modes is handled solely with the On/Off switch. These choices require a bit of a learning curve, but can be learned quickly. Two clicks (when off) bring up the UV light while a triple-click brings up a super-bright high speed flashing (sorry, no SOS mode). It would be hard to miss the flashing if one is lost at night.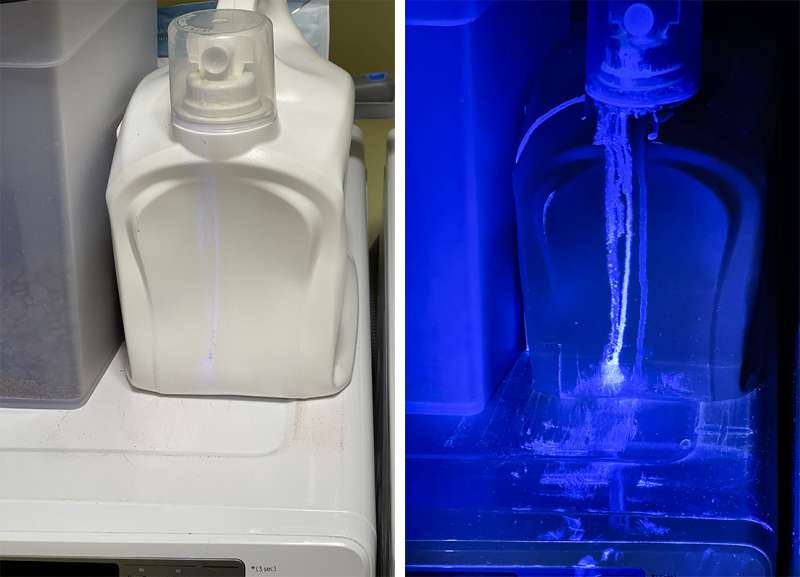 A double-click turns on the UV light. In my day job, I've designed packaging for children's invisible ink "Spy Pens" which come with a  built-in UV light. The UV in the Seeker 4 Mini is on a whole 'nother level—way more powerful than the UV pen-lights we sell. It's bright and wide coverage can point out those "secret messages" but is also great at seeing stains. Or—if you are a germaphobe—maybe not so great. One look at almost any surface in your house (that you thought was clean) with the UV light and you enter the "OMG, that's gross" zone. With UV, I was seeing how dirty everything is in my house. I am now debating with myself if I should show this to my wife who is both a clean freak and germ-averse person. It can be a frightening revelation. If you really want to punish yourself, take this light to any hotel room.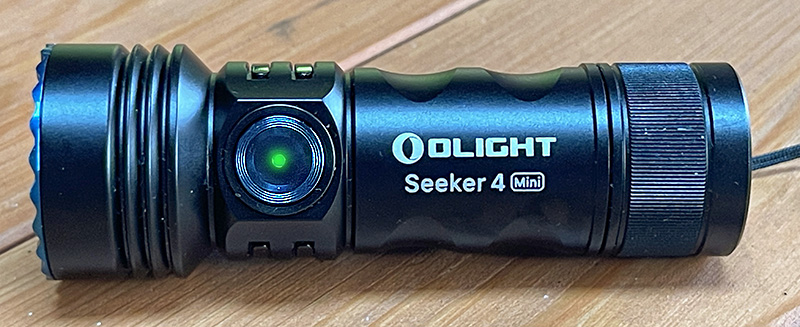 The Olight Seeker 4 Mini flashlight is lightweight, but still solid feeling. It appears—and feels—both rugged and well built. It's perfect for outdoor use—and indoors, of course. It's inexpensive enough that one can be kept in a drawer, the car, and an EDC bag.

What I like
Lightweight
Brightness level choices
Powerful UV light
Easy to re-charge
Battery level built into On/Off switch
Lanyard and clip included
What I'd change
Make the charger cable USB-C.

Final Thoughts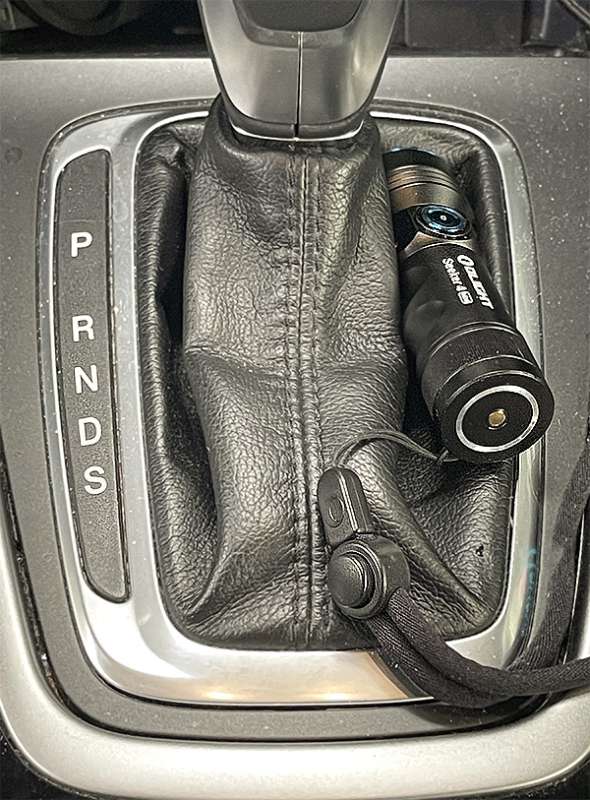 Face it, everyone either needs to have a flashlight at the ready or regrets not having one when needed. Since the Olight Seeker 4 Mini holds a charge for about a month at a 100% charge (according to Olight), you can be reassured you will have light when you need it.
It's also small enough to be easily stored out of the way. If you're gonna have one flashlight for those times when you need one, the Seeker 4 Mini can be a good choice.
Price: $79.99 (special price of $55.99 starting at 8pm EST 6/6/23 – 6/8/23)
Where to buy: Olight
Source: The sample of this product was provided by Olight.