We use affiliate links. If you buy something through the links on this page, we may earn a commission at no cost to you. Learn more.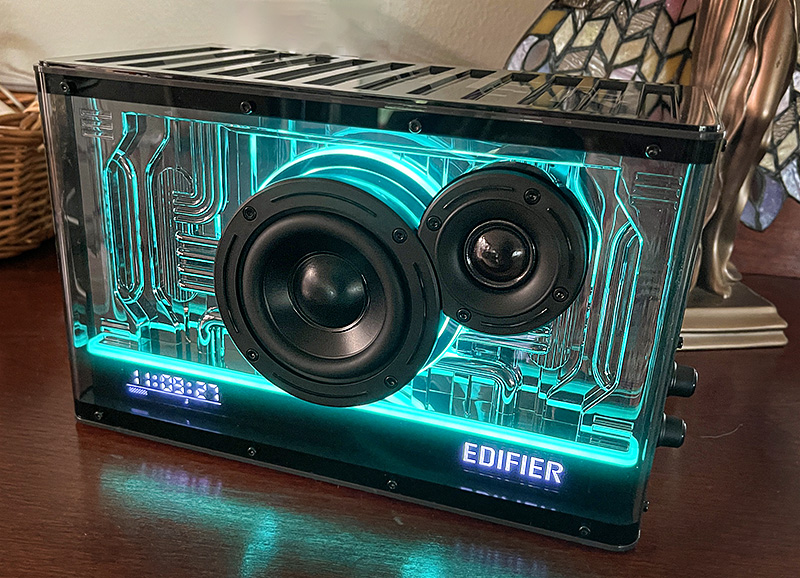 REVIEW – Face it, most Bluetooth speakers today sound decent enough to enjoy, and some even sound darn good. So, assuming all Bluetooth speakers sound good, what distinguishes one from another? Currently, it's usually the design that is the deciding factor. How "cool" is it? It can be overly designed for the "In" crowd like the Trettitre TreSound1 or the Cleer Crescent or it can be a plain, run-of-the-mill speaker. Edifier has always dabbled in audio-designed products. They have created a well-designed speaker that may appeal to that same trendy crowd but at a lower cost of entry. The Edifier QD35 In-house Bluetooth Speaker looks and sounds good while being a bit too cute while doing so.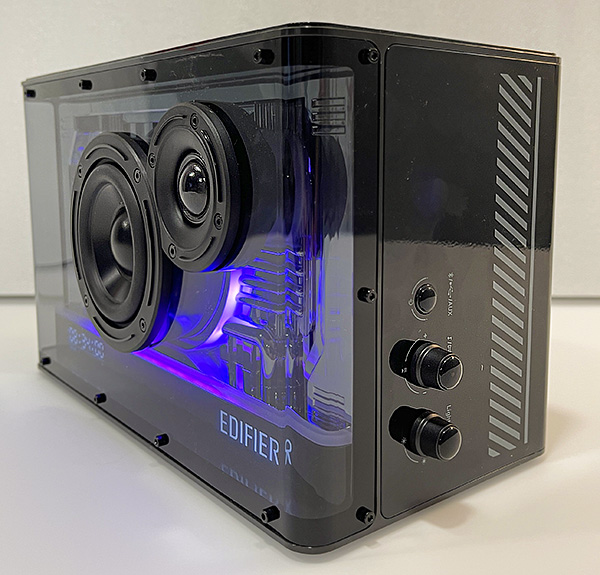 What is it?
The Edifier QD35 In-house Bluetooth speaker is a tabletop (not portable) speaker that features its light show that looks impressive—especially in the dark (more on this later in the review). 
The QD35 sports an industrial look with a semi-trailer-looking top panel with a large EDIFIER word printed on top. It comes in either black or white only, although a red model would look cool! A built-in clock adorns the bottom front panel.
Controls are on the right-side panel. There are three buttons: 
Standby/work mode, audio input switching (Bluetooth, AUX, USB)
Preset audio EQ modes: Music, Game, Movie, and Customized EQ with 6-band equalizer
Light effects control both brightness and light show switching.
Ports at the back of the speaker include a master on/off switch, AC plug, AUX, and USB A.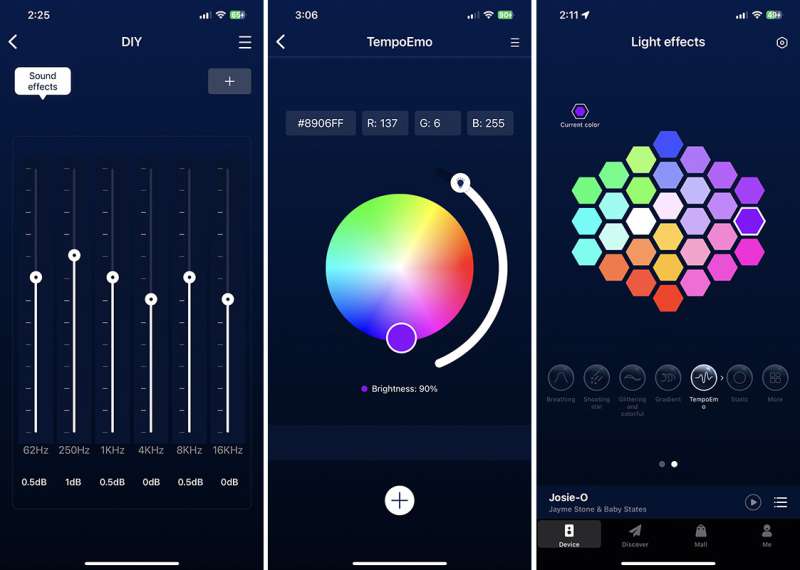 The QD35 connects via the Edifier Connect app (iOS and Android). The app can be used to control lighting effects, connection mode, and EQ.
Specs
Power: 25W (Mid-bass) + 15W (Treble)
Input: AUX/USB-A/Bluetooth
Bluetooth 5.3
Drivers: 3″ (Mid-bass) +1″ (Treble)
Charging: 35W
Dimensions: 11 in. x 6.5 in. x 5.5 in. (WxHxD)
Weight: 5.8 lbs

 

What's in the box?
Power cable
3.5 mm AUX cable
USB A to USB A cable
Cleaning cloth
Stickers
Manual
Design and features
It's fair to say no other Bluetooth speaker looks like the Edifier QD35. It's not a speaker to set in the corner and forget. It demands attention. Its customized multi-colored light can be made to do almost anything in any color via the Edifier Connect app (iOS and Android). While the design is unique, it can be polarizing. I think it looks cool. 
The case is a hard, glossy plastic fingerprint magnet. However, when dusted and cleaned, it practically shines. The huge "EDIFER" name on top is a bit much, but it's not ugly.
Even though the lights can be controlled within the app, they can also be turned off or made to remain static (no blinking or movement) or slowly pulse giving the speaker a calming effect.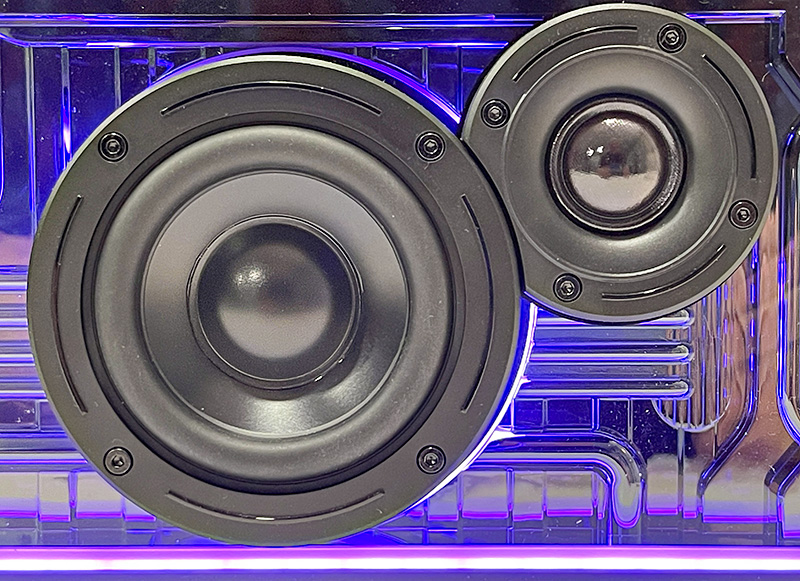 The speaker contains a 1" treble and a 3" mid-bass speaker. deeper-sounding bass is achieved via two bass ports at the rear of the speaker. Although the QD35 accepts a stereo signal, the single speaker output is mono. The Mid-bass is centered on the speaker front with the smaller treble off to the side. Horizontal lights show along the bottom and wrap around the mid-bass speaker. A reflective, steam-punk panel behind a clear front accentuates what lighting there is making everything look more expansive.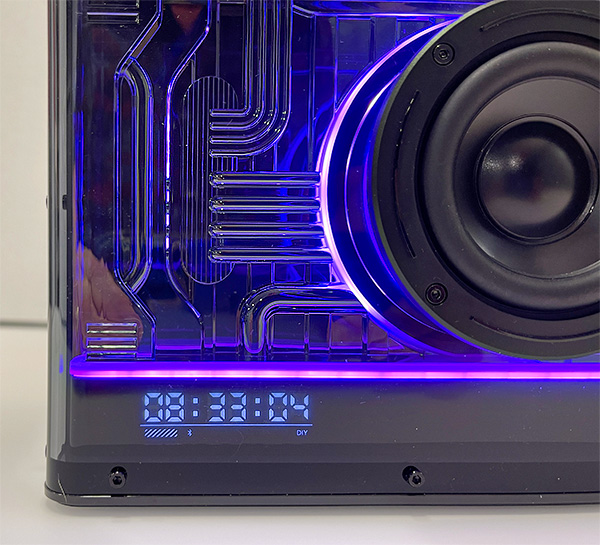 A digital LED clock sits at the bottom left corner of the QD35. The nice thing about it is that it can sync to a smartphone—no more setting the time!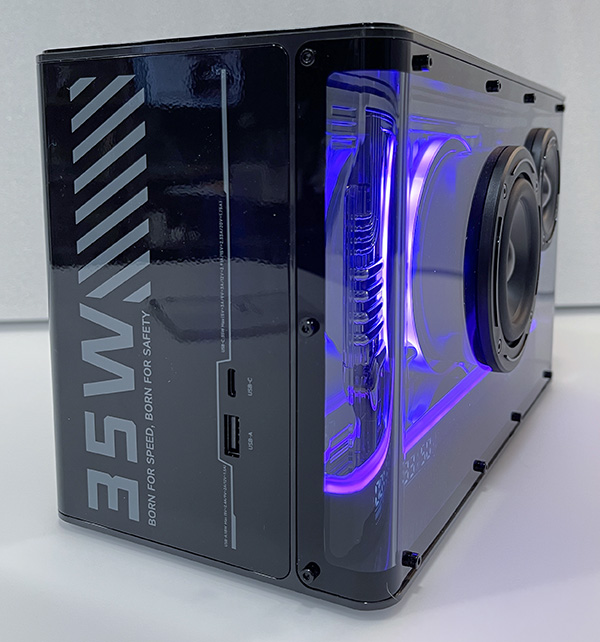 The left side of the QD35 houses both an 18-watt USB A and 35-watt USB-C port, made for charging any smart device using what Edifier calls "TurboGaN high-efficiency charging technology." It's a nice feature to include and can come in handy on a nightstand for overnight charging.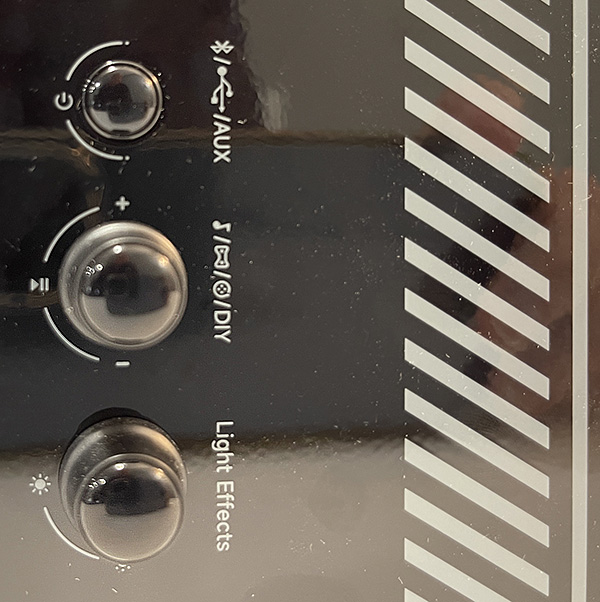 Let's now deal with function and audio. The QD35 is a mono tabletop speaker. That has both pros and cons. The speaker's mono aspect is no big deal. Most Bluetooth speakers are mono. It's just too bad the QD35 can't be paired with a second QD35 for true wireless stereo (TWS). Now that would be cool—true stereo and double the light show! 
Sound quality is good until the volume reaches about 14 (out of 16 volume levels). The audio becomes boomy and unpleasant close-up and flat and muddy when farther away.  It's the physics of a 3" speaker being pushed beyond its limits. Edifier uses digital signal processing (DSP), but at the highest volumes, it doesn't work all that well. Limiting the volume to 10 or 11 keeps music sounding like music should and that volume setting will still fill a small to medium-sized room.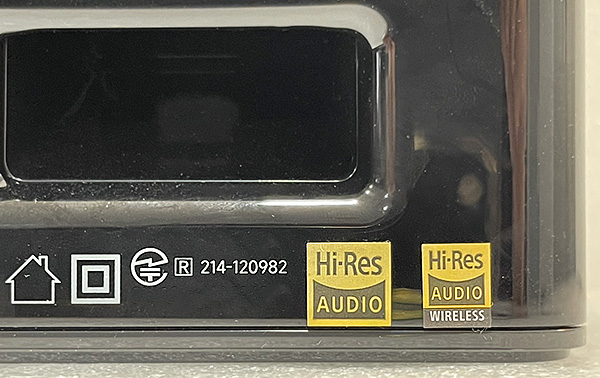 The bass is strong—better sounding than a simple 3" speaker should output. Credit the two passive bass ports at the back. These holes allow free movement of the Mid-bass speaker—and boy does it move when heavy bass kicks in. To achieve this, Edifier uses what they call "MazeTube Bass Reflex Channels" with "TurbMuff Air Noise Suppression Technology", causing port noises and resonance to be reduced to the lowest level. It reminds me of the older Bose Wave technology. Whatever, it works well for the QD35.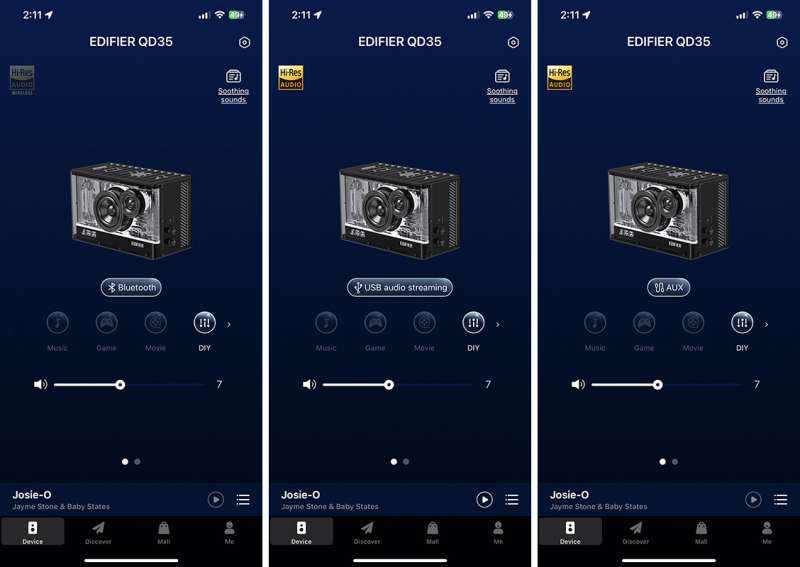 It's all different—and better using AUX audio. The Connect app shows a light-up Hi-Res button when either USB or AUX is used so you know you're getting better audio. When my iPhone is connected via wired AUX (using the Apple Lightning to 3.5 mm Headphone jack adapter), the audio improves significantly. Gone is the booming—replaced by a much tighter, cleaner bass. I used the song "Silent Scream" by The Knife with its speaker-punishing bass for testing. AUX passed. Bluetooth—not so much. However, it's all about convenience, so Bluetooth will remain the dominant source even with all its quirks. As long as the volume remains tolerable, music will sound good Bluetooth or not. Note that my iPhone will not support LDAC hi-res wireless audio—thanks, Apple!
Note that if you decide to use USB with a computer, Edifier will automatically install a driver onto the computer. Uh, no thanks Edifier. I don't want any company installing anything on my computer without me doing it purposefully. So USB via my computer is out for me.

What I like
Cool looking
Sounds quite good, if the volume is not maxed out
Sounds great via AUX Hi-res
Charges smart devices

 

What I'd change
Bluetooth audio distorts at max volume

Final Thoughts
You have to appreciate the effort Edifier put into the QD 35 speaker. They combined a bit of whimsy with their expertise in making decent-sounding Bluetooth speakers and came away with an affordable tabletop winner. Even when the speaker is off, it's "on"!
Price: $199.99
Where to buy: Amazon
Source: The sample of this product was provided by Edifier.