We use affiliate links. If you buy something through the links on this page, we may earn a commission at no cost to you. Learn more.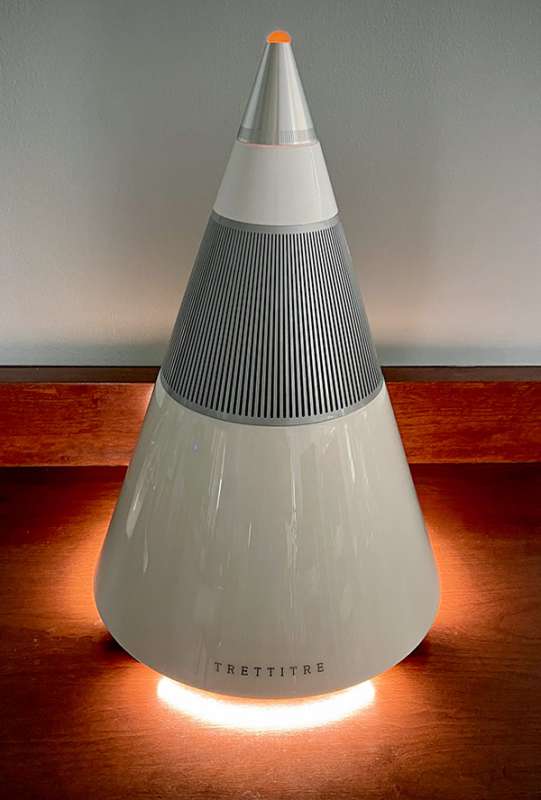 REVIEW – There's an old saying from author Margaret Wolfe Hungerford in 1878, "Beauty is in the eye of the beholder." Nothing proves her quote more accurately than the Trettitre TreSound1 Bluetooth speaker. Love it or loathe it, it's a sight to behold.

What is it?
The Trettitre TreSound1 is a cone-shaped table-top Bluetooth speaker with a polarizing design. Nothing looks like it. It's 18 in. tall with a 12 in. diameter base—not small or portable. Its round shape houses two 1.25 in. silk neodymium tweeters and two 2.25″ full-range speakers arrayed in a 360° surround formation. At the speaker's base sits a 6.25 in. down-firing subwoofer. This design uses the table surface to reflect the low-frequency sound waves, creating a deeper bass.
The top of the Trettitre TreSound1 Bluetooth speaker has a small orange light indicating when it's on. The small metal top rotates for On/off and volume. It's all quite analog—no digital numbers or prompts.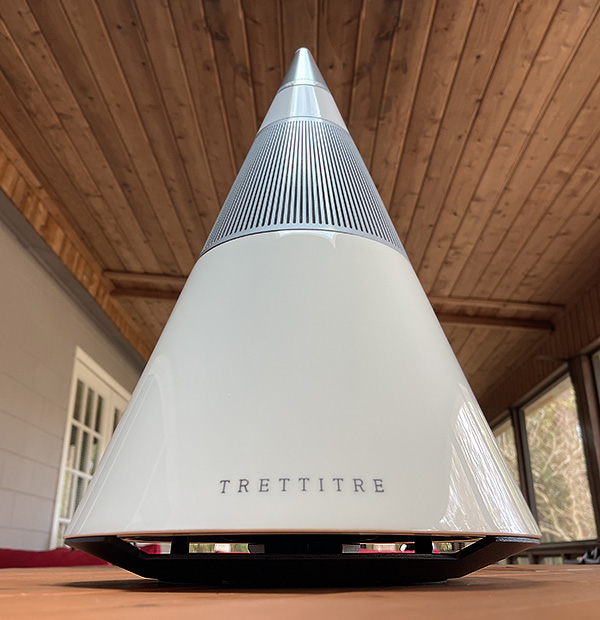 The TreSound1 cabinet is constructed from hand-shaped wood that houses the woofer topped by a metal grille wrapping around the four speakers. The wood has a piano-gloss finish. It looks and feels quite solid and extremely well-made.
The Trettitre TreSound1 speaker supports 5.1 Bluetooth with aptX which Trettitre says transmits 24bit/96kHz high-fidelity audio. I only use an iPhone for streaming music—it does not support aptX. However, Apple uses its own AAC codec, which sounds good on the TreSound1. More about the audio later in the review. 
In addition to Bluetooth streaming, the TreSound1 has a 3.5mm audio cable port (Trettitre supplies a 3.5mm to 3.5mm cable).

Hardware specs
Size: 16.9″x11.8″x11.8″ HxWxD
Weight: 13.2 lbs.
Colors: White, Black, Green, Red
Frequency response: 20Hz-20KHz
Class D amplifier
Bluetooth: 5.1 aptX
Tweeter: 1.25″ silk x2
Full-range speaker: 2.25″ x2
Subwoofer: 6.25″

 

AUX port

Design and features
When the Trettitre TreSound1 Bluetooth speaker was offered for review, I immediately said yes, mainly because I was fascinated by how cool it looked. A couple of my artist friends also loved its looks—although they haven't heard it yet.
My wife . . . not so much. She took one look and immediately disliked the design, bringing us back to the quote in the review's first sentence. I think she's wrong. 😉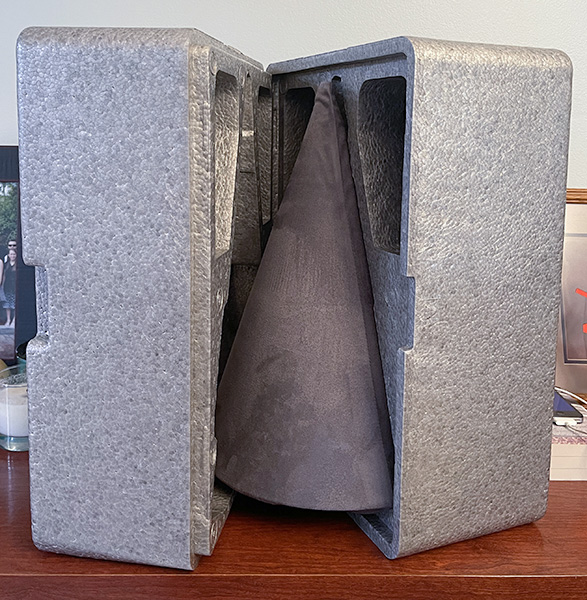 Unboxing the TreSound1 is fun. Its unusual shape requires unusual packaging. It arrives nestled in a form-fitting foam case. The speaker is wrapped inside a micro-fiber draw-string pouch. This covering keeps the pristine finish from being scratched. 
The speaker is not light, nor is it too heavy. It's easy enough to carry from room to room—if a bit awkward due to its shape. There is no built-in handle. I recommend finding a good place and leaving it there.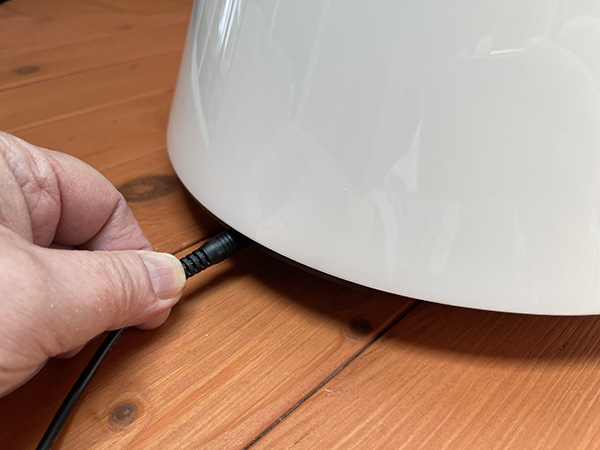 Despite Trettitre marketing photos that show the TreSound1 in the center of a room, it is not a cordless speaker. It requires a power cord that's attached to an ugly power brick. It ain't going in the center of any real person's room.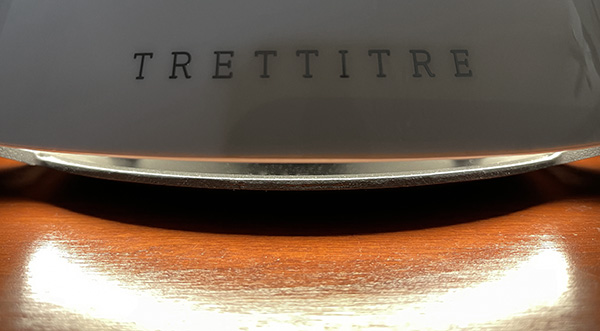 When the Trettitre TreSound1 Bluetooth speaker is plugged in, the base lights up. The base is slightly smaller than the speaker's lower body. This creates a floating effect making the speaker appear weightless. It's quite striking. The cord connects to the speaker's base, so it too looks like it "disappears" under the speaker.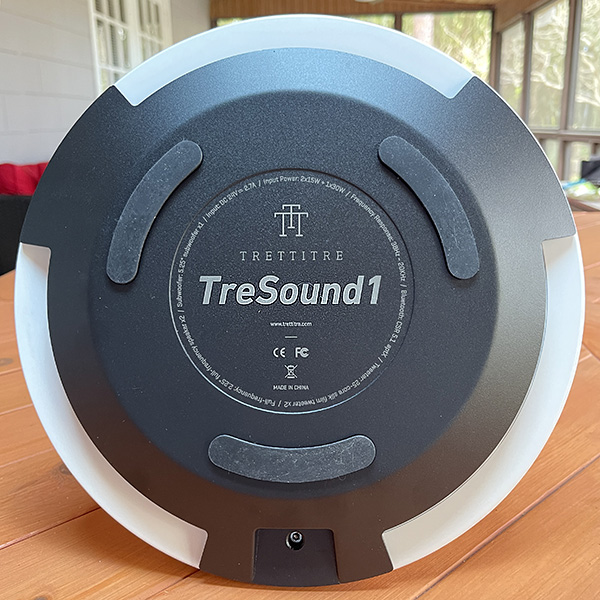 The Bluetooth is 5.1—not the newest codec, but new enough to provide quality audio at a decent range. Although it's backward compatible, streaming from a smartphone or other source that has Bluetooth 5.1 or newer will be a noticeable improvement. Bluetooth pairing was seamless and fast with my iPhone 12 Pro Max.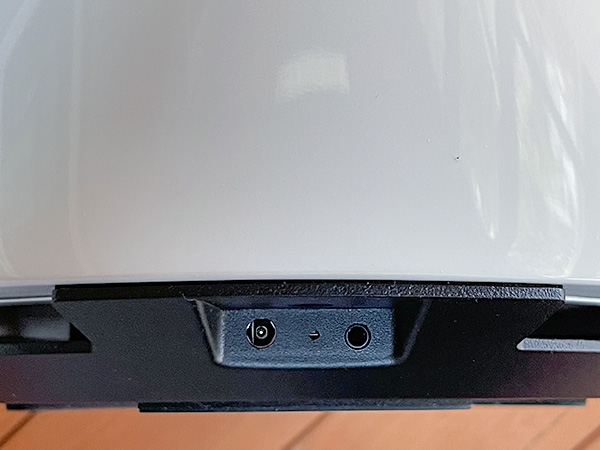 Does the TreSound1 sound as striking as it looks? It depends on what you are looking for. If you want a speaker that can blast a large room with ear-splitting volume, look elsewhere. This is a surprisingly subtle-sounding speaker. That does not mean it can't get loud. It does. It just means that max volume is tempered to eliminate any distortion—even at full volume. I quite like how the audio just melts into a room's space. The music is there—pleasant and not demanding unwanted attention. 
And since the Trettitre TreSound1 Bluetooth speaker is 360°, it's not as critical where the speaker is placed. One thing to note is that no single speaker—regardless of shape—can deliver as convincing a stereo signal as separate left/right speakers.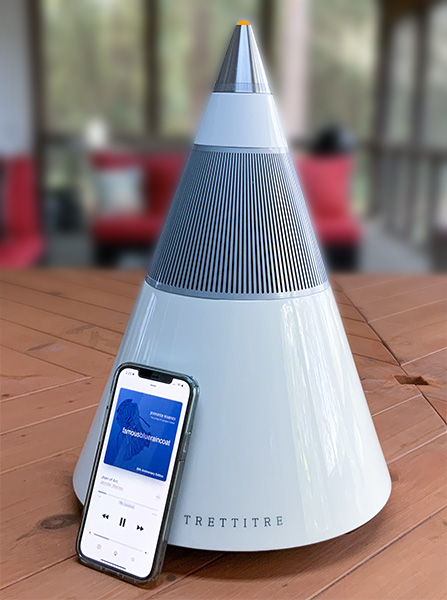 I listened to different genres of my favorite music. All of it sounds really good. About the only weakness would be classic rock. Much of rock music recorded in the 60s and 70s was considered fleeting, so there wasn't much studio care given to many of my favorite albums. Because of analog technology with cheap pre-amps and needle groove jumping, bass and drums were often the weak links. The TreSound1 can't make up for what's missing. But it does its best with what it's given. So my childhood musical memories remain intact by sounding better than they ever did on my cheap stereo.
Vocals are TreSound1's strongest attribute. Male and female voices come across as clean and a bit forward-sounding—a good thing. So, whether I'm listening to Frank Sinatra from the 50s, The Association from the 60s, or even Eurythmics from the 80s, there's clarity in the vocals that many stand-alone speakers bury under too much bass or too bright highs. In other words, the TreSound1 sounds balanced.
However, there is a slight downside to this aural balance—distortion. Or more specifically, purposeful distortion. Some songs are recorded to sound lo-fi. For instance, AC/DC's "Dirty Deeds Done Dirt Cheap" is a raucous ode to revenge. It's supposed to sound dirty, but can sound a bit too tame, robbing the song of some of its drama. Increasing the volume helps, but not completely.
But play Jennifer Warnes' "Joan of Arc" from the seminal album "Famous Blue Raincoat" and all is forgiven. This Leonard Cohen song is one of my all-time favorites and Warnes' voice is absolute perfection. The TreSound1 doesn't disappoint in its delivery. 

What I like
Design
Build quality
Refined sound

What I'd change
Expensive
Design is not universally appreciated

Final Thoughts
If you can accept the Trettitre TreSound1 Bluetooth speaker's refined audio housed inside a striking exterior, then this may be the speaker for you. It demands to be seen. Please this in your living room and wait for the comments.
The more I study the design of the TreSound1, the more I appreciate its beauty. Again, it's not a design you can ignore. You will either love it or loathe it. I love it. I just have to convince my wife.
Price: $649.00
Where to buy: Trettire and Amazon ( save $50 on Trettire or Amazon when you use the code: AJ888R75Q70C )
Source: The sample of this product was provided by Trettitre.