We use affiliate links. If you buy something through the links on this page, we may earn a commission at no cost to you. Learn more.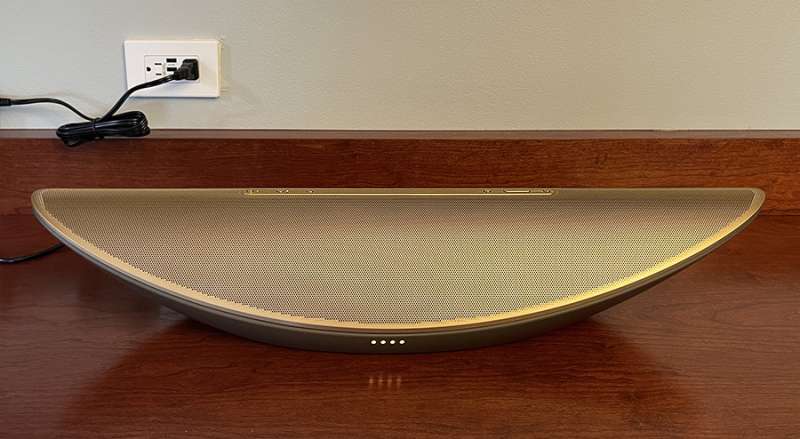 REVIEW – Do you like gold? Do you appreciate good audio quality? Are you discerning when it comes to product design? If you say yes to these questions, there may be a speaker made just for you. It's bold and understated; beautiful and yet approachable; loud as well as friendly. As they say, the Cleer Crescent speaker ticks a lot of boxes.

What is it?
The Cleer Crescent Bluetooth speaker is a large, attractive and good sounding speaker that will easily fill any medium-sized room with decent audio. It's over 2 ft. long, yet only 4.6 inches high. It's shaped like a . . . crescent, hence its name.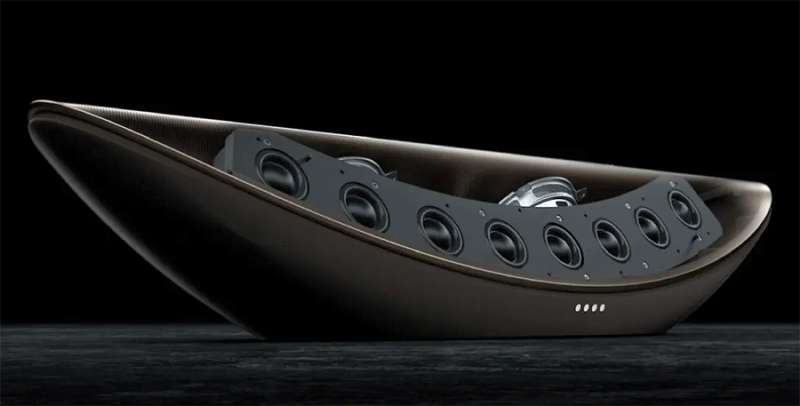 At a hefty 12.3 lbs, the Crescent speaker packs 90 watts of power that drives 8 full-range 1.57 in. dynamic drivers with two 3.3 in. woofers. It supports various connections: WiFi, Bluetooth, Apple AirPlay2, Google Chromecast, Aux-in, Optical-in, and LAN. Most will probably opt for the Bluetooth connection. Bluetooth is a dated version 4.2, however, the signal stayed strong with no dropouts unless I wandered too far with my smartphone in a pocket.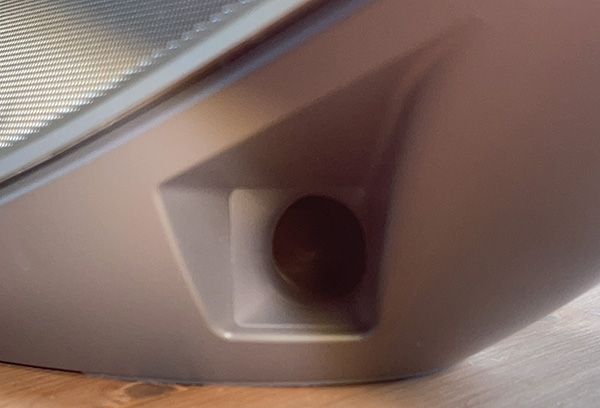 The Crescent's color only comes in what Cleer calls champagne—but it looks gold. Other color choices would be welcome.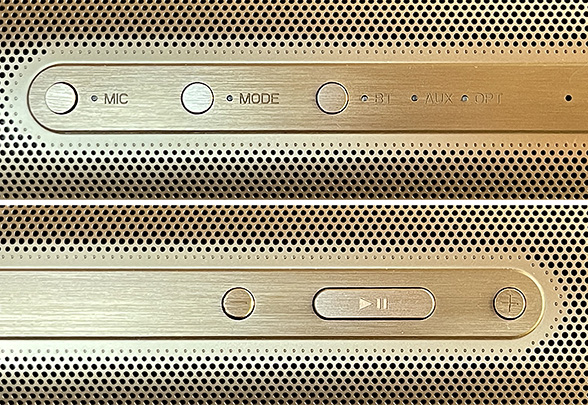 The top of the Crescent houses six buttons, some performing numerous functions. Moving from left to right—
Mic: This is for Google Assistant. Google is an essential part of the Crescent.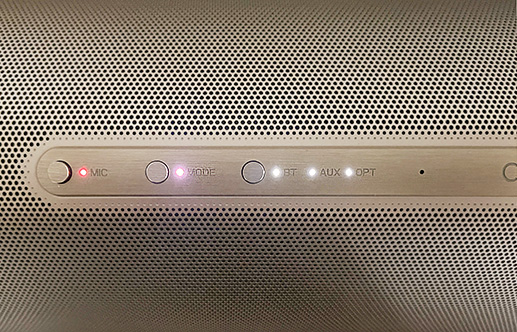 Three Modes: Stereo Widening mode expands the soundstage making the speakers sound farther apart. 3D mode is made for gaming or movies. Room Fill mode is for filling a room with sound when there are a few people in a room.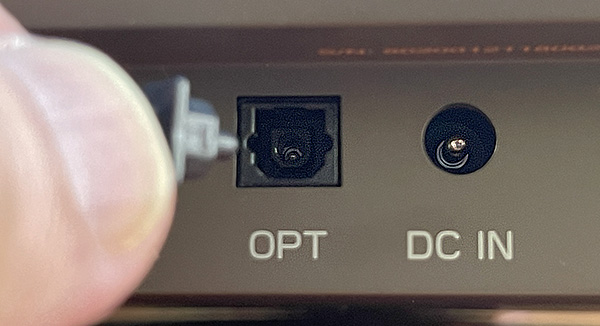 BT/AUX/OPT: The audio input choices are Bluetooth, AUX (3.5 mm mini plug), and Optical. 
Volume Down/Play/Pause/Volume up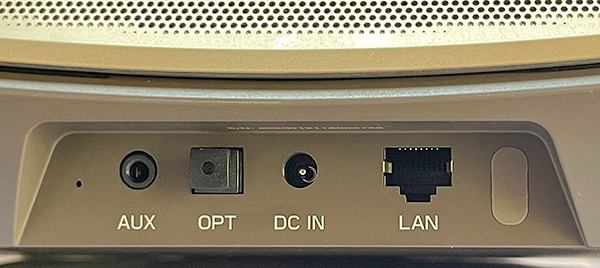 The rear of the Crescent speaker has an AUX, Optical input, DC power, and LAN ports. Optical is a good choice if the speaker will remain in one place near a source with optical output. Optical assures that the best audio source is being used. There are four LED lights at the front that blink during connecting and volume changes,  but usually, they just stay on when the speaker is powered.
The Crescent supports both Google Assistant and Apple AirPlay 2. 

Specs
Weight: 5.6Kg
Dimensions: 25 in.. x 7.2 in. x 4.5 in.
Speakers: 8 – 40mm full range drivers; 2 – 84mm woofers
Inputs: Line In; AUX; 3.5mm; Optical; Bluetooth; LAN
Microphones
Bluetooth 4.2
Audio Formats: MP3, WMA, FLAC, Apple Lossless
Network: LAN; WiFi
Multi-room Streaming
Airplay 2, Google Chromecast
Streaming Services: YouTube Music, Spotify, Pandora, Deezer
Google Assistant built-in

 

Design and features
When I first saw the Cleer Crescent speaker, I was reminded of the Bowers & Wilkins Zeppelin speaker—sliced in half. It may not have the pedigree of the Zeppelin speaker, but it surprisingly holds its own—at $200 less in cost.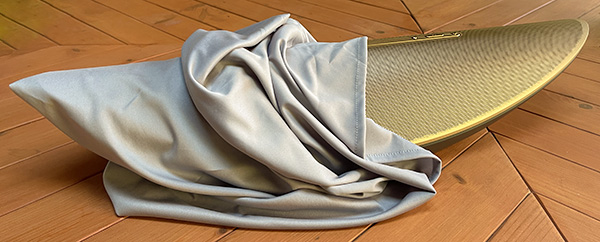 It's no wonder that the Crescent has won many design awards. It's gorgeous. The only knock I would have is the single color choice. It would look great in black, white or—dare I say it—red.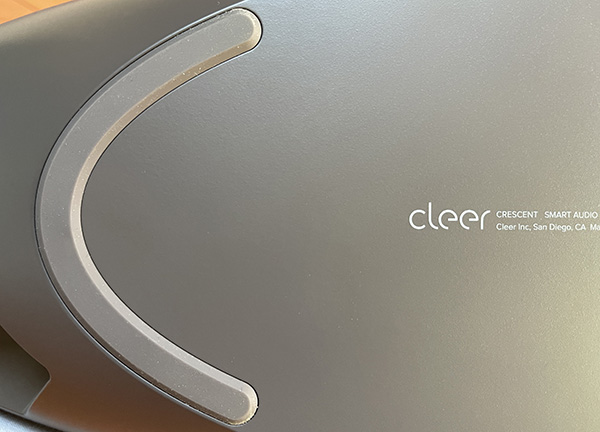 It's not the easiest speaker to carry from room-to-room. Every time I pick it up, I worry about dropping it. It's best to find a place and leave it there. The Crescent must be plugged in. The power supply is external, so the cord is attached to a large power brick.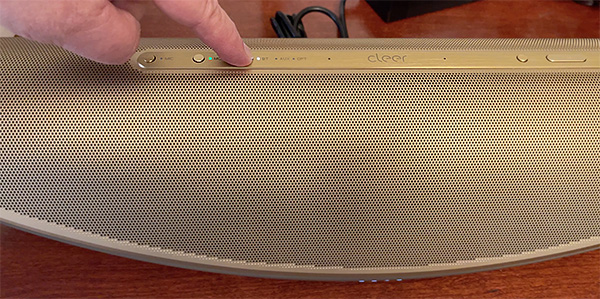 Pressing any button turns the Crescent on. When I unpacked it, I immediately tried to pair it with Bluetooth. I even read the manual. No luck. I thought the Bluetooth wasn't working and was preparing to return it when saw small print in the instructions that the Crescent requires Bluetooth pairing to be done only after Google Assistant is set up using a smartphone. WTH? I am not nor have ever been a fan of so-called smart device apps that have privacy issues. Call me paranoid, but I swear they listen to us. Ugh.
However, once Google Assistant was set up, pairing was a breeze. It also remembers, so the next time I turned on the speaker, it paired automatically. Now if I could only delete Google Assistant . . .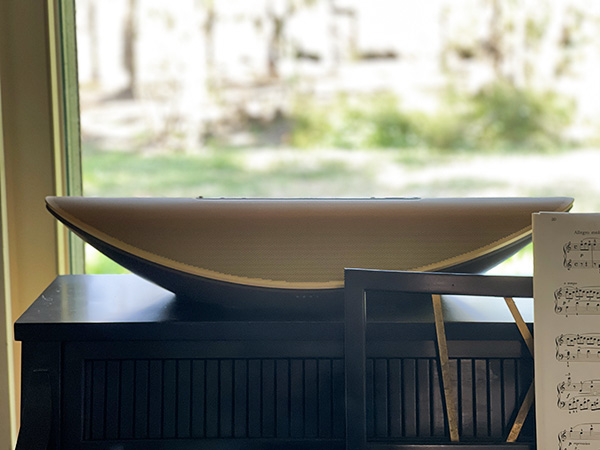 For a while, I used Apple AirPlay 2 instead of Bluetooth. I wasn't impressed. Technically, AirPlay 2 will stream lossless music and it works great—when it works. it's always been finicky in our house. Every so often, the signal would drop out. Apple can do better and it should. You're not going to hear much audio difference on a speaker such as this, anyway. So, I returned to reliable Bluetooth and haven't thought about it since.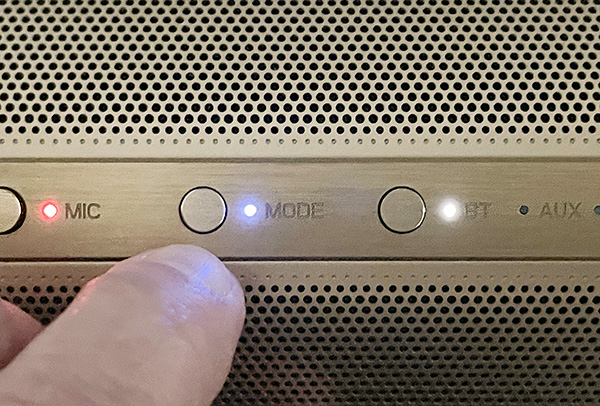 The three audio modes are interesting. Each has its own sound signature. The Stereo widening mode is the one I use the most. It's the most natural sounding mode—the closest to the stereo we are used to. 3D mode introduces a slight artificiality to music. It's made for movies and gaming by giving a faux 3D surround sound. It works as advertised, but I'm not a fan of using it for music listening. Room Fill mode actually muffles the sound a bit. It seems counter-intuitive because audio should be louder in a room with people. Humans are natural sound absorbers. Again I'm not a fan of this setting.  
I'm continually surprised by how loud the Crescent speaker can get. I'm also pleased with how good it can sound (in Stereo Widening mode). The Crescent can be used for serious listening, but that's not where it excels. The speaker is great at being placed in a room where you might want music playing in the background night and day. It's more of a speaker you live with while it plays the soundtrack of your life as you go about your day.
The Crescent shines when I have vocal, acoustic of jazzy music playing, like Jennifer Warnes or crooners like Sinatra or (my favorite) Harry Nilsson's "A Touch of Schmilsson in the Night". This is a speaker you can place and forget—once you get past its stunning looks.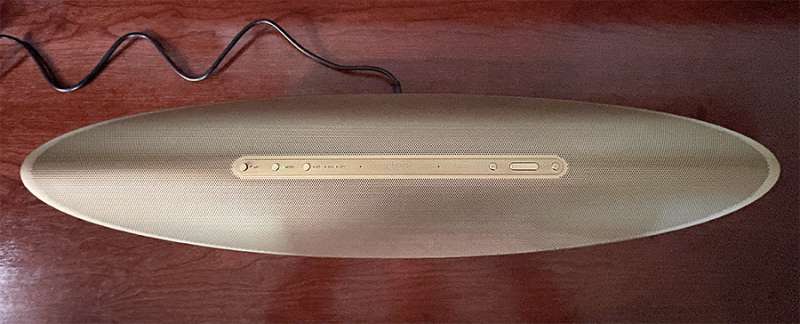 The 8 full-range drivers are perfect for vocal-centric music. The dual bass woofers can pack a punch when pushed, but they are happier just filling in the bottom end rather than showing off their lower frequency chops. If it's wall-shaking bass you want, look elsewhere.

What I like
It's gorgeous
Sounds good to great, depending on the genre of music
3 modes of audio settings

 

What I'd change
Google Assistant required for Bluetooth pairing
Apple AirPlay 2 not impressive (may be Apple's fault)
Audio modes dependent on source

 

Final Thoughts
The Cleer Crescent speaker is not a speaker for all types of music. Yes, it sounds good no matter what is playing, but it sounds positively great when playing vocal music. I can just picture this speaker in an Architectural Digest styled living room happily playing background music improving the mood of everyone who hears it.
Price: $599.99
Where to buy: Cleer, B&H Photo, and you can find some of their speakers on Amazon
Source: The sample of this product was provided by Cleer.