We use affiliate links. If you buy something through the links on this page, we may earn a commission at no cost to you. Learn more.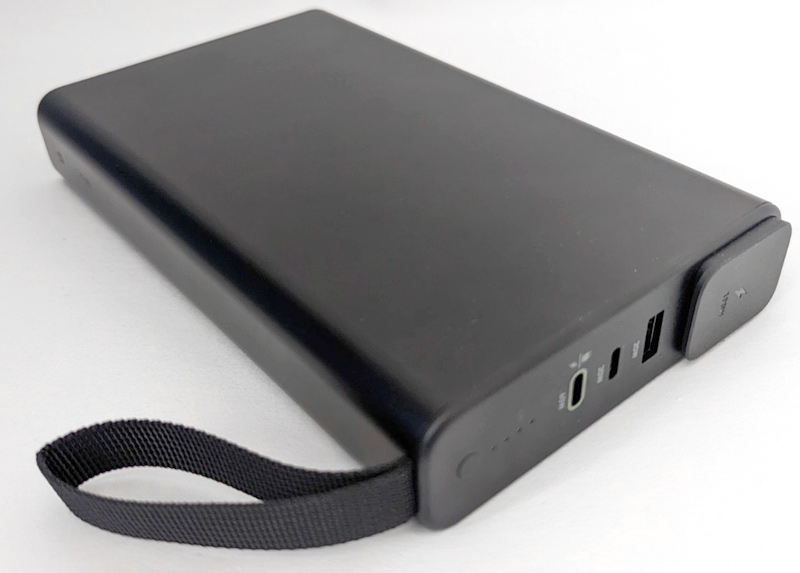 REVIEW – If you own gadgets, you know the perpetual struggle to keep your gadgets charged. If you are like me, you have chargers and batteries everywhere.  The house. The car. The office. And you don't just want any charger.  You want it to be fast, and you want it to have lots of juice, and you want it to be easy to use and maybe a bit portable. Enter the $199.95 Mophie Powerstation Pro AC. What is that I see?  A portable power bank that can charge 4 devices at once, at fast speeds, including a regular old AC outlet?? And it's the same size as a paperback novel or a 7-inch tablet?  Let's check it out.
What is it?
The Mophie Powerstation Pro AC portable power bank is a 27,000 mAh portable power bank with 4 charging ports, including 1 regular AC port.
What's in the box?
Powerstation Pro AC battery
USB-C PD charging cable
User manual
Hardware specs
Battery capacity: 27,000 mAh
Dimensions:  7.6 in x 4.5 in x 1.3 in
Weight:  2 lbs 3 oz
4 Ports:

USB-C PD – 60W maximum output (also the charging port)
USB-C – 20W maximum output
USB-A – 20W maximum output
AC port – 100W maximum output

LED power indicator
Built-in carry strap
Design and features
The first thing you'll notice about the Powerstation Pro AC is how heavy it is.  The weight is a little over 2 lbs, but it feels heavier actually.  Having said that, the edges are rounded so it's easy to hold and carry, and with the built-in carry strap that makes it that much easier. At the end of the unit, you'll see the 4 ports, the carry strap, and the power button.  The AC port also has a plastic cover on it that you pull back to reveal the port. When you plug your device, like your cellphone, into the Powerstation Pro AC, it automatically starts charging.  The 4 LED indicators on the device will light up to show you roughly how much power you have left (1 light = 25% power, 2 lights = 50% power, etc). You can't see exactly how much power you have left though, because the Powerstation Pro AC doesn't have any kind of numeric digital readout, just the 4 little lights.  If I am being honest, that's a little disappointing considering how much this device costs. I have seen other power banks that cost less that include that feature, so it's a little surprising Mophie made that design choice. But I suppose it saves significant cost.  And a special note… if you want to activate the AC port you have to hold the power button down for 3 seconds to enable that AC port to work.  When you do that, the first LED light turns a solid red. And another press of the button will light up the 4 LED indicators to show you much juice is left.


When the Mophie Powerstation Pro AC portable power bank was empty, it took a little over 3 hours to charge it using the 60W USB-C port.  Now that's pretty darn good actually considering the 27,000 mAh capacity, but keep in mind that to get that kind of charging speed you need to use the USB-C PD cable that came with the device, and a charging brick that can handle higher speeds.  I have a couple of USB-C PD charging bricks, so that means I can get higher charging speeds. Again, I was a little disappointed that a device at this price point didn't also come with a USB-C PD charging brick. But aren't all gadget manufacturers these days opting to forgo the charging bricks? It seems like it. We just bought a new iPhone for a family member and the high-speed charging brick was an extra cost.  Oh well.
Now, where the Mophie Powerstation Pro AC portable power bank really shines is the number of devices that can be charged at once, and the inclusion of the AC port, which can handle up to 100W of power delivery. You can see the port specs listed above, so basically any type of device you have can get great charging speeds if you use the right port. Some of the most common devices in use out there can get maximum charging speeds with the Powerstation Pro AC.  For example, the latest iPhone, the model 14, charges at 20W so any of the 3 USB ports can get you as much power as the iPhone can handle.  And many other gadgets, like watches and earbuds, require less wattage than that so you'll get whatever you need from the Powerstation Pro AC. Many laptops nowadays can utilize USB-C ports to charge, and the 60W USB-C port on the Powerstation Pro AC doesn't disappoint.  If you need up to 60W of power delivery, you can get it.
And the 'pièce de résistance' of the Mophie Powerstation Pro AC portable power bank is of course the included AC port, which can give you up to 100W of charging capacity.  Having a regular AC port in a device of this size is just convenient and I use it all the time.  Just about any tech gadget you have can utilize the Powerstation Pro AC. Earbuds, cellphones, tablets, laptops, heck… even other power banks can be charged if you want! So to test out just how useful this AC port is, I tested in on a couple of items that I was very curious about.
So I first tried a toaster, not realizing that it was silly to do so because toasters require much more power output than the Powerstation Pro AC can provide.  So the toaster was a no-go, and most small appliances will also be no-go. I plugged up a small desk fan that I have in my office and it worked just fine. Then I tried one of the TVs in my house, a Toshiba 43-inch 4K UHD, which requires 100W of power output.  I started up a movie to watch and I got almost exactly an hour of usage before the Powerstation Pro AC died.  Not terrible I suppose, but it goes to show that the Powerstation Pro AC can't power everything. And it's not designed to do that.  It's designed to power the multiple gadgets that we all have and that need juice. And for that purpose, the Mophie Powerstation Pro AC portable power bank shines.
What I like
Large battery capacity
You can charge 4 devices at once, including an AC plug!
Portable and can easily fit in your bag
What I would change
It's heavy
A device this expensive should have a numerical digital readout
A device this expensive should come with a power brick
Final thoughts
I wish this thing had a digital readout that told me exactly how much charge was left, but it doesn't.  The 4 LED indicator lights, therefore, are all you've got. Is that a deal-breaker for me?  No, it's not. But maybe Mophie will add that to the next generation of this device. And for the price of $199.99, this is going to be a judgment call for most folks.  The Powerstation Pro AC has a regular AC plug outlet, but you can't just plug anything into it.  Small appliances and larger devices that pull a lot of power aren't going to work. If you want a large-capacity power bank that can fit in your pocket, then you need to pass on this one because of the size and weight. But if you need to power multiple devices all day, including a laptop, and you won't be near any power sources, you will love the Powerstation Pro AC.  The high output of the USB outlets and the addition of the AC outlet makes the difference here. And with a fast recharge of around 3 hrs, the 27,000 mAh Powerstation Pro AC is a great addition to your backpack.
Price: $199.95
Where to buy: Buy on the Zagg website here.
Source: The sample of this product was provided by Mophie.