We use affiliate links. If you buy something through the links on this page, we may earn a commission at no cost to you. Learn more.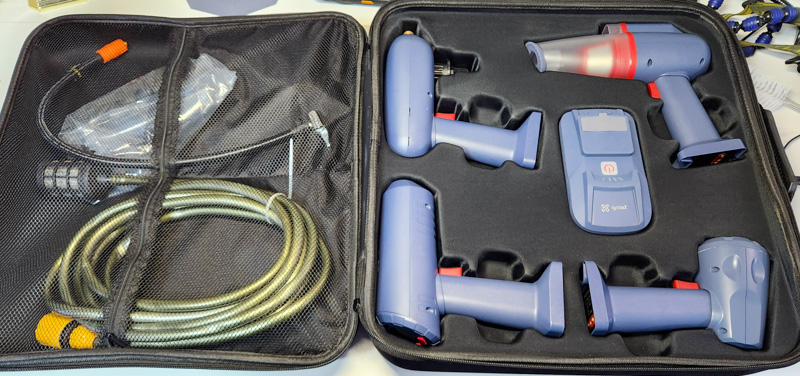 REVIEW – If you're anything like me, you've got a random set of tools and gadgets in the trunk of your car/truck/SUV. Over the years my kit has ranged from full toolkits and car-DC-powered tools to an assortment of battery-powered tools and everything in between. When the offer to review the IgniteX JS6: Modular Magnetic Car Tools came in, I was intrigued: it looked like a good assortment of useful tools all powered by the same magnetically-attached battery pack. I offered to test everything out in advance of their Kickstarter campaign (disclaimer: there's always risk associated with Kickstarter projects, I've lost money on a couple of dubious campaigns so far, but the fact that IgniteX is sending out review kits with this level of quality is a good sign).
What is it?
The IgniteX JS6: Modular Magnetic Car Tools set is a collection of five tools that are all powered by the same battery pack (although only one at a time). The battery pack connects to the different tools magnetically and includes a car-starter, vacuum, pressure washer, tire inflator, and flashlight (plus bonus emergency lights/flashlight built into the battery pack itself).
What's in the box?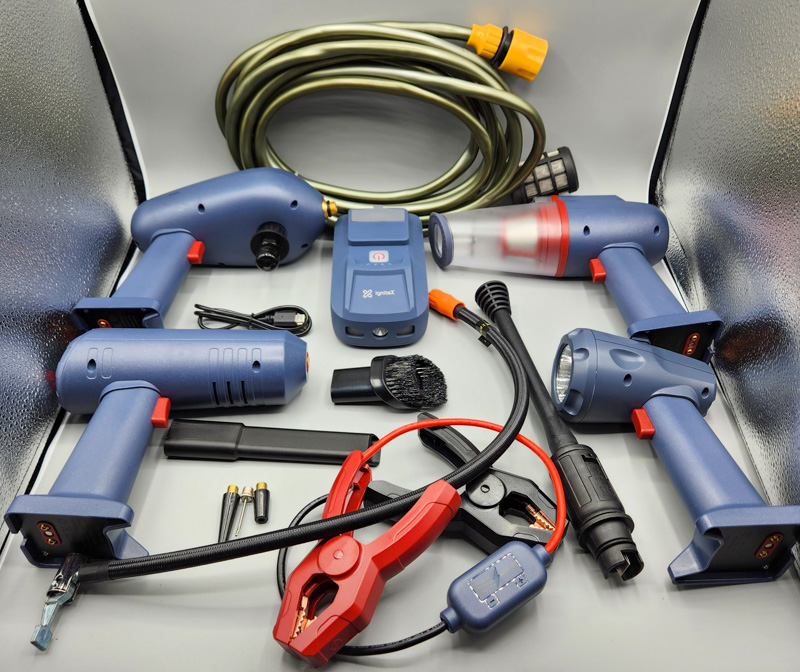 There are different levels of kits in the Kickstarter campaign, but the base kit with a single battery that was sent to me includes:
Core battery
Pressure washer with adjustable wand and intake hose with filter
Inflator pump with Schroeder valve hose and three other attachments (sports ball needle, and two sizes of air nozzle)
Jump starter with clamps
LED Flashlight
Vacuum with two attachments (bristle and long nozzle for gaps)
USB A to C cable
Hardware specs
Battery Base:
Chemistry: Li-Polymer
Capacity: 14800 mAh / 54.8 Wh
USB-C Input: 5V/2A
USB-A Output: 5V/3A, 9V/2A, 12V/1.5A
Working temperature: -10C (14F) to 80C (176F)
Charge time: ~6 Hours
Weight: 360g / 0.8 Lbs
Size: 100L x 66W x 28H mm / 3.9″ x 2.6″ x 1.1″
Jump Starter:
Start/Peak Current: 600A/1200A
Number of Jumpstarts to empty: 40
Engines supported: Up to 7L gasoline or 4L Diesel
Cell rate: 60C
Wire Size: 10#750mm (29.5″)
Inflator Pump:
Air pressure: 120 PSI (maximum)
Good for: Cars, sports balls, bicycles/e-bikes, motorcycles/scooters, etc.
Inflation speed: 25L / minute
Weight: 585g / 1.3 Lbs
Size: 175L x 180W x 65H mm / 6.9″ x 7″ x 2.6″
Car Washer:
Outlet pressure: 1.0 MPA rated, 1.2 MPA max
Inlet pressure: 0.6 MPA
Usage time on full battery: 45 mins
Weight: 765g / 1.7 Lbs
Size: 190L x 170W x 86H mm / 7.5″ x 6.7″ x 3.3″
Vacuum Cleaner:
Suction: 15 Kpa max, 8 Kpa min
Duration on full battery: 25 mins max power, 50 mins on min
Weight: 385g / 0.85 Lbs
Size: 220L x 200W x 65H mm / 8.6″ x 7.9″ x 2.5″
LED Flashlight:
Brightness: 1000 Lumens
Duration: 30 hours on full battery
Weight: 165g / 0.36 Lbs
Size: 152 L x 82W x 52H mm / 6″ x 3.2″ x 2″
Design and features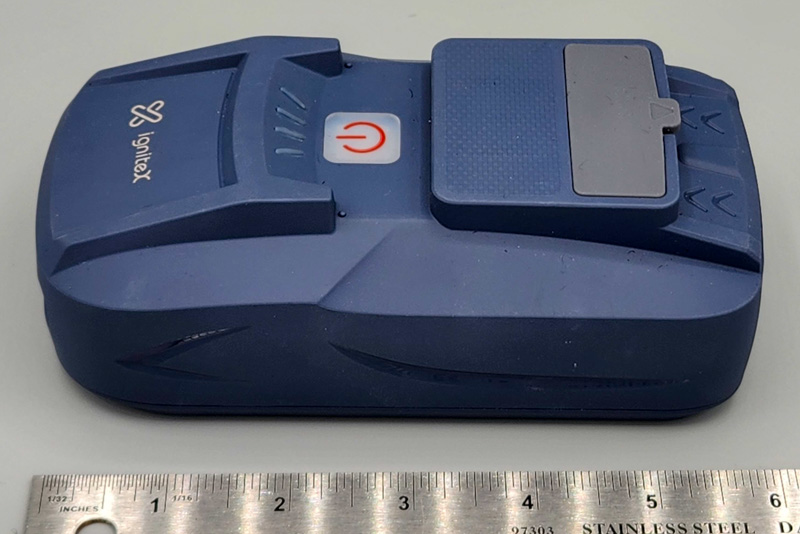 I'll start with the IgniteX JS6: Modular Magnetic Car Tools core: the battery base. This high capacity battery has a power switch (and LED battery level indicators) in the center, and a rubber flap covering the metal connectors: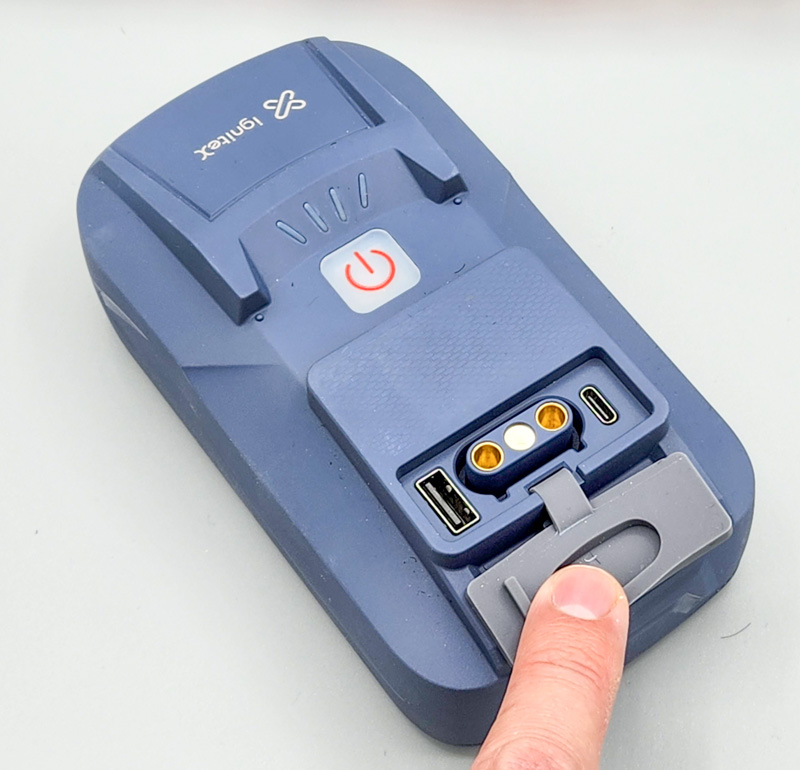 It would be nice to not have to pull this flap off every time, but it's what allows for easy metal and USB connectors while also retaining an IP65 rating. The USB-A port allows for charging your phone or other USB charged devices, while the USB-C port is an input to charge the battery itself (I love that they went with USB-C charging instead of a proprietary charging port with a cable you have to be careful not to lose).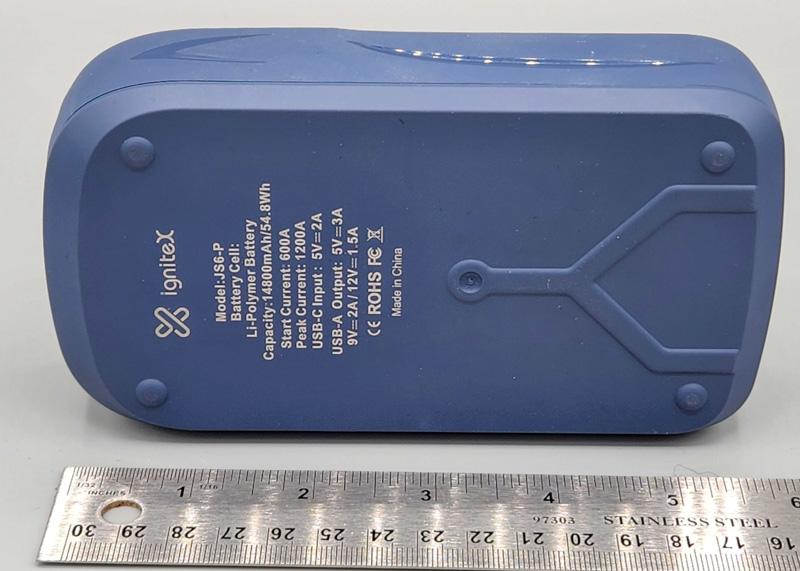 On the bottom, the specifications for the battery are listed.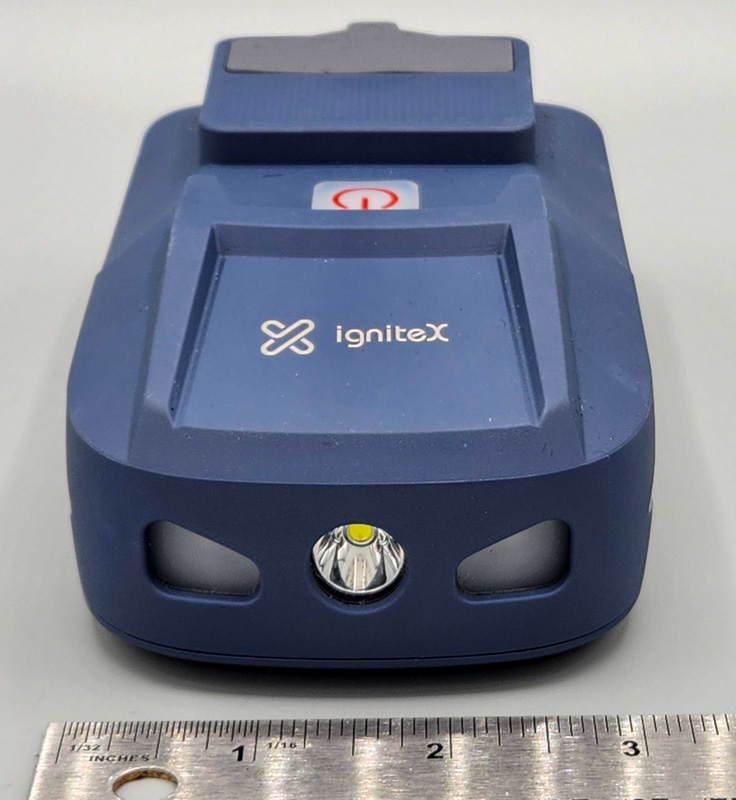 On the front are 3 LED lights – these can be turned on by using the power switch with no other tool attached, and cycles through three modes:  solid-white-light, blinking-white-light, and blinking-red-lights. The base can magnetically attach to a car/truck/van/etc. which is handy if you're parked on the side of a road at night and can't use your vehicle indicators.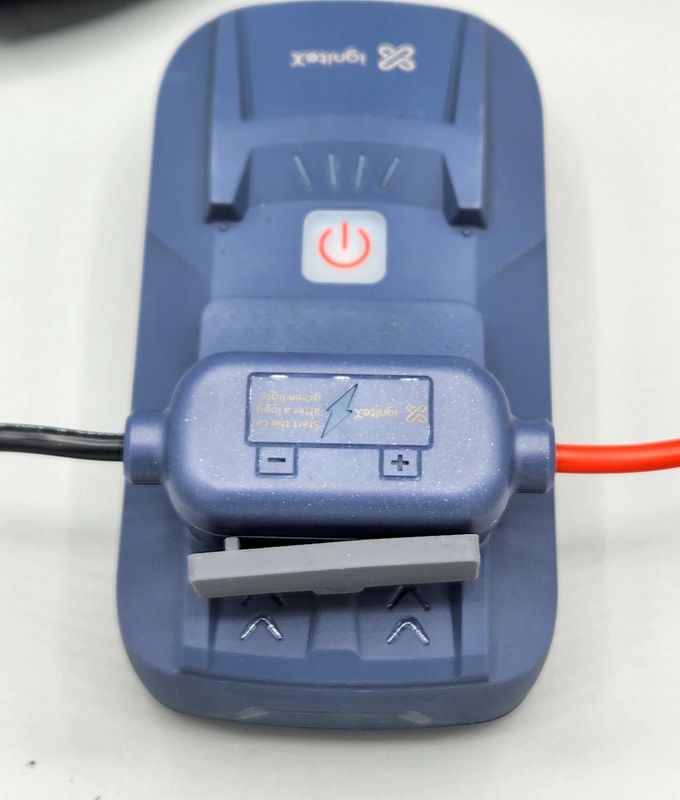 The jump starter attachment can jump start cars up to 40 times on a single charge, and is rated up to 1200 amps. It also has built-in reverse polarity detection, which is nice.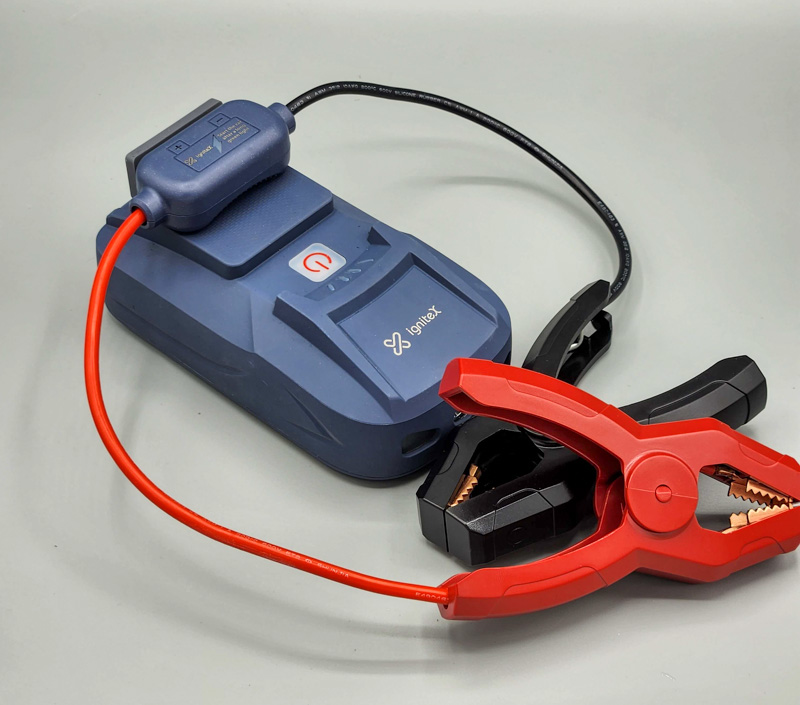 The jumpstarter battery clamps are shown above.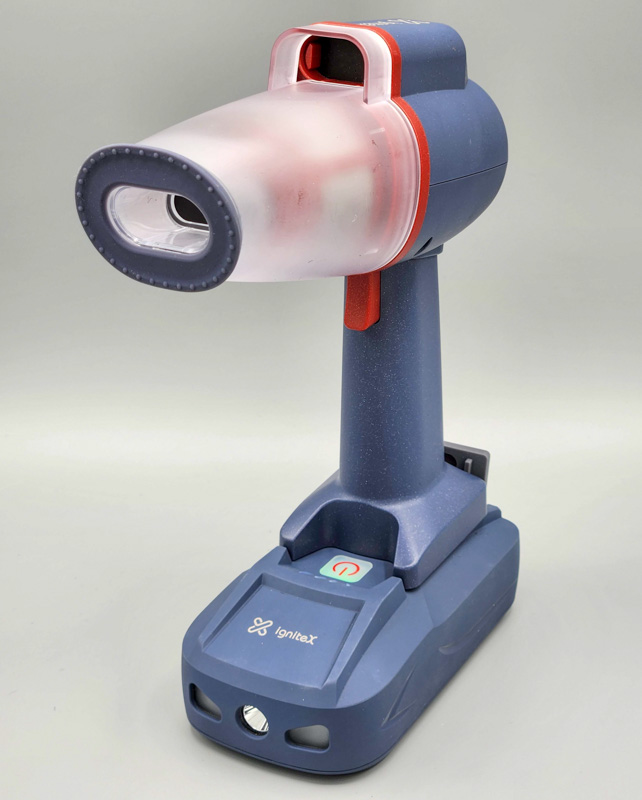 The picture above shows the vacuum tool attached and powered on. You can use it with no attachments, but if you want to use an attachment you simply push it in and it holds well with friction: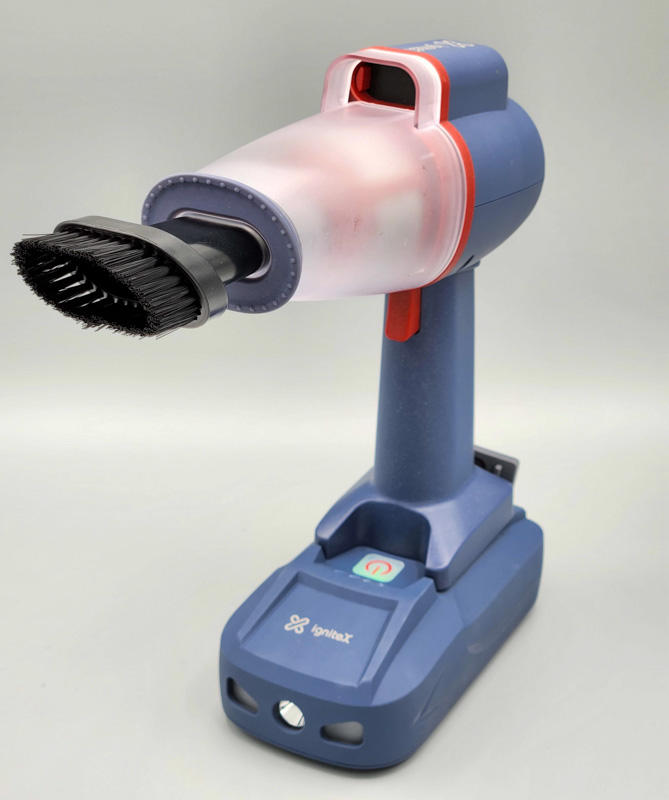 Next up is the LED flashlight. This is more powerful than the smaller lights built into the battery base itself, and would be useful for hunting for a lost part or dropped item at night.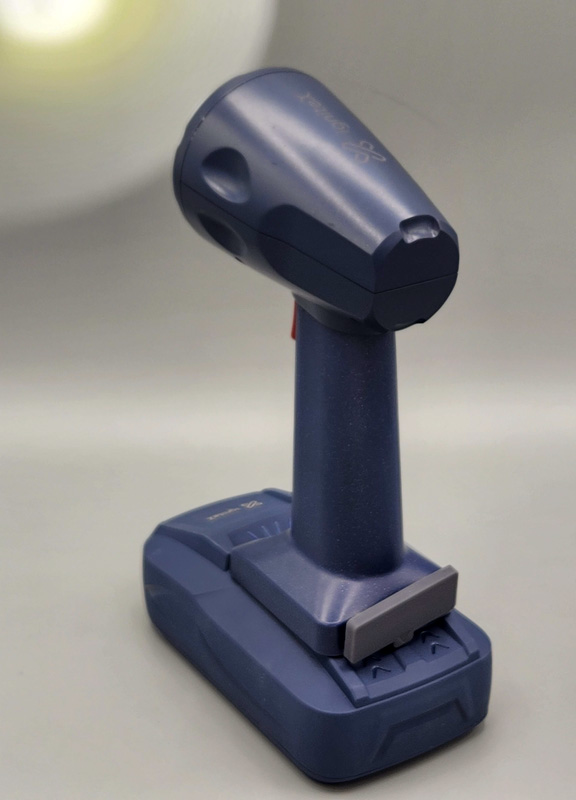 The flashlight has multiple levels of brightness, with low/high/flashing/SOS modes (the SOS is Morse code flashes that spell out S.O.S.).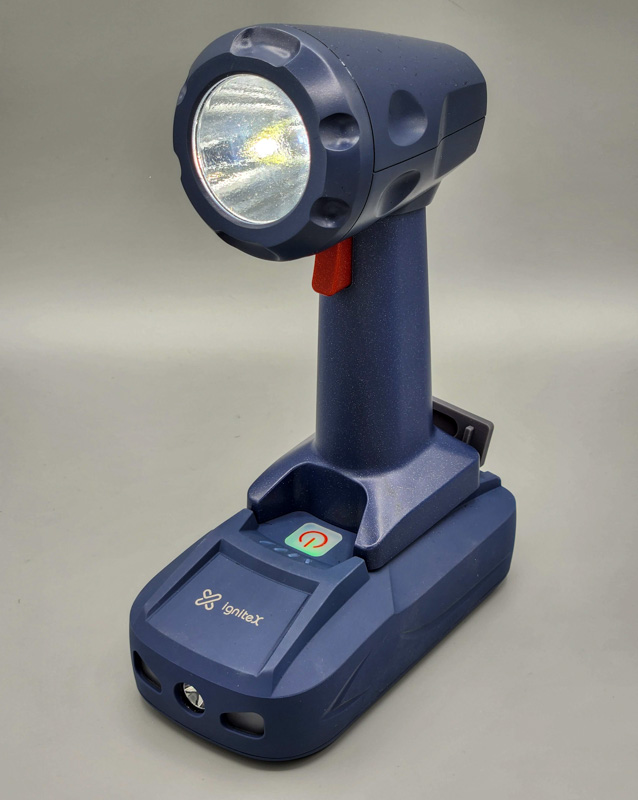 The pressure washer attachment was the biggest surprise to me, I've not seen a battery-powered pressure washer that can actually clean a car decently, so I was excited to try this out (read on the Performance section for more details).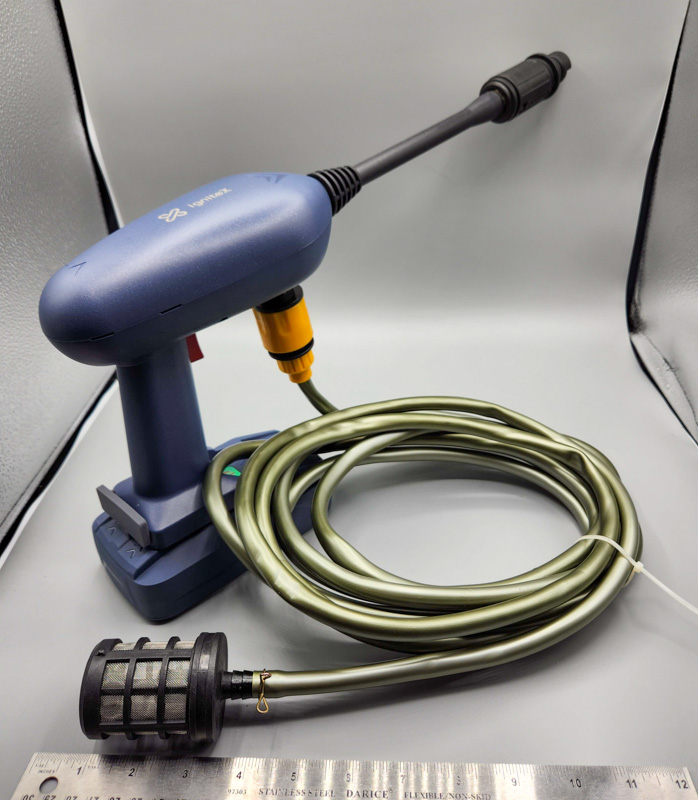 The pressure wand screws onto the front, and the intake hose (with a decent ~2 meter feed hose with filter) attaches to the bottom.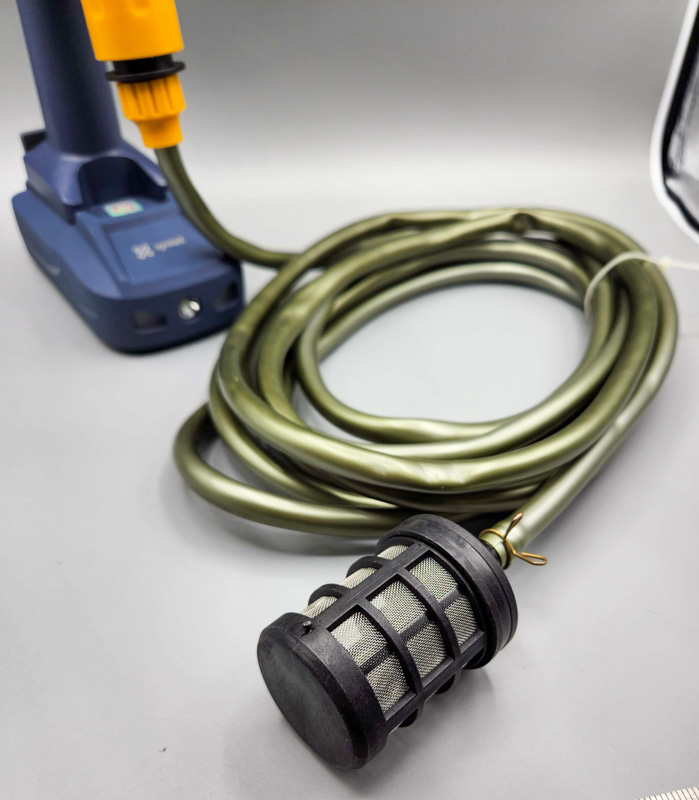 Above is a closer shot of the filter.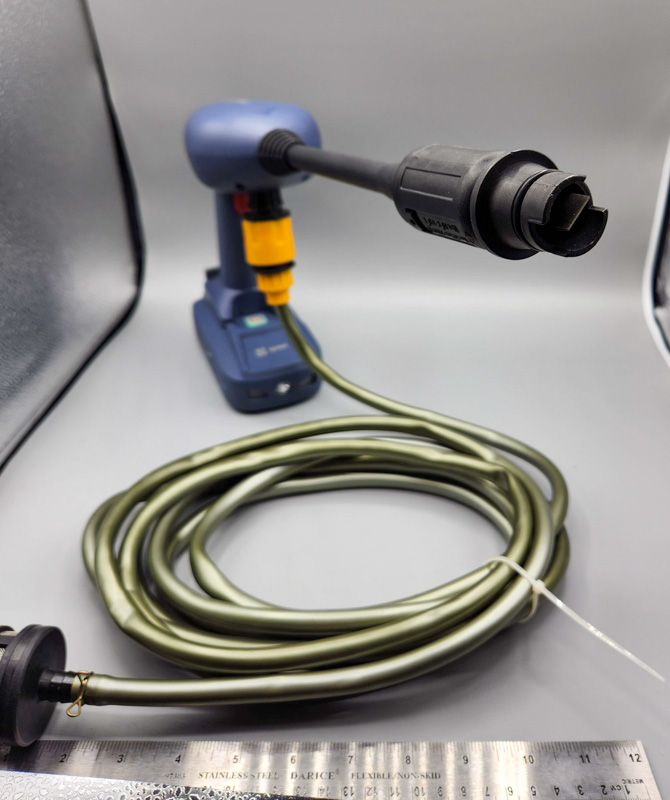 The spray intensity and shape are affected by two metal plates that can be narrowed closer together or widened simply by turning the large grip near the front.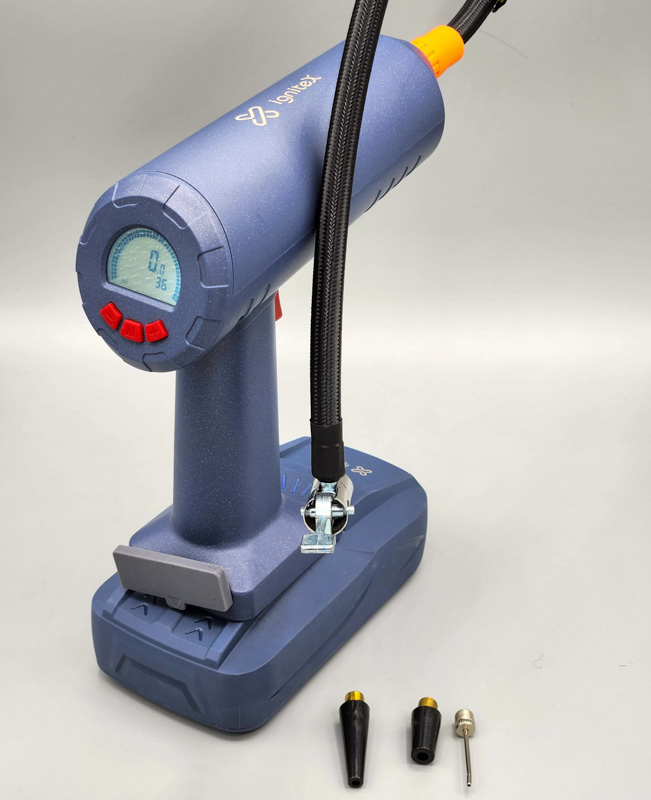 The air inflator is probably the tool I was most interested in using frequently: I have a garage full of bikes and scooters now from reviews and my own purchases, plus the family car to keep inflated. The three extra attachments allow for this super portable battery tool to be used for a wide variety of inflatables as well, with summer approaching I'm excited to use it with all sorts of things.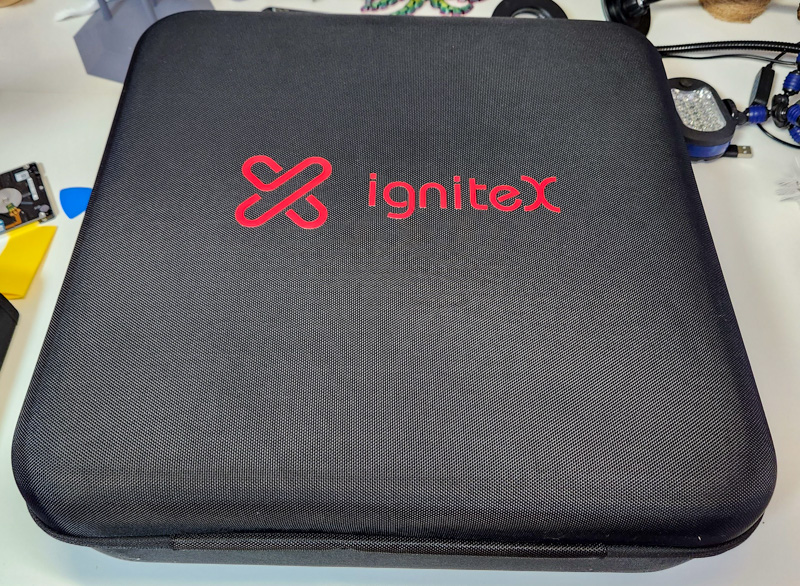 All of this came shipped to me in a nice (if somewhat large) hardshell carry case with the IngiteX logo on the outside.
Performance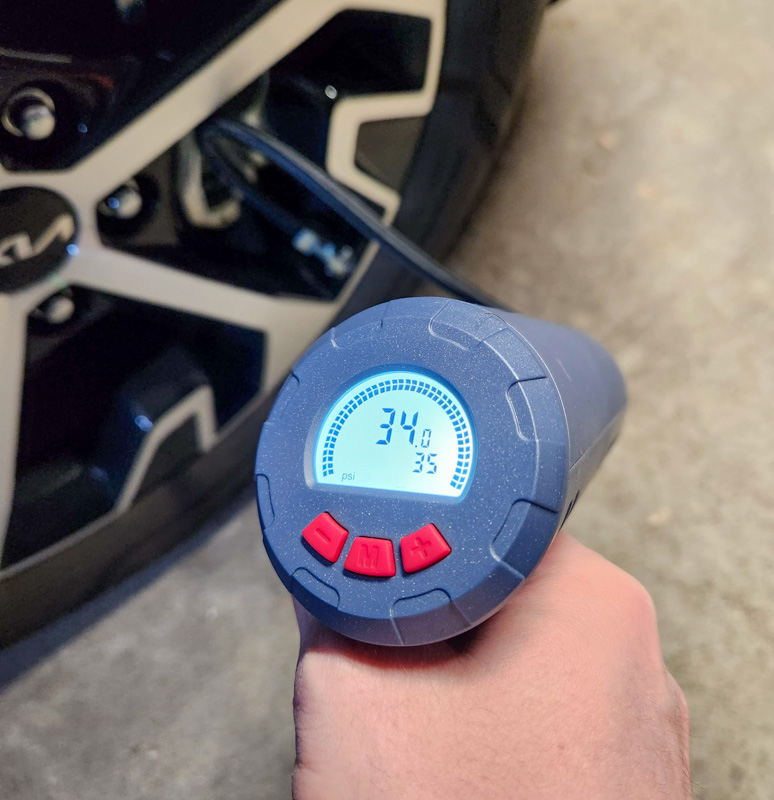 I started my testing of the IgniteX JS6: Modular Magnetic Car Tools set with the air inflator. There are controls to set the desired pressure, then you simply squeeze the trigger and the air compressor does its thing. I have a wall-plug air inflator that has seen better days, this handheld one inflated roughly twice as fast, and I verified the pressure with another gauge after filling various things and all were within 1 PSI of the pressure I had set. It's noticeably quieter than my previous inflator as well.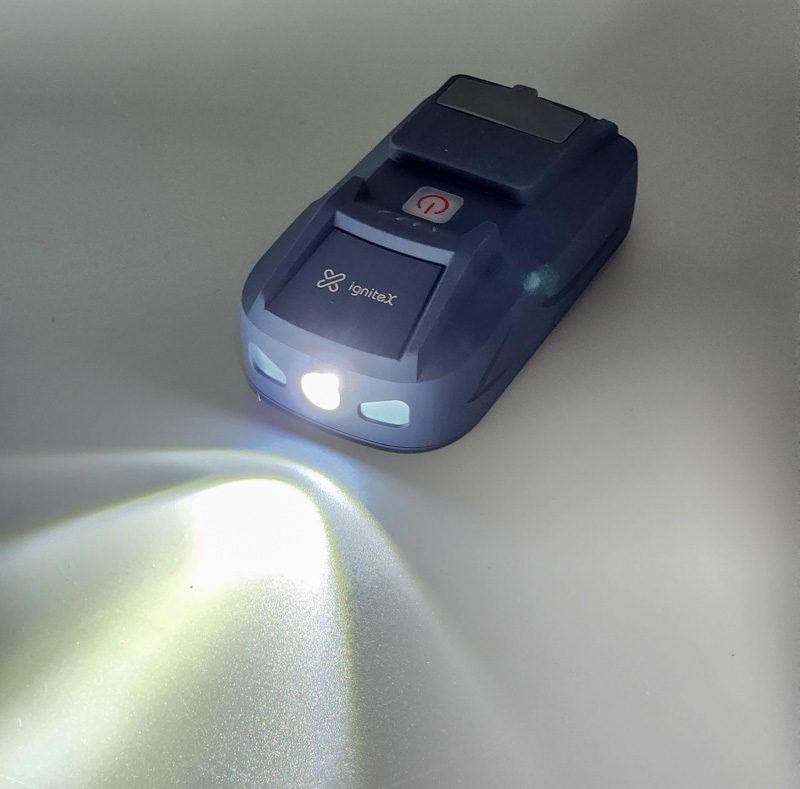 The battery base itself has white (above) and red (below) lights that can be turned on and cycled with the power button when it's not connected to a tool. I also inadvertently discovered that if you turn on the light and then connect a tool, the light stays on. So, you can easily see the tire specifications with the battery light while using the air inflator tool, a nice touch.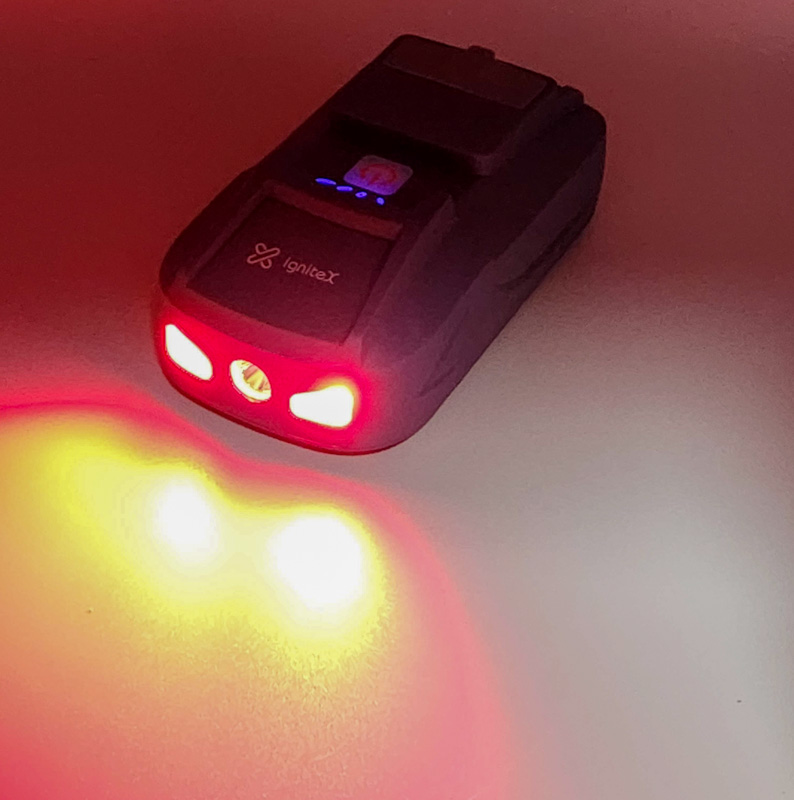 The flashing red lights are quite visible, especially at night. This makes for a good warning signal if your vehicle warning flashers aren't working.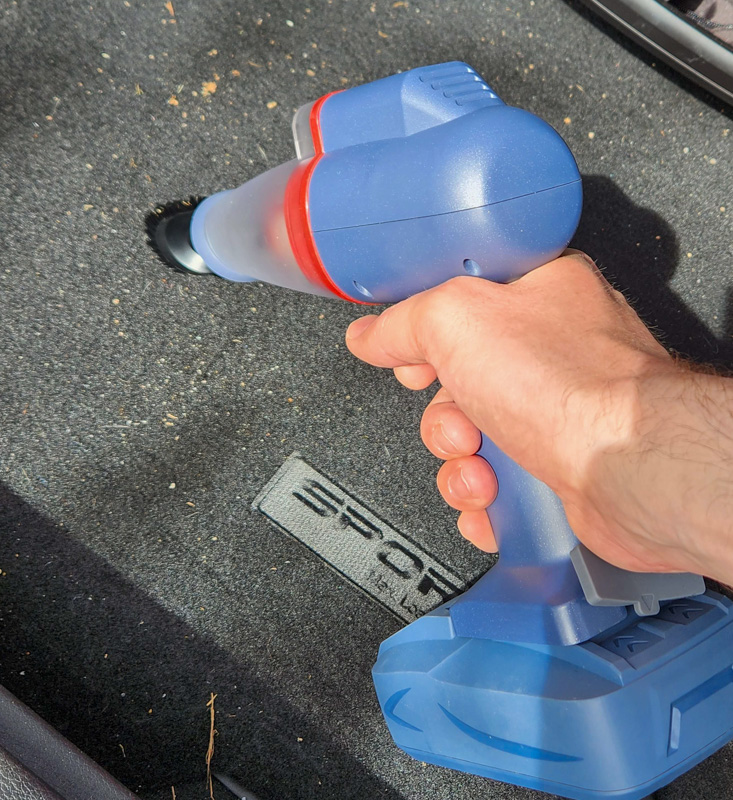 Next, I tried the vacuum and various attachments, and it all worked as well as my usual go-to cordless vacuum that I use in the cars.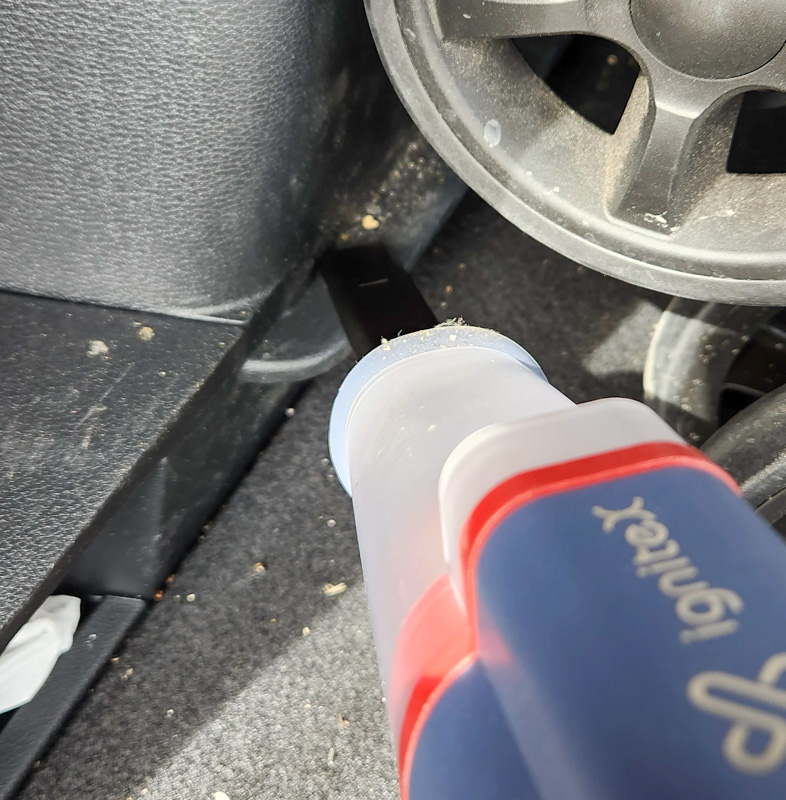 It was easy to get in the nooks and crannies, and it did a decent job of pulling in dust. The only thing I noticed different from other vacuums is the forward facing air exhaust, which sometimes blew the debris I was trying to vacuum around a bit.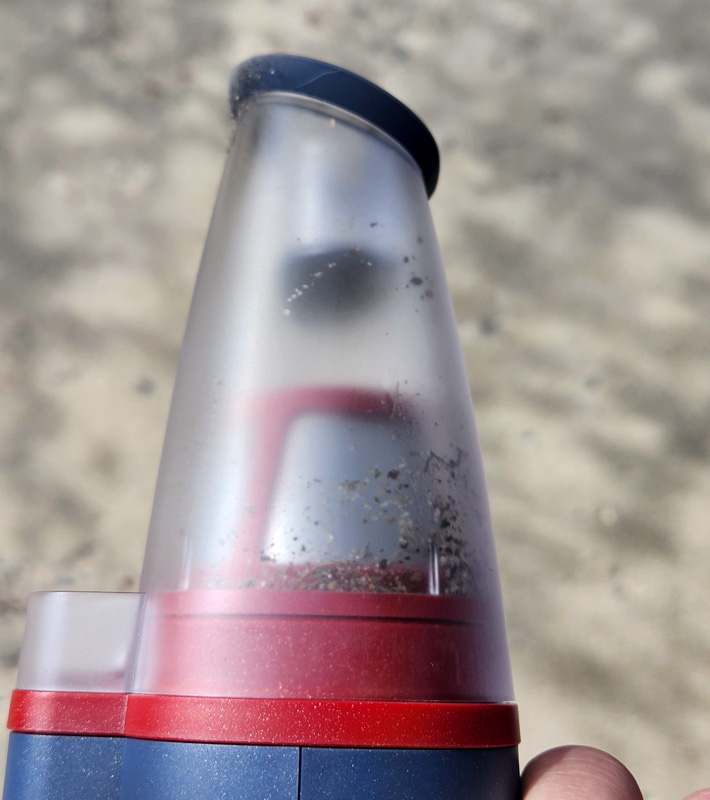 Shown above is the dust and debris gathered after a short use. Emptying the canister is as simple as pulling it off of the vacuum tool.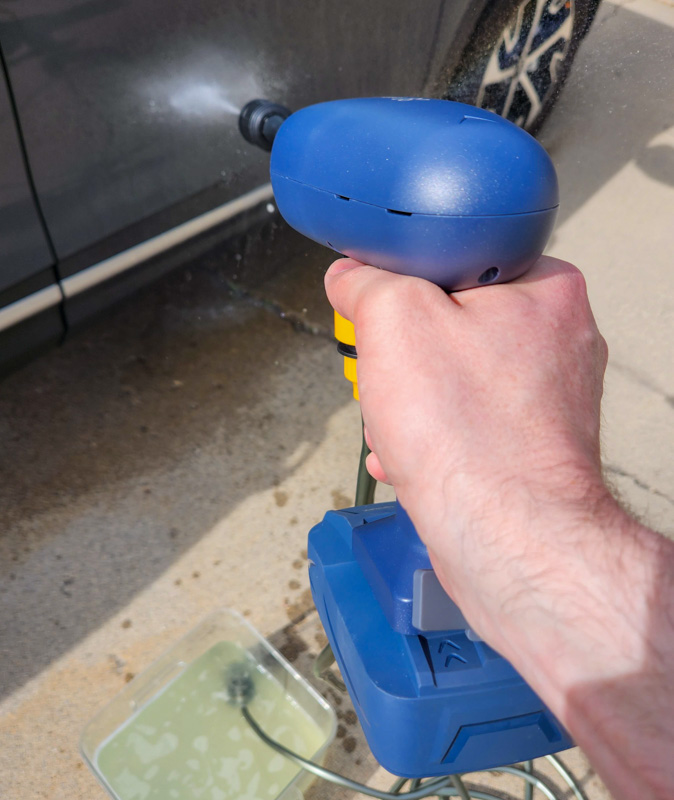 The pressure washer tool was up next, and I was very surprised by the performance of a battery-powered pressure washer. It easily cleaned off all but the dirtiest parts of my car (weeks of build up), and the few bits that were a bit too caked on were easy to finish with a sponge after being sprayed down. The stream shape and intensity is controlled by rotating the grip near the front of the nozzle: this squeezes two metal plates closer together or farther apart, between which the water is sprayed out.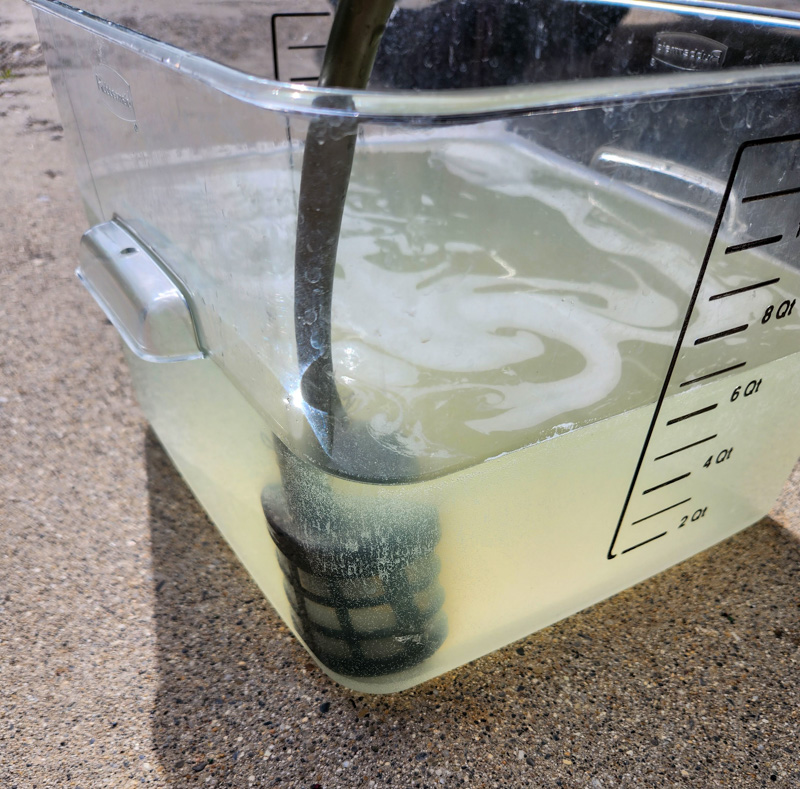 Rinsing the car off after spraying with the soap mixture was also easy, I just had to empty out the soapy water and replace with clean (or have a 2nd bucket ready to go). The filter should keep out large particles from jamming up the pressure washer tool, and can be removed for cleaning with a simple clamp.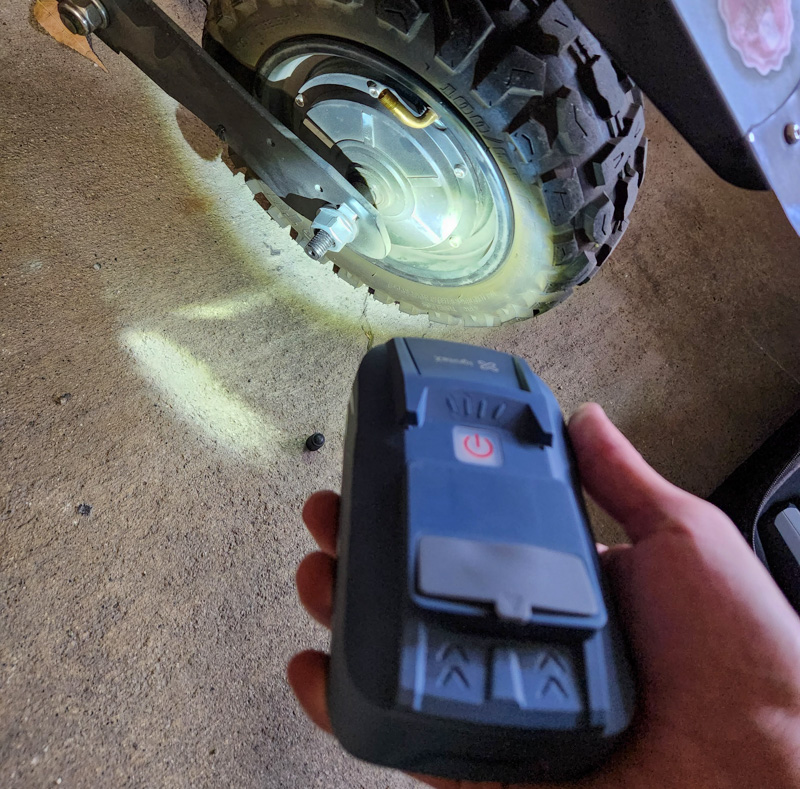 Above is a picture of a fairly dark garage, where I definitely couldn't see the recommended PSI for the scooter tire I was inflating. The built-in flashlight on the battery pack itself was handy to check this out.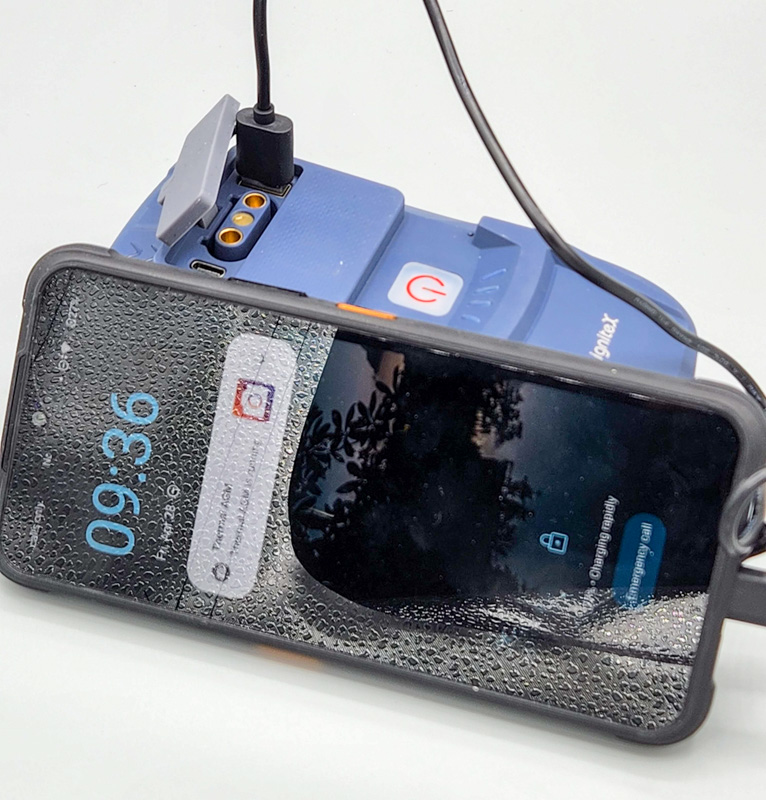 A final bonus is the ability to charge other USB devices directly from the battery pack, using it as a portable power pack. Several devices I tested with reported rapid/fast charging when connected.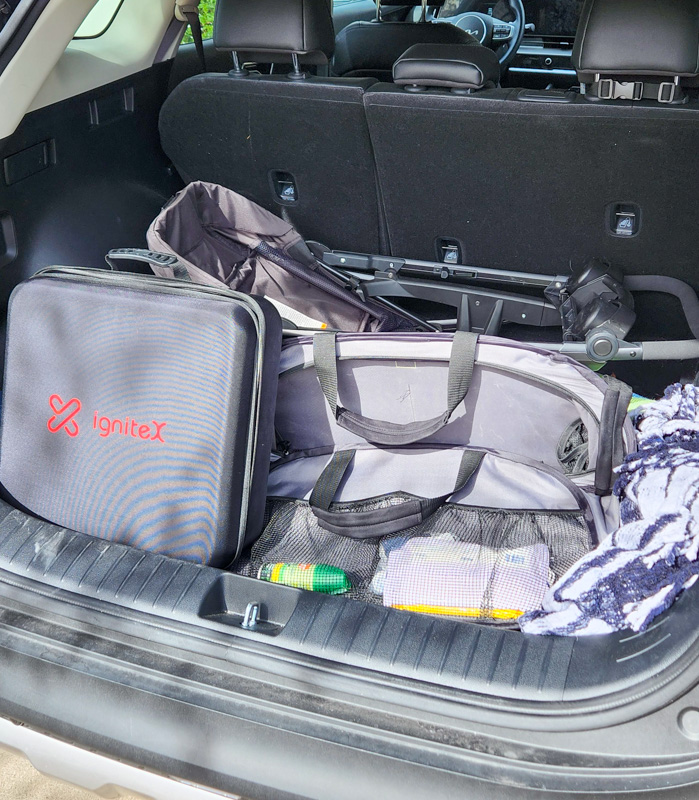 My final note for the performance is the size of the carrying case. It's large. There seems to be extra wasted space that results in a case that's larger than it needs to be, which can then take up a larger part of your trunk. Our compact SUV has the largest trunk area in its class, but as you can see above the space the IngiteX case takes up is not small. I wouldn't have minded a separate case for the pressure washer since it's not something you usually need to take on the road with you, then a compact case for the rest of the tools to keep in the trunk for emergencies. Overall though, I was impressed throughout with the build quality and performance of the tools. I didn't have to recharge the battery pack once during my test period, going from 4 bars to 2 after a full car wash, 8 tires inflated (4 SUV, 4 fat bike tires, and 2 large scooter tires), charging two phones and a tablet partially, and testing all the other tools as well. If you're looking for a comprehensive battery-powered car tool set, the IgniteX JS6: Modular Magnetic Car Tools might be just the thing you didn't know you needed.
What I like
All tools seemed well built and performed well
I like the secure magnetic connection
Lots of useful car tools in the core set.
What I'd change
An impact wrench for changing tires would have been a perfect addition (or stretch goal or add-on)
Case is a bit large
Full retail price of $469 seems a bit steep, Kickstarter prices are more reasonable.
Final thoughts
The IgniteX JS6: Modular Magnetic Car Tools has already become an invaluable addition to my car kit in a few short weeks. I've used the air inflator multiple times after testing for the review, and look forward to a summer of filling inflatables without becoming lightheaded, even while at the lake.
Price: $469 (reward sets as low as $239 on Kickstarter)
Where to buy: Kickstarter
Source: The sample of this product was provided by igniteX.