We use affiliate links. If you buy something through the links on this page, we may earn a commission at no cost to you. Learn more.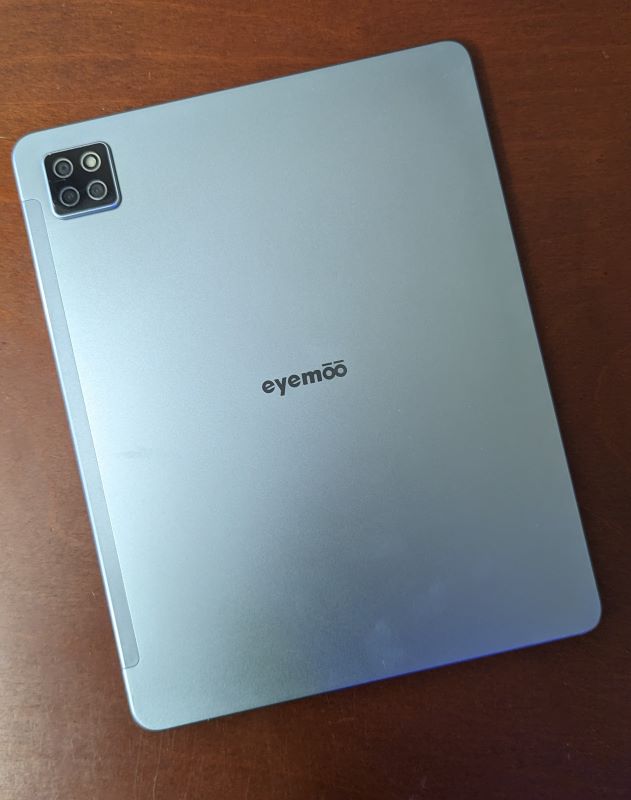 CROWDFUNDING REVIEW – I'm a big proponent of e-ink. I prefer reading and writing on an e-ink tablet over an LCD any day, but when I heard of the Eyemoo NXT Epaper S1 Android tablet, I was intrigued. Eyemoo has created the "World's first color Reflective-LCD with front light" and I wanted to check it out. Can this e-paper technology replace my beloved e-ink tablet? Are you looking for a color alternative to e-ink? Read on to see if the NXT Epaper S1 is for you.
What is it?
The Eyemoo NXT Epaper S1 tablet is a Kickstarter crowdfunding project.  It's an Android tablet running a custom version of Android 12 OS and is meant to be a competitor to E-ink devices.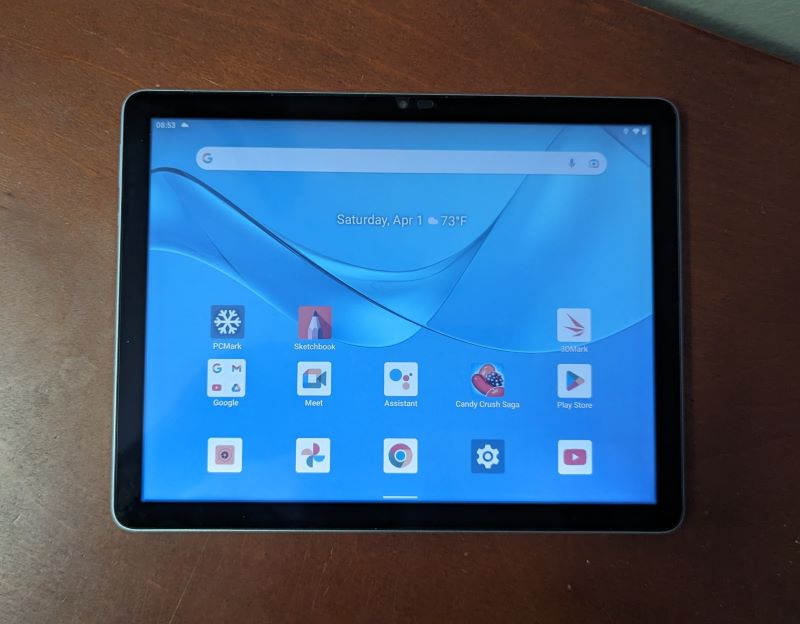 What's in the box?
This is a pre-production sample.  The finished product will come with accessories
Eyemoo NXT Epaper S1 tablet
Hardware specs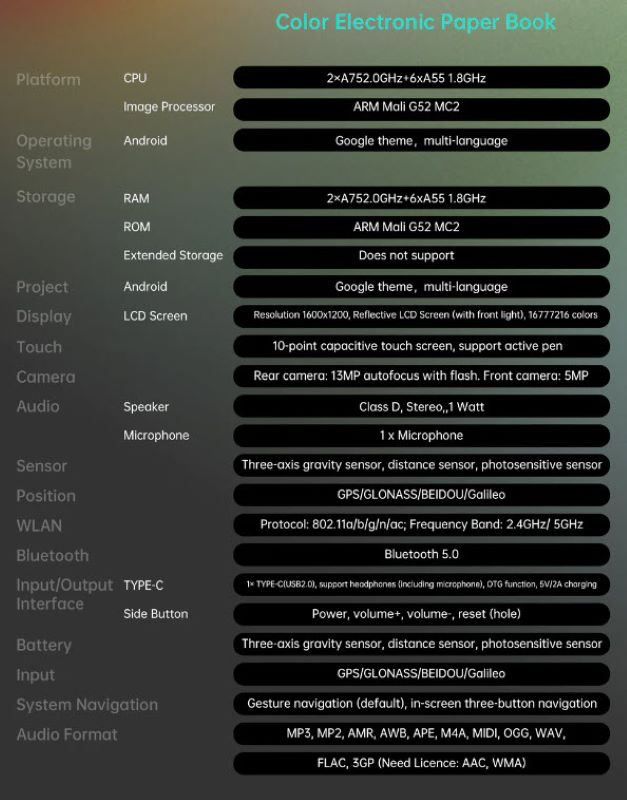 Design and features
I want to preface what I'm about to say about the Eyemoo NXT Epaper S1 tablet.  When I first received this tablet, I was looking at it as an Android tablet.  I mean, why wouldn't I? That's what it is and I must say, I was not impressed. I expressed my concerns to Julie, our Gadgeteer Guru, and through our discussion, I realized I needed to come at this device from another angle.  So keep that in mind when reading the rest of this review.
The Eyemoo NXT Epaper S1 tablet arrived in a plain white box with no accessories whatsoever.  No charger, no cables, no stylus, zero, zilch, nada. After contacting Eyemoo, I was told those accessories had not been finalized yet but would be for the Kickstarter campaign. Ok, no problem. The tablet is USB-C and I have plenty of cables.
The next thing I noticed was the thickness.  Man, this thing is chunky.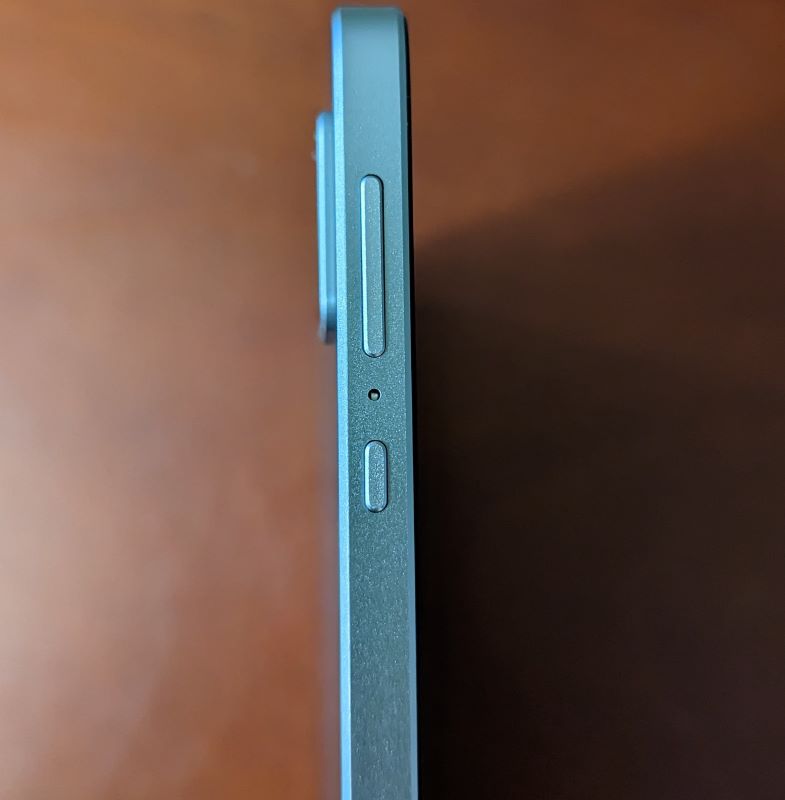 Following that, I saw the tablet is designed to be held primarily in landscape orientation, even though, from the rear with its logo placement, one would assume portrait.  To further prove my point, there are 2 bottom-firing speakers on the bottom edge of the device. I guess that makes sense if you're going to watch videos, but if it's an Epaper device, shouldn't it be designed for portrait use primarily?

Those musings aside, I powered on the Eyemoo NXT Epaper S1 tablet, ready to see this color Reflective-LCD technology that I had personally never heard of.  Ummm, this wasn't what I expected.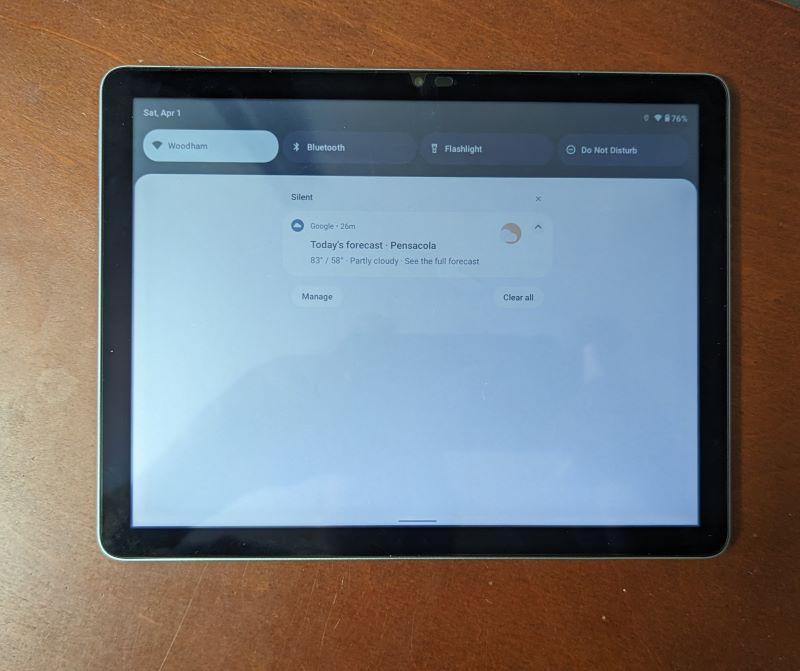 The picture was washed out and appeared hazy but I went ahead and set it up by logging in with my Google credentials. Then I immediately switched it to dark mode.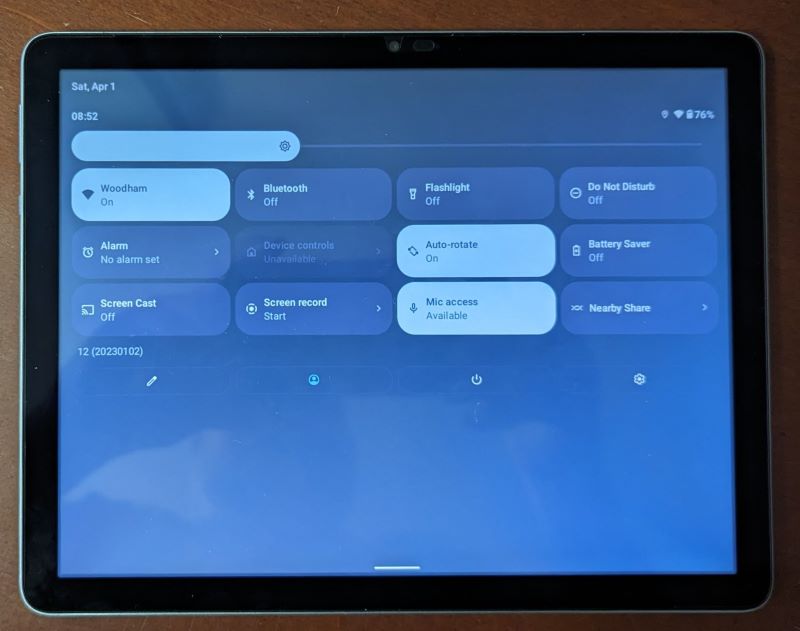 Hmmmm, that wasn't better by any means. So, I contacted Julie who asked the good folks at Eyemoo if this was normal.  They said it was and I should raise the brightness to 100%, so I did.  It did get better but I wouldn't say it was a huge improvement.  I went back to light mode and abandoned dark mode altogether.  The next thing I saw was how the Android window shade didn't resize properly when going to portrait mode.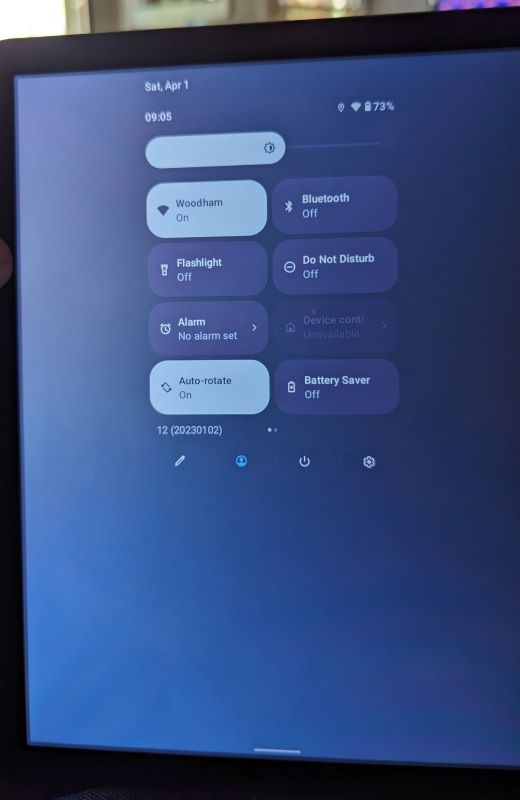 It's been several years since I've owned an Android tablet. The last one I had was one of the original B&N Nooks that I rooted and loaded a custom ROM on.  So is this a symptom of the altered OS or just an Android hiccup? I had a few more issues I couldn't quite capture with photos, but I want to tell you about them.  The Eyemoo NXT Epaper S1 tablet does not have a backlight but a front light.  That's where the reflective part of the RLCD comes into play. It reflects the light, whether from its front light or from ambient light. That's really cool, but… The front light LEDS are only on one edge of the tablet, which means it's brighter on one side and then fades across the screen.  The tablet also has terrible viewing angles.  I don't know if that's the fault of the LEDs, the inherent nature of RLCD, or if this is still in the prototype phase. I found that if I used the Eyemoo NXT Epaper S1 in landscape mode and leaned it towards me a bit I got the best picture.  Very strange.
Performance
As you can tell, I wasn't impressed with the performance of the Eyemoo NXT Epaper S1 tablet.  I watched Youtube with it and got this result.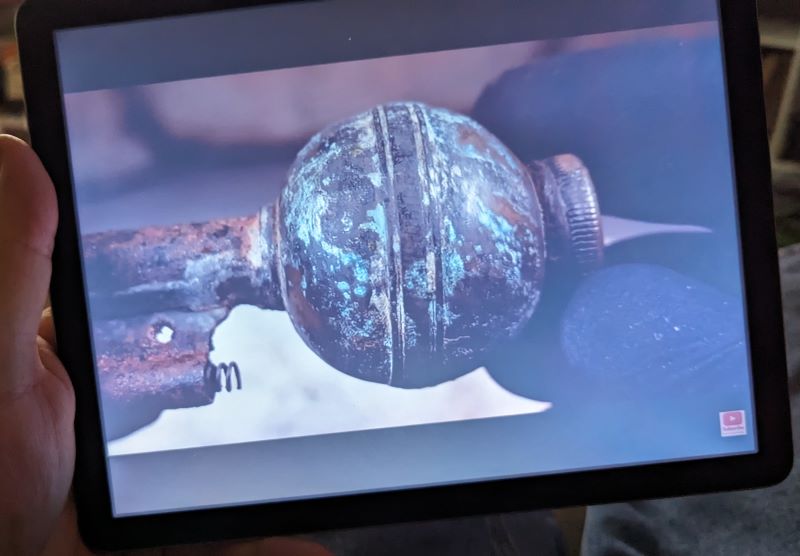 I loaded up a game to play and this is what it looked like.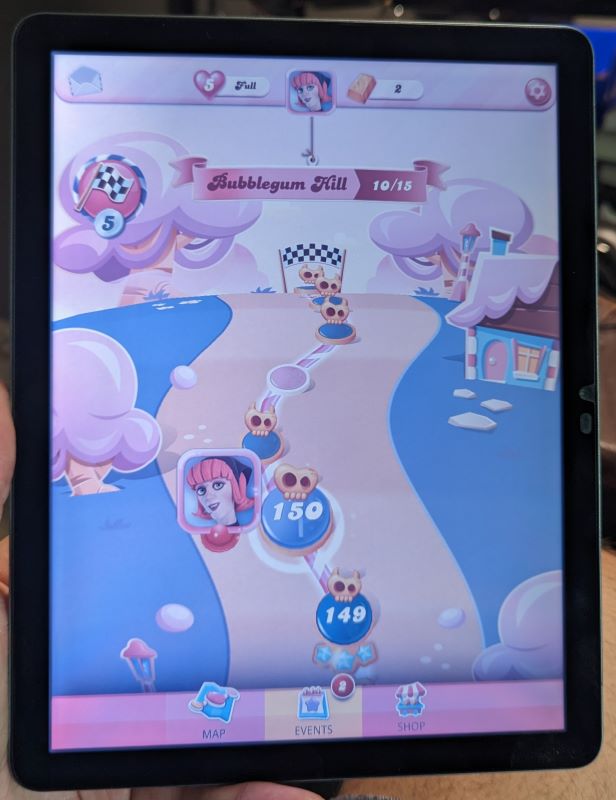 And this.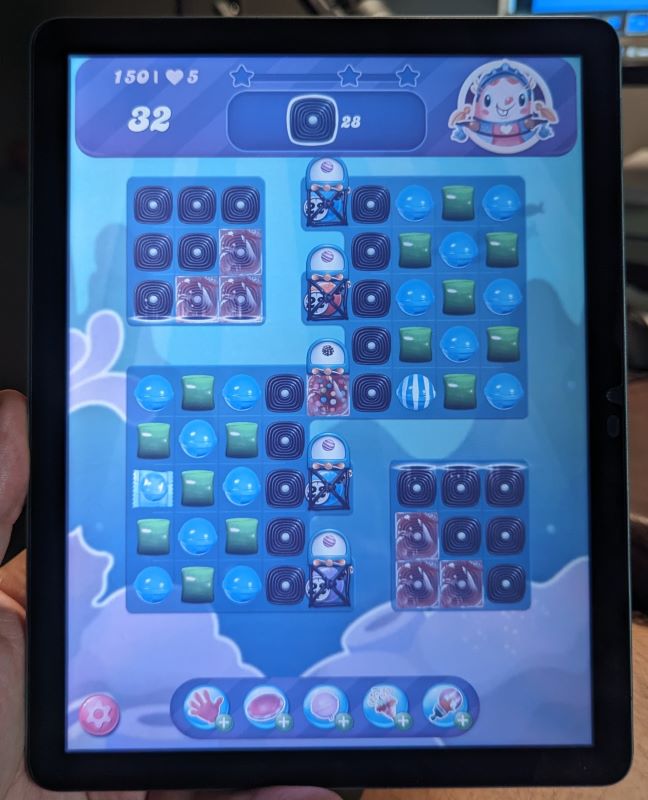 This is where I consulted with Julie who was able to point me to some more information about the technology and other reviews.  Typically, I don't like to see other reviews of the products I receive until after I've submitted mine to see if they agree with me.  I don't want other reviews to influence mine.  In this case, though, it helped me look at this Eyemoo NXT Epaper S1 differently. This tablet isn't an iPad or Samsung Galaxy tablet competitor. It's not meant to be, like some of the e-ink tablets out there that do everything, this is meant to be an alternative to e-ink while giving you a color LCD screen with better refresh rates. This allows you to do more than the typical e-ink tablet while still having a screen that doesn't cause the eyestrain of normal LCD screens. So with that in mind, i tried using it as an e-reader. The following pictures are outside in full sunlight with brightness all the way down. This is where the Eyemoo NXT Epaper S1 tablet excels in my opinion.
For those who want to read their comics in full color, check this out.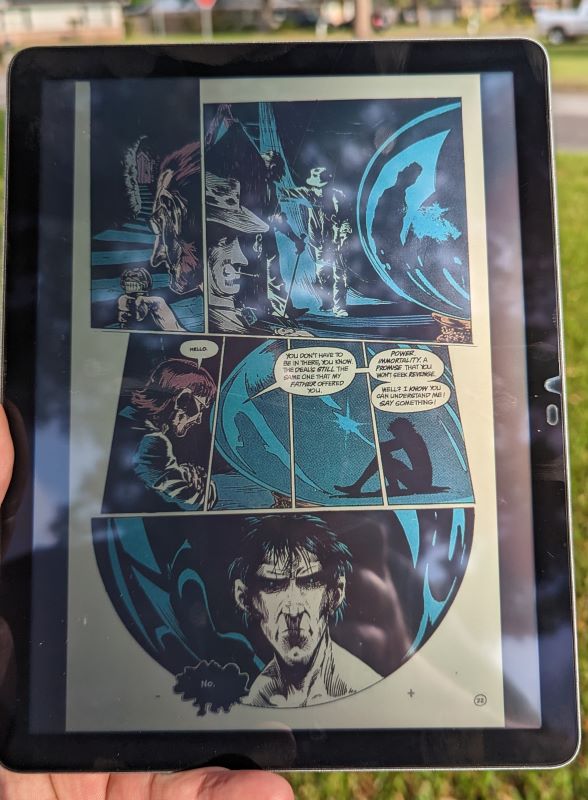 Care to read Ender's game and still get page-turning animations?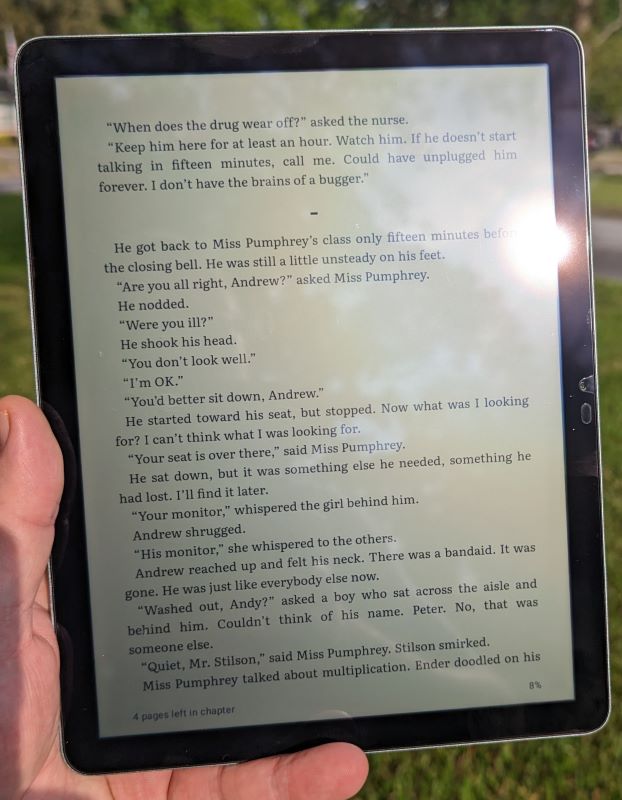 And if any of you are curious about how the tablet stacks up to other tablets, I've included a few pics from a benchmark I ran. Just remember, this device isn't so much about the tablet as the screen and its main purpose.  That's what I had to realize.
What I like
What I'd change
If there's any way to make it more vibrant and crisp, it definitely needs to be done
The price
Final thoughts
The Eyemoo NXT Epaper S1 tablet is another device I really wanted to like but I just don't, not in its current state.  This is a prototype, so maybe it'll get better.  Currently, the price is $499.  That's a bit much to bite off for me. There a way too many other tablets that are brighter, crisper, and faster than this one even if they cause eyestrain. However, if you want to be on the bleeding edge of new technology, then check out their Kickstarter campaign.
Price: $499.00
Where to buy: Kickstarter
Source: The sample of this product was provided by Eyemoo.