We use affiliate links. If you buy something through the links on this page, we may earn a commission at no cost to you. Learn more.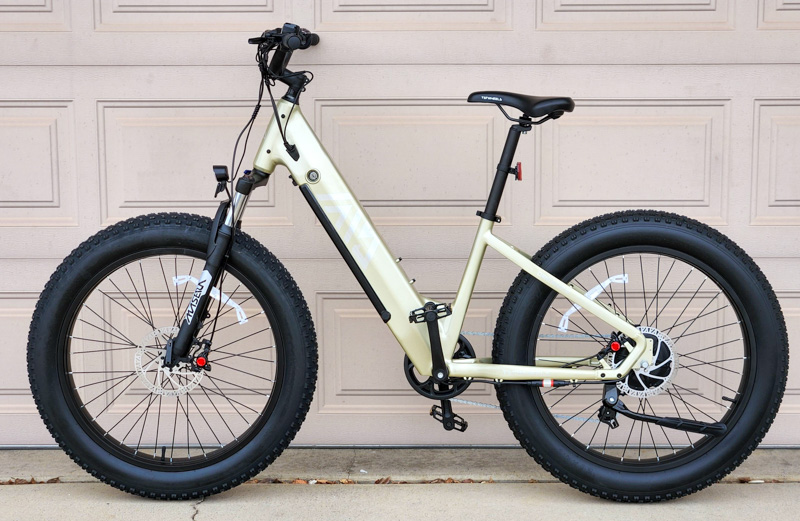 REVIEW – I recently reviewed the HOVSCO HovBeta electric bike and thought I'd found the perfect bike for my needs – easy to hop on and get around town, capable of carrying some groceries or other cargo, and fun to ride. I was pleasantly surprised to get an offer out of the blue to review another electric bike brand and model: the TST Dreamer 26″ Step-Thru Fat Tire Electric Bike. I'd lose the foldability and torque-sensor-pedal-assist, but gain a larger frame and tires in a similar step-through design. When I asked about the relationship between HOVSCO and TST, I was given a coy response that avoided answering my question, but shortly thereafter I noticed TST bikes appearing on HOVSCO's site, so … mystery solved.
What is it?
The TST line of electric bikes is advertised on HOVSCO's site as "the same great quality for less", so we're looking at a midrange model here. This is a common theme throughout the bike that I'll dig into in more detail throughout the review, but overall the TST Dreamer a solid no-nonsense electric bike with some good speed and torque for a decent price.
What's in the box?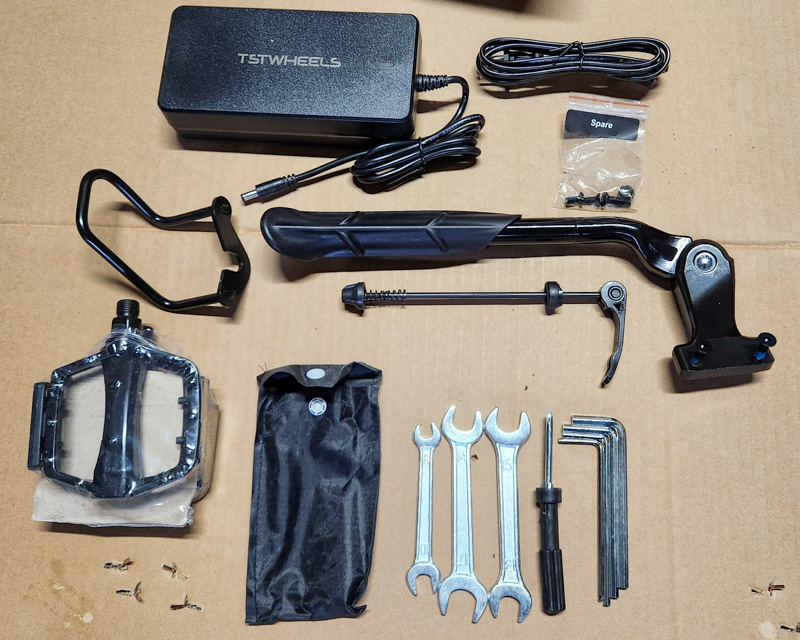 Derailleur guard
Pedals (x2)
Tool kit and carry bag
AC charger
Spare bolts
Kickstand
Front tire axle
Hardware specs
Motor: 750W sustained, 1032 W peak SUTTO (sub-brand of BAFANG) 48 V Brushless
Battery: Removable Lithium-ion 48v, 15Ah (720Wh)
Top Speed: 28 MPH
Ebike Class: Class 3
Pedal Assis: Cadence Sensor with 5 Pedal Assist Levels
Range: 40-60 Miles
Weight: 86 lbs
Weight Capacity: 450 lbs
Charger: 54.6V 3A, 7 hours charge time from empty
Display: BC280 LCD with Backlight
Crankset: 170 mm w/ 42 teeth
Cassette: 14-28 teeth, 7-speed Cassette
Brakes: 180mm Hydraulic Disc Brakes
Rear Derailleur: Shimano Revoshift 7 speed with visual gear indicator
Pedals: 9/16′ Alloy Platform
Handlebars: 31.8mm x 700mm Aluminum
Headset: VP Sealed Bearing Headset
Seatpost: 30.4mm x 350mm Forged Alloy, 2-bolt clamp
Stem: 31.8mm Threadless with 7 degree rise
Quick release seat clamp and front axle
Rims: Double Wall Aluminum Front and Rear
Spokes: Stellite Alloys
Tubes: Butyl Rubber Schrader Valves
Hubs: 36H Disc Thru-axle Front, Nutted Rear
Tires: 26″ x 4″ Ebike Rated Tires (Chao Yang on my review unit)
Frame Material: 6061 Single-Butted Aluminum Alloy
Fork: 80mm travel Masera fork with lockout
Battery light: 120-LED, 4 meter range, 20 square meter area
Design and features
The TST Dreamer 26″ Step-Thru Fat Tire Electric Bike is a step-through bike, which is handy for us elder millennials and older with aging knees and backs and other parts. There's a step-over model as well in the new TST lineup, so if you prefer that the rest is nearly identical. I've inserted my thoughts into the picture gallery below, you can click on any of these to view them larger:
Setup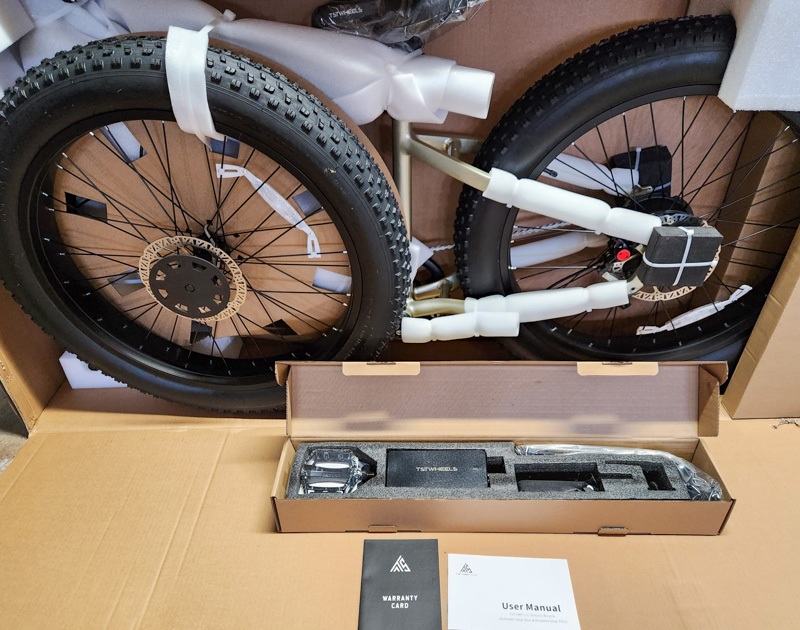 The TST Dreamer 26″ Step-Thru Fat Tire Electric Bike came well protected and mostly assembled. The included tool kit is handy for assembly and for future maintenance as well. TST advertises a two-year warranty, which is always good for an unknown/new brand (as long as they don't immediately go out of business).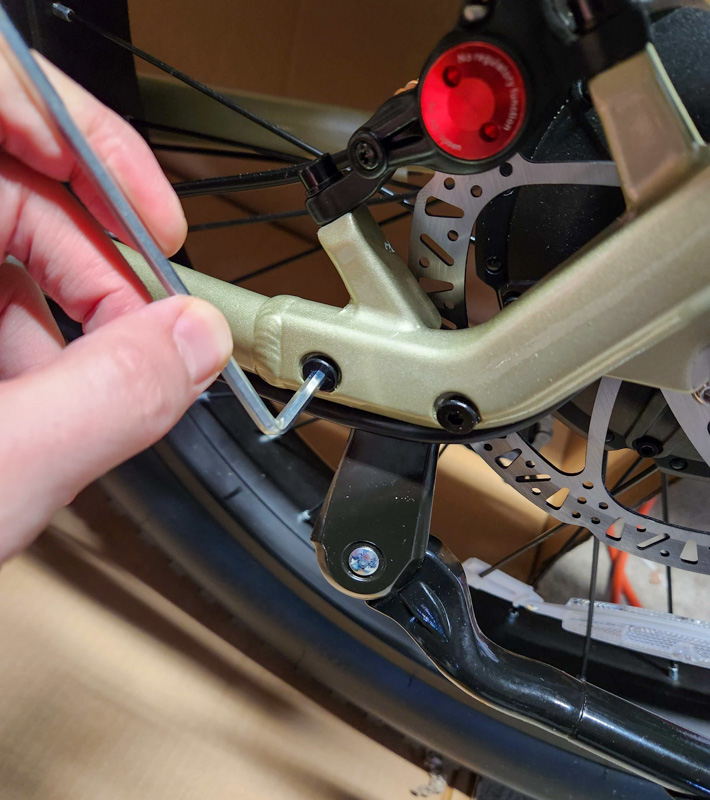 Installation involved installing the front wheel, installing the kickstand and derailleur guard, the pedals, front handlebars, and seatpost. I think most people would be capable of the setup, but you can always take it to a local bike shop to have it assembled and tuned (having the gears adjusted and everything lubricated and tightened down is highly recommended by both the manufacturer and me).
Performance
Since this was an unknown brand and mostly unfamiliar parts to me (I've built and repaired a number of bikes over the years so I recognize brands like Shimano, but not SUTTO or Mesaro or the many unbranded parts) I really wasn't sure what to expect with the TST Dreamer 26″ Step-Thru Fat Tire Electric Bike, but from the first time I pushed the thumb throttle to the many miles I put into riding for testing I enjoyed it all. There's a better-than-most torque and top speed, midgrade parts throughout, and the nice big fat tires roll right over minor road or trail bumps (with a functional front suspension to assist as well). I moved my panniers and baby seat from the previously reviewed HOVSCO bike to this one within the first week, as this one has a higher top speed and fits me a bit better (I'm 6'4″ and the seat post can still go higher from where I have it set). Here's a short video of some of my test riding:
Here's the built-in light on the internal battery (hidden until the battery is removed), it's quite bright even in a bright garage, it would do great for emergency lighting/repairs or even camping or other uses: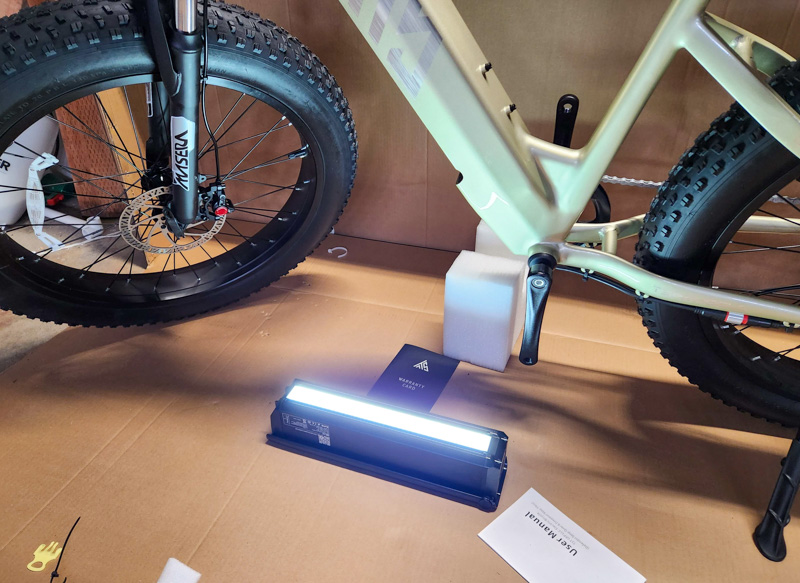 I only had to charge the TST Dreamer 26″ Step-Thru Fat Tire Electric Bike once during the month of testing, even with almost-daily rides. The longest I was able to do in between spring snow storms was a 12 mile round trip with significant hills and some gravel roads. This dropped the battery indicator from 4 to 2 bars (out of 5 max). I do wish that e-bikes had more accurate range/battery estimates, but I can't fault TST for this as it's been an annoyance on every ebike I've owned/tested/considered.
The entire bike feels well-built and solid, with no worrying flex on the frame or visibly bad welds (though time will tell, even established reputable brands have had models with weld issues).
Power is provided from the motor in one of two ways: pushing the thumb throttle, and with pedal assist. There are 5 pedal assist levels, and on 2-5 when you're pedaling as fast as you can on the highest gear you're basically just spinning your legs. If I wanted to get a workout from my ride at all, I stayed on level 1 and just used a bit of thumb throttle to start out from stops or to aid in climbing hills. The throttle almost lurches you forward if quickly pressed: there's a decent amount of torque here.
The ride is similar to a $2500+ ebike I owned prior to the HOVSCO (an E-Cells Super Monarch) that I loved for it's almost moped-level capabilities. For running around town or doing 30+ mile rides on gravel fire roads up the canyons, it's great. I learned my lesson with the Super Monarch in the past though, these heavier ebikes do not make great mountain bikes for twisty/steep or technical mountain bike trails. Stick to gravel/dirt/sand/asphalt, wide trails, and mild to medium grade hills for best results. Or you can ignore my warning, go up steep narrow technical trails, and end up with a bruised leg and a big heavy bike on top of you.
What I like
Power/performance at this price level
Comfortable commuter geometry while still being trail capable (though not intense technical trails, this bike is heavy).
Big fat tires
What I'd change
Uncomfortable basic seat
Pedal assist is quite a jump from level 1 to 2 (2-5 all seem very similar while 1 is nice and slow) – I would have liked to see a better spread of pedal assist levels
No rear light – I like it when e-bikes have tail/brake lights built in, but I simply added one.
Final thoughts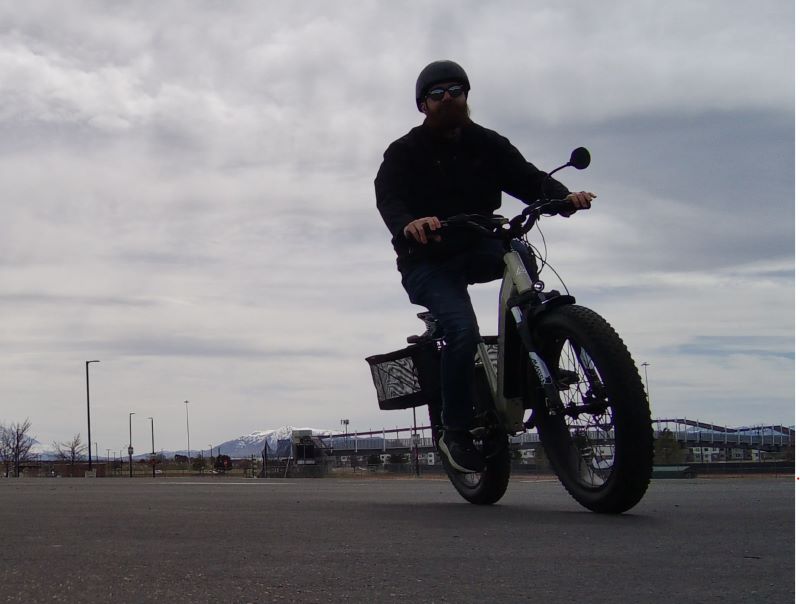 I had intended the TST Dreamer 26″ Step-Thru Fat Tire Electric Bike to be a loaner or backup bike when I accepted the review, but I've since moved my electric horn, mirror, baby seat, and cargo panniers over to it as my daily driver (literally: we share a single car in our house, so I use bikes a lot!) It's an easy to ride bike that can also have a lot of fun with both speed and off-road capability. I look forward to a summer of canyon rides on the TST Dreamer and will update here as I continue to adventure!
Price: $1399.00
Where to buy: Amazon (currently offering a $200 instant coupon on the page and you can save an additional 15% with the coupon code:  T3PJ8QAN (expires 5/11/2023 @ 23:59))
Source: The sample of this product was provided by TST