We use affiliate links. If you buy something through the links on this page, we may earn a commission at no cost to you. Learn more.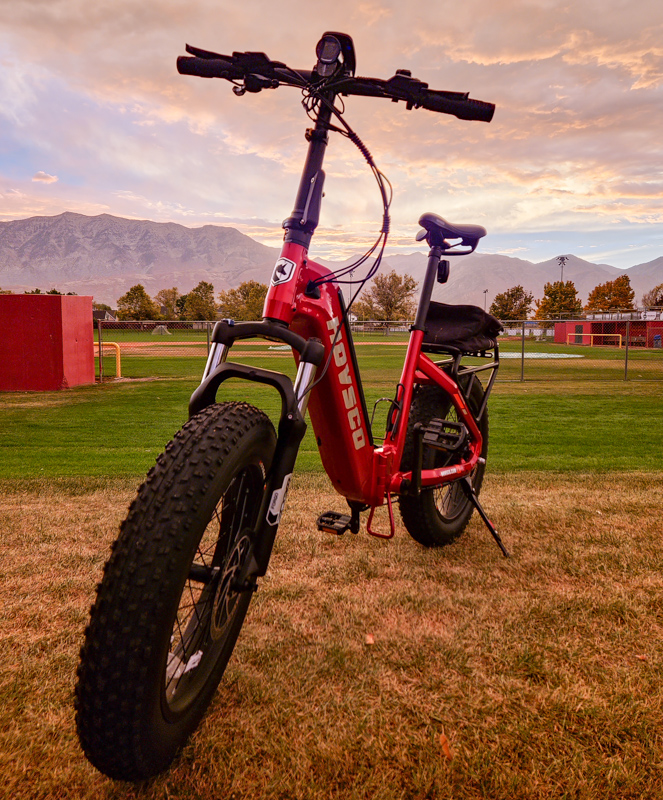 REVIEW – I've been riding electric motorcycles and more recently ebikes for almost a decade now. I love electric bikes, especially as a way to get around town quickly and efficiently while still offering the opportunity to get a good workout when I want. We've been looking for a while to get a good second ebike for my partner so we can ride together, and the HOVSCO HovBeta 20″ Foldable Fat Tire electric bike looked like the perfect one for her. Even if HOVSCO hadn't been sending me one to review, if I'd heard about them I'd have likely selected this one to meet our needs after researching the different models on the market today. Many of the more portable folding bikes look like clown bikes to me, with tiny wheels and usually no front or rear shocks, which look like they'd be rather painful on anything but perfectly smooth terrain. In the suburban jungle we usually ride around, larger tires and some shock absorption are necessary.
What is it?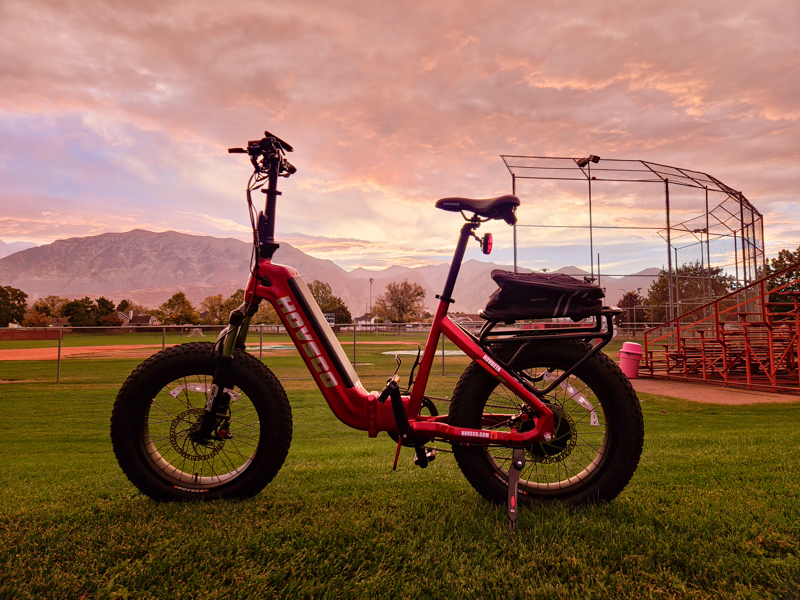 The HOVSCO HovBeta 20″ Foldable Fat Tire electric bike is an electric bike with a step-through frame form factor, with fat tire wheels. This particular ebike allows you to ride with no electric motor assistance, or with a throttle pushed down and no pedaling, or with "pedal assist" where the motor combines with the rider's efforts to propel the bike forward. You can either treat this like a scooter/moped style vehicle and just throttle all over town, or you can treat it like a regular bicycle and get to places faster with less (or no) sweat.
What's in the box?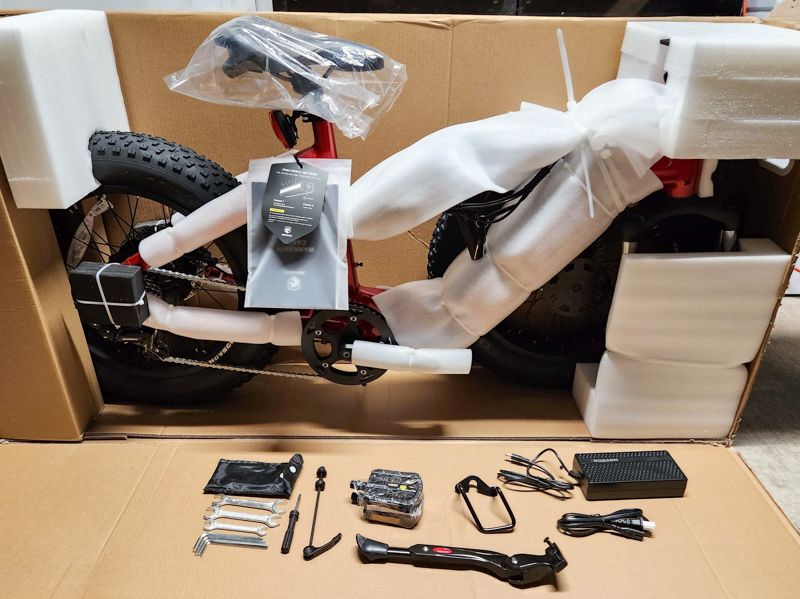 HOVSCO HovBeta 20″ Foldable Fat Tire electric bike
AC wall charger
Installation tool kit
2 year warranty on the frame, motor, and battery, 30-90 days on other parts.
Hardware specs
750 W (1032 W peak), 85 Nm. torque SUTTO (sub branch of Bafang) motor
720 Wh, 48 V, 15 Ah Samsung/LG Lithium-ion battery with built in light
Up to 60 Miles range, 4 hours charge from empty
Suggested rider height: 4'11" to 6'3″
Max weight: 450 Lbs
Max hill climb assist: 40 degrees
Torque Sensor pedal assist
Class 1 ebike out of the box, Class 2/3 unlocked via smartphone app
Max speed throttle-only: 20 mph
Max speed pedal-assist: 28 mph
LCD digital display
Frame: 6061 Aluminum alloy with internal battery
Weight: 66.4 lbs
Dimensions Unfolded (with handlebars in lowest position): 66.92″ long x 48.82″ tall x 24.61″
Dimensions Folded:
Design and features
For a relatively new bike company (founded in 2019, headquartered in Ontario CA), HOVSCO has put out a bike that feels on par or better than bikes I've ridden or owned from market leaders like Rad Power. I couldn't find any fit or finish flaws worth writing about, and while I'm not an expert on every bike component out there I've ridden such a wide variety of bikes that I can tell the difference between good parts and cheap parts, and the HOVSCO HovBeta 20″ Foldable Fat Tire electric bike feels mid- to high-grade top to bottom.
I especially liked the generous amount of travel in the handlebars and seatpost – even my 6'4″ body fits well without feeling like the bike is too small or ill-proportioned. I could comfortably ride for miles and didn't yearn to be back on my monster daily driver ebike at all. The seat was comfortable to me, but can be easily replaced if you prefer other styles.
Front and rear disc brakes didn't need any tuning out of the box and are very powerful. The front shock can be locked out and adjusted and has a good amount of travel. I took the bike on some mild to moderate dirt/gravel trails and it was a dream on them, rolling right over larger bumps and rocks with the big tires.
The large tires were good on both pavement and dirt/gravel. The LCD screen was easily readable even in the brightest direct sunlight. The controls were intuitive and easy to use, I liked the thumb throttle and trigger-shifters.
As you can see below, the headlights are bright and have a square spotlight that you can adjust while also providing a wide flood pattern for visibility.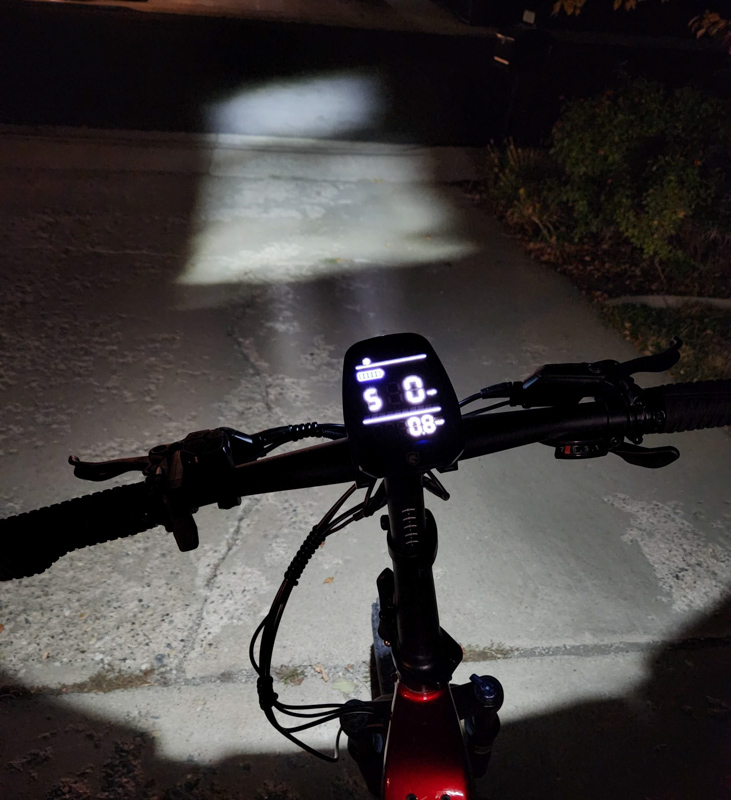 The front and rear lights are nicely placed to be visible by other vehicles, but the rear light is not turned on by the bike or attached to brakes like some other electric bikes I've used, it's just a battery powered light you need to turn on yourself while riding. I do prefer the wired rear lights that get brighter during braking, so this was one of the rare spots I was slightly disappointed.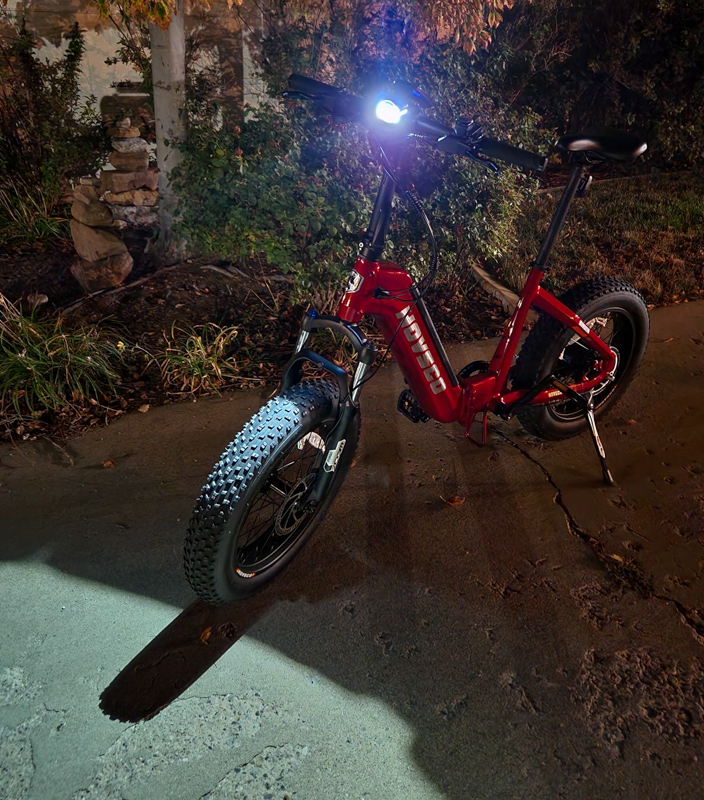 Folding up the bike is a multiple step process, but is fairly easy: You unclamp the handlebars, which then drop down to the side of the bike. Then, a heavy duty clamp in the center of the bike allows you to fold it in half. Everything is quite compact after folding, but moving it around might be hard for some people since it clocks in at 66 pounds. Handy tip: you can remove the battery and carry it separately, it adds a decent amount of weight by itself.
As you can see below, it was quite easy to get in our compact SUV. I think it would even fit into most car trunks, though probably not all.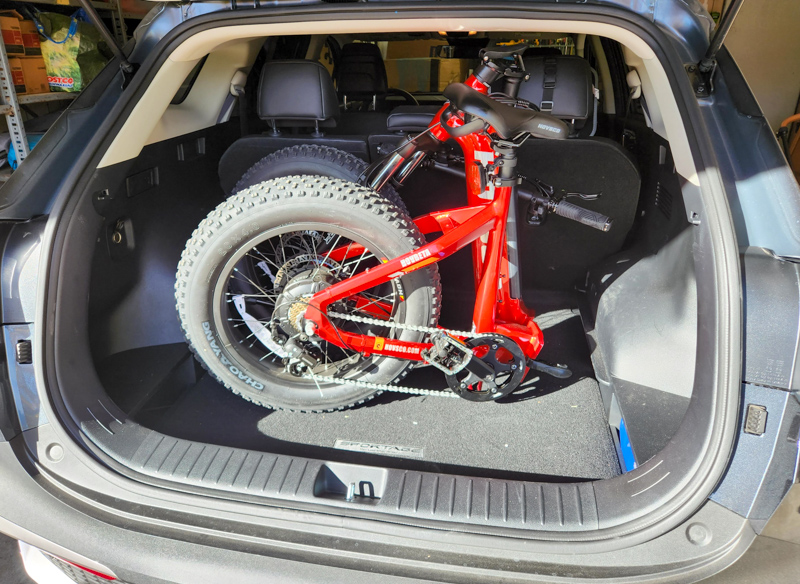 Setup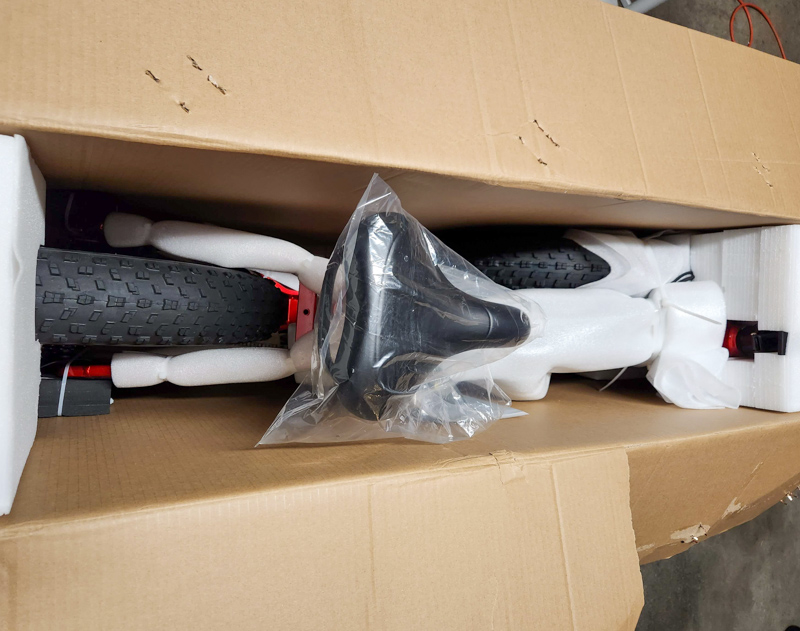 I've put 3 or 4 bikes together out of the box now, and this one was the easiest so far. The HOVSCO HovBeta 20″ Foldable Fat Tire electric bike came well protected and unblemished despite a couple of large gashes on the shipping box.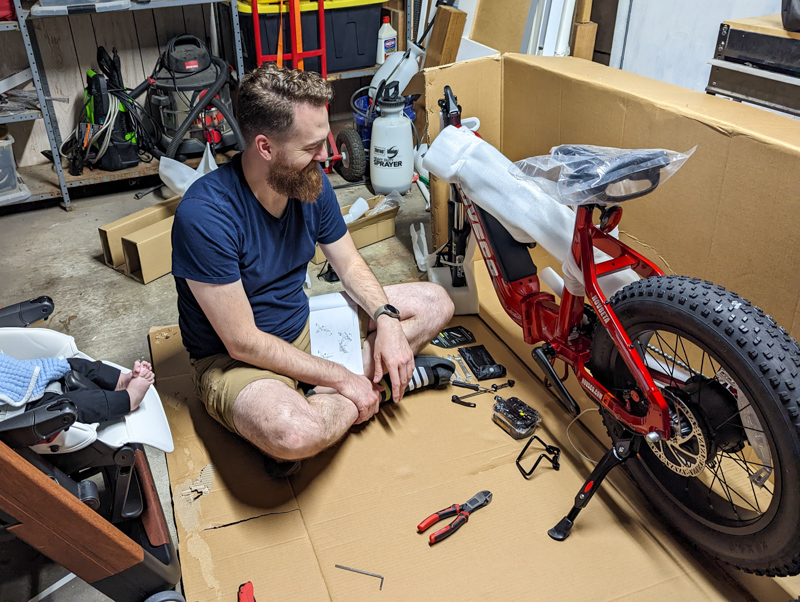 The rear tire comes already installed, so all you have to do is remove the packaging and then install the front tire…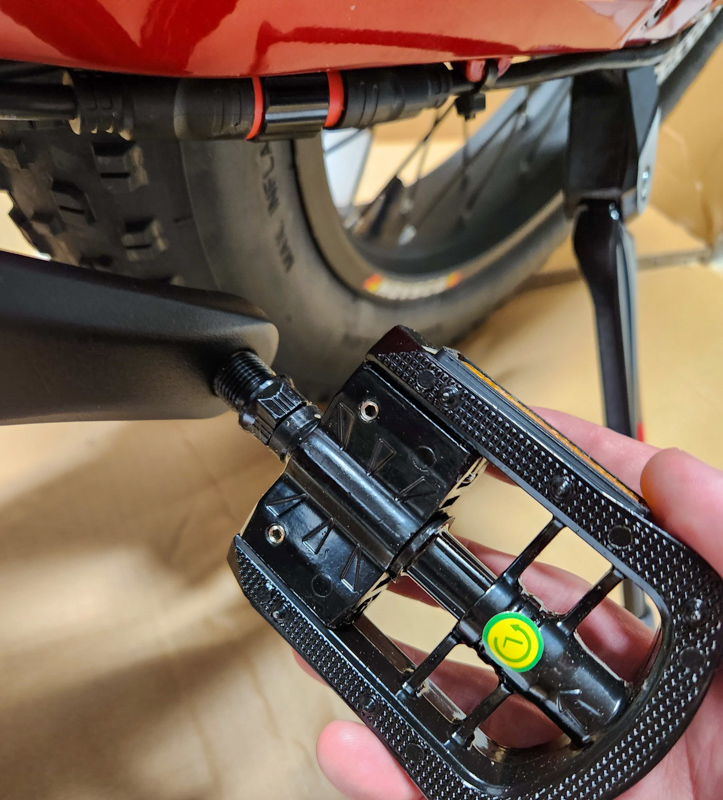 …and the pedals – which are clearly labelled and show which way to screw them in (counterclockwise for the left pedal, clockwise for the right one). These pedals also fold in to make the bike fold up even slimmer.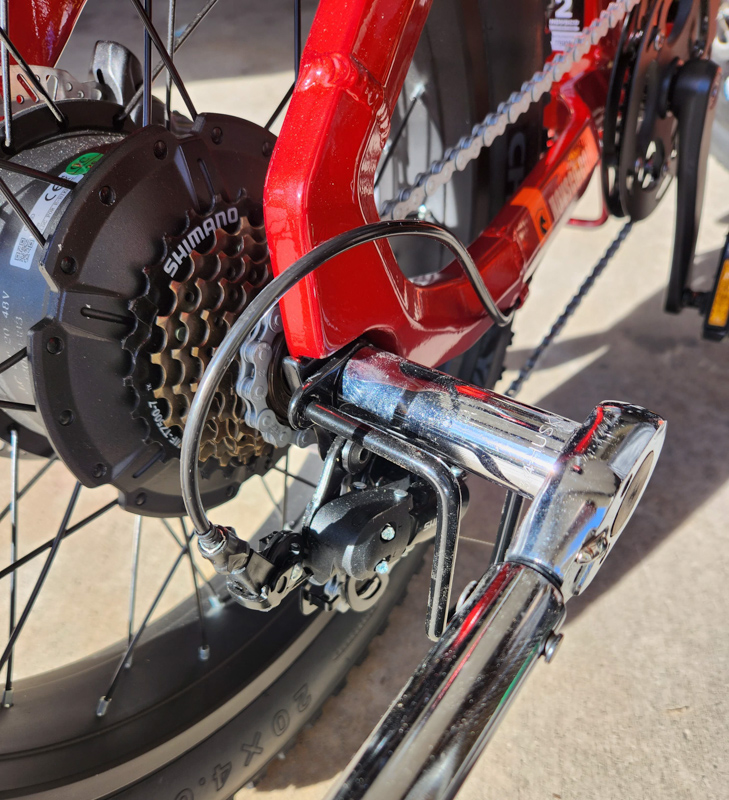 …and then install a derailleur guard, which prevents the delicate derailleur from snagging things while riding but also while folding it up and transporting things around.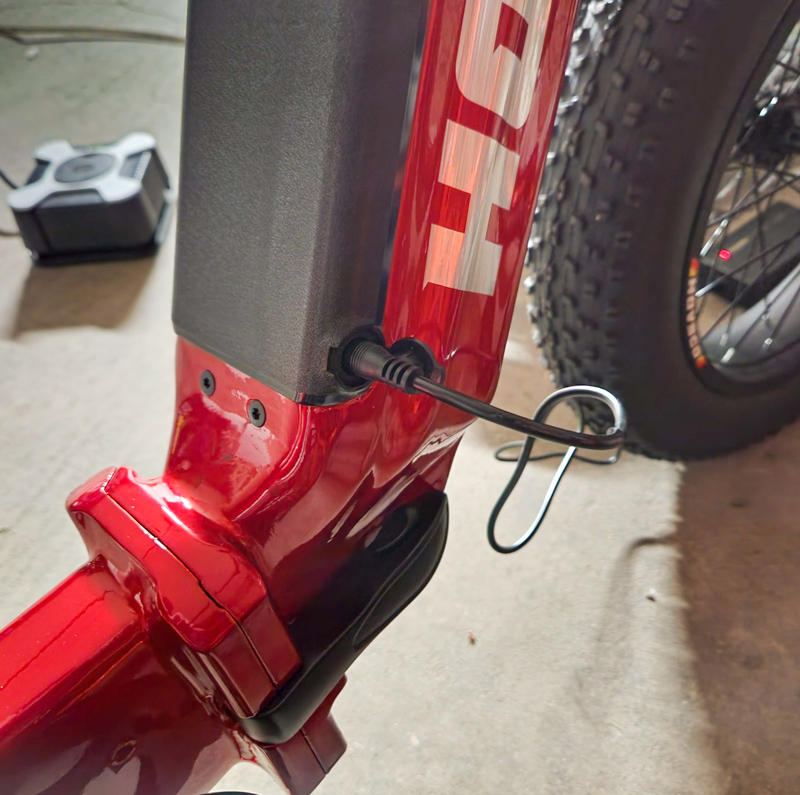 Finally, you'll want to charge up the bike, accomplished by the AC charger which has a green/red LED to indicate the charging status. I like that the charging port is right on the battery, so you could take the charger and battery indoors to charge at work or at home if the garage is too cold/hot. When detached, the battery is easy to carry around, and has a charge level indicator (activated by pressing a button).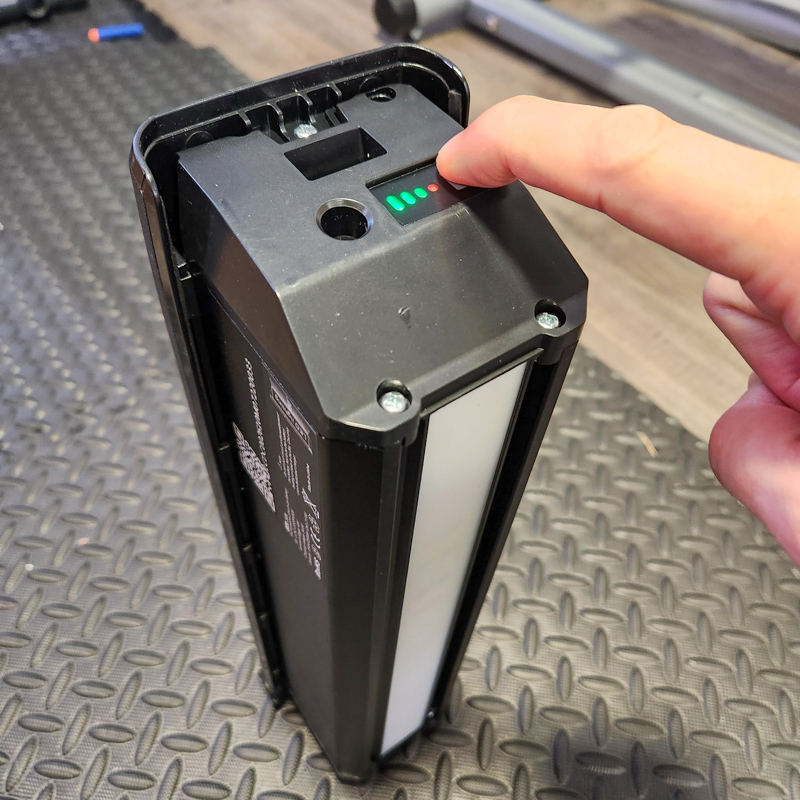 A very interesting party trick hidden under the battery is a pretty bright LED light strip shown below. This has three brightness modes as well as a flashing mode. I'd imagine with how much storage this battery has that it could stay lit for days. While I may not use this very often, it's a cool design and I'm glad they included it.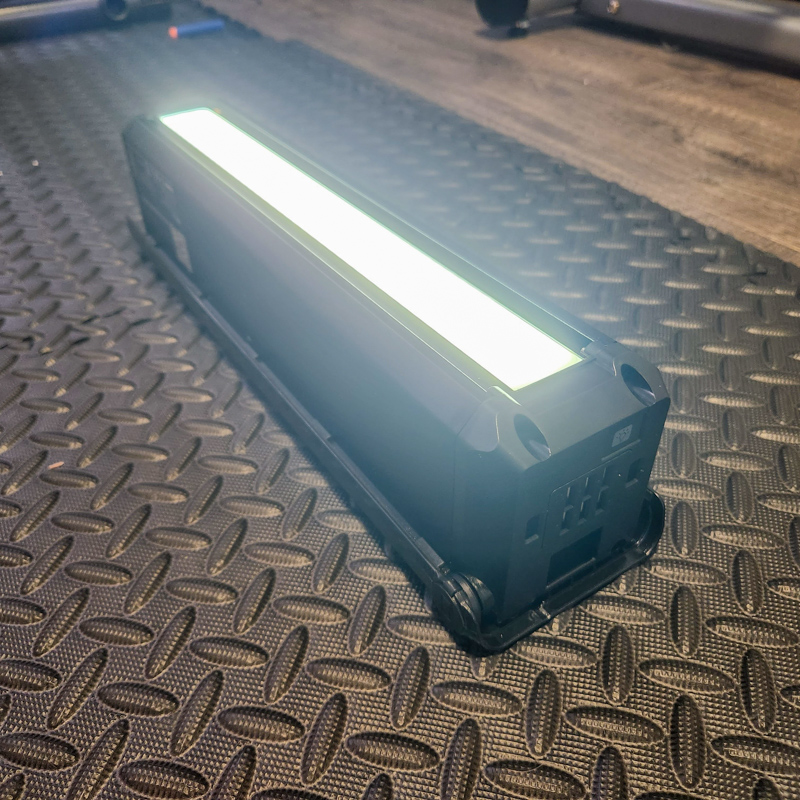 Performance
The first time I started riding the HOVSCO HovBeta 20″ Foldable Fat Tire electric bike, it felt slower than a standard non-electric bike. The LCD screen showed power going to the back wheel and I turned the Pedal-Assist setting all the way to the 5th/highest setting, but after ~10 MPH it was serious effort to just keep it going any faster than that. I figured that there must be a Class 1/2/3 setting that I needed to change, so I installed the Android (also available on Steve-Jobs-Phones) app and started checking things out:
Long story short, I had to contact HOVSCO to find where to set the e-bike Class setting – and they had to send me a beta version to get the highest class unlocked for testing (this should be the standard version soon in the various phone app stores, but if you can't find or see the option to use a higher speed you can contact HOVSCO like I did and get help doing so).
Once I had the bike unlocked, it was a world of difference. You can feel the torque instantly when you push the throttle or put pressure on the pedals. In fact, the first time I stopped at a red light on an uphill slope, I nearly threw myself off when I started pedaling, the torque popped me into an involuntary wheelie. This was probably assisted by me riding with the seat at the highest position suggested (so all my weight was high and as far back on the bike as possible). I learned to lean forward when starting out on hills after that. You'll want to check with your local/state/country laws on which electric bike class to use, many countries and cities have strict restrictions.
Here's a test ride video, even while filming one handed the bike is easy to handle and brakes work well:
The bike has so much torque and power that it cruised right up steep hills that my more-expensive-but-heavier ebike struggles with.
I never even got close to fully depleting the battery, some of my longest rides were over 30 miles with hills, and I still returned with 40% battery, even with pedal assist turned all the way up. I do like to pedal the whole time and get a workout though, so I was likely assisting the bike a lot. If you rode pure throttle you'd probably get lower range numbers.
My only performance complaint would be that on the highest gear, when I wanted to go over 25 mph, I felt like I needed a higher gear. I was basically spinning the pedals with no resistance as fast as I could and getting no faster in this speed band.
The torque sensor is fantastic. My other bike is a cadence-based sensor, meaning that magnets detect when I'm pedaling and then the motors (yes, 2) kick in on the front and back wheels to assist which results in a feeling of lag: I start pedaling and then after about half a rotation it suddenly jumps into action. With the HOVSCO HovBeta 20″ Foldable Fat Tire electric bike, the motor was near-instantaneous. As soon as I start pedaling, the motor kicks in to help if I want it, and at a level matching how hard I'm pushing on the pedal. It's effortless and intuitive to the point where you can easily forget it's an ebike and just ride.
The HOVSCO HovBeta 20″ Foldable Fat Tire electric bike would make for a fantastic commuter bike with the ability to fold up small and detach the battery for charging in an office.
What I like
Pretty good mobile app for settings and info
Solid build out of the box, everything feels smooth and nice
Fits a wider range of sizes of people versus other folding bikes
What I'd change
Slightly higher high gear for max speed cruising
Add a wired rear brake light that turns on with front headlight instead of the battery powered version.
Final thoughts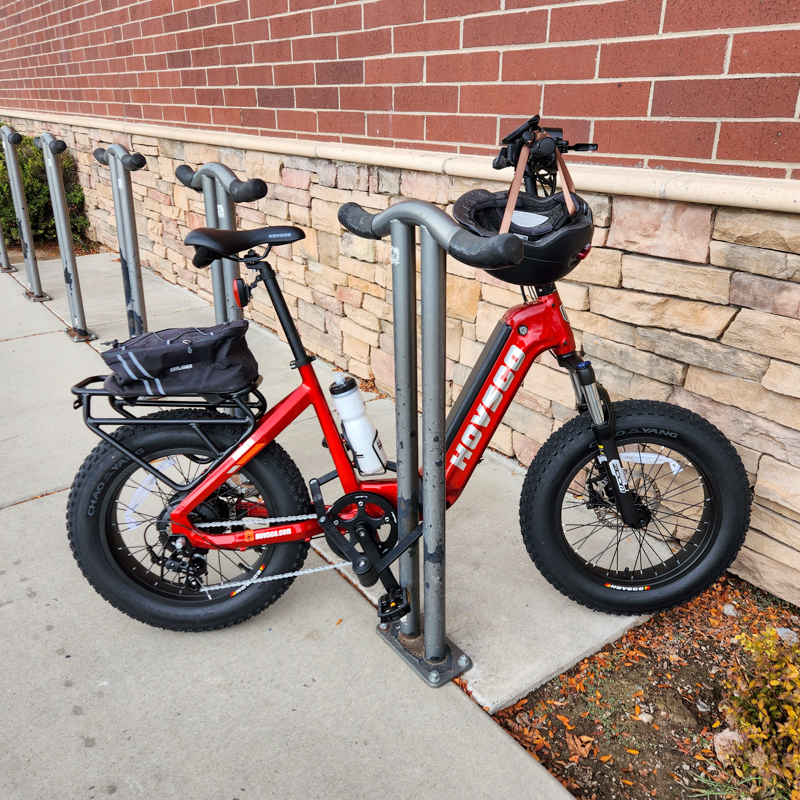 I liked the HOVSCO HovBeta 20″ Foldable Fat Tire electric bike so much that it's become my daily vehicle of choice, pushing out my giant cargo bike that I'll now only use if I need the extra carrying capacity or to go on a ride with other people. The bike doesn't feel compromised at all to allow for the folding feature, and it's a blast to ride every day. I've not come close to draining the battery, even on 30+ mile rides with hills. I bought the rear cargo rack shown in many of the pictures in this review directly from HOVSCO during the testing period, since I knew I'd be using this bike heavily in the future. There are also fenders and a front cargo rack available for purchase separately. I think this model will likely be a great fit for many of you looking for a folding bike that isn't compromised in size or features.
Price: $1949.00
Where to buy: HOVSCO and Amazon
Source: The sample of this product was provided by HOVSCO.