We use affiliate links. If you buy something through the links on this page, we may earn a commission at no cost to you. Learn more.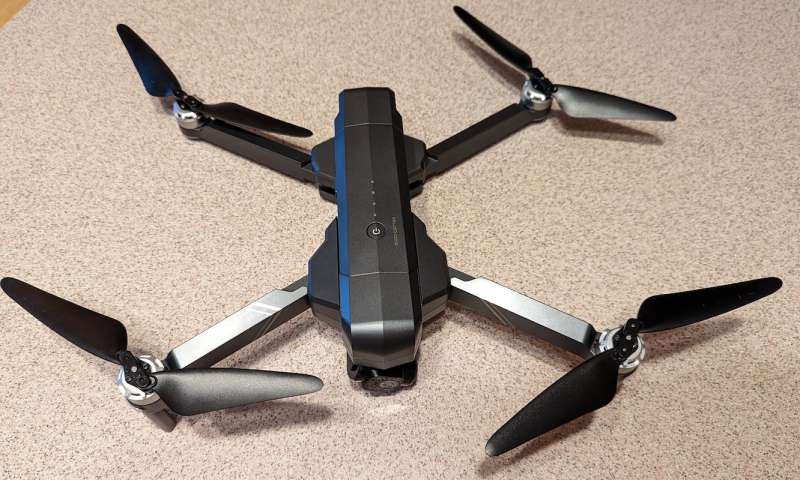 REVIEW – Drones seem to be everywhere now.  We just finished watching a TV show about rock climbers and the drone shots were amazing, but perhaps a bit overdone.  It's becoming easy for consumers to get shots that just 15 years ago took a helicopter and a large expensive camera to get. Now, you can get that same shot for under $500 with a drone like the Ruko F11GIM2.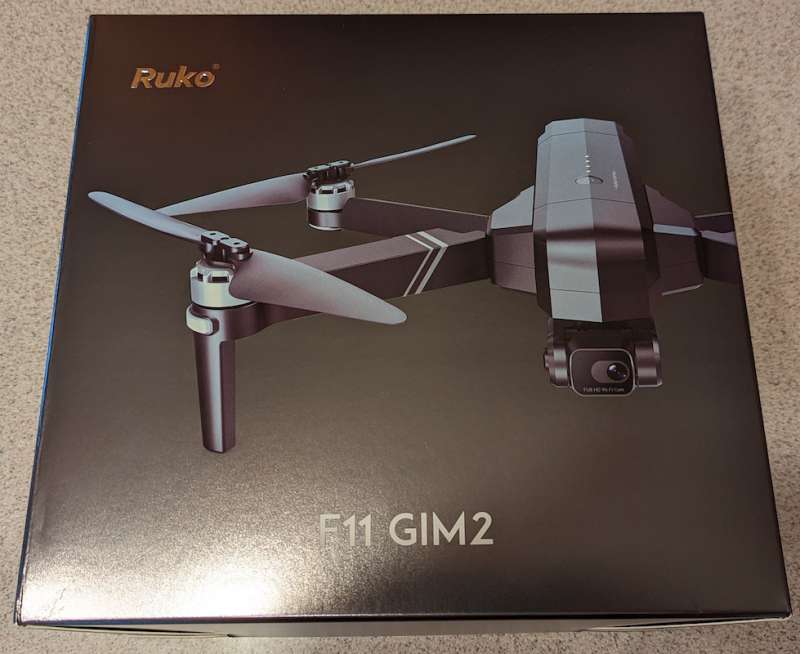 What is it?
The Ruko F11GIM2 drone is a consumer-grade camera drone that features a 2-axis gimbal, a really high-quality camera, and an extended range of over 3 kilometers. 
What's in the box?
2

Batteries(1 in the drone and 1 in the case)

Ruko F11GIM2 Drone

Hard Shell Carrying Case

Allen Wrench

4 Spare Propellers

12 Small Screws (for attaching propellers)

Transmitter Remote Control

Quick Start Guide

User Manual

2 USB-C cables
Hardware specs
Range:  9800 FT (3 km) flight distance, 393 ft altitude

Connection: WiFi

Transmission video quality:  720p

Recording video quality:  4K (

3840×2160) 30 FPS

Stabilization: 2 axis gimbal and electronic image stabilization (EIS)

Lens Angle:  0 (straight down) to 80 degrees

Flight time: 56 minutes between the two batteries (reduced in cooler weather or wind)

Wind Resistance:  Level 6 (remains stable in winds 25 – 31 mph)

Weight: 20.6 OZ (584 g)

Dimension (Folded): 6. x*4.1 x3.15 IN

Dimension (Unfolded): 17.7 x 15.9 x 3.2 IN

Phone Holder Width: 2.36 to 3.53 IN

Obstacle Avoidance:  None on this drone – be careful!

Maximum micro-SD card size:  128GB (not included)
Design and features
The design of the Ruko F11GIM2 drone is similar to most other consumer drones on the market. It's a quad-copter with four brushless motors mounted on folding "stalks" which branch out from the corners of drone body.  The body contains the battery, the "brains" and the camera mounted on a 2-axis gimbal at the front.  There are some cool blinky lights on the ends of the stalks under the propellers.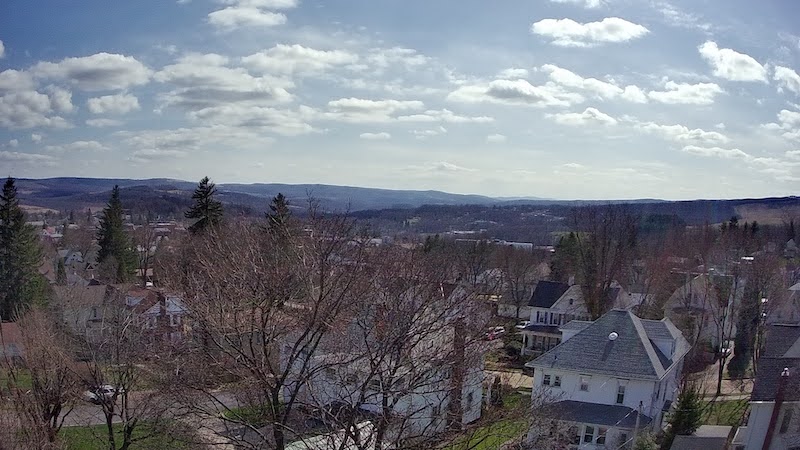 The controller features two joysticks, with controls that can be programmed in a few different ways.  The standard controls use the left stick to control altitude and to spin the drone around.  The right stick controls direction in the X-axis (side to side, forward and backward).  Your phone sits in the controller and displays what the camera is seeing, in 720p video.  When you tell the drone to take a photo or video, that is captured both on your phone (at 720p resolution) and on the TF or Micro-SD card in the drone (at 4K resolution).  The app for your phone also lets you set some flight parameters for the drone (maximum height, speed, range etc) as well as start some of the flight modes discussed below.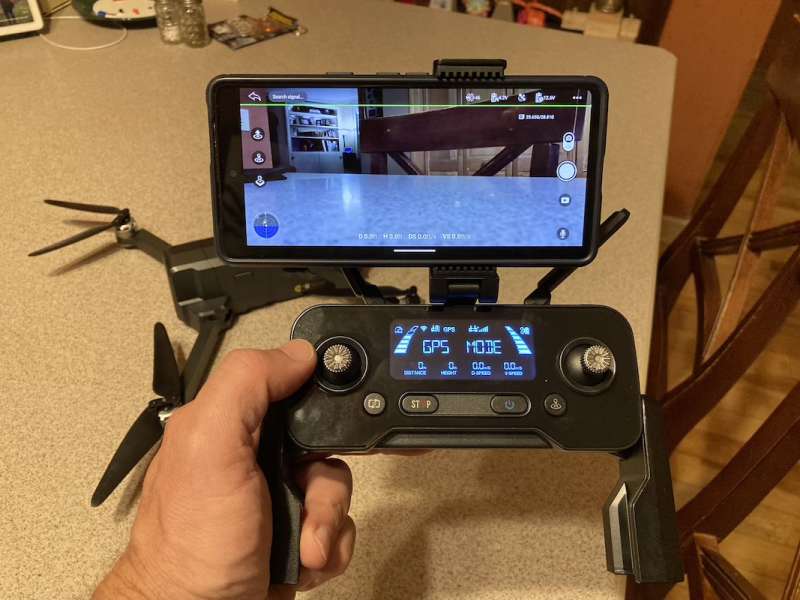 Like many drones, the Ruko F11GIM2 4K drone has flight modes that are executed from the app or the controller. These include "point of interest" where the drone will fly a large circle around a specific thing you want it to focus on, "follow me" where the drone will follow the controller (useful if in a vehicle or running), and "waypoint flight" where you identify a few points on a map and the drone will fly between them. The app is well executed and easy to use, although the text font is quite small in many instances, even on my large phone.  
One feature that is missing from this drone is obstacle avoidance. That means that it's pretty easy to crash into things such as trees, power lines, and birds (which seemed very interested in it).  Higher-end drones incorporate radar and other sensors to prevent collisions – this one does not have such features, so be careful flying.  Best to practice in a large open field.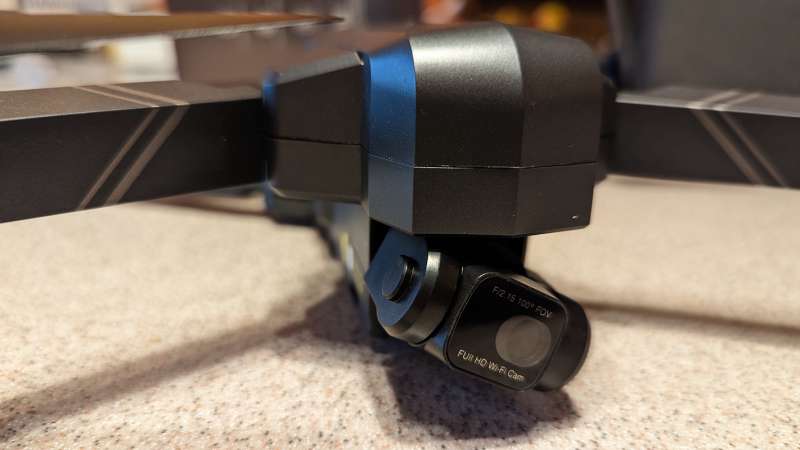 One particular feature that is handy is "one button return."  Hit the button, and the Ruko F11GIM2 4K drone comes back and lands where it took off.  This is great because it's actually pretty easy to lose sight of the drone, especially when flying at altitude.  The drone will also return automatically when the battery is getting low, or if it loses connection with the controller.  On the off chance that it doesn't make it back, the app will show you the last known position of the drone on a google maps interface so you can hopefully find it. 
Perhaps the most impressive features of the Ruko F11GIM2 4K drone lie in the camera.  It's VERY stable, with the 2-axis gimbal and electronic image stabilization.  And the image quality is quite high, with balanced colors and limited distortion at the edges.  
This drone is large enough that it requires a $5.00 registration with the FAA, and that you pass a Recreational UAS Safety Test (T.R.U.S.T) which takes about 20 minutes and is free.  Check out the FAA's DronaZone for all that info.
Performance
Flying performance:  I'll admit that the Ruko F11GIM2 4K drone was my first ever drone experience.  I had watched a few videos and read through the instructions, but when I took it up to our local park (no trees!) to give it a try, I was nervous. Because it can move in three dimensions, the controls are not intuitive and take a lot of practice to get used to. That is not unique to this drone – the controls are pretty similar with all units. But once I had a few hours of practice, I started to get comfortable with making the drone go where I wanted without fear of panicking and sending it into a tree, the ground, or a power line.  When I hit that point, I could really start to tell that the drone is remarkably stable in the air.  It has a level 6 wind resistance, and with its relatively large size and weight, and positive thrust-to-weight ratio, wind does not really move it around that much.  I'm still learning how to fly it, but it's a lot of fun to pilot.  My only concern is when I lose it in the sky, which is pretty easy given that it can get up to 3km away and almost 400 feet high. At that point, you just go with what you see on the screen, or switch the app display to map mode, and try to get it closer so you can see it (recreational drone regulations require that it remain in sight at all times)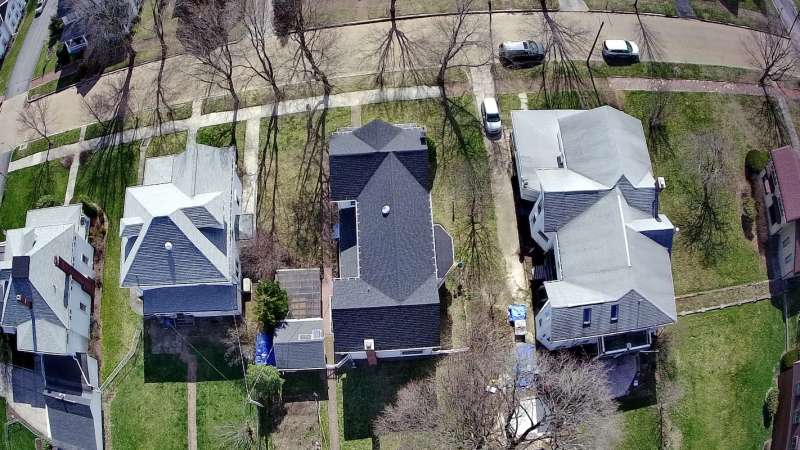 Photographic performance:  This is where I was particularly impressed with the Ruko F11GIM2 4K drone.  It's not hard these days to make a really small high quality camera.  But what is harder is to get stable images from a moving platform that is being knocked around by the wind while being flown by an incredibly inexperienced pilot.  The two-axis gimbal and the built-in EIS (electronic image stability) result in amazingly smooth and stable video despite the drone going all over the place.  I even did that intentionally, rocking the drone back and forth to test the gimbal, and the resulting image was still smooth. When using this drone, you have two options for video and still images.  When to snap a photo or take a video, they are recorded to the micro-SD card on the drone in high resolution, but they are also sent to your phone in real-time and recorded there, in a slightly lower resolution.  It's nice to know there's some redundancy in case something horrible happens to the drone!  Image quality is very good, colors are sharp, and details such as tree branches, flying birds, and shadows all come through nicely.  I continue to be impressed by the quality of the images produced by the drone.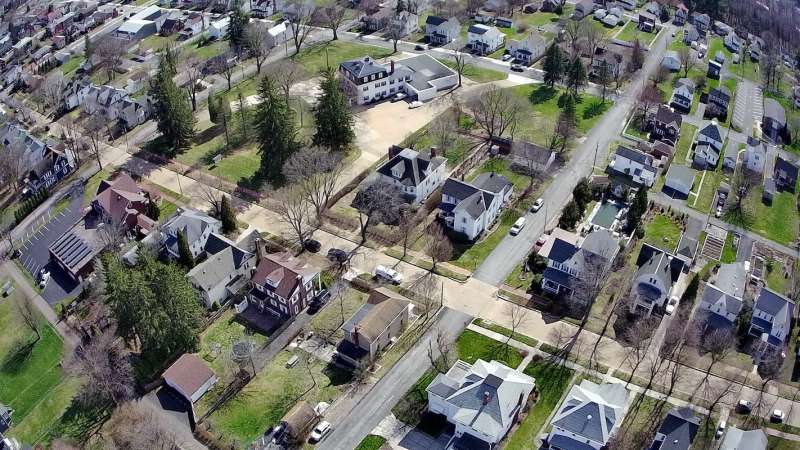 Flight modes:  The Ruko F11GIM2 4K drone has a few flight modes of varying utility. The one I used the most is "return to home."  Hit one button, and the drone comes back and lands where it took off.  I used this almost every time I flew the drone, and is especially useful when you lose the drone in the sky. Waypoint flight mode is where you click a few points on the map interface of the app and the drone will fly that route.  I tested it a few times and it works quite well, although you can't really control what the drone is pointing at when it's flying that route. POI or Point-of-Interest mode lets you specify a point and then the drone will fly a circle with a radius you define around that point.  It's actually pretty confusing to execute this one from the remote, so I used it infrequently. There are two "follow me" modes.  The first one follows the GPS signal from the remote control, and works quite well.  The second follows an image target that you define, and did not work nearly as well. The image target follow as a bit jerky, and if the drone lost sight of the target, it kind-of went crazy. 
To summarize the performance, the Ruko F11GIM2 4K drone is easy to fly with practice, stable in the air, and takes great photos and video despite a lot of movement.  
What I like
Easy and fun to fly

Photos and videos are high quality

Very stable video

Included hard case is a nice touch
What I'd change
Text in the app is small (android version)

Batteries charge very slowly (4 hours)
Final thoughts
If you are looking for a beginner drone capable of flying 3km away from you and almost 400 feet high, while producing very high-quality video and photos, the Ruko F11GIM2 4K Camera Drone may be for you.  It's definitely not the least expensive drone out there, but for the price, there's a lot of value and a lot of fun. 
Price: $399.99
Where to buy: Ruko or Amazon
Source: The sample for this review was provided by Ruko.