We use affiliate links. If you buy something through the links on this page, we may earn a commission at no cost to you. Learn more.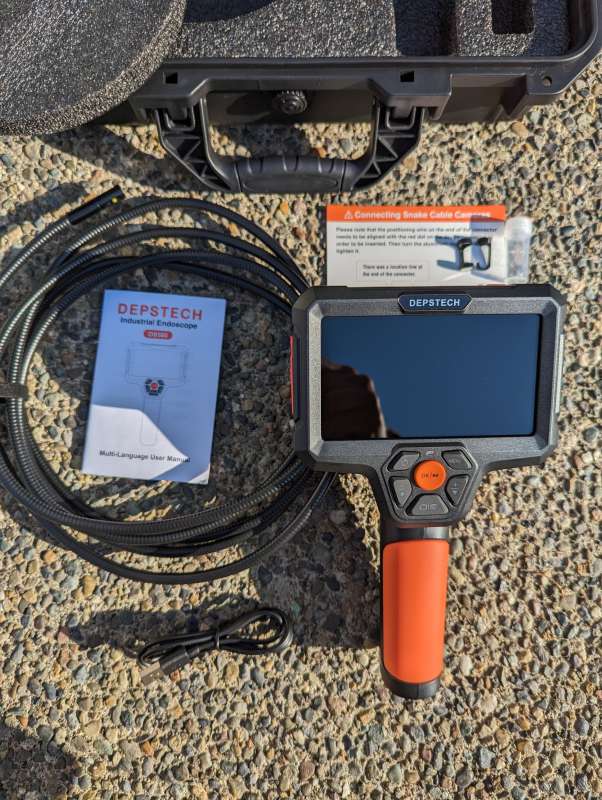 REVIEW – If you have ever watched your wedding ring in slow motion roll down your sink drain you probably wished you had a borescope to get it out without taking the plumbing apart. Enter the Depstech DS580 Dual Lens 5.0MP Borescope with 5" Display to save the day. Let's see what it can do.
What is it?
The Depstech DS580 borescope has two lenses (5.0MP front and 2.0MP side view) and a 5" In Plane Switching (IPS) display that allows you to see in tight places or down pipes. It has an accessory hook and magnet that can be attached to the camera head to retrieve items.
What's in the box?
Depstech DS580 borescope

Hard shell case

User manual

Hook and magnet accessories

32 GB SD Card

USB-C charging cable
Hardware specs
Model: DS580

Camera Design: Dual lens

Main camera: 1.2-3.2in / 3-8cm; 5.0 MP

Side camera: 0.8-2.4in / 2-6cm, 2.0 MP

Screen type: 5" IPS (In Plane Switching) display

Resolution: 2560×1920

Lighting: 9 LEDs

Camera Diameter: 9mm

Cable Length: 10ft / 3m (detachable)

Battery: 5000mAh

Battery duration: 5 hours

Waterproofness: IP67 (cable can be submerged up to 1 meter)

Weight: 2.08 lbs borescope only, 5.13lbs with case

Case dimensions: 14 x 11 x 4.25 inches 
Design and features
The Depstech DS580 borescope has a pretty straightforward design. The 10 foot long cable is stiffer than I expected. The front and side cameras are very compact and recessed to protect them from bumps and scratches. The cable connects to the back of the display which also has a large LED to help see. The buttons have good tactile response and the user interface is easy to learn.
Performance
After charging the Depstech DS580 I long pressed the power button and the Depstech DS580 Dual Lens 5.0MP Borescope with 5" IPS Display turned on quickly. I formatted the 32 GB SD card that is included per the instruction book and set the date and time. 
Looking at my car brakes I did find it a little tricky to orient the camera where I wanted especially when using the side view camera but was able to get a decent picture.

Then I popped the hood and wanted to take a look at my timing belt but in the tight confines of the engine bay I had to pull the camera out a couple of times to twist the camera in the right position to get a good picture. You can easily swap between the two cameras by long pressing the circle with an arrow button and that helps but again you have to rotate the whole cable to get the side view camera where you want and I found this a bit cumbersome.
I then tried to look in a drain pipe on the side of my house to see if it was clogged. The cable was really stiff and unable to make the 90 degree bend in the ¾ in pipe. The camera housing is 38.32mm long and was just too long to make the bend so that was disappointing.
Putting it down my sink drain wasn't any easier. The cable is so stiff and the camera housing so long that it does not want to slide through plumbing. After bending the camera at an angle I was able to get it past the first bend but not through the second. The cable is just not flexible enough. Just that damaged the housing as well.

I bent the camera over as far as it would go and it returned to about the 90 degree position. Then trying to straighten it back out I found the kink remained. I wished they had used spring steel like a tape measure that would allow the cable to flex easily.

The hook and magnet accessories screw on easily enough but they do block your view and the depth perception is a little tricky. If you are trying to hook something this is another situation where articulation would greatly help snag some keys or a ring down a drain.
The display was very clear even in daylight and darkness. I took some pictures on the device and it saved them to the included SD card. The pictures came out better than I expected for such a macro lens. The handle has a nice LED light that is activated with the trigger.
What I like
Good resolution camera and screen

Good battery life
What I'd change
Shorter camera housing

Articulating camera

More flexible cable
Final thoughts
The Depstech DS580 Dual Lens 5.0MP Borescope with 5" IPS Display is a well made borescope that comes in a nice protective case. The 5.0 MP camera resolution showed decent detail and the clear 5" screen was easy to use and see. At the original price of $199.99 I think the DS580 is overpriced but at $139.99 with a 20% coupon available on Amazon it's a good deal but does have limitations. I wish the camera housing was a little shorter to allow it to fit through tighter angles and the cable should be more flexible. They could remove the side camera and add articulation as well. The 10 foot cable is a decent length but you'll never get it that far down narrow plumbing with more than one bend. Overall I was impressed with the performance and quality of the Depstech DS580 so if you need a borescope for looking in engine blocks and the occasional wide plumbing or storm drains the Depstech DS580 is a good option but if I was to get another one I would get one with articulation and a more flexible cable.
Price: $139.99
Where to buy: Depstech and Amazon
Source: The sample for this review was provided by Depstech.