We use affiliate links. If you buy something through the links on this page, we may earn a commission at no cost to you. Learn more.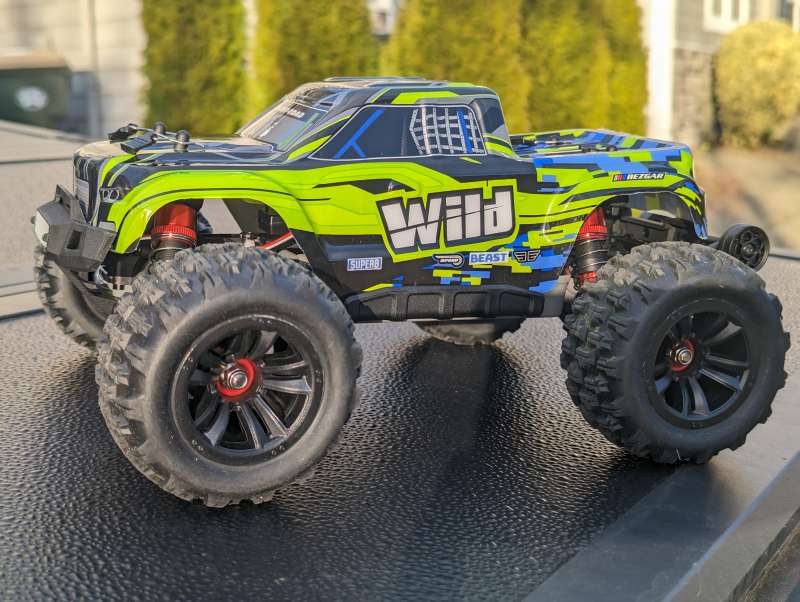 REVIEW – As an 80's child I can't help but be a little jealous of the toys on the market now. Especially any toys that require batteries since battery technology has improved so much since then. So when the Bezgar HP161S Brushless 1:16 Scale Radio Control Car came up for review the little kid in me said I had to try it out. Let's see how much RC car technology has improved since 1989. Spoiler, a lot.
What is it?
The Bezgar HP161S Wild Beast is a 1:16 scale radio control (RC) car using an 11.1V 3S type lithium polymer (Li-Po) battery and brushless motor that sends power to all four wheels to propel it up to 38 mph and it does so quickly.
What's in the box?
Bezgar HP161S RC Car
Remote controller with AA batteries included
USB charging cable
Wheelie bar
User manual and warranty card
Wheel wrench, screwdriver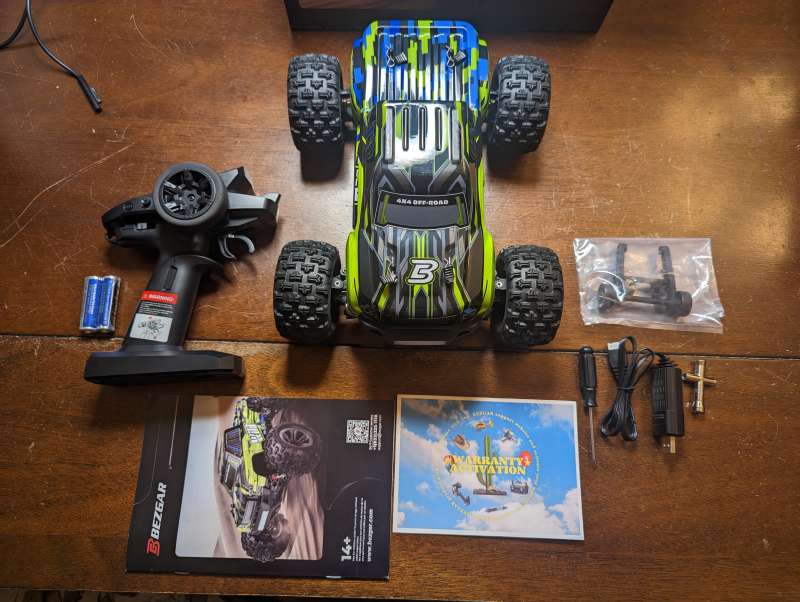 Hardware specs
Model: HP161S
Drivetrain: 4 wheel drive with full metal drivetrain
Shocks: Four oil filled metal shock absorbers
Motor: 2845 four pole brushless motor with cooling fan
Servo: 2.1kg digital servo
Battery: 11.1V 3S/25C 1050mAh Li-Po battery
Charging time: 2 hours if using a 5V 2A charger
Battery duration: 20 mins
Ground Clearance: 1.5 inches
Electronic Speed Control: 45A independent brushless ESC
Remote Control: 2.4GHz
Max speed: 62kph / 38mph
Weight: 2.35 lbs
Dimensions: 12.2 x 8.7 x 5.1 inches
Design and features
The Bezgar Model HP161S Wild Beast 1:16 Scale RC car looks like a typical RC car with a shell over chassis design. It has four rubber wheels that all spin to get the car to 38 mph. The oil-filled shocks help cushion big impacts and keep the steering straight.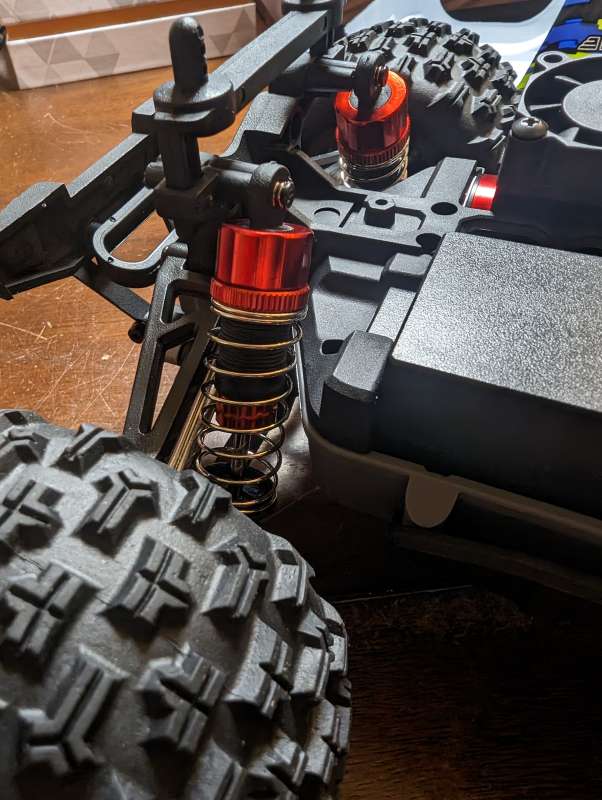 The top plastic shell comes off easily with four clips and then you can see the chassis and internals underneath. The battery is smaller than I expected but is super powerful and charges fully in two hours. The USB charging cable is included and flashes green when charging and solid green when charged. Unfortunately, there's no way to check the battery level while in use. Using a recommended 5V 2A USB charger (which is not included) it charged up in about an hour out of the box.
No need to take the shell off to reach the power button. On the left side, you can just push on the shell where the power button is to turn the car on. There is a working light bar in the front which is surprisingly bright.
The remote control is really light and uses 2 AA batteries which are included. You can turn the light bar on from the remote as well as adjust the steering trim. There are two throttle options which are 70% and 100% and can reach up to 250 feet but I found it stayed connected up to 350 feet as long as you had a line of sight. The included remote control is pretty basic so I do wish it came with a battery gauge or just some colored LEDs to indicate the battery level.
With the crazy speed, I would have liked it to have a fully adjustable speed setting or at least a 25% and 50% setting to go along with the 70% and 100% options. You can purchase more advanced controllers that do this or if you are an RC hobbyist already and have your own transmitter and receiver this would be an easy swap like any other part on the car which is nice.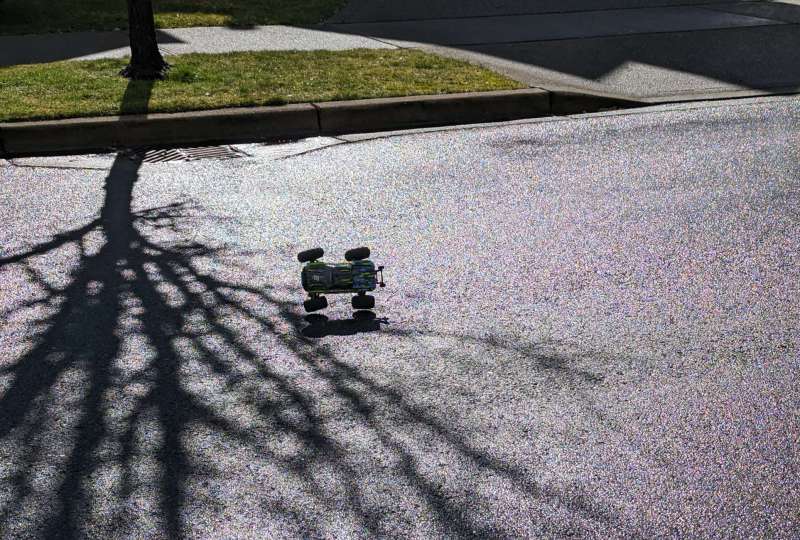 Performance
After charging the battery and attaching the wheelie bar with the included screws and screwdriver I took the Bezgar HP161S Wild Beast Brushless 1:16 Scale Fast RC Car out for a trial run.
Even at the lower 70% power setting this thing is ridiculously fast. Of course, my eight-year-old wanted to try it and promptly ran it into the curb. The throttle does take a little getting used to but has a good range and engagement curve once you get the feel for it. Even with the wheelie bar installed if you opened the throttle too abruptly, it would flip and due to the flat top design of the shell it would get stuck like an overturned turtle which you can see in the video below.
After the hour-long trial run, I noticed that it did incur some damage and we were missing three of the clips that hold the shell onto the chassis. A big positive is the manual is very comprehensive and includes several pages of schematics complete with replacement part numbers. I was impressed by how many parts were metal including the drive train and shocks which are also oil filled and adjustable.
The brushless motor has an aluminum heat sink and fan to ensure lower operating temperatures over extended use. The advertised battery life is 20 mins at continuous full throttle so at 70% with a lot of stopping my son and I were out for around 30 minutes with no hint the battery was dying. Along with missing the three clips, the front bumper cracked, and the front lower swing arm fixed shaft was bent, probably from hitting a curb at 38mph. I emailed Bezgar customer service and told them what I damaged but they didn't have the fixed shafts in stock so I just bent it back. The metal was a little soft so I may replace it with some bar steel or something with the same diameter at the hardware store.
My son started to get the hang of it as you can see in the video below.
My son was showing his friends how fast the car was in the latest outing and hit another curb. This time the damage was catastrophic. I contacted Bezgar customer support and Stephanie replied back very quickly but unfortunately, the part I need isn't available now and won't be for the immediate future because they offered me 10% off another car. I'm a little disappointed I can't fix a brand new RC car but I'm hoping I can find something that will work eventually.
What I like
What I'd change
Add a battery gauge either on the truck or controller
Adjustable speed setting
Have all replacement parts available
Final thoughts
The Bezgar Model HP161S Wild Beast 1:16 Scale RC car is massive fun. It is so fast that it does take some getting used to in a wide open field ideally because hitting a curb at 38mph will understandably do some damage as we found out. It is nice to know you can get some replacement parts and that they aren't very expensive but if you break something that isn't available then you're out of luck. If you have a child that is interested in RC cars or if you're a big kid yourself you can't go wrong with the Bezgar HP161S or any of their many other models so they are definitely worth checking out. Just watch those curbs.
Price: $186.99
Where to Buy: Bezgar and Amazon
Source: The sample for this review was provided by Bezgar.