We use affiliate links. If you buy something through the links on this page, we may earn a commission at no cost to you. Learn more.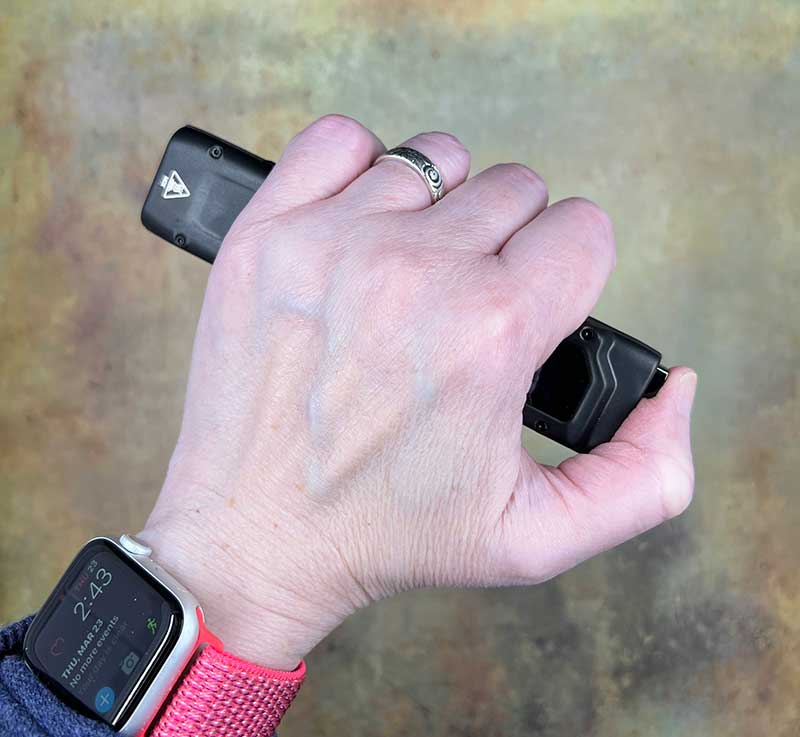 REVIEW – What do you look for in a flashlight? High lumens? Multiple brightness modes? Pocket clip? Rechargeability? A flat shape so it won't roll away when you lay it down? The Nitecore EDC27 flashlight ticks all of these boxes so let's take a closer look.
What is it?
The Nitecore EDC27 is a rechargeable flashlight that you can add to your EDC gear collection.
What's in the box?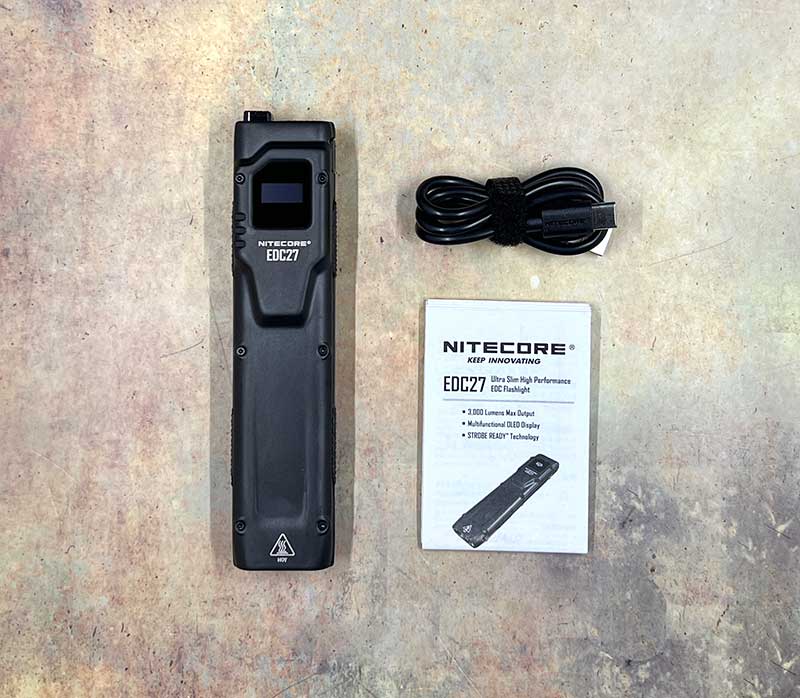 Nitecore EDC27 flashlight
USB-C charging cable
Lanyard (not shown)
User manual
Hardware specs
LED – SST40 x 2
Max Output – 3,000 Lumens
Max Beam Distance – 220 Meters
Max Beam Intensity – 12200 cd
Battery – Built-in 1700mAh Li-ion Battery
Max Runtime – 37hrs / 1.54 days
Special Modes – Strobe
Beam color – White Light
IP54 rated
Dimensions – Length: 135.6mm (5.34″) x Width: 31.4mm (1.24″)
Weight – 124 g / 4.37 oz
Design and features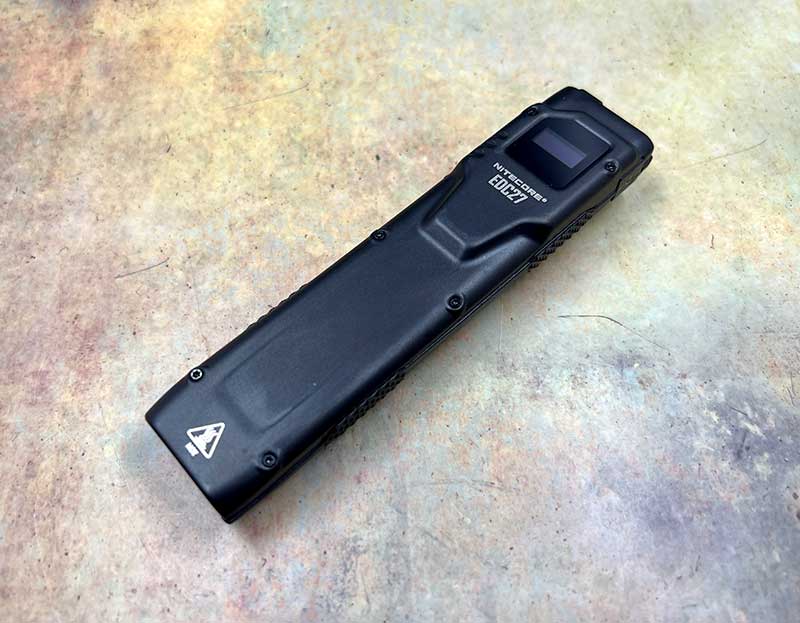 The first thing that you notice about the Nitecore EDC27 flashlight is its interesting flat design. This form factor is one that you'll either love or hate. I like it because the light won't roll off the table when I set it down.
The flashlight has a high-strength stainless steel body with a PVD (Physical Vapor Deposition) titanium matte coating that is anti-corrosive, water-resistant, and impact resistant.
The top surface of the Nitecore EDC27 flashlight also has a small OLED display at the back that provides charging status, mode, and real-time runtime info so you'll always know when it's time to recharge it.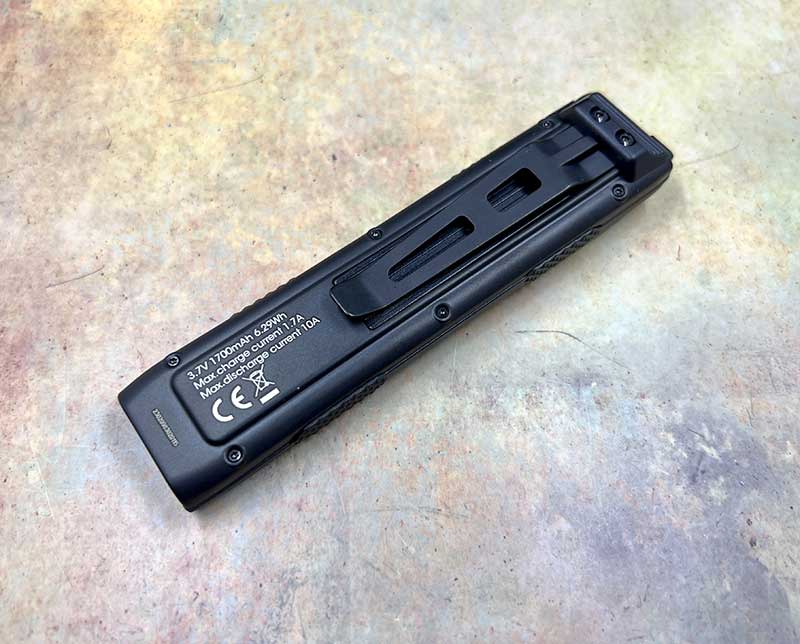 Flip the flashlight over and you'll see that it has a very robust detachable pocket clip that also has a lanyard attachment slot that is compatible with 550 paracord.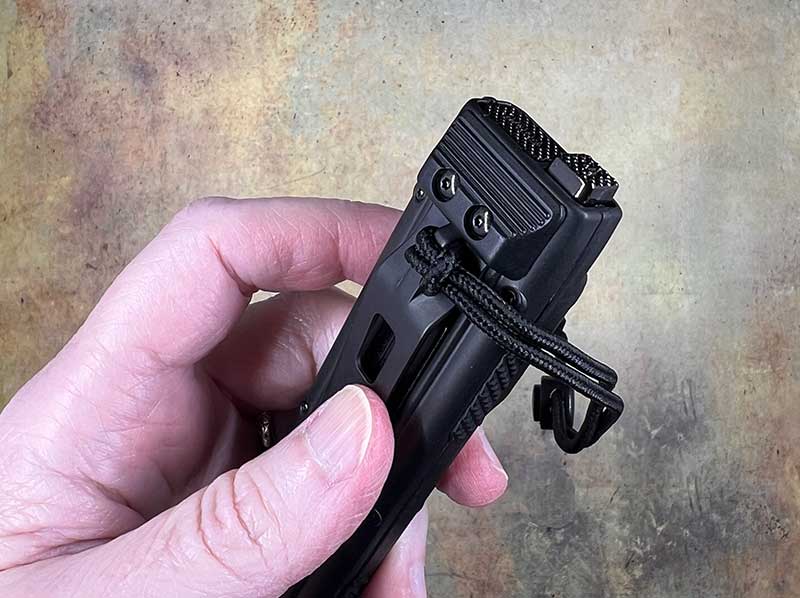 You'll also notice the ridged bump above the lanyard slot. This is supposed to help you slide the flashlight's clip into your pocket, backpack strap, etc. without accidentally activating the buttons.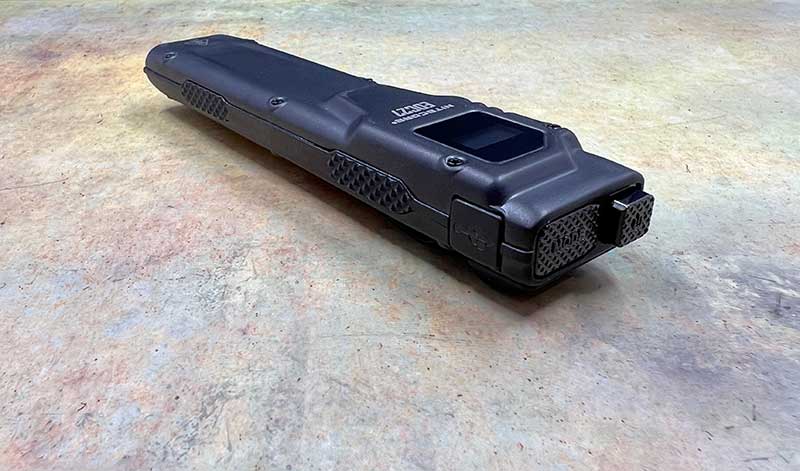 The back end of the flashlight has two buttons. The larger flat button is the mode button, and the smaller button which is sticking out from the body is the power button.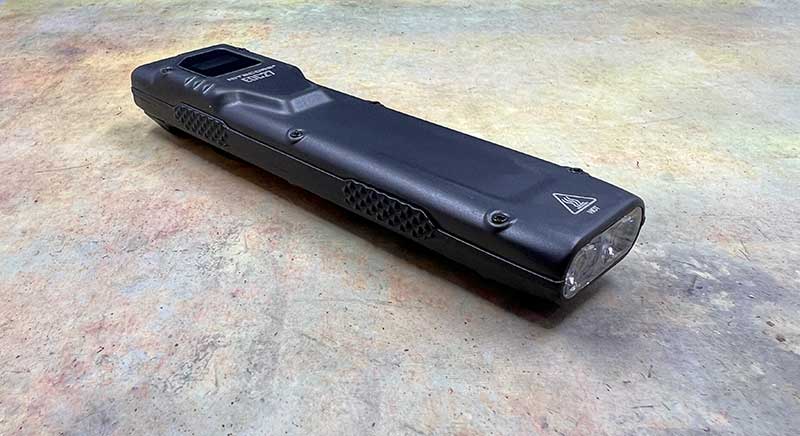 The front end of the Nitecore EDC27 flashlight has LEDs and a lens.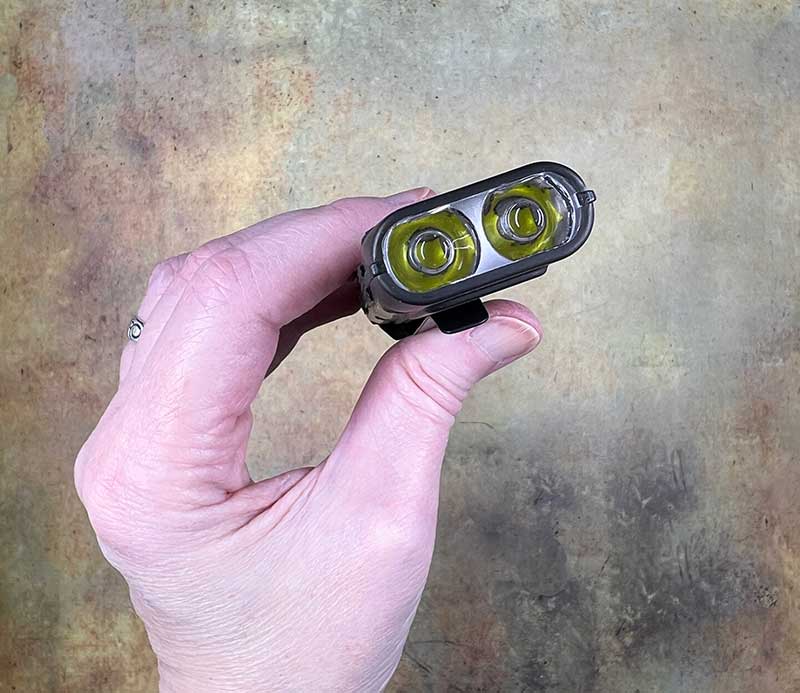 This light uses 2 LEDs with a max of 3000 lumens.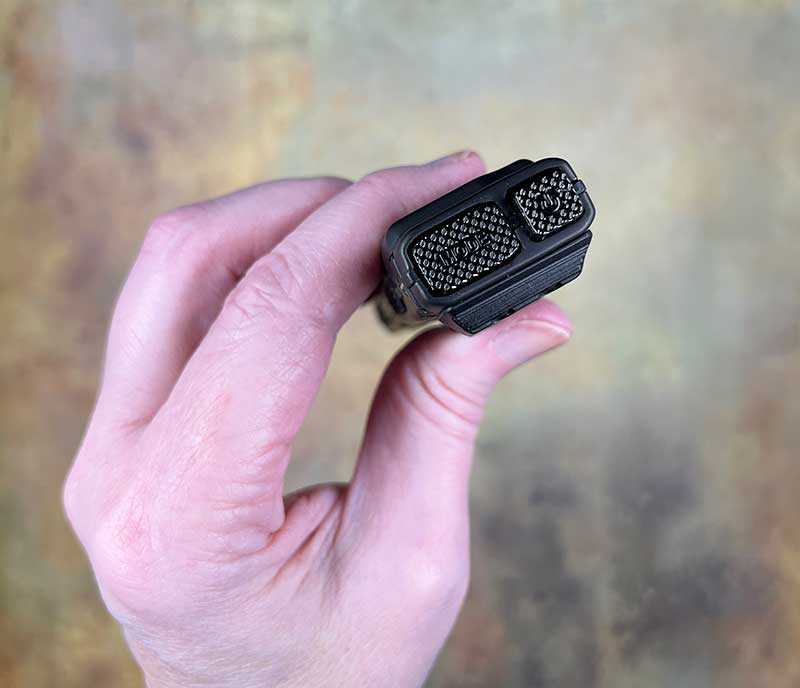 Here's a close-up of the control buttons which are located on the tail of the flashlight. these buttons have knurling so that your thumb won't slide off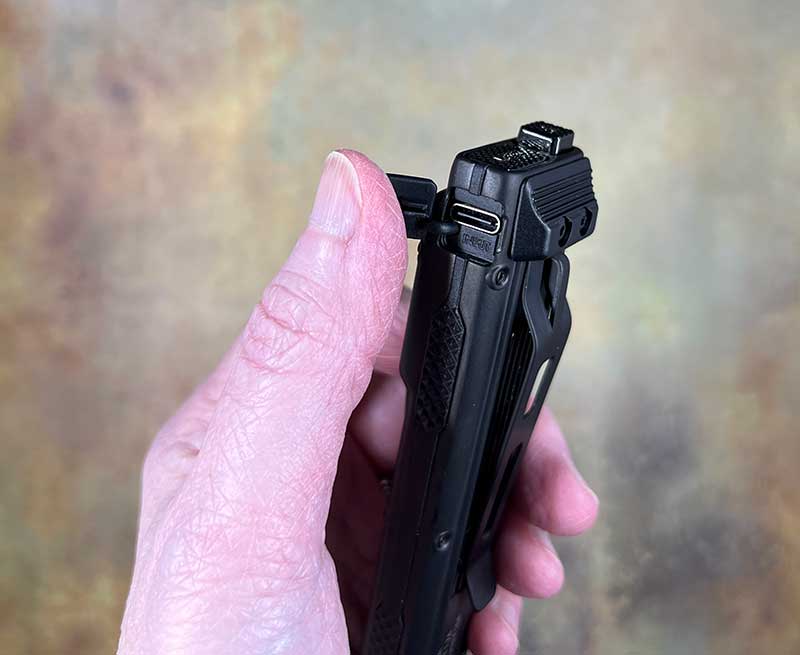 The Nitecore EDC27 flashlight charges with a standard USB-C cable. One comes with this flashlight, but you can use any existing cable to top off the battery when needed.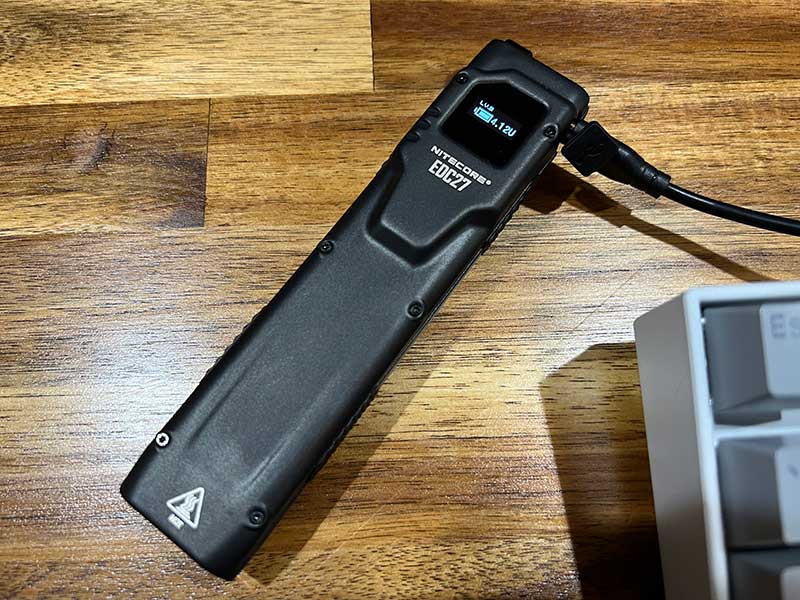 The fact that you can use any USB-C cable is great. Unlike some other flashlight manufacturers that require a proprietary cable, you'll know that you can easily find a cable to recharge this light whenever you need one.
Operation and brightness levels

The Nitecore EDC27 flashlight has two button design with a power button and a mode button. To turn on the flashlight, you fully press the power button (the smaller button that sticks out from the body). The power button has a tactile click when you fully depress it. Fully pressing again will turn off the light. While the light is on, half-pressing the power button will switch between ultralow, low, medium, and high brightness levels. To access the turbo mode (3000 lumens), while the light is on or off, half press the mode button. You can't lock in the turbo mode, once you let go of the mode button, turbo mode turns off and you're left in the brightness level that you were set to before pressing the mode button. If you fully press the mode button when the light is on or off, you'll be in strobe mode which also only works while holding the mode button.
Note: The flashlight will remember your last brightness level setting.
The only problem that I encountered while testing the Nitecore EDC27 flashlight was accidentally getting it into one of the two locking modes. These lockout modes are designed to make it difficult to inadvertently turn on the light when it's in a pocket or bag. You might think that the lockout modes are annoying, but since this light can get super hot, you will realize that having this safety measure is a good idea.
In the half lockout mode, the power button will be deactivated, but you can still use the mode button to momentarily activate turbo or strobe mode. In the full lockout mode, the power button and mode button are locked. That means the light can't be used until it's unlocked. Unlocking the light requires you to half press the power button and then immediately fully press and hold the power button until it unlocks. Again, it's a pain if you do it by accident and need to use the light only to fumble around trying to remember how to unlock it (spoken from experience).
As mentioned, this light can get hot. There's even a warning printed on the Nitecore EDC27 flashlight itself to remind you. It doesn't take long for the business end of the flashlight to get very warm when using turbo mode.
See it in action
What I like
BRIGHT!
The shape is nice for not rolling off a table
Recharges with any USB-C cable
Saves the last brightness level setting
Display gives real-time runtime info
What I'd change
Provide the ability to turn off locking modes
It gets HOT
Final thoughts
What do you look for in a flashlight? High lumens? Multiple brightness modes? Pocket clip? Rechargeability? A flat shape so it won't roll away when you lay it down? The Nitecore EDC27 flashlight ticks all of these boxes has a decent price for a 3000 lumen flashlight.
Price: $89.99
Where to buy: Flashlightgo
Source: The sample for this review was provided by Flashlightgo.