We use affiliate links. If you buy something through the links on this page, we may earn a commission at no cost to you. Learn more.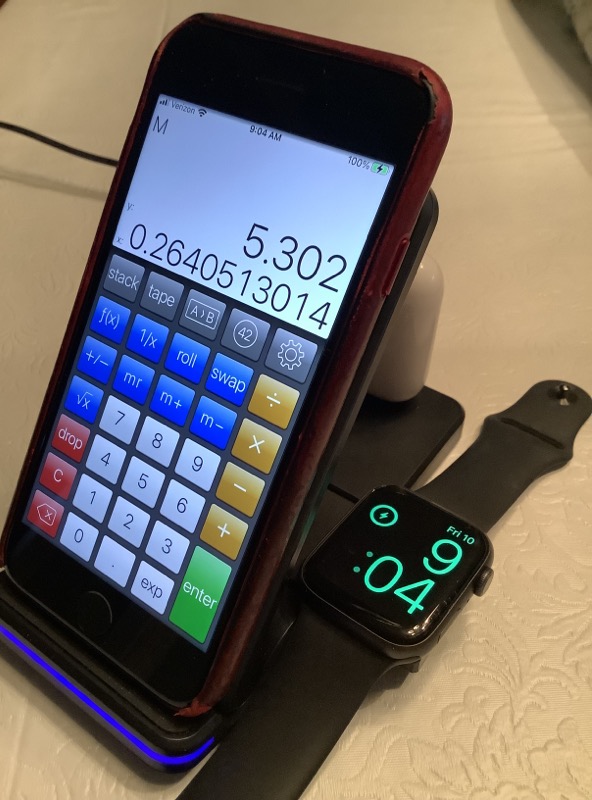 REVIEW – Do you have a tangled mess of various USB cables, routed to your phone, watch and headphones to charge them when they need it? I thought I would try out one of these all-in-one charging products to see if they can simplify some of the cable clutter. Read on to find out how the iLive 3-in-1 Wireless Charging Stand fared in meeting my daily charging needs.
What is it?
The iLive 3-in-1 Wireless Charging Stand is a charger that can wirelessly charge your wirelessly chargeable phone, Apple Watch and non-wirelessly charge your Apple AirPods all at the same time.
What's in the box?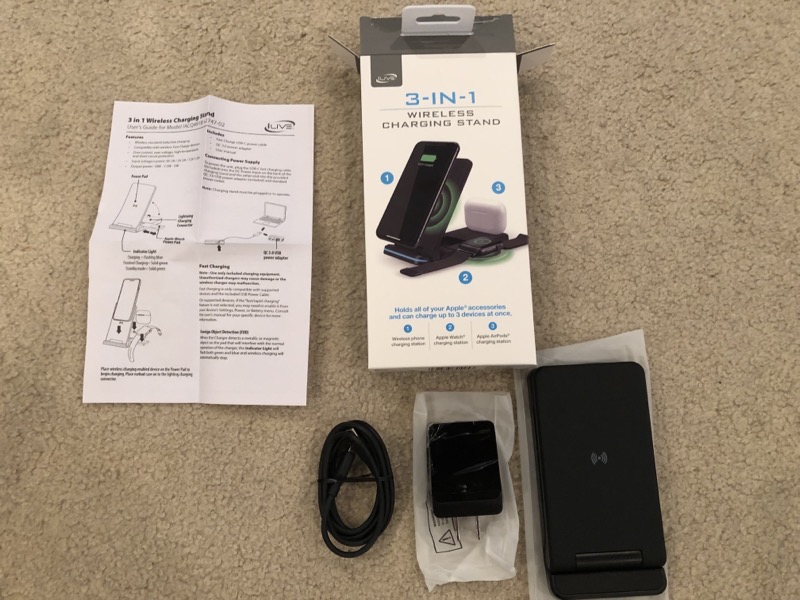 iLive 3-in-1 Wireless Charging Stand
Fast Charge USB-C Power Cable
QC 3.0 power adapter (120V Plug)
User manual.
Hardware specs
 Wireless Standard Inductive Charging
Compatible with wireless Fast Charge devices
 Over current, over voltage, high temperature and short circuit protection
Input voltage/current: 9V 2A / 5V 3A / 12V 1.5A
Output power: 10W – 7.5W – 5W
Design and features
By far the biggest feature is that the iLive 3-in-1 Wireless Charging Stand can charge 3 devices at once in a single compact package. While the main Power Pad will support the charging of any device that supports Qi charging, the Apple Watch Power Pad will only work with an Apple Watch. Couple that with the proprietary lightning connection for AirPod charging, which makes the device mainly Apple device-specific, even though it will be able to charge a non-Apple, i.e. Android, phone capable of wireless charging in a pinch.
One very nice feature of the charging stand is the ability for the main Power Pad to not only charge a portrait-oriented phone, but it can also charge a phone in landscape orientation. This allows a user for instance to watch something on the phone while the phone is wirelessly being charged. I did this test on my rather dated iPhone 8. I can't really speak to other phones but would assume it would be OK there as well since my phone is on the smaller side and following the logic that a larger phone would have more overlap with the Power Pad's charging surface, I suspect it should also charge.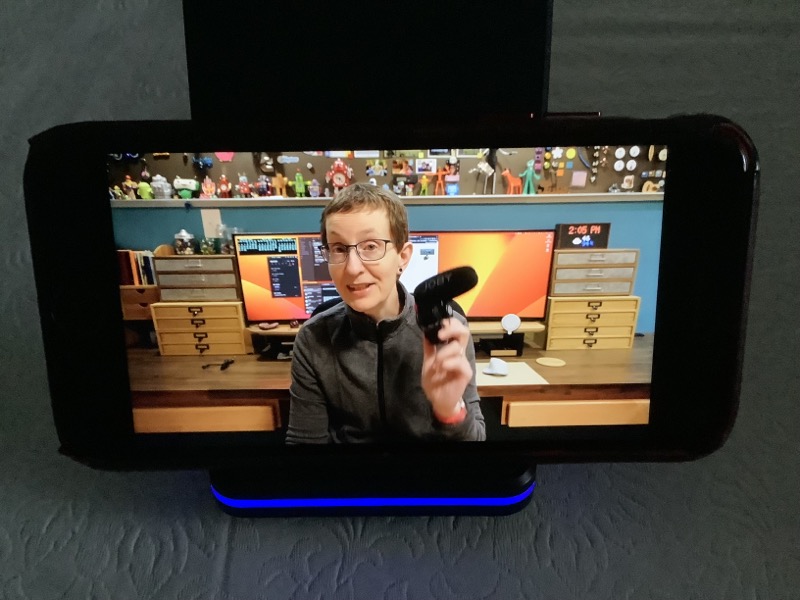 The iLive 3-in-1 Wireless Charging Stand has four different configurations for Power Pad tilt positions. It can be completely flat, as well as fully opened to almost 90 degrees, with two tilt positions in between. I have been using the unit in the 3rd tilt position which seemed the natural position for the Power Pad to have a phone on it. I feel this configuration would also be optimum if the charging stand was in a primary work location, vs a nightstand.
Finally, the iLive 3-in-1 Wireless Charging Stand has a LED strip across the front of the device which normally is solid green when no phone Power Pad wireless charging is going on, a pulsating blue during a phone Power Pad charge, or a solid blue when the charge is complete. I will have more to say about this in the performance section below.
Setup
The setup for the iLive 3-in-1 Wireless Charging Stand is very straight forward. Simply plug the QC 3.0 power adapter into any standard 120V outlet and the other end into the iLive 3-in-1 Wireless Charging Stand. It is good to know that the device does support 220V (50Hz), making it good to take internationally as well. I did not see this in the included documentation; however, it is printed directly on the AC adapter itself. This would be a miss in the docs and is very hard to read that from the AC adapter itself.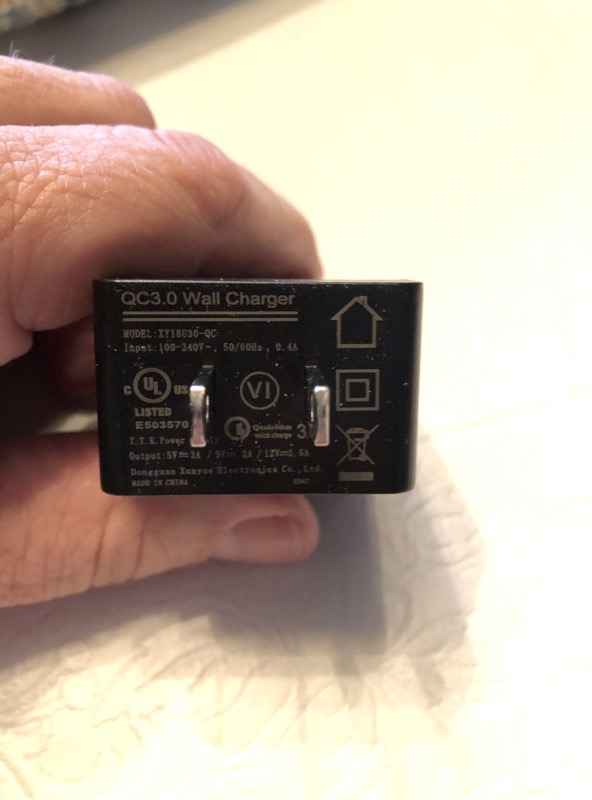 The included power adapter accepts a USB-A connection, while the charging stand accepts a USB-C connection. The supplied cable has ends that match that configuration so there is no problem having to find a cable with this configuration. Once the adapter is plugged into an A/C outlet, the unit is ready to start charging, simply open up the Power Pad which exposes the AirPod lightning plug, then slide out the Apple Watch Power Pad and you are ready to charge all three devices at once.
Performance
Overall, the iLive 3-in-1 Wireless Charging Stand performs exactly as advertised. As before mentioned, it has the capability to charge three devices at the same time. For me, I have the device sitting on my nightstand where it is very convenient to be able to place my iPhone and Apple Watch on the device's respective Power Pads at the end of the day without the normal fight with the tangling of associated individual cables. I simply pick them up from the stand in the morning finding everything fully charged. I do not typically charge my AirPods there very often mainly because I keep them in a different room, but I have done so on occasion, and as expected they charge just fine.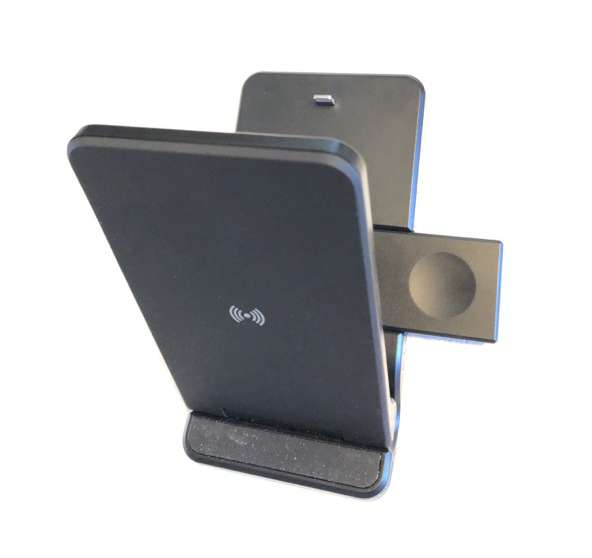 It is worth mentioning that the iLive 3-in-1 Wireless Charging Stand is not MagSafe certified so it will not be able to fast charge newer MagSafe equipped iPhones at the higher 15 W rate. Of course, it will still be able to Qi charge them just fine, and if your typical behavior is to just charge overnight like mine, there should never be an issue where you wake up to find a phone not fully charged.
One thing of note is that when the stand is folded flat, the slide out Apple Watch Power Pad is not fully exposed, thus making it impossible to charge both your phone and watch at the same time in the closed configuration. It is so close to being ok, but just falls short as the device's phone Power Pad physically interferes with the edge of the watch, preventing it from sitting squarely on that small round Power Pad.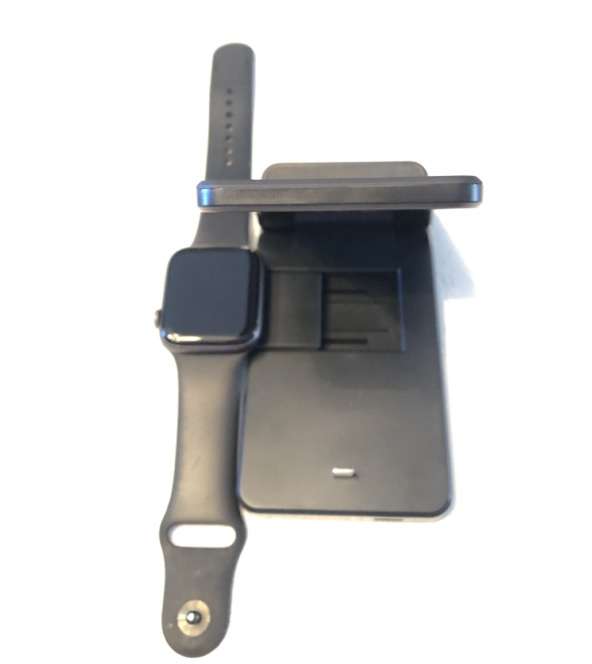 One of the safety warnings states to only use the supplied power adapter. Given that it is not uncommon to purchase different chargers that do not even ship with an A/C power supply I found this to be kind of a bummer as I would like to be able to connect the iLive 3-in-1 Wireless Charging Stand to a battery power bank on occasion to facilitate the use of the device when not close to any kind of AC outlet. Given the warning in the documentation, I was not sure if they implemented the USB power negotiation correctly to allow for another USB-C power source to be plugged into the iLive 3-in-1 Wireless Charging Stand. I did not want to chance damaging the device or a power bank, so I just never tried it. I may attempt that at some point but just did not as part of this review.
Finally, the LED strip on the front of the device is just too bright. I don't think I got 10 minutes into the first night before my wife had me turn it around, and even then, it is still pretty bright. The manual specifies that the LED strip will be a solid green, both when the device is in standby mode, or when the phone on the main Power Pad has been fully charged, and a pulsating blue when the phone on the main Power Pad is currently charging. Turns out, as mentioned above, that when the device on the Power Pad is fully charged it is a solid blue, vs the solid green that the manual states. Not a big deal but wanted to point that out. The more I think about it, it is better to work this way, as the blue LED is a visual signal that the unit is charging. One issue with the LED strip is that once a device has been fully charged, the stand can begin to start signaling that the phone is not fully charged (pulsating blue), when in fact it is. At least it reads 100% battery when removed from the Power Pad in this case. The charging blue state should be latched to be solid once a full charge is achieved to signal to the user that a full charge has in fact been completed. I realize that the stand will always provide a trickle charge to the device even after a full charge has been reached to maintain the battery at 100%, however, it should not indicate to the user that the phone is not fully charged while it is doing this. At least that is my opinion.
What I like
Convenient three device charging from a single cable to an A/C outlet.
Charges the phone in either orientation.
What I'd change
Support wireless charging of AirPods
Documented support for any USB power source.
Support both phone and watch charging when unit is closed.
Make the LED strip much dimmer and to remain steady after a full phone charge has been reached.
Final thoughts
Overall, I really like the iLive 3-in-1 Wireless Charging Stand and will be using it daily, I mean, nightly. The LED strip is a little loud for my liking, and it does not always reflect the actual state of charge for my phone some mornings, but my phone is always 100% charged, as well as the Apple Watch when I collect them. In short, I have since gotten used to the fact that sometimes, the device communicates that the phone is not fully charged, when in fact it is or was, depending on what is being displayed.
Price: $59.99
Where to buy:  iLive Store  and Walmart
Source: The sample of this product was provided by iLive.