We use affiliate links. If you buy something through the links on this page, we may earn a commission at no cost to you. Learn more.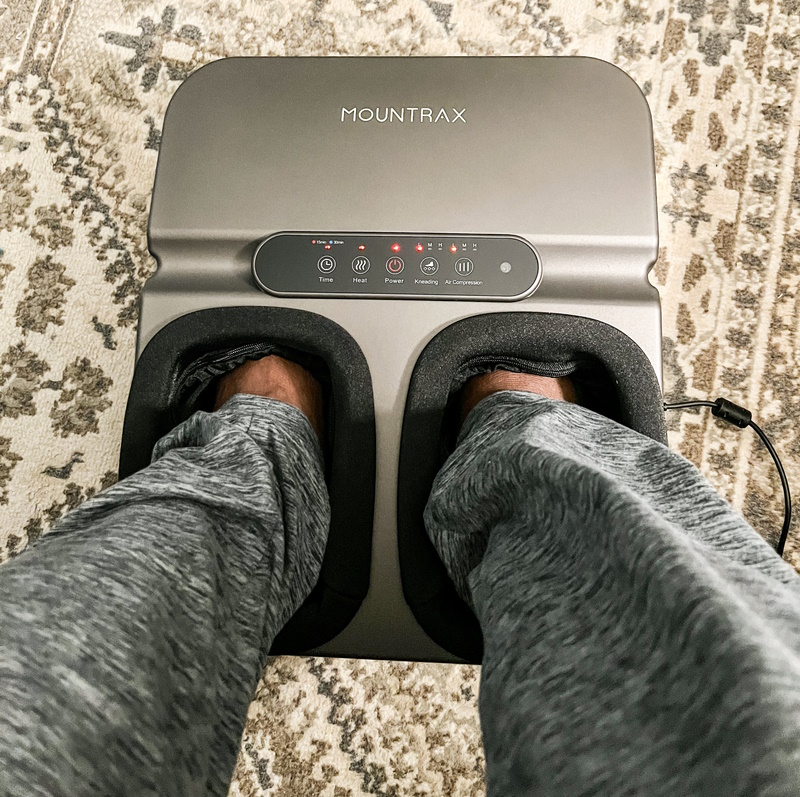 REVIEW – For many years I have suffered from Plantar Fasciitis. I have been to physical therapy and even received very painful injections in my heel. Each weekday I walk a mile each way from the railroad terminal to work and a mile back and usually during the day I frequently walk around the office. By the end of the day my feet are usually sore and very much in need of a massage. Enter the  Mountrax Foot Massager!!.
What is it?
The Mountrax Foot Massager provides heat, compression, and a Deep Kneading Shiatsu massage with the option to control levels for each feature. It is great to use for Plantar Fasciitis and to otherwise relieve pain. It accommodates feet up to size 12 men's size.
What's in the box?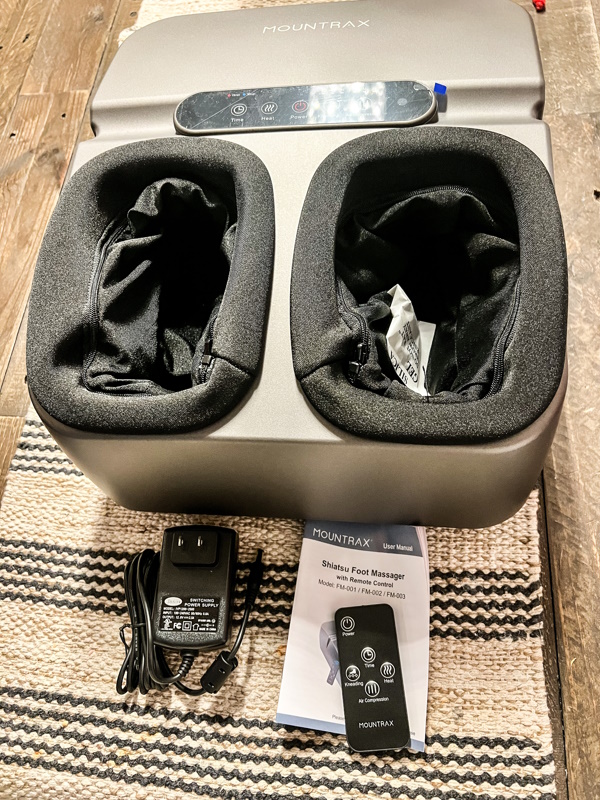 1 x Mountrax Foot Massager
1 x Remote Control
1 x AC Adapter
1 x User Manual
Hardware specs

Design and features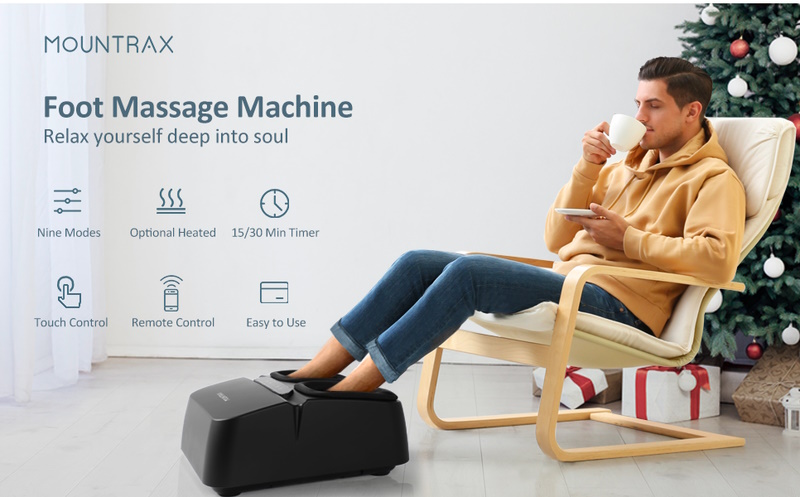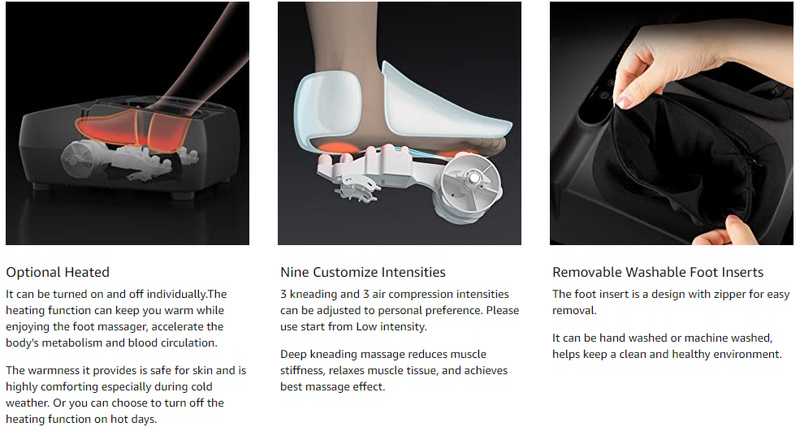 Mountrax foot massager machine has a touch panel and remote control: Luxurious appearance great for gifts. You can give it to your loved ones as a gift. Perfect for Christmas, Thanksgiving, Father's Day, Mother's Day, Birthday, Anniversary, or any special occasion. Have a massage at any time, share your health with your family or friends, have a healthy body, and enjoy life at home.
Enjoy professional shiatsu massage with Mountrax: It is equipped with two independent rolling heads with multiple ergonomic small massage heads to massage more areas of your foot for an upgraded shiatsu massage. Full coverage air compression takes you to experience deep kneading and squeeze. Allows you to fully relax after a busy day and relieve tired muscles and plantar fasciitis.
Nine customize modes: 3 kneading and 3 air compression intensities can be adjusted to personal preference. Please use start from Low intensity. If you feel that the squeezing is too low during use, you can adjust the air compression to the Mid intensity or High intensity to obtain a stronger squeezing effect. Deep kneading massage reduces muscle stiffness, relaxes muscle tissue, and achieves the best massage effect.
Optional heat: It can be turned on and off individually. The heating function can keep you warm while enjoying the foot massager, and accelerate the body's metabolism and blood circulation. The warmness it provides is safe for the skin and is highly comforting, especially during cold weather. Or you can choose to turn off the heating function on hot days.
The Mountrax Foot Massager is lightweight and portable. There are two spaces for your feet to fit and in front of the spaces, there is the control bar with the control buttons. There are zippered inserts in each foot space that can be removed to be washed. On the bottom, there are air vents and on the right side, there is the AC port. There is also a remote control that can also control all functions.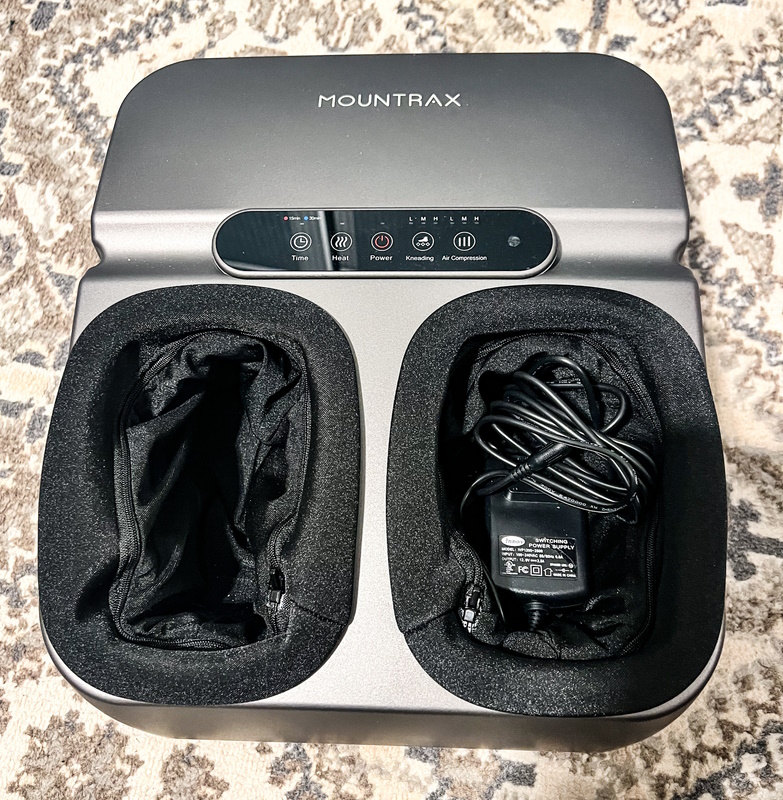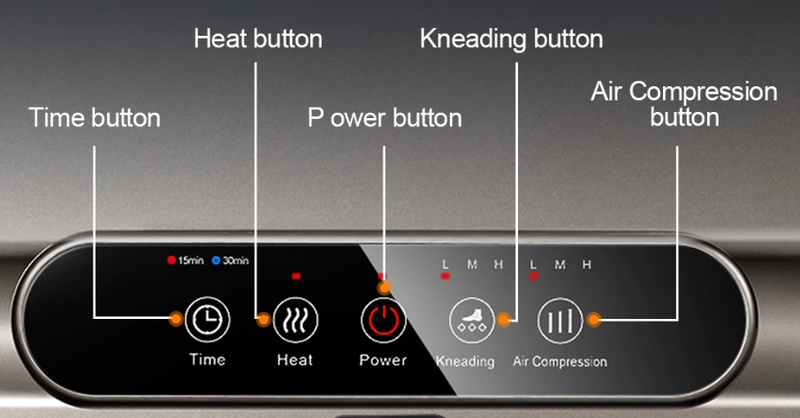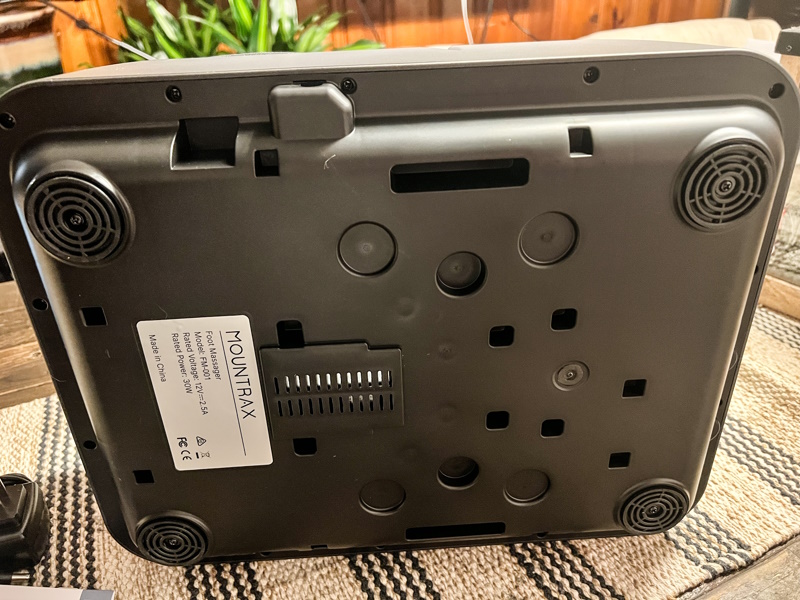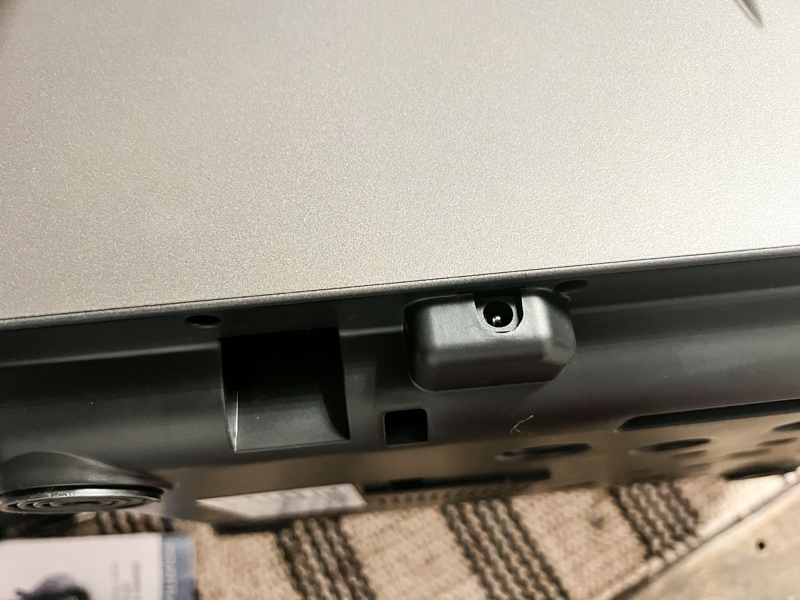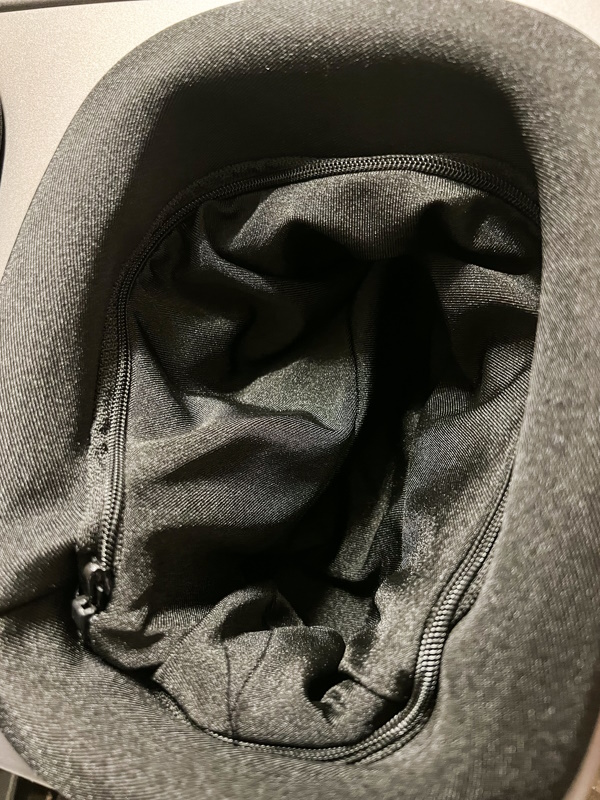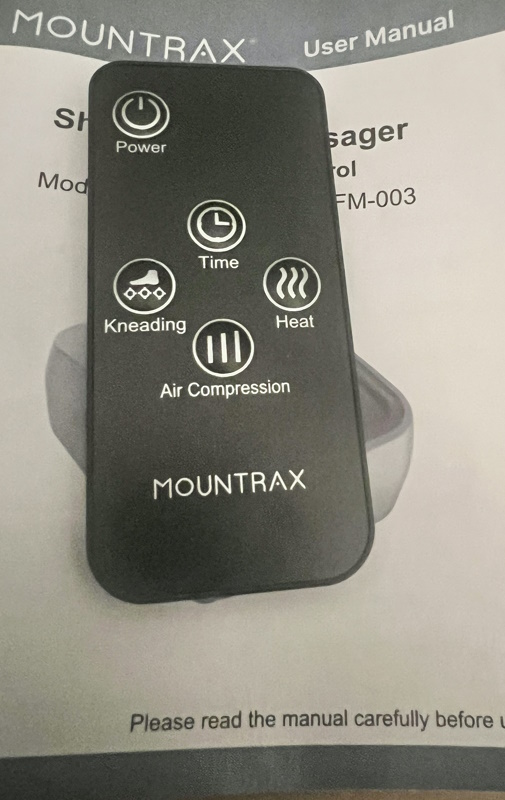 Performance
The Health Benefits Of Using The Mountrax Foot Massager Machine
1. Improves blood circulation: due to busy work, more and more people don't use their feet muscles properly, thus impeding good blood flow. Also, tight, pointed shoes especially high heels hinder circulation. Daily Foot massage helps in transporting oxygen to the body's cells, which is essential for overall health.
2. Promotes better sleep: a soothing and relaxing foot massage before going to bed improves blood circulation which helps in getting a peaceful sleep.
3. Promote metabolism: shiatsu massager stimulates the body to flush out excess toxins to enhance your body's immunity and resistance.
4. Foot pain relief: shiatsu foot massager offers a deep-kneading Shiatsu massage, heated, squeeze massage to relieve chronic foot discomforts from plantar fasciitis, and help with neuropathic foot numbness.
5. Improves mood and fights depression: certain points on the feet are helpful in alleviating depression symptoms. Massaging these points or applying pressure to them will help relieve symptoms of depression.
6. Alleviates swelling (edema): regular foot massage will help reduce the effects of edema, which is swelling in the feet and ankles due to fluid retention.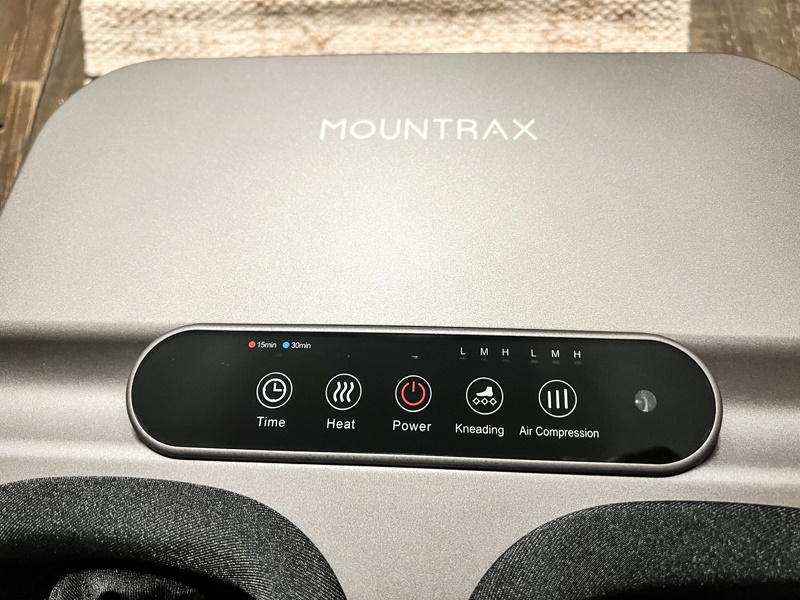 All that is required to use the Mountrax Foot Massager is to place your feet in the foot spaces, turn on the device and choose the desired modes.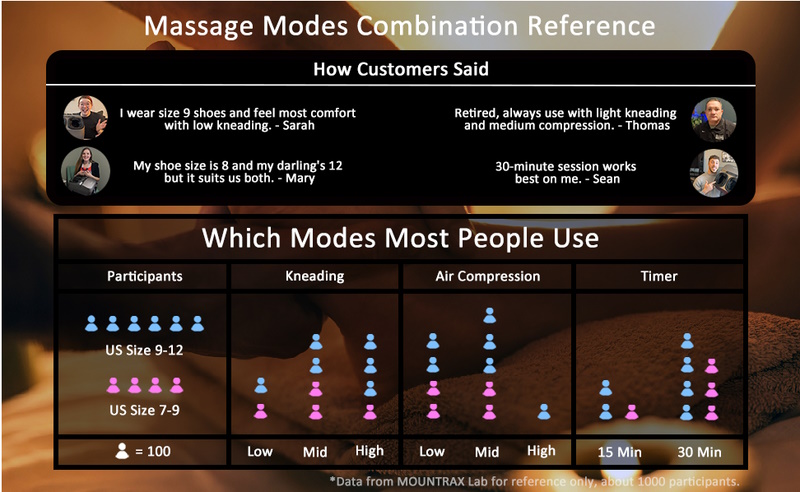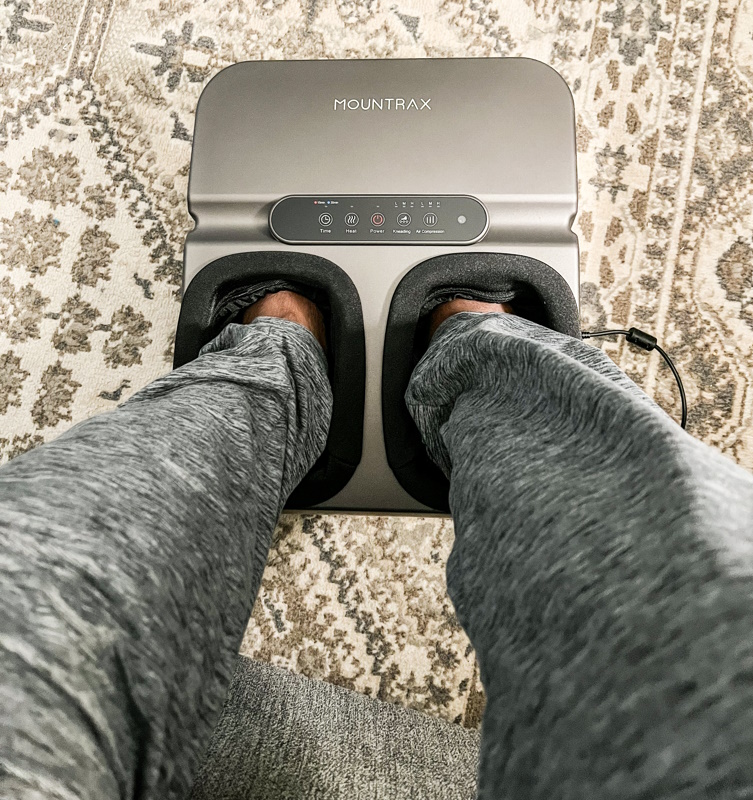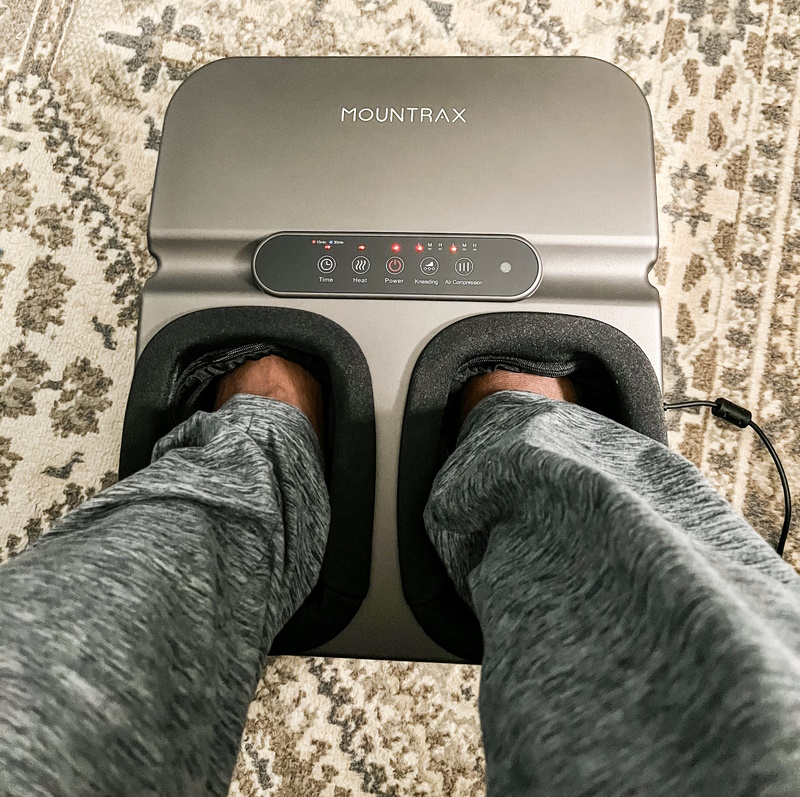 Using this Massager at the end of each day is a great feeling. My preference is the highest mode of air compression and kneading, along with the middle level of heat. The default time is 15 minutes and usually, after one session, I wait a while and do another 15-minute session. For some reason, I think that one 30-minute session is too long for all at once. My feet feel great when I go to bed and the next morning when I start another day that is once again hard on my feet.
What I like
It is lightweight
The heat, air compression, and deep massage
It feels great
What I'd change
Final thoughts
The Mountrax Massager has been a great help and comfort for my aching feet. There was a time when I received very painful injections in my heel. For years I have had to wear expensive showed made specifically for Plantar Fasciitis and while I am no longer in daily pain, my feet feel sore after walking around all day. This Massager has provided great soothing and the heat and compression work wonders. I give this massager a well done and two thumbs up!!
Price: $129.99 – Amazon; $179.99 – Mountrax website
Where to buy: Amazon, Mountrax website
Source: The sample of this product was provided by Mountrax