We use affiliate links. If you buy something through the links on this page, we may earn a commission at no cost to you. Learn more.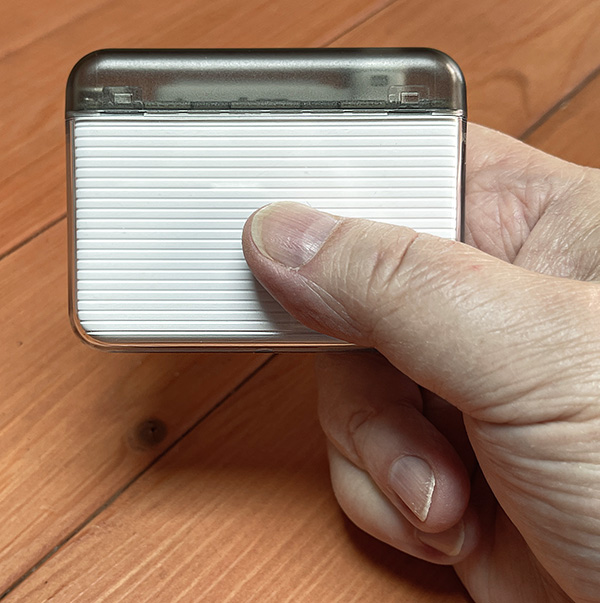 REVIEW – In today's world where everything is portable, everything will always need charging. And sometimes, an electrical outlet is not available, so your only choice is another portable device—a power source. It can be as large as a power station or as tiny as a pocket-sized charger, such as the Shargeek Sharge Flow Power Bank. The question is how useful are they? The answer is quite a bit.

What is it?
The Shargeek Sharge Flow Power Bank is a pocket-sized 10,000mAh cell made to charge any small device you have. It's about the size of a credit card, but a lot thicker. The Sharge Flow can be a lifesaver. It's easy to store and light enough for carrying around all day. 
It contains two 5000mAh batteries. Automatic temperature detection is added as an extra safety measure. Battery life is indicated by an internal light bar that shortens as the battery is used up.
The Sharge Flow comes with two charging ports: 18W USB and a 20W USB-C. The power bank features over temperature, voltage, current and load protections as well as anti-static and short circuit protection.

Hardware specs
10000 mAh
Temperature protection
Voltage protection
Current protection
Load protection
Anti-static protection
Short circuit protection
USB A
USB-C
Low-power mode

Design and features
The Shargeek Sharge Flow Power Bank is similar to other Shargeek products—it's a quirky design. That's a good thing. It's not as cool looking or as powerful as the Shargeek Storm2 Slim Power Bank, but it's way simpler to use and easier to carry. Just connect a device and it instantly turns on and starts charging.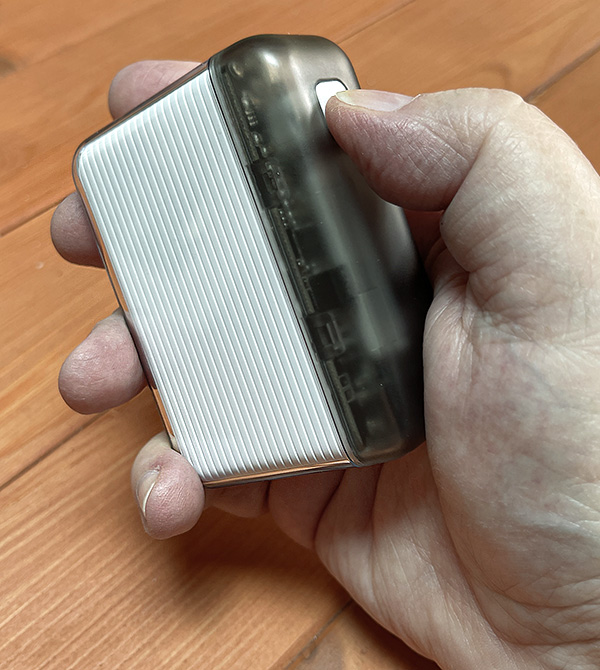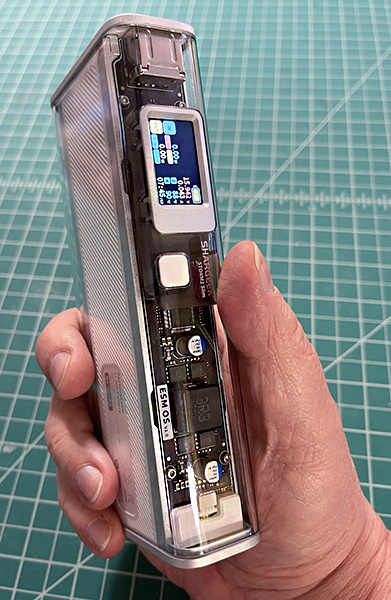 The Flow shares some design cues with other Shargeek products. The entire power bank is protected by a clear plastic shell. The top cover is frosted, revealing the circuit board. It's a really cool look. Why don't more companies pay this much attention to design?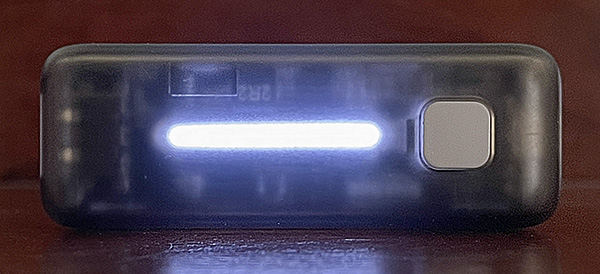 The frosted cover also shows what Shargeek calls a Lightsaber. It's an LED light bar that gets progressively shorter as power is drained from the bank. The name is as whimsical as the look. Let's hope Lucasfilm hasn't trademarked the name. A white power button mars the clean surface. I'm not sure why the power button is even needed, because the Flow turns on automatically when connected and (after a minute or two) shuts off when disconnected.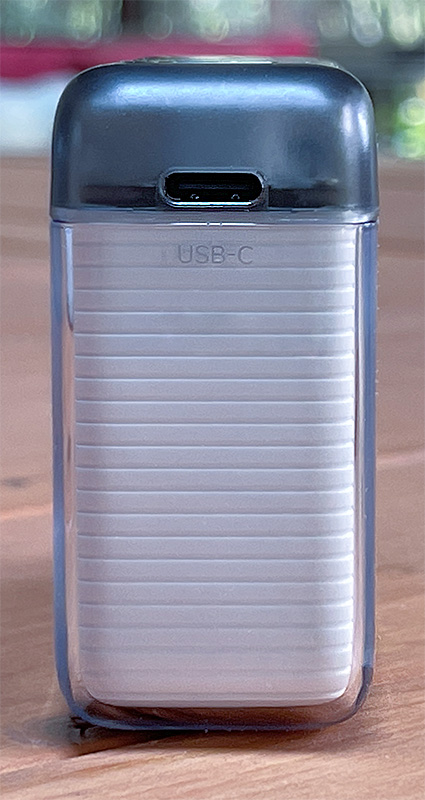 The Flow supports both pass-through charging—it can charge while being charged—and can charge two devices at the same time. It's pretty sophisticated stuff for such a small charger. Its 10000mAh batteries can charge an iPhone 13 2.4 times, iPhone 8 3.7 times, Samsung Galaxy S22 2 times, or a Pixel 6 1.8 times. YMMV.
The Sharge Flow has what is called the Low-current mode. This is designed to safely charge items smaller and less power-hungry than smartphones, such as Bluetooth headphones and earphones, smart watches, etc.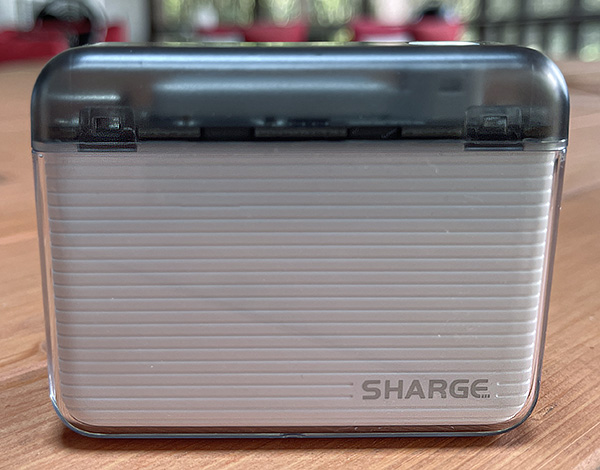 Note that the Sharge Flow's power is 36wh, much lower than the airline limit of 100wh, so it's safe to use on an airplane.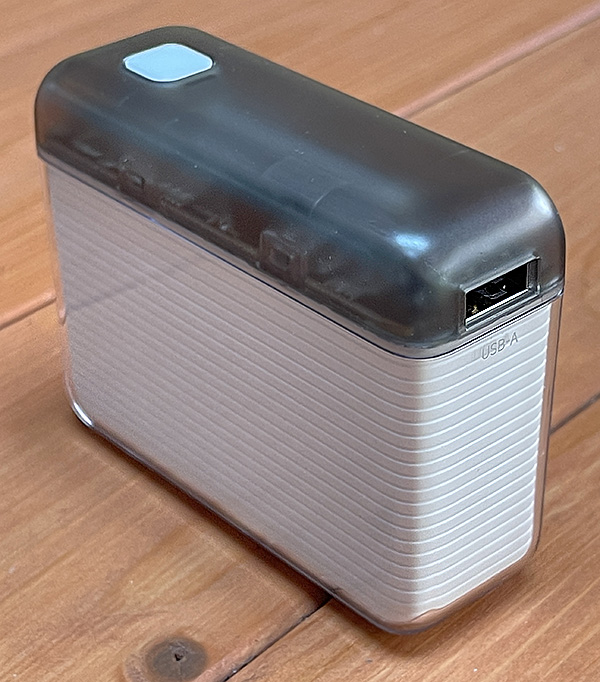 Charging is via either a USB A or USB-C port. The USB-C port is more powerful, but charging speed isn't one of Sharge Flow's strengths. It's noticeably slower than the more powerful Storm2, but then it's half the capacity and much cheaper. So I can't complain too much.
As cool as the exterior shell is, it's a scratch magnet. It will easily show wear and tear over time. I noticed a protective carabiner pouch for it, but there is no mention of it anywhere on the site except in that photo. Bummer.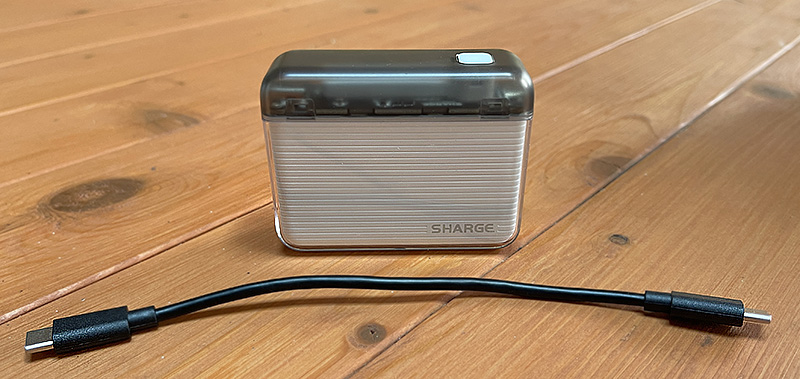 Accessories included are a short USB-C to USB-C cable. That's it. 
I wish that Shargeek would include that carabiner cover in their photo tease.

What I like
Portable
Useful
Can charge and be charged at the same time
Can charge two devices at the same time
Low power mode
Cool looking

 

What I'd change

Final Thoughts
This is the second Shargeek charger I've reviewed and I'm impressed by their quality and fun factor. The Flow is both small and useful. I'm curious about what Shargeek could do with a large power bank. Now that will be interesting. 
Price: $35.99
Where to buy: Amazon
Source: The sample of this product was provided by Shargeek.