We use affiliate links. If you buy something through the links on this page, we may earn a commission at no cost to you. Learn more.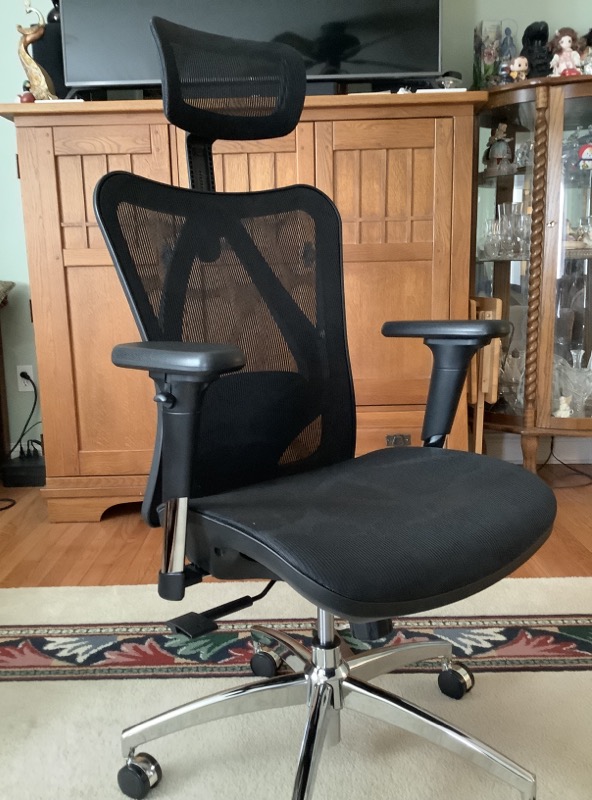 REVIEW – Can an office chair really make a difference? Does one really need a chair that has a multitude of adjustments? In short, are all those adjustments really necessary? Check out the SIHOO Ergonomic Mesh Office Chair to see what I have been recently sitting in.
What is it?
The SIHOO Ergonomic Mesh Office Chair is an office chair that contains a plethora of adjustments to map the seat to just about anyone's optimum seating position.
What's in the box?
The to be assembled SIHOO Ergonomic Mesh Office Chair, along with all the hardware with at least one extra part for each piece of hardware, including a tool which can be used for every screw/bolt and a two-page instruction manual in multiple languages to guide you in putting it all together.  Finally, white gloves were also included to keep the chrome shiny and your hands clean during assembly.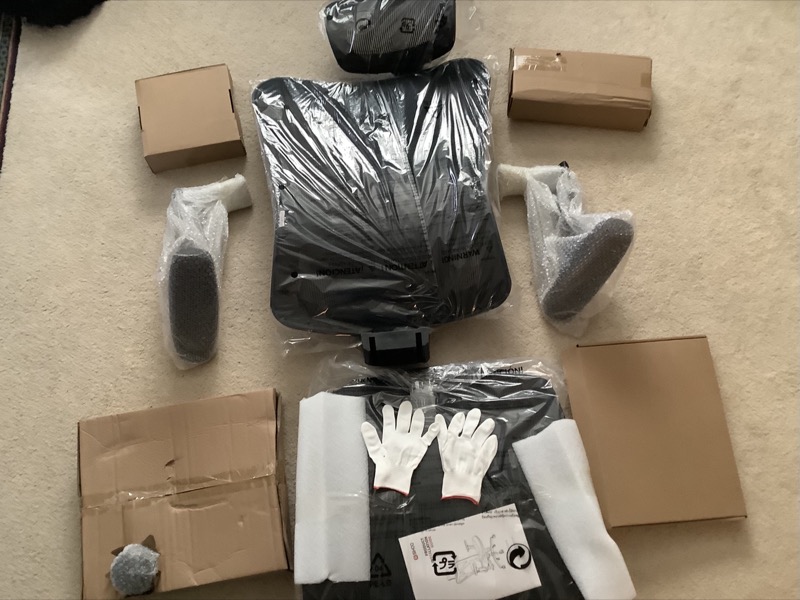 Hardware specs
It should not be surprising that there is not a slew of sexy specs for an office chair. That said, here are some particulars for the SIHOO Ergonomic Mesh Office Chair.
Chair seat height adjustment
High Back chair
3-Way Arm Rest adjustments
2-Way Lumbar Support
Adjustable Headrest both in height and angle.
Free flowing and locking tilt mechanism.
30.31"D X 13.39"W X 25.59"H
Weight 41.67 lbs
Rated at 330 pounds.
Design and features
The SIHOO Ergonomic Mesh Office Chair looks pretty much like any nice office chair.  It is black, but available in a lighter gray color.  The chair I was shipped was black.  For me, this would be the preferred color. That said, I am sure the gray is not bad either, and would not show near the wear and tear that a white office chair would.
The SIHOO Ergonomic Mesh Office Chair has the standard accompaniments of any nice office chair. It would not be an exaggeration to state that each of them has been implemented in a durable and thoughtful way.  I really liked the mesh back and seat and am confident that they would be cooler than a less breathable surface in a warm setting. Additionally, if you were cold natured, it would be very easy to have a heater on the floor under the chair to keep you warm, and conversely if hot natured a small fan could provide additional cooling simulating a automobile's ventilated seat.
As listed in the specifications, the chair has a head rest that is not only adjustable up and down, but also in the angle of the head rest. The span of the lift is at almost 4 inches with the ability to recline the headrest 45 degrees.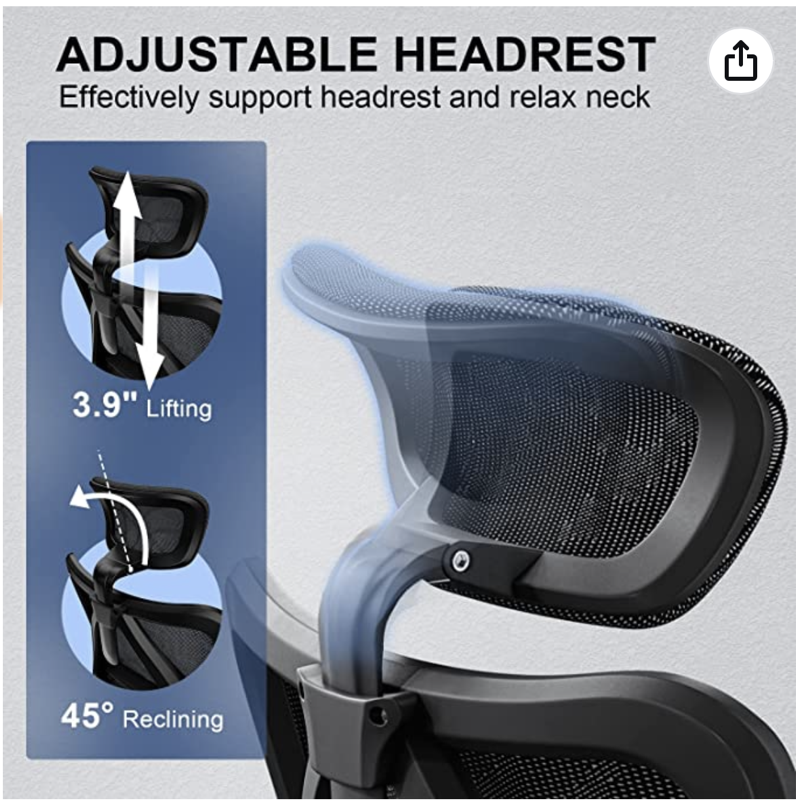 In addition, the armrests are marketed as being 3D.  What that means is that each armrest is adjustable up and down 2.7 inches in five discrete increments.  Travel front to back 2.3 inches in six discrete increments and can rotate left to right 18 degrees in each direction in one increment in each direction, clockwise and counterclockwise.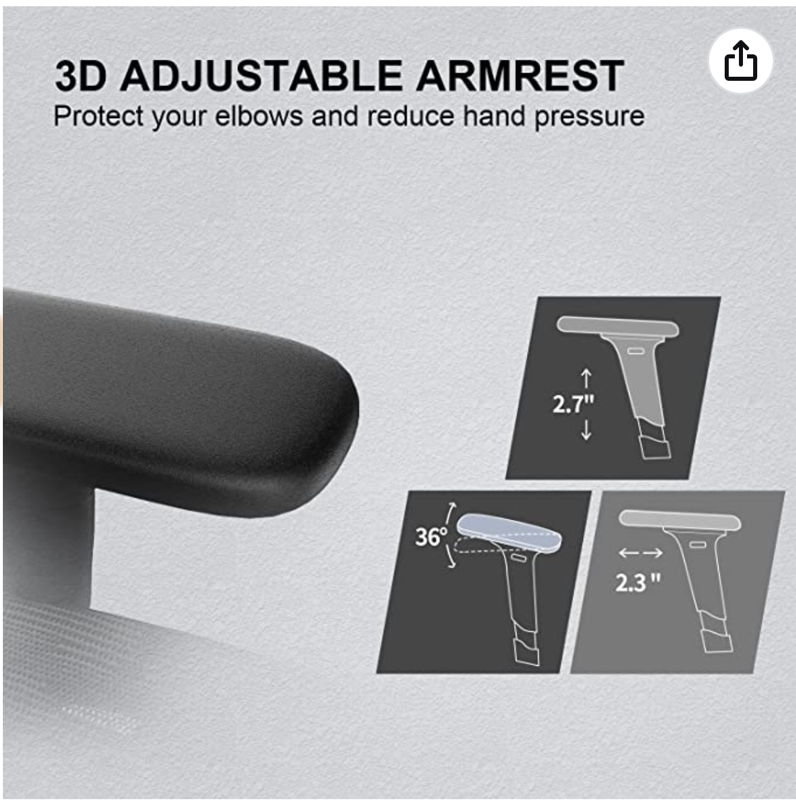 The bidirectional (up and down, in and out) adjustable lumbar support has a 1.2-inch continuous travel in to and out of your back's lumbar regions and can be positioned up and down your spine by 1.9 inches with seven increments of precision. When in the lowest position the effect of the lumbar support can be completely removed if that is desired for those who find any kind of lumbar support uncomfortable.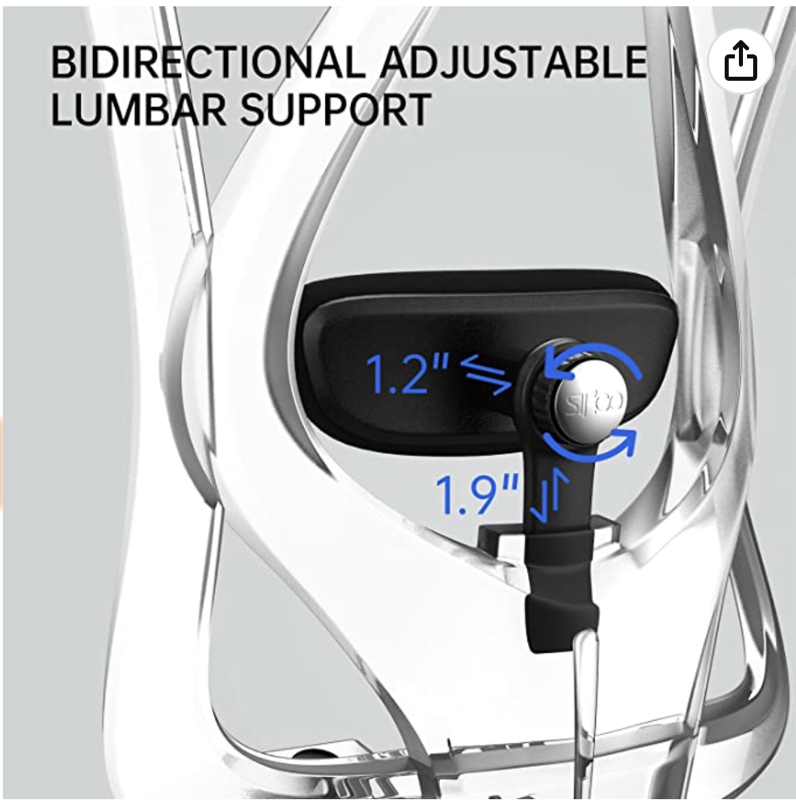 The Synchro Reclining Backrest provides for, not one, not two, but three locked reclining positions, in addition to its ability to freely recline the full travel from 110 degrees all the way back to 126 degrees.  In addition, the tension of the reclination can be adjusted as well.  To be fair, the tension adjustment did not seem to be very noticeable for me, probably due to my body size.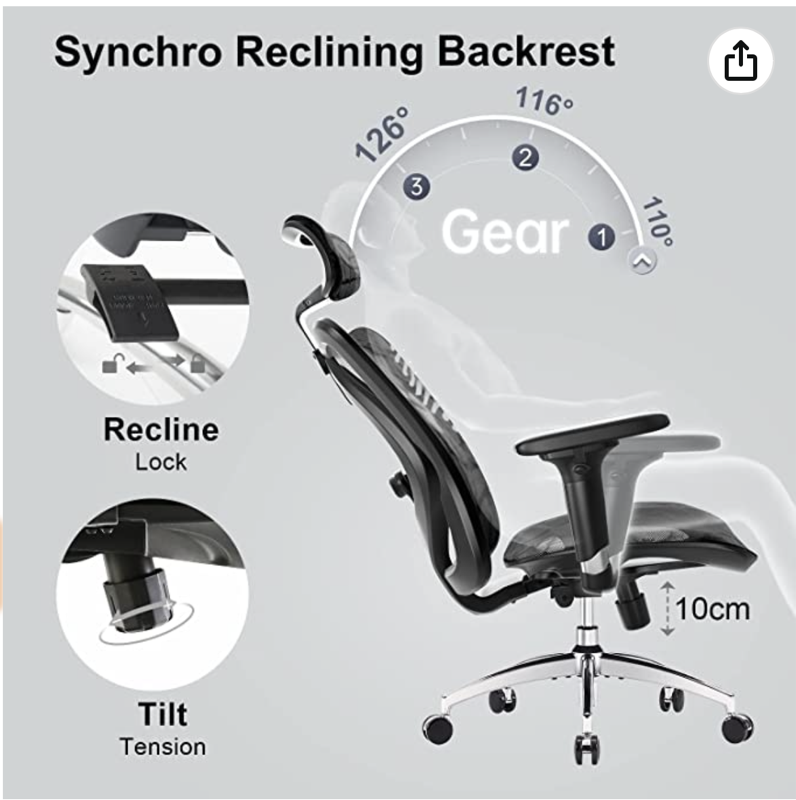 Finally, to accommodate those of varying heights, the entire seat can be continuously adjusted from 20 inches all the way down to 16 inches. This is accomplished by the chair seat resting on an adjustable gas shock which not only allows for the chair to fit sitters of varying heights but also provides for a soft landing when docking your tush on initial entry.
Setup
As you can see in the boxed picture below the chair is tightly packed into that box. One would be hard pressed to get this chair back into its box should they change their mind about purchase after assembly.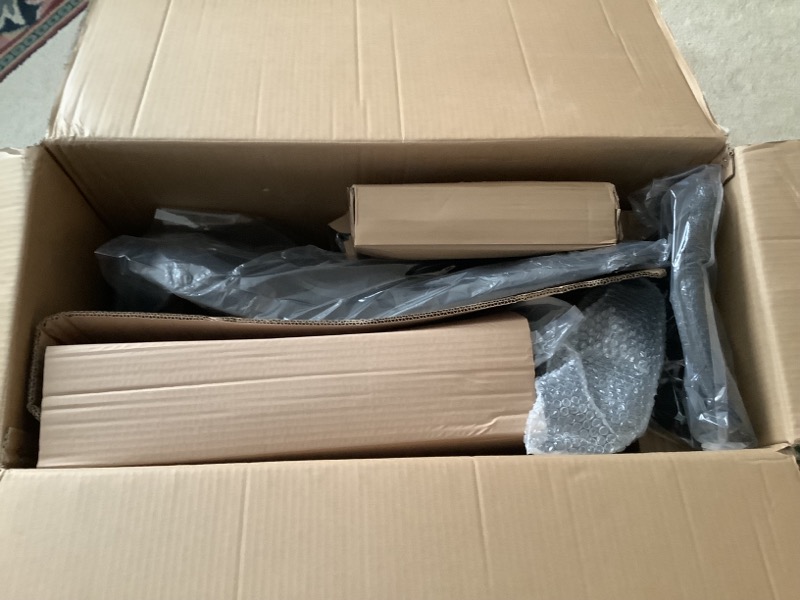 Removing it all and spreading it out resulted in the following.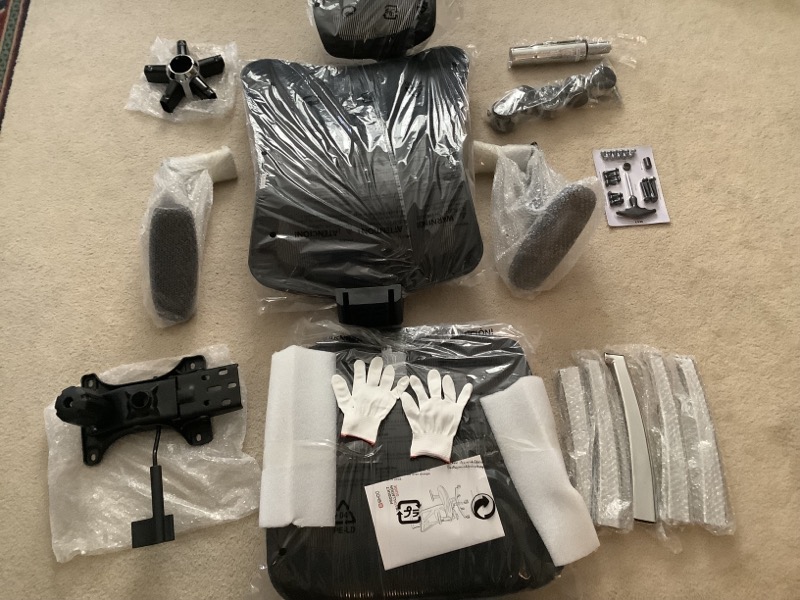 The resulting assembly of the chair, consisting of only 7 pictured steps over two pages, with textual instructions, was straight forward and only took me about 45 or so minutes to complete. A more competent assembler I am sure could assemble it faster. I recommend using some kind of electric screwdriver (initiated about midway through step 1) or drill as it really made fastening all the screws and bolts much faster. One thing that I really liked was the fact that everything was so well packed.  The chair hardware was not just thrown into a ziplocked bag which happens all too often but was shrink wrapped and labeled nicely. I really liked that the one included tool could be used for all the screws / bolts.  This was accomplished by the clever bolt head design, where in some cases the Allen head was contained inside the socked bolt head. This of course allows one to use either the provided Allen wrench tool, or the more convenient socket ratchet to fasten some of the rather long bolts much faster.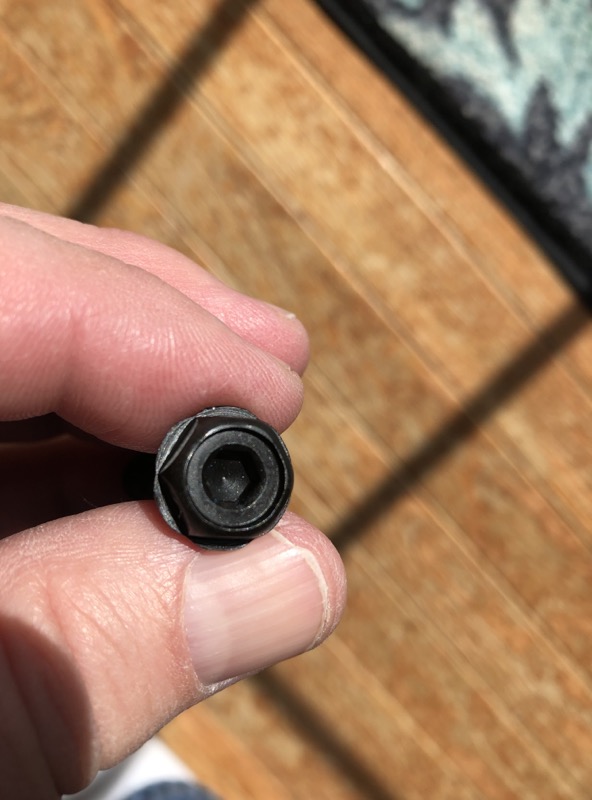 The only complaint I had would be that one had to almost completely destroy the nice hardware parts label to get access to the underlying hardware parts. Not a showstopper for sure, but did confuse me and contributed to me using the wrong parts on the first step of the assembly, stretching out my time some.  Yeah, yeah, yeah, I know, user error. Guilty as charged.
Performance
It is hard to describe a chair's performance after all, it just sits there, but if I were to pick one word that best describes the SIHOO Ergonomic Mesh Office Chair it would be smooth.  Everything associated with the chair is smooth. Clockwise and counterclockwise rotations are smooth.  Leaning back and forth, smooth.  Lowering and raising the seat, smooth.  Everything just feels smooth all the way down to the coaster wheels.
I am a big guy, 6'6", weighing close to 250 pounds and I felt the chair fit me just fine. I never felt constricted in any way. The seat is nice and wide on this chair. I do not know how that stands up to other office chairs, but I recall in the past that some office chairs I have sat in, the armrest would be touching my sides, and this one definitely does not do that at all. Not even really close.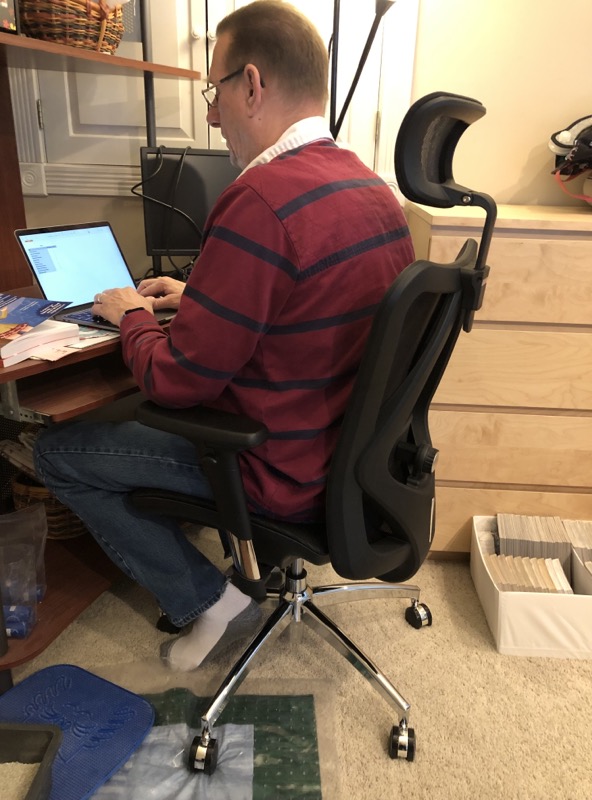 The abundance of adjustments really allows the primary chair owner to dial in the chair to their specific preferences. I only mention primary here to as to call out the pain of constant recalibration of all settings between differing chair users.
Some of the chair's features fall into that love it or hate it category. The lumbar support for instance is usually either loved or hated. The same goes for the headrest. Thankfully each of these can be set to have no effect. The lumbar support can just be positioned such that it has no effect, and as mentioned earlier, the headrest can be easily removed if it is not needed. Fortunately, the resulting look of the chair minus the headrest does not take away from the very nice look of this chair.
Now I realize that I have not been with the chair long, but I like the fact that it does not slowly and silently shrink down to the lowest setting while sitting in it. I have a lot of experience with chairs over the years, where the gas cylinder leaks, and the chair will imperceptibly continue to lower until it has bottomed out. I did not have an experience like that with this chair during any part of my testing, often times sitting hours on end in it. This is not to say that this problem will not develop over time with heavy use.
What I like
Smooth operation
Assembly was straight forward
Breathable chair fabric
Highly adjustable
What I'd change
The edges of the backrest are not padded.
Final thoughts
Overall, I really liked the SIHOO Ergonomic Mesh Office Chair.  It is nice looking, and works pretty much as advertised, which when you come to think of it, is really all one can ask of any product.
Price: $289 routinely on sale for less.
Where to buy: Amazon
Source: The sample of this product was provided by SIHOO