We use affiliate links. If you buy something through the links on this page, we may earn a commission at no cost to you. Learn more.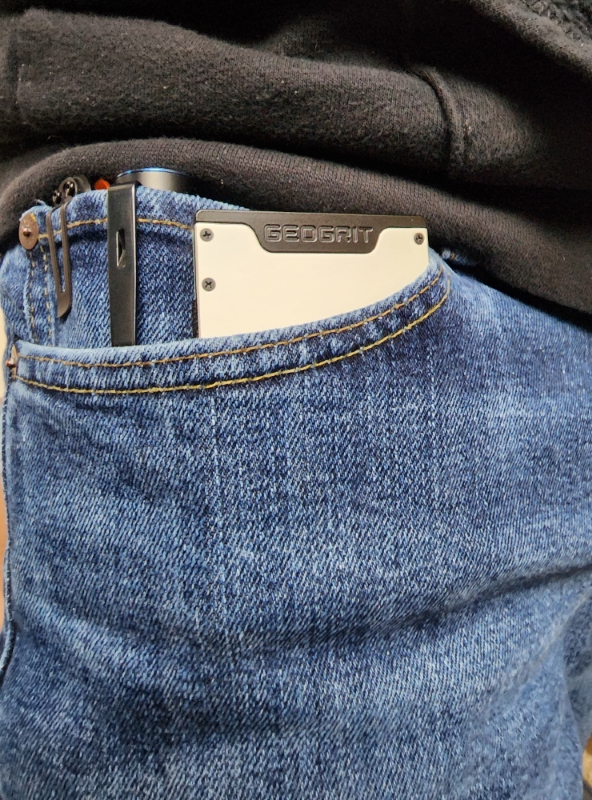 REVIEW – Front pocket wallets are a great way to lighten the EDC load, and an all-metal wallet has inherent security benefits.  GeoGrit is a newcomer to the scene and its wallet offers a helpful twist on a tried and true format.
What is it?
The GeoGrit wallet is a front pocket, RFID blocking, minimalist wallet which is designed and manufactured in the USA.  GeoGrit offers their wallets in a variety of colors with either a cash strap or a money clip.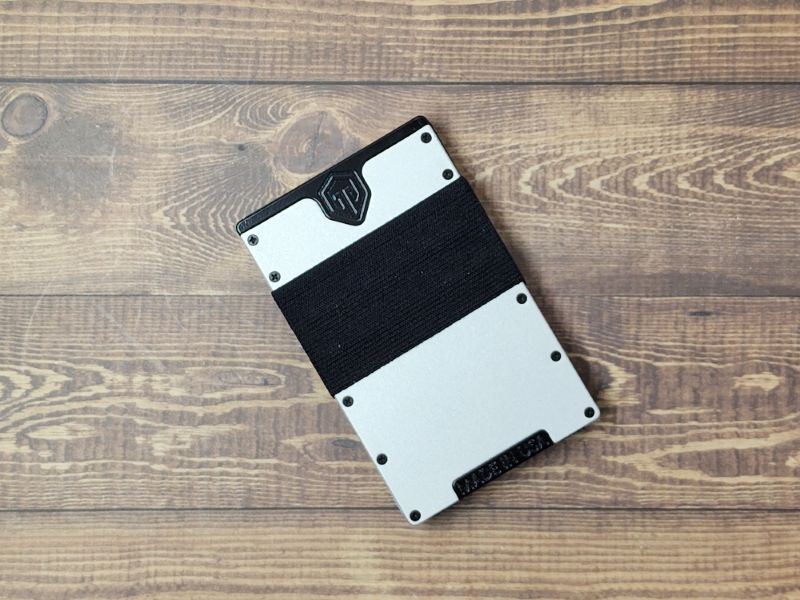 What's in the box?
GeoGrit Wallet

Concrete Grey, Cash Strap

Product insert
A sticker!

Hardware specs
GeoGrit provides base specifications for the wallet without a cash strap or money clip, so I've included the specifications for the cash strap version.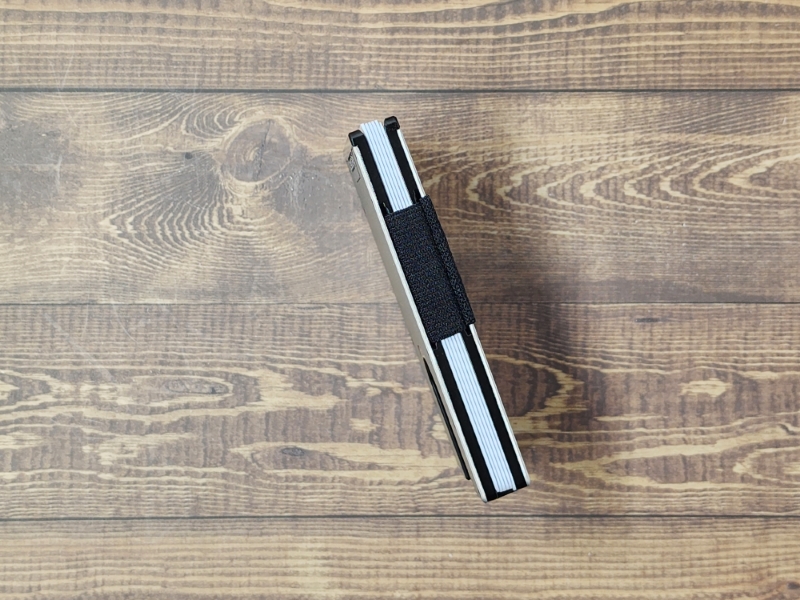 Material: 6061 Aluminum
Weight: 1.6 oz

Weight with cash strap: 2.4 oz

Dimensions: 3.38 x 2.12 x .26 inches

Height with cash strap: .32 inches (empty)
Height with cash strap: .81 inches (12 cards)

Max card capacity: 12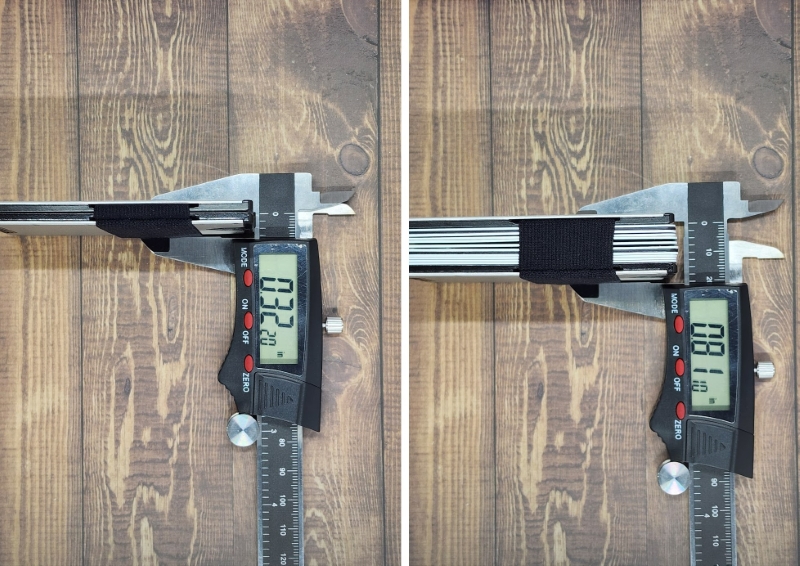 Design and features
The design of the GeoGrit wallet is thoughtful and well executed.  Using two aluminum shells connected by an elastic strap, the wallet is very slim and friendly to the front pocket.  Aluminum also has the added benefit of blocking RFID signals which eliminates an attack vector from someone trying to read your card data without your knowledge.  If you're one to carry your work badge in your wallet, it's also worth noting that it likely won't be scannable while being carried in the GeoGrit.
At face value, this may look similar to the popular Ridge wallet, but there is a major design difference with the card deployment.  While both wallets allow you to 'fan' the cards by pushing them out from the bottom and pinching the wallet, the GeoGrit has a vertical deployment, and the Ridge deploys horizontally.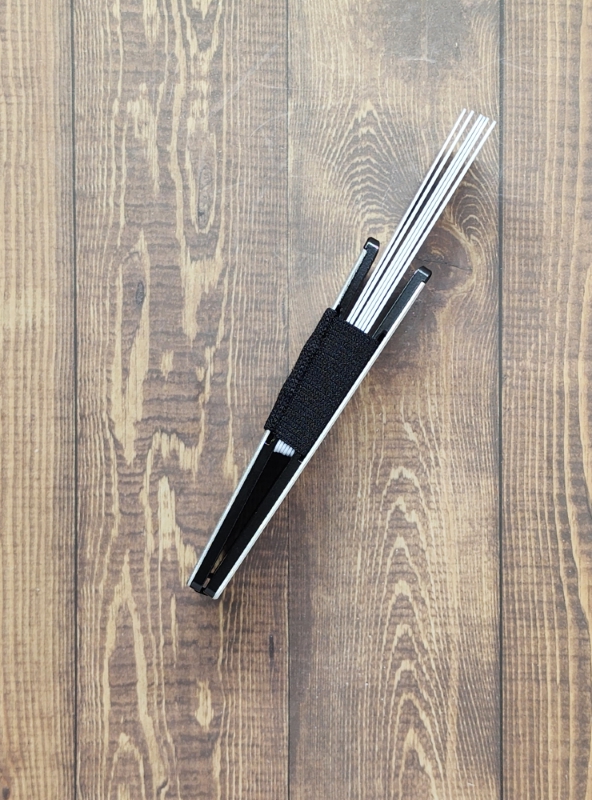 It may not sound like much of a difference, but in practice, I found this made card deployment on the GeoGrit much easier.  On my Ridge wallet, I need two hands to hold the wallet and deploy the cards, but on the GeoGrit I can do it one-handed.  Also, because of the size of the thumb slot, I can easily slide the top card out.  I've started carrying my most often-used card in that position.  On the Ridge it didn't matter, since I couldn't reliably control the deployment – I had to deploy them all and fan them out to get the one I wanted.
A nice touch here is the silicone 'grippers' added to the cash strap where the money would be in contact with the strap itself.  Even with just a bill or two, I have no reservations about relying on this to keep my cash secure.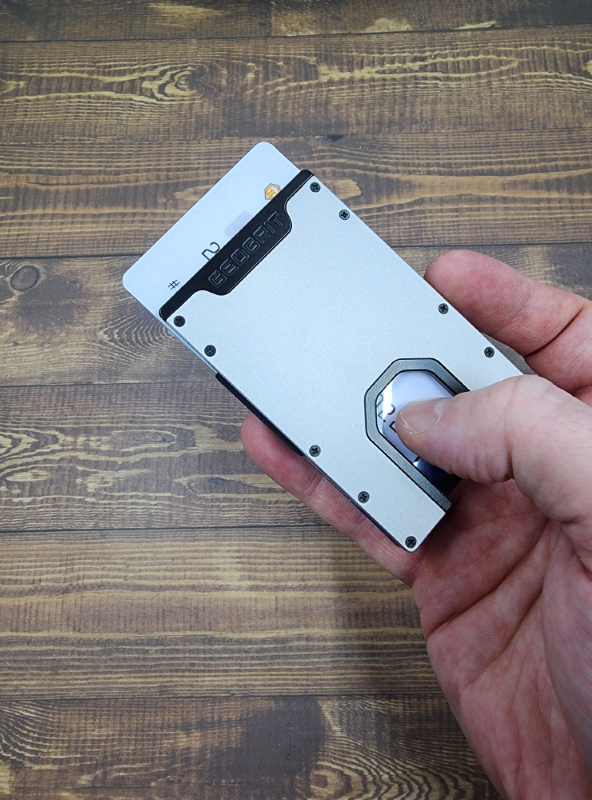 The design of the wallet makes it inherently repairable.  The outer shell is affixed to a plate with typical crosshead machine screws, and the two plates are kept together with a large elastic band around the center.  Two smaller bands are found on the bottom.  All of these parts are accessible easily.
Unfortunately, I could not locate replacement parts on the GeoGrit site.  I reached out to them via the contact form on their website and got a very friendly, same-day response.  At the time of this writing, GeoGrit does not offer the ability to purchase the outer shells separately but suggested it may be considered in the future.  They reminded me of their lifetime warranty – which is nice, but I think it would be a great option to purchase different shells if you ever wanted to change up your EDC gear theme.  We don't judge here if you like to keep things color-coordinated!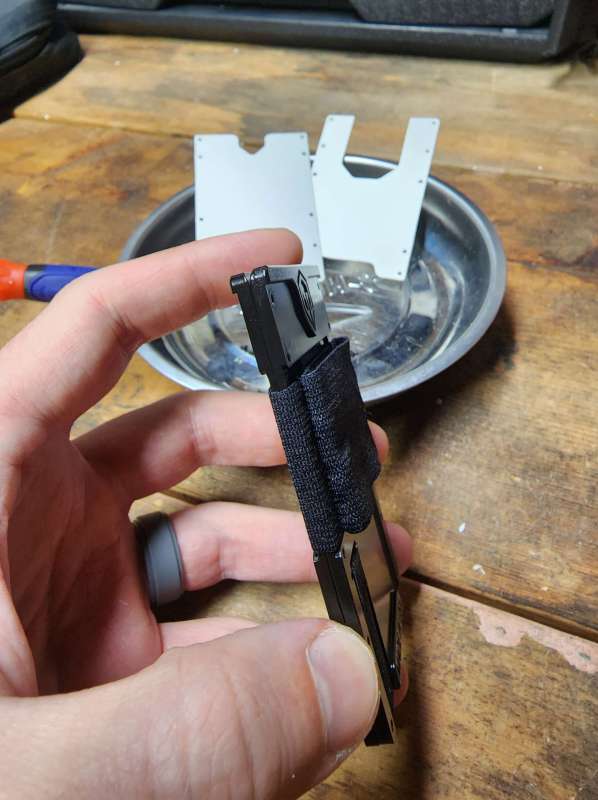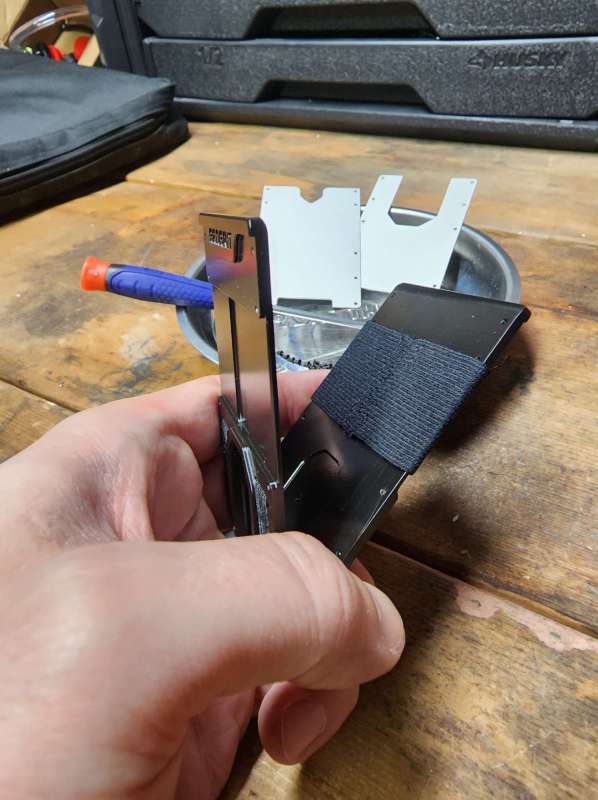 What I like
USA made – materials and craftsmanship are top notch
Lifetime warranty
Card deployment is excellent for this style of wallet

What I'd change
The elastic can develop pilling if in regular contact with Velcro.  A different material to secure the shell halves could solve that issue.
Offering replacement shells would be the icing on the cake.
Final thoughts
GeoGrit has a winner here.  I was pleasantly surprised by the quality of life improvement I uncovered with the vertical card deployment.  This ticks the boxes as a comfortable front pocket wallet with excellent craftsmanship.  I really hope GeoGrit makes replacement shells available to give users the ability to adopt their wallet to changes in style or preferences over time – coupled with the lifetime warranty, that would make this an end-game wallet.
Price: $95.00
Where to buy: GeoGrit Store
Source: The sample of this product was provided by GeoGrit