We use affiliate links. If you buy something through the links on this page, we may earn a commission at no cost to you. Learn more.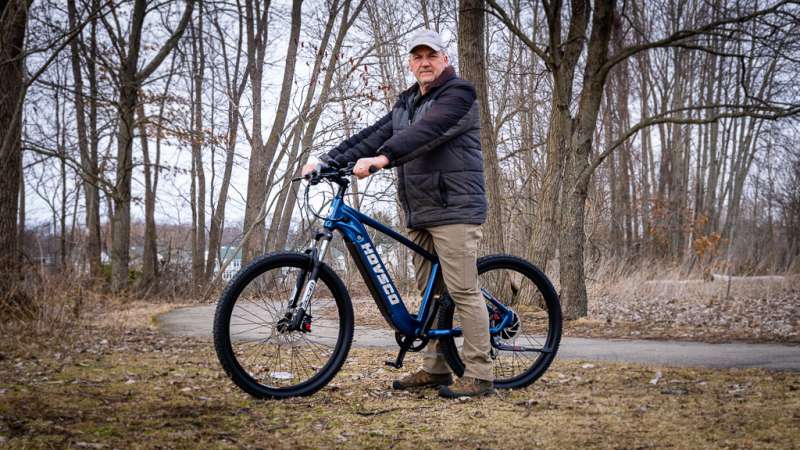 REVIEW – I love zooming around on a bike. However, I need to be more in shape, and a few hills around where I live can make an otherwise enjoyable ride a bit of a chore. Along came the HOVSCO HovRanger Electric Bike, and I'm back in business!
What is it?
The HOVSCO HovRanger Electric Bike is a 7-speed, 27.5″ adult ebike with a 500W electric motor with torque sensor.
What's in the box?
HOVSCO HovRanger Electric Bike
Tool kit
Charger
Instruction manual
Hardware specs
500W Peak 970W Motor
Torque-sensing assist feature
48V 15Ah LG Battery
40 to 60 mile range
Max speed 28mph
Total Length: 72.6″
Wheelbase: 45″
Max seat height: 40.6″
Payload capacity: 300lbs
Design and features
The HOVSCO HovRanger Electric Bike came almost 85% pre-assembled. I was planning on assembling it outside, but after a long period of not snowing, it started to snow the day the bike arrived. That was a real buzz kill.
The bike was packaged very well and even had a nice cloth bag over the seat, which I later decided to use as a carry bag for the charger and tools. Assembly primarily involves attaching the handlebars, front tire, kickstand, and pedals. The directions were clear, and most of the assembly was common sense. There is also a Youtube video showing how to assemble the bike.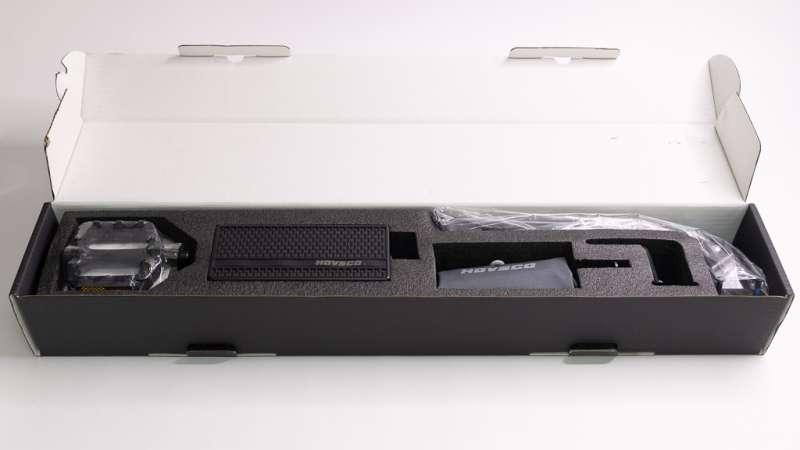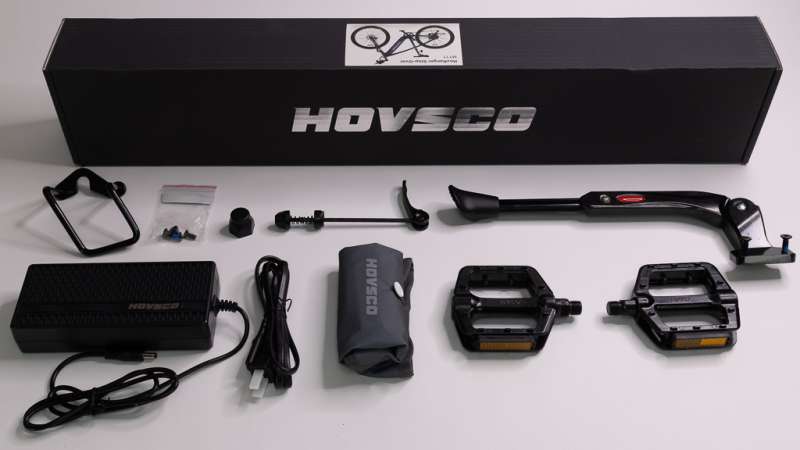 I chose the Step-Over model in the Indigo color scheme. It looks terrific with the slightly metallic finish. Featuring a 500W high-speed BAFANG SUTTO brushless motor and 65Nm torque sensor, the HOVSCO eBike outperforms cadence sensor e-bikes.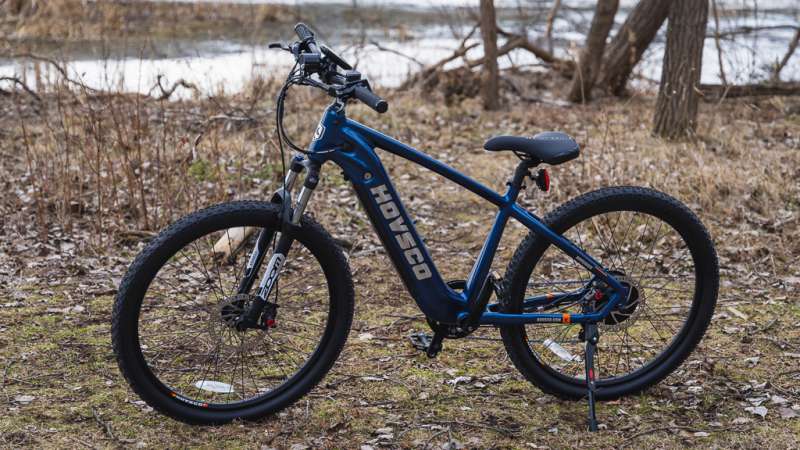 The removable 48V 15Ah (720 wH) LG Lithium-Ion battery provides up to 40 miles of range, 60 miles of range on pedal-assist mode, and recharges in as little as 4 hours. The battery can be recharged before it's depleted without harming its capacity. A 120 LED flashlight is built into the battery, providing a useful light source for camping or repairs.
Three light modes also make the light handy in an emergency. There is also a battery level indicator on the battery so you can check the charge when the battery isn't in the bike. The battery can also be charged in or out of the bike by simply plugging it in. The battery is quickly moved by turning the key and a knob, making it easy to take inside to charge.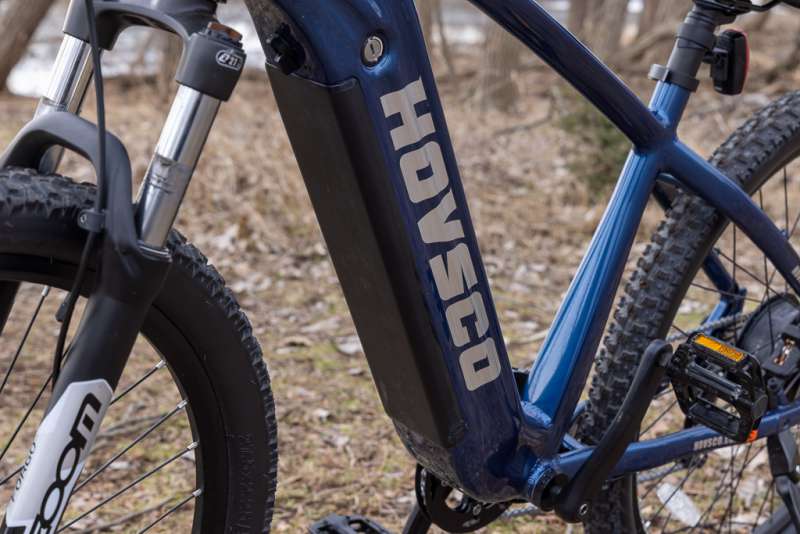 The HOVSCO eBike is the first bike I've owned with disc brakes. The professional front and rear 180mm hydraulic disc brakes perform very well in all conditions. The dual hydraulic front suspension fork provides a smooth and comfortable ride. However, there is no rear suspension.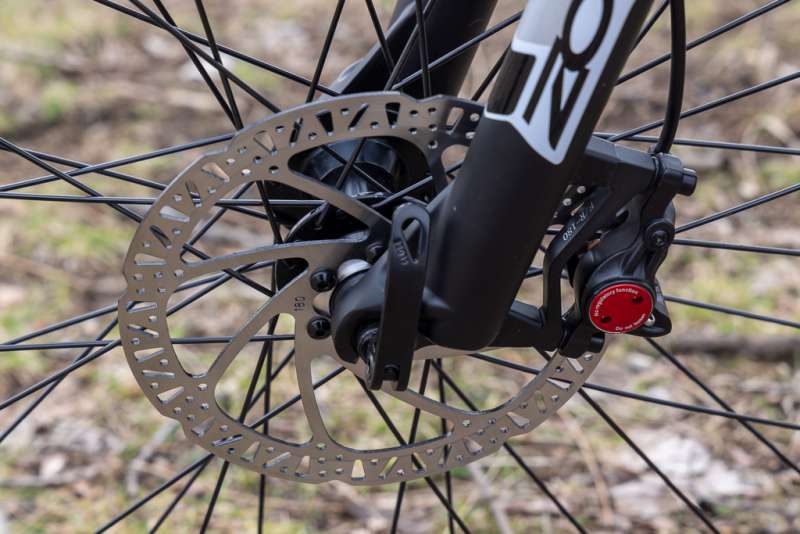 The SHIMANO 7-speed transmission system provides a decent range of gear ratios. However, I found myself just leaving it in 7th gear most of the time, as the pedal assist made it easy to get going from a dead stop. This made riding much more enjoyable, as I didn't have to downshift when coming to a stop. The bike also has an on-demand throttle lever, so you can even use the bike without pedaling at all. I got the bike up to 27mph, but that was pedaling pretty fast. It could use a few more gears, but I don't think the motor could keep up if there were.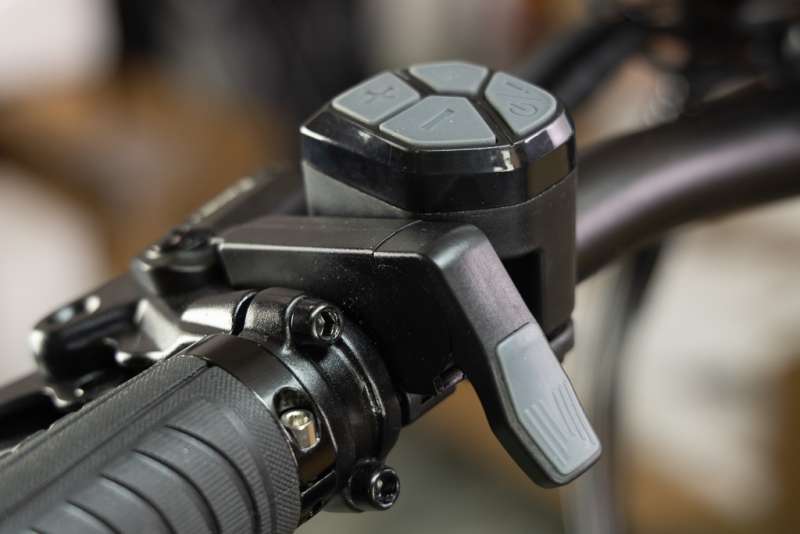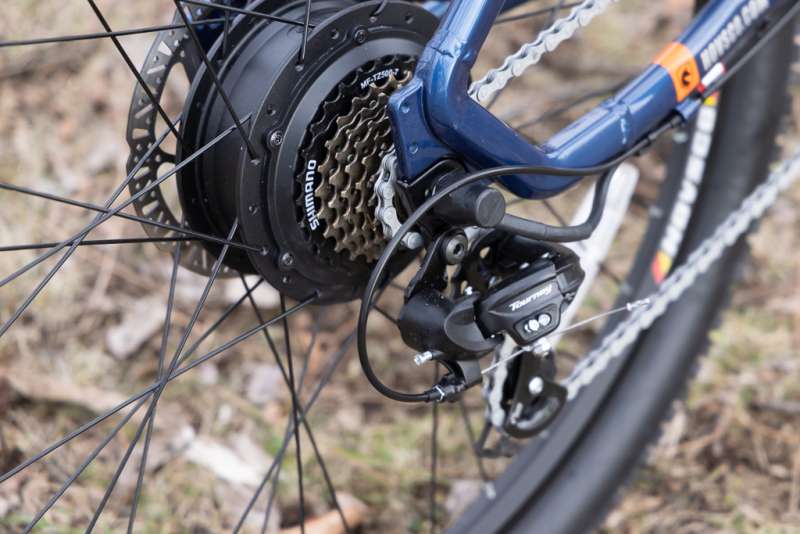 The HOVSCO Electric Bike has a nice LCD display that shows headlight on/off, bluetooth status, battery level, pedal assist level, speed, pedal assist output, and a trip and total odometer. The pedal assist output shows a bar indicator showing how much the motor is helping when you are pedaling.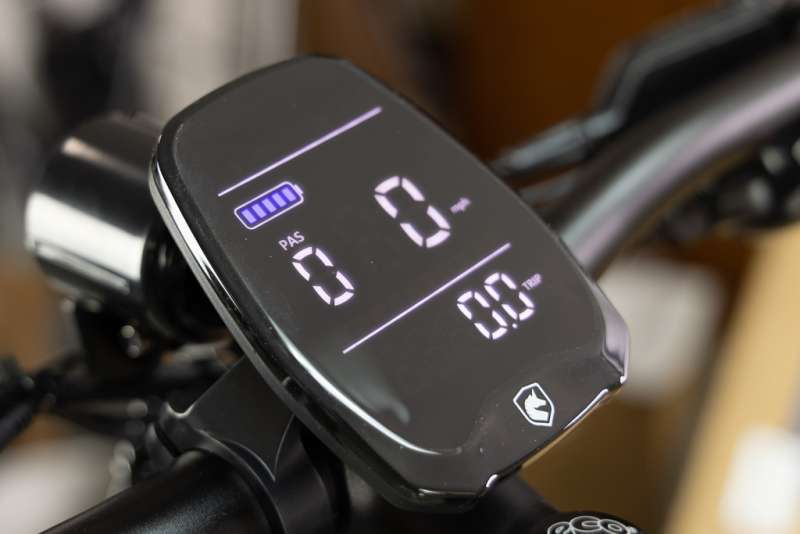 The headlamp is very bright and illuminates well. The rear light is just a solid red light. I would have preferred to see a rear light with a blinking feature, but I'm not all that familiar with what is standard on bikes. There is also reflective striping on the tire sidewalls too.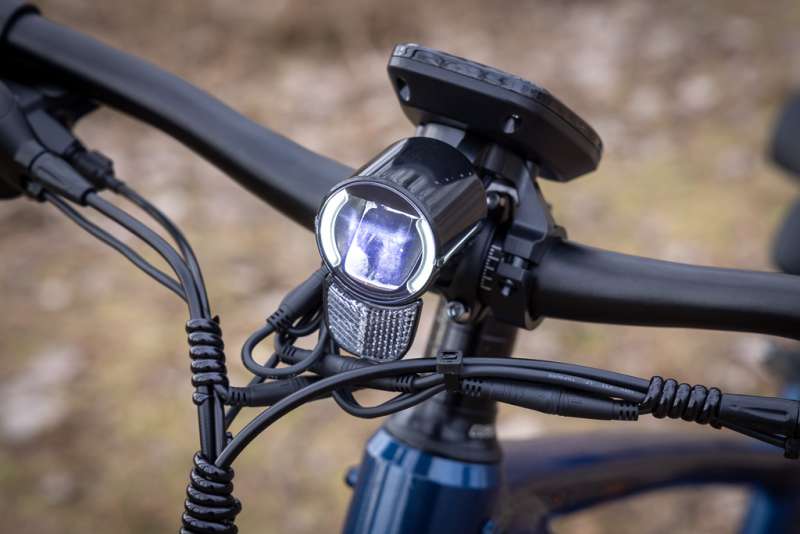 The handlebar grips were odd for me at first, not having had any like that before on a bike. However, I grew to really like them after a bit of use. The throttle is on the left, which was odd at first, but then it occurred to me that most bikers are used to having the shift lever on the right, so an eBike throttle on the left makes the most sense. A short press of the power button switches between the trip and the total odometer.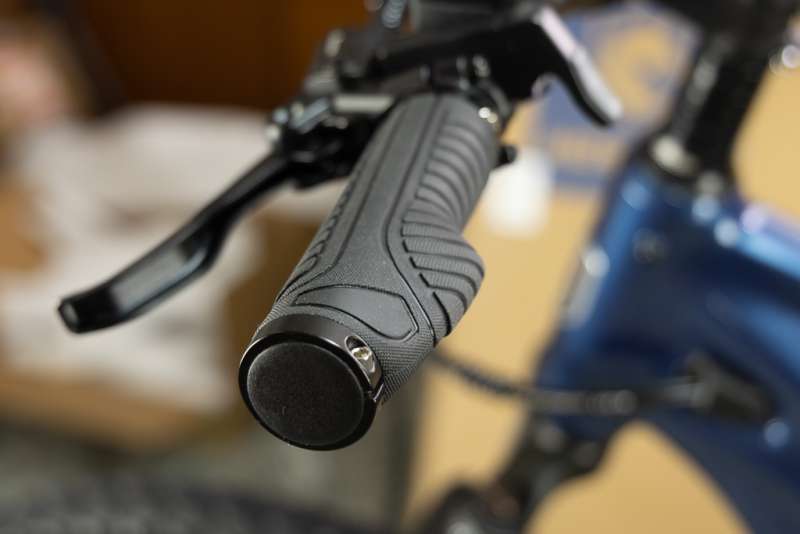 I tested the uphill capability on a small hill. I started the hill at 19mph, and the bike maintained 16mph up the hill. This was much better than I anticipated, and that was without any pedaling. I was able to go up all of the hills around my house without having to pedal to assist the bike. This will make going up very large hills much easier!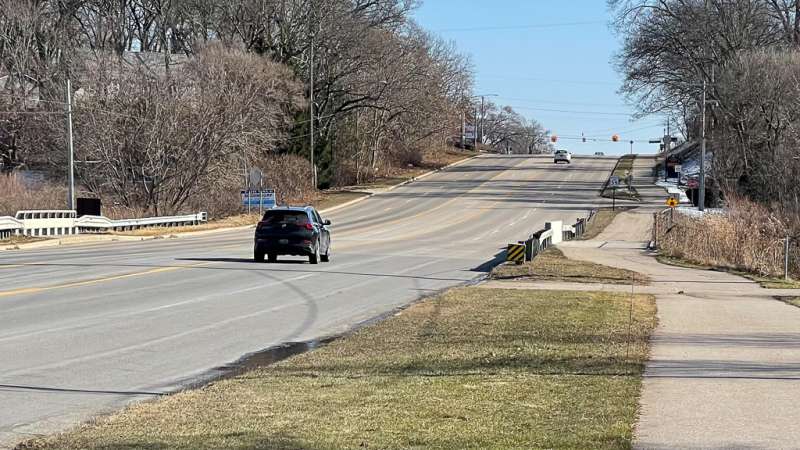 The bike comes as a Class 2 eBike, but once you connect the HOVSCO App you can upgrade it to a Class 3 by just checking a box in the settings. The app provides basic stats and mileage. I found it easy to use, but it doesn't have a lot of features.
What I like
Fun to ride
Easy to assemble
Great range
What I'd change
The app could use some work
The rear derailer guard isn't pre-installed
Final thoughts
Overall, I've had a blast zooming around on the HOVSCO Electric Bike. It's easy and fun to ride, and the range is just fantastic. The bike is also quick to recharge, and it looks great too. I can't wait for summer to arrive so I can go on some longer trips. This will definitely help me get out more and be more active.
Price: $1499.00
Where to buy: Amazon
Source: The sample of this product was provided by HOVSCO.