We use affiliate links. If you buy something through the links on this page, we may earn a commission at no cost to you. Learn more.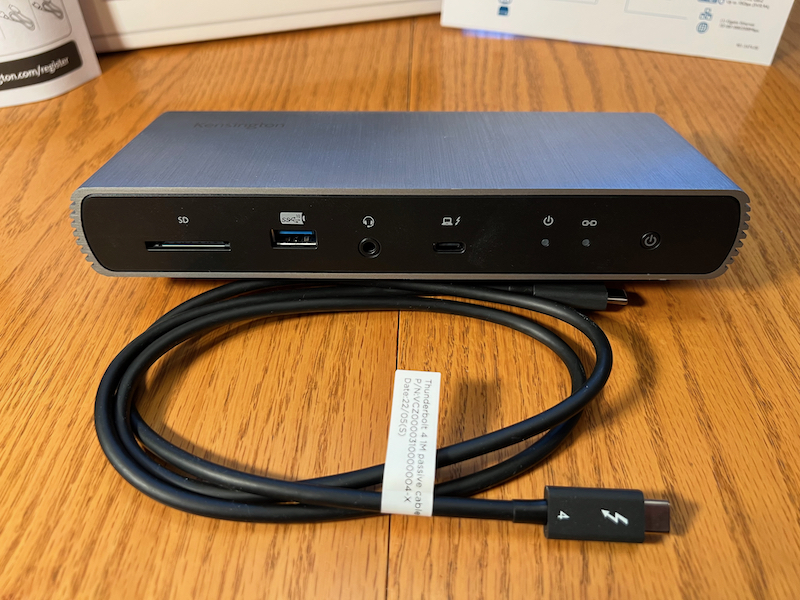 REVIEW – Thunderbolt has taken off as the de facto standard for connecting Macs, Windows PCs, and even iPads to a number of external accessories in the last several years. The recent update to Thunderbolt 4 has allowed docks to support even more speed and port options than ever before. Kensington has long been a well-regarded computer accessory manufacturer and with their latest dock, the SD5780T, they continue to lead the pack with port options, speed, and capabilities.
What is it?
The Kensington SD5780T Thunderbolt 4 Dual 4K/6K Docking Station is a Thunderbolt dock with 11 ports for connecting a computer or iPad with multiple external devices, all with the highest speed or quality level available in each port.
What's in the box?
SD5780T Dock
ThunderboltTM 4 passive cable (1m)
Power Supply Unit (180W)
Instruction Guide
Warranty Card
Compliance Sheet
Welcome card insert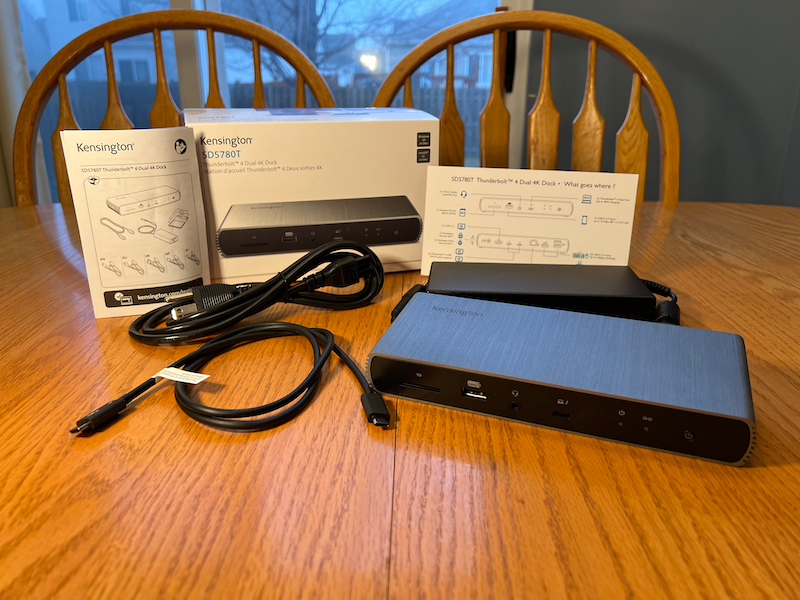 Hardware specs
Connection Technology: Thunderbolt 4
Card Reader: SD Card Slot (UHS-II, SD4.0)
Data Transfer Speeds: Supports up to 40Gbps data transfer speed
USB-C Power Delivery: Supports USB-C PD 3.0 (96W of laptop charging)
Video Ports: HDMI, Thunderbolt 4
Additional Screen Outputs: 2
4K Support: Yes
Maximum Resolution: 8K
Audio: 1 x 3.5mm Combo Microphone & Headphone Port (front)
Ethernet Speed (Mbps): 10, 100, 1000, 2500
Best For: Thunderbolt 4, Thunderbolt 3, USB4, and USB-C devices running Windows 10 or later, or macOS 11 or later
Operating System(s): macOS, Windows
Compatibility: Windows 10 or above, macOS 11 or above
Plug & Play: Plug & Play installation without need for drivers or downloads
Security Slot Compatibility: Kensington Security Slot, Kensington Nano Security Slot
Mounting Option: Optional Docking Station Mounting Bracket (K34050WW)
Warranty: 3 years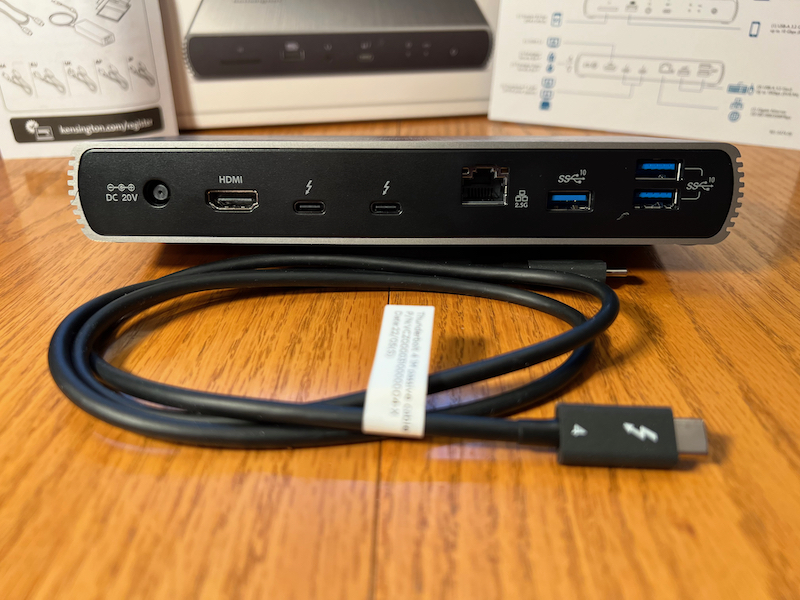 Design and features
The Kensington SD5780T docking station is made from aluminum that is similar in shade to Apple's Space Gray and black plastic on the front and back. It's relatively small for a full-size Thunderbolt dock, as compared to a travel dock; in fact, it's not much bigger than the included 180W power supply. This will mean it doesn't take up much space on your desk or work area. 
The dock features four ports on the front – an SD card reader, a USB-A 3.2 Gen2 port, a combination headphone/microphone jack, and the Thunderbolt 4 host port (the one that connects to your computer or iPad). Also on the front are two LEDs – a red one to indicate that it is receiving power from the power supply and a blue one to indicate a connection to the host computer. On the right is a power button.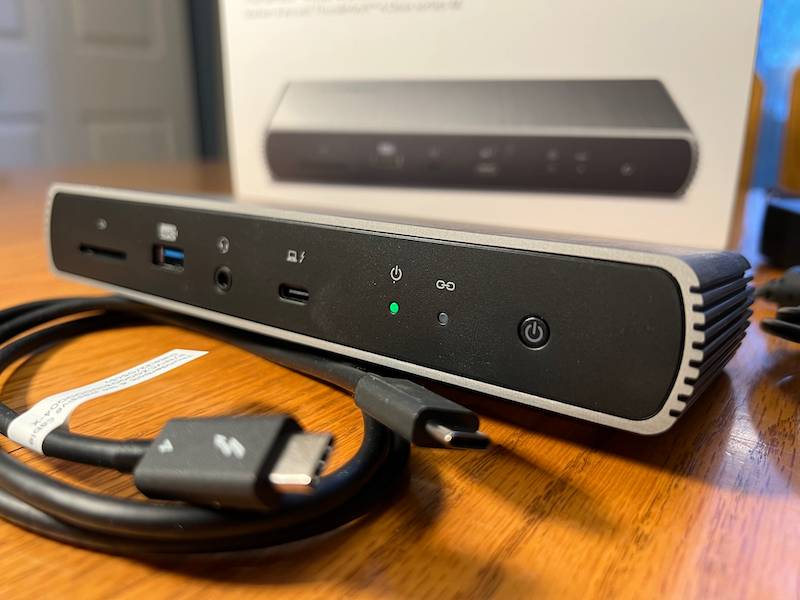 On the back are seven ports, plus a power connector. The seven ports are HDMI 2.1, two Thunderbolt 4 ports, an ethernet, and three USB-A 3.2 Gen2 connectors. 
On the right side of the Kensington SD5780T docking station are two Kensington lock slots, one standard and one the newer nano size. On the bottom are four rubber feet to help keep the dock in place, a serial number and MAC address for the ethernet port, and a QR code that includes the serial number, presumably useful for registration or tech support purposes. The top is all brushed aluminum other than the printed Kensington logo.
Installation and setup
Other than taking all the parts out of the box and connecting the power supply and cables you want to use, there is nothing else to set up. There are no drivers required to use any of the features of the dock. All input and output ports work at their highest speed out of the box. The only software that you might want to install is Kensington's DockWorks. This software can be set to turn off WiFi when the dock is connected, to ensure you're using the wired ethernet for the fastest network speed; it can also pass through your computer's MAC address instead of using the MAC address of the Kensington SD5780T docking station, as well as some other corporate IT related features. I chose not to install the software because I don't need any of these features and I prefer to manually set my network settings, but if you work in an environment where these features would be helpful it's available as an option.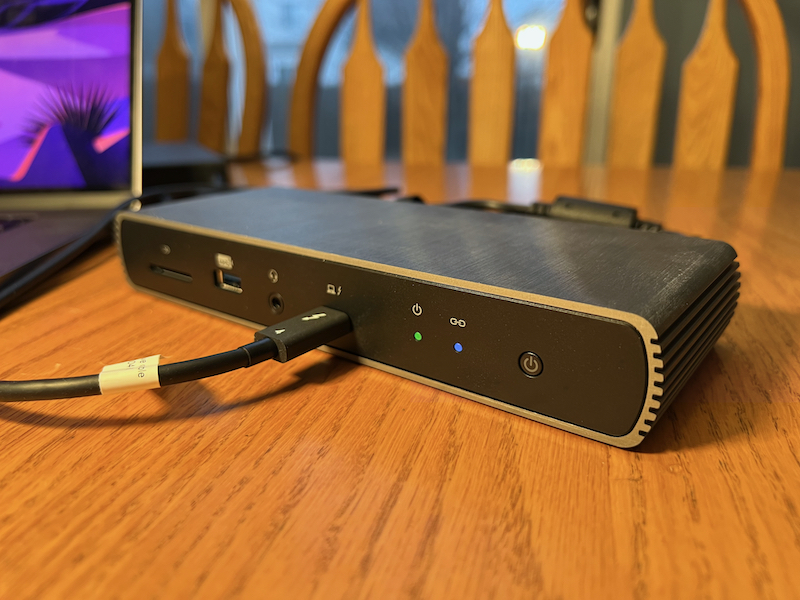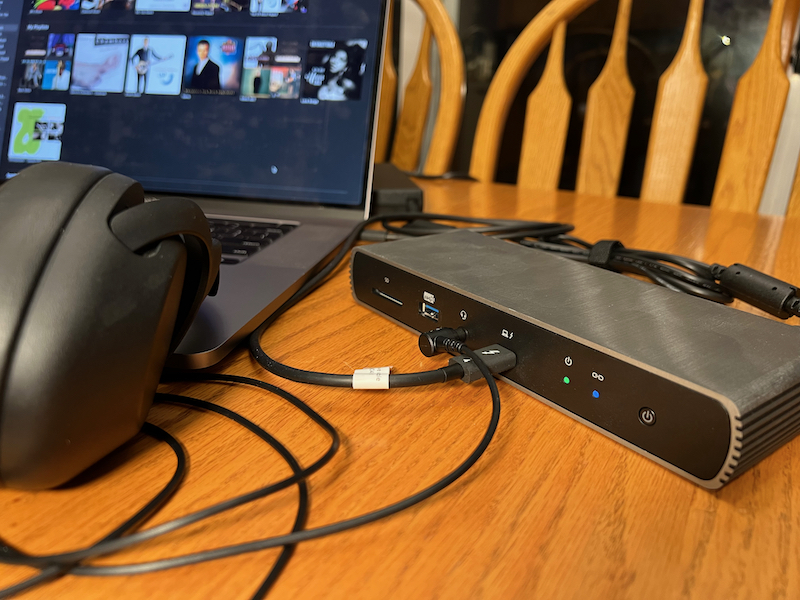 The printed instruction guide and the diagram on the back of the welcome card are very helpful in knowing what each port does and the speeds they support. Most everyone should be able to use this dock to its fullest extent without needing any other information.
In use
Since I'm primarily a Mac laptop user I'm in constant need to power my laptop, connect it to wired networks and external drives, and connect it to one or more external displays, depending on whether I'm at my desk, running a presentation, or recording audio. I always keep a USB-C hub in my backpack and at my desk, including the two I reviewed here and here, but this dock includes a power supply to charge my laptop, as well as all the other ports I need vs. a more limited portable hub. 
At home the Kensington SD5780T docking station is useful because I can have it connected to multiple devices – displays, drives, my home network, etc. – and keep it all plugged into the computer with one Thunderbolt cable. When I want to pack up my laptop to take it to work or on a trip, I just have to unplug that one cable and take it with me. At work, this dock would be invaluable for the multiple presentations, audio recording, and lighting control Macs that we use. All of them need to be connected to at least one external display, either at the desk where the computer is or to a projector or TV for presentation purposes. They also all need to be connected to hard-wired ethernet for the fastest and most reliable network connection, as well as external drives for media storage and backup, and other peripherals such as wired mice and keyboards (don't want wireless accessory batteries dying in the middle of an event) and other USB-connected peripherals. I can buy adapters to interface with any of those one at a time but a dock like this allows me to connect to all of them simultaneously with one Thunderbolt port, leaving the other Thunderbolt ports on the Mac available for even more accessories. Add to this the fact that the dock has two Thunderbolt 4 output ports and I can connect the fastest external drives and even more peripherals. The possibilities are endless.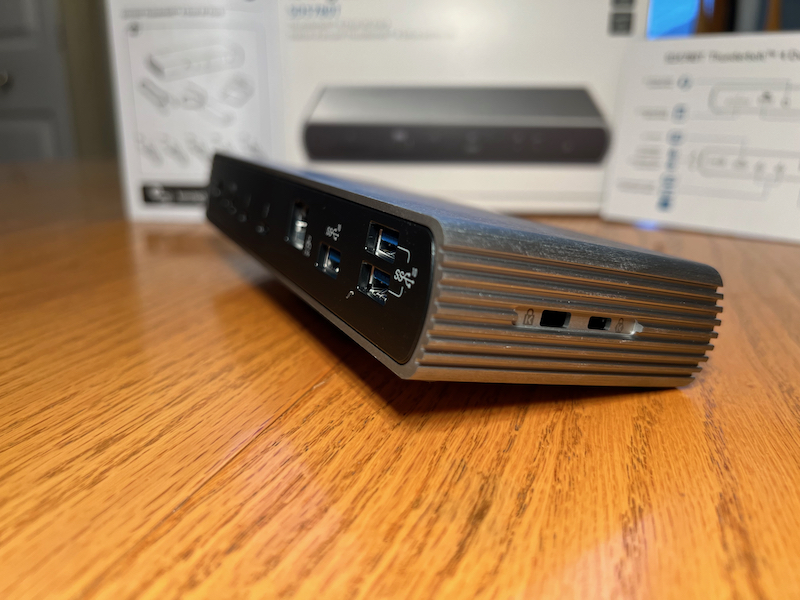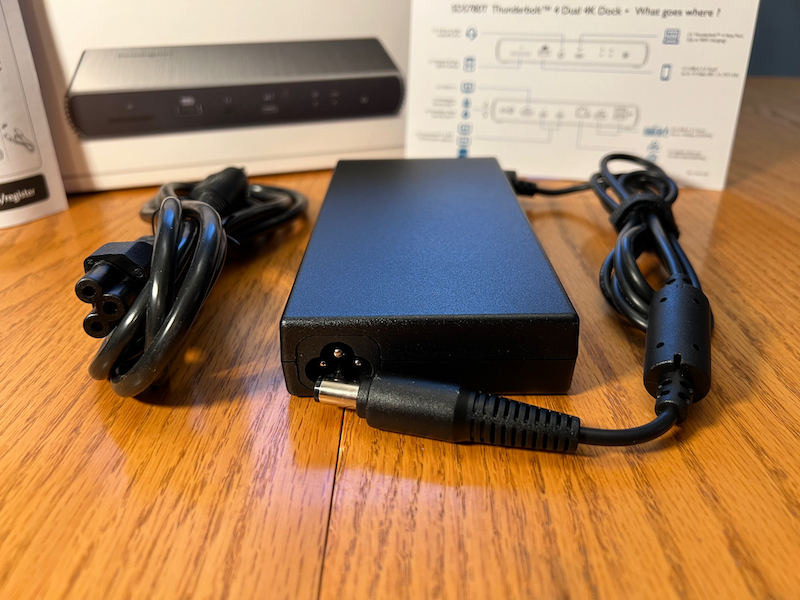 For the external drives and other accessories, I tested I was able to reach the expected speeds and confirm that everything works as advertised. Power to my 16" MacBook Pro was the full 96W that it can handle (this does not support the 140W charging speed available with the new M1 or M2 MacBook Pro models), drives transferred data as fast as when they were directly connected to my laptop, ethernet was as fast as my internet connection can handle (200 MB symmetrical – I didn't have another hard-wired computer at home to test the full gigabit or 2.5-gigabit speed), even the headphone jack works as expected.
For the video output tests, I confirmed that the HDMI port and both Thunderbolt ports on the back are capable of outputting 4K at 60 Hz. I don't have multiple 4K capable displays to test this with but I did have two small TVs and I was able to get them both connected for a three-display setup including my laptop's screen. This is how I hope to set up a new workspace I'm planning for my basement so I was happy to see that this combination of screens worked. I was able to get these TVs hooked up using the HDMI port and one of the Thunderbolt ports, as well as using both Thunderbolt ports, one with an HDMI adapter, the other with a USB-C hub. I wasn't sure I could use a USB-C hub like this but surprisingly it worked. I didn't test any of the other connectors on the USB-C hub but I assume they would work as well, for even more USB-A ports and another ethernet connection if necessary.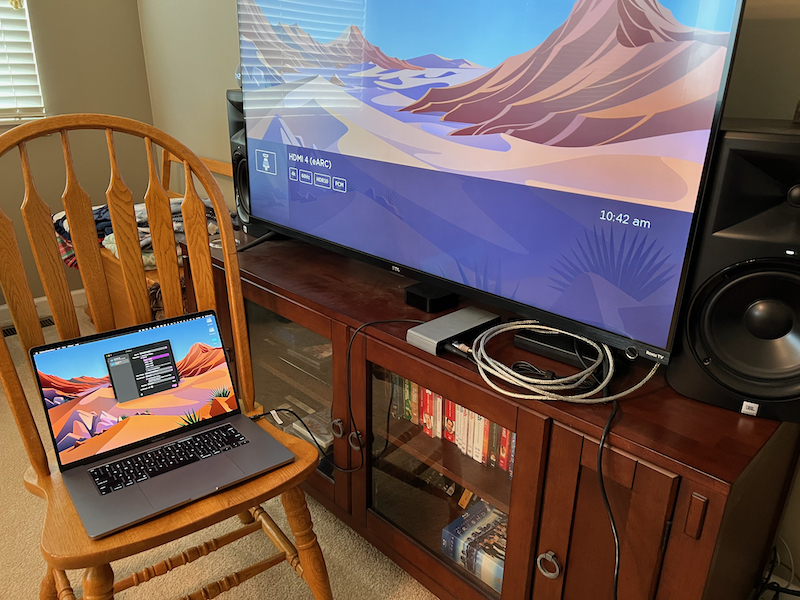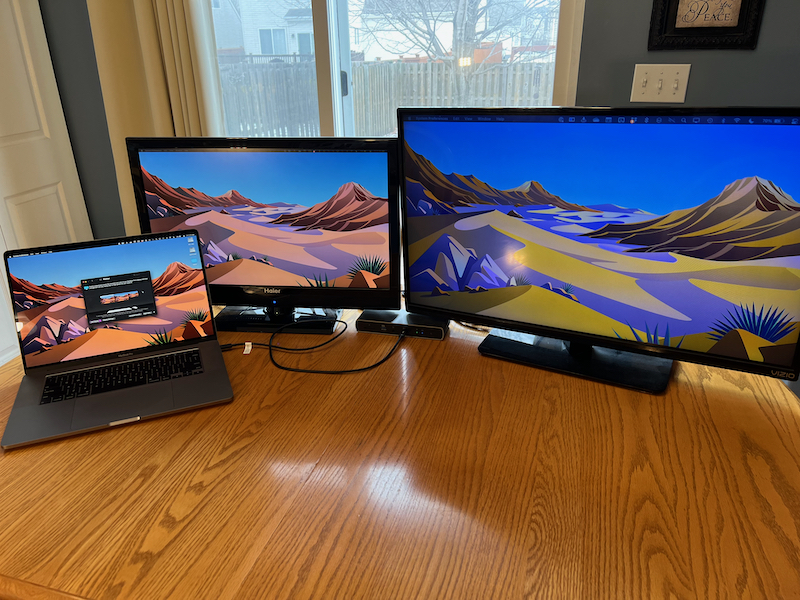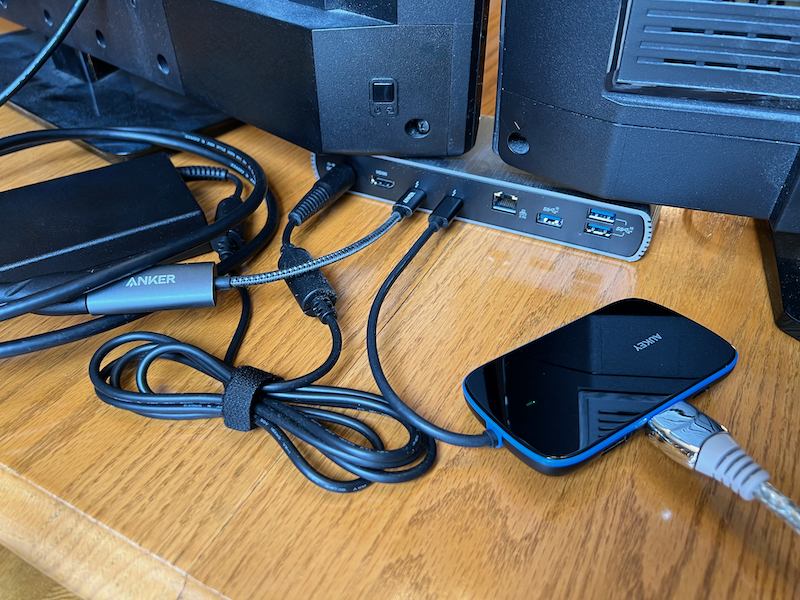 In testing, I felt the Kensington SD5780T docking station get slightly warm when idle. I suppose it might heat up a little more while transferring a lot of data or when connected to multiple displays but since the case is mostly a solid aluminum heatsink I don't think this will be a problem with prolonged use.
If I had to bring up something negative about this dock it would be that the Thunderbolt host port (the one that connects to the computer) is on the front. I would prefer to keep the front for things I only need temporarily or on an infrequent basis – an SD card, a USB thumb drive, a pair of headphones – rather than the main connection to the computer that always needs to be plugged in. Having this port on the back would help keep the desk or work area neater. I wouldn't choose not to buy this dock because of this but if I'm choosing between multiple docks that otherwise have the same feature set and the main port is on the back, I might choose the other one.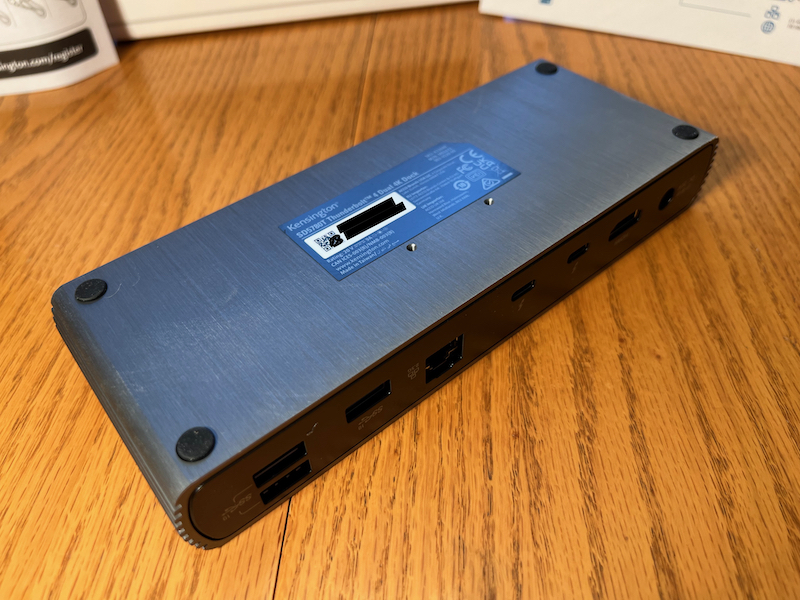 What I like
Multiple Thunderbolt 4/USB-C outputs, in addition to the host port
96W power to host the computer
Included Thunderbolt 4 cable (and they printed a lightning bolt and the number 4 on it to help identify it)
All ports work at their current maximum available speed (except the USB-C PD charging output for newer MacBook Pros)
What I'd change
Put Thunderbolt 4 host port on the back
Final thoughts
This is the best, most capable Thunderbolt dock I've ever used, and one of the best available on the market. If you need to connect a lot of peripherals to a laptop or desktop (or even an iPad), you can't go wrong with the Kensington SD5780T.
Price: $399.99 from Kensington, $284.79 from Amazon
Where to buy: Kensington and Amazon
Source: The sample for this review was provided by Kensington. For more information visit their site.