We use affiliate links. If you buy something through the links on this page, we may earn a commission at no cost to you. Learn more.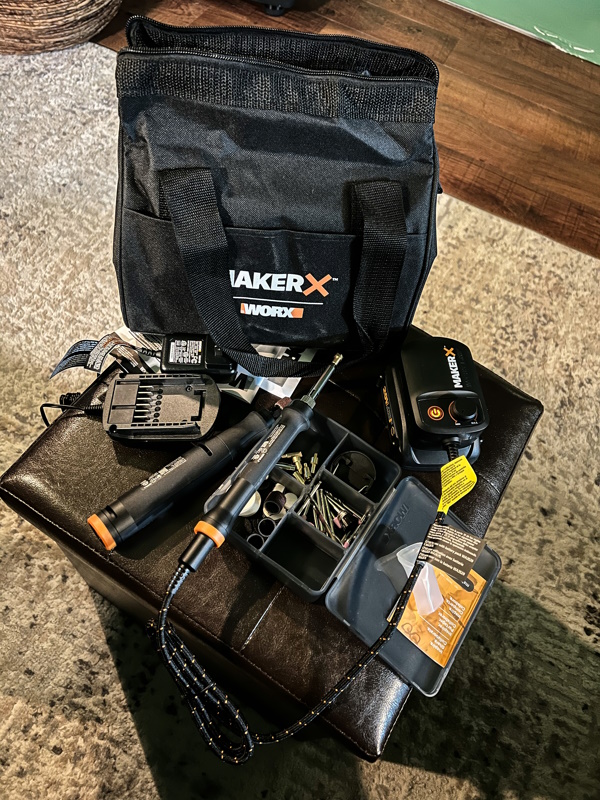 REVIEW – Tools, tools, and more tools. I should be known for saying that. As a DIYer, I hate having to work on anything and not having the most appropriate tools. So, whenever I get a chance to acquire more and different tools, I jump at the opportunity. I now get the chance to take a close look at this Worx 20V MakerX 2PC Rotary Tool + Wood/Metal Crafter Combo Kit. I own several Worx tools and I really like them and use them frequently. Let's see if this kit keeps me engaged as a Worx fan!!
What is it?
The Worx 20V MakerX 2PC Rotary Tool + Wood/Metal Crafter Combo Kit features 2  portable, powerful, and precise crafting tools. It puts the power you need into compact and ergonomic tools that you can take anywhere to make anything.
What's in the box?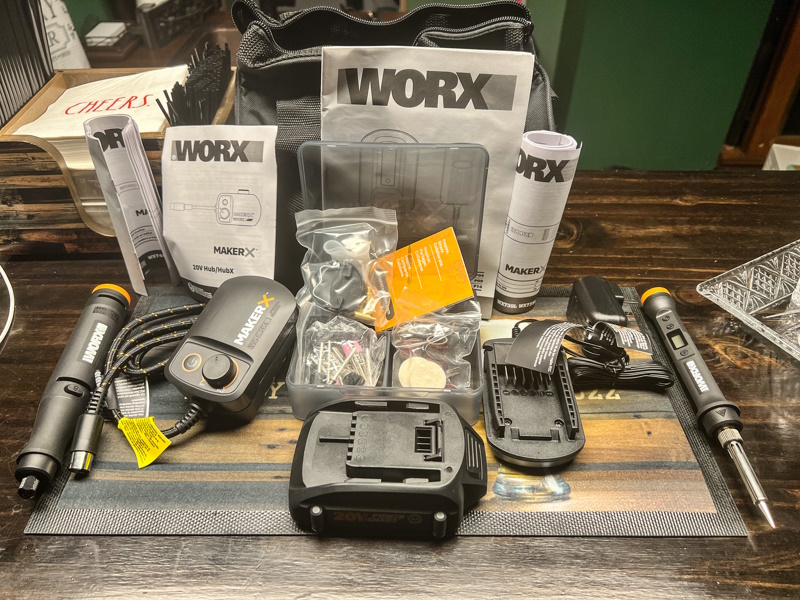 1 – Rotary Tool
1- Wood/Metal Crafter
1 – MakerX Hub
1 – 20V Power Share Battery
1 – 20V Battery Charger
1 – Accessory Case
1 – Carry Bag
1 – Steel Brush
1 – Bristle Brush
1 – Drum Mandrel
1- Cutting Wheels
1 – Sanding Accessories
1 – Polishing Accessories
1 – Grinding Accessories
1- Engraving Accessories
1- Screw-On Mandrel
1 – Threaded Mandrel
1 – 1 1/8 in. Drill Bit
1 – Spanner Wrench
8- Woodburning Tips
8 – Soldering Tip
8 – Silicon Comfort Sleeve
Hardware specs
Rotary Tool
Voltage: 20V MAX
Battery Capacity: 1.5Ah
Motor: Brushless
No-Load Speed: 5,000 – 35,000 RPM
Collet Size: 1/8 in. and 3/35 in.
Wood and Metal Crafter
Rated Voltage: 20V MAX
Power Input: 

45 W

Max Temperature: 

400°F- 900°F

Unit Weight: 

0.12 lbs.
Design and features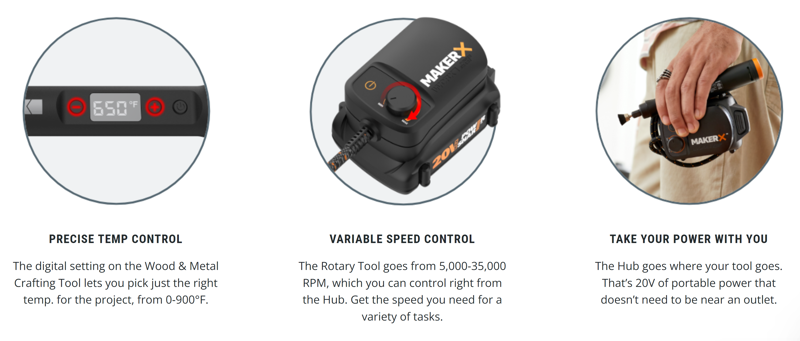 MAKERX multi-tool combo kit featuring rotary tool and wood-burning tool attachments.
The rotary tool accepts standard bits from all brands.
The rotary tool features a compact brushless motor providing more power and a longer runtime when compared to non-brushless motors.
Wood burning tool quickly reaches target heat in just 30 seconds.
The wood-burning tool features precise digital temperature control from 400°-900° F for wood, soldering, and metal crafting projects.
Both tools feature a micro-ergonomic design which enhances overall user control and comfort.
Hub + 4 ft. Flex Cord provides 20V of Power Share performance—compatible with every tool on the MAKERX platform.
Multi-tool combo kit includes 54 accessories, a storage bag, an accessories storage case, a 20V Power Share battery, a charger, and the MAKERX Hub.
The Worx 20V MakerX 2PC Rotary Tool + Wood/Metal Crafter Combo Kit includes tools that are made of mostly plastic/ABS with the exception of the bits that are made of materials based on their intended use. The kit includes a battery and charger and a hub that powers the actual tools. The tools connect to the hub via a 3-prong connector that is at the end of the hub's 4-foot cord. On the handle of the crafting tool, there is an LCD display that shows the temperature along with an on/off button and 2 additional buttons for controlling the temperature to increase or decrease degrees.  Both tools offer easy screw-on/off actions to change attachments. The Rotary tool has a chuck lock in the center of the handle of the tool that allows you to lock the chuck to tighten the attachment. Worx includes a set of assorted bits and a silicone sleeve for the crafting tool.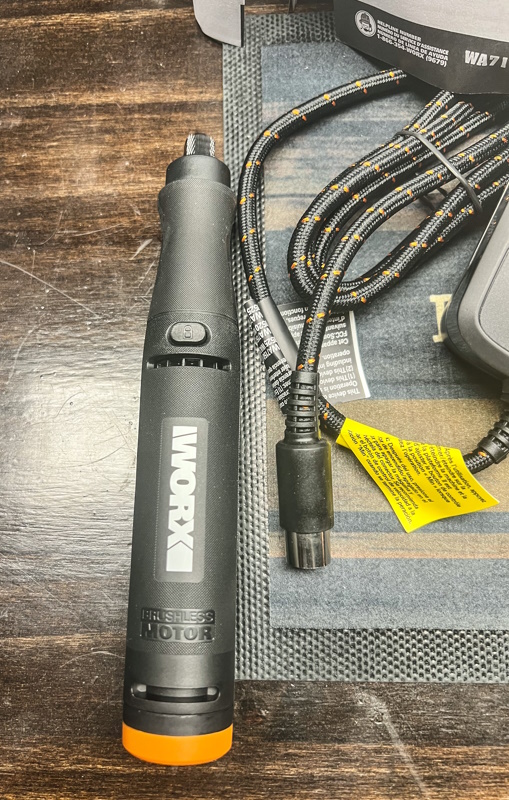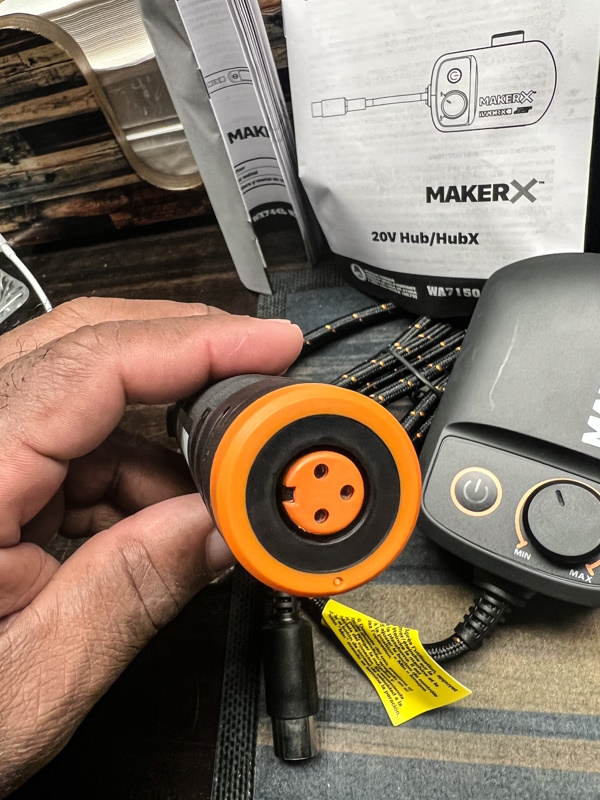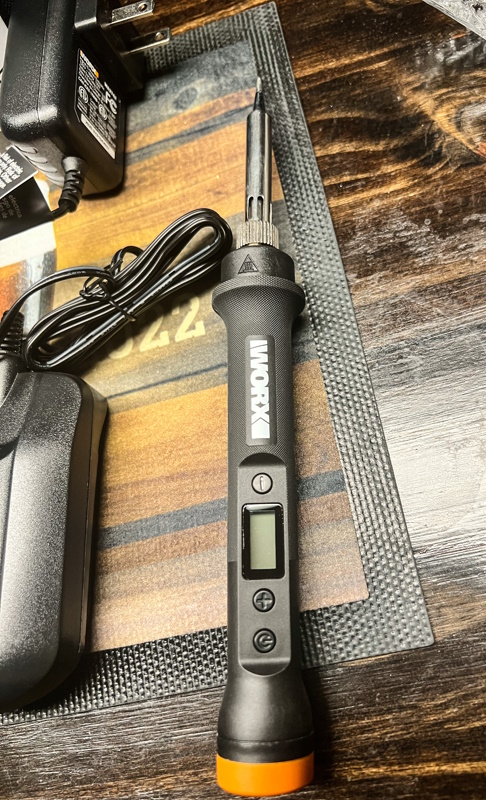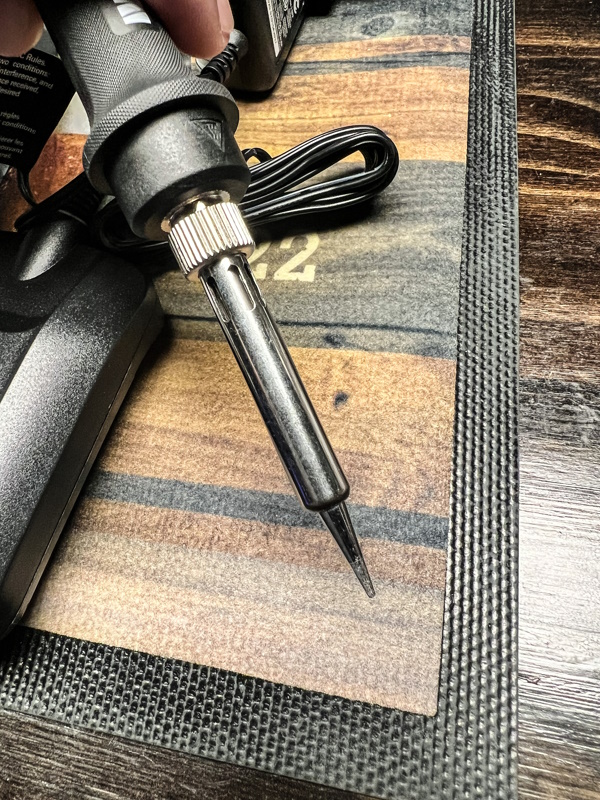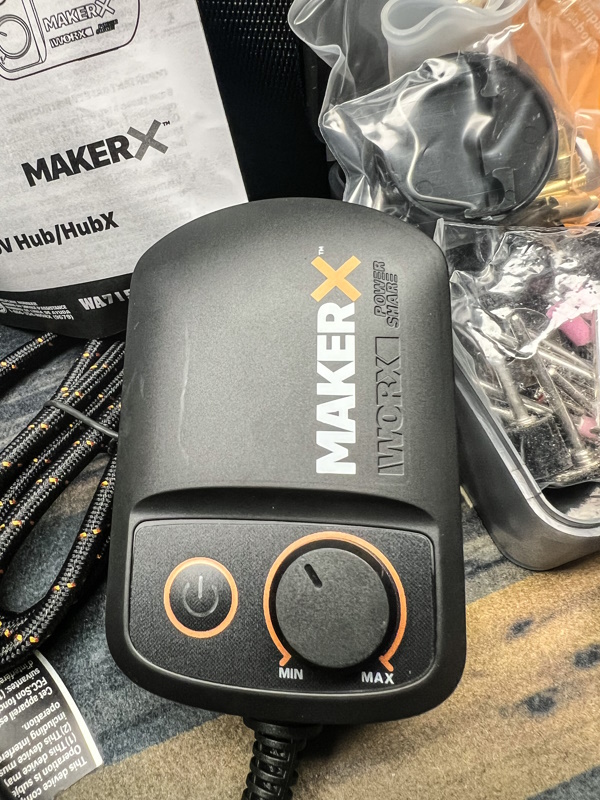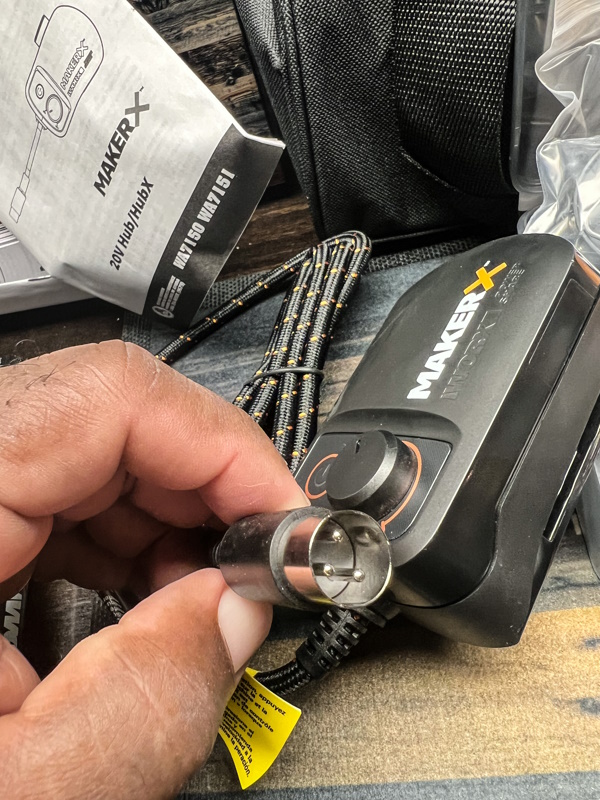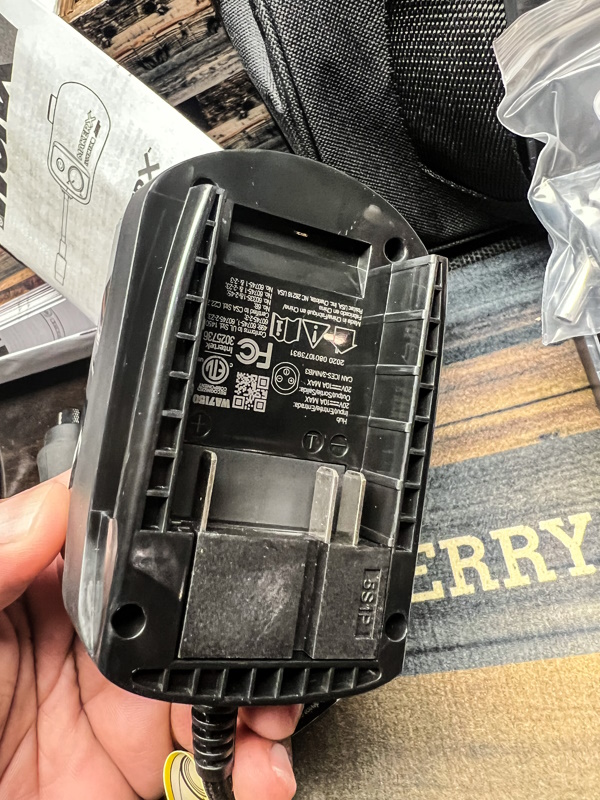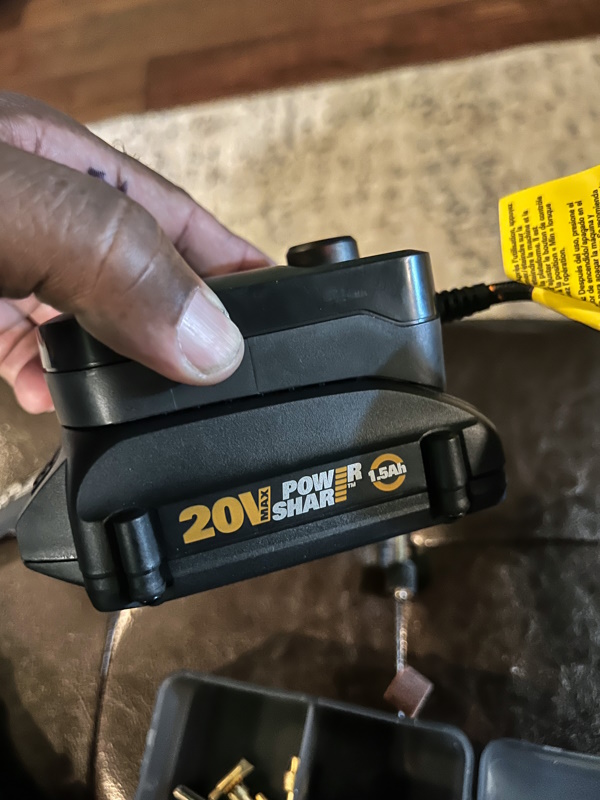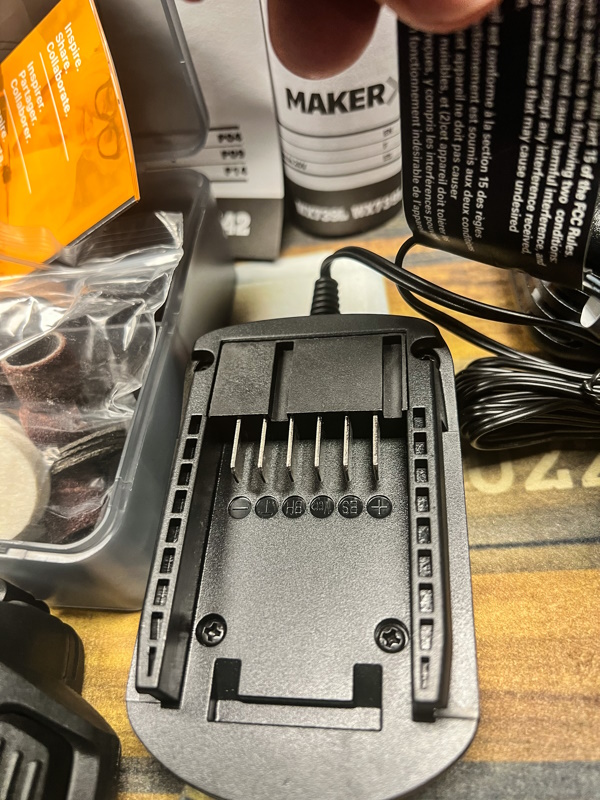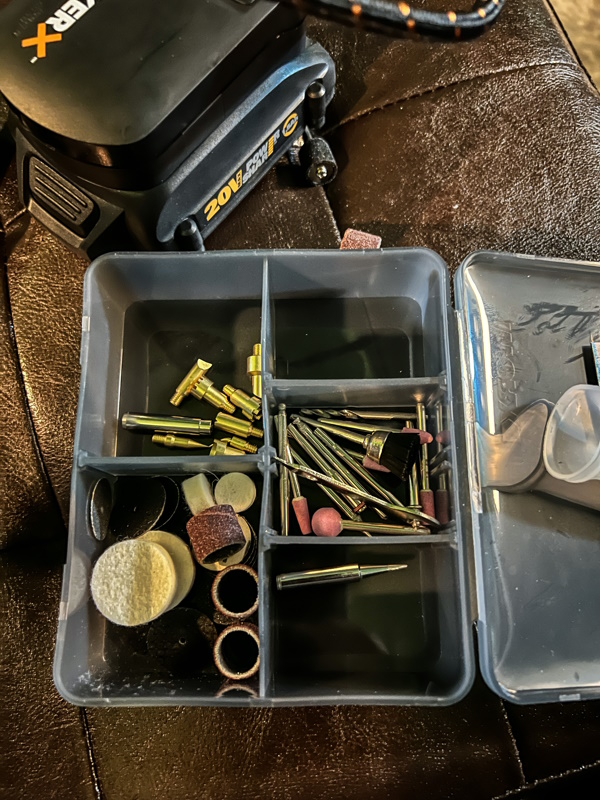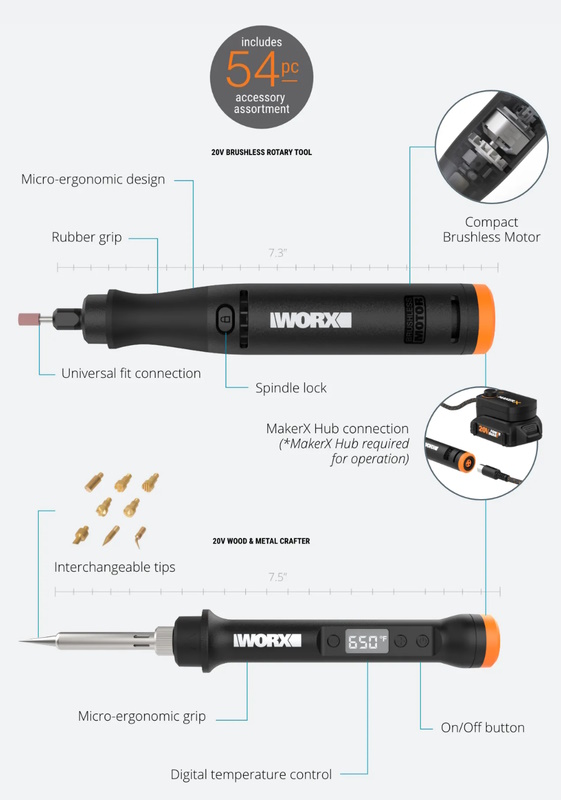 Performance
The Worx 20V MakerX 2PC Rotary Tool + Wood/Metal Crafter Combo Kit is extremely easy to use. All you need to do is charge the battery, attach the desired tip/attachment type to the rotary tool type that you need and you are ready to go. There is a speed control knob on the hub to control the speed of the rotary tool and the crafting tool has buttons on it to turn it on/off and to control the temperature.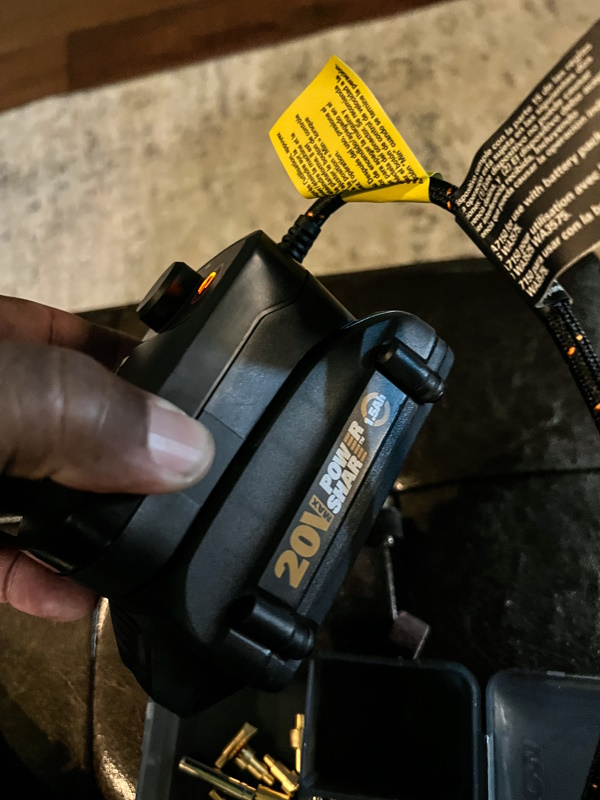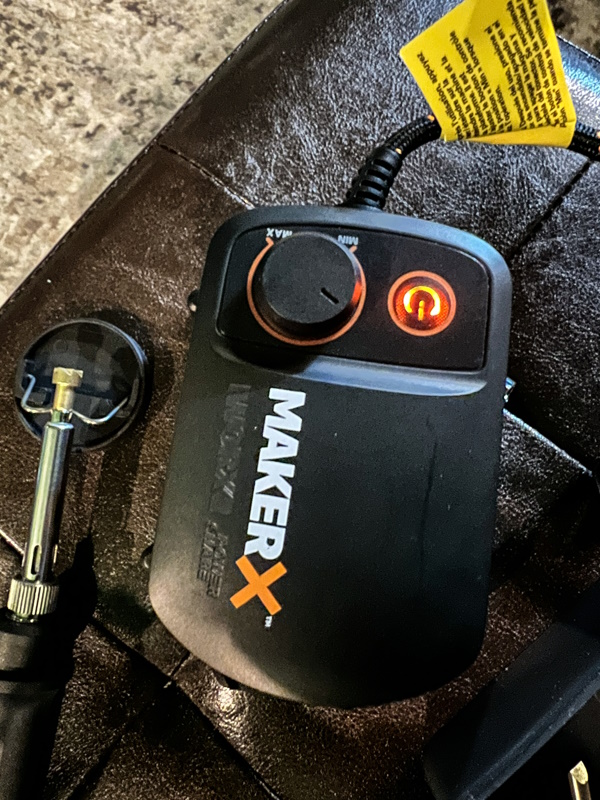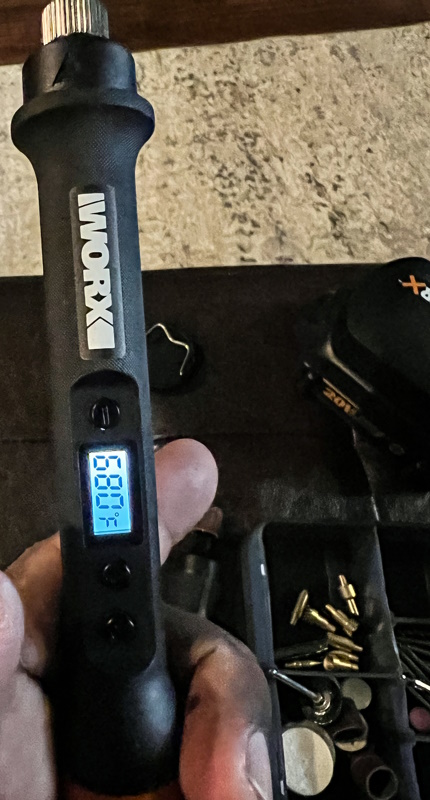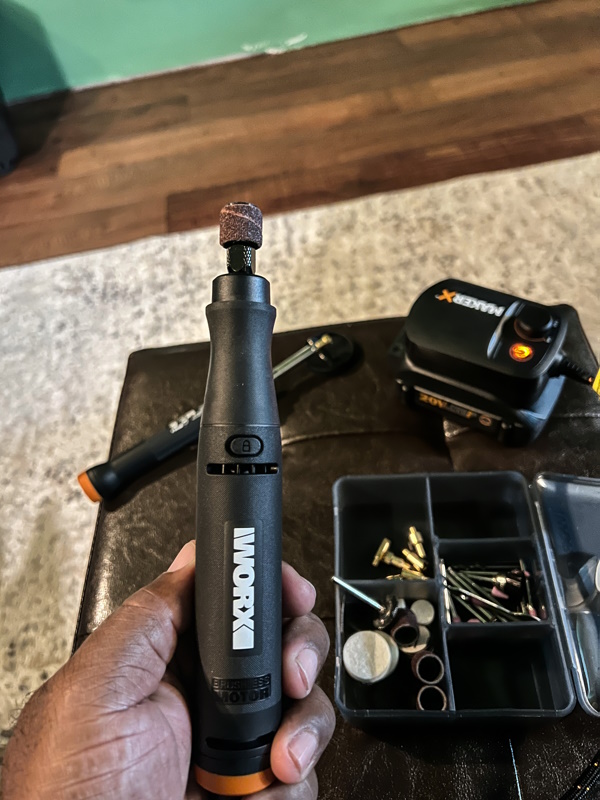 Here is a video showing how the tool works:
What I like
The quality of the tools
The portability and flexible runtime
The included tool bag
The overall design
What I'd change
Include a more robust heat stand for the crafter tool
Final thoughts
Once again Worx has produced tools that I really like. The Worx 20V MakerX 2PC Rotary Tool + Wood/Metal Crafter Combo Kit is a nice innovative option for crafting, grinding, cutting, etc with the ability to work for as long as your supply of batteries will last. The tools work well and are reliable. Another well done for Worx! Check The Gadgeteer's other Worx tool reviews.
Price: $139.99
Where to buy: Worx website and Amazon
Source: The sample of this product was provided by Worx