We use affiliate links. If you buy something through the links on this page, we may earn a commission at no cost to you. Learn more.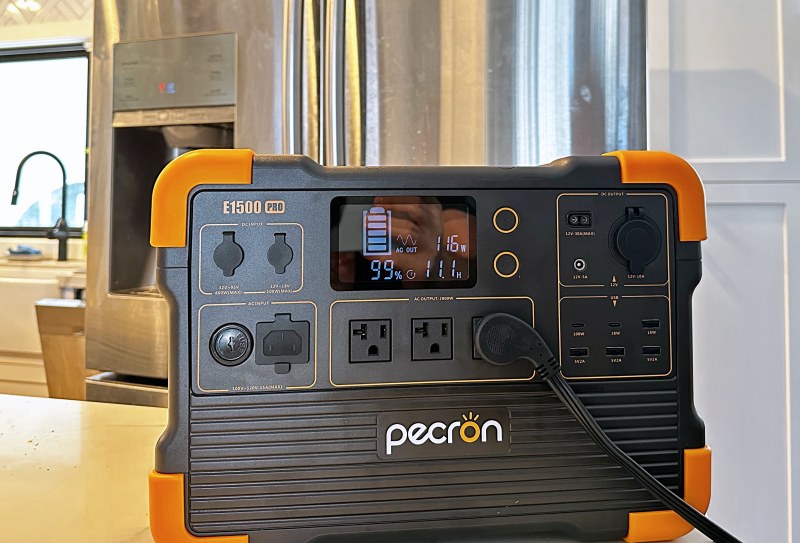 REVIEW – Ever had your power go out for a couple of days? It can be scary, costly, and even dangerous. If you're into camping or hitting the road in an RV you also know how precious power can be. I'm in California and between extreme weather events and increased demand on the power grid, blackouts aren't uncommon. I had been looking for a backup solution for a while and recently got the opportunity to review the Pecron E1500 Pro Portable Power Station along with one of their Aurora 200W Solar Panels, so here we go…
What is it?
The Pecron E1500 Pro is a 1450W capacity battery power station with both AC and DC outputs and a wireless charger along with multiple ways to recharge it. One to four of Pecron's own solar panels can be used to charge the Pecron E1500 Pro, with each additional panel further reducing the charge time.
What's in the boxes?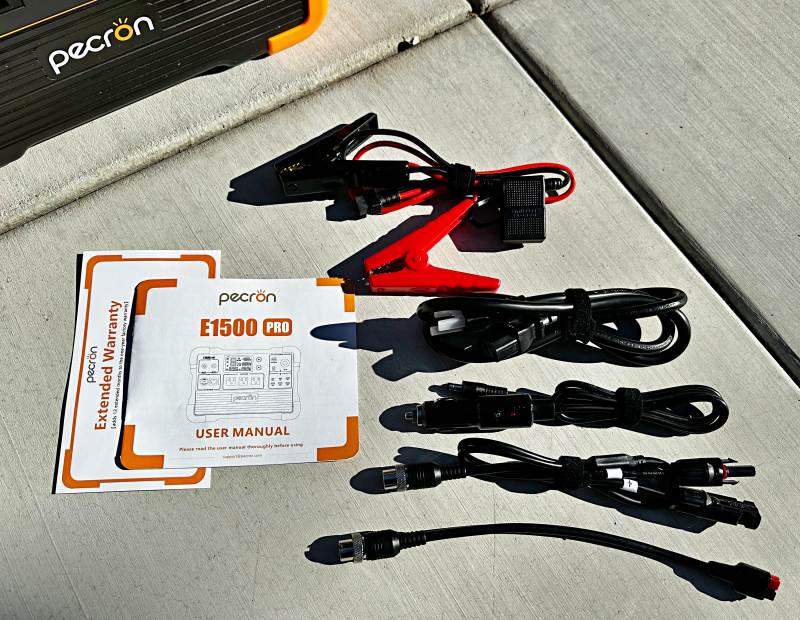 Pecron E1500 Pro
Pecron E1500 Pro
AC Charging Cable
MC 4 Solar Charging Cable
Car Charging Cable
Anderson Solar Charging Cable
12V Cable w/ Alligator Clips
Storage Bag
Pecron Aurora Solar Panel
Aurora Solar Panel
Output Cable
Hardware specs
Model: E1500 Pro
Power: 2000W Rated  |  4000W Peak
Battery Type: Lithium-ion
Capacity: 1450Wh
AC Output: 100 ~ 200V Pure Sine Wave
DC Output: 30A (12V)
Outputs: AC and DC
AC outlets (3) | DC 12V (1) XT60, (1) Aux, (1) 5525 Barrel
USB (3) A @ 5v/2A  |  (1) A @ 18W Max  |  (1) C 100W Max | (1) C 18W Max  |  Wireless charger 15w
AC Input: AC 100~120V / 60Hz Pure Sine Wave
Car Input: DC 12~18V 100W Max
Solar Input: Voc 12-18V 100W/7A Max (5521 port)  |  Voc 32-95V  800W/15A Max (GX16MF port)
Cycle Life: 1,000+ cycles to 80%
Dimensions: 14.8 x 9.4 x 10.6″ | 33lbs (15kg)
Model: Aurora 200
Power: 200W Rated  |  36V  |  5.55A Working Current
Dimensions: 28 x 19 x 3″ Folded  |  82 x 28 x 1′ Unfolded
Design and features
The Pecron E1500 Pro power station has a very durable design built to withstand the rigors of long-term use.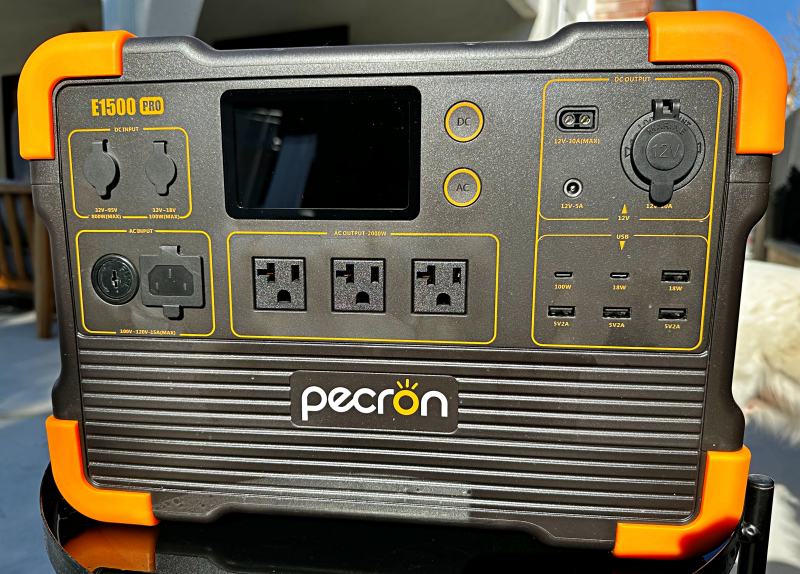 All input and output ports are on the front panel along with the information display and the on/off controls. Here are some closer images of all those connections…


And of the display during the power-on cycle where you can see all of the possible info locations…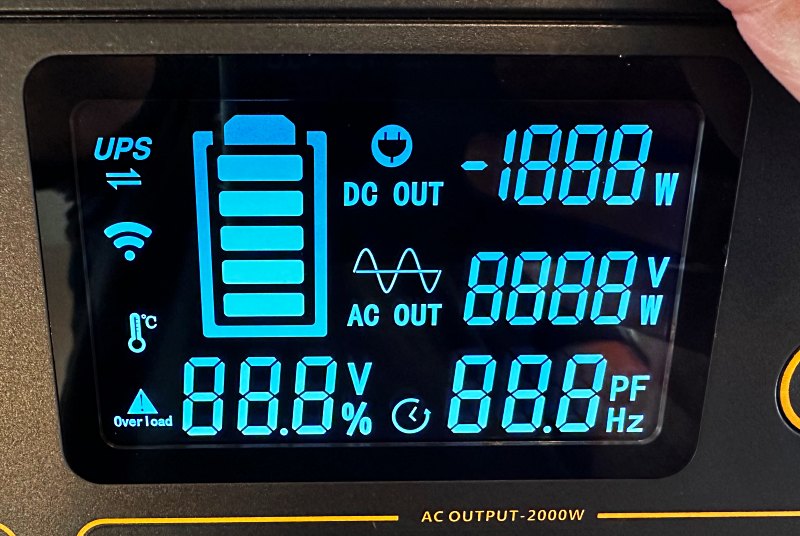 The underside has the always required product label.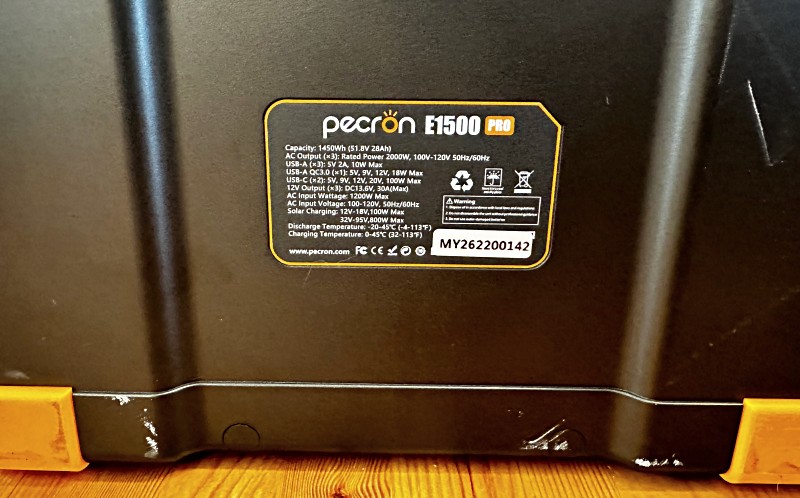 The top side of the Pecron E1500 Pro power station has two large carry handles on each side which is very helpful due to it's near 33lb weight. Additionally, there is a prominently placed wireless charger right in the center of the top capable of up to 15w.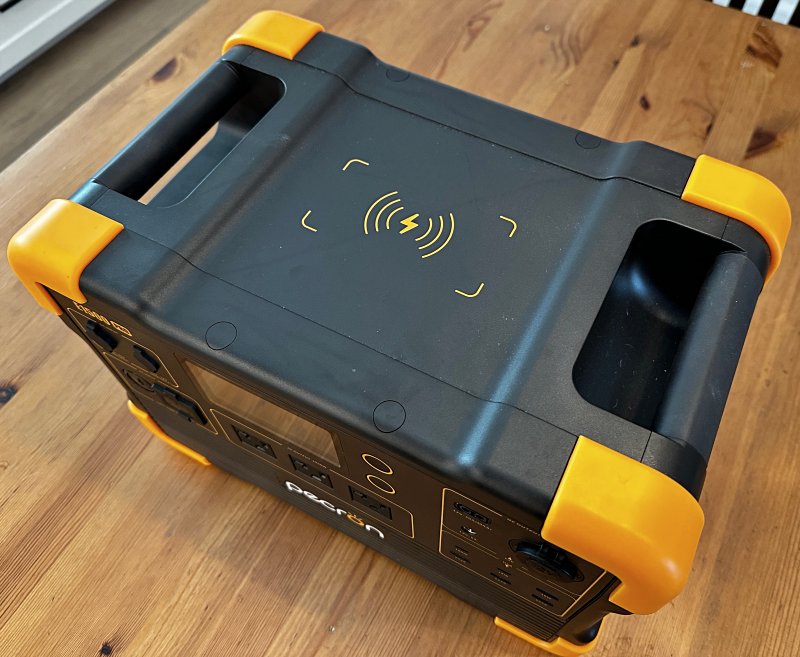 The Aurora Solar Panel comes in a self-contained folded case that reminded me of an artist's portfolio.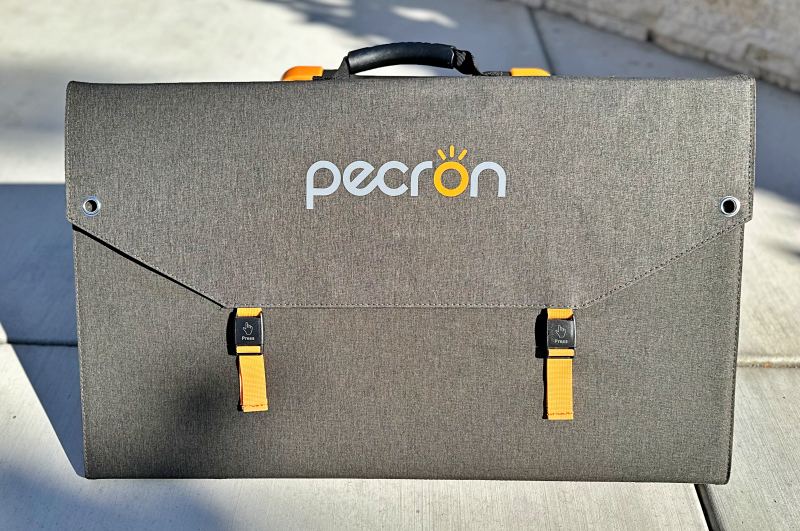 Unfolded, it takes up a good bit more space which is exactly what you need with solar panels.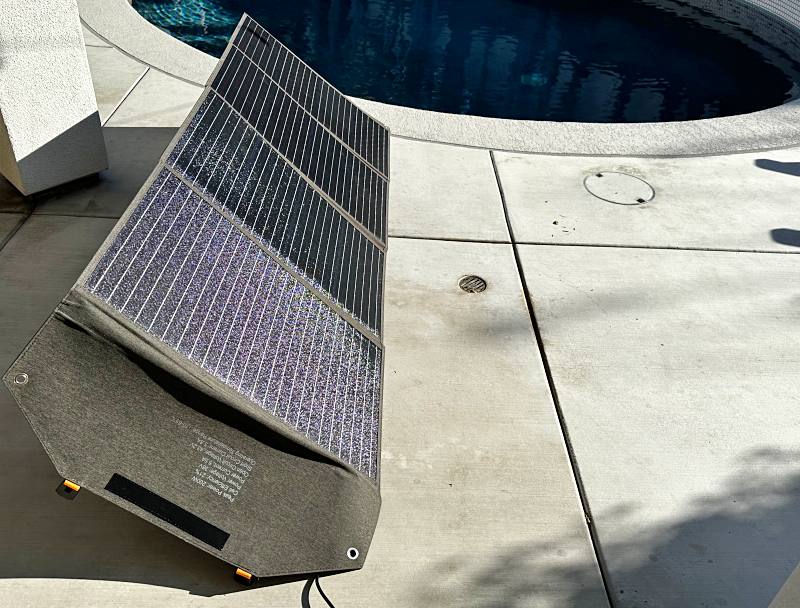 Setup
The varied use cases for a power station like the Pecron E1500 Pro power station are a bit different than for standard consumer electronics. It then follows that the setup is also a bit different. Regardless of what you're planning to use it for, you'll want to have it charged and ready.
The fastest, around 90 minutes is, is to connect the AC input cable to a wall outlet and the AC input on the E1500 Pro. Alternatively, you can use the car charging cable which will take significantly longer (around 18 hours). Could be a good solution if you're actively driving on a road trip though. The final option, if you've got access to open spaces and a lot of sunshine, is to connect one or more of the Aurora 200 Solar Panels.
Pecron's Aurora 200W Solar Panels have a zippered pocket on the back that contains a long tethered output cable.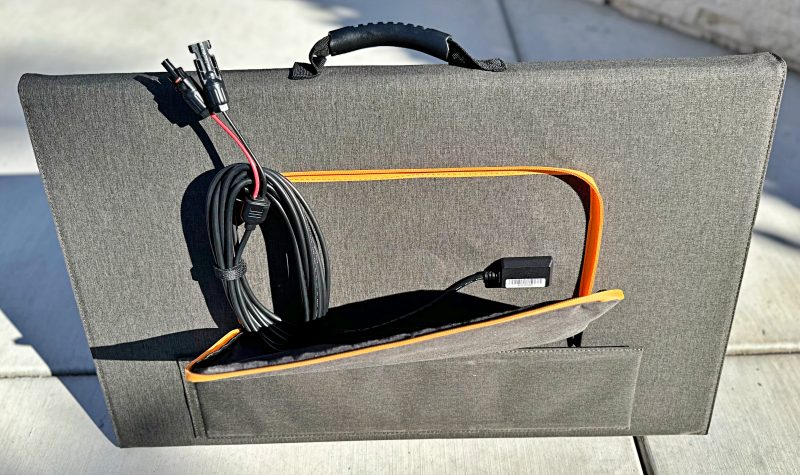 This connects directly to the GX16MF input port on the E1500 Pro via the MC4 Solar Charging Cable for a single panel. If using 2 panels, the positive and negative connections require different configurations. Separately available Y-Branch charging cables are required if using 3 or 4 panels as inputs.
To set up one of the solar panels, unclip the buckles and unfold them to expose the panels. On the back of each panel, there is a velcro retained stand you'll need to release and unfold. It's tricky to unfold them all as tilting the panels forward can cause them to close again. Just go slow and keep some tension on the ones you just deployed while you open the next one.  When finished, it should look like this.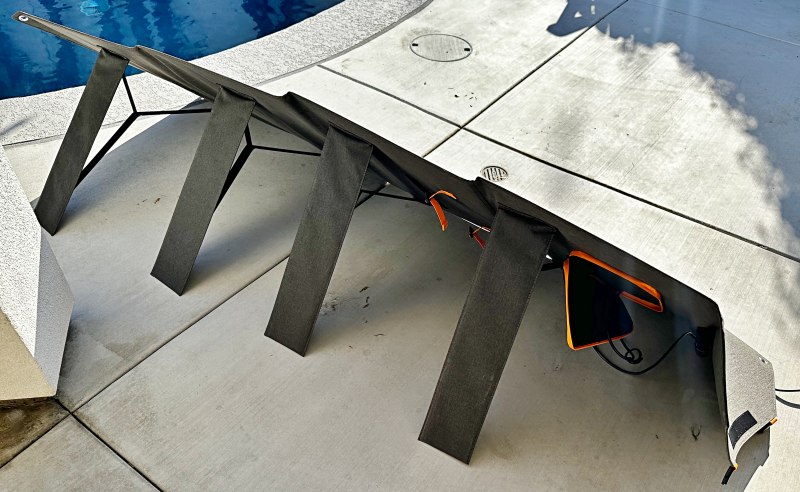 It's important that the panels face the sun, and that you avoid placing them where shadows will be cast on the surface as the sun's position changes. Charging time is greatly dependent on constant sun exposure. Shadows, clouds, and anything similar will knock down or completely stop output to the battery. This example here shows a shadow on the leftmost panel which definitely affected the output.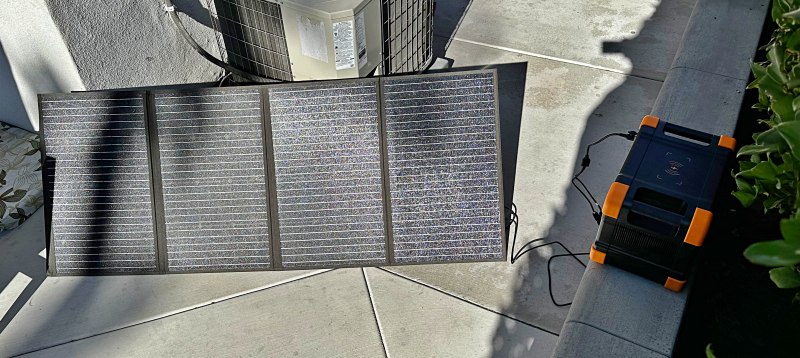 Connect the cable to the Pecron E1500 Pro power station and the display will automatically kick on and show data on the power it's receiving.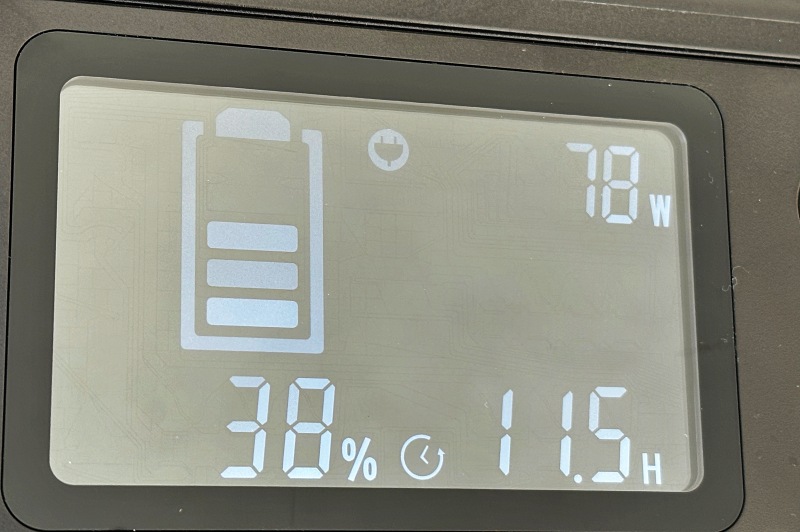 To use, connect an appliance or device you need to charge to the appropriate port on the front. Turn on the E1500 Pro by pressing and holding either the AC or DC power switch. The screen with flash illuminating all the info and then settle in to show you just the information you need. To turn off, press and hold the same switch again.
Performance
So I'm happy to report that since receiving the Pecron E1500 Pro power station I have not experienced any power outages, however, that doesn't exactly help the review scenario. What I was able to do is validate the claims that this will power almost all electric home appliances. It ran our big Samsung refrigerator without an issue. Same for the toaster, coffee maker, and other small appliances. Obviously, the larger and more power-hungry the appliance, the shorter the runtime will be. Pecron estimates running an 800w fridge for only about 1.6 hours. You'd want to be judicious with what you're powering if you've got a long outage on your hands.
I was surprised at how long it can take to charge with solar. The simple truth is the more panels the better. My planned usage is as a backup power source in an outage. In this scenario, it's easiest (and fastest) to charge from an AC wall outlet and then store the unit, checking on its charge level every couple of months and topping it off when necessary.
I did notice that the Gadgeteer's own Bill Henderson reviewed an earlier version of the E1500 back in June of last year. A lot of the things he wished for have been addressed in this Pro update like adding 4 additional USB ports including 2 USB-Cs. One of those can now power your 60w laptop at full speed 21 times. That's a lot of juice! That charging brick in his review is now built-inside and there are fans on both sides to help reduce heat when needed.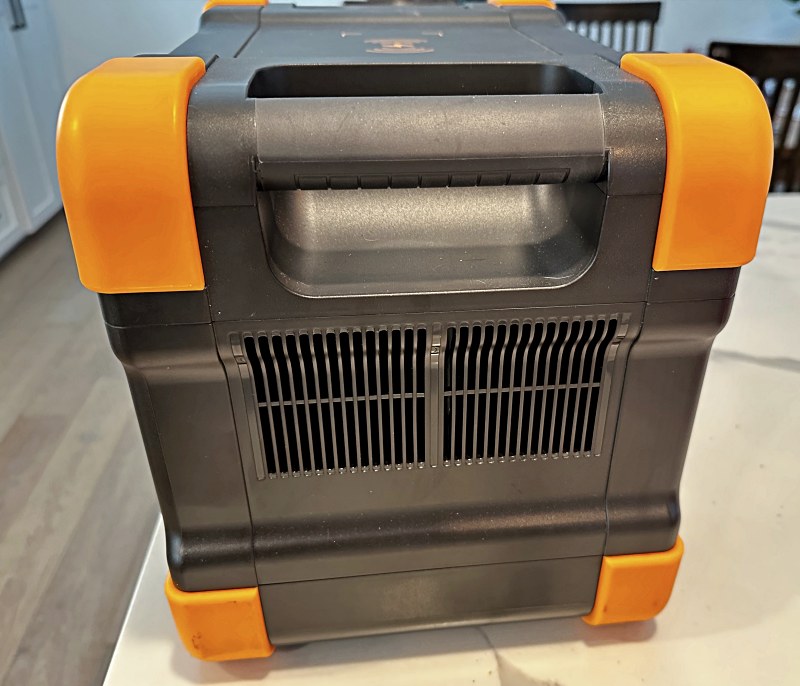 The built-in wireless charger on top is also a nice touch.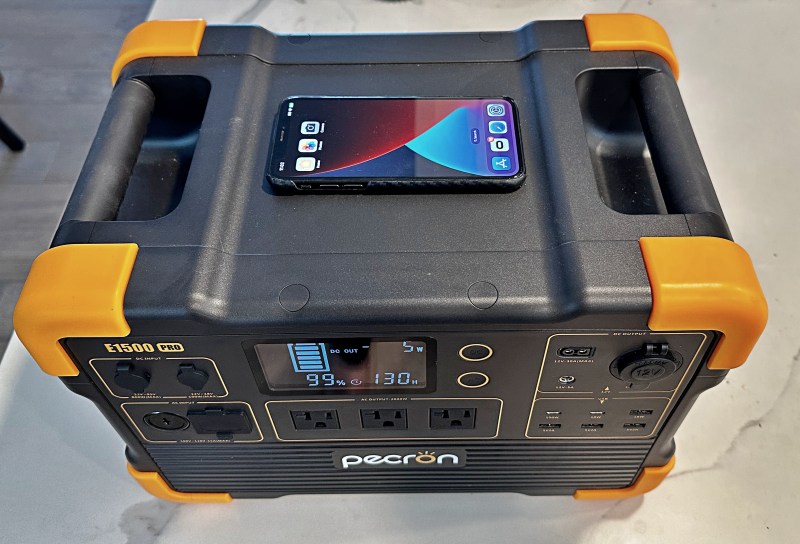 What I like
Lots of backup power
Really fast to charge up with AC, and clean solar when you have the need
Can pretty much power any of your electric home appliances
What I'd change
Would like to see a bi-stable hinge on the solar panels to keep the support legs locked in the deployed position
Final thoughts
There's a lot to like about the Pecron E1500 Pro power station and you likely have a houseful of things that you'll be able to keep charged in a pinch. You may not need one of these often, but the peace of mind it brings is pretty valuable, especially at the current sales price.
Prices: All variants are currently on sale for 25% off
$1,599 $1,199 as tested – E1500 Pro + 200W Solar Panel
$1,199    $899 – E1500 Pro
$1,999 $1,499 – E1500 Pro + (2) 200W Solar Panels
$2,699 $2,099 – E1500 Pro + (4) 200W Solar Panels
Where to buy: Pecron and Amazon
Source: The sample of this product was provided by Pecron.