We use affiliate links. If you buy something through the links on this page, we may earn a commission at no cost to you. Learn more.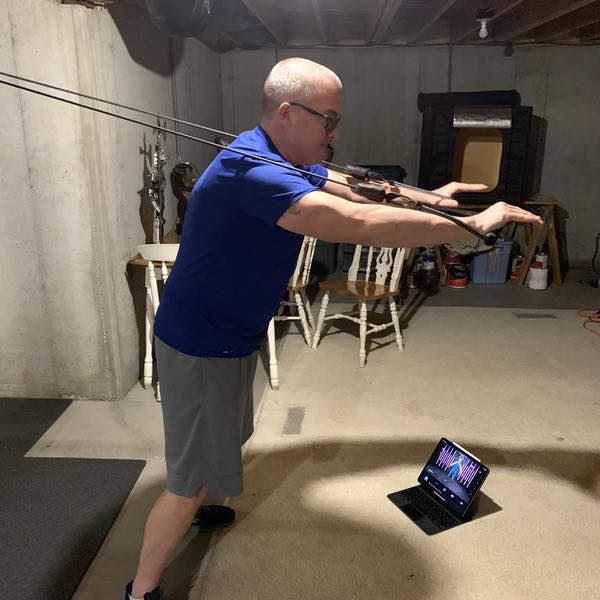 REVIEW – There's more going on in this picture than you think! The LIT Axis Smart Resistance bands give you all the tools you need for a portable/versatile workout, but they also measure your effort and continually record your progress! What is this sorcery? To the review!
What is it?
LIT Axis Smart Resistance Bands are a resistance band kit that includes everything you need for a variety of strength, cardio and pilates workouts. The "smart" bit comes from integrated Bluetooth sensors that, when paired with the LIT Method app, enable you to track data like resistance (weight) moved, reps, and ongoing time under tension.
What's in the box?
The LIT Axis kit comes with the following:
Pair of AXIS Bluetooth Smart Sensors
2 pairs of adjustable LIT bands (0-60LBS resistance and 30-100LBS resistance)
Pair of handles
Pair of ankle cuffs
Universal anchor for multiple attachment points
Lightweight protective carrying case
Three months of complimentary online access to the LIT Training app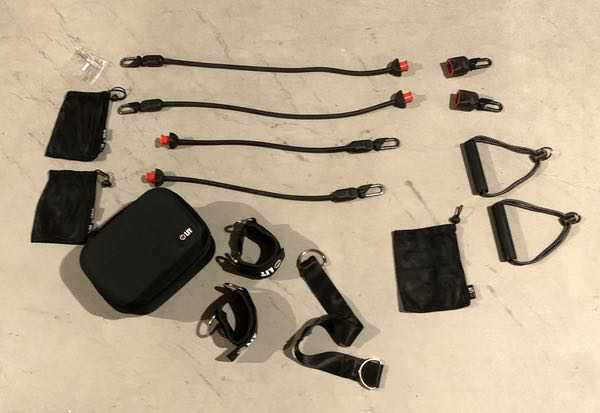 Design and features
The LIT Axis Smart Resistance Bands are the brainchild of LIT ("Low Impact Training") Method founders Justin and Taylor Norris. The focus of the LIT Method is sustainable, flexible exercise programs and equipment that reduce injury risk & support recovery while delivering results.
The LIT Axis kit is specifically designed as a "gym in a box" that you can take anywhere. It starts with a rugged carrying case that measures in at 10″ by 7″ by 5.5″, or roughly the size of a chunky lunch box. It weight 4 pounds with all the parts & pieces.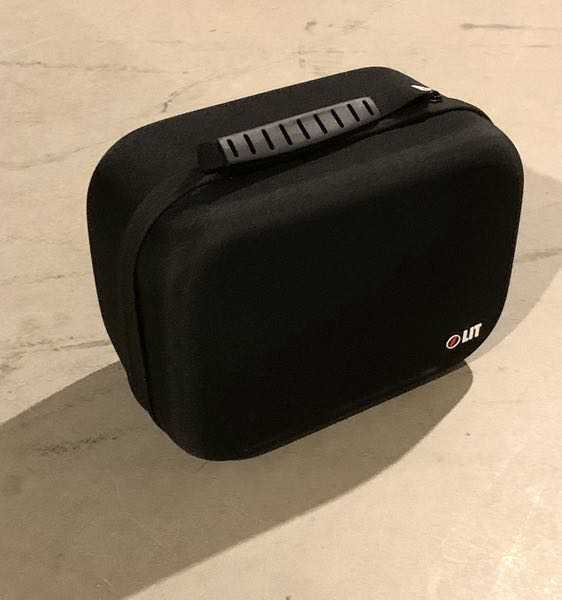 The case includes a set of mesh storage bags and pockets to keep the parts nicely organized.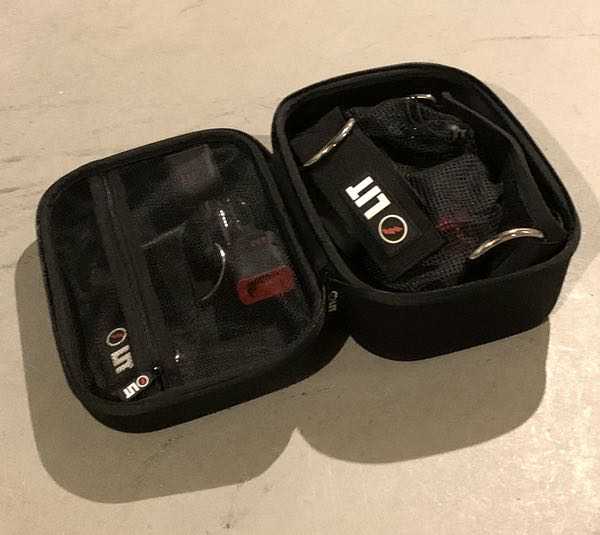 You'll get two pairs of heavy-duty resistance bands. The longer set measures 24″ across the bands (not including the end caps) and is rated at 15 pounds of resistance. The shorter set measures 18″ and is rated at 30-pounds of resistance.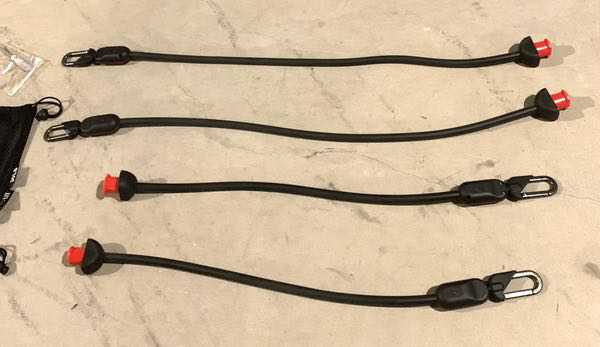 Those red plugs connect the resistance bands to the brains of the device: the Bluetooth Smart Sensors. Insert the red tab into the receptor and give it a twist to lock it in.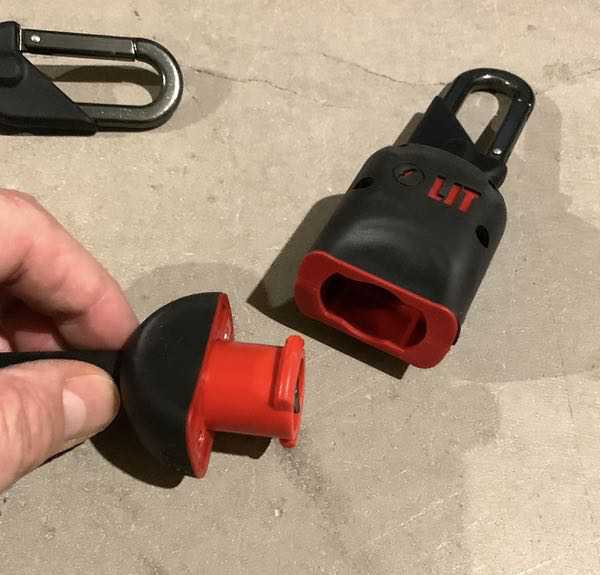 You'll notice that those Bluetooth Smart Sensors have no power button. There's a battery in the housing that automatically activates & connects to the LIT Method app when you start your work. We'll talk more about that in a bit.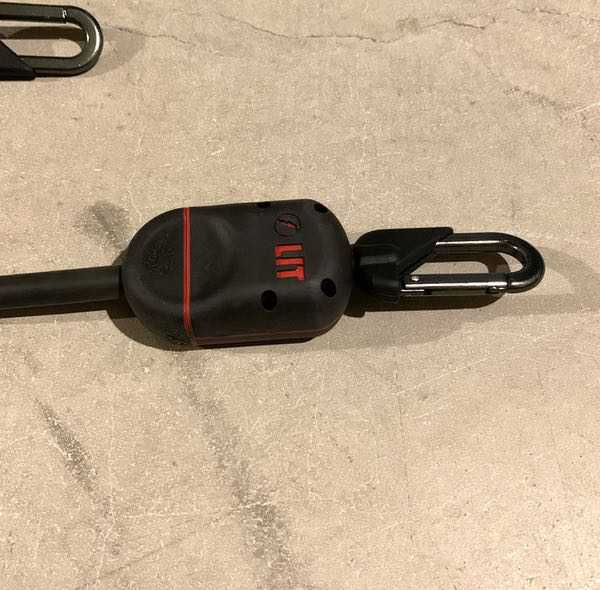 Your kit includes two handle options based on your desired workout. A pair of sturdy handles are provided for workouts that involves your hands…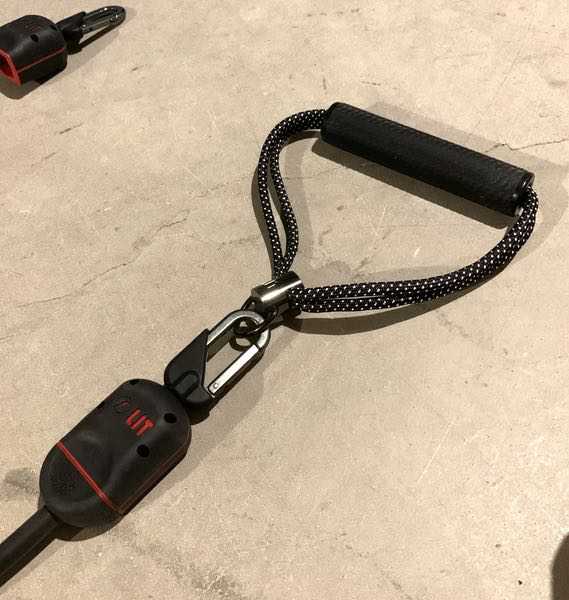 … or you can use the adjustable ankle cuffs for legwork and Pilates programs.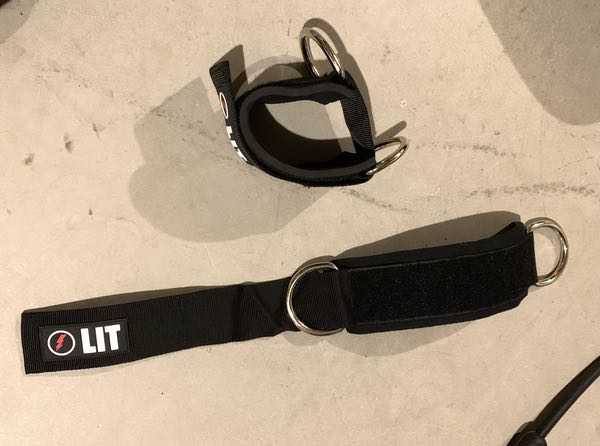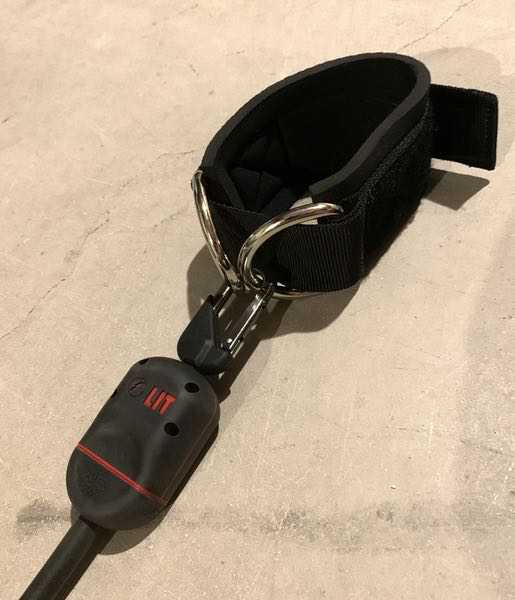 The last bit you'll need is the universal anchor. This is a heavy-duty nylon strap designed to adapt to whatever environment you find yourself in.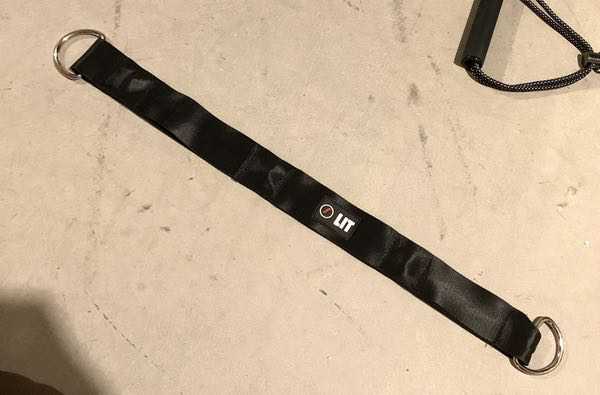 In addition to the D-rings on either end, the anchor has three loops along it's length and 2 sewn pockets, each of which has a big ball bearing in it.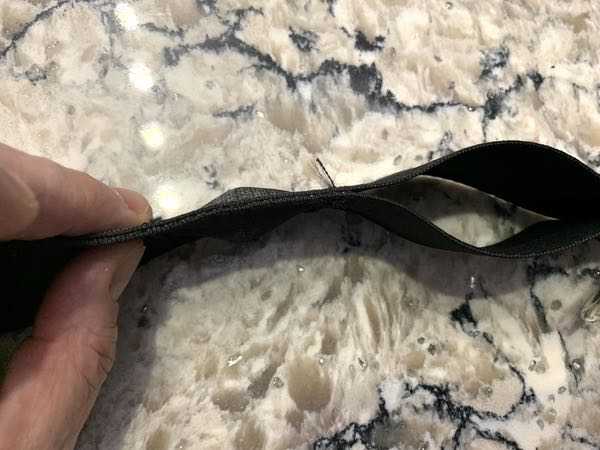 This setup gives you all sorts of options to anchor the system. The ball-bearing pockets are door anchors. Slide the band through the space between the door and the frame, close the door, and give it a tug to lock it in.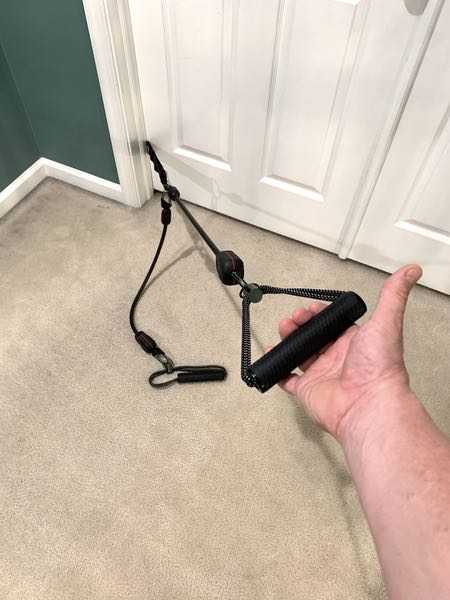 Here I have the strap looped through one anchor on a support pole in my basement, clipping the bands into the D-ring.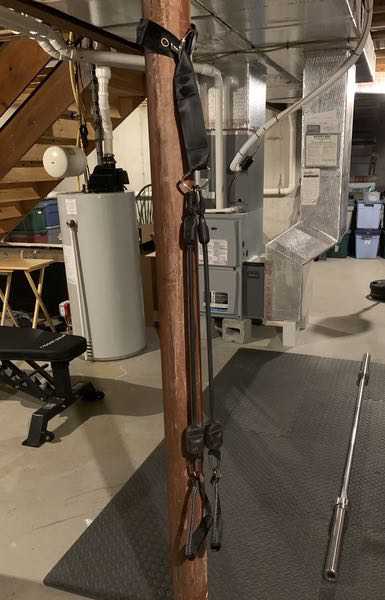 Here I have the strap attached horizontally to the power cage in our basement using the same method.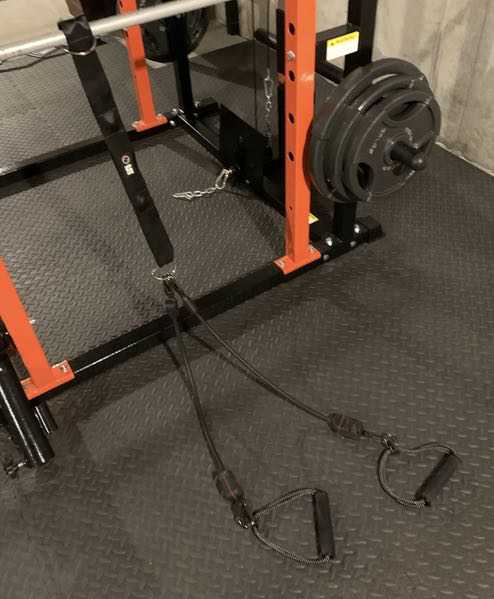 You could use the loops in the strap to create other connection points, or you can simply connect one band to each end of the anchor strap for standalone workouts. You'll see more examples of different workout positions below.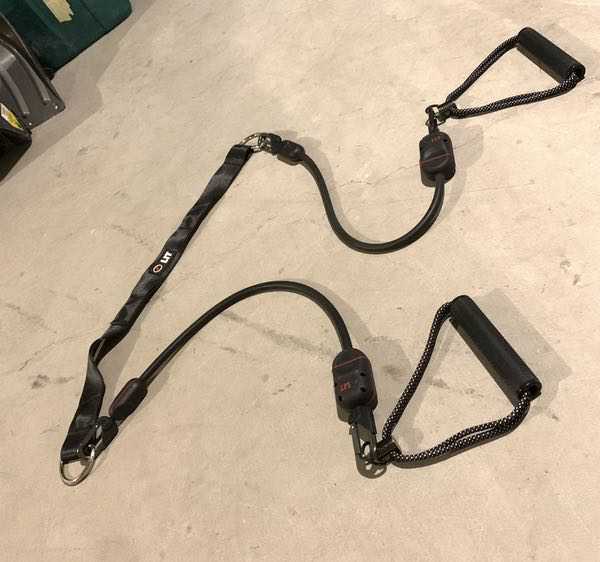 The LIT Axis package feels like a professional, gym-quality build throughout. All of the components & hardware are made from heavy rubber, metal, or plastic with tight assembly. LIT Method backs the whole build with a 5 year warranty.
It's important to note that the batteries for the Bluetooth smart sensors are rated to last at least two years with regular use, but they will eventually need to be replaced. A small screwdriver is included with the kit for this purpose. The sensors & battery are covered under a lifetime warranty with an active membership to the LIT On Demand Digital Platform.
The LIT On Demand Digital Platform
The LIT On Demand Platform is a subscription based service that provides access to tutorials, live classes, thousands of on-demand classes, performance measurement, and cumulative performance analytics. Note that I am using the app on my iPad in these screenshots. I'm also using the "Pro" membership, which includes access to the LIT Axis and Strength Machine program sets (I'm reviewing the Strength Machine separately), so some screen shots may differ based on your subscription type.
You'll start by putting in some basic data (age, height, weight) and exercise goals. Your home screen will be populated with recommended workouts based on your preferences which will be updated over time based on your ongoing program usage.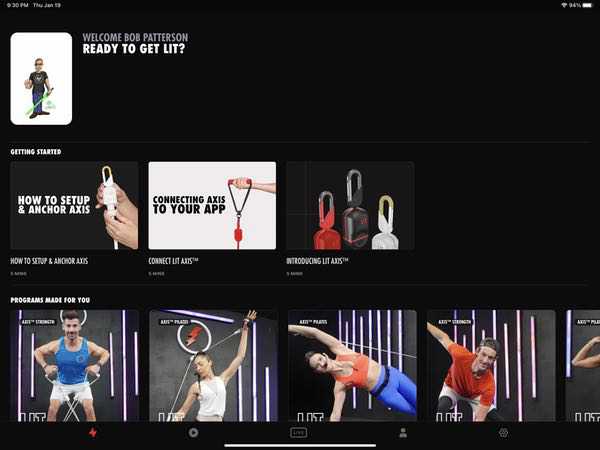 Keep scrolling to see your cumulative history. The LIT Axis is big on measuring total reps, total time under tension, and total force moved with each workout. You'll also see total workout time and measurements of calories burned. You can buy a heart monitor to provide additional metrics and more accurate calorie measurements.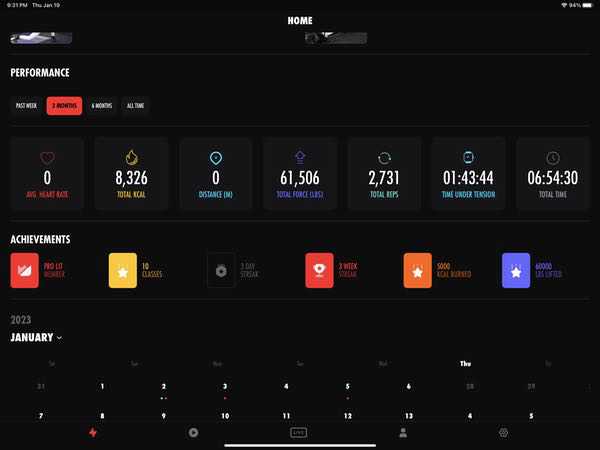 There are thousands of programs available in categories such as strength training, endurance/cardio, flexibility, upper body, abs, pilates, recovery, etc. You can browse the categories or apply a robust filtering system to narrow your choices by duration, intensity, equipment type, and more.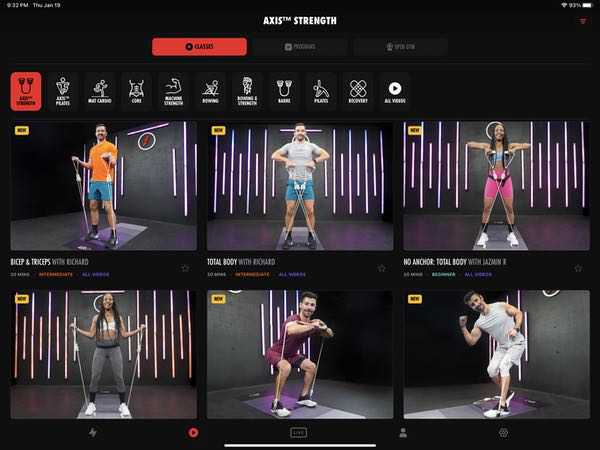 Once you choose a class, the format is pretty standard. You get a summary of the class that includes reviews from other members. You'll also get the opportunity to connect the Bluetooth sensors here. Give a tug on each sensor, and the app status on this screen will change to "connected." You can also connect the heart monitor here if you have it.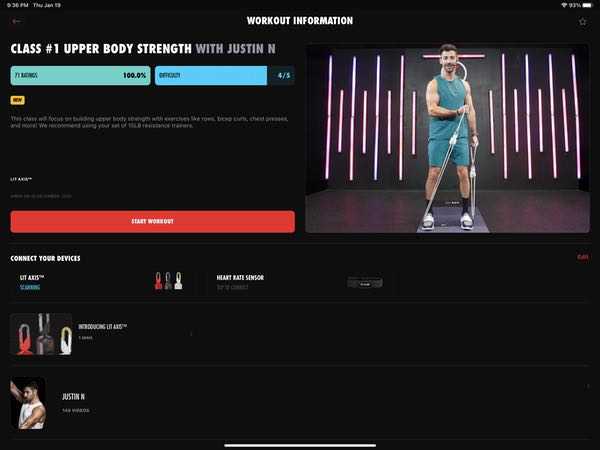 Now your program begins. The infographic in the upper left shows the body parts that will be the focus of the program. You get a timer with a pause/resume feature in the upper right corner, and your measurements of activity at the bottom of the screen. The instructor begins each program with a brief orientation and warm up. You'll do the program, then finish with a stretch/cooldown.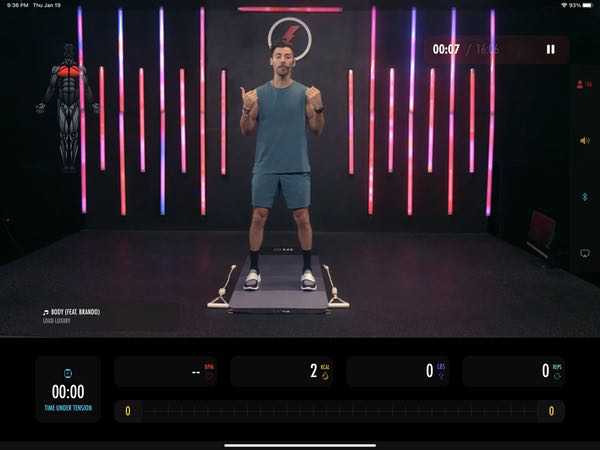 Here's a shot of the program in action. That bar at the bottom is continually measuring the force on the bands and adding up my cumulative time under tension, reps, and total force (in pounds). Switching to the heavier bands increases the maximum potential force exerted, as does stepping farther away from the anchor point to stretch the bands. The sensors adjust in real time.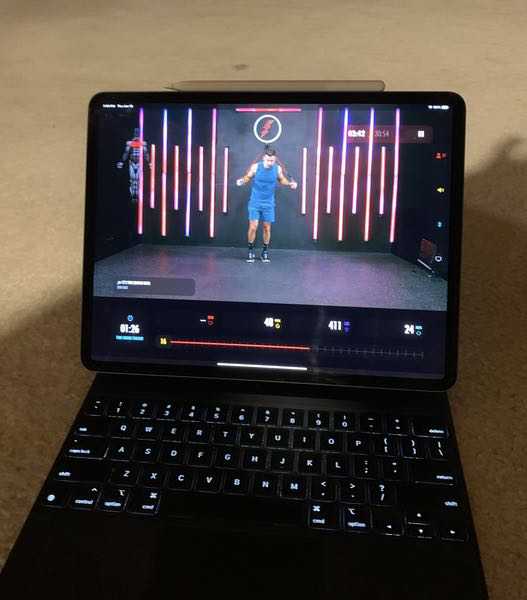 As you complete the classes you'll see the recorded results and get an opportunity to provide feedback on the class. You'll also see a little gamification happening in the form of badges that you accumulate as you hit milestones like a number of classes and weight lifted.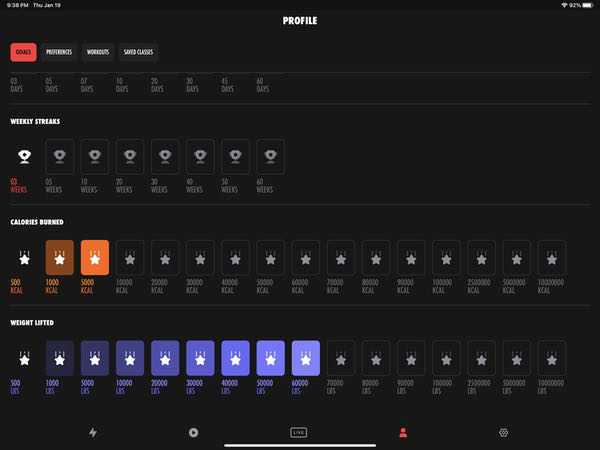 There is a whole lot more to cover in the app including "open gym" workouts and progressive programs you can work through that build on intensity and variety to work towards specific goals. The LIT Method team is continually tweaking the interface and adding new features to add value & performance.
Performance
If you're familiar with resistance bands, you're going to find that the LIT Axis Smart Resistance Bands are a rock-solid choice for durability and quality. When you start exploring the details of this kit combined with the On Demand Platform, you start to see how the whole package works together for a deceptively effective all-around workout solution.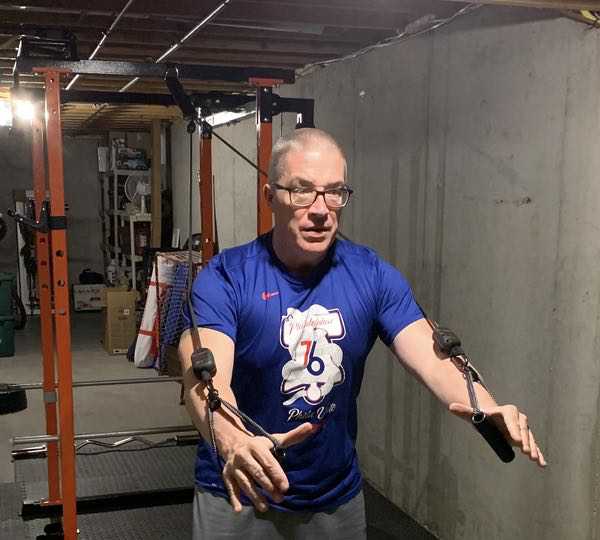 The "anytime, anywhere" aspect of the design is on point. You'll see most of the pics in this review are from my basement, but the flexible anchor solution enables you to set this up on a fence, on a tree, on a hotel door, or none of the above. It's great for work travel or vacation, where you may not have access to a gym.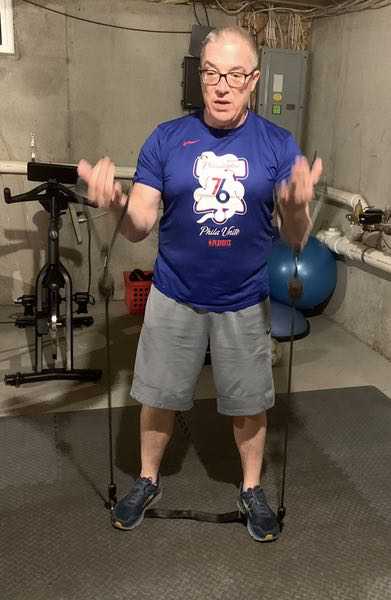 I was also impressed with the ability to dial up or dial down the resistance. The 15- and 30-pound ratings for the bands are just a starting point. Moving farther away from the anchor instantly creates heavier resistance and more time under tension, and the On-Demand Platform shows you those changes in real time. This means you can continually tweak your activity based on your experience and strength levels.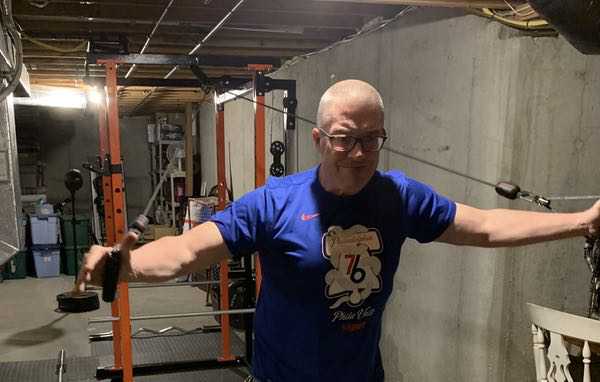 The LIT Method folks have done an outstanding job with programming and class design, providing thousands of classes to meet your needs and personal challenges. Need a 10 minute, upper body, high intensity strength workout when you're pressed for time? Done. Need a 30 minute beginners total-body cardio program to learn the basics? Done. You'll be hard pressed to find a programs that don't meet your needs at the moment. There are also variations based on your location and environment (anchor points available, no anchor points available) as well as programs that incorporate other equipment or no equipment.
Look! Bob is doing… Pilates? This was a new one to me.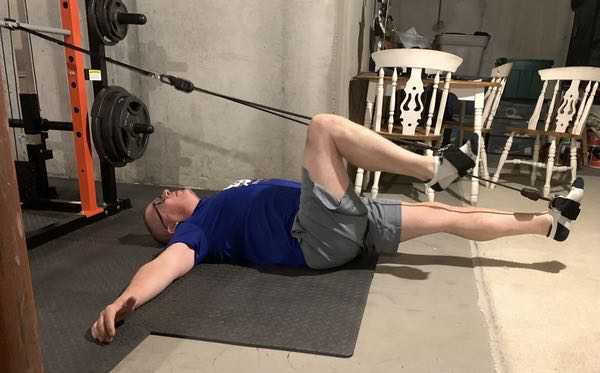 The whole concept of a low-impact, time under tension focus may sound like light-duty work, and it can be. But don't be fooled. There are plenty of selectable high-intensity programs, and the trainers will call out ways to make the routines harder while you are working. You want hard stuff? You're absolutely going to get it.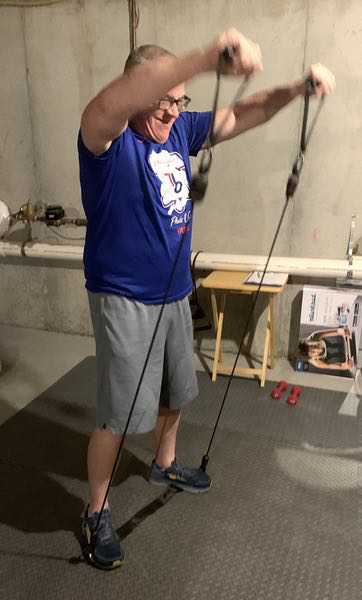 There's also an impressive variety of programs that focus on mobility, flexibility, and recovery. I often find myself doing multiple programs in a session. Maybe I'll start with a 20 minute chest/tricep program, followed by a 10 minute core/pilates program, followed by a 10 minute mobility program. The more you experiment, the more you see the versatility of the whole system.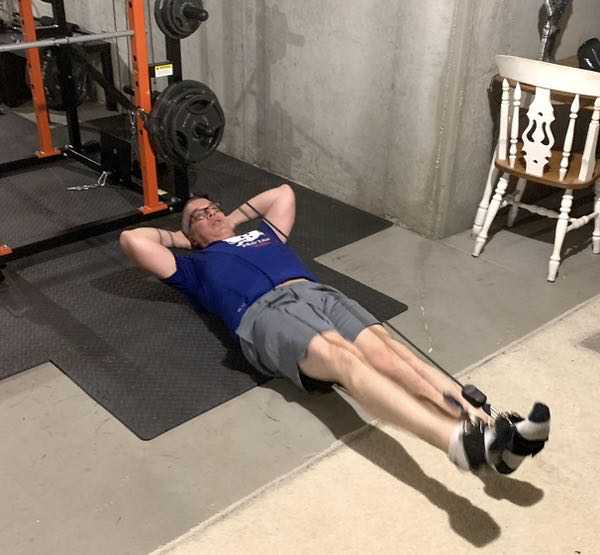 I'm also a big fan of the measurement system. One of the really interesting things you can do with the LIT Axis is going back to previous programs and change the variables (heavier bands, position relative to the anchors) and measure your improvements in performance. You can also compare intensity from program to program, or set goals for total weight moved to challenge yourself.
I'm impressed with the pricing for the Online Platform ($9.99 a month, with reduced pricing for an annual subscription). You're getting a lot of value here at that price, with enough content that you'll never get bored. The LIT Method folks are also continuously tweaking and improving the platform, and seem to take their customers' feedback seriously as they refine their product.
What I like
Excellent component design & build quality
Able to support beginners and advanced exercisers at all sorts of intensity levels
Flexible & adaptable for hundreds of exercise types
Outstanding online platform
Usable, actionable data collection
What I'd change
Nothing that I've seen so far.
Final thoughts
I had a chance to talk to founder Justin Norris as part of the review process, and we talked quite a bit about both his mission to deliver accessible exercise for everyone and his commitment to the continuous improvement of his products. I walked away impressed with his dedication to his mission. Then I tested his products for a month… and I get it. The product aligns with the mission.
The LIT Axis Smart Resistance Bands are a quality product on their own, but the real magic comes from using the bands in conjunction with the Online Platform. The combination of creativity and variety in the programming, an excellent user experience, and a unique integrated measurement system take the experience to another level. The whole package combines to deliver a  dynamic, flexible solution that will satisfy both beginners and hardcore workout enthusiasts.
Price: $199.00 for the LIT Axis (app requires an additional subscription after trial period)
Where to buy: Go to the product page at the LIT Method web site
Source: The sample of this product was provided by LIT Method.