We use affiliate links. If you buy something through the links on this page, we may earn a commission at no cost to you. Learn more.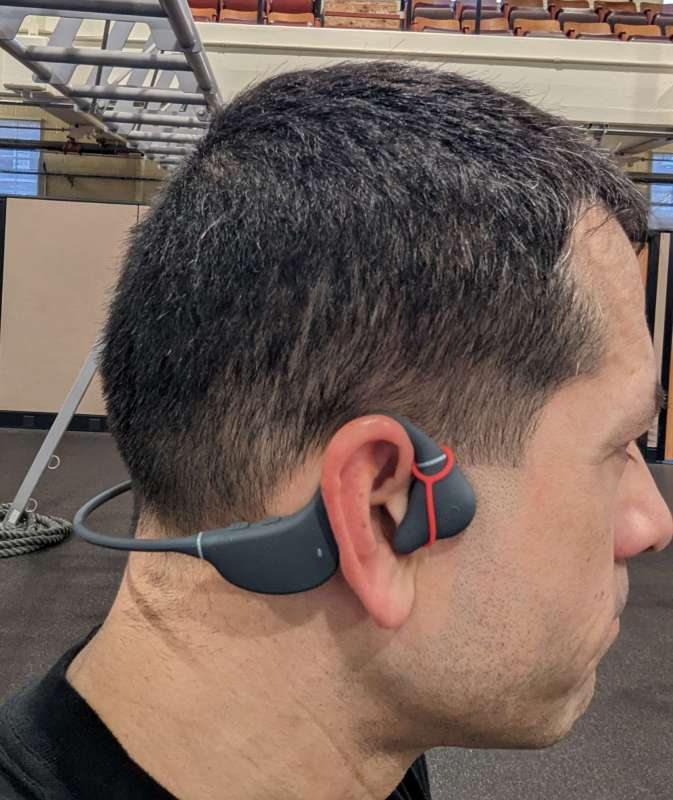 REVIEW – I prefer headphones that hook over my ear since in-ear headphones never seem to fit me quite right but mainly so I can keep them loose which allows me to still hear the outside world. I like to remain aware of my surroundings when running or biking outside so I was very curious how bone conduction headphones would perform. Let's see if the Naenka Runner Diver Bone Conduction Swimming Headphones will be my new go to headphones.
What is it?
The Runner Diver Bone Conduction Swimming Headphones is Naenka's updated Bluetooth 5.3 model that is designed to be completely waterproof for swimming.  To avoid any connection issues while underwater you can switch from streaming to MP3 mode. It comes with 16GB of internal storage so you can download songs directly to the headphones.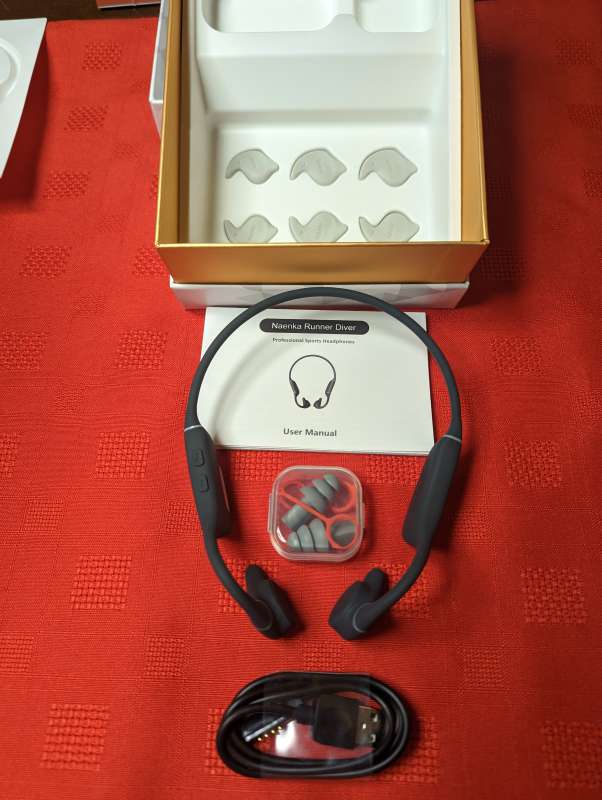 What's in the box?
Naenka Runner Diver model bone conduction headphones
Charging cable
Swimming earbuds
User manual
Microphone protection plugs x3
Sound quality enhancer x6
Hardware Specs
Weight: 35g
Battery: Lithium Ion 5v 180mAh
Charging time: Fully charges in 1.5 hours
Playback: 10 hours at 60% volume
IP68 Waterproofness
Bluetooth 5.3
16 GB internal music storage (TF mode only supports files in MP3/M4A/WAV/APE/FLAC formats)
MP3 mode with sequential or random playback
Max recommended depth: 2 meters
Design and Features:
From the side, the Naenka Runner Diver model bone conduction headphones look similar to a seahorse and fit very nicely around the ear. There are only three buttons which are the power button and two volume buttons that perform all the basic functions.
There is a microphone port on the underside of the right earpiece that should be plugged in prior to submerging it in water. Naenka includes three red microphone plugs in the box as well as three sets of ear plugs to enhance the sound quality and keep water out of your ears while swimming.
Setup
The Naenka Runner Diver Bone Conduction Swimming Headphones were extremely easy to set up. After charging I held the power button for five seconds to turn them on and it appeared in my pair new device list. I selected it and it connected instantly.
Using the included charging cable I connected to my laptop and copied some MP3 songs I still had on my hard drive over to it. Switching to MP3 mode is easy. Hold the power button for five seconds to turn the headphones on or if already on just double press the power button and it will inform you it is in MP3 mode and begin playing songs.
Performance
The Naenka Runner Diver Bone Conduction Swimming Headphones connect to my cell phone extremely fast. Once turned on the little voice says power on, Bluetooth mode, connected and you are ready to listen to music. I assumed that with bone conduction you wouldn't be able to hear anything from the headphones unless they were directly touching your skin. I did find that at 60% volume or less anyone further than 10 inches from the headphones won't be able to hear any music coming from them. From 65% to 95% volume it was possible to hear sounds and pick out occasional words. At 100% I could hear the music very clearly from a foot away.
The Bluetooth range was excellent and remained connected to my phone over 50ft away through multiple walls without any static or skipping. When I was in the gym it was nice to leave my phone in the central cubbies and still stay connected. I found that in a noisy gym while on the treadmill I had to raise the volume to about 85% to clearly hear my jams but I was still able to carry on a conversation with my gym buddy.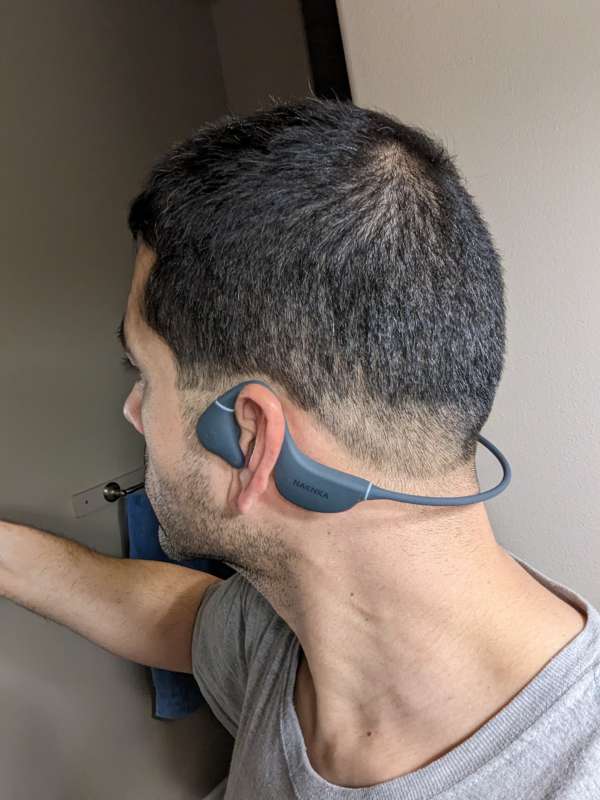 These worked great in the shower. I did notice that if I leaned my head back they get tighter on my head which resulted in the music becoming slightly louder. Not enough to have to turn them down but I noticed some volume fluctuation when they shift a little. Unfortunately, I couldn't get access to a pool but I do have a bathtub so I tried it out underwater with and without the ear plugs. The sound quality was surprisingly clear and I did try to shake my head as if I was swimming and they stayed in place. If you are diving into the pool though you may want to wear a swim cap to avoid them falling off.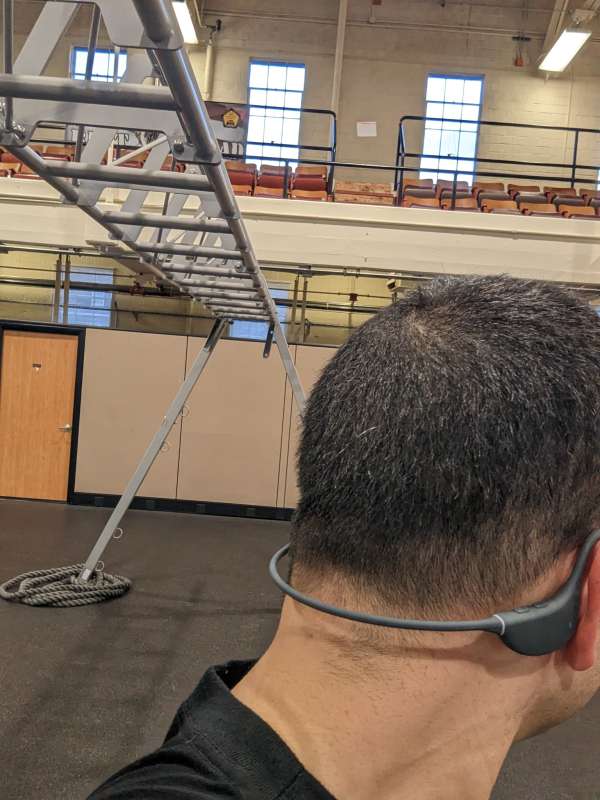 Listening to music I was surprised at how similar it sounded to in-ear headphones. I could not really tell a difference which was surprising. Call quality was excellent and on par with other headphones I have had in the past. With the waterproof plug installed in the microphone port, my wife said I was a little muffled but she could still understand me. Once removed she said she could hear me clearly. Battery life was excellent and seemed better than the advertised 10 hours per charge since I would wear them for two hours and it would still show better than 90% left. I liked the magnetic charging cable which made a solid connection when attached. It would have been nice to have USB-C charging but I'll deal with another cable to have full waterproof-ness which comes in handy in the rainy Pacific Northwest. If you need an extra charging cable they are $11.99 on the Naenka website so not too expensive.
What I like
Clear sound comparable to in ear headphones
Allows me to hear my surroundings
Comfortable for long time use
Bluetooth and MP3 capable
What I'd change
Offer a few more colors besides grey
Microphone plug not the most secure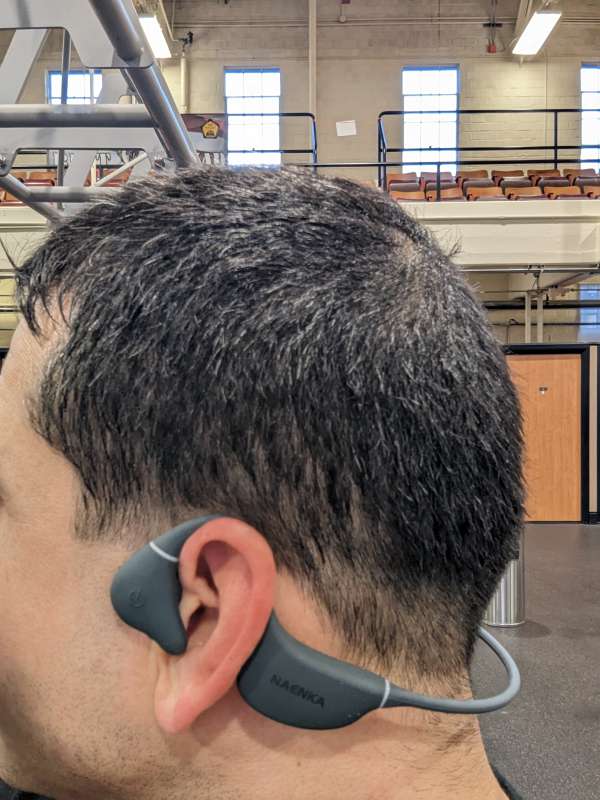 Final thoughts
If you swim at all and need fully waterproof MP3 headphones that are also Bluetooth capable the Naenka Runner Diver bone conduction headphones are for you. I don't swim very often but these will be my new go to headphones for working out since I don't have to mess with a case or have to worry about losing an ear bud. I also like that I can hear what is going on around me and talk to someone without having to remove the headphones or stop my music.
Price: $169.99
Where to buy: Naenka website (save 15% when you use the code: Gadgeteer) and Amazon
Source: The sample for this review was provided by Naenka.