We use affiliate links. If you buy something through the links on this page, we may earn a commission at no cost to you. Learn more.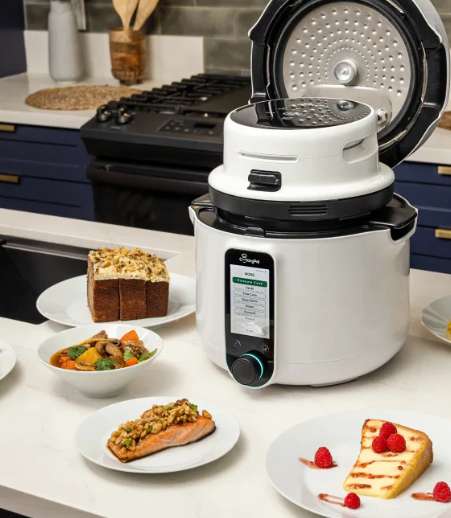 NEWS – CookingPal, makers of the Multo multifunction kitchen appliance introduced a pressure cooker with an integrated air fryer at CES this year. They call the pressure cooker the Pronto, and it features a screen that includes step-by-step interactive recipes, a built-in scale, and app interface for remote control cooking. Like the Multo, it can slow cook, sauté and steam, but the pronto can also sterilize, ferment, and of course pressure cook. 
The Pronto will be available with an air fryer lid called the Alto. The Alto will allow roasting, baking, grilling, and of course air frying. The best part is that if you already own a pressure cooker, the Alto will fit on most standard 6-quart pressure cooker bowls.  
When I reviewed the Multo, I had an online cooking lesson with a member of their recipe development team, Chef Jamie. He hinted at CookingPal launching a family of interactive cooking appliances designed to work with their cooking Hub, which is a tablet that can control the appliances you are working with. While it looks like the Pronto will work as a standalone device, information on their site indicates that it will have some Hub functionality as well. Pricing is not available yet, although you can sign up for a discount when they launch at their site.