We use affiliate links. If you buy something through the links on this page, we may earn a commission at no cost to you. Learn more.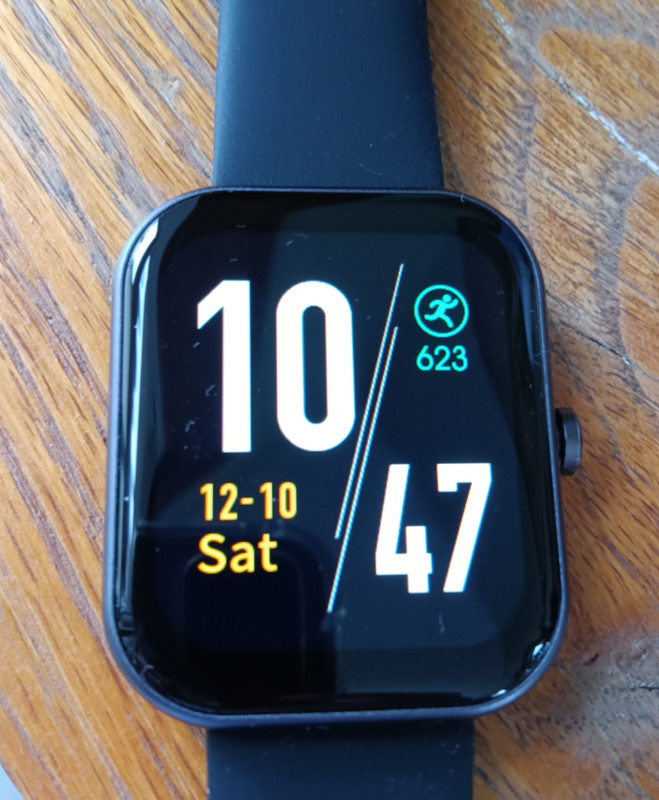 REVIEW – HiFuture FutureFit Ultra2 smartwatch does Bluetooth calling really well. But HiFuture needs to put some work into several other functions of the watch to bring it into the present. Take a look to see if the Ultra2 does enough for you to justify its relatively low price. It's well built overall, has a nice band and appearance and does its major function really well. How much more do you need?
What is it?
The HiFuture Future Ultra2 smartwatch is a rectangular, water resistant, multifunction smartwatch. Its main selling point is Bluetooth phone calling, completely through the watch.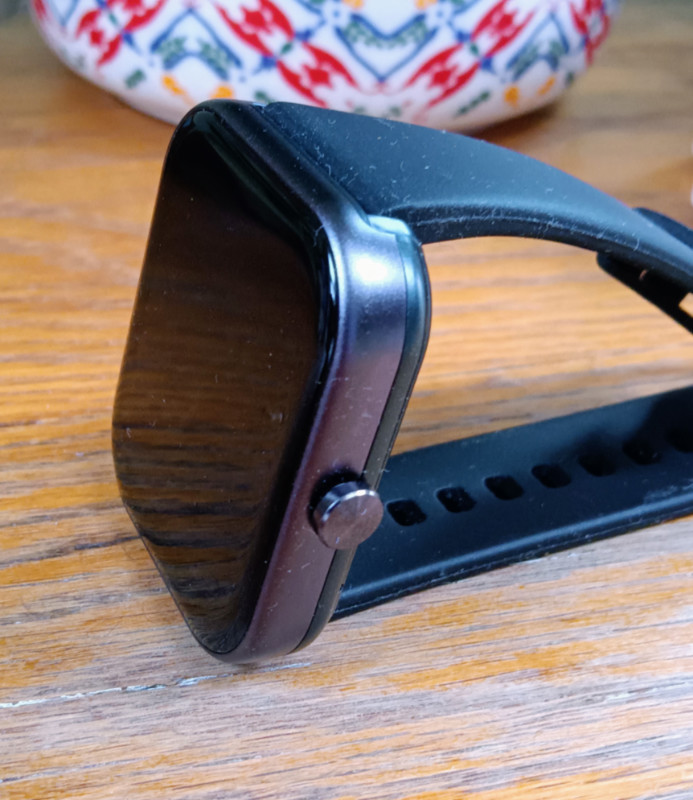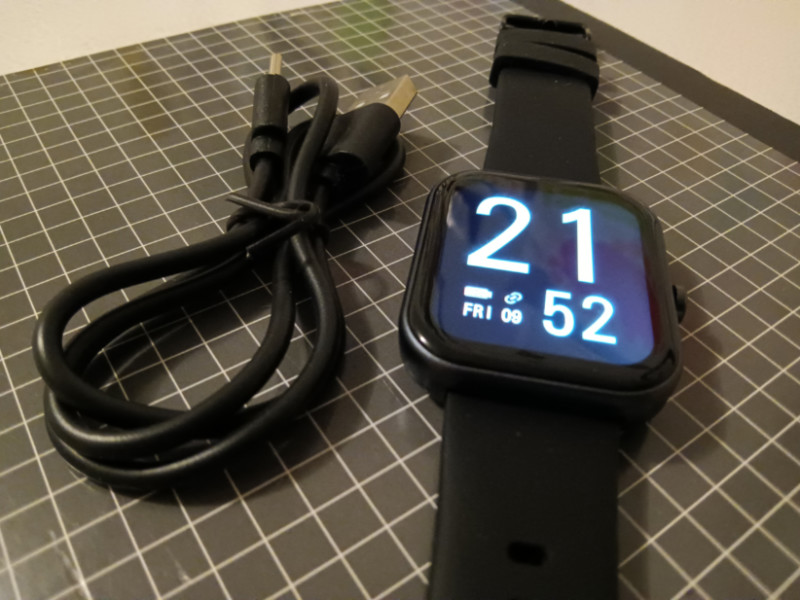 What's in the box?
The HiFuture Future Ultra2 smartwatch
Charging cable – USB-A to a proprietary connector
Instruction sheet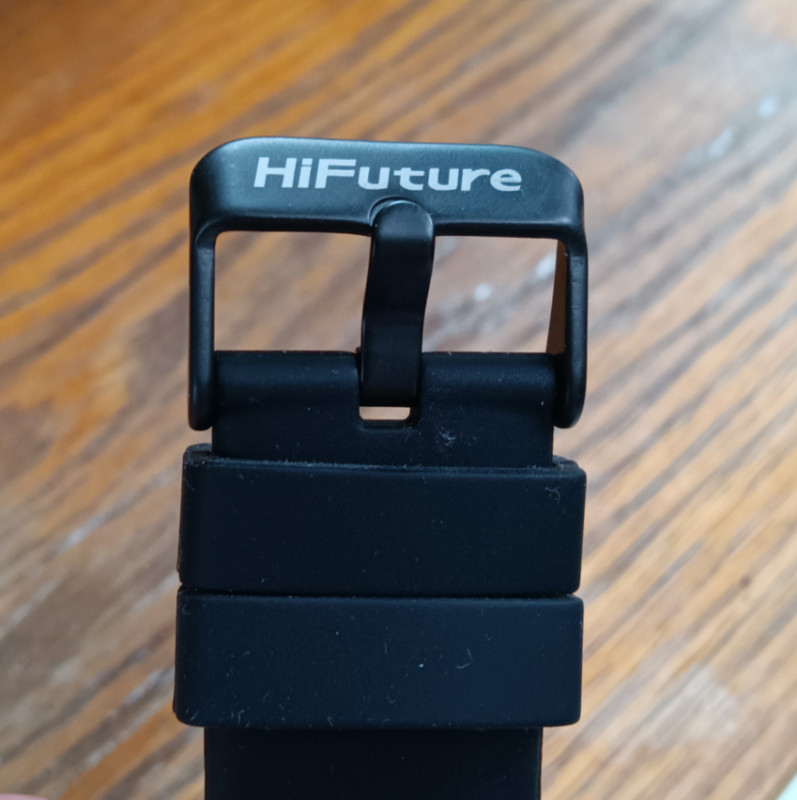 Specifications
Screen: 1.85-inch IPS display, 240×280 resolution
Water resistance: IP68
Bluetooth: 5.2
Battery: 300mAh polymer lithium battery, Standby time>25 days, Use time up to7 days
Remote controls: Music, camera
Compatibility: Android 4.4 / iOS 8.0 and above
12 month warranty
Design and features
The HiFuture Future Ultra2 smartwatch was fairly easy to set up, overall. The watch boots up in under 10 seconds. Charging was fast as the watch had 61% battery capacity on arrival. The Ultra2 and my Android phone connected normally through the 'GloryFit' app with no special steps. I was able to add and remove watch faces in the app, and the faces synced to the Ultra2.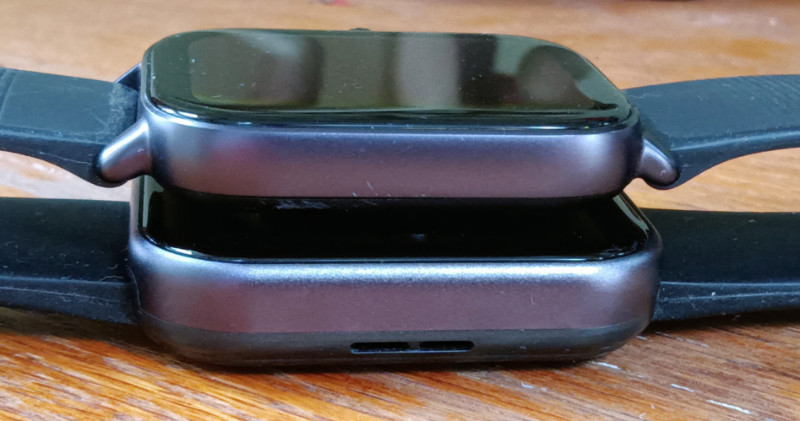 Here's the Ultra2 under the Amazfit GTS3.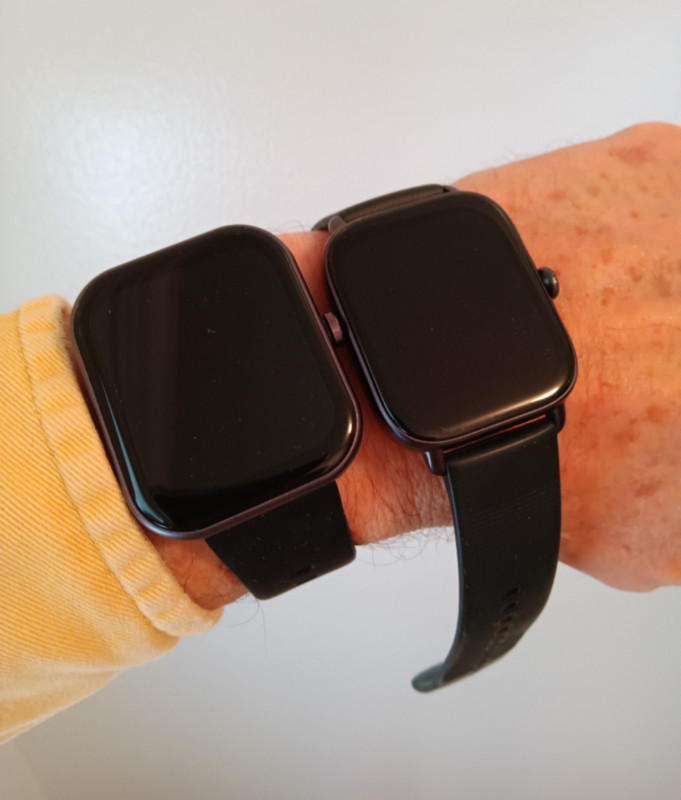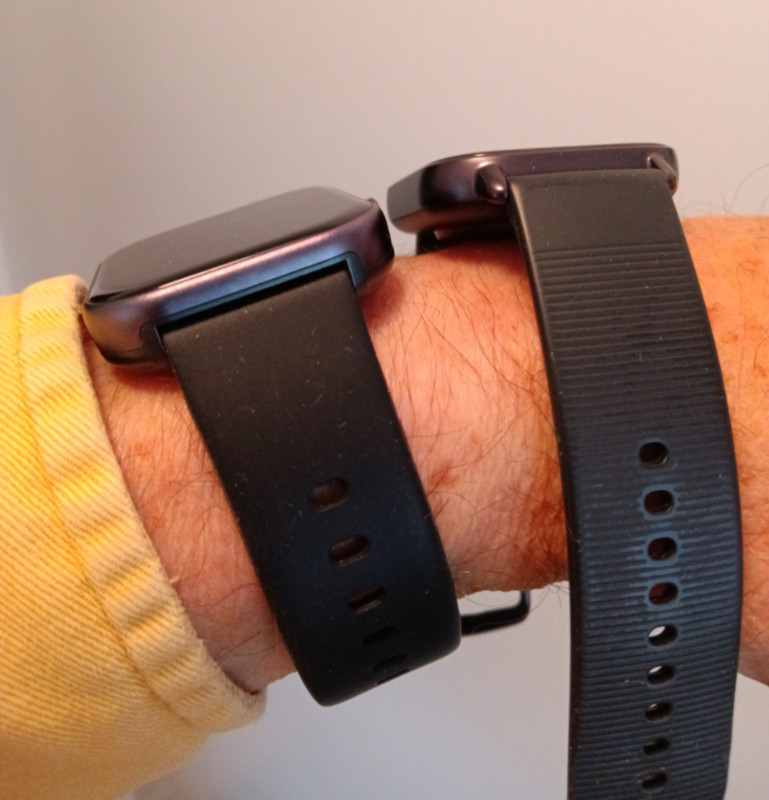 Only one chosen watch face at a time can be installed on the Ultra2, so even though you may have several faces you've placed into the 'My dial' tab of the app, to change the face it has to be re-synced to the watch. The 5 pre-installed watch faces cannot be removed.
After using the watch for about 4 days, I tried to install/sync a watch face I'd used a couple of days prior, which had originally been installed in about 45 seconds. At the next try, the face took 35 minutes to sync! I stopped the process after about 5 minutes, restarted the watch and phone, and there was no change. The process was ploddingly slow and took 35 minutes. Again, this was a simple watch face that synced normally a few days before.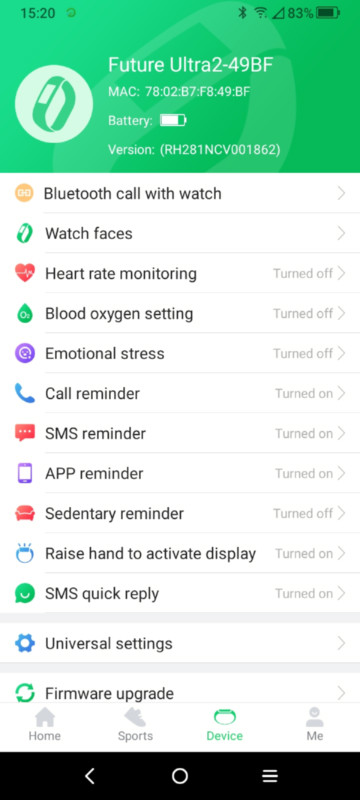 The English in the app needs editing but if you stop and think, you can figure it out.  'Dial center' is where watch faces are stored in the app. 'Synchronous dial' means 'Install this watch face on the watch'. The word 'Reminder' in the app should be 'Notification'.
Getting the phone and Ultra2 to pair up for watch-based phone calls was a bit of a challenge but once done I didn't have to repeat the process during the review period. The directions don't match what I experienced and saw on the phone so it may take others several tries, using your own intuition and re-starting the phone and watching until the two devices play nicely together. I'm not listing my steps here because I suspect that by doing the obvious things multiple times, the two devices finally paired for watch-based phone calls.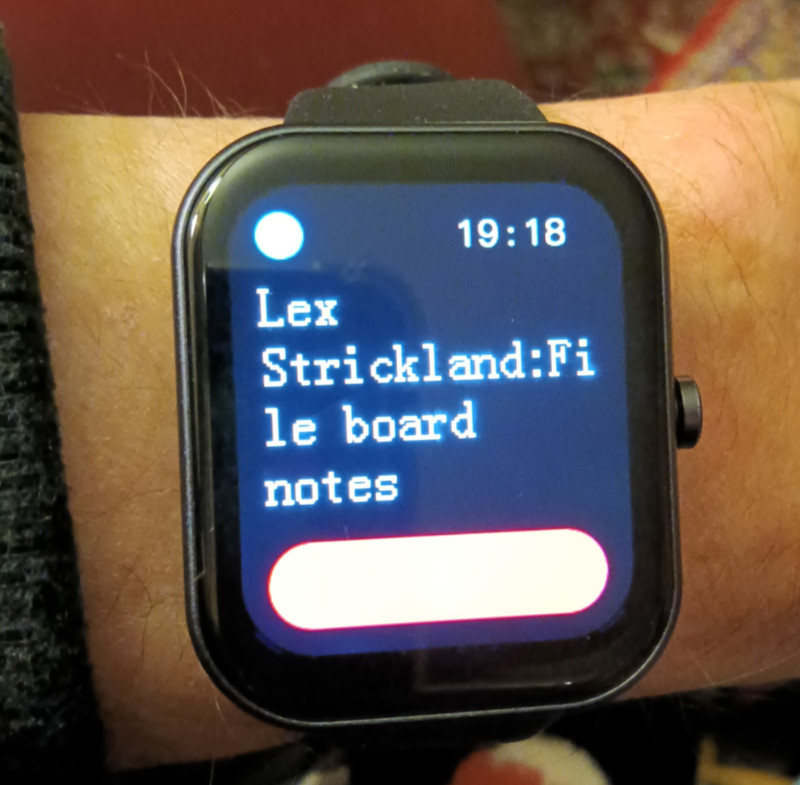 The font used to display text messages is quite old school. It looks like a font that dot matrix printers used to produce. Given the LCD screen capabilities of the Ultra2 this seems a design flaw that could be easily fixed with a software update.
Text messages get truncated to two screens so if it's a long message, you get to see what fits on two screens of message content.
Only a small subset of apps on a phone will be able to trigger notifications on the Ultra2. One of my biggest needs for a smartwatch is to deliver silent notifications from all of my most important apps. For example, my weather apps give critical notifications during severe weather. The Ultra2 can't receive those notifications. Tough for me if I'm in a quiet meeting and important notifications can't reach me without keeping a hand on my phone to feel it vibrate.
Google Keep is one of the few apps allowed to work with the Ultra2. Many notifications from Google Keep reminders failed to trigger watch notifications.
Why doesn't the Ultra2 reliably accept notifications from any app on the phone? This seems to be a standard with most good smartwatches these days.
When a text message arrives to the phone, the Ultra2 does a single short vibration. That is way too easy to miss. There is no customization of the incoming text vibration other than a universal setting for low, medium or high vibration strength, but the buzz can not be made any longer. One quick 'bzzt' is it. And sometimes with an incoming text the Ultra2 wouldn't even give a single buzz. It missed quite a few. Text notification appears to be a low priority for the Ultra2.
Sporadic notifications from the Ultra2 notwithstanding, as with every smart watch I've owned, the Ultra2 notifies for the first text from a sender but unless I deleted that sender's original text there were no more notifications if the discussion with that sender continued. If I delete every text that arrives, subsequent texts from the same sender do (usually/sometimes) notify at the watch. With one puny 'bzzt'.
WhatsApp is another of the few apps that are supposed to transmit notifications to the watch. The watch would often do late vibration notifications for a WhatsApp conversation that was well underway, having not notified me of the first three or four messages in a thread. And often the watch did not vibrate at all when a WhatsApp message came to my phone.
When the Ultra2 Bluetooth calling feature is turned on, some sounds that would normally come from the phone speaker, come through the watch speaker. It's interesting when you first hear it but it isn't customizable. If I do a phone search using Google Assistant, the result is spoken through the watch. But if I stream a podcast, the sound comes from the phone speaker.
At the end of a timer, the watch gives three brief vibrations. That's better than the single quick vibe for text messages, but more vibe customization choices are a critical need for this watch.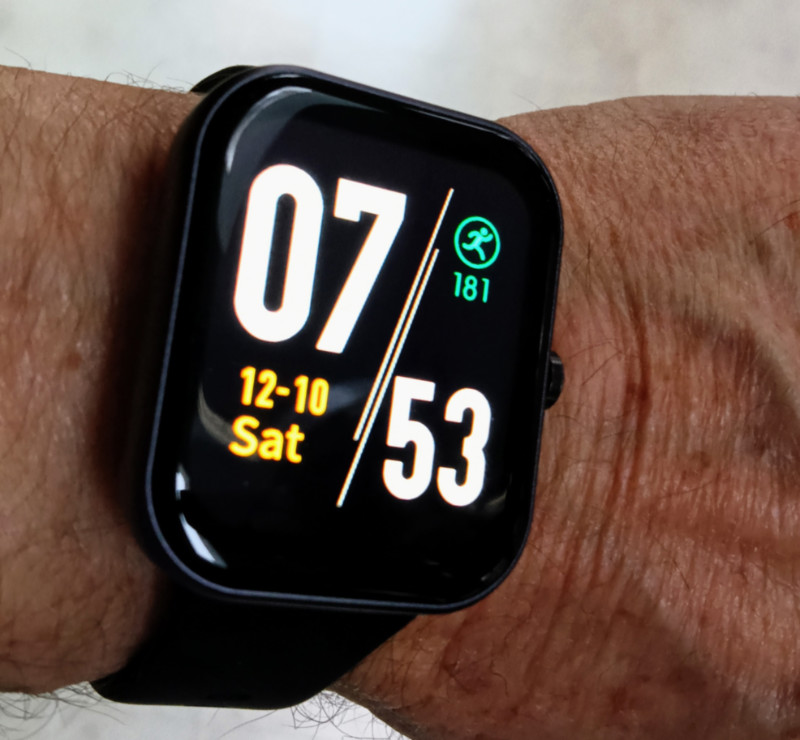 There are 5 watch faces built into the watch and 97 in the 'Dial Center' section of the app, and I'm not crazy about any of them. I found one I didn't hate. Many of the faces feature cartoonish background art or lots of primary colors, instead of professional design and visibility of the watch hands and digits.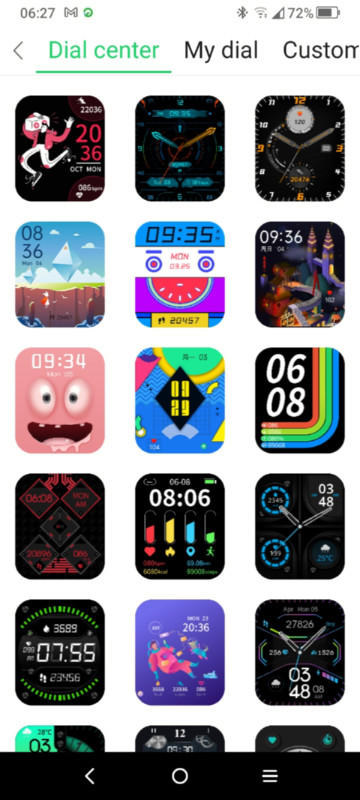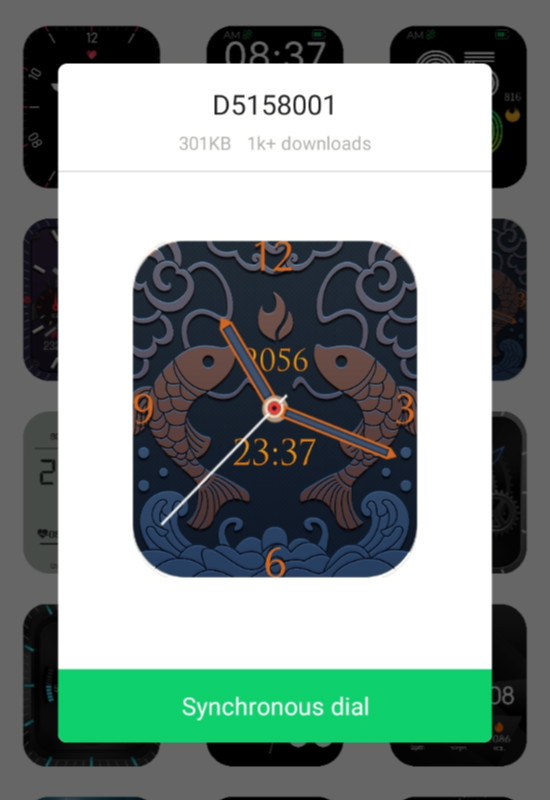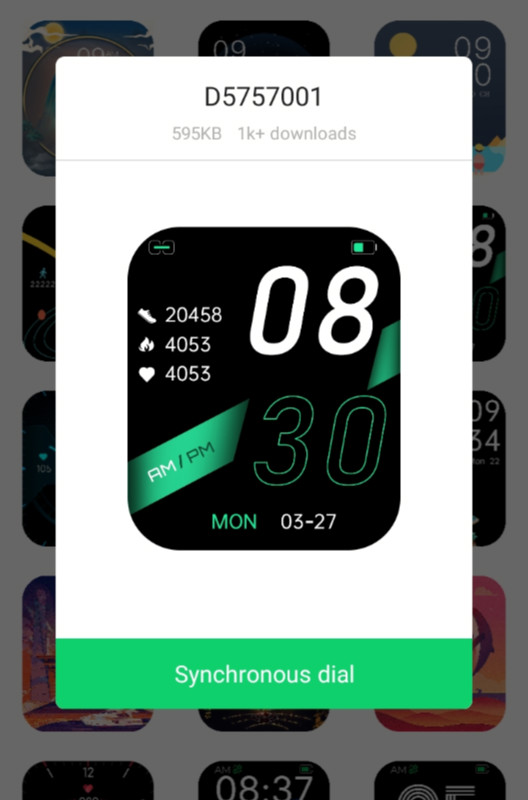 You'll know the hour and squint for the minutes with this one.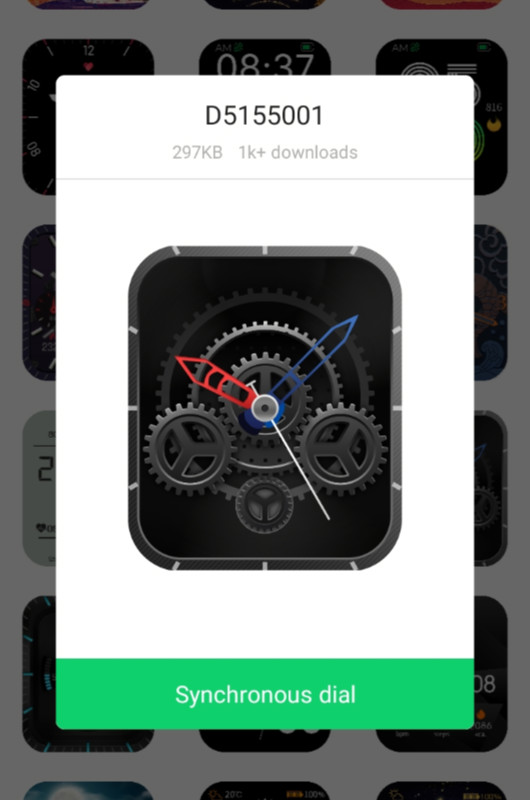 There are several analog watch faces with dark hands on dark backgrounds. Several digital faces have white minute digits and a darker hour digit colors or vice versa, which hampers outdoor readability. I nearly lost interest in the Ultra2 after a few hours since I didn't find a watch face I really liked.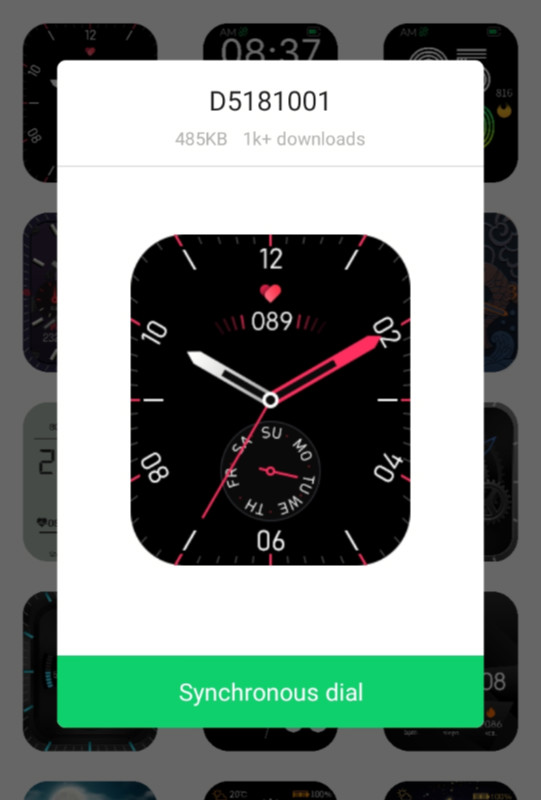 Must the minute hand be pink?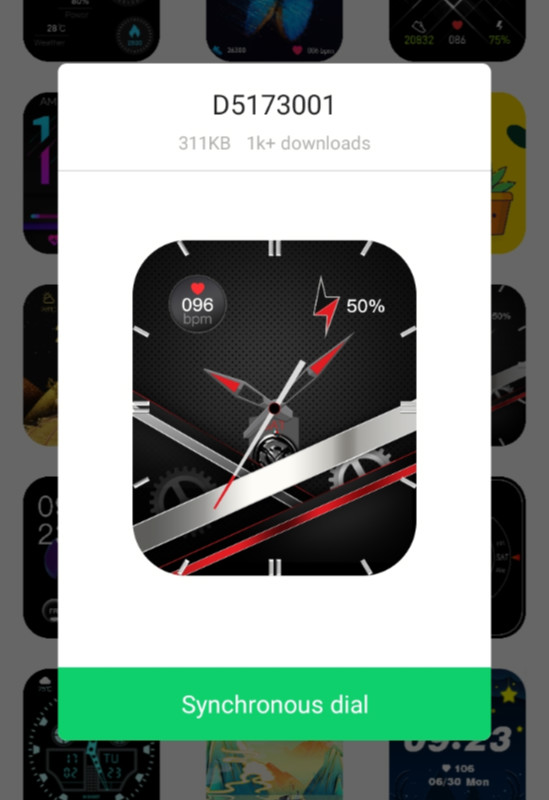 It's hard to tell the time at a glance with this one.
How about a simple, easy to read, medium sized digital face, and a reasonable looking analog face with white hands and a dark background? I didn't find a face that I would want to pair with business outfits.
When you look closely at the watch faces you wonder if the Ultra2 is designed to be a teen's watch. But it's a fairly large watch. Maybe a big teen?
'Dial center' usually showed the 96 watch faces. But sometimes I'd go there and it was empty. A forced app close, and reopen, made the faces show up again, but why?
Syncing a new watch face usually went at a normal pace but there were occasions when a simple face took over 5 minutes to download. One of those occasions was from the watch having been off, so it shouldn't have been a case of low memory. Occasional slow processor maybe? Turning the watch off and back on usually fixed this problem.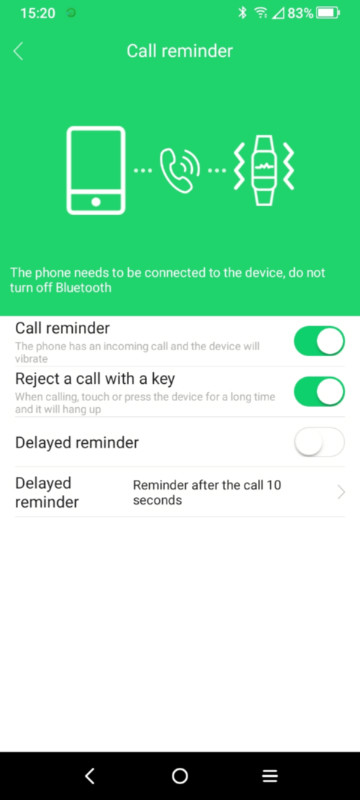 The GloryFit app has a setting for a 'Delayed reminder' that can be set for 1 to 10 seconds. When any type of notification comes that is not manually dismissed, the Ultra2 -sometimes- says 'Incoming call' in an electronic female voice. Shouldn't the watch just vibrate? If I don't dismiss a timer that has counted down, the watch occasionally says 'Incoming call'. I turned off Delayed reminder and left it off.
All alarms that vibrate at the appointed time also play that eerie voice saying 'Incoming call'. Hearing that voice coming out of a deep sleep makes me grab my phone, because surely a call is coming in? Nah, that's just the alarm announcement. So – why does it say 'Incoming call'?!  Support said to set the watch to 'Mute' in the settings and mine is set to Mute already.
While the Ultra2 works with Android phones, Support is not yet ready to provide Android-specific support answers to Android users.
I set 'Units' in the GloryFit app to 'British' (it comes set to 'Metric'). The weather app on the watch continued to show temperatures in Celsius. I restarted my phone and the watch and the Celsius display persisted. So much for that setting in the app.
The Ultra2 watch 'Voice Assistant' app is in place to trigger your phone's voice assistant like Siri or Google Assistant. I've found Google Assistant to be so wonky that I don't use it.
Most modern smartwatches offer an 'always on display' but not the Ultra2. The choices are to turn the face on with a press of the crown button, or use the 'flip the wrist' feature to turn on the screen. There was usually about a one second lag from turning my wrist up to view the time and the screen coming on. With some faces there was a two second lag to check the time. Not cool.
It seems gimmicky to me for exercise watch makers to list dozens of 'sport modes'. Whether I choose ballroom dancing or badminton, what is the watch really measuring? Heart rate and duration of activity, right? I fail to see a benefit to choosing 'hockey', 'jumping' or 'basketball' since about all a smartwatch can do is measure heart rate, maybe oxygen saturation, and duration of the exercise. I concede that it may be useful to keep track of specific workout types for 'journaling' purposes. On this day I played ping-pong, on that day I golfed, etc. But fitness apps are notorious for losing user's data so you better keep a written journal elsewhere, whatever device you're using.
The step counter in the Ultra2 seemed pretty accurate. It would sometimes slightly overcount a 100 step test. E.g. It would credit me for 104 steps when I really did 100 steps while walking and swinging my arms very normally / without exaggeration. Other times it was on target or would be only one or two steps over the actual step count for a 100 step test.
The resting heart rate monitoring was pretty accurate with the Ultra2 each time I checked it with the watch and compared with a manual count. When compared to taking my pulse manually while the Ultra2 did its thing, the counts were either right on, or pretty close.
Exercising heart rate was not accurate with the Ultra2. At the end of 50 jumping jacks the Ultra2 showed my heart rate at 53 BPM. That was way off. My manual count indicated 130 BPM. A minute after I stopped exercising the watch and manual count converged.
After 25 pushups, the Ultra2 showed my heart rate at 134 BPM, but it was actually 116.
The Ultra2 appears to be unable to do accurate heart rate monitoring during exercise.
Bluetooth calling seems to be mainly what this watch was designed for and that function works very well. People I called could not tell I was talking to them through an external device. Their sound was clearly audible to me through the Ultra2 speaker.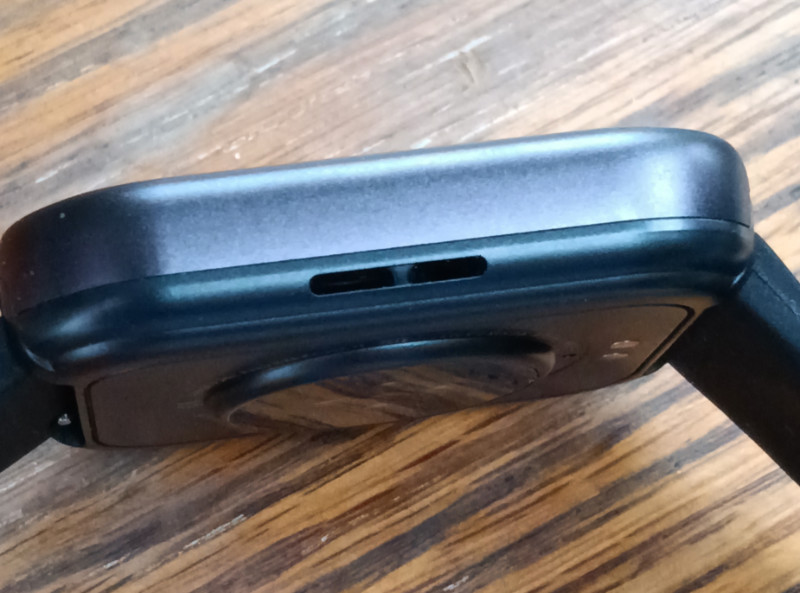 It's amazing that the watch is showerproof given the openings in the case for the microphone and speaker, but, so it is.
For some reason, only 109 of my 238 contacts are shown in the contacts of the GloryFit app. Contacts have to appear in the app to be movable to the watch. Sorry Mom, I can add Poison Control and our tree service to the Ultra2, but not you. Up to 100 contacts can be synced to the watch. Just not my Mom. Once you manually enter a phone number to call, at least it's in the Ultra2 Phone Log and can be easily called with a few taps.
Battery life is almost always over-claimed by manufacturers. I used the Ultra2 in 'wrist flip' mode to check the time, used countdown timers when cooking or for other tasks, had a daily wake up alarm, checked step counts, and made a couple of phone calls a day using the watch. In two days the watch went from a full battery to 35%. The Ultra2, like any other smartwatch, will give a longer time between charges the less you use it.
What I like
The Ultra2 size, weight and strap made for comfortable wear.
The watch is shower and sweat proof, and should be ok for surface swimming.
The watch is nice looking and appears to be well made.
Bluetooth calling worked perfectly with the Ultra2.
What I'd change
Vibration customization. Duration of vibes and repeats should be adjustable.
The GloryFit app needs an overhaul in language correction, feature adds and tweaks, and operation fixes
More accurate and complete pairing instructions for the Bluetooth calling feature.
Professionally designed watch faces with some focus on readability and simplicity.
Support Android phone users.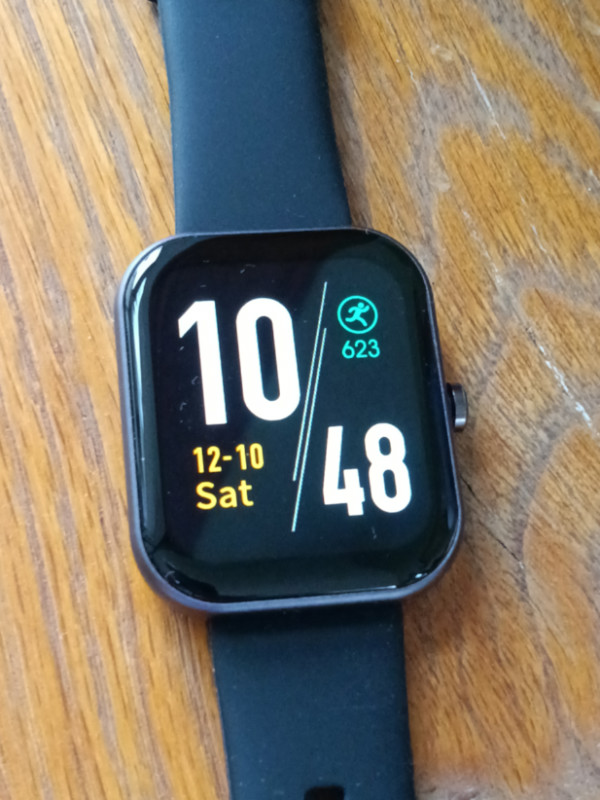 Final thoughts
It is difficult to recommend the HiFuture Ultra2 watch given the shortcomings I experienced with it and because it fails to deliver current smartwatch features and functionality. If you can overlook the faults of the Ultra2 and need a 'phone call watch', it comes at a price that might not break the bank.
Price: $59.99
Where to buy: HiFuture
Source: The sample of this product was provided by HiFuture.