We use affiliate links. If you buy something through the links on this page, we may earn a commission at no cost to you. Learn more.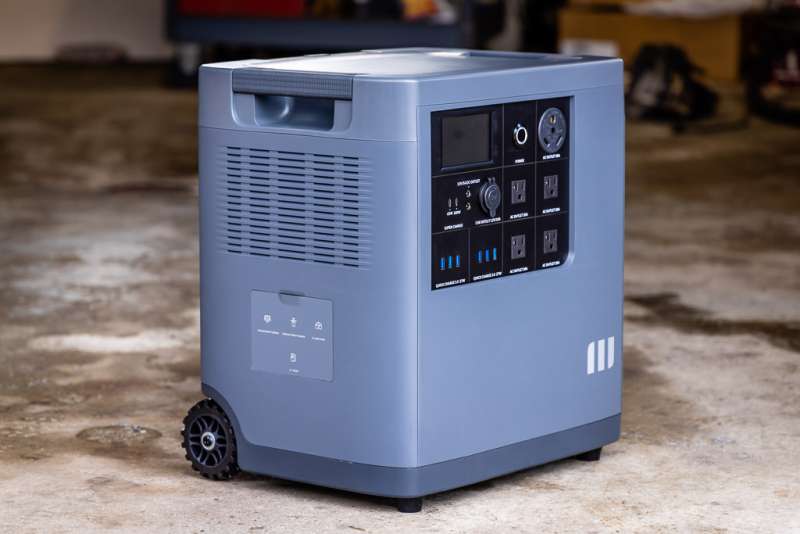 REVIEW – I've wanted to get a large portable power station for quite some time now. The Mango Power E came up for review, and I was lucky enough to get picked to try it out. It was still pre-release, so I've waited since July like a child waiting for Christmas. Was it worth the wait, read on to find out!
What is it?
The Mango Power E is a portable battery power station featuring a substantial 3.5KWh capacity and a maximum 3kW output.
What's in the box?
Mango Power E Power Station

Grid Charging Cable (120V)

Solar Charging Cable

Quick Start Guide
Hardware specs
Battery 3.53kWh

AC Output Power 3000W, 120V AC, 60Hz

Output Ports 16

Smart Control Bluetooth and WIFI

Screen 4.3 inches, color touchscreen

Net Weight 100 lbs (45.5kg)

Size 17.8×13.6×19.4 inches (452x345x494 mm)

Working Temperature Charging -20°C~60°C, Discharging -30°C~60°C

Warranty 5 Years
Output Ports:
16 output ports, 6 different types

Two DC5521 Ports

One Car power port (12v)

One 65W Type-C USB Port

One 100W Type-C USB Port

Six 27W Quick Charge 3.0 Ports (Type-A USB)

Four 20A 120v outlets

One 30A Outlet (RV Type)
Input Ports:
Grid (3000W max)

Solar (2000W max) 60-150V DC, 20A Max

Up to 80% charge in 1 hour, 1.5 hours to full charge (with 30A input)
Design and features
I was excited to get an opportunity to review the Mango Power E Power Station. Its impressive capacity and output capability were just what I was looking for in a backup power station.
When I accepted the review, the unit was not shipping yet, and the details were few, so I didn't know exactly what to expect. When the Mango Power E Power Station arrived, I was surprised to find that it was much heavier than I anticipated, but I should have known based on the specs, but I didn't do the math.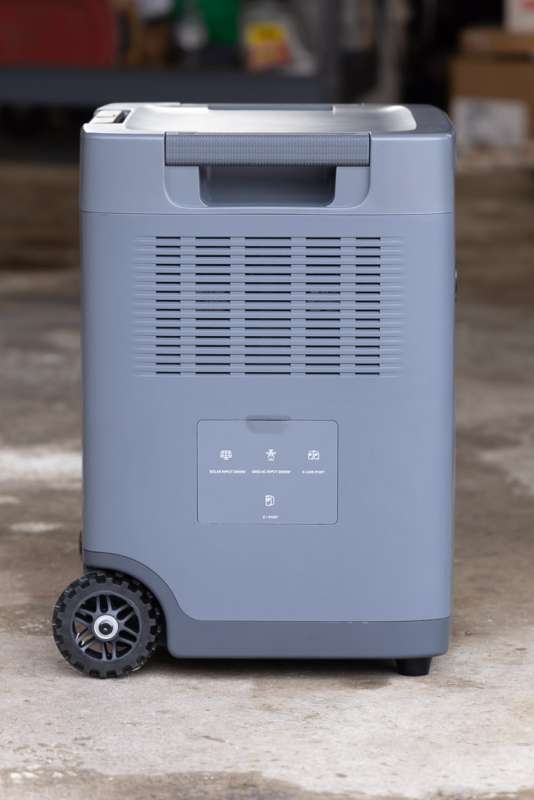 I was delighted that it includes wheels and a luggage-type extending handle, as the unit weighs in at 100 lbs (45.5kg). It's a beast to move around, and although it is portable, you won't be tossing it around like carry-on luggage, or at least not with my back. The weight is low to the ground, so moving around on a solid surface is relatively easy.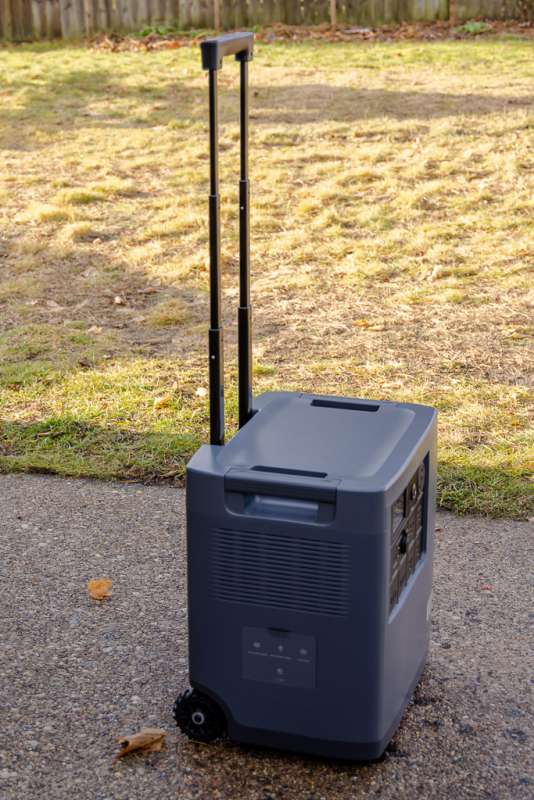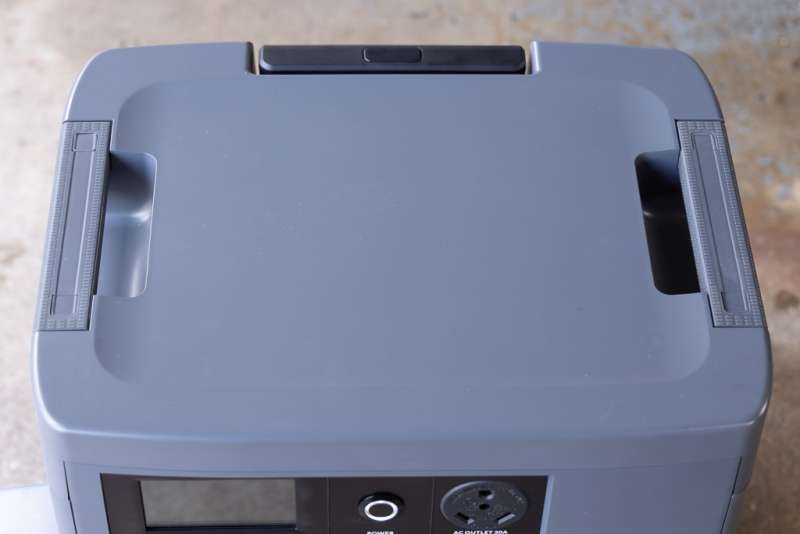 Aimed at meeting your portable power and home backup needs, the Mango Power E Power Station sports a 3.5kWh capacity and 3KW output capability. 3000 watts is a lot of power while on the go and a fair amount for home backup needs. While it won't power your entire house, it will provide power for critical needs like your refrigerator, lighting, and mobile device charging. How much is 3.5kWh hours? It could recharge your laptop 50 times or run your refrigerator for over two days.
The Mango Power E Power Station also has a "BACKUP" mode, which will automatically switch from grid to battery power when there is a power outage. I'm looking forward to having this in my office for just this purpose.
While on the go, it will certainly meet most of your camping or road trip needs. It'll charge those cameras, drones, laptops, and mobile devices quite a few times.
The Mango Power E Power Station uses the same ultra-durable LFP (lithium iron phosphate) battery cells as the world's best electric vehicles. These cells are more reliable than other traditional NCA/NCM battery cells, charging faster and lasting longer. These batteries are rated for up to five years of continuous use, charging, discharging, and recharging constantly. The unit also features a five-year warranty.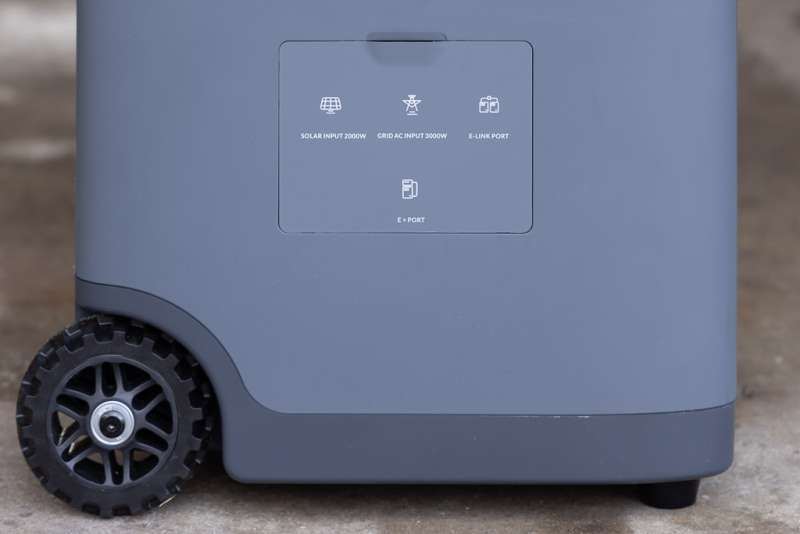 For input ports, the Mango Power E Power Station includes:
A 2000W solar input.

A 3000W grid AC input.

An E+ port for the optional expansion battery.

An e-link port for connecting multiple Mango Power E Power Stations together.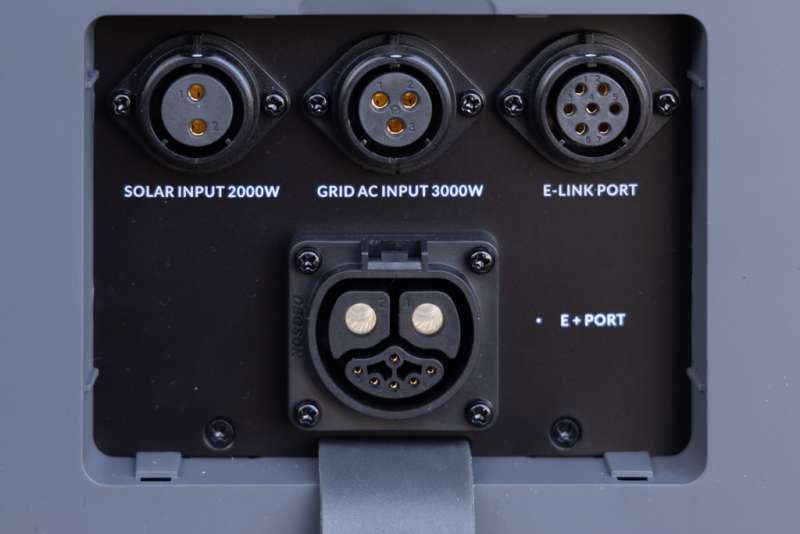 In the settings, you can configure the grid AC port to draw 10, 15, or 30 amps (you'll need the optional 30A cord for that). The unit can charge to 80% in one hour with a high amperage outlet. I like that the input ports are separate from the output ports. Although the ports are unique, it's nice to have them separate.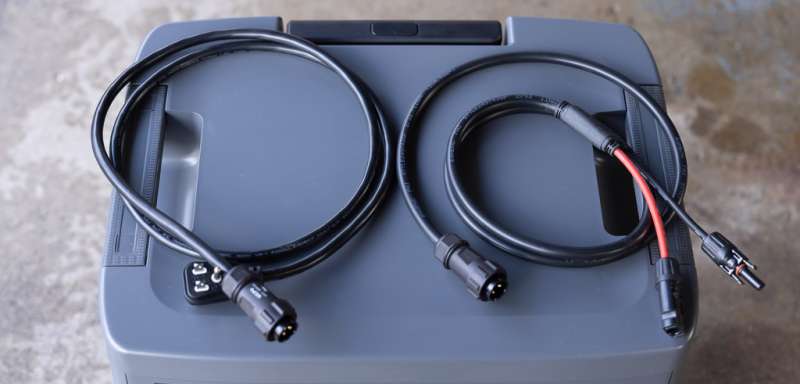 The output ports are plenty. The Mango Power E Power Station includes 16 output ports of 6 different types. Two DC5521 Ports, One Car power port (12v), One 65W Type-C USB Port, One 100W Type-C USB Port, Six 27W Quick Charge 3.0 Ports (Type-A USB), Four 20A 120v outlets,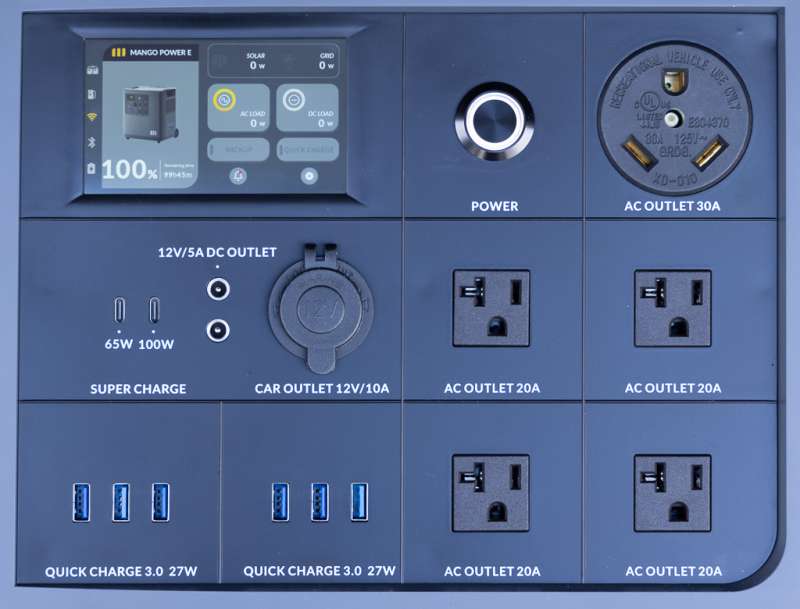 One 30A Outlet (RV Type). I really like that there is a 100W Type-C port, making it possible to charge things like laptops without having to run the inverter. The 30A outlet makes it possible to plug in an RV, something I'm hoping to take advantage of this summer.
The Mango Power E Power Station powered everything I threw at it. I powered my garage tools, computers, laptops, iPad, phones, and all of my LED garage lighting. I'm sure that during a power outage, I'll be able to power my essentials for quite some time.
The mobile app is new and still in development. I found it extremely basic. I could connect to the Power E through the network, even though I got an error message saying it couldn't. There are toggle settings for turning on and off the AC and DC output, but unfortunately, the app doesn't remember that it turned them on and doesn't display their correct states.
None of the stats for power usage worked in the app, and the home section never displays any data. The app, at this point, is relatively useless.
App Screenshots:
There are several optional accessories for the Mango Power E Power Station:
Solar panels
Mango Power was kind enough to send me solar panels after I found that my solar panel did not output enough power for the Mango Power E Power Station. You'll need 60 to 150 volts to charge via solar. I connected four of the Mango Power 200W Solar Panels in series and got 30 watts out in extremely overcast conditions (I wasn't expecting any), and upwards of 395 watts at 11am in partly cloudy conditions. To give you a comparison, when charging at the 10A grid setting, the charging input is 153W, so the solar panels gave me more than twice what the wall plug could.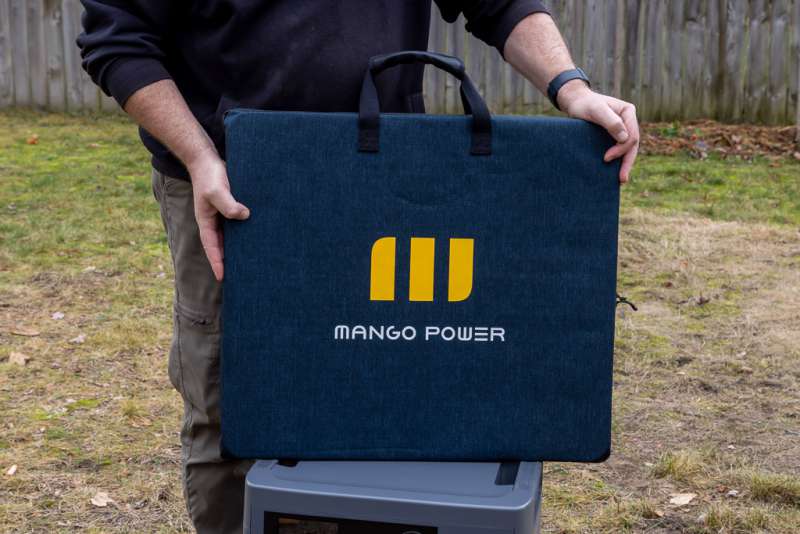 I found the solar panels to be well-designed. They come in a nice carrying case and feature an easy-to-use kickstand. You will need an extension cord for the solar cable, as connecting four of these panels together is difficult using the included cable.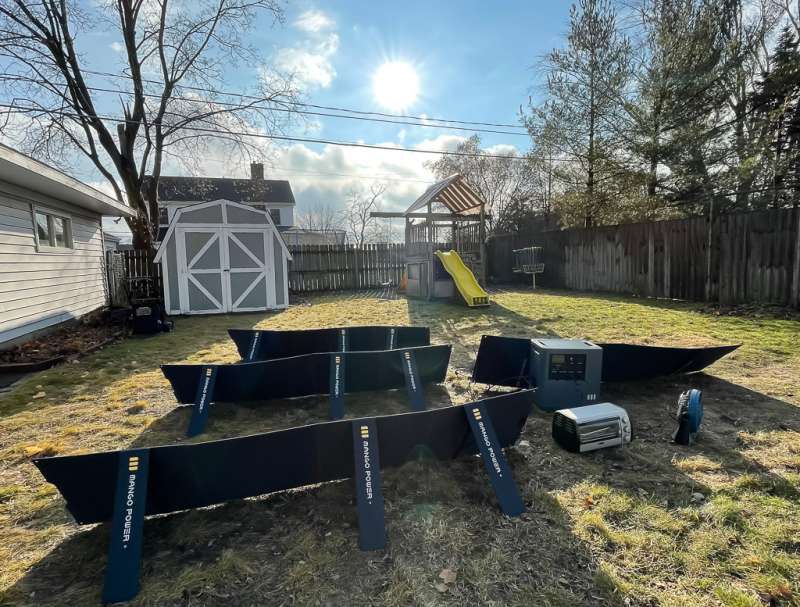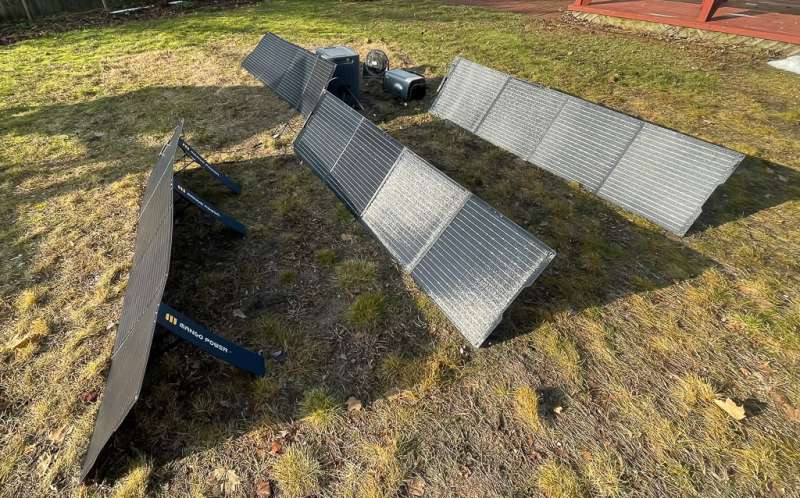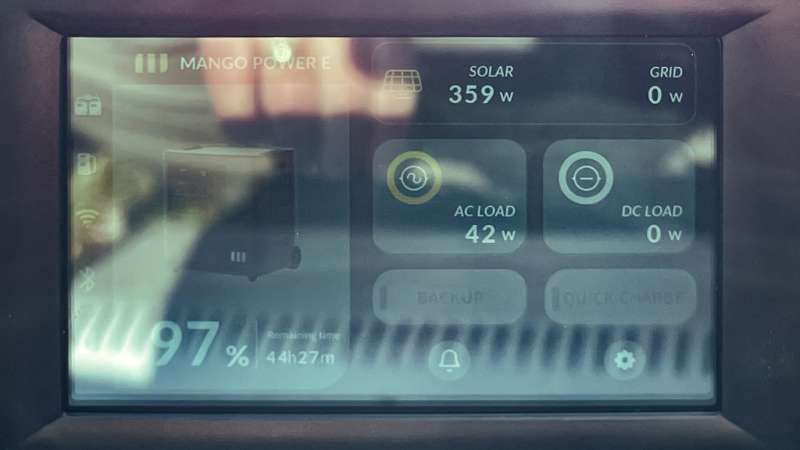 Expansion Battery
The expansion battery connects with a Mango Power E to double the total capacity to 7000Wh. It includes a connection cable. However, I did not have one of these for review. It retails at $2,399.
Mango Power mSocket Pro
The Mango Power mSocket Pro connects two Mango Power E power stations to double the rated power/voltage/capacity. It supports 240V split phase output with 2 Mango Power E. It retails at $249.
Mango Power mPanel Pro
The Mango Power mPanel Pro connects to your home wiring and instantly switches the essential load's power supply from the grid to the battery. I was really hoping to get one of these with the unit, but I don't think this accessory is going to be available until spring. It retails for $549.
What I like
Output ports and input ports are on separate sides of the machine
Screen shows the time remaining and power usage (in watts)
Different modes like Backup, Time Based, and Economical Mode will be nice when enabled by the app
Power capacity and load handling
One of the best output port layouts that I have seen in a portable power unit.
What I'd change
The App has very few features and is still in development
The extension handle could be a little more stout. It works, but it doesn't feel as strong as I would like.
Final thoughts
Although there is room to improve when it comes to the Mango Power App, the Mango Power E Power Station has brought me much peace of mind. During the recent blizzard, I wasn't worried about the power going out as much as I was before. I'm looking forward to using it more during the summer and offsetting some of my electrical use with solar panels. The hardware seems to be top-notch and really well thought out. I'm also looking forward to the Power mPanel when it comes out.
Price: $3,699
200W Solar Panels: $349 each ($1400 as tested)
Where to buy: Mango Power, WELLBOTS, and Amazon
Source: The sample of this product was provided by Mango Power.