We use affiliate links. If you buy something through the links on this page, we may earn a commission at no cost to you. Learn more.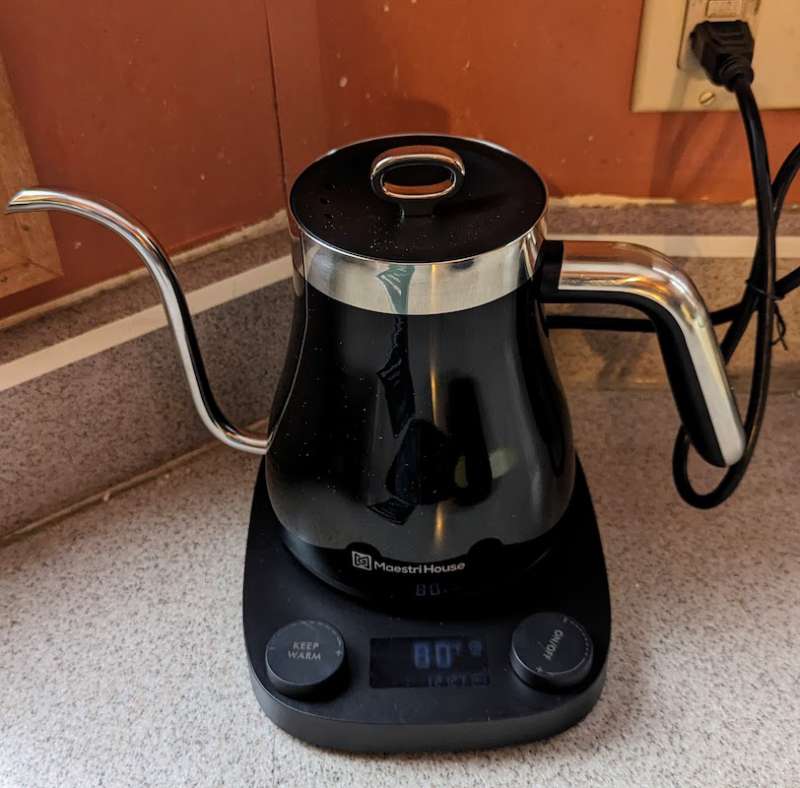 REVIEW – Most of us drink coffee from a good old electric drip coffee maker.  But if you are into specialty coffee and enjoy the ritual of the brew as much as the taste (and caffeine!), then a gooseneck kettle is necessary.  True coffee aficionados prepare coffee not with a drip coffee maker, but with a pour-over setup which gives much more control.  An important part of that setup is a gooseneck kettle, and electric ones that also boil the water are even better.  The Maestri House Electric Gooseneck Kettle is just that – and a pretty nice one. 
What is it?
The Maestri House Electric Gooseneck Kettle is an electric kettle capable of bringing water to a specific temperature that you set, and also maintaining that temperature for up to an hour. It also has a built-in timer, which is also critical for consistency in coffee brewing.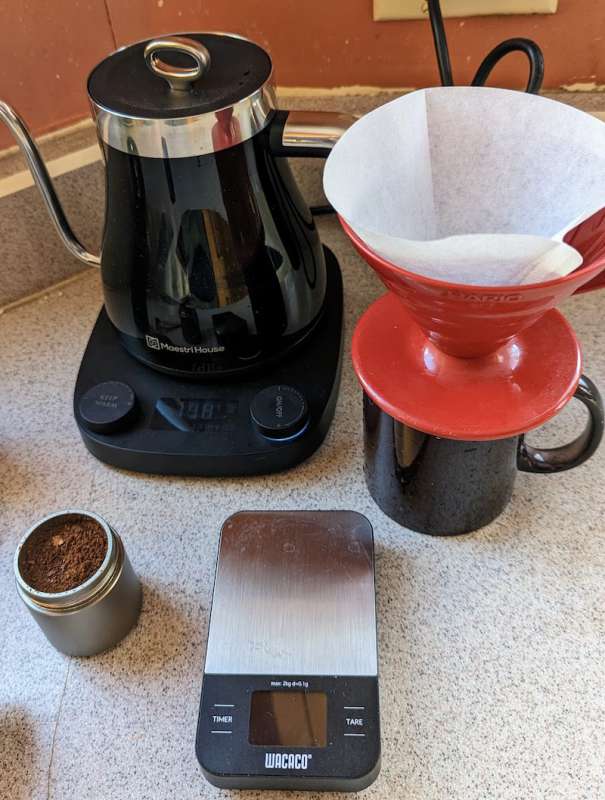 What's in the box?
Kettle

Kettle lid

Kettle base

Instruction Manual
Hardware specs
Heating Power:

1200W

Temperature Range:

86

°

– 212

°

F (30

°

– 100

°

C)

Minimum Capacity:

500 mL

Maximum Capacity

950 mL
Design and features
Heating water is not a particularly challenging task, and electric kettles have been around for years.  What sets this one apart is the ability to quickly bring water to a specific temperature, and to hold it at that temperature for up to an hour. Why would anyone want to do this?  Well, because coffee tastes pretty different when brewed with different temperature water.  Additionally, different roast levels require different temperatures for the best extraction and flavor.  Light roasted coffees really should be brewed with water close to boiling, while dark roasts tend to taste best when brewed with water around 185° F. The differences are surprising. 
The Maestri House Electric Gooseneck Kettle features two dials that also function as push-button switches. The dial on the right controls the boil function.  Turn the dial to set the desired temperature, and push the dial to start heating.  Once it reaches the set temperature, the kettle will beep and turn off. The left dial is the "heat preservation boil mode" dial.  In this mode, it functions the same as the previous mode, but it will not turn off upon reaching the set temperature. It will instead maintain that temperature for up to an hour. This is helpful if you are preparing multiple cups of coffee in a relatively short period of time. The kettle also features a timer, which starts to count up from zero after a long press of the right dial.  This is an important feature for preparing consistent pour-over coffees. Between the two dials is an attractive blue LCD display that shows the current temperature, target temperature, and status indicators.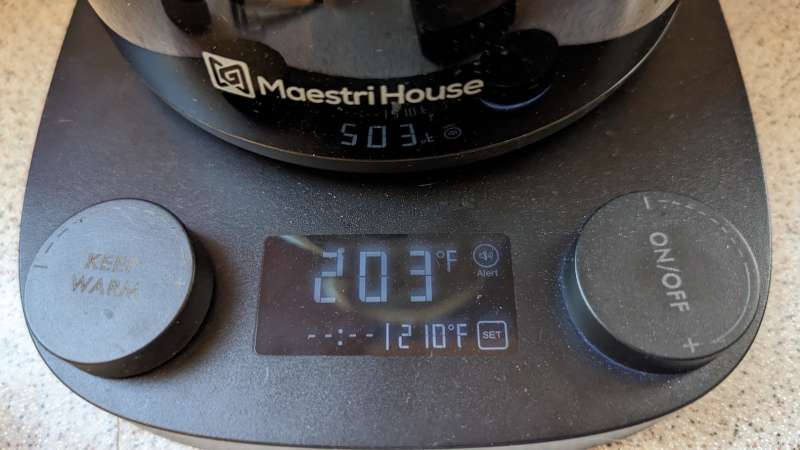 On the back of the base are two switches. One turns the beeper on or off, and the other is a child lock, which prevents someone from accidentally heating water. The base also features a heavy power cord and rubberized feat for stability. 
The Maestri House Electric Gooseneck Kettle features a 90° gooseneck which allows for very precise pours. 
Performance
The Maestri House Electric Gooseneck Kettle performs well. The controls are intuitive and easy to use, and I was able to get a very precise pour from the gooseneck. The kettle brought water to boil fairly quickly.  In my test, 2 cups (473 mL) of water at 50° F (10° C) boiled in 3:17 minutes.  This was a little slower than another less expensive electric kettle that boiled the same water in 2:50 minutes (no one likes to wait for the water to boil!).  The kettle looks nice, and the connection between the base and the kettle itself was solid.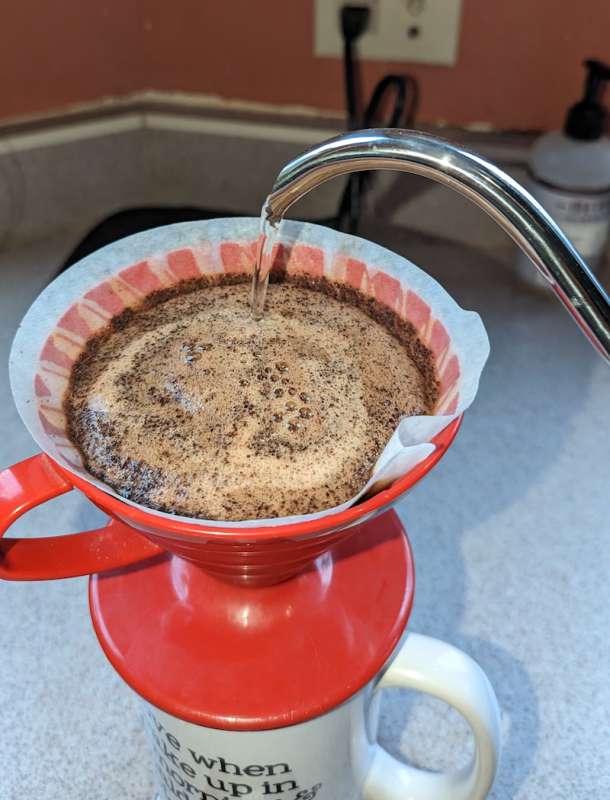 I did have a few gripes.  On my test Maestri House Electric Gooseneck Kettle, the handle had some sharp edges where the top and bottom pieces did not seem to come together fully.  Not razor sharp or anything, but definitely an issue with build quality. 
Another small gripe was with the display.  The plastic covering the display somehow blurred the image unless I was almost vertical to the kettle.  It was not a huge issue, but it's something I thought would have been identified in testing.  
One issue that I had with the kettle was that the minimum amount of water specified for boiling is a lot more than most cups of coffee. If you are brewing a single cup of coffee, you will end up boiling a lot of unnecessary water (and using unnecessary energy) to satisfy the 0.5L minimum capacity. For a few cups at a time, this would be perfect – especially with the heat preservation features. But for individual cups, the kettle may be a bit too big. 
My final gripe has to do with the lighting indicators for the dials.  When the Maestri House Electric Gooseneck Kettle is in either boil or heat preservation mode, the respective dial is backlit from underneath. This lighting is especially dim, to the point of being invisible to see in a bright room.  My "coffee station" is in front of a window, and if the sun is up, I could not see those lights, which made it difficult to determine if the kettle was actually on.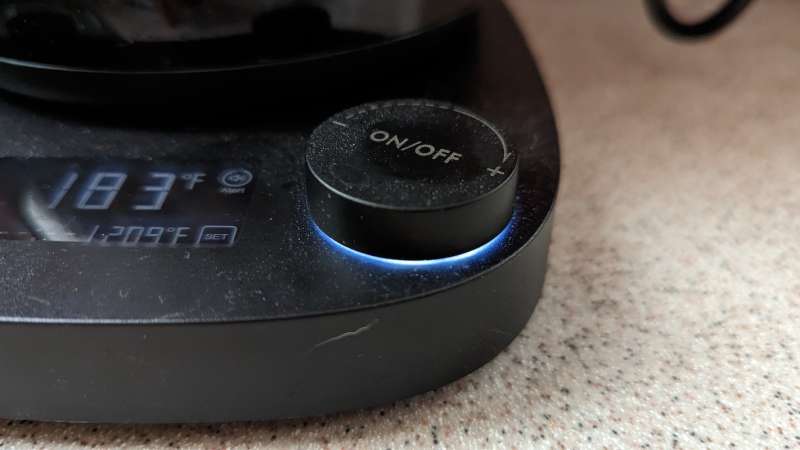 What I like
Easy and intuitive controls

Very stable base

Attractive black and silver design
What I'd change
Make it a little smaller, so single cups are less wasteful to brew

Check the build quality and fit of the different pieces

Brighten up the lighting under the dials
Final Thoughts
Electric kettles are becoming a necessary piece of kit for those who really enjoy variety in their coffee.  Kettles with adjustable temperatures allow for even more customization in brewing.  The Maestri House Electric Gooseneck Kettle hits all those marks, with a few minor issues along the way.  But despite those shortcomings, this kettle will allow you to prepare excellent coffee as part of your morning routine! 
Price:  $129.99 (At the time this review was posted. Please check for current pricing)
Where to buy: Maestri House or Amazon
Source: The sample for this review was provided by Maestri House.