We use affiliate links. If you buy something through the links on this page, we may earn a commission at no cost to you. Learn more.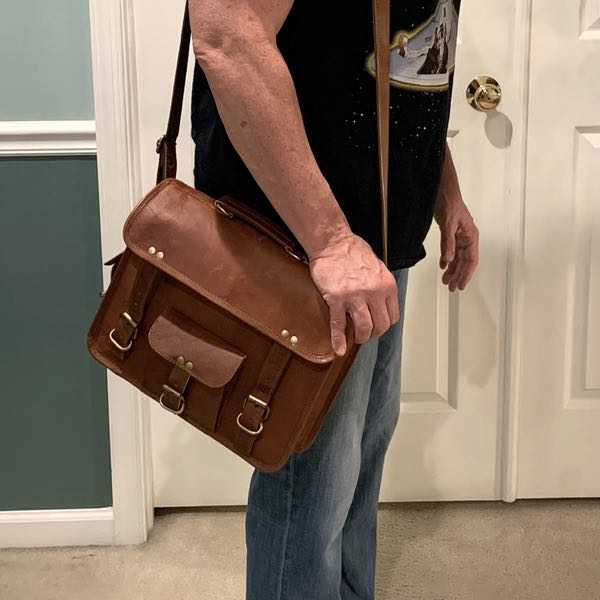 REVIEW – Looking for a leather bag on a budget? I'm testing the Anuent 13″ Leather Messenger Bag. This little guy is just the right size for essential tech, has a bunch of character, and costs less than 60 bucks! It looks like a bargain… but does it stand up to testing? To the review!
What is it?
The Anuent 13″ Leather Messenger Bag is a goat leather messenger bag.
Hardware specs
13″ by 10″ by 4″ deep
50″ shoulder strap
Goat leather exterior
Cotton canvas lining & interior
Brass hardware
Design and features
Anuent produces dozens (maybe hundreds!) of different leather bags using goat leather or buffalo leather, the most expensive of which retail for no more than $150. For this review I am checking out the 13″ version of their Leather Messenger Bag, but this same design scales down to an 11″ version and up to a 15″ and 17″ size as well.
Materials and Assembly
This Anuent 13″ Leather Messenger Bag is produced with goat leather finished in a brown with an orange tint that gives it a bit of richness and depth. It looks pretty great right out of the box.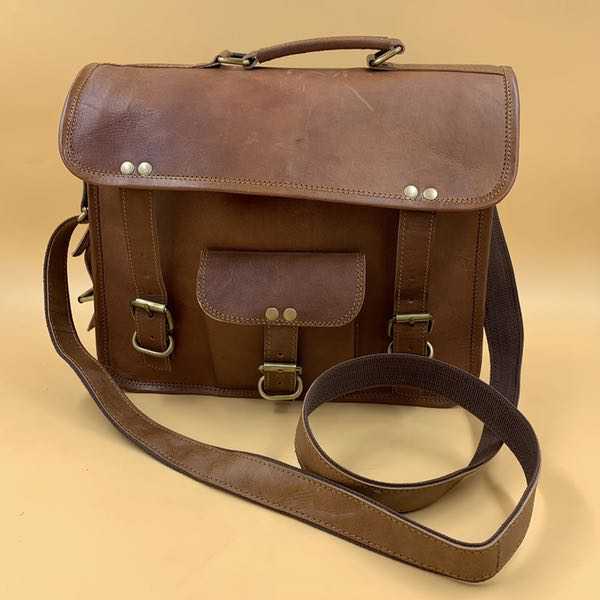 Anuent doesn't describe their dying/finishing process on their web site, but I don't get any whiff of chemical treatments. I havent noticed any color ruboff on clothes, and a simple scratch test shows that the color tinting is deep. I suspect this will lead to a nice patina over time with proper conditioning.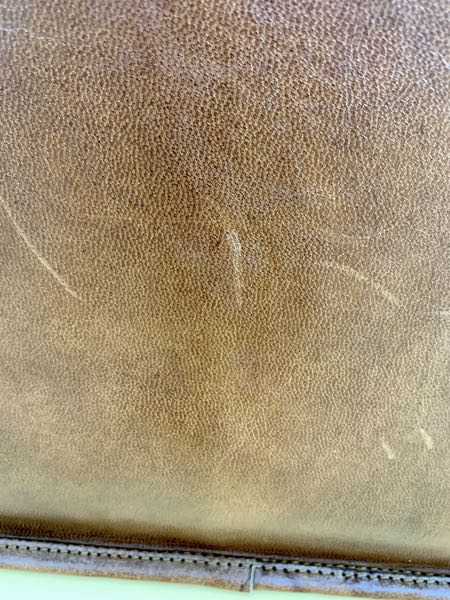 The interior of the bag features a ribbed cotton canvas lining that matches the exterior leather color that's nice for protecting your electronics from scratches. The exterior pockets are all leather with no additional lining.
Hardware throughout the bag is brass including the buckles, rivets, zipper pulls, and rings used in the assembly. It all looks good and fits the character of the leather. The buckles that secure the messenger flap and pockets can be cinched down with the leather straps, but they're also secured by buttons so that they can be popped off without fiddling with the buckles.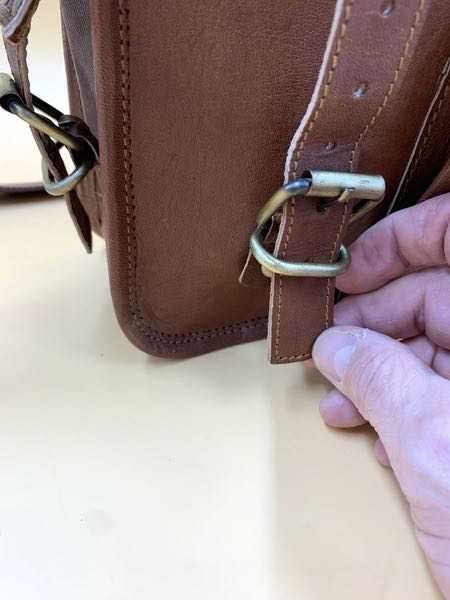 As far as the build goes, it's pretty much what I would expect for a bag in this price range. You'll find imperfections in the stitching quickly if you start looking. I also don't see reinforcement at key stress points like the corners of the bag or rivet points. A lot of edges are also unfinished. But this is also a sub-$100 bag (my size is $59), so I'm not expecting a lot of detail finishing. It's fine for what it is.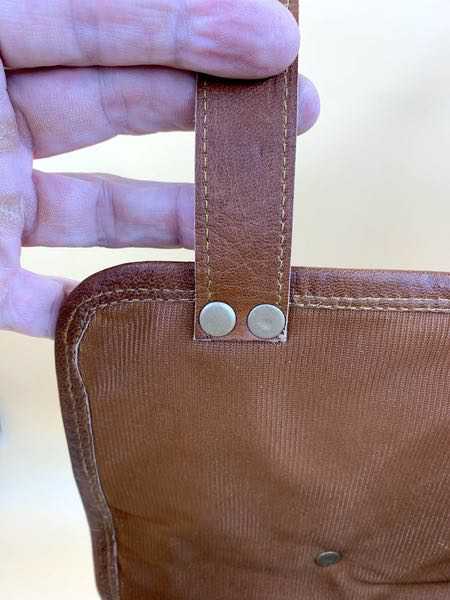 The shoulder strap is well constructed with a solid cotton backing and beefy brass rings at the connection points to the bag. There is some extra stitching at the stress points here to prevent it separating.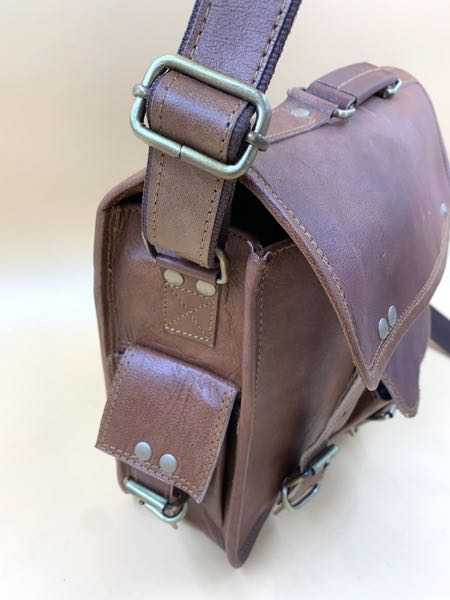 It's also got a solid grab handle that's wide enough to get a comfortable grip. This handle works well in practice when you're tossing the bag around.
Bag Layout
Despite the smaller size, the Anuent 13″ Leather Messenger Bag has plenty of pockets and compartments to organize your stuff. The front face offers a 4.5″ by 4.5″ pocket that bellows out at the top but not the bottom. It's good for power cables, smaller power bricks, or a wallet like I am showing here.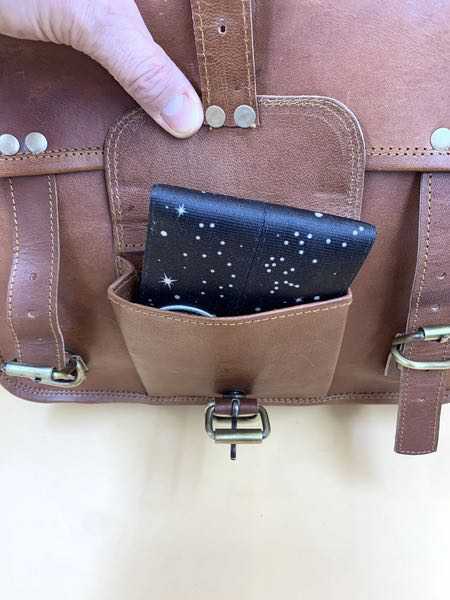 There's another 2″ by 5″ pocket on the side of the bag that's good for other smaller items like keys or a pocketknife.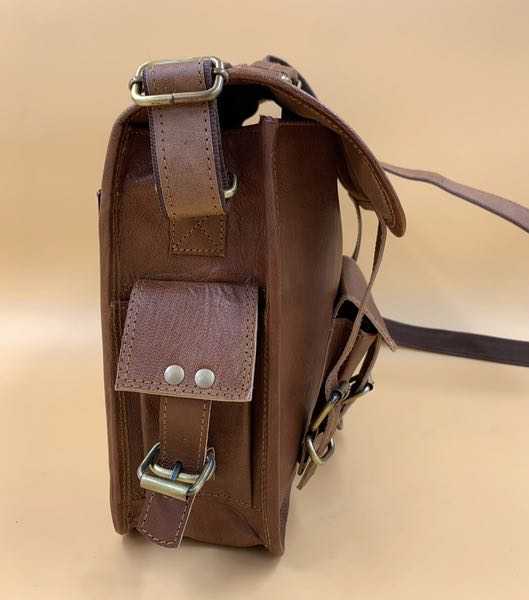 I suspect that this pocket is proportionally larger on bigger bags, but you can't get pens in that pocket here (unless you have a short pen).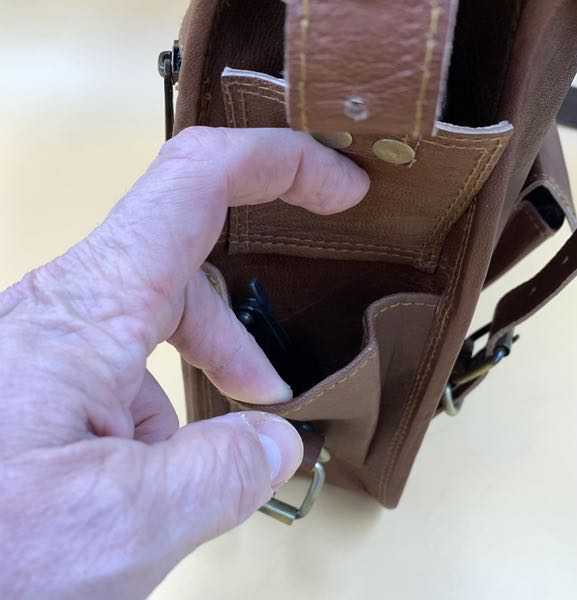 There's a zippered rear compartment of the bag that's fairly thin, but it does run the height & width of the bag. This pocket has a twin on the interior front flap of the main compartment.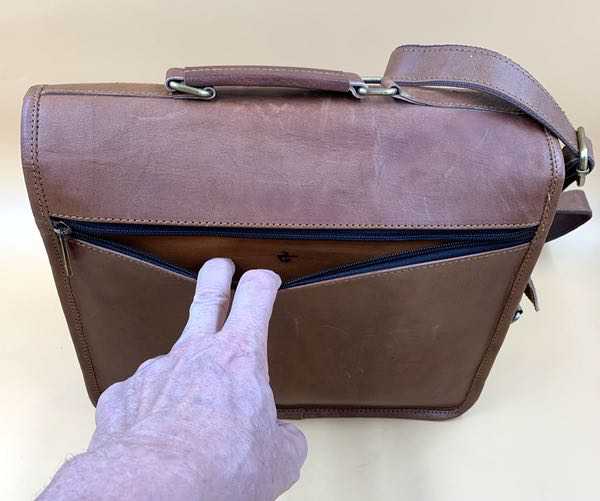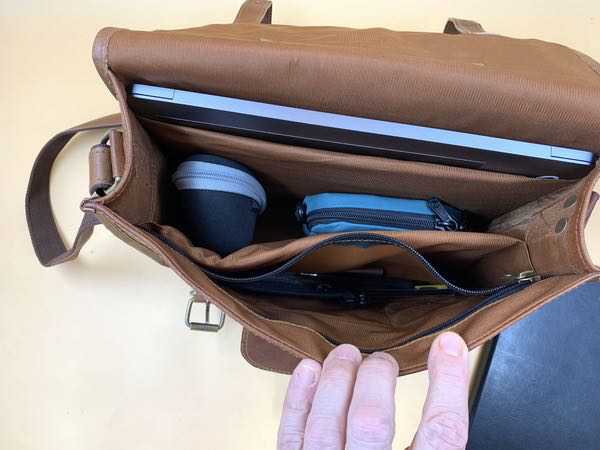 You've got two padded dividers that separate the main compartment into three chambers. That rear pocket will fit up to a 13″ MacBook Pro after a little bit of stretching. An iPad Pro 12.9″ also fits in the rear compartment with the magic keyboard. That front pocket will take an iPad Pro 12.9″ without the magic keyboard or a standard-sized iPad.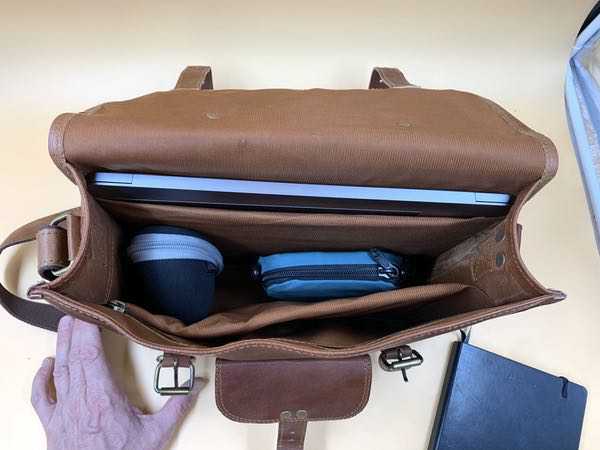 Performance
The Anuent 13″ Leather Messenger Bag has an endearing quality to it. It looks great, has a bit of a rustic edge, and has a lot of flexibility in the layout that makes it simple to use and an easy bag to carry. There's a lot of appeal in the overall practicality of this bag.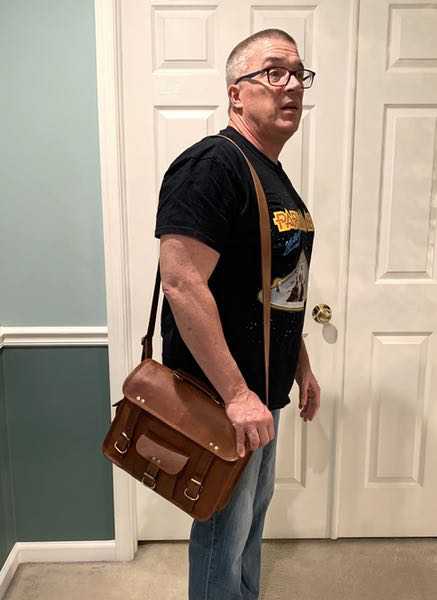 The generous strap length and quick adjustments enable you to switch pretty easily between shoulder and crossbody carry.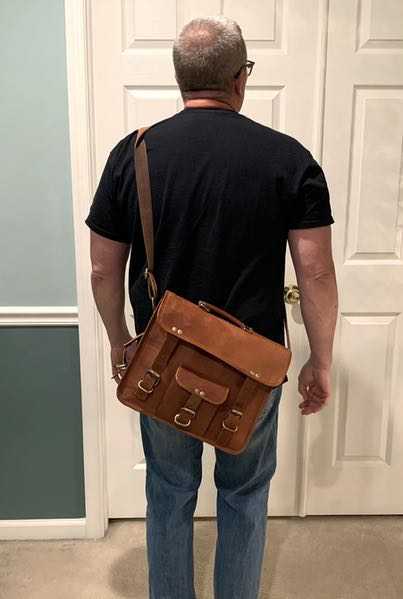 This is going to be a great bag if you're carrying a tablet and some essential daily bits. I was pleasantly surprised to see my 13″ MacBook Pro fit that rear compartment! It did take some stretching to get it started, but the leather is very forgiving and now it slides in easily.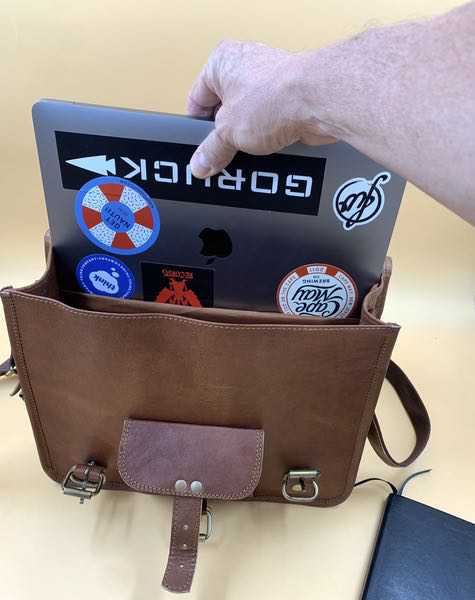 That soft materials are very accommodating for bulk. I overloaded it here with my iPad Pro, MacBook, a notebook, a gadget bag, and my chunky sunglasses case. She works and she holds!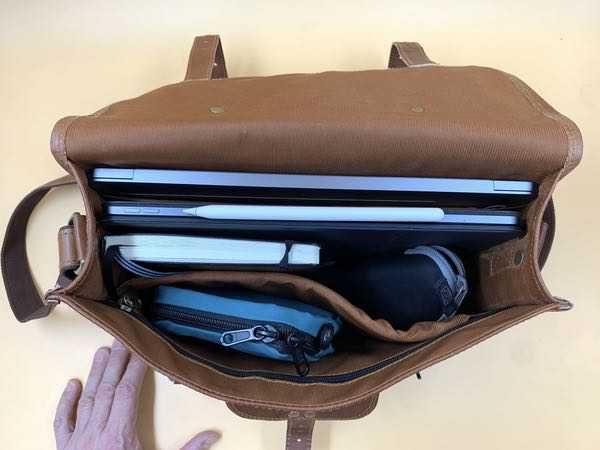 The rear zippered pocket is virtually unusable if I have my MacBook in there. I can't get my hand into that pocket if the bag is fully stretched out. I suspect this is element works better in the larger versions of the bag, but the 13″ size would be better served if it was removed entirely. You could probably lose one of those internal dividers in this size as well.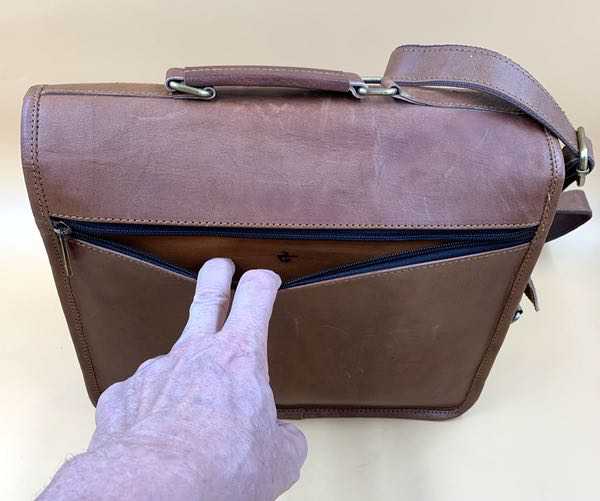 The overall usability is excellent. It's an easy bag to just throw in your essentials and go. If you're not carrying a tablet that center space becomes even more flexible for small water bottles and whatnot. The strap is very comfortable over the shoulder given the small nature of the bag, and it doesn't need any additional pad for comfort.
While the overall build is holding up just fine so far, there is one weakness that popped up so far: the button-style connection of the buckles to the bag. I believe this is designed to give the user options to pop the buckle loose rather than fiddling with the buckle. One of mine started loosening up after about a week of use and now pops loose with just a bit of unintended force.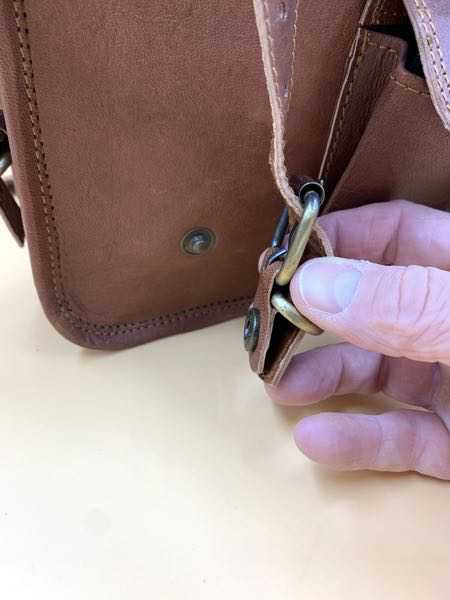 I will say that this has only happened to one buckle so far, so I'm not sure if it's a by-product of inexpensive hardware or just a bad buckle. I suspect that I'll solve this by gluing the buttons shut.
What I like
Great looking bag
Very usable layout
Easy to carry
Nice finish on the leather
What I'd change
Finishing is just OK
Buckle hardware could be a point of failure
Final thoughts
I described the Anuent 13″ Leather Messenger Bag as "scrappy" in the title of this review, and I'm standing by that statement. It's a fun little bag that looks great and has tons of character. Some refinement in the finishing department could make it truly special. But this bag retails for under $60 at this size, and it's a pretty great deal at that price.
Price: $54.99 for the 13″ model, also available in 11″, 15″, and 17″ sizes (prices range from $48.99 to $68.99).
Where to buy: Anuent.com
Source: The sample of this product was provided by Anuent.