We use affiliate links. If you buy something through the links on this page, we may earn a commission at no cost to you. Learn more.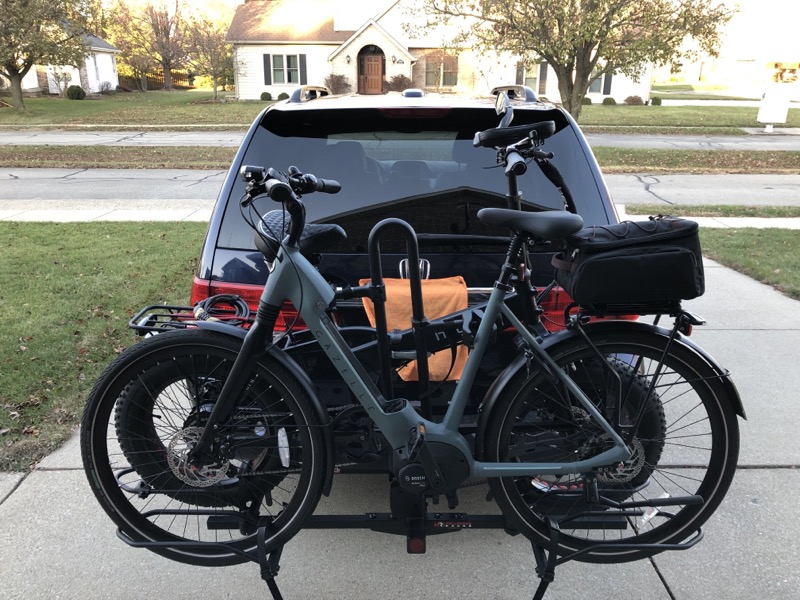 REVIEW – Can the Hollywood Racks RV Rider EBike Rack accommodate two completely different styles of EBikes both of which have fenders? Is this bike rack restricted to only being limited to use with an RV? What trade-offs have been made in this bike rack compared to other bike racks? Read on to see how this bike rack stacks up.
What is it?
The Hollywood Racks RV Rider EBike Rack is exactly that. An RV focused bike rack that is designed to carry two heavy EBikes.
What's in the box?
Here is a page from the manual of all that is included in the box. This will be a useful reference as I try to mention the bike rack parts by the names that are used in this image. All the bike rack parts and materials were very well packed and protected in my opinion. I would also add that it would be a huge challenge to put this all back in the original box once you have taken everything out. 😂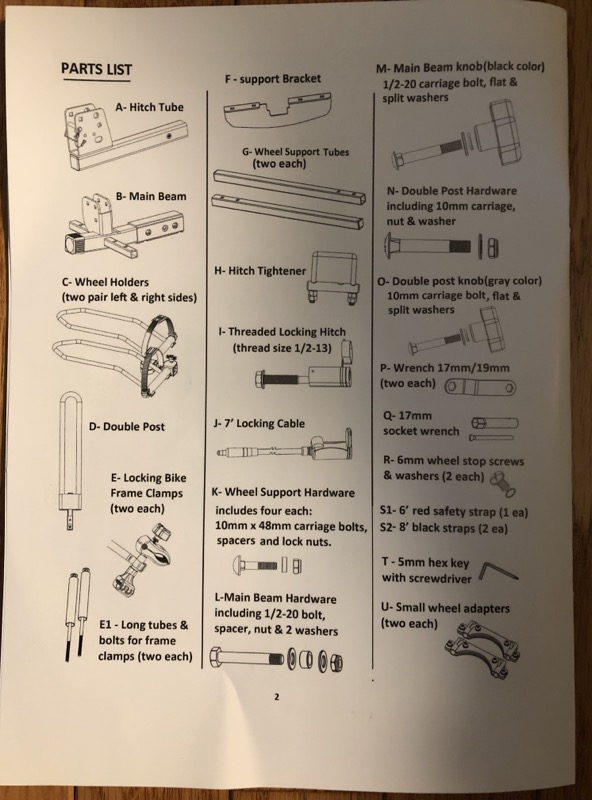 Parts to build the bike rack including, three lockable pieces, all keyed the same.
Locking cable keyed identically to the same three other locks.
4 Keys

Assembly and Installation Guide
Hardware specs
Capacity: Two Bikes (Max. 80 lbs. per bike)
Hitch Size: 2" only (Do not use a 1 ¼" – 2" hitch adapter)
Maximum bike wheelbase: 60"
Minimum wheelbase: 36″
Maximum tire width: 5″
Features extra heavy-duty wheel holders (Now with ratchet straps and rim protectors), an internally reinforced frame, and an external brace for heavy load carrying capacity
Includes keyed-alike locking hitch pin, 8' locking cable, and locking frame grabbers
The frame grabbers on this rack can hold step through bikes by the seat post, therefore Bike Adapters are not needed and should not be used.
Includes two Small Wheel Adapter (SW-ADP-U) for 20″ Fat tire bikes rear wheels to prevent derailleur hanger interference (You will only need one per bike)
Not to be used with any 1-1/4″ – 2″ Adapter
Not to be used with any Hitch Extension longer than 8″
Not to be used on any trailer
Not intended for use with motorized gasoline bicycles, mopeds, motorcycles or 3-wheel bikes (trikes), or electric scooters
The RV Rider is the only rack that can be used on front hitches
Rack Weight: 63.5 lbs.

Limited Lifetime Warranty
Design and features
The Hollywood Racks RV Rider EBike Rack is a very heavy-duty bike rack.  Heavy-duty is a requirement for a bike rack that is positioned so far behind the back wheels, especially given the requirement to carry heavy EBikes, one that is robust enough to hold two 80-pound bikes. The heavy bike support is a significant feature as many bike racks out in the market are just not made to accommodate the weight that is associated with a typical EBike.  So, if you have EBikes, make note of the weight of the bikes a rack can support before purchasing. The sexy, quick set up bike racks seem to be focused on the lighter bikes used by bike enthusiasts, vs the casual riders that many EBike riders tend to be, especially the RV demographic that this bike rack is targeted at.  Note the following image shows one bike in the furthest out position, it should be noted that if carrying only one bike, it should always be placed closest to the vehicle.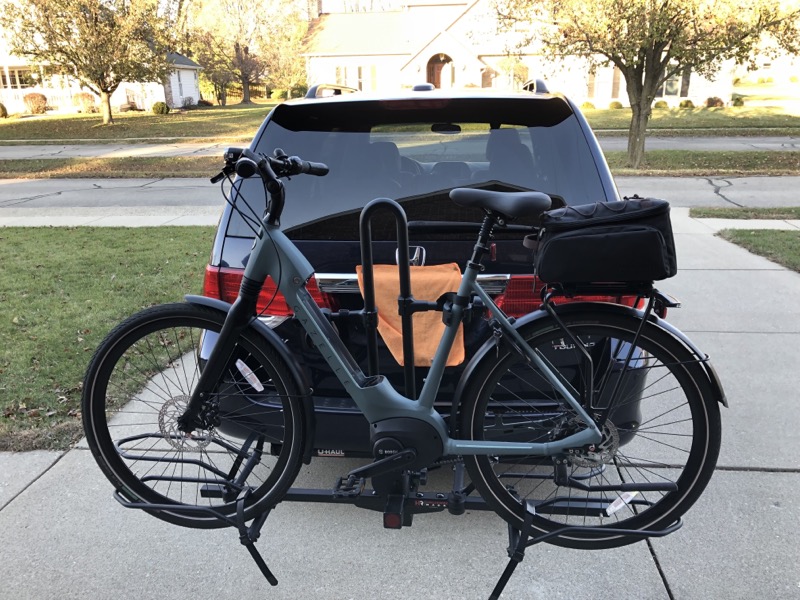 I tested the bike rack with a typical step-thru hub-drive folding EBike, with 20" diameter,  4" wide fat-tires, weighing in at 65 pounds from heybike, and another taller mid-drive step-thru EBIke with 28" diameter, 1.75" tires weighing in at around 55 pounds from Gazelle. If you followed both links, you will notice that these two bikes are completely different in their frame size and wheel size. In addition, both of these EBikes have fenders, and this bike rack is compatible with bikes with fenders. This is not true of all bike racks, especially those targeted at lighter non-EBikes. In short, the Hollywood Racks RV Rider EBike Rack handled both completely different bikes with ease.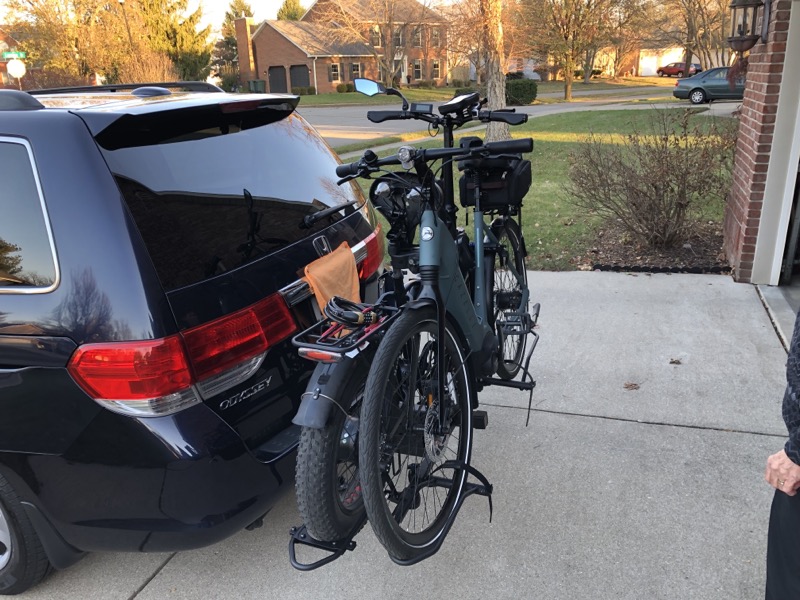 This bike rack has the standard features of allowing the rack to be tilted away from the vehicle to allow access to the trunk / rear door, and to fold into the vehicle if empty, shortening the overall length of the vehicle when the bike rack is attached.  The tilting into the vehicle is always done without bikes, so the hand knob design is not that big of a deal for this feature.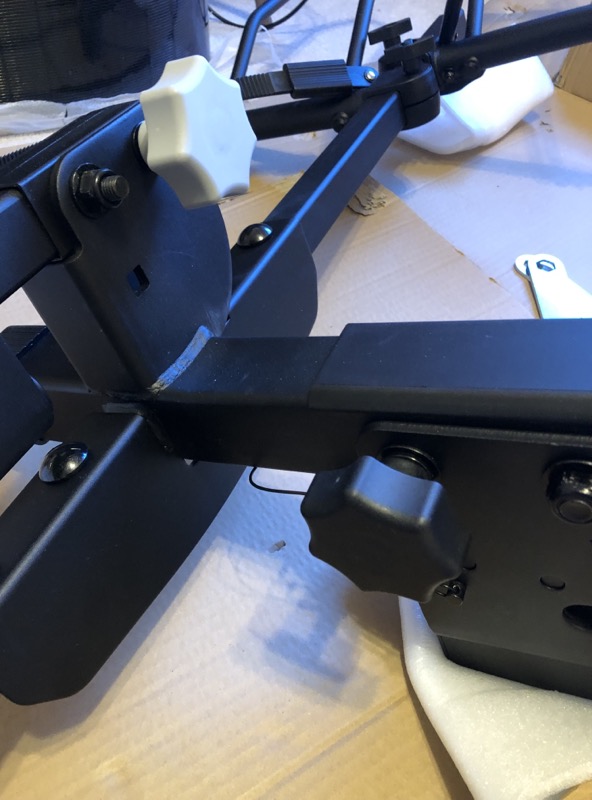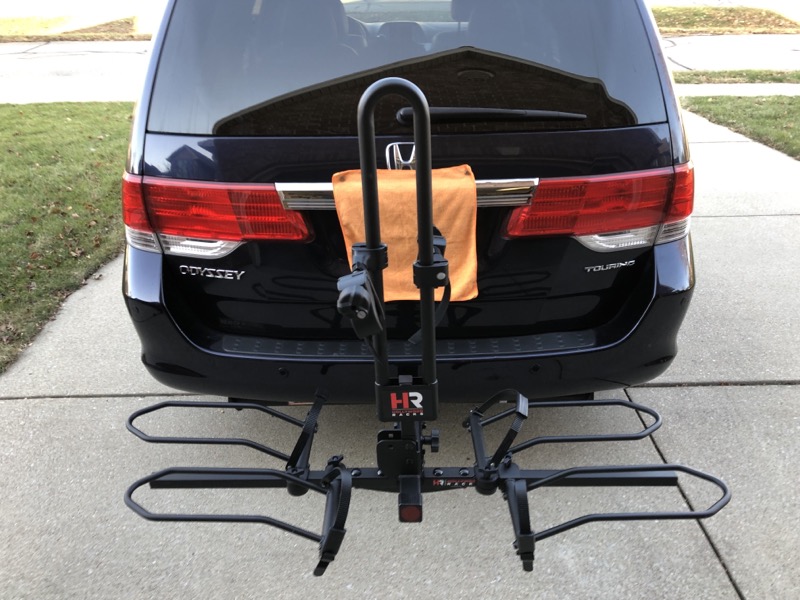 While I am sure the rack can be tilted away from the vehicle when fully loaded, it would be a challenge, even with two people given the mechanism that the bike rack uses to move between the two positions (tilted out and upright). While some bike racks have a latching / locking mechanism, the Hollywood Racks RV Rider EBike Rack has a completely manual mechanism of a bolt and hand knob.  To be fair to Hollywood Racks, this rack is marketed as an RV rack and RVs don't have the same kind of rear access requirements that a standard vehicle does. Therefore, this is not a ding on Hollywood Racks at all. I just want to convey that tilting the rack away from the vehicle loaded with heavy EBikes will be a challenge if one even decides to try it at all. I must confess that I did not.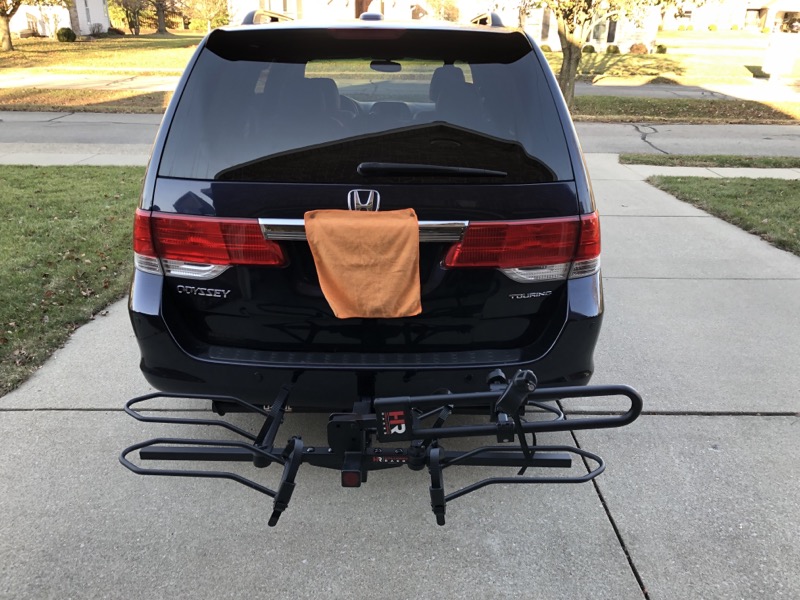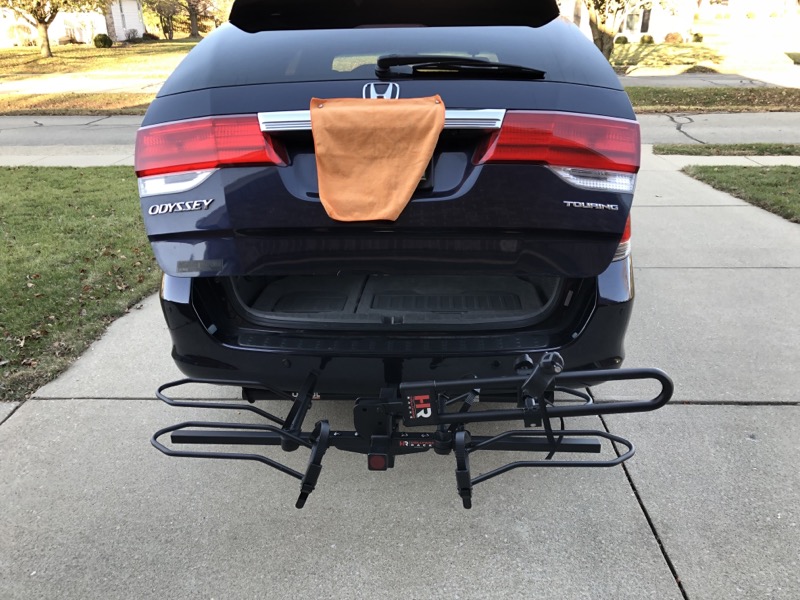 EBikes can be very expensive, and security is something that is not taken lightly by the Hollywood Racks RV Rider EBike Rack. There are three, what I will call, points of security included with this bike rack. Not only are electric bikes expensive, but a well-designed and manufactured bike rack is not cheap either. The first tier of security is focused on the bike rack itself.  After securing (tightening) the hitch bolt to the hitch, a bolt lock is provided which locks onto the other end preventing the complete removal of the hitch pin. It can be unscrewed, but it cannot be removed.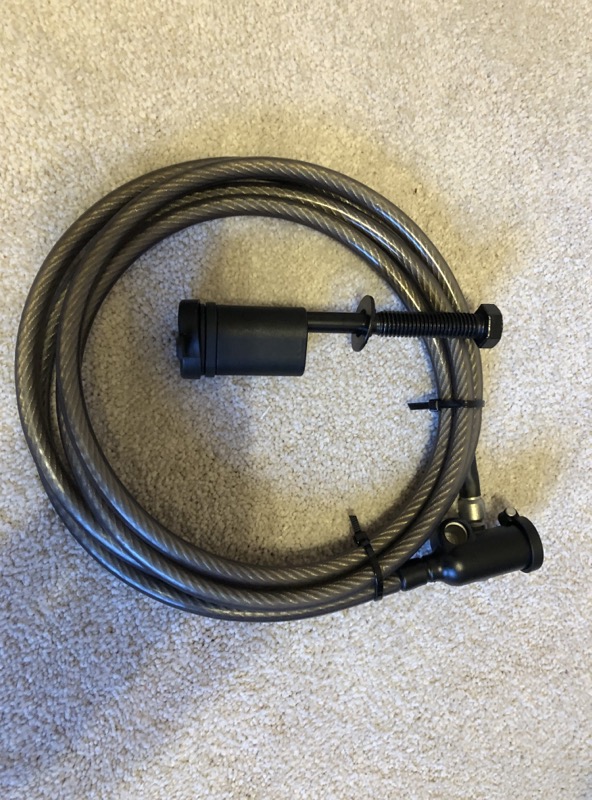 The next two security tiers are focused on the actual bikes.  The first of which are the locking frame clamps.  These basically allow the tightening knobs to be disconnected from the underlying bolt and thus only spin once locked.  In the unlock position, the knob engages with the underlying bolt and allows for the opening and closing of the frame clamp.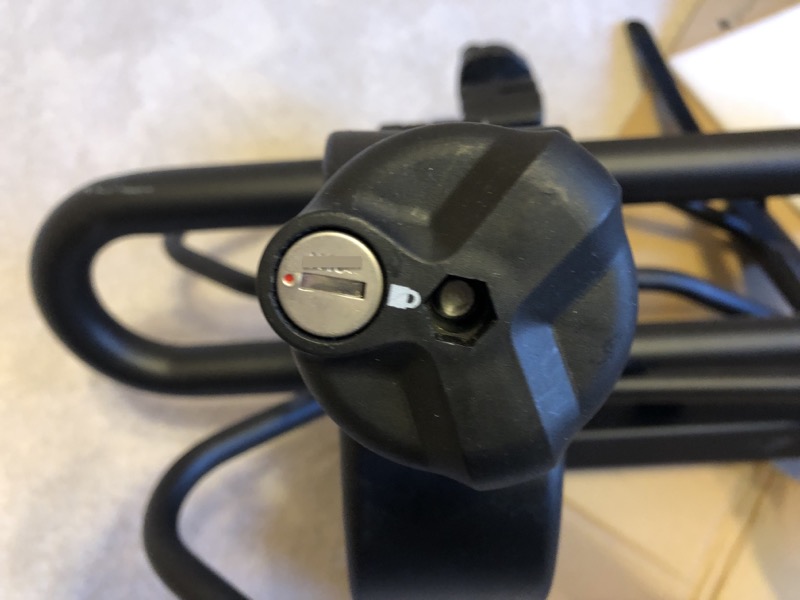 Finally, Hollywood Racks provides an eight-foot locking cable to further secure bike frames and easily removable wheels to the bike rack.  All four (bolt, two locking frame clamp, one locking cable) locks are keyed to the same key, and you are provided with a very useful four keys in case a key, or two, is lost.
Setup
I found the assembling of the Hollywood Racks RV Rider EBike Rack to be very straightforward.  The instructions were sufficient and being someone who would not classify themselves as a handyman, I found the assembly to be pretty easy.   I am thinking I leisurely put it together in under two hours. Since the bike rack is RV-focused the instructions are such that the bike rack is built up directly connected to the RV (or vehicle). While this bike rack can be removed from the vehicle at will, it is not designed to make that process as easy as with some other bike racks.  Again, if attached to an RV, it probably would never be removed, once installed.
Given that I do not have an RV, I assembled the unit in the middle of my living room, and with very few exceptions I assembled it without any outside help other than the need to have someone hold something temporarily at various times throughout the assembly. As you could imagine there are some balance issues that have to be addressed by putting the unit together on the floor, vs being attached to an RV or vehicle as it is being put together.
The unit also ships with all the tools needed to assemble the bike rack.  I felt that using the more general-purpose tools, for example, a metric socket set that one might typically have lying around the house is better suited for most of the assembly work. That said, I chose to purchase a 19mm socket (my socket set only went up to 17mm) for the large hitch bolt as this just makes the job of attaching the rack to the vehicle go much smoother than using their included very thin wrench.  The attachment can be further sped up using a powered drill if you have the bit that can be used with a socket of that size. I did not.
One important thing that is continually mentioned is that this bike rack should NEVER be used with a 1 ¼" – 2" adapter. The Hollywood Racks RV Rider EBike Rack should ONLY be used with an actual 2" hitch, and not one that is bumper mounted either.
Finally, this video from Hollywood Racks details the assembly much better than I could come close to describing and I suggest you view it for a deeper understanding. I stumbled onto this well after I assembled the bike rack, which should again attest to how well the assembly instructions are written and how easy it is to identify the various parts of the bike rack and put it all together.
Performance (Mounting the Bikes)
Measuring the performance of the Hollywood Racks RV Rider EBike Rack really comes down to nothing more than, does it securely hold the bikes, or not. In short, it does. There is just so much flexibility with this bike rack. The wheel holders are fully adjustable, all the way down to the opening of each wheel holder which can be augmented with the included small wheel adapters. This was necessary for my test as one of the bikes has the smaller 20" tires and needs the small wheel adapter (included) to keep the gear derailleur hanger off of the frame of the wheel holder. This means only one small wheel adapter is needed per small-wheeled bike. On the Hollywood Racks website, these adapters are $19.99 each, and as mentioned above, two are included with the bike rack. Nice!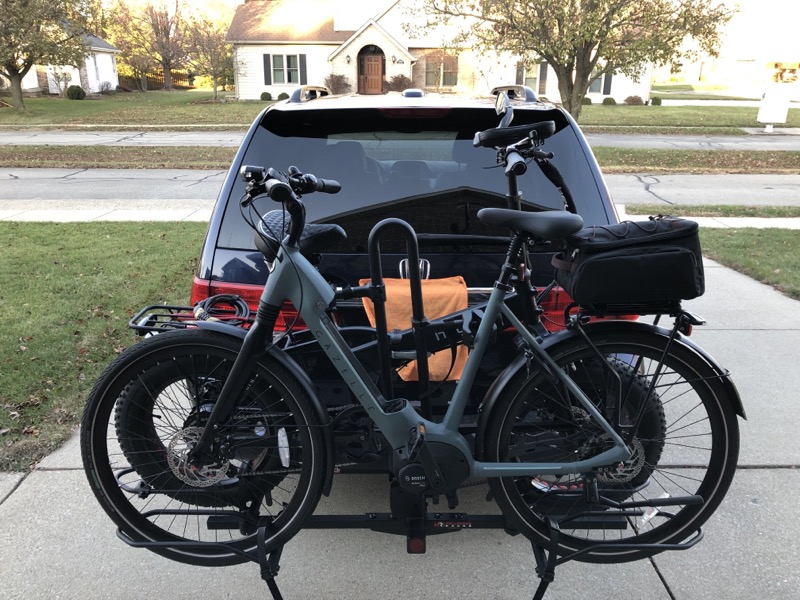 Each bike is held in place by three points.  One on each wheel, and the other is the lockable frame clamp. Each wheel holder has an integrated ratchet wheel strap, one for each bike's tire. These non-lockable wheel straps are very common and are what allow this rack to be used easily with bikes that contain fenders, which as you may recall, both of my bikes have. The wheel straps are easy to use.  Simply place each wheel in the corresponding wheel holder, and line up the spokes such that the wheel straps can be placed between each spoke, minimizing any binding on the spokes, and tighten down snuggly.
While the frame clamp works best with bikes that have a center tube, it can be used on the seat tube, and that is what I did in my test setup for both bikes. For instances where it is not possible to do this, Hollywood Racks offers a bike adapter ( BA-PRO ) for $39.99 which provides a center bar that can be used with the lockable frame clamps.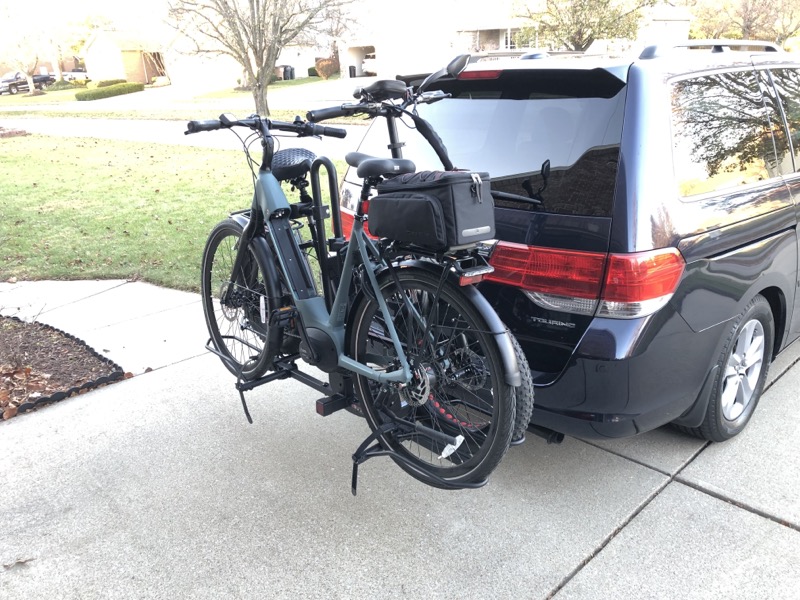 The bike rack comes with the short tube locking frame clamps pre-installed on the double post. In addition, long tubes are provided for each locking frame clamp should they be needed to better accommodate a bike's physical characteristics. While my initial test only involved using the two short tubes, I did install one of the longer tubes after the test, and this seemed to accommodate the taller bike more naturally.
Lastly, the bike rack comes with one 6' strap, and two 8' straps to further secure that expensive cargo to not only the bike rack, but also the bike rack to the vehicle.  Given the long hauls which could occur in the RV setup, I think it is good that they include these, just to make everything more secure.
What I like
Super heavy duty.
Three points of security
Not 1, not 2, not 3, but 4 keys!
What I'd change
Better tilting support mechanisms
Final thoughts
Overall, I think the Hollywood Racks RV Rider EBike Rack is really a good bike rack, even if it is not used on an RV.  It may not have some of the convenience features of other bike racks, but it easily satisfies the requirement of carrying two heavy EBikes. Should you need a bike rack that is rated for RV use, this particular bike rack becomes even better.
Price: $599.99
Where to buy:  Hollywood Racks Store and Amazon
Source: The sample of this product was provided by Hollywood Racks.