We use affiliate links. If you buy something through the links on this page, we may earn a commission at no cost to you. Learn more.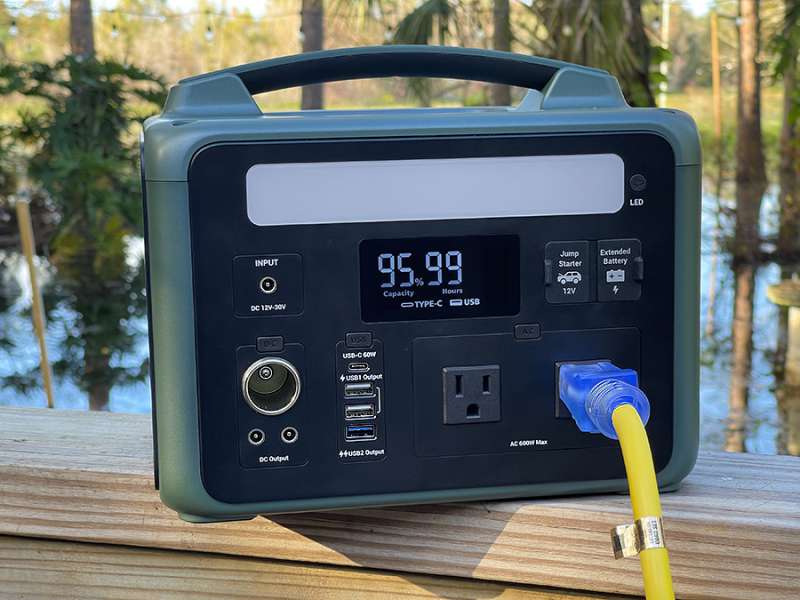 REVIEW – If you're in the market for a large battery power station, this is a great time to buy. The selection is impressive and prices keep decreasing as capacity and features increase. It seems like everybody now makes a power station. Ampace is a company with a single available power station (so far), but it fits that nice middle ground between small chargers with not enough power and monstrous power stations too heavy to carry. The Ampace P600 Portable Power Station is truly portable, yet can power many items and start your car! But is it worth buying?

What is it?
The Ampace P600 Portable Power Station is a 584-watt lithium iron phosphate (LiFePO4) battery that can power many devices as well as small appliances used for camping or power outages. It uses a LiFePO4 hybrid battery which is safer and has a longer life span than standard lithium Ion batteries. It can be drained and fully recharged 2,000 times before it will only charge to 70% capacity. That's 5.5 years.
While the P660 has 584-watt hours (Wh), it can surge to 1,800 watts for devices that require a hefty power requirement when starting up (such as a fridge or pump). A watt-hour is how long a single-watt device can run. For instance, if a gadget is 300 watts, the P600 with 600 watts will power it for 2 hours (600÷2). It's math.
The P600 has an outer unibody structure to withstand drops—and no, I won't drop it on purpose to test it. It's available in three colors: Mystic Green (reviewed here), Metal Gray, and Vintage Brown. The green is so subtle that its color looks like graphite.
Safety features are built into the P600. It uses a battery management system (BMS) to regulate voltage and temperature and will shut down preventing overloads and short circuits.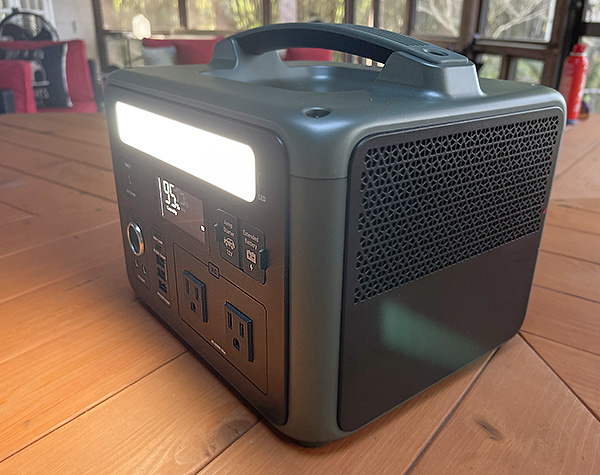 An LED panel in the center of the front panel has white-on-black easy-to-read numbers. The info shown is: Percentage left on power station;  FINISH 
All ports are placed on the P600's front panel for easier reach. This panel has a single DC charging input for charging via a wall outlet, 12-volt car, or optional solar panel. There are two AC outlets, one USB-C (60W), two 12W USB A, one 18W fast-charge USB A, one 12-volt car, and two DC outlet ports. There is also a car jump-starter port (requires the optional Ampace car cable clips) and a port for adding an optional Ampace battery extender (CHECK)—not yet available. The top portion of the front panel houses a large LED light with 3 levels of brightness, flashing, and SOS modes.  

Hardware specs
Weight: 17.6lbs
Dimensions (LWH): 0.3×8.7×8.4in
Capacity: 584Wh
Battery cell: LiFePo4 hybrid system
Cycle Life: 2000 cycles to 70% capacity
Protection: over-voltage protection; overload protection; over-temperature protection; short circuit protection; low-temperature protection; high-temperature protection; low voltage protection
Watts: 600W (Surge 1,200W)
Max device power: 1,800W
Outport ports: 2 AC (Pure Sine Wave), USB-C; USB A (2); USB A Fast charge; 12V Car Charger; DC output (2); Jump starter:
Input ports: DC; solar panel (MPPT supported)

 

What's in the box
AMPACE P600 power station
Car charge cable
AC & AC charger cable
User manual

Design and features
Reviewing a portable power station is not that difficult. While being used, the station sits in one place and silently powers whatever you have plugged into it. All power stations do that. What differentiates the stations is the ease of use.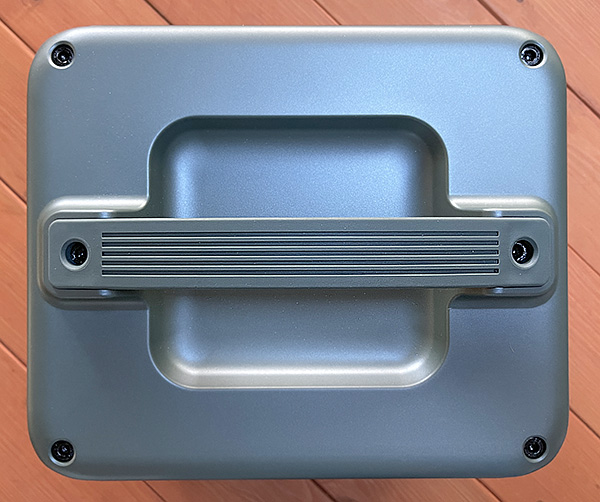 The Ampace P600 has a comfortable carrying handle. However, it's the P600's lighter weight that makes it easy to tote from room to room or carry around a campsite. Is it me or are power stations becoming lighter with each newer model?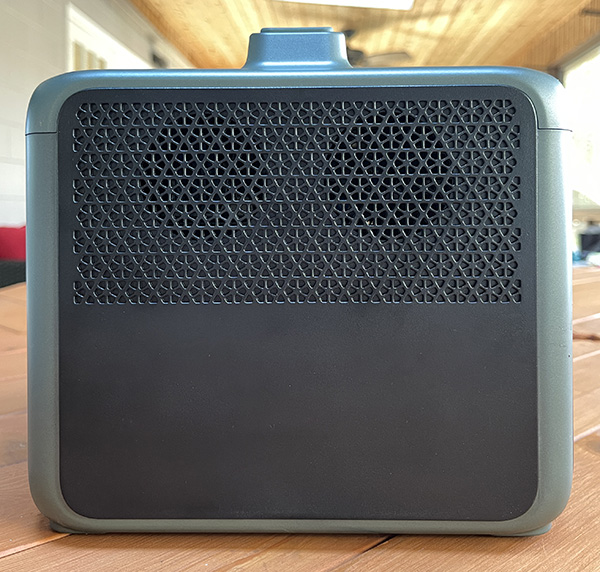 The P600 has a fan that sometimes kicks in while it's being charged or while it is charging something requiring a more demanding power load. It's not the quietest fan I've heard, but it's usually not constant.
It will charge a standard laptop appx. 7 times or a smartphone appx. 40+ times—which should cover most camping trips.
Ampace's optional 100W solar panel will fully charge the P600 in about 8 hours in bright sunlight. I was not sent a solar panel to test with the P600. However, my experience with other solar panels has been less than efficient in Florida's days of sun followed by clouds followed by more sun.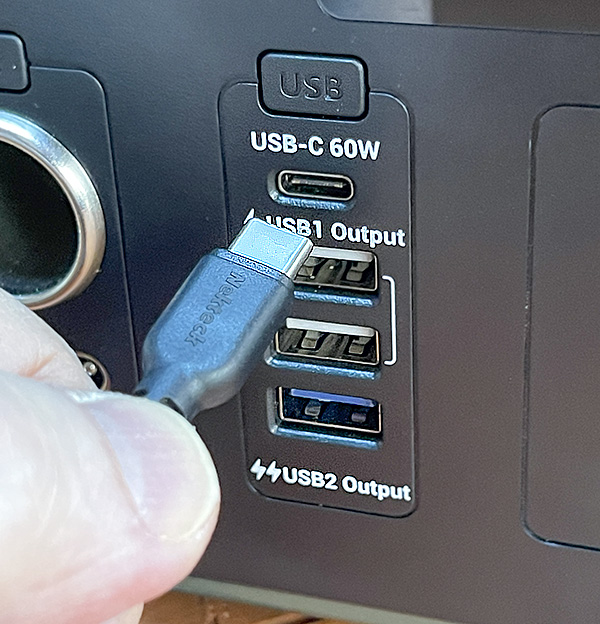 The ports on the P600 are divided into sections: USB, AC, DC, and car. Each section has its own on/off switch which must be pressed to function. It's too easy to plug in a smartphone to charge and forget to press the On/Off button. Likewise, you have to power off the P600 when disconnecting a charged device. I wish each port would automatically power up or power down the P600 when connecting and disconnecting cables.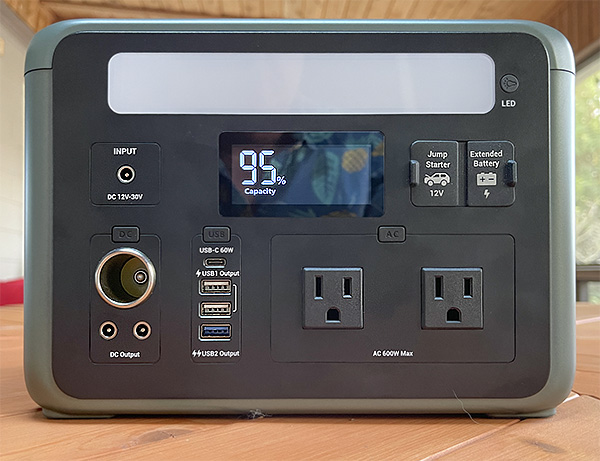 When charging a car using the optional car cable clips, there is a set sequence that must be followed to work properly and safely. I was not sent the cable clips to try, so I can't report on how well they worked or didn't.

What I like
Affordable for what it is
Can jump-start a car

 
What I'd change
Only one USB-C port
Separate on/off switches that must be pressed

Final Thoughts
The Ampace P600 Portable Power Station is just that. It's a large battery that charges what you need when you need it—as long as it's under 600 watts. That covers a lot of gadgets and probably whatever you can think of for camping. In other words, the P600 will prove itself useful in almost every situation.   
Price: $399.99 
Where to buy: Ampace and Amazon
Source: The sample of this product was provided by Ampace.