We use affiliate links. If you buy something through the links on this page, we may earn a commission at no cost to you. Learn more.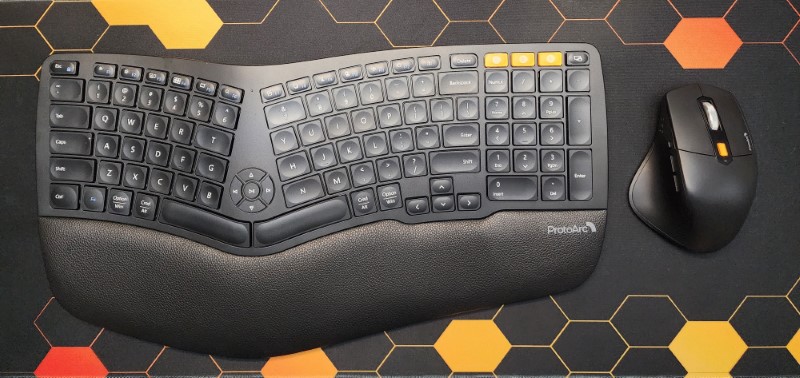 REVIEW – Products designed around ergonomics tend to carry an 'ergonomic tax' which make them more expensive than their traditional counterparts.  Finding a quality ergonomic product in the goldilocks zone of value can be tricky with so many options vying for our attention.  The ProtoArc EKM01 is a mouse and keyboard bundle that is at a very compelling price point, with enough features to make it worth a look.
What is it?
The ProtoArc EKM01 is an ergonomic keyboard and mouse combo.  Design characteristics immediately bring to mind the Logitech K860 and Logitech MX Master, but the entire ProtoArc EKM01 can be had for less than the cost of either Logitech offering, and packs many of the same features.
ProtoArc has nearly two decades of experience in the accessory business, and has a range of products from device stands to headsets.
What's in the box?
EKM01 Advanced Ergonomic Split Keyboard
EKM01 Advanced Ergonomic Mouse
USB Receiver
USB-C cable for recharging
User Guide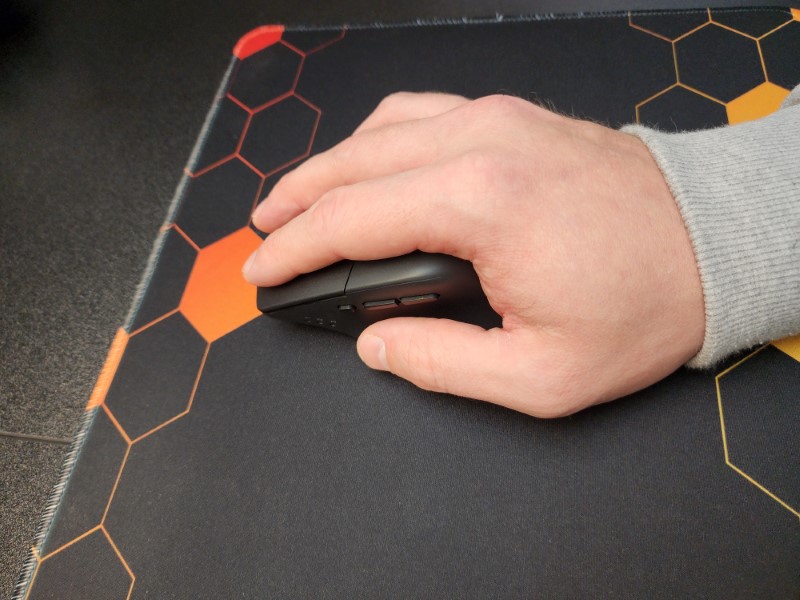 Hardware specs
Dimensions
| | | | |
| --- | --- | --- | --- |
| | Keyboard | Mouse | Receiver |
| Height | 16.69″ | 1.99″ | .74″ |
| Width | 9.14″ | 3.3″ | 0.24″ |
| Depth | 1.09″ | 4.91″ | 0.24″ |
Mouse weight: 121 g
Connectivity
Bluetooth (up to 2 devices)
2.4ghz USB-A dongle
USB-C charging
Keyboard
Rechargeable 300 mAh battery (100 hours)
Chiclet keycaps on scissor switches
Mouse
Rechargable 500 mAh battery (100 hours)
Five buttons with scroll wheel and dedicated DPI button
Design and features
Keyboard
The keyboard on the ProtoArc EKM01 bundle is a split 96% layout, which drops the nav cluster and moves the directional keys under the right side shift button while retaining the full ten-key pad and f-key row.  The keyboard comes to a slight rise toward the middle split, with the keys themselves at an inward angle to promote a neutral wrist position.  A built-in palm rest is featured with a leatherette cover, and plenty of padding to be soft and comfortable to the touch.  Four adjustable feet at the bottom allow for an upward or downward tilt.
Appreciated in this design is the media key cluster utilizing the often empty space of the keyboard split, as well as the concave keycaps.  For those switching between a PC and Mac, alternate legends are included on the Alt and Windows keys for Command and Option.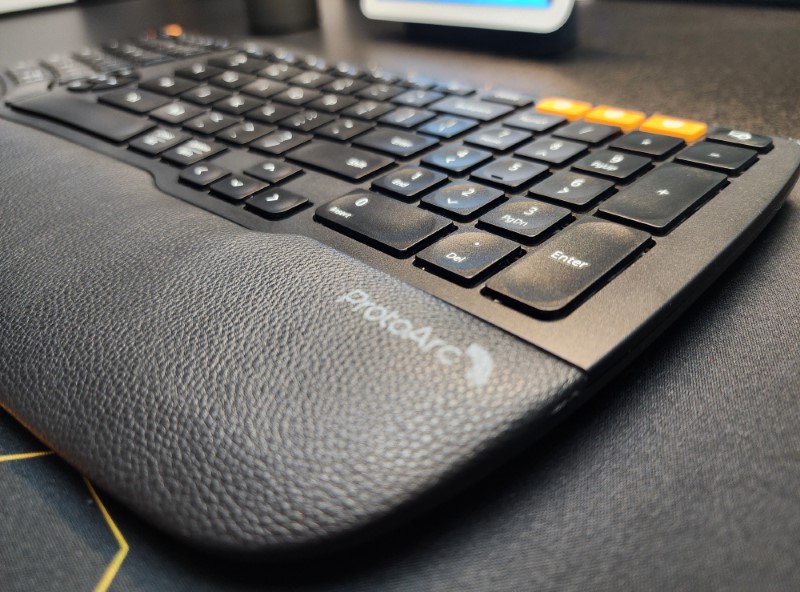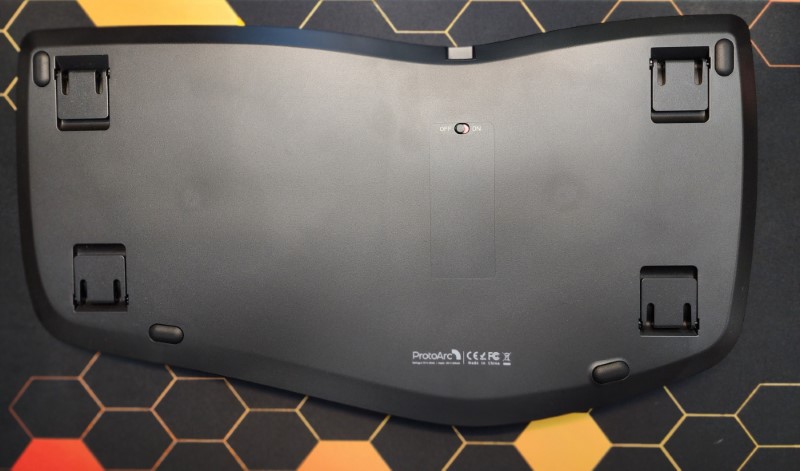 ProtoArc EKM01 Mouse
A typical five button design: two side, left/right, and clickable scroll wheel.  On the bottom are glide pads, power switch, and a magnetic cover plate for dongle storage.  Behind the scroll wheel is a dedicated DPI button to quickly cycle between pre-set DPI settings from 800 – 2000, and an LED indicator for low battery / charge status.  Also on the side is a button to cycle the inputs.
This mouse is designed as an ergonomic right handed mouse with a slight angle to promote a neutral wrist position.  A thumb rest 'wing' is prominent on the left side.  Knurling on the scroll wheel is a nice touch.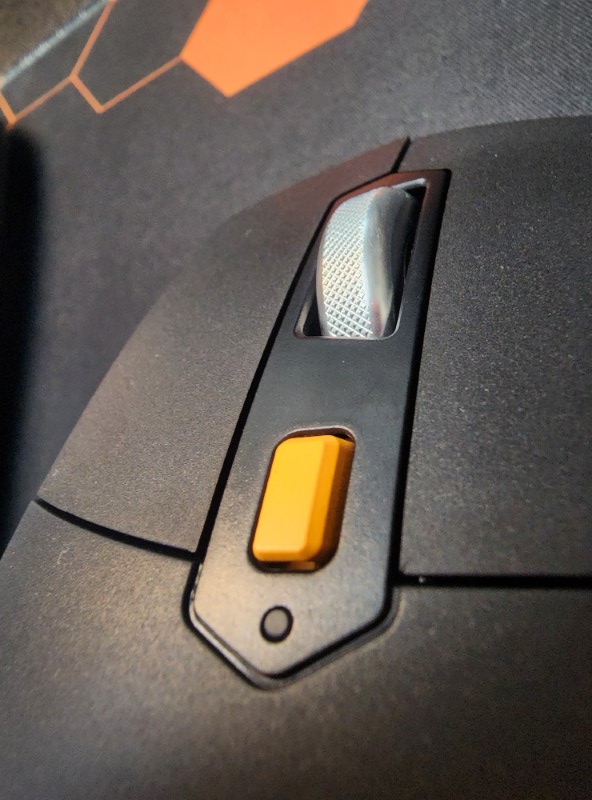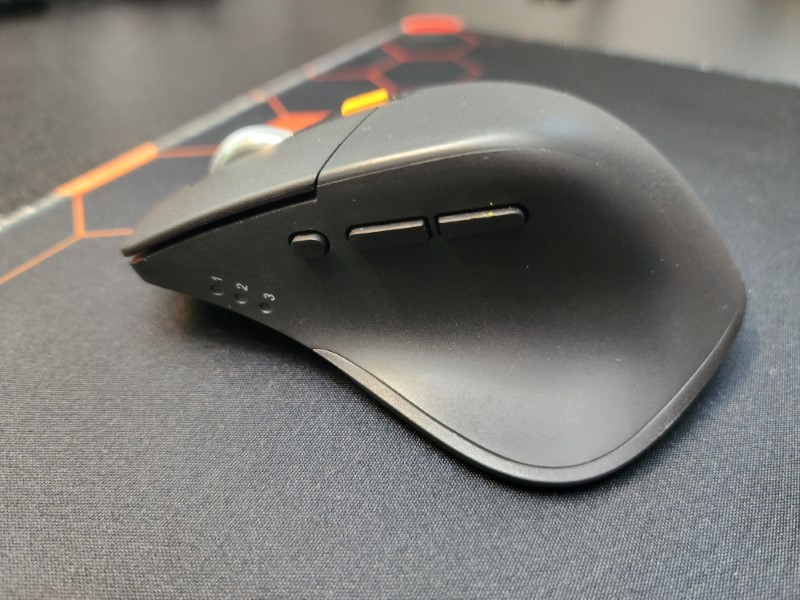 Setup
Setting up the ProtoArc EKM01 mouse is a breeze with the included instructions, and is nearly plug and play with the dongle.  Bluetooth is also straight forward and typical for a Bluetooth device.  Each device pairs individually and can be used independent of each other.    
Honorable mention here that the 2.4ghz dongle is replaceable should you lose it (I will never forgive you Microsoft for making me replace my entire Sculpt set when the dongle broke).
Performance
I've spent a few weeks with the ProtoArc EKM01 and have been really enjoying it.  This is a product that is clearly designed for productivity. It's also friendly to my key binds in games like Call of Duty, but the responsiveness did make this a serviceable option.
The lack of a software-level customization option is disappointing, but given the layout, I don't feel like I'm missing anything on the keyboard.  Those who are reliant on the nav cluster will have some adjusting to do as most of these keys are moved to secondary functions within the ten-key pad.
ProtoArc EKM01 Keyboard
Typing on the ProtoArc EKM01 keyboard is a pleasant, natural experience.  It's worth mentioning that I have been using ergonomic keyboards for a while, and there is typically a bit of a learning curve when coming from a standard keyboard.  Since this uses scissor switches, the interface is a very similar experience to typing on a laptop keyboard with a short key travel.
The design to raise the keyboard towards the center split is meant to reduce the distance of finger travel by creating a key-well of sorts.  For me, the negative or positive tilt options didn't do much, and I found that I preferred to keep the keyboard flat.  From an ergonomics perspective, I had no issues with this keyboard as my daily driver, but the caveat as always is that ergonomics is very subjective.
Cycling between devices is also fast and intuitive thanks to the dedicated keys for each connection type.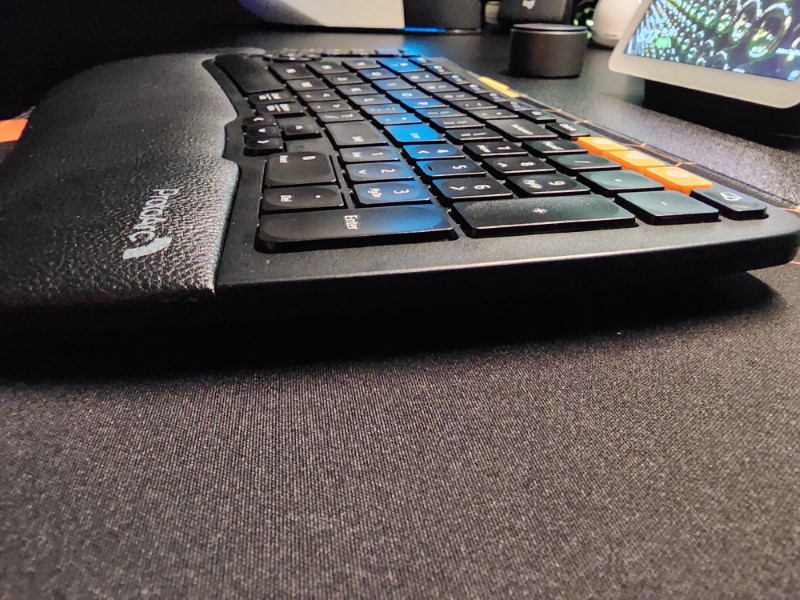 ProtoArc EKM01 Mouse
Out of the box, my initial impression of the mouse was that it felt light in the hand.  Immediately I noticed a lack of grip on the body, and would have preferred to have some texturization on the plastic or a rubberized inset perhaps where the thumb wing is.  These combined convey an almost cheapness to the mouse which was a little disappointing.  Other mice in the ProtoArc lineup appear to have texturization by design so it would have been nice to see that here.
The lack of a software customization option is also felt on the mouse as the DPI options are fixed.  The range of 800 – 2000 is fine, but being able to fine-tune the mouse or set custom actions to buttons is nice.  The mouse does perform quite well and is otherwise comfortable to use.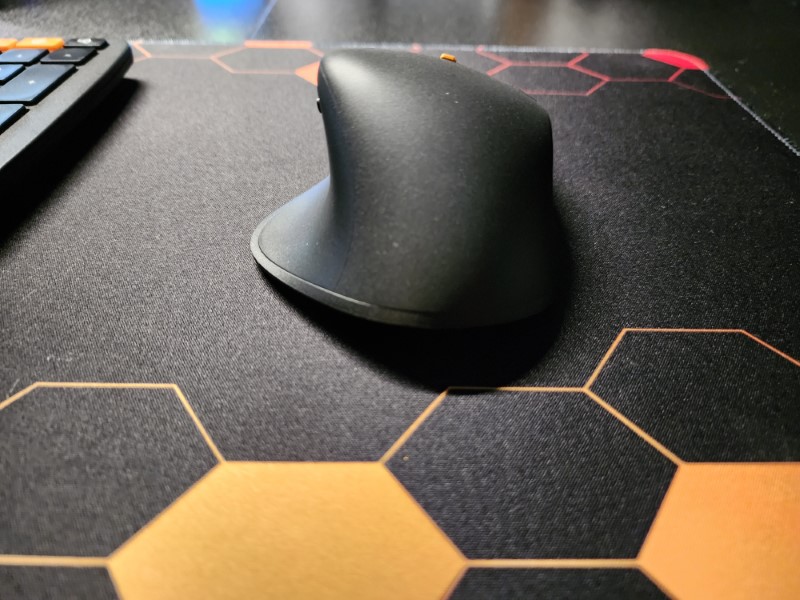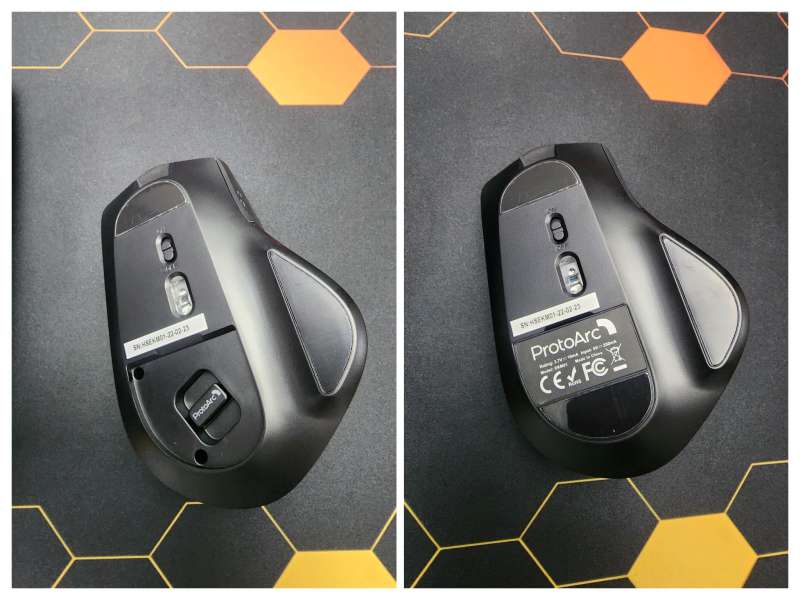 What I like
Excellent value
Convenient connectivity options and switching
Ergonomic, comfortable layout with some well executed design features
Replaceable dongle
1-year warranty
What I'd change
Mouse weight and grip
Packaging – was shipped in a plastic bag mailer
No software customization options
Final thoughts
The ProtoArc EKM01 keyboard and mouse combo brings a lot to the table, but its budget price demands some compromises.  If you're after a no-frills, wireless ergonomic mouse and keyboard combo, this is a fantastic option that is well executed where it matters most.
Price: $109.99
Where to buy: ProtoArc and Amazon
Source: The sample of this product was provided by ProtoArc