We use affiliate links. If you buy something through the links on this page, we may earn a commission at no cost to you. Learn more.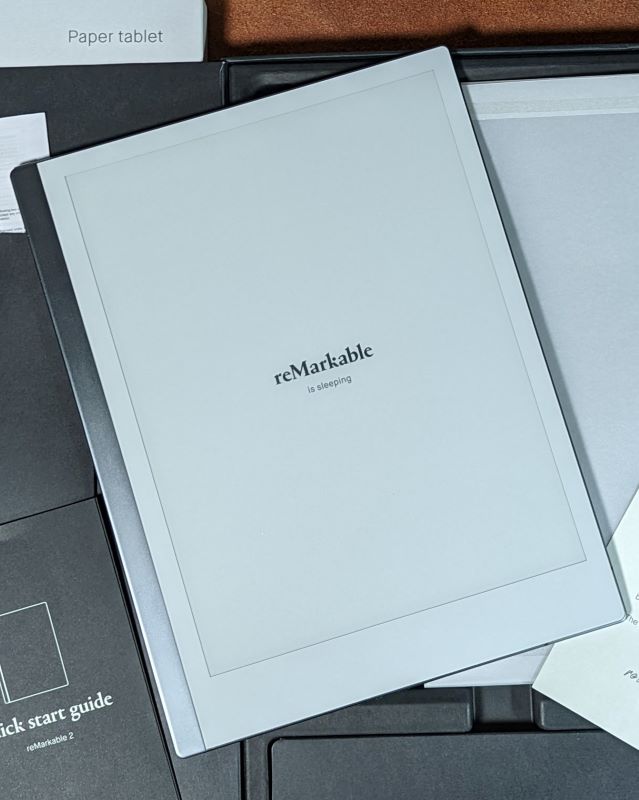 REVIEW – I've been on the hunt for the perfect paper notebook replacement. I've tried a couple of other e-note devices and thought I found the one I liked. Since then, I was given the opportunity to review the reMarkable 2 paper tablet. I have since changed my mind about which device is right for me.  The reMarkable 2 tablet has pushed my other tablet out of the number one spot.  If you've been looking to find a paper alternative that still feels like paper, then read on.
What is it?
The reMarkable 2 is a "paper" tablet that replaces notebooks and printed documents but maintains the writing-on-paper feel.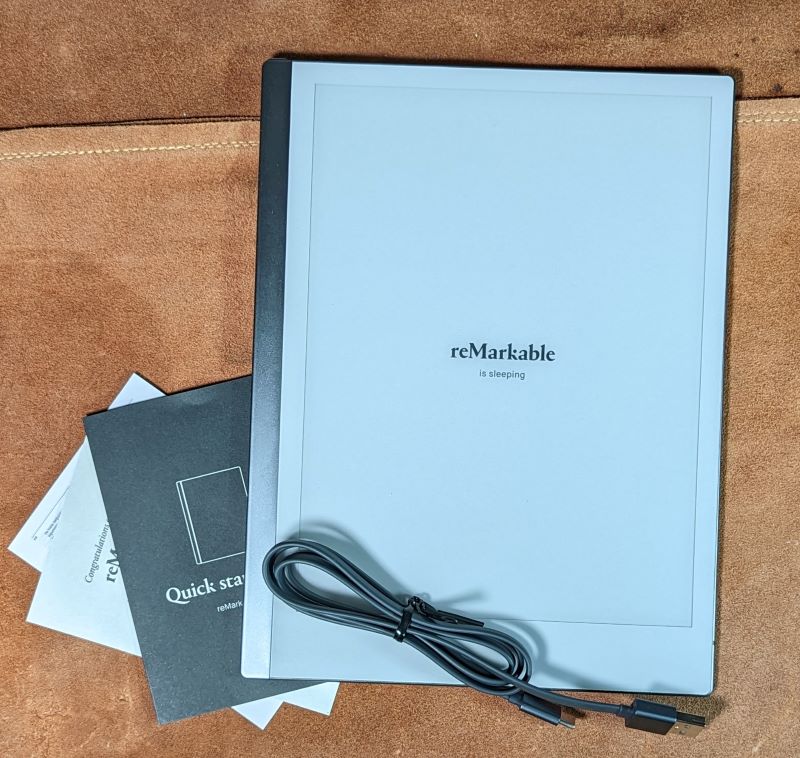 What's in the box?
reMarkable 2 tablet
USB A to USB C cable
Quick Start Guide
Hardware specs
Size – 188.0 x 246.0 x 4.7 mm
Weight – 403.5 g (0.89 lb)
Thickness – 4.7 mm (0.19 in)
Screen size – 10.3″
Storage – 8 GB internal storage
Menu language – English
Operating system – Codex, a custom Linux-based OS
RAM – 1 GB LPDDR3 SDRAM
Processor – 1.2 GHz dual-core ARM
Battery – Rechargeable, up to 2 weeks between charges
Supported file formats – PDF and ePUB
Charging – USB-C
CANVAS Display Specs
3" monochrome digital paper display (no colors)
1872 x 1404 resolution (226 DPI)
Multi-point capacitive touch
Paper-like surface friction
Sunlight readable
Partially powered by E Ink technology
4096 levels of pressure sensitivity
Design and features
The reMarkable 2 is an extremely thin tablet, the thinnest I've ever seen, and weighs less than a pound.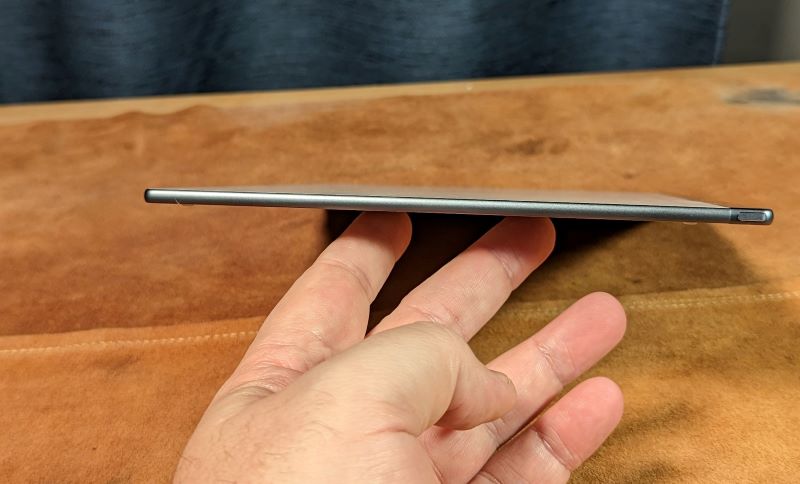 The tablet itself is a sight to behold and feel.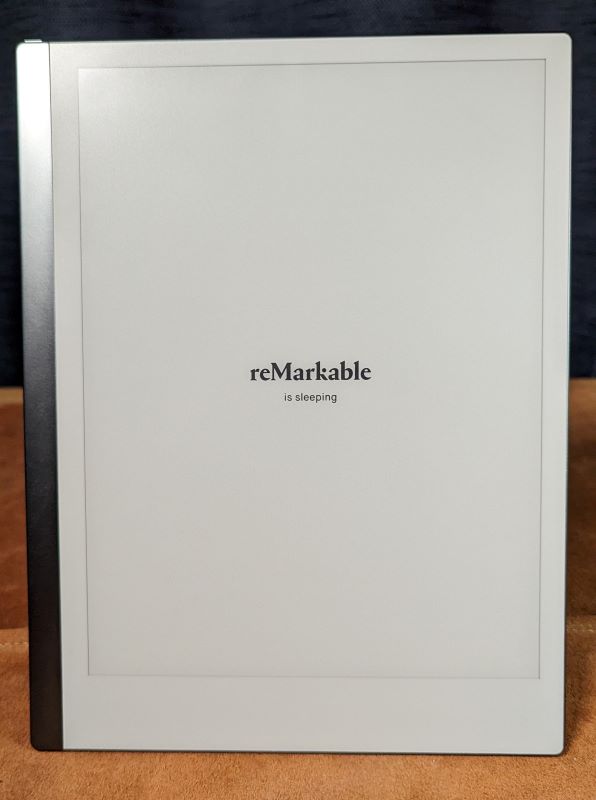 Its silver and white colorway gives it a refined look in my opinion. It's simple and clean.
The display is what reMarkable refers to as its second-generation CANVAS display, stating it's twice as responsive as the reMarkable 1 and feels even closer to paper. It definitely has a bit of tooth to it. And with 21 ms of latency, there is no noticeable lag when writing. It really feels closer to paper than any other tablet I've tried.
The power button is the slightly raised pill on the left top corner. It took me a minute to find it after opening the box.  Granted, I don't have the best eyesight, but it blends in so well with the silver stripe that runs down the left side of the tablet.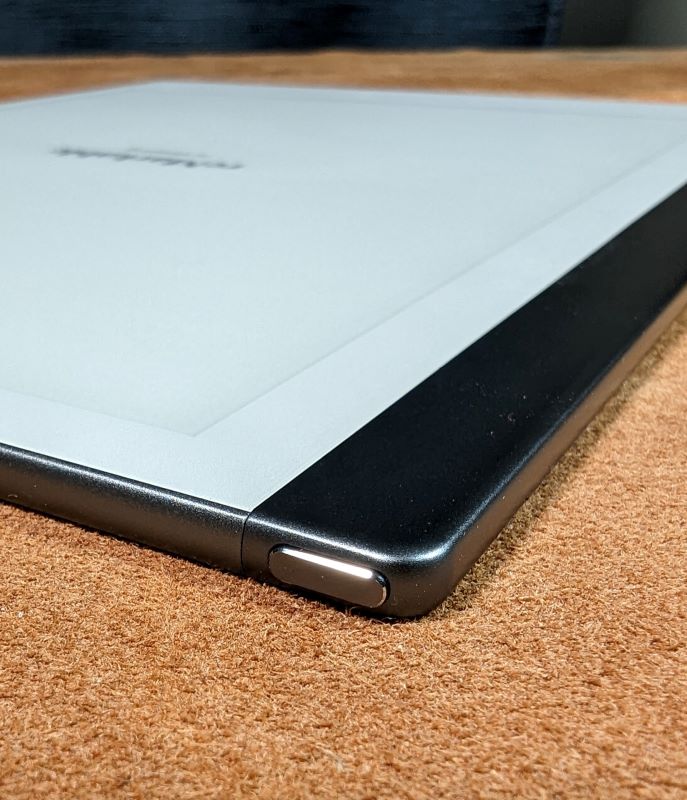 The same could be said for the USB-C charging port.  It's located on the bottom left.  I mean the tablet is so thin, it gives the impression that the cable is actually too big to fit in there. There's absolutely no wasted space on the reMarkable 2.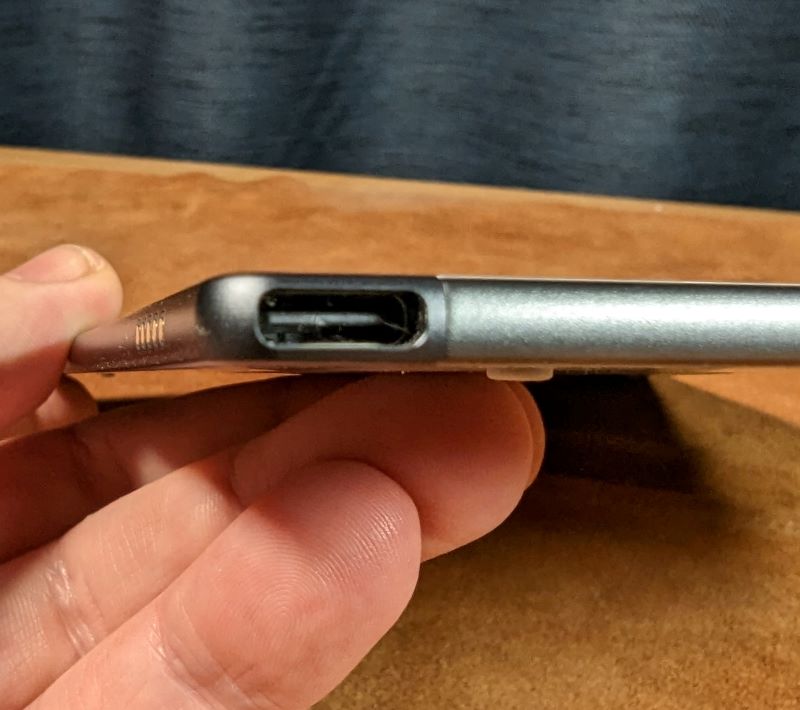 The tablet houses magnets inside that run down both sides, making it snap into one of reMarkable's folios and hold on to one of their reMarkable markers. Both items are optional add-ons. I can understand the folio being extra, but I would've thought there would be an included stylus.  Luckily, there are alternatives for both that can be found online, but I have to say I really like the Marker Plus included with my review sample.
One thing that confounds me is the 5 brass circles on the spine.  They look like contacts for pogo pins, but there aren't any in the folio, so what are they for?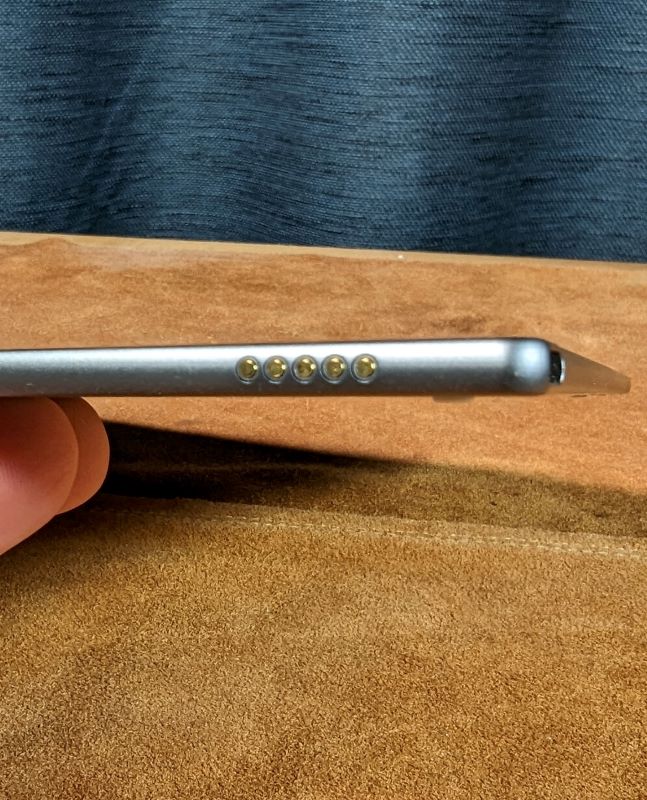 Setup
Setting up the reMarkable 2 for the first time is easy since the device walks you through it. When first powered on, the OS loads and brings you to a screen that allows you to try out the device before continuing. Next, there's a brief blurb describing the CANVAS display's screen refresh, giving you a button to try the refresh for yourself. After pressing, you are then presented with a Start setup button.  Following that, you'll want to connect to your WiFi or you could skip it if you really wanted to. If you do, select your network, and enter your password. Once connected you'll see a Success screen and a continue button. Once I connected, the tablet notified me of an update, so of course, I downloaded it.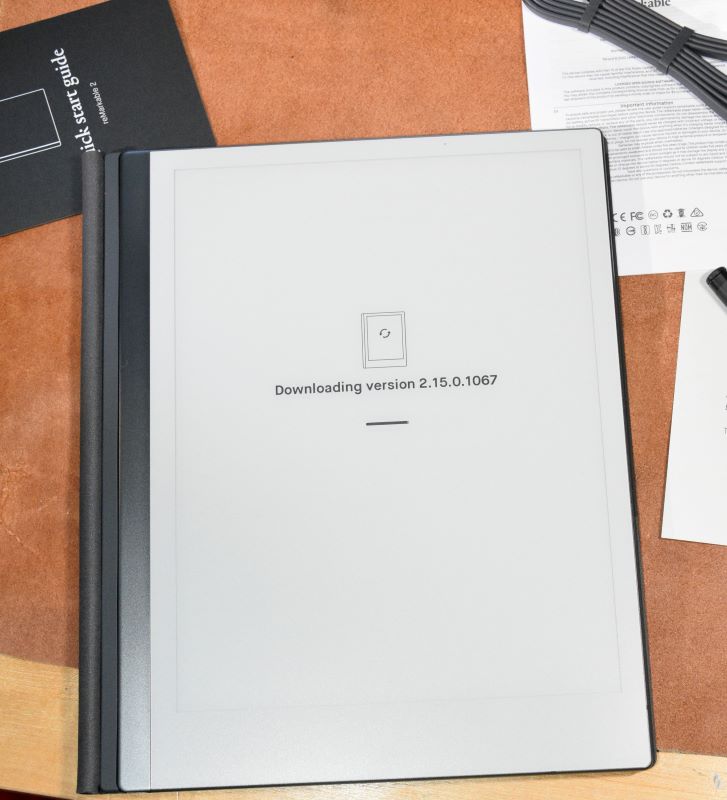 Next, it's time to pair the tablet to the reMarkable cloud service, Connect. You get a free 1-year subscription with the purchase of the tablet. After that, if you choose to continue using that service, it's $2.99 a month.  Whether or not the service is for you is your decision. Without the subscription you can still use the tablet, you'll just be limited to what you can do with cloud storage. To pair the reMarkable 2, you'll need to set up a My reMarkable account on their website and select Pair device from Devices and Apps in the menu.
After that, you select the language you write in.  They currently have 33 to choose from.
Next select either left or right-handed writing, select continue, and you're finished!
Once you get to the home screen, it will take you through a brief tutorial on how to use the device, what the icons mean, and how to use the gestures to navigate. You are now ready to ditch your paper notebooks!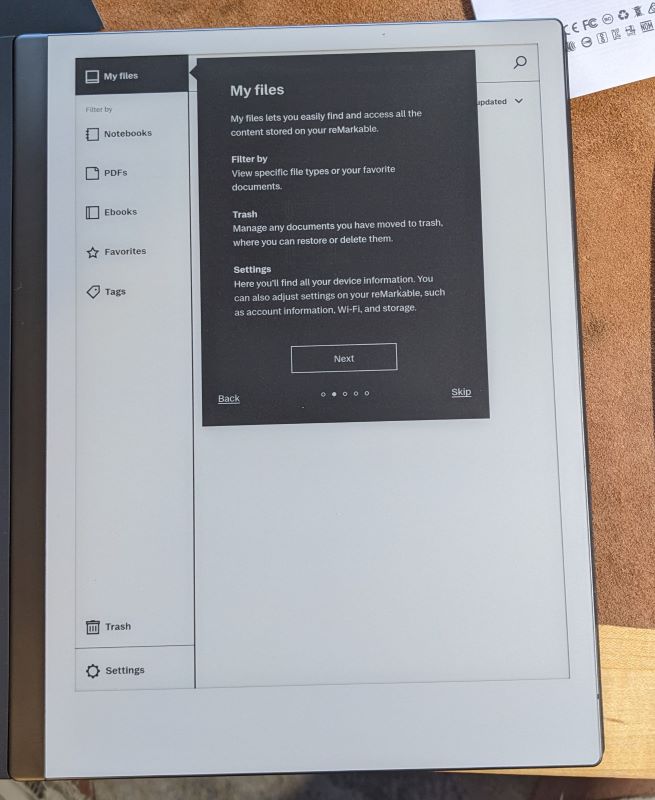 Performance
The reMarkable 2 works great for its purpose. This is meant to be a note-taking device first and an e-reader second.  There is no app store, no web browser, and no email clients, and that suits me just fine. The writing experience feels natural. It does feel like paper, not glass like I've experienced on other tablets. I did notice I've already worn down the nib considerably on my Marker Plus when compared to the other tablet I used. But, I've used this tablet more in a month than I used the other since I've had it.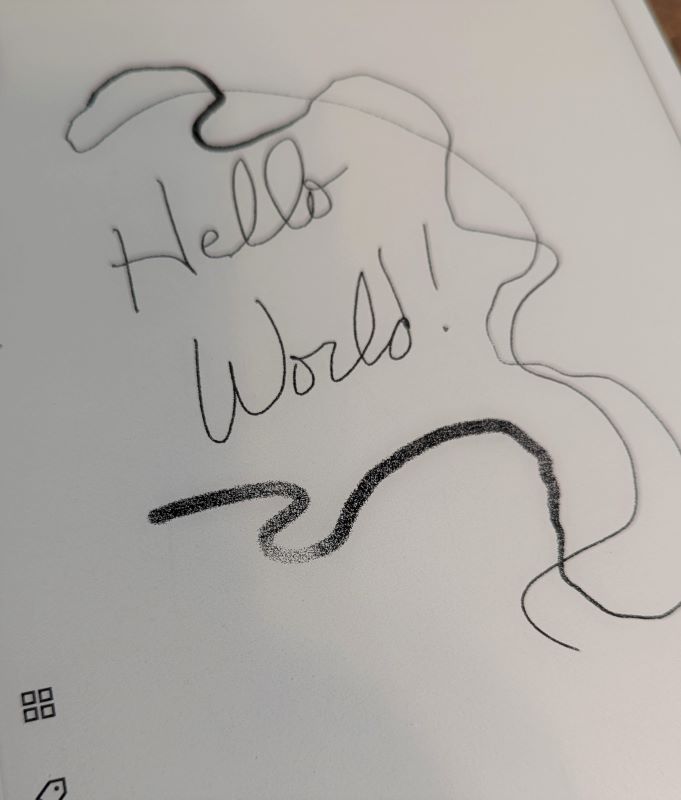 The e-ink display looks wonderful so reading on it is easy on the eyes. There's no backlight though so if you like reading in at night before you go to sleep, then you'll need your own light source. That's the only thing I miss on the reMarkable 2, but if they added one then the device would have to be thicker. To keep the tablet as thin as it is, I'll read with a lamp on, thank you very much.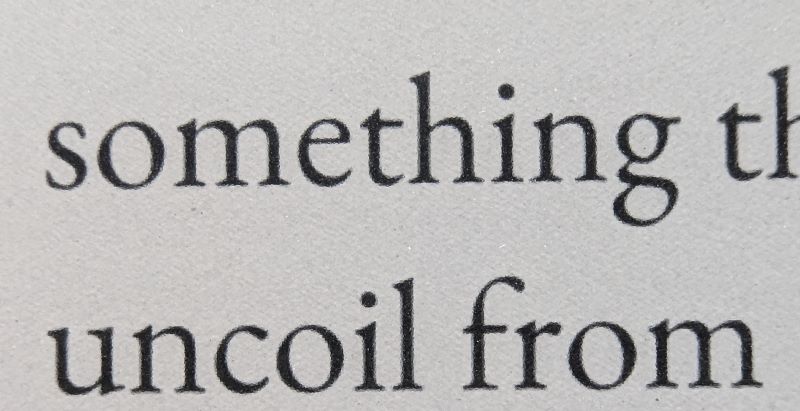 The company states the reMarkable 2 battery life is up to 2 weeks. I agree with that.  I've used mine almost every day for a month and have only charged it a few times. Leaving WiFi on will drain the battery sooner but not noticeably so. My Origin battery drains much faster.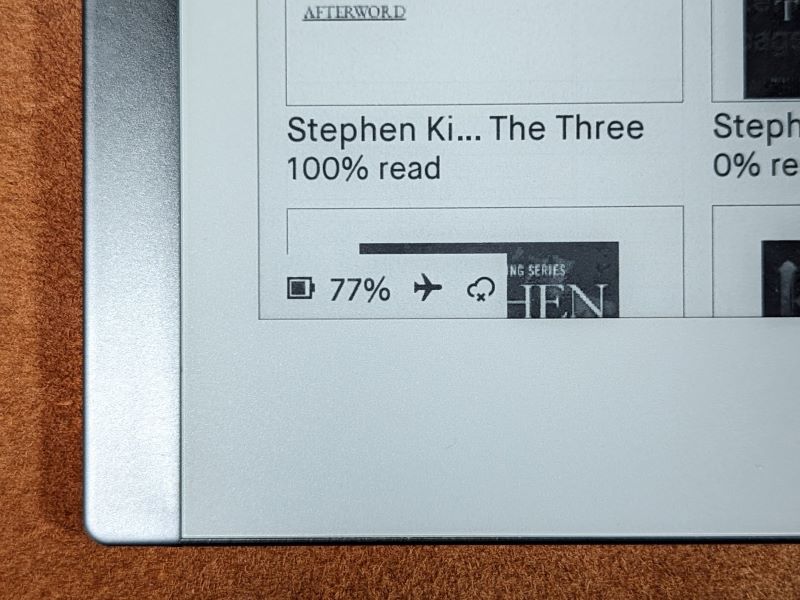 The e-reader works well enough. It doesn't have many bells or whistles. You can adjust the font size, line spacing, and page margins but that's about it. If it had a dictionary feature similar to my Kindle Paperwhite, that would be fantastic!
There is a search feature on the reMarkable 2 but it doesn't search handwritten documents as my Mobiscribe Origin does. That was one of the main reasons I bought the Origin, but after using the reMarkable 2 for a month, I'm not going back. The writing experience is superior as is the reading experience.
Another tick in the cons list for the reMarkable 2 is handwriting-to-text conversion.  The only way to get your handwritten notes converted is to share or email them to someone. My Origin would do it on the spot and allow me to save it on the device. The reMarkable 2 does however do a better job of converting the text and presenting it in the body of the email where the Origin sends it as a TXT file. On top of that, with the reMarkable app for your PC and/or phone you can save it there and it automatically syncs to the tablet.
Gesture navigation is fairly intuitive. Slide your finger from right to left to turn a page, left to right to turn back. If you're starting with a new notebook, sliding from right to left will add a new page. While writing, there's a side menu that can be hidden or accessed by touching the circle in the top left of the screen.

It includes a pen menu, stroke size and color, an eraser, and a selection icon used to select words to copy, paste, move, enlarge, or shrink them.  There are icons for undo, redo, and document overview. You can apply tags to your notes for easier searching. When selecting the Share icon you can screen share through the PC app, send your notes via email, and convert them to text then send. Finally, there's a settings icon for that particular notebook.
What I like
Hardware design
Writing experience
Battery life
Navigation
What I'd change
Search for handwritten text
Final thoughts
I'm smitten with the reMarkable 2 paper tablet. It's a beautifully designed device with a utilitarian purpose. I know I haven't done it justice. I really enjoy using it and do so daily now. I'll admit there was some sticker shock but it's comparable to other devices of this size.  Some will say it doesn't let me check emails, browse the web, or load apps while others do, but to them, I'd say you're missing the point.  This isn't an e-ink media consumption device. The reMarkable 2 is an e-ink notebook that also allows you to read documents and eBooks without all the noise. It's superb.
Price: $299.00
Where to buy: reMarkable
Source: The sample of this product was provided by reMarkable.