We use affiliate links. If you buy something through the links on this page, we may earn a commission at no cost to you. Learn more.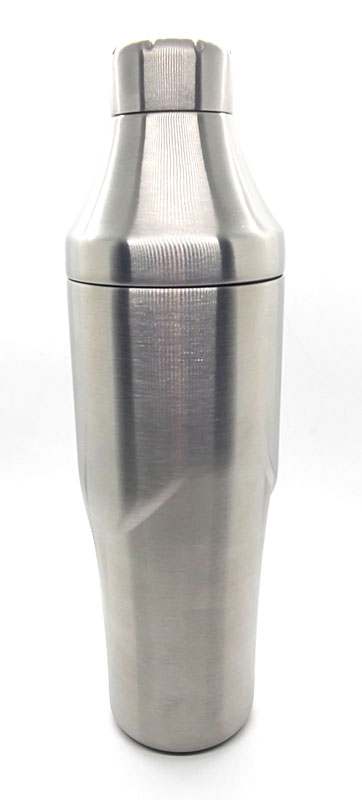 REVIEW – When I was offered the Lexenic cocktail shaker as a review item, I thought, why not?  I get to test what looks like a great cocktail shaker, and, I get to drink on the job!  What could possibly go wrong?
What is it?
The Lexenic 24oz vacuum insulated hybrid cocktail shaker kit is a cocktail shaker.  It is designed to hold ingredients for a cocktail, plus ice. You then shake the entire unit to simultaneously mix and chill the contents.  It is more than that, though. The strainer top allows you to pour the drink while containing the ice for that perfect martini pour.  If you've ever used a traditional shaker, you know that your hands can get cold quickly.  The Lexenic shaker has you covered with its double-walled and vacuum-insulated design, keeping the contents chilled and your hands warm. It also has a built-in measuring cup inside the strainer lid, making drink measurement easy-peasy.
What's in the box?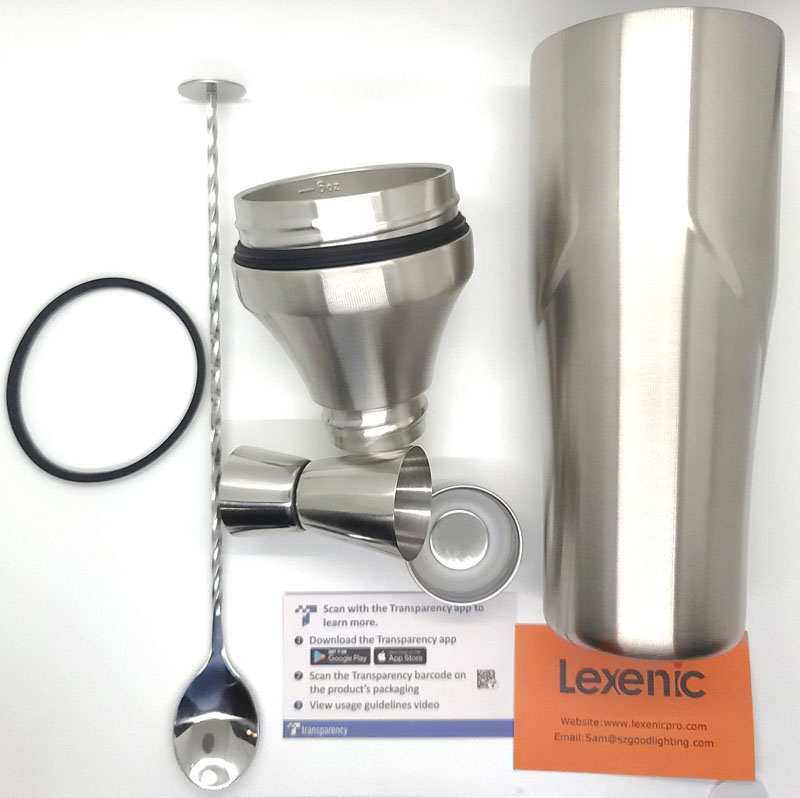 Lexenic 24oz vacuum insulated hybrid cocktail shaker
Screw-on measuring lid with o-ring installed
Screw-on cap
Long bar spoon
Dual-sided 0.5oz/1oz shot glass
Extra o-ring
Lexenic contact card
Transparency app card
Let me address that Transparency card.  I had never seen one.  I went ahead and downloaded the Transparency app and opened it.  It instructed me to scan the Transparency QR code on the product box.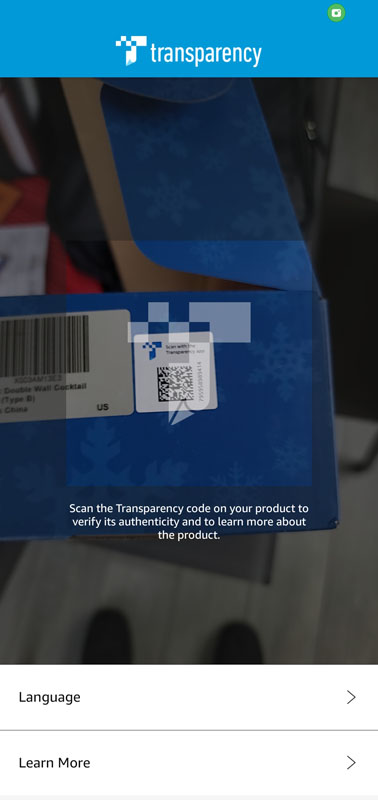 As soon as I scanned the QR code, this green checkmark showed up in the app.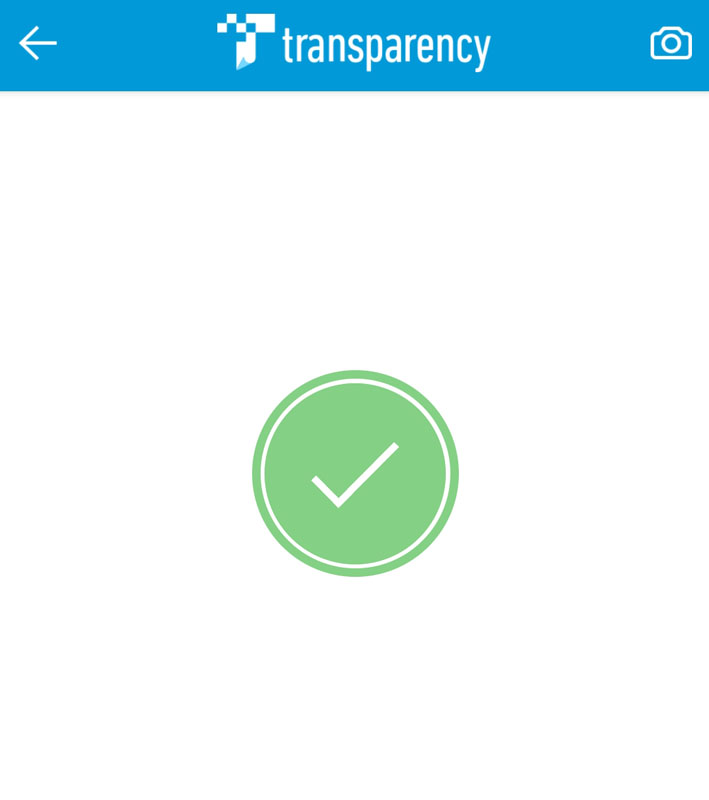 The screen then refreshed, showing this product detail.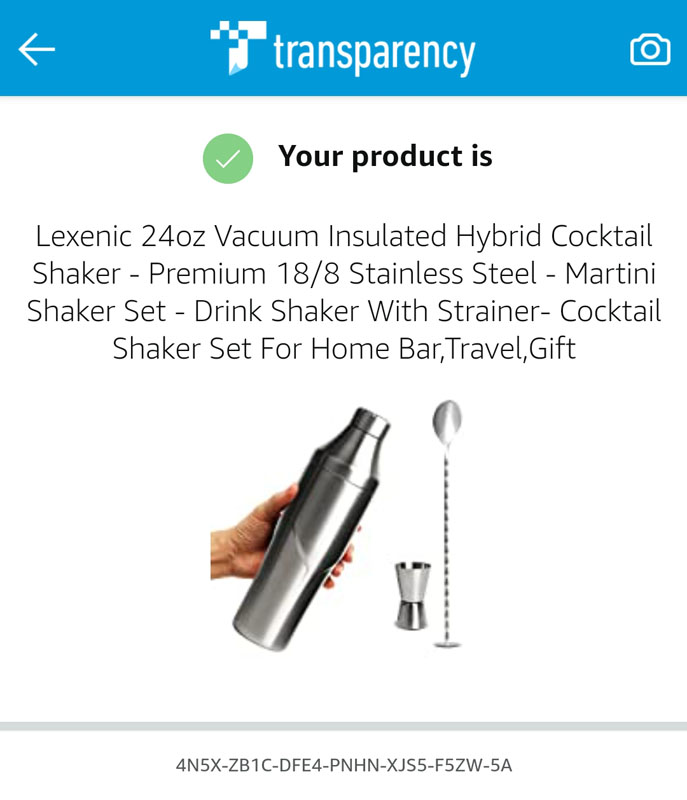 So, what the heck is all this about?  It turns out that this is an Amazon initiative to help Amazon sellers validate product authenticity and hopefully thwart counterfeiters.  If you're interested, here is a link to more information.
Hardware specs
Dimensions: 3.34 x 3.34 x 11 inches
Weight: 650 grams
Capacity: 24oz
Construction: Double-walled, vacuum-insulated, food grade 304 18/8 stainless steel
Cleanup: Dishwasher safe
Design and features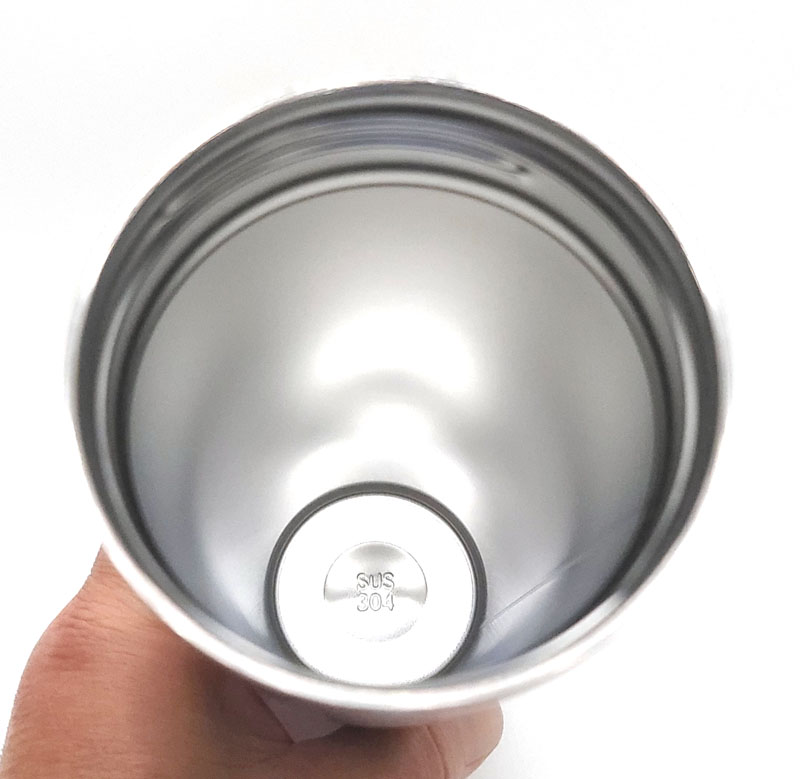 The Lexenic 24oz vacuum insulated hybrid cocktail shaker feels good in the hand.  Its brushed metal surface with subtle contouring improves grip for vigorous cocktail shaking.  The deep interior is wide enough to hold even larger ice cubes.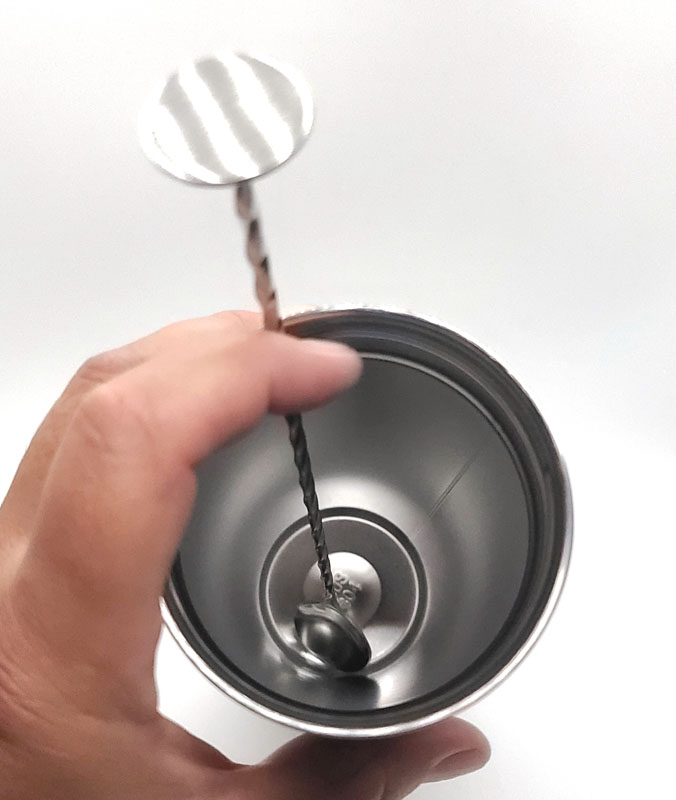 The screw-on, o-ring-sealed lid has measuring lines molded into the interior.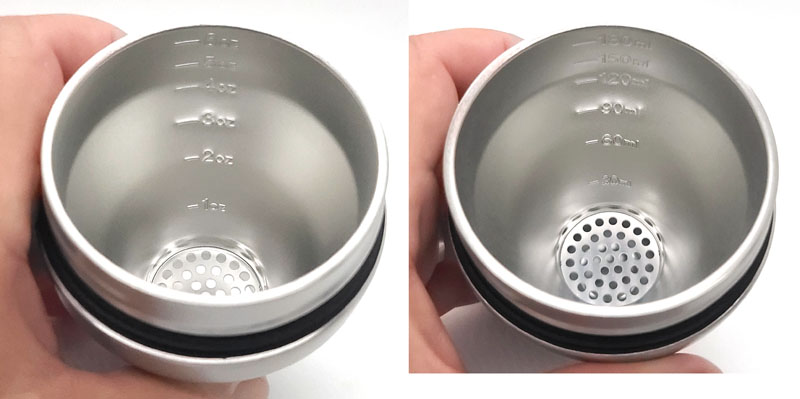 Indications are included for both ounces and milliliters.
The lid has a strainer top and closes with a screw-on cap.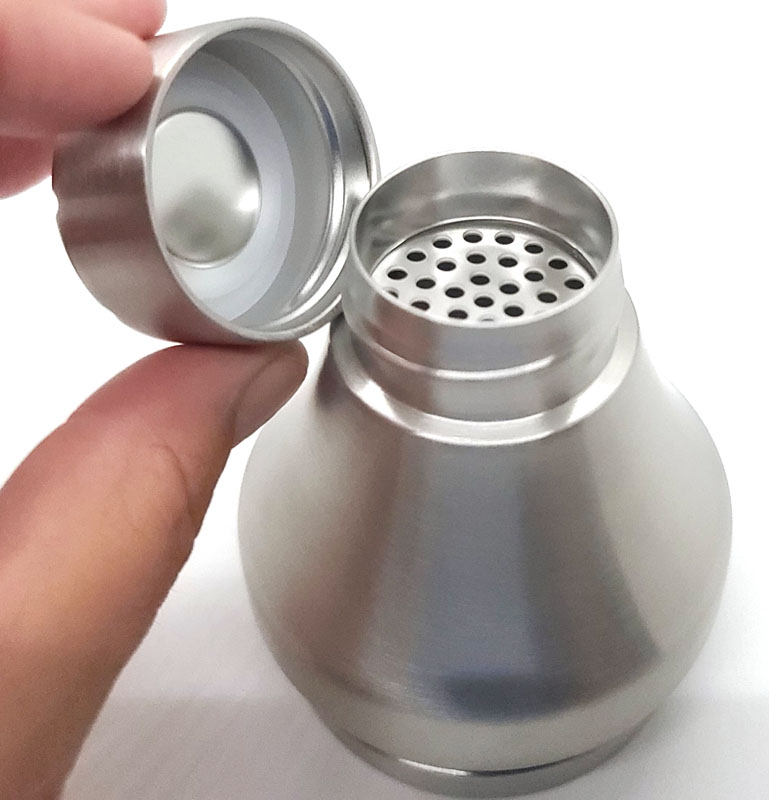 The included bar spoon and shot glass are a nice touch. Of course, with the included measuring lid, the shot glass is a little redundant, but still handy to have around.  And, a bar spoon doesn't come into play much with a shaker.  Still, when packaged together, the set makes a nice gift for your favorite cocktail enthusiast.
Setup
Other than washing everything before use, there isn't any setup required for the Lexenic 24oz vacuum insulated hybrid cocktail shaker kit.
Performance
The first test I did was a simple one.  We were heading to a gathering and I wanted to bring ice.  I have this vacuum-insulated shaker.  Seems like a good fit.  We were gone for about four hours.  While there, I opened the shaker once and removed some ice.  Once we got back home, I opened the top cap to drain off the water that melted from the ice.  Exactly zero water came out.  Wow!  This kept the ice frozen for four hours with zero melting.
Next up, I mixed a small batch of my favorite martini.  My plan was to sip them throughout the evening.  I loaded up the shaker with ice, used the measuring lid to pour the correct amounts of all ingredients into the shaker, closed it up, and shook away.  The first thing I noticed was how comfortable my hands were.  First, the shape of this shaker fits nicely in the hand.  Second, the double-walled construction keeps the cold in, so unlike single-walled shakers, the outside doesn't frost up.  This is a huge bonus for cocktail crafter comfort. After preparing my sugar-rimmed martini glass, I unscrewed the top and poured the elixir into my glass.  After the pour, there was no drip.  The top is designed so that the pour stops perfectly.  It is a small thing, but if you've ever had to wipe a drip off a container after every pour, you appreciate it.  The whole shaker is thoughtfully designed with rolled edges.  There simply is nothing sharp on this shaker that could potentially cut your fingers.  Again, a small thing, but huge in practice.
As I typed this and caught up on some DVR content, I sipped my martini.  I mixed enough so that I could keep my glass filled for the evening.  After nearly three hours of watching, typing, and sipping, each pour was deliciously chilled with ice remaining in the shaker.  It wasn't all melting and diluting the contents.  I give the insulating properties of this shaker two thumbs up.
What I like
Attractive design
The measuring lid is a great touch
The included accessories are a nice addition
Exceptional insulation keeps your hands comfortable and your drinks frosty
What I'd change
Final thoughts
Let's face it, getting to enjoy a lovely cocktail while I prepared this review was a terrific bonus. Plain and simple, the Lexenic 24oz vacuum insulated hybrid cocktail shaker is a terrific cocktail shaker.  It's well-made, well-insulated, and good-looking.  Together with its included accessories, this would make a great gift for any aspiring bartender or cocktail crafter, including yourself.
Price: $38.69
Where to buy: Amazon
Source: The sample of this product was provided by Lexenic.