We use affiliate links. If you buy something through the links on this page, we may earn a commission at no cost to you. Learn more.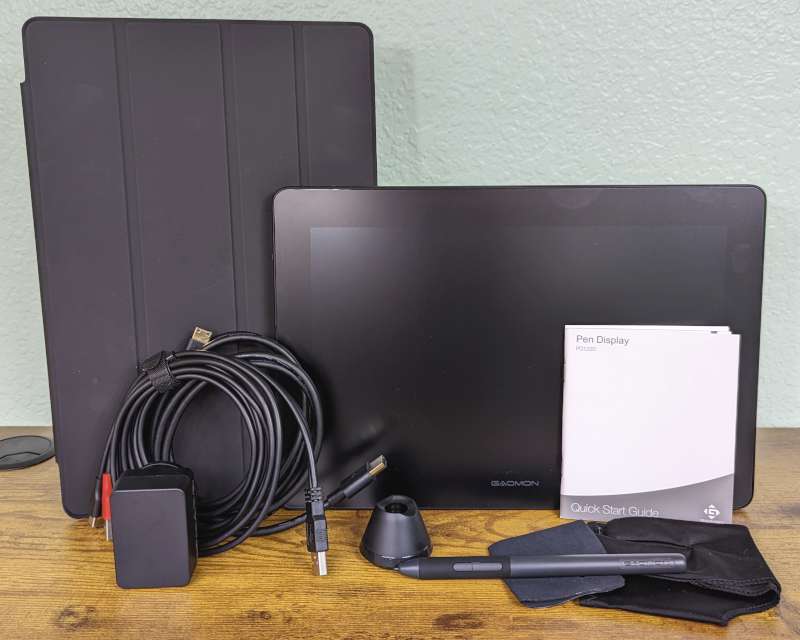 REVIEW – Recently, I started getting into the hobby of stained glass. One of the parts of the hobby I really wanted to get into was creating my own designs. Drawing a nice smooth curved line with a mouse is nearly impossible so I've been on the look out for a budget graphics tablet I could use to design. The Gaomon graphics tablet fits the bill, not only is it a drawing tablet but it also is a monitor! This means I can use it as an extra monitor as well as a drawing device. The pen is passive so there is no battery inside making it slimmer and more evenly balanced in the hand. Overall, I was pretty impressed with the Gaomon PD1220 11.6 inch graphics tablet.
What is it?
The Gaomon PD1220 11.6 inch graphics tablet is a monitor graphics tablet with a foldable cover and a passive pen.
What's in the box?
Gaomon graphics tablet PD1220
Pen AP50
Pen holder with spare nibs inside
Power adapter
HDMI to mini HDMI cable
Type C to dual USB A cable
Leather stand/cover
Cleaning cloth
Glove
Preinstalled matte screen protector
Quick start guide
Hardware specs
Screen size: 11.6″ (296.8 mm)
Resolution: 1920 x 1080
Ratio: 16:9
LCD: IPS LCD
Contrast ratio: 1000:1
Active area: 10.1″ x 5.7″ (258mm x 146mm)
Dimensions: 11.9″ x 8.1″ x 0.5″ (304mm x 206mm x 13.4mm)
Weight: 1.9 lbs (0.88kg)
Display color: 16.7M (8bit)
Touch resolution: 5080LPI
Pressure sensitivity: 8192 levels
Viewing angle: 89°/89°(H) 89°/89°(V) (Typ.)(CR>10)
Gamut: 86% NTSC
Sensing height: 10mm
Report rate: ≥ 220 PPS
OS support: Windows 7 or later, macOS 10.12 or later, Android (USB3.0 DP1.2)
Design and features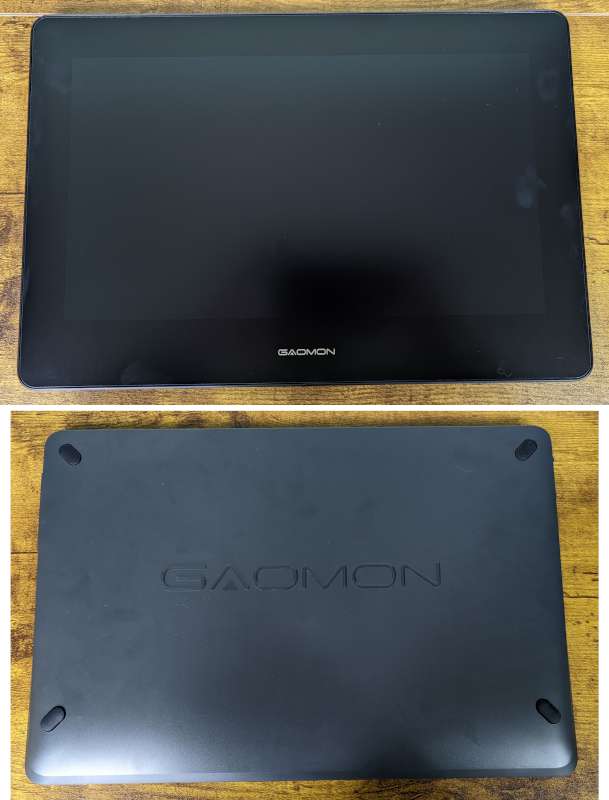 The Gaomon PD1220 11.6 inch graphics tablet design is super slick. It comes with a matte screen protector built in to prevent glare and scratches to the surface while drawing. The bottom of the tablet has four rubber feet that prevent it from being kicked off the desk when a cat decides to launch itself off of it. It is the size of a large tablet making it easy to pack in a backpack.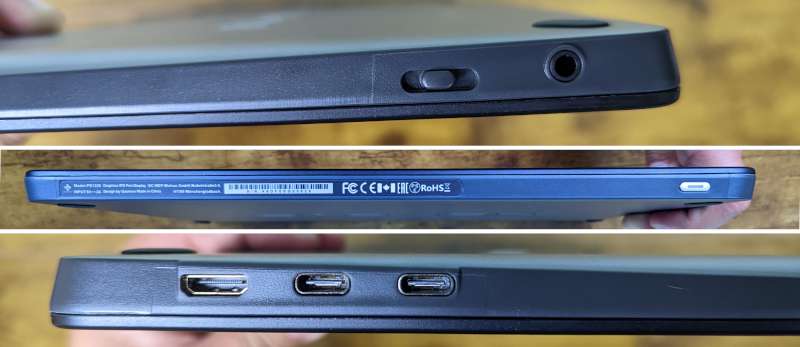 On the right side of the tablet is a headphone jack and the thumbwheel switch. The switch is used to control the volume when their headphones are plugged in and to navigate through the OSD menu when headphones are disconnected. On the top of the tablet are the power button and serial information. The right side has three connection ports for the tablet, one mini HDMI and two USB C ports. There are a couple of different ways to connect the tablet to power and the host computer. One way is to use the provided cables connecting the HDMI cable and USB cables to their respective ports. Power can be provided in one of two ways, either using the provided power adapter or allowing the host computer to supply the power. While not supplied with the tablet, you can use a USB C to USB C cable to connect the tablet to a computer without needing the other cables provided. It is important to note that the USB C port on the computer needs to be able to support USB3.1 and DP1.2 in order for this method to work.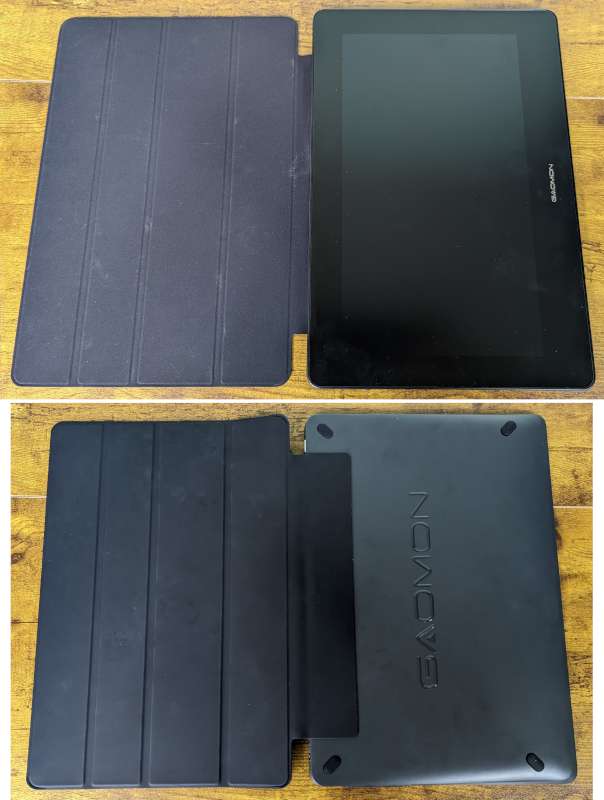 The included fake leather stand/cover comes uninstalled to allow you to choose which side you want it to be attached to. I chose to attach it to the top side of the tablet so I could use it as a stand while drawing. Attaching it to the bottom of the tablet would allow the tablet to be stood up vertically like a monitor rather than a drawing tablet. It just depends on your use case.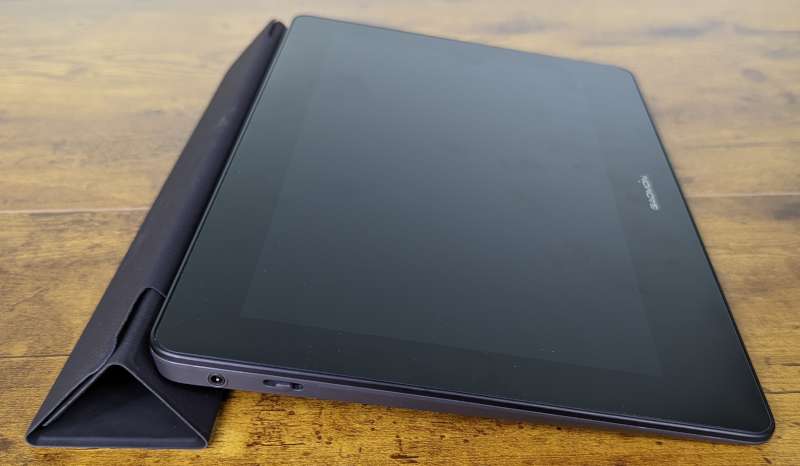 Above you can see how the cover folds up nicely to create a stand to elevate the tablet while you draw on it.

I love the pen. It feels great in the hand, not too heavy and well-balanced. It doesn't require a battery so the weight distribution is quite even and allows for the design to be narrower than those that have to fit a battery inside. There are two shortcut buttons included on the pen.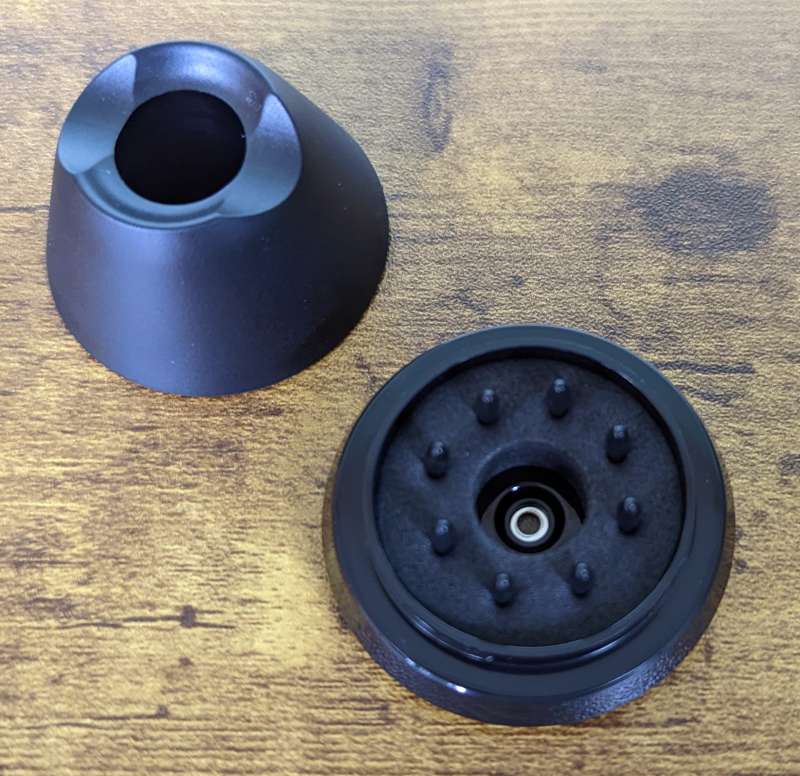 The pen holder doubles as the nib storage and nib removal tool. It comes with eight extra nibs and the hole in the middle of the holder is used to pull the nib out of the pen when you want to replace it.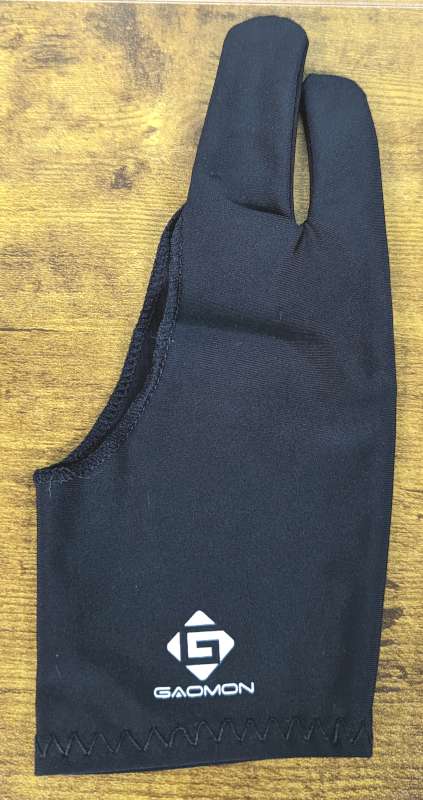 Another accessory included with the tablet is a touch rejection glove. It is ambidextrous and runs a little on the small side. It fit my hand well and I'm a petite woman so I doubt that this would be comfortable for anyone with large hands.
Setup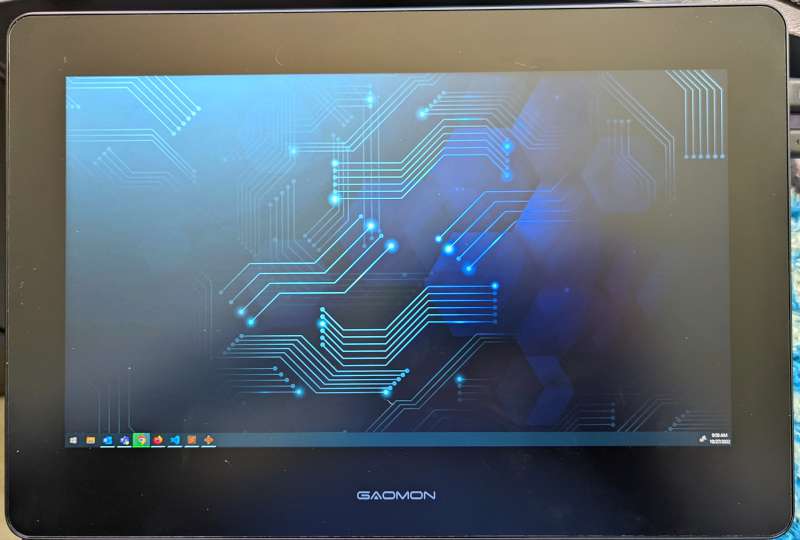 The setup of the Gaomon PD1220 11.6 inch graphics tablet is easy, you first visit the site provided in the manual to download the drivers for the tablet and operating system you are using. Once installed choose your preferred method of connecting the tablet to the computer. The tablet will turn on automatically and should show your computer screen, either duplicating or extending it. This setting can be adjusted in your computer settings. Once you have the tablet displaying as you prefer, you should be able to use the pen to select programs and use it to draw.
Unfortunately, this is where I ran into issues. The pen doesn't do anything on the tablet. I tried going into the Gaomon driver and messing with the settings but as you can see below, the driver doesn't recognize that the tablet was connected and running.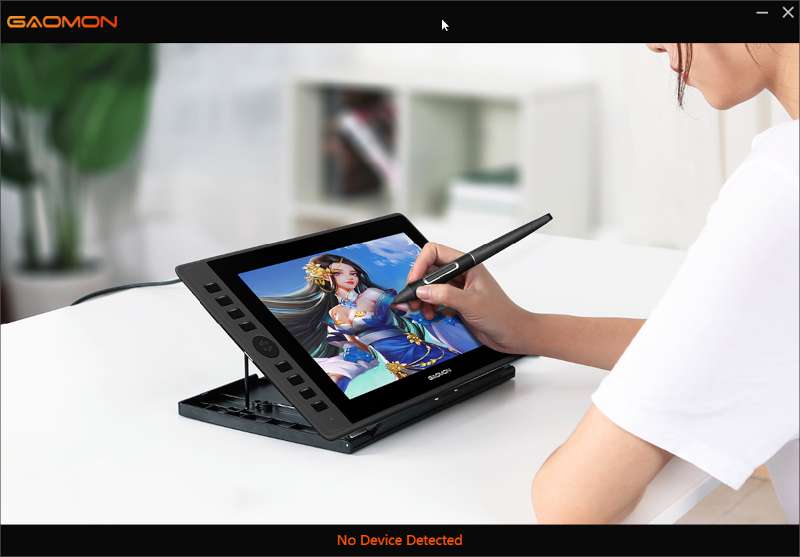 I did contact their customer support through email and they were less than helpful. They merely recommended me to repeat the start up instructions which didn't fix the issue. Support originally responded once a day but its been over a week now and I still haven't heard back from them again so I proceeded with writing this review. I did try to give them a chance to reply and try to fix the issue. I proceeded to try to mess around with my computer settings to get it to work but nothing seemed to change. Sadly this means my review is quite short and only really reflects on the feel and look of the tablet. Perhaps I received a dud and I am planning on continuing to try to work with support to get it to work but as of writing this review, the tablet is merely another monitor and does not work as a tablet.
What I like
Sleek design
Crisp display
Pen feels good in the hand
What I'd change
I wasn't able to figure out how to make it work
Final thoughts
The Gaomon PD1220 11.6 inch graphics tablet seems like a sleek fun monitor drawing tablet. Unfortunately, even after working with support, I was unable to get it to work fully. It is a great secondary monitor but I was never able to get the pen to work on the tablet. I don't want to completely bash the company as I may have received a lemon, and I'm going to continue to reach out to support for help but as of now, I'm not impressed at all with the tablet as it just doesn't work!
Price: $220
Where to buy: Amazon
Source: The sample of this product was provided by Gaomon.