We use affiliate links. If you buy something through the links on this page, we may earn a commission at no cost to you. Learn more.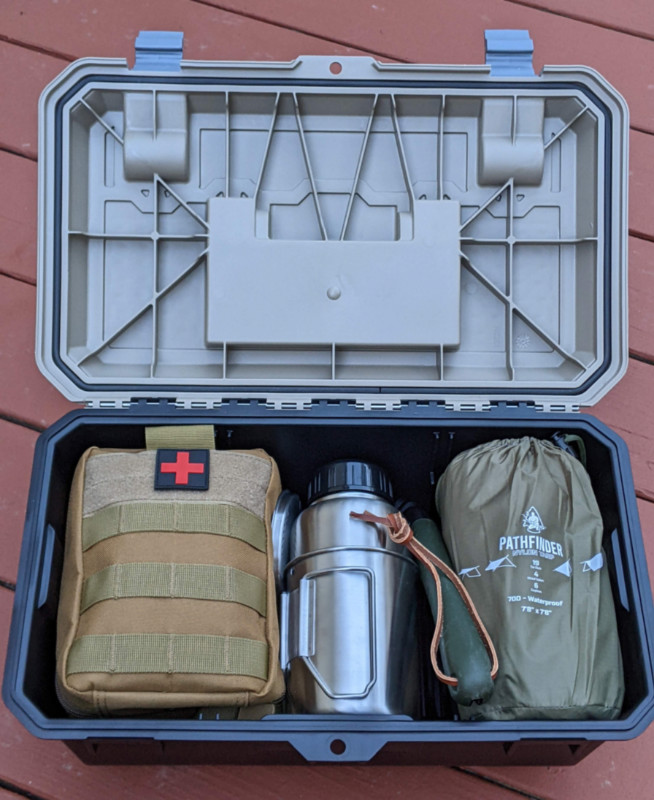 REVIEW – The Decked X Pathfinder Survival Kit is thoughtfully packed with quality gear that can help someone off the grid to survive in an unexpected emergency. I counted 22 items in the kit. I didn't cheat! There are 10 alcohol swabs that I counted as one item. This kit is very well supplied. What could go wrong on a camping or hiking trip? Let us count the ways. The Decked X Pathfinder kit can help with urgencies and emergencies. 
What is it?
The Decked X Pathfinder Survival Kit is a well stocked tackle box / tool box style kit intended for the car, truck, boat, or camper for access in an emergency survival situation. Each of the individual items can be removed from the vehicle storage box and carried in a backpack for wilderness excursions.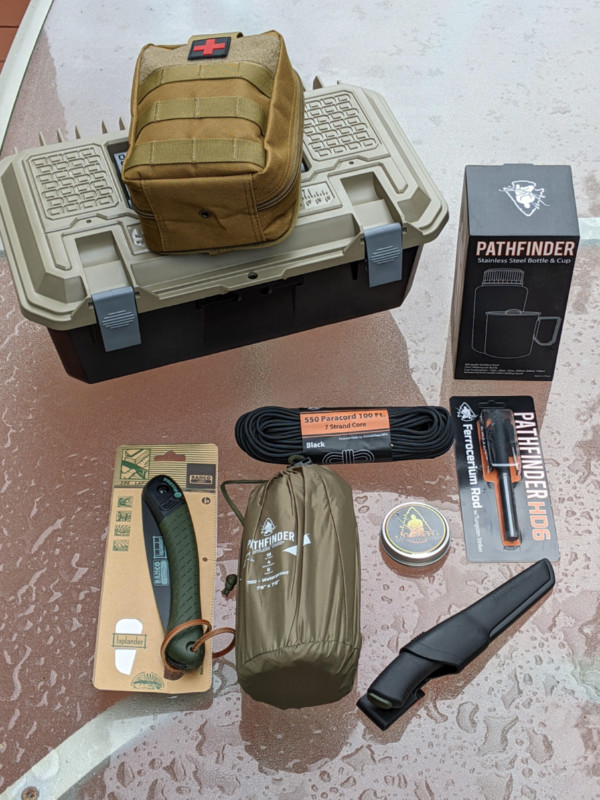 What's in the box?
Morakniv Bushcraft fixed 4" blade knife and durable plastic sheath. (Lifetime warranty)

HD6 ferro rod with striker
Mini Inferno fire discs
Pathfinder reinforced nylon tarp (7'8″ x 7'8″)
550 paracord (100 feet)
7" blade Bahco Laplander folding saw
32 oz Stainless steel water bottle and nesting cup
Watertight carry box: 17.5″ x 10.75″ x 7.75″
Pathfinder IFAK emergency medical kit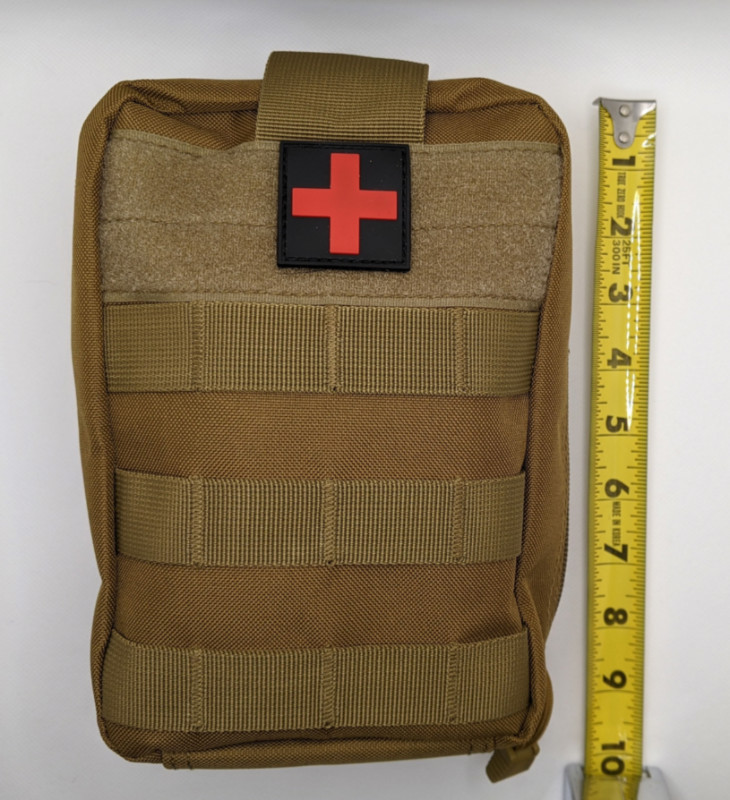 The first aid kit includes:
Heavy duty Cordura MOLLE bag

Pressure bandage

Crepe bandage (gauze roll)

Combat application tourniquet

Bandage scissors

First aid dressing

Burn dressing

Triangular bandage

1/2″ Medical tape – 2 rolls

SAM splint

Emergency blanket

Mark tactical pen

Disposable gloves – 2 pairs

Alchohol prep pad – 10 pcs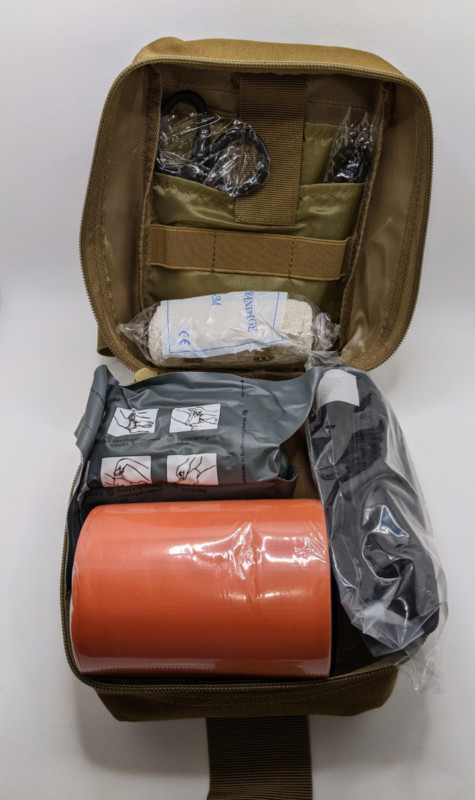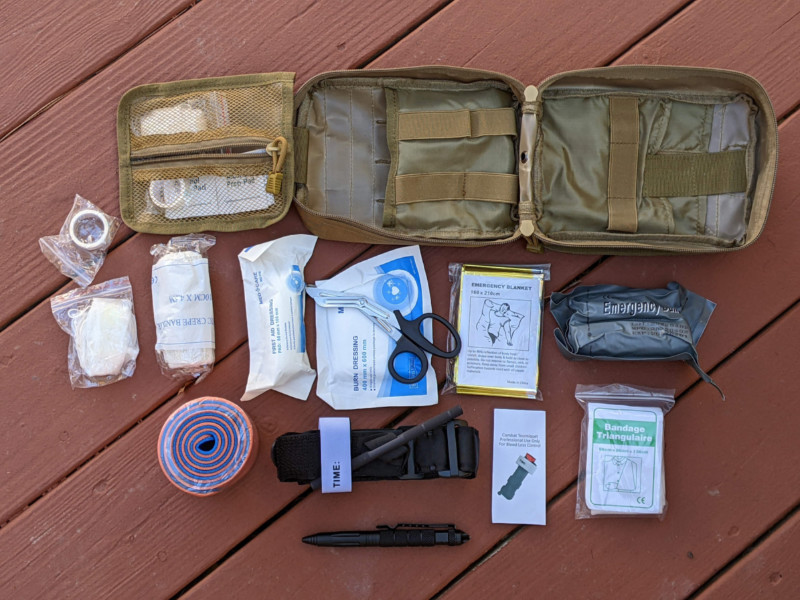 Design and features
Each individual item in the Decked X Pathfinder Survival Kit is a quality item although the tourniquet is not identified by a brand name, which concerns me a bit. 
Some survival kits just try to load up a box or bag with lots of items with little regard for how good each item is. The Decked X Pathfinder kit has a Morakniv knife in it for heaven's sake. Be assured that the Decked X kit has quality contents. (If I can get some assurance about the tourniquet.)
The carry box was pretty difficult to latch closed at first but got normal after about a dozen latchings and openings. That was probably only an issue of the gasket getting seated and the plastic latches breaking in.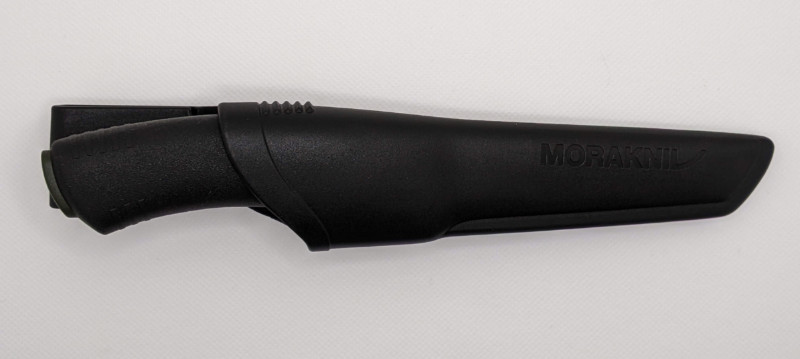 The Morakniv Bushcraft knife in the Decked X Pathfinder kit can be bought as an individual item on Amazon or the Morakniv website. It is an excellent quality piece made by an established brand name knife maker.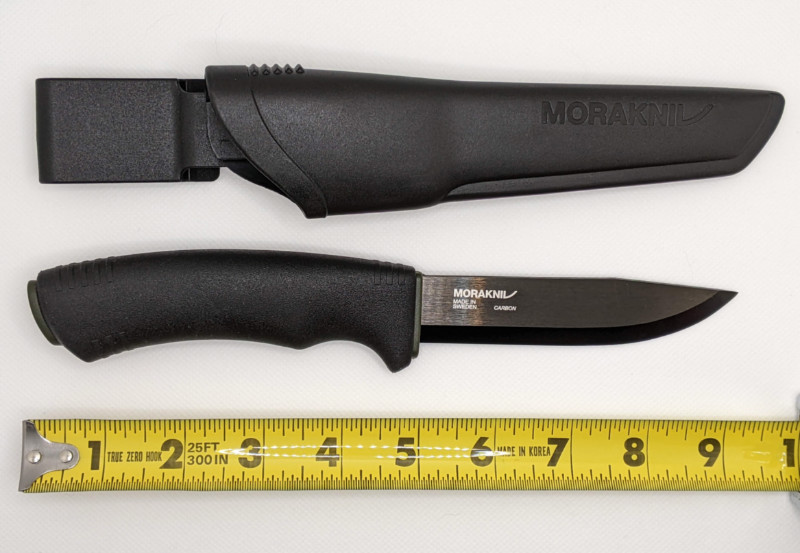 The knife has a 4" blade, is made of high carbon steel, and has a Scandinavian grind, ¾ tang blade, (the tang is ¾ up into the handle). It has a 90 degree spine, which is perfect for striking sparks from the Ferro rod at fire starting time.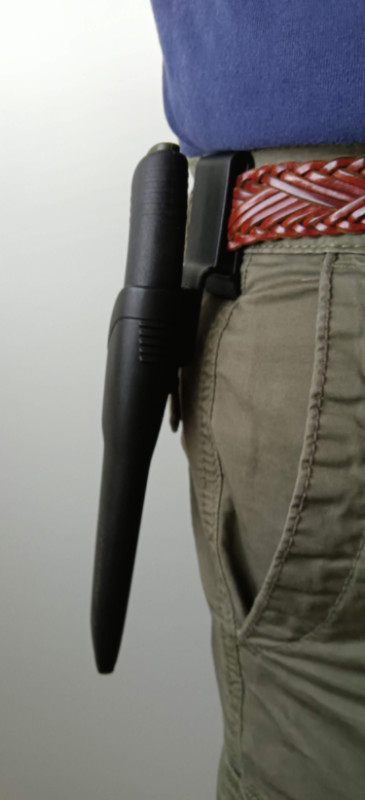 The belt clip attachment for the sheath held the sheath pointing a bit away from my hip and it was more pronounced with thicker belts.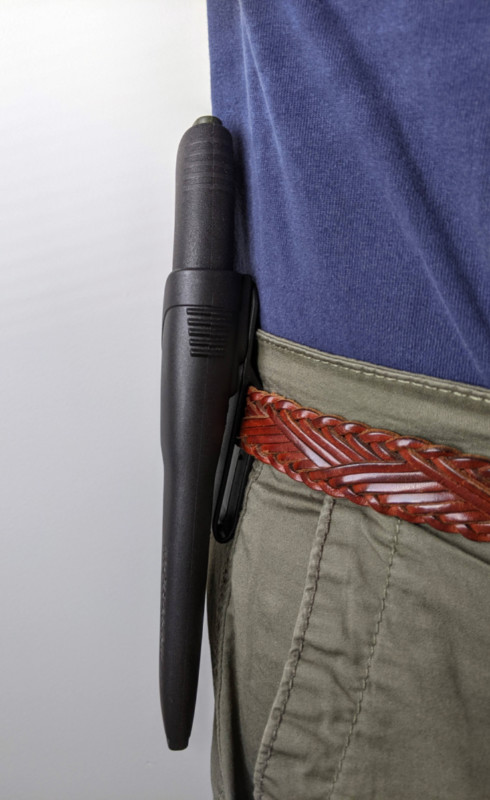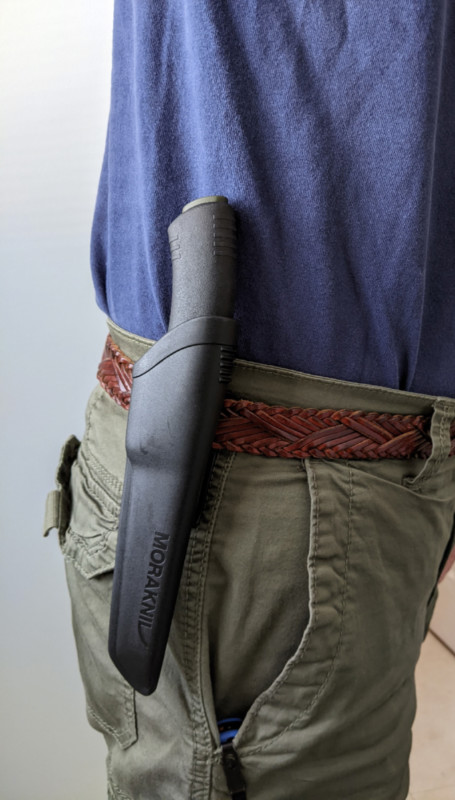 The sheath belt loop attachment holds the knife at a more normal angle closer alongside my hip and keeps the knife more secure when drawing the knife from the sheath. It sat even closer to the body when the belt loop piece is rotated to carry the knife higher on the belt vs. the low hang method.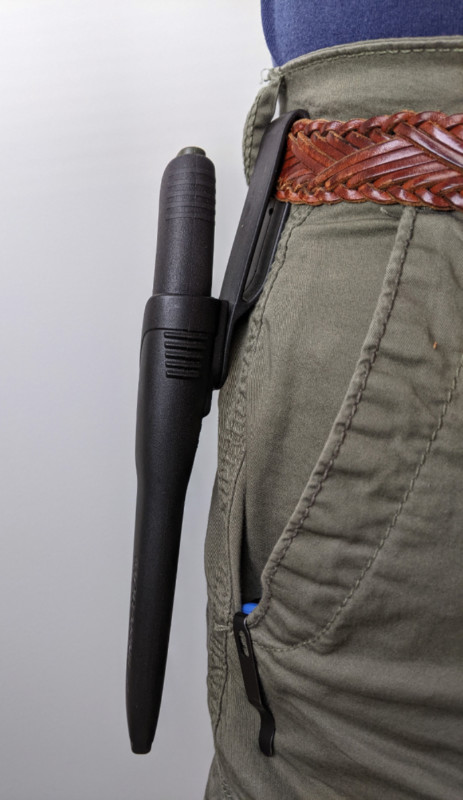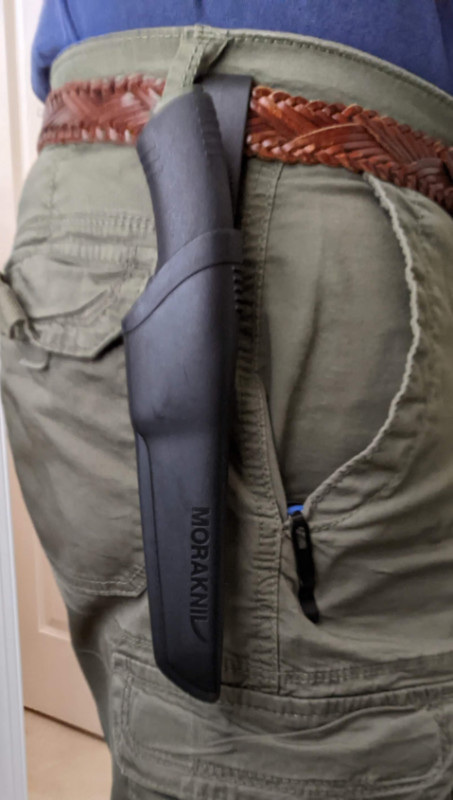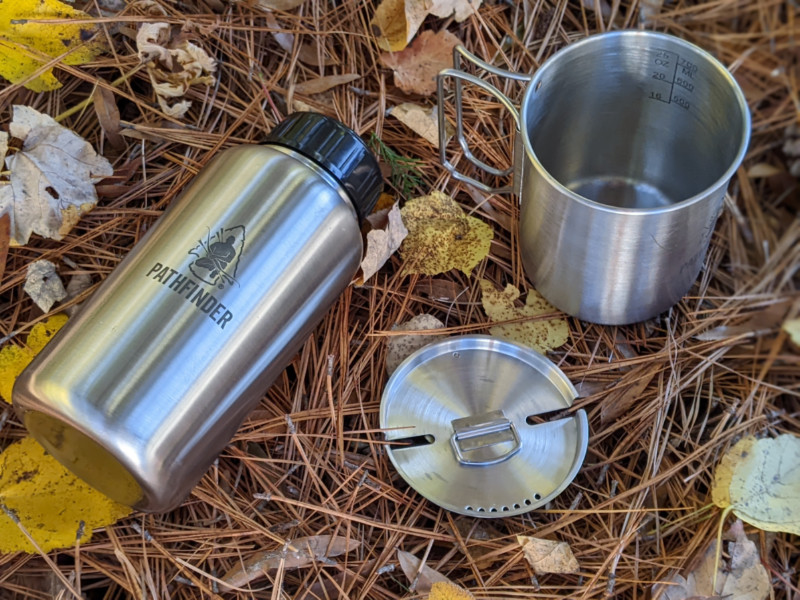 The stainless steel bottle is single wall construction so it can be heated directly over a fire. The bottle has 32 oz capacity and is 304 grade, .5mm thick stainless steel with a flat cap. The wide opening makes it easier to fill from shallow sources.
The cup is 25 oz capacity, also 304 grade, .5mm thick stainless steel with heavy gauge "batwing" handles. A stainless steel strainer cup top is included. There are measurement gradation marks on the inside of the cup.
Bottle dimensions are: 8" tall, 3 ¾" diameter. Weight: 8.5 oz. 
Cup dimensions are: 4 ½" tall, 3 ¾" diameter. Weight: 8.2 oz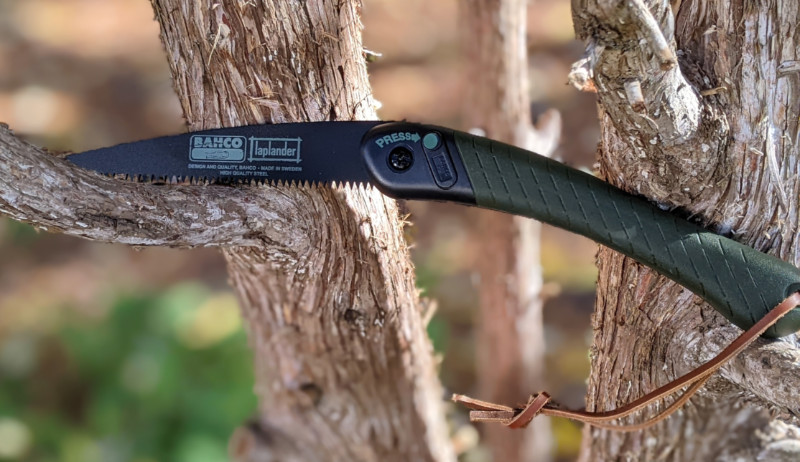 The Bahco Laplander hand saw is made with a 7" stainless steel blade so rust won't be an issue.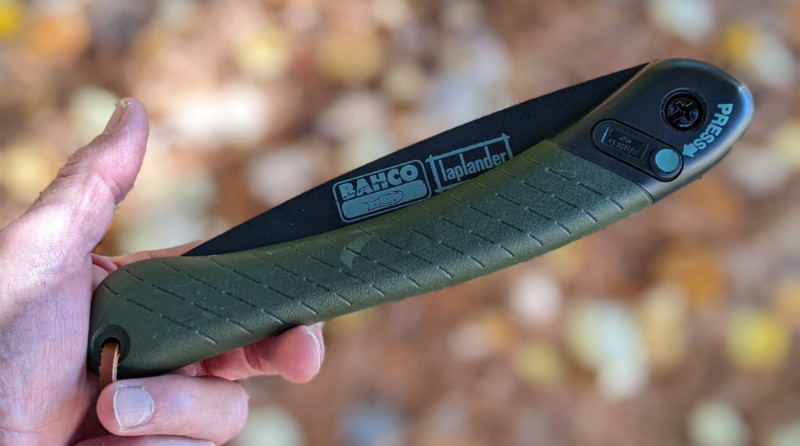 The blade locks open for safety and ease of use. It also locks closed which is a great feature to prevent accidental cuts or scratches to hands or equipment. A saw is so much easier to use to cut trees and brush than is a knife. Having both in this kit is right on target.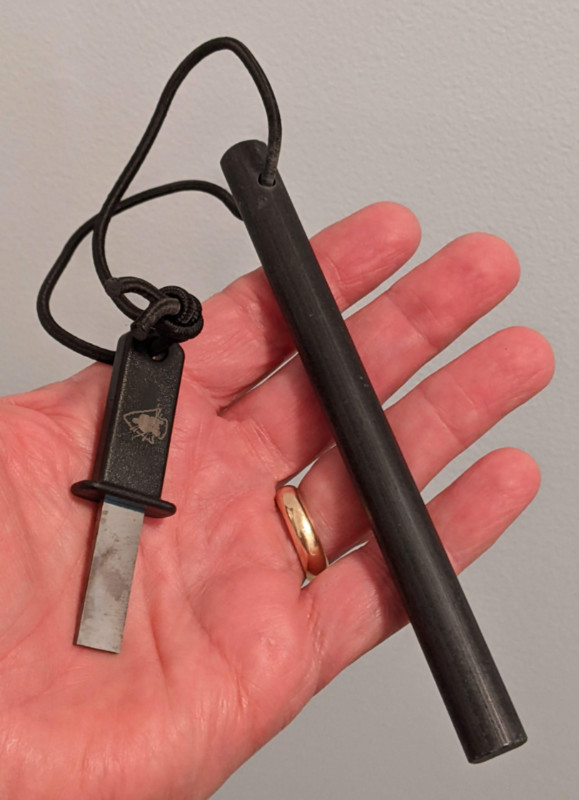 Striking the HD6 Ferro rod creates nice sparks that can ignite the Mini Inferno Fire Discs, or other fine tinder or DIY fire-starters.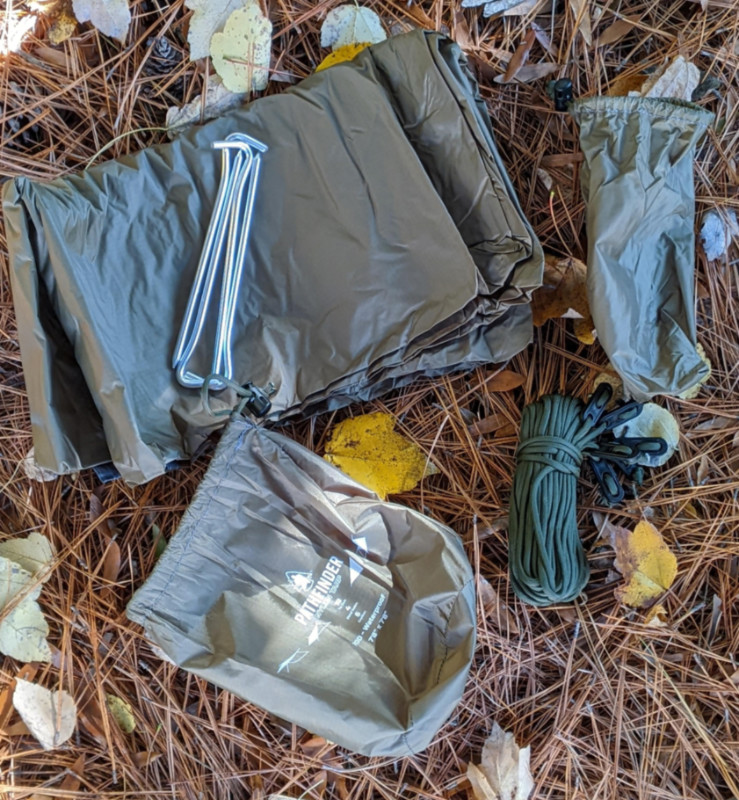 The tarp measures 7'8" square. The nylon material is reinforced and rainproof. I was impressed that the tarp comes with durable anchor lines and tent stakes. I thought I'd have to bust out the 550 paracord to make a tent. No, save the 550 cord for when it is needed, the tarp tent is ready to set up and protect the user from the elements.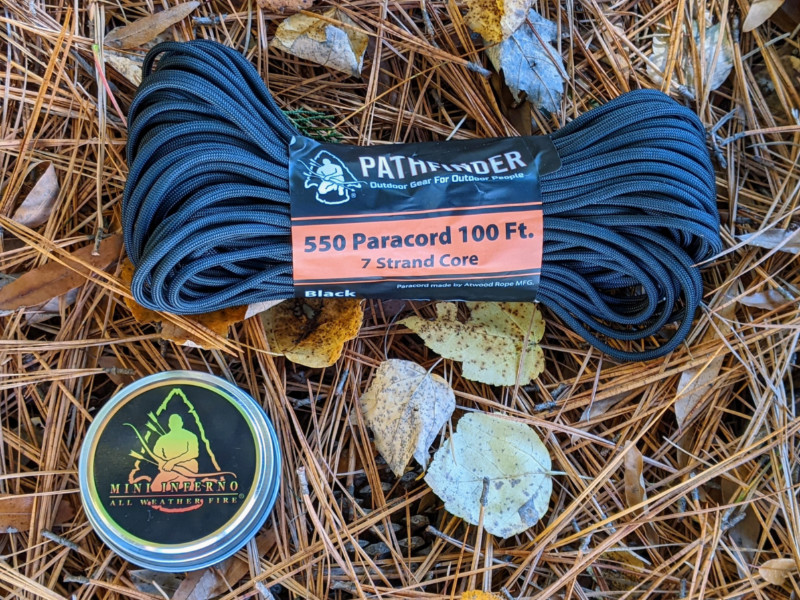 And 550 paracord means the stuff is rated to hold 550 pounds. It's strong, so it can't be pulled apart without severe wear or cuts in the line. 
A Mini Inferno Fire Disc should be torn, placed within tinder then sparks should be struck onto it for a quick start fire. Decked claims that moisture actually extends the usual 5-7 minute burn time of a disc. The Fire Disc top can double as a signaling reflector in sunny conditions.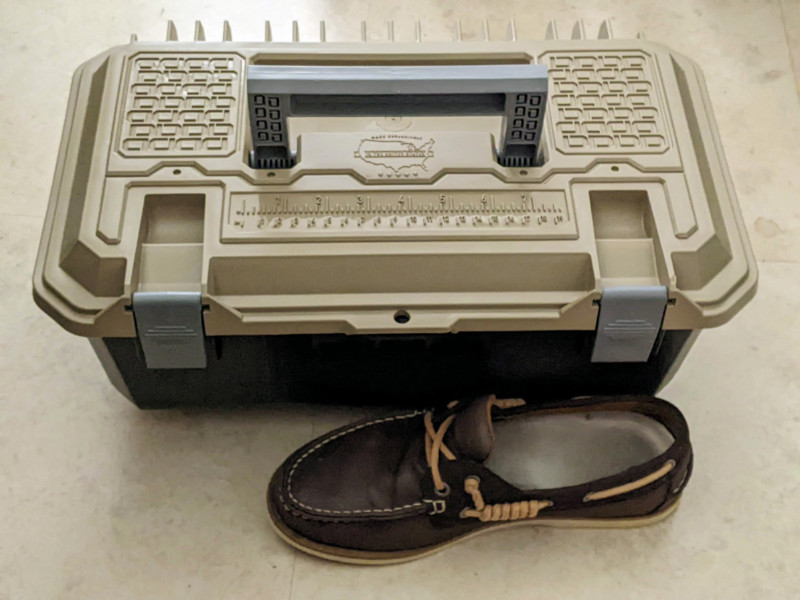 The 'Decked Crossbox' is rated to hold 40 pounds. The contents of the Decked X Pathfinder kit are far less than this capacity. The box is made of durable, long lasting, non-brittle plastic. There is a ruler and common bit and bolt guide molded into the box top. 
Setup
Several items in the Pathfinder kit come boxed, mounted on cardboard retail cards, or sealed in plastic or cellophane. With the exception of first aid items that should remain sealed, I unboxed and unwrapped every item. I even unbagged the tourniquet so I could practice with it and make it instantly ready in the first aid carry bag. Items also need to be out of their packaging to fit in the carry box.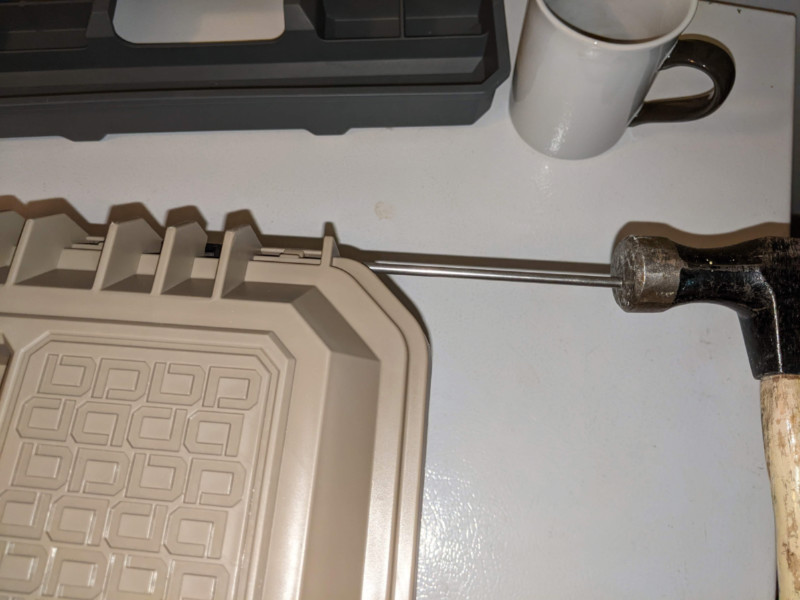 The 'Decked Crossbox' carry box comes with the top detached. The hinge rod needs to be inserted. I tapped mine in gently with a light hammer. A good length of solid, round, rubber is provided that serves as the water-tight gasket that protects the box contents from moisture intrusion. The rubber must be inserted into the space around the outer perimeter, inside the top of the carry box.
A small items tray comes with the carry box. All the included items do not fit in the box if that tray is in place. So it's there if you want to exclude some of the kit items or use the box for some other purpose. I removed that tray and stored it. 
Performance
I had a friend look over the contents of the Decked X Pathfinder kit. He was an Army officer who served in combat, now works in a tactical division of a federal law enforcement agency and is an Eagle Scout. (Once and always, right?)
He made two recommendations; Include a 'clot stop' bandage (not the pour-on powder), and be sure of the brand name of the tourniquet. He thought all the other items were very well conceived for a wilderness survival kit. The tourniquet may be top quality, but the brand name should be on it. 
QuikClot, CELOX and others make hemostatic gauze and bandages. Check and choose from a good first aid equipment supplier. 
It is great that the Decked X Pathfinder kit tourniquet has a metal windlass. My friend has seen some with a hard plastic windlass. That's dumb. Plastic is not for tourniquets. A broken tourniquet windlass in a bleeding emergency spells disaster. 
What I like
The kit is made up of a wisely chosen set of items.

Each individual item seems well made.
What I'd change
I'd add a clotting bandage, plus large and medium size Bandaids

Include a brand name tourniquet.
Final thoughts
The Decked X Pathfinder Survival Kit contains an excellent selection of items that one should take along when camping, hiking, or for other forms of outdoors-ing. Decked makes big storage drawer systems for truck beds but they didn't overlook equipment for personal emergencies. The contents of the Decked X Pathfinder Survival Kit will serve users well. Purchase of the Decked X Pathfinder kit can be considered as part of an outing safety pre-plan. 
Price: $290.00
Where to buy: Decked
Source: The sample of this product was provided by Decked.