We use affiliate links. If you buy something through the links on this page, we may earn a commission at no cost to you. Learn more.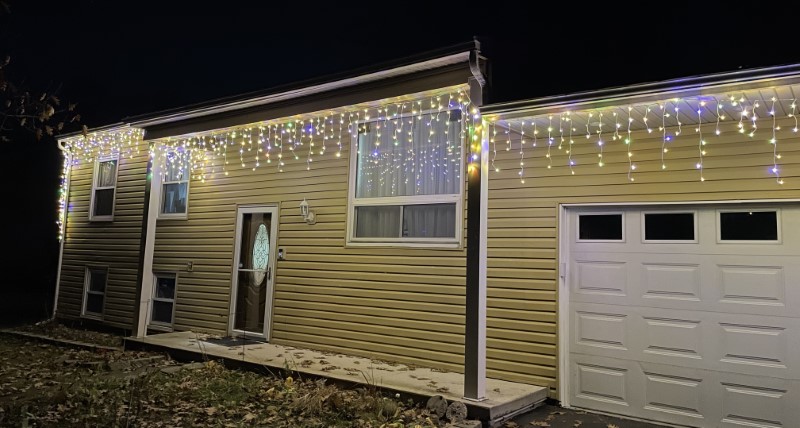 REVIEW –Yep, I admit it. I listen to Christmas music year-round, and love to start decorating the day after Halloween. My Christmas lights are up and some of my neighbors are scolding me for being so early. Scrooges! :-). Notvech Christmas Icicle Lights are a perfect way to start the season!
What is it?
Novtech Christmas Icicle Lights are 33-foot (10-meter) strands of outdoor dual-color LED decorations with an infrared remote control and several programmable modes.
Hardware specs
Model QX-U-O-I-400-80-M-C
400 LEDs per strand
120-volt operation
Power supply output: USA 30-volts, 9-watts. UK 31-volts, 9-watts
Temperature range: -10° to 50°C (14° to 122°F)
Material: PS/PVC
33 feet (10 meters) in length
Four-color capabilities (warm white, multicolor, and two mixtures)
11 different modes
Four brightness levels
Three timer functions (3, 6, and 9 hours)
IP44 waterproof rating
CE and UL listed
Up to 100,000 bulb life
Extendable up to five strings
Infrared remote control with 13 feet (4 meters) range
4-foot (5-meter) lead-in cable
Eighty 12, 16, and 24-inch LED "icicle" drops
What's in the box?
Novtech Christmas Icicle Lights
Infrared remote control with CR2025 battery
Wire ties
User manual
Design and features
Before we start, I love the Holiday Season. No, I don't think decorating early detracts from Thanksgiving – I think it enhances it!
The Novtech Christmas Icicle Lights arrived compactly packaged. They are rugged so not much packaging is needed.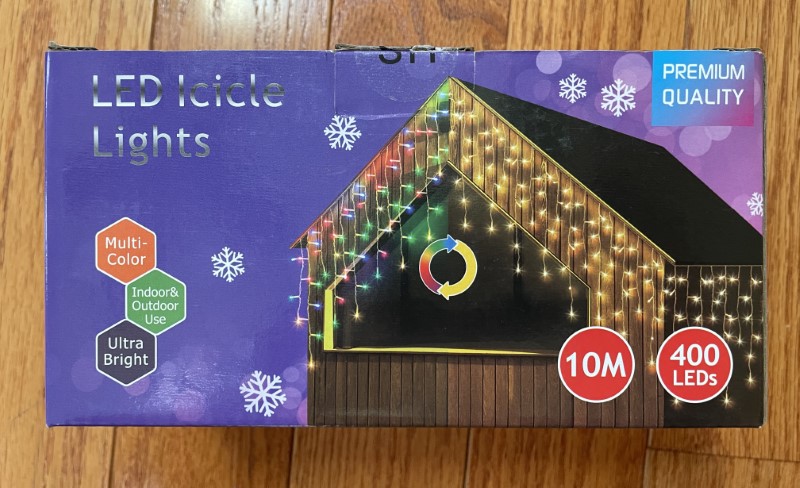 Wire insulation is clear and slightly rubbery to the touch.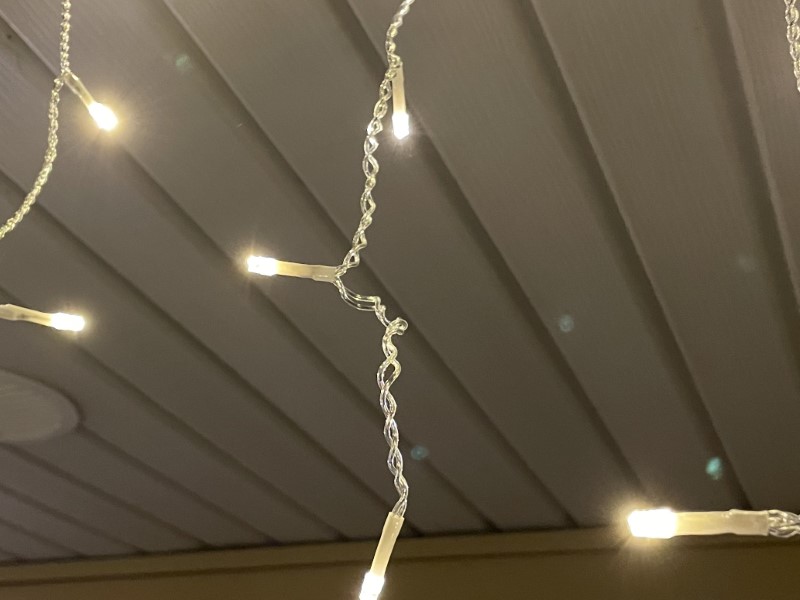 If you've used icicle lights before, you probably understand that they can be a challenge to unfurl. Novtech's lights were easy to deploy having been "accordion folded" into the boxes and tied with a twist tie. I can only hope to do so well taking them down and storing them for next year's festivities.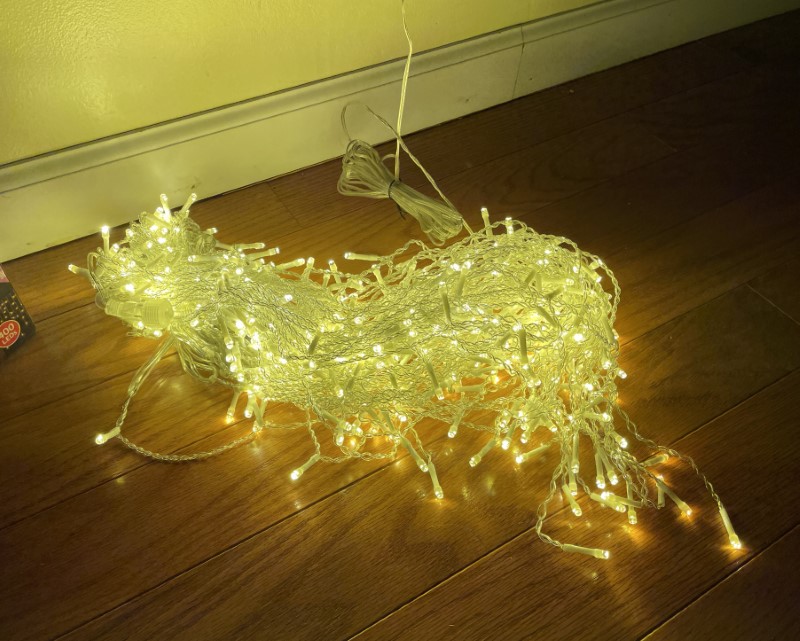 The Novtech Christmas Icicle Lights are powered through a small power supply with a built-in plug. If your outlet is switchable or you are planning on using a home automation smart switch (I will be using a Wemo outdoor switch), the power supply will "remember" the current state and reactivate it after a power cycle. It's worth noting that an outlet protected by a ground fault interrupter (GFI) is required.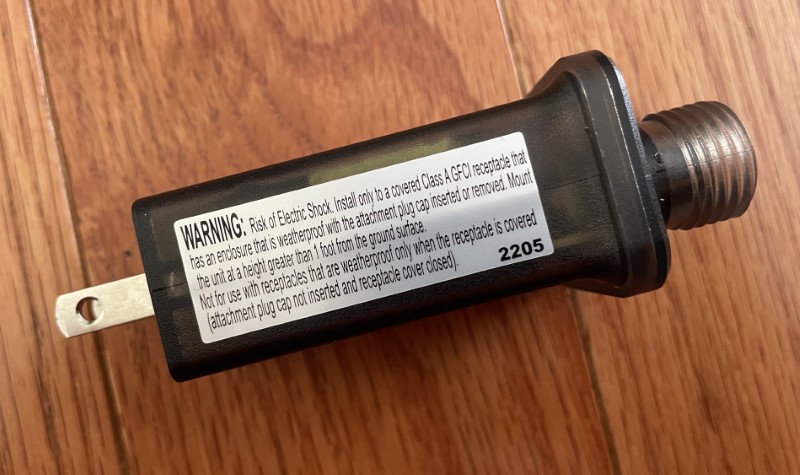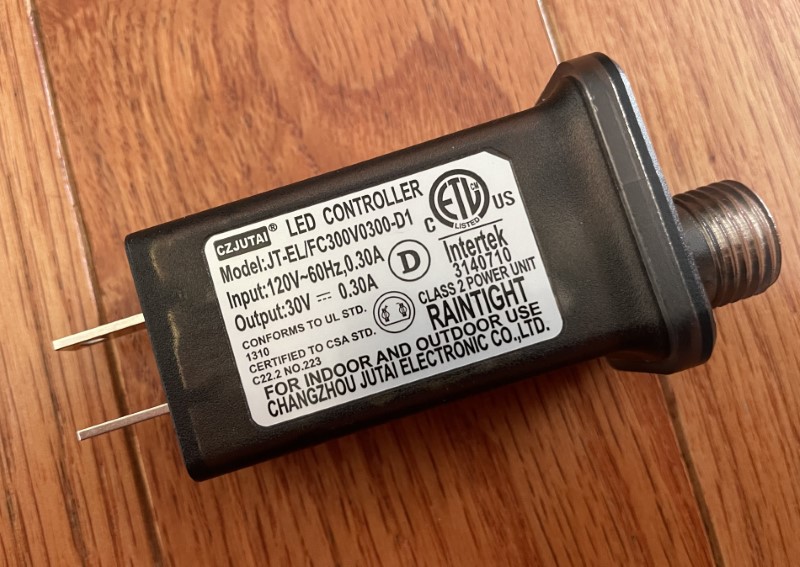 The power supply protrudes a bit and does not inhibit the other outlet from being used.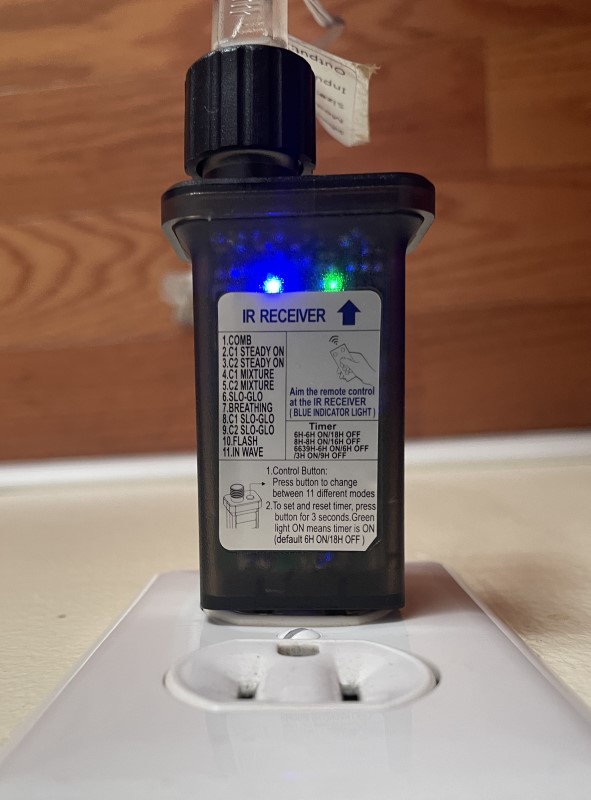 The cord connection is detachable and a 16-foot lead wire is included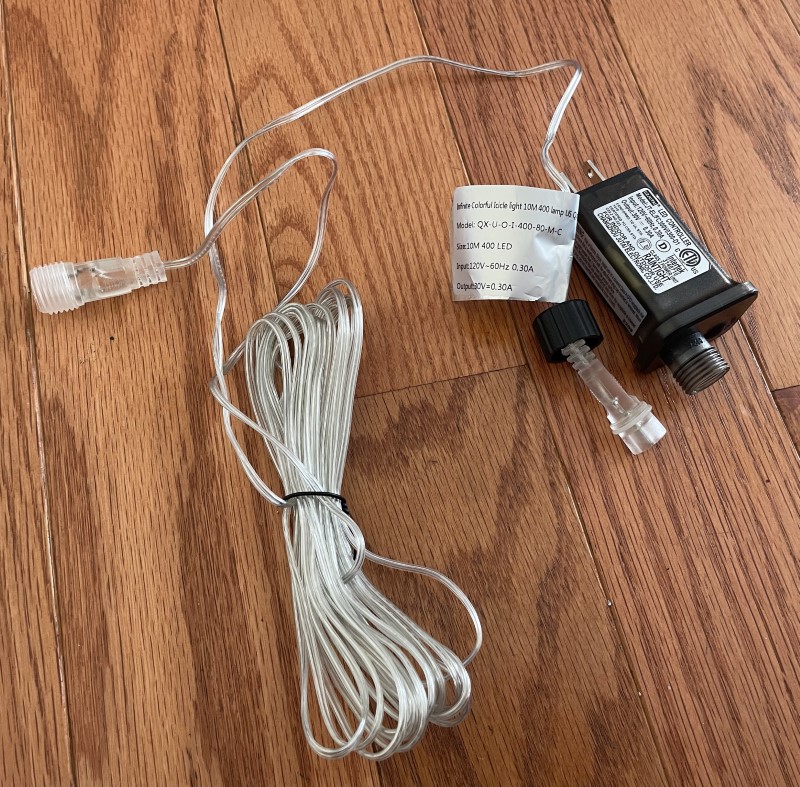 There is a button adjacent to the cord connection to step through the light modes.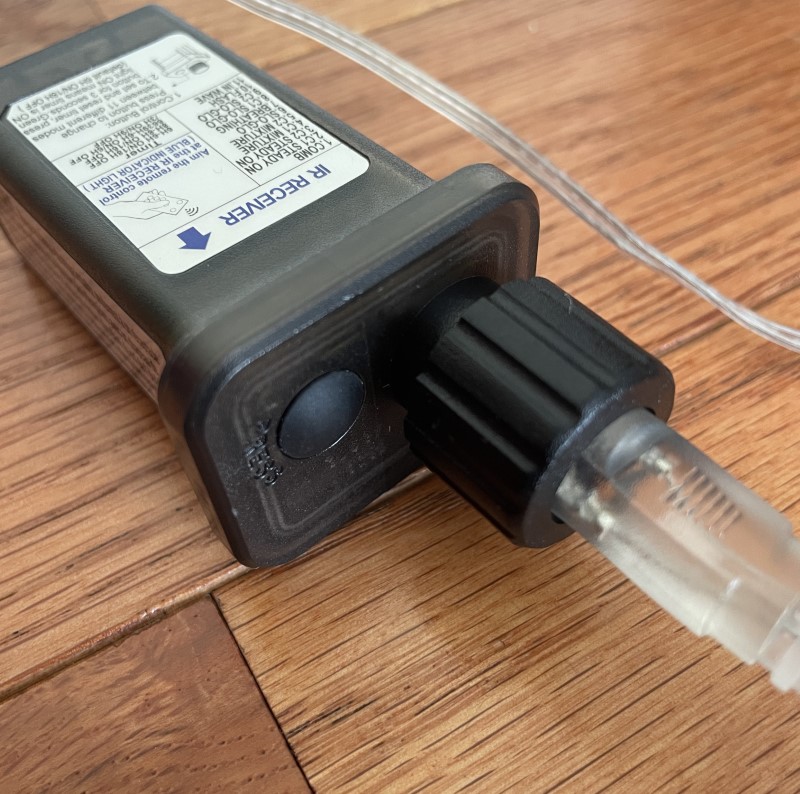 To make things easier, Novtech includes an infrared receiver in the power supply to eliminate the need to climb that ladder to turn the lights on or change modes.  The remote control can directly access all of the modes and adds three countdown timers (three, six, and nine hours) to automatically turn the lights off.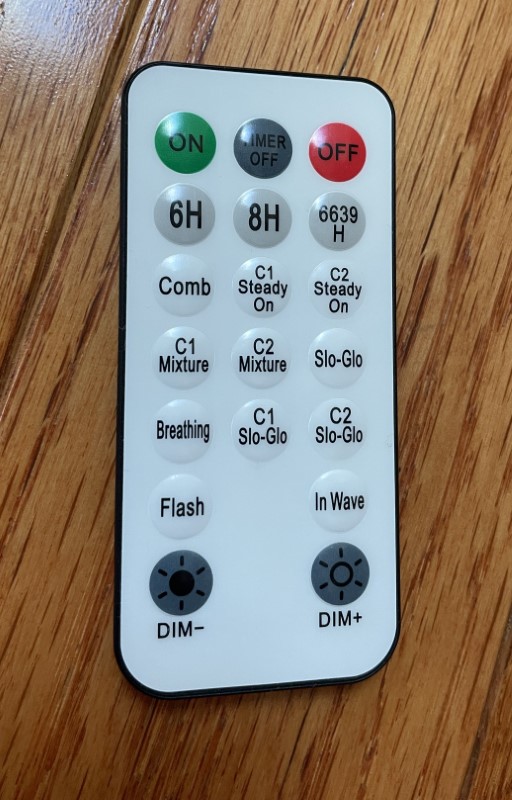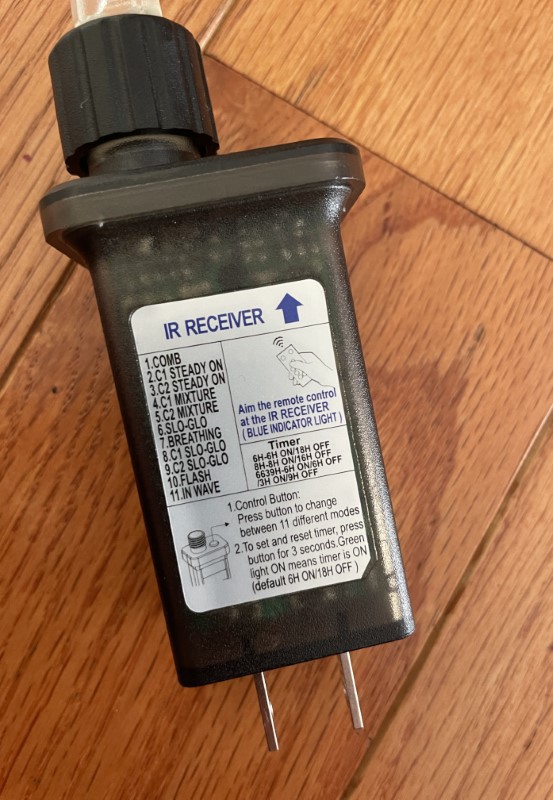 Novtech includes the CR2025 button battery inside the remote.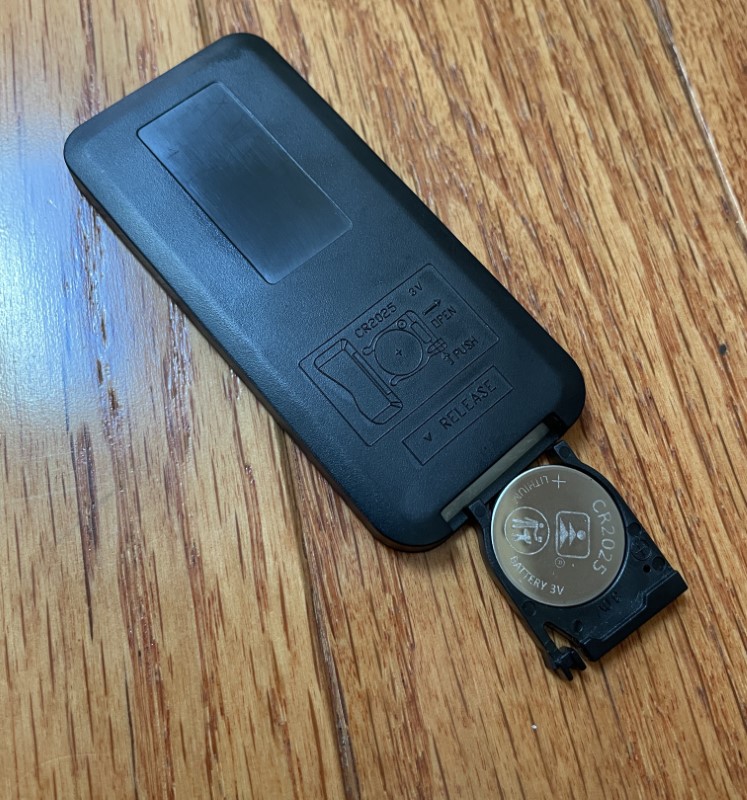 Two-conductor connectors of the same type as on the power supply are provided on the ends of the LED strands. This is wonderful for adding additional length. Novtech states up to five strands can be connected using the same power supply. That's a whole lot of lights! In my case, I needed only two 33-foot strings to span the entire length of my home. The LEDs are hung in strands of 12, 16, and 24 inches.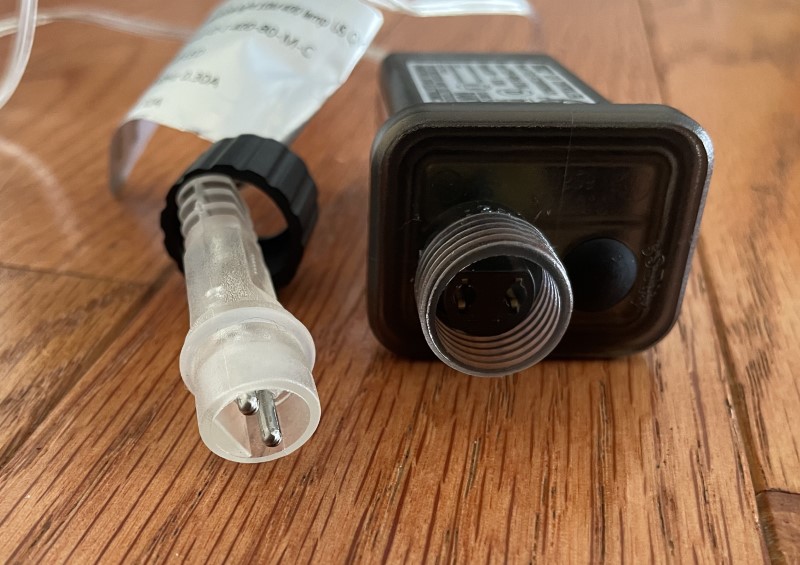 The dual-color LEDs have clear lenses. One color for all the lights is warm white.  I put the Novtech Christmas Icicle Lights up just before Halloween and found the warm-white lights suited the holiday well and turned them for trick-or-treating ambiance.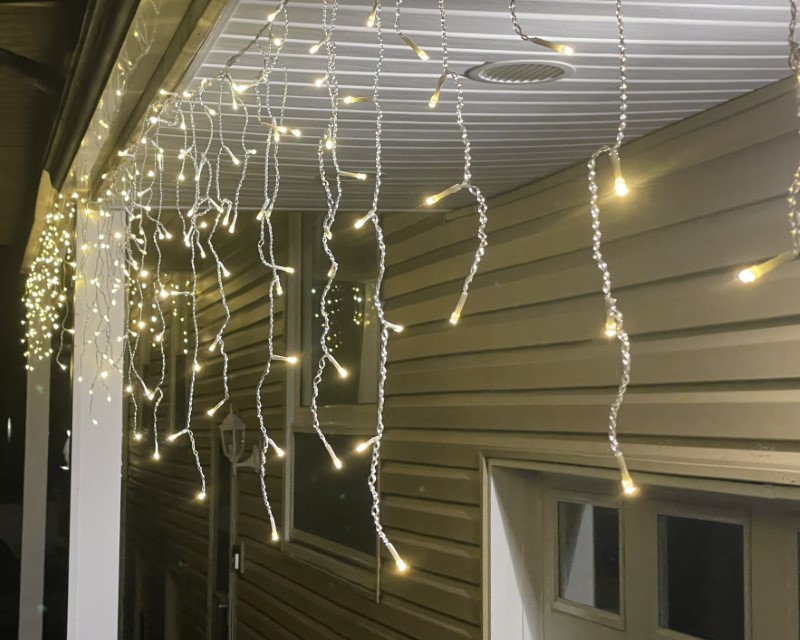 The other colors are yellow, red, green, and blue.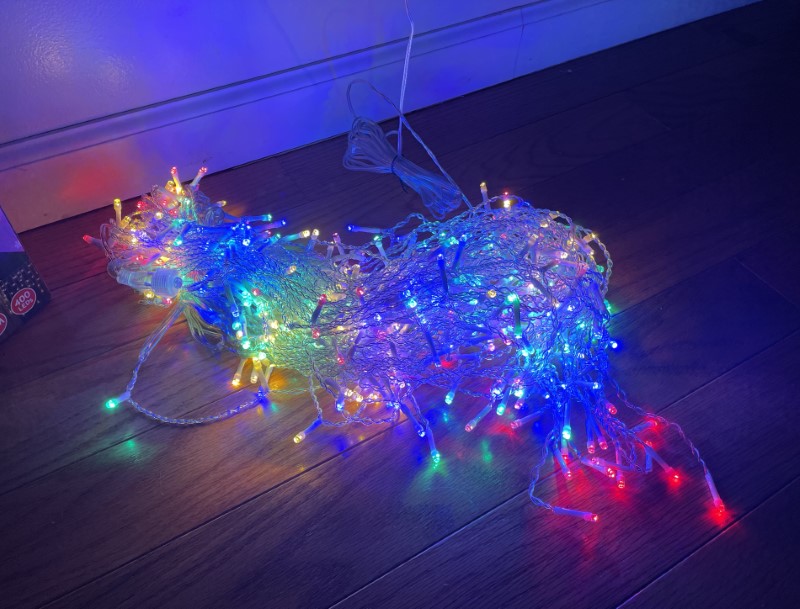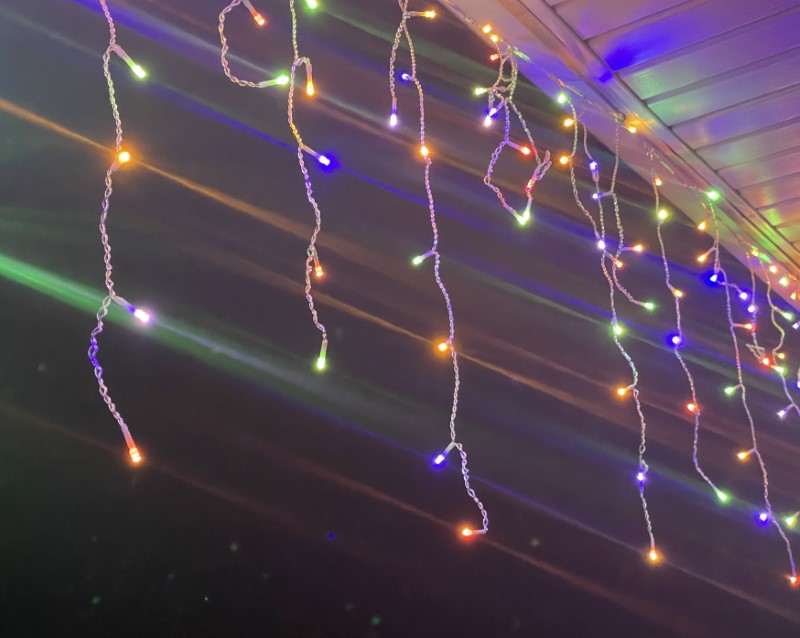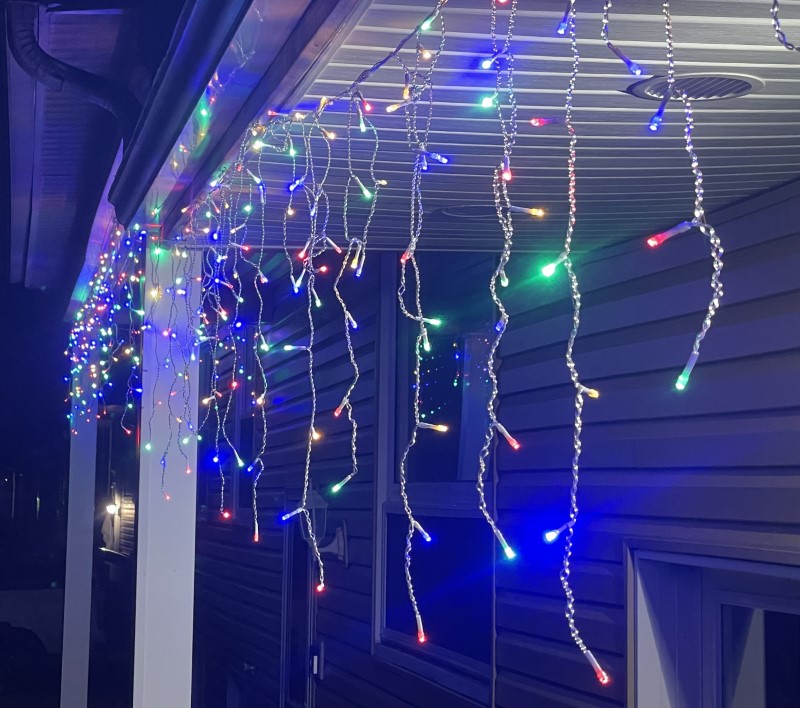 The controller also has two mixtures of the warm-white and colored lights.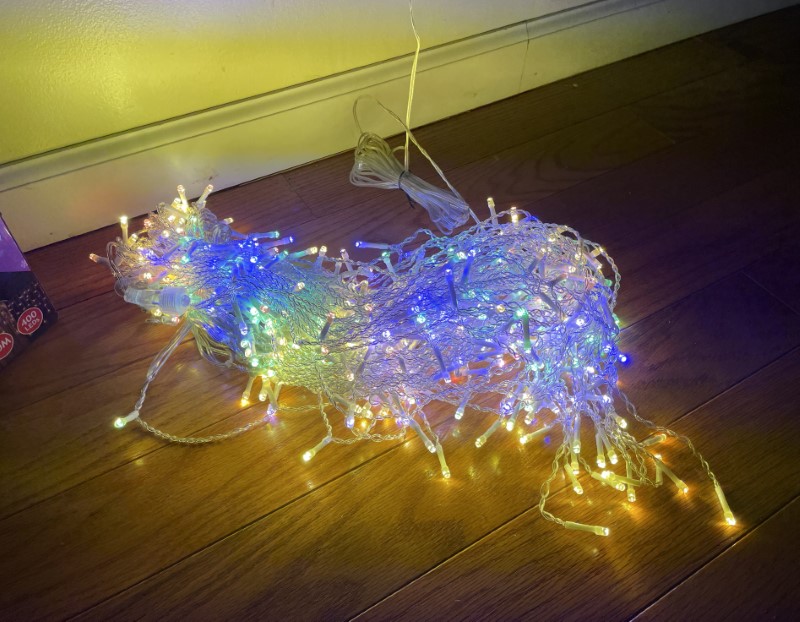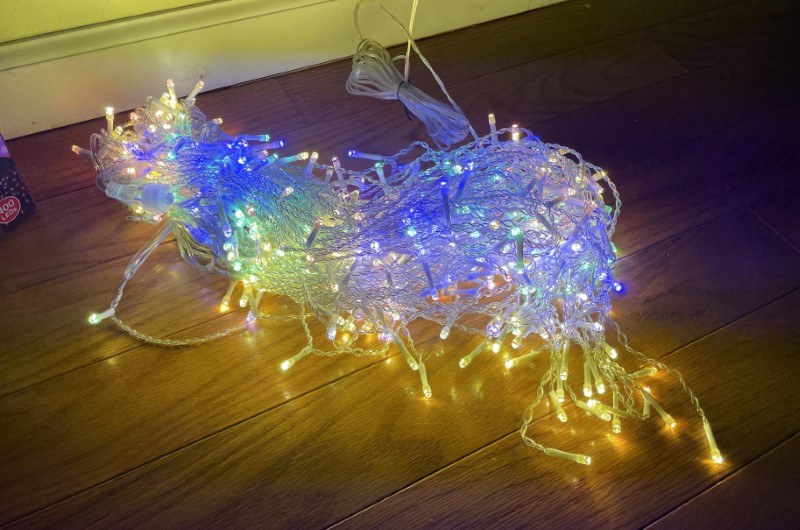 If you prefer your display more dynamic, There are seven flashing modes. The first is "Comb."
Another flashy mode is "Slo-Glo."
Here's the "Breathing" mode.
"C1 Slow-Glo" features the first combination of colors.
"C2 Slow-Glo" with the second color combination.
Flash mode.
And the final mode, "In Wave."
Which one do you like? For me, I prefer my lights static and will keep the steady color mix mode for most of the holiday season.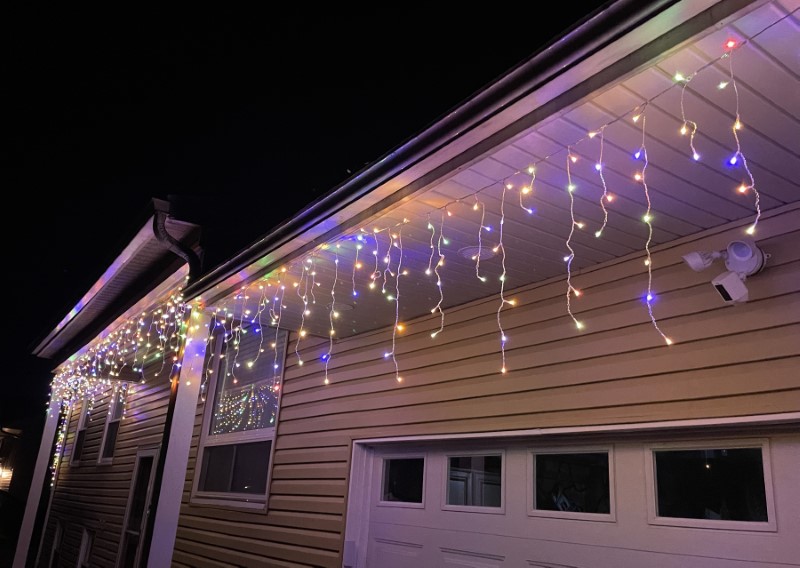 Want them a little dimmer? There are four brightness settings. Here are 4 photos with the same camera settings for comparison. The differences are much more pronounced than in the photos.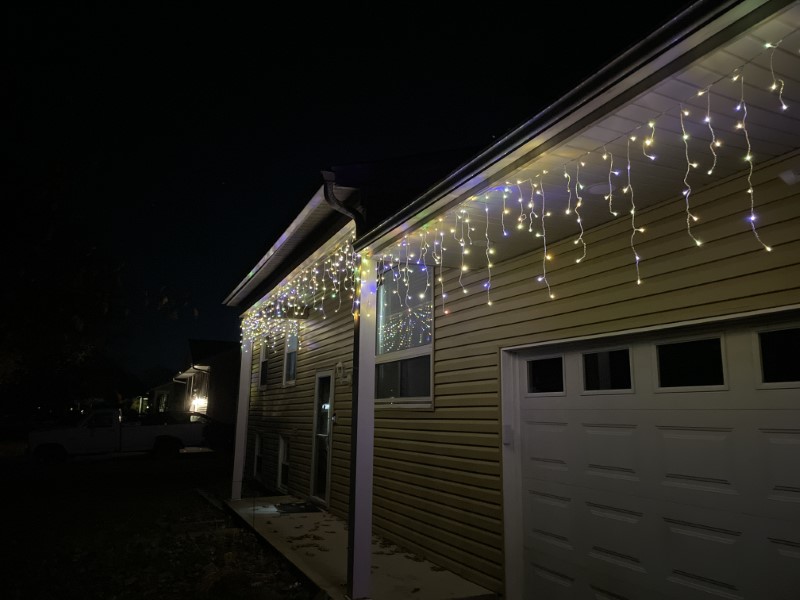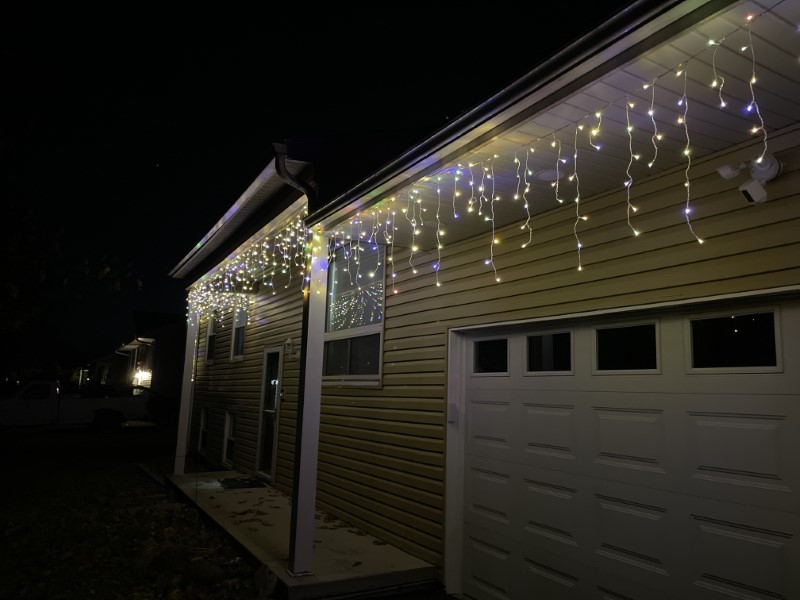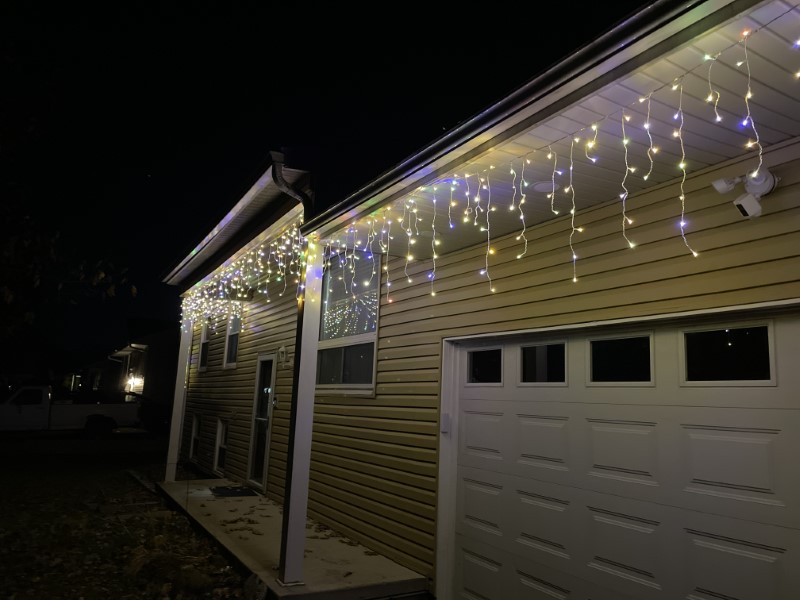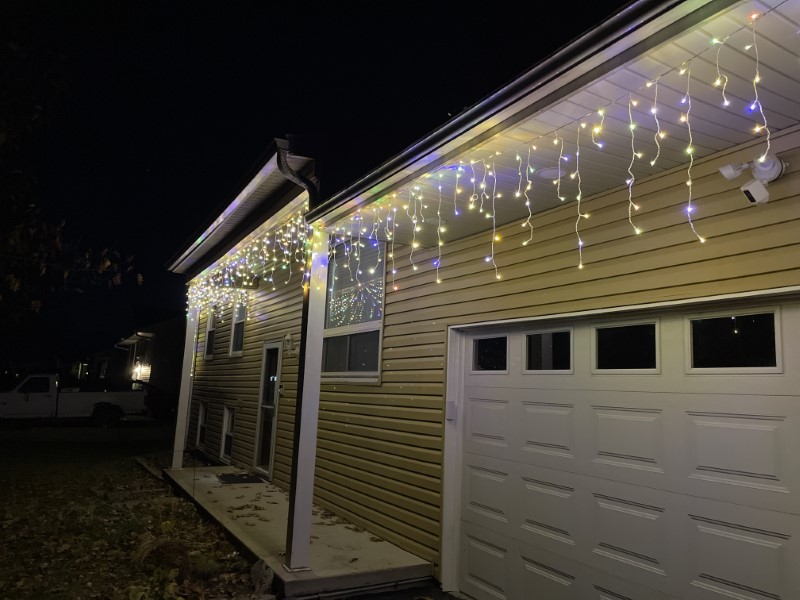 Novtech has other styles of holiday-themed outdoor lights too:
Christmas Snowflake Icicle Lights
Christmas Icicle Lights with Ice Falling
What I like
Bright!
Lovely colors and combinations
Timers work well
Remembers the last mode through a power loss
What I would change
Final thoughts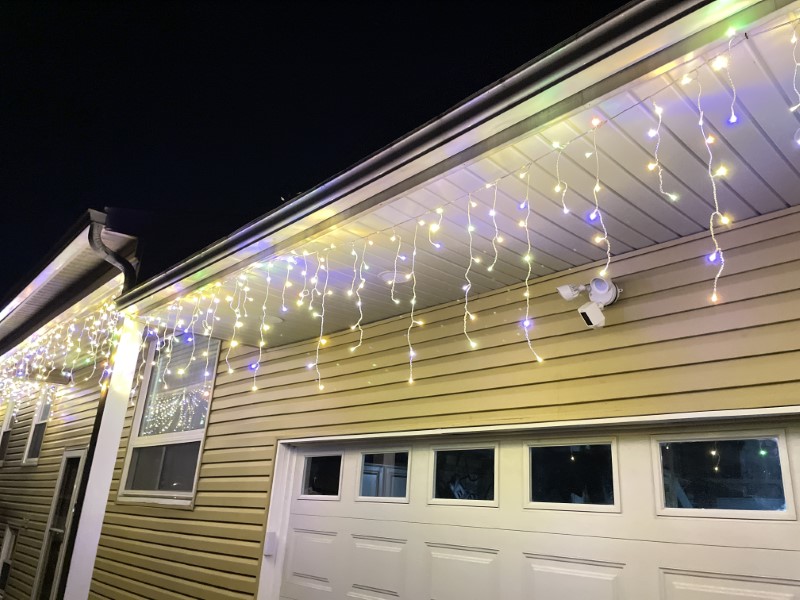 No, I wasn't joking. I put these lights up two days before Halloween. I figured the warm white lights were an appealing color and received a few compliments from trick-or-treaters (both kids and their adult sidekicks) so I can confirm they are not exclusively holiday lights. I love the Novtech brightness, and vibrant colors, and appreciate the different modes, timers, and infrared remote. Thanks, Novtech!
Price: $33.99
Where to buy: Amazon ( Save 10% with coupon code: ICICLE9NT )
Source: Partial funding for this review was provided by Novtech.