We use affiliate links. If you buy something through the links on this page, we may earn a commission at no cost to you. Learn more.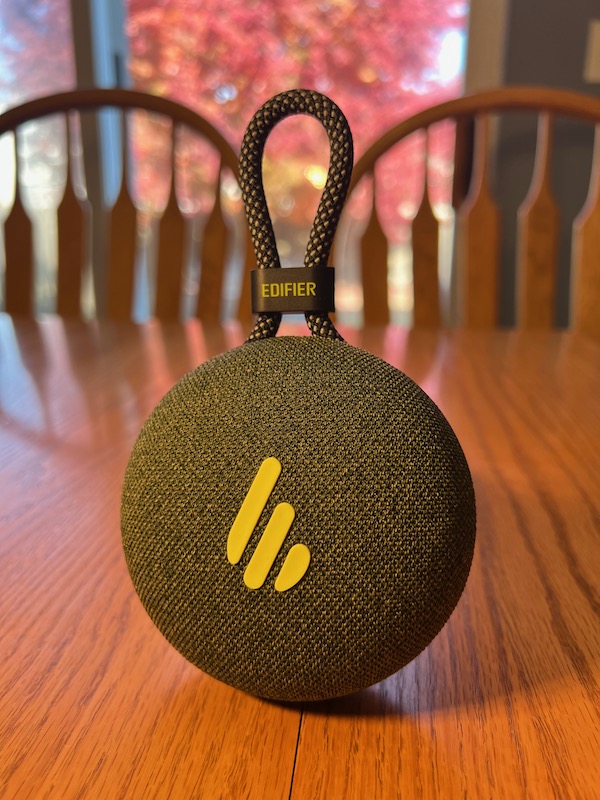 REVIEW – Portable audio is such a common thing today. People are always listening to music, podcasts, videos, etc., on wired headphones, Bluetooth headphones, the speaker on their phone, a portable speaker, whatever. Whether we like it or not it's all around us. If you're wanting to listen to audio at a volume louder than what your phone can produce how do you choose which portable speaker to buy? If you decide you want something that fits in the palm of your hand and can withstand rain or an occasional dunk in the pool, Edifier has an option in their new MP100 Plus portable Bluetooth speaker.
What is it?
The Edifier MP100 Plus is an IPX7 rated water resistant portable Bluetooth speaker with decent sound and good enough volume to fill a small room or outdoor space.
What's in the box?
Edifier MP100 Plus speaker
USB-A to USB-C charging cable
Magic Strap (hook-and-loop strap)
User Manual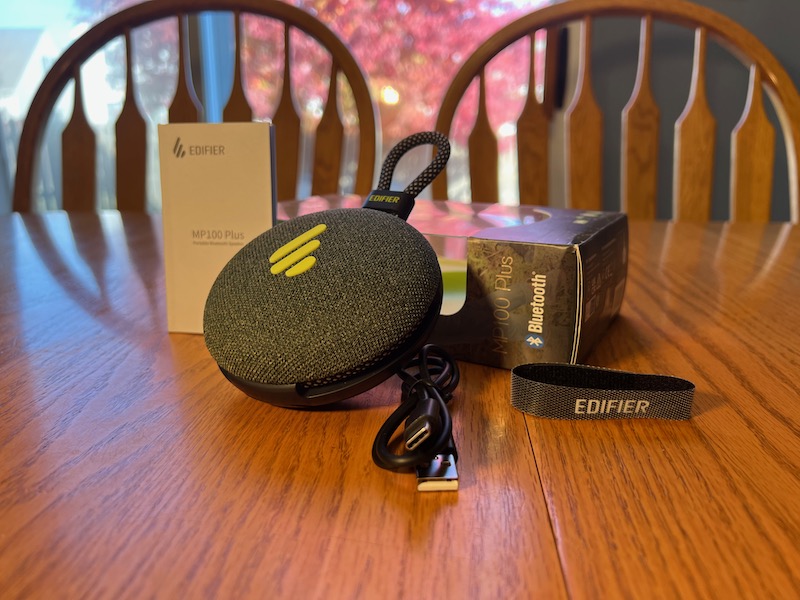 Hardware specs
SNR: ≥85dB(A)
Battery Capacity: 1500 mAh
Battery Life: up to 9 hours
Input Voltage: 5V, 1A
Bluetooth Version: 5.3
Distortion-Limited Output Power: 5W
Frequency Response: 200 Hz – 18 KHz
Water Resistance: IPX7
Dimensions: 3.74 x 1.77 in (95 x 45 mm)
Weight: 7 oz (0.2 kg)
Colors: Forest Green or Lake Green
Warranty: 2 years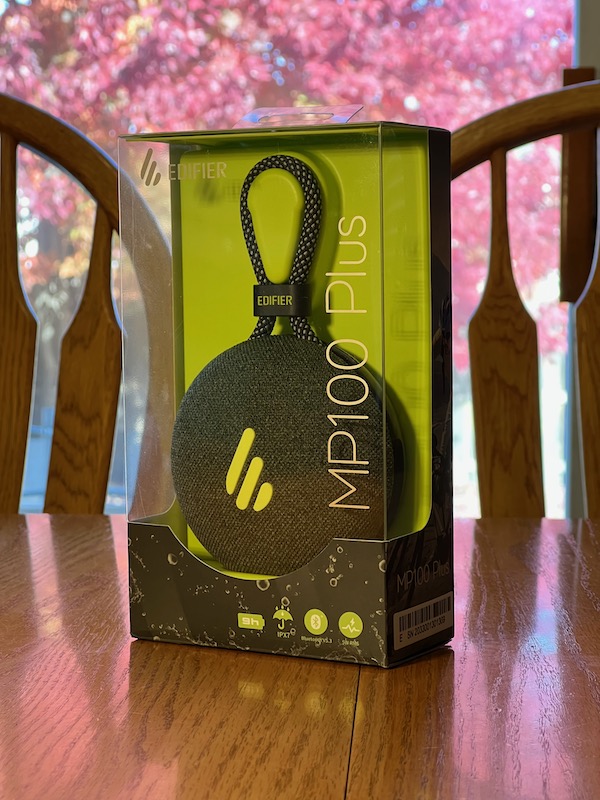 Design and features
The Edifier MP100 Plus Bluetooth speaker is a small, round speaker that has a black and gray woven fabric rope around the body of the speaker which comes to a loop at the top for carrying or hanging. Holding the rope together is a small plastic piece with the Edifier name printed on the front. The bottom half of the body is black plastic with green highlights, including a green rubber circle at the bottom that acts as a foot and helps keep the speaker from sliding around on whatever surface you place it on. Also on the bottom half, there are four indented buttons – Power, Bluetooth, +, and -. There's also a USB-C charging port covered by a small rubber flap. The top half of the speaker body is covered in a meshed fabric in either Forest Green or Lake Green color options. My review unit came in the Forest Green color.
At the top end of the body (nestled under where the fabric loop comes out) is a blue LED status light. The LED is either solid or blinks in various patterns, described in the manual, to indicate connection, charging, or battery status. The manual also states that there is a red LED, which is not the case with my review unit.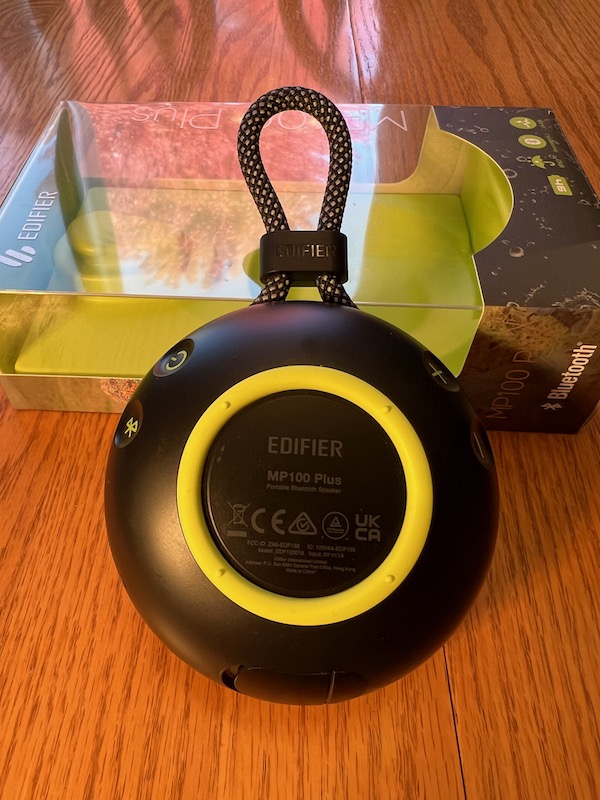 Setup
Setting up the Edifier MP100 Plus speaker consists of turning on the speaker by pressing the power button for a few seconds until the blue light comes on, then looking for EDIFIER MP100 Plus in the Bluetooth settings of your phone, tablet, or computer. The speaker makes a pleasing sound when connected, then you can listen to audio from your device. To power it off, press the power button again for a few seconds. There are various tones for power on, power off, connecting, and disconnecting from your device.
Pairing with a second device was not an issue for me. I just had to make sure Bluetooth was off in the settings for the first device before powering on the speaker. Once it's powered on and doesn't connect it goes into pairing mode again and is available on the second (or third or more) device. When it's powered on each time it tries to reconnect to the last device it was connected to; if you want to switch devices you have to go into the first device's Bluetooth settings and manually disconnect (not unpair) it and manually connect it to the second device. I've used Bluetooth headphones that automatically disconnect from the first device when you try to connect them with a second device; that feature would be nice here but it only takes a few seconds so it's not a lot of trouble.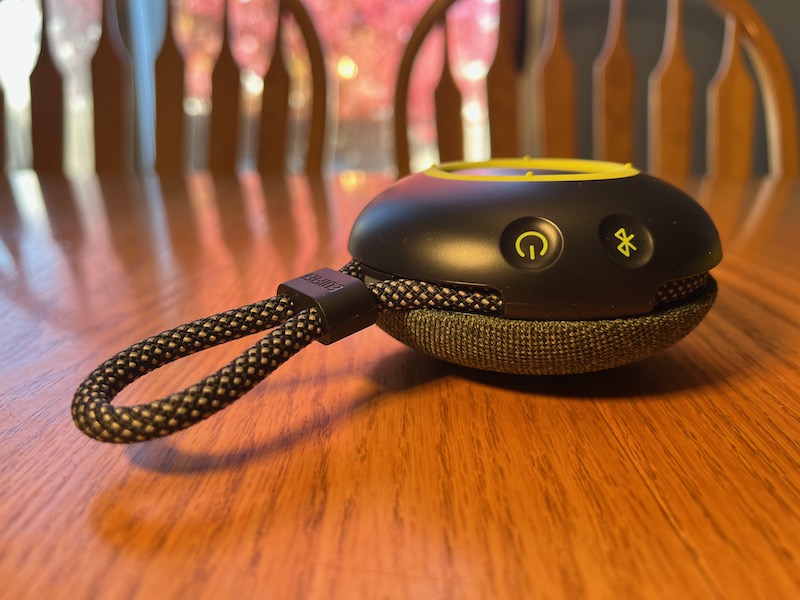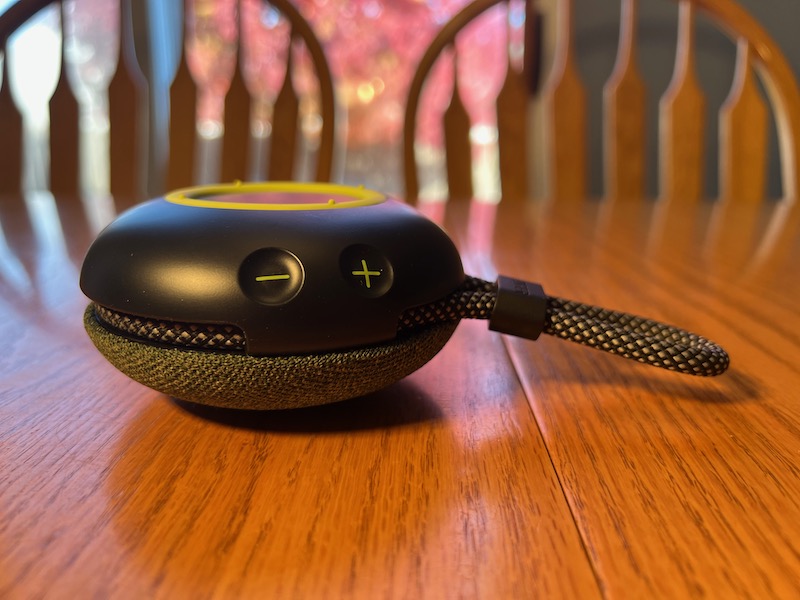 In Use
I'm just going to say up front that this is not an audiophile quality speaker – one look at the frequency response specifications will tell you that, plus the fact that it uses Bluetooth vs. wifi or a wired connection. I'm not saying this is a bad speaker by any means, it's just not made that way and it isn't priced as such.
With that out of the way, if you're looking for a well-built, portable speaker, that can fill a room if you don't have headphones or want to listen to something with a group, especially if you happen to be around water, this might be the right speaker for you. Its portable size and light weight make it easy to keep in a backpack or larger purse and up to 9 hours of battery life means you can watch a lot of TikTok videos or movies or listen to music while playing games or whatever you may be doing.
In my experience the Bluetooth connection was solid; it connected right away to both my iPhone and iPad and stayed connected without dropouts the whole time I was listening during testing, several hours in total. Having Play/Pause, Volume Up/Down and Skip Forward/Skip Backward (by pressing and holding the Volume Up/Down buttons) on board means you can leave your phone across the room and still have control of your playlist. The Bluetooth button acts as an answer/reject/end call button when used as a speaker for phone calls. Having onboard controls like this is convenient and necessary, in my opinion. Because of the water-resistant nature of this speaker, the buttons are covered in rubber; they're also indented rather than sticking out of the body of the speaker and on the lower half of the body so it takes a little bit of force to press the buttons which you can't really do without picking up the speaker. Buttons on the top surface would be more convenient but at least they're there.
Now let's talk about audio quality. I mentioned earlier that this is not an audiophile speaker. The single driver inside covers the whole frequency range; couple that with the water resistance and the thick fabric covering the speaker and you end up with not a lot of high-mid or high-frequency response. There's also not a ton of low-end. While this is fine for pushing a decent amount of volume around a small room or outdoor space, especially if you just want some music on in the background as you're playing games or whatever, it isn't ideal for clarity.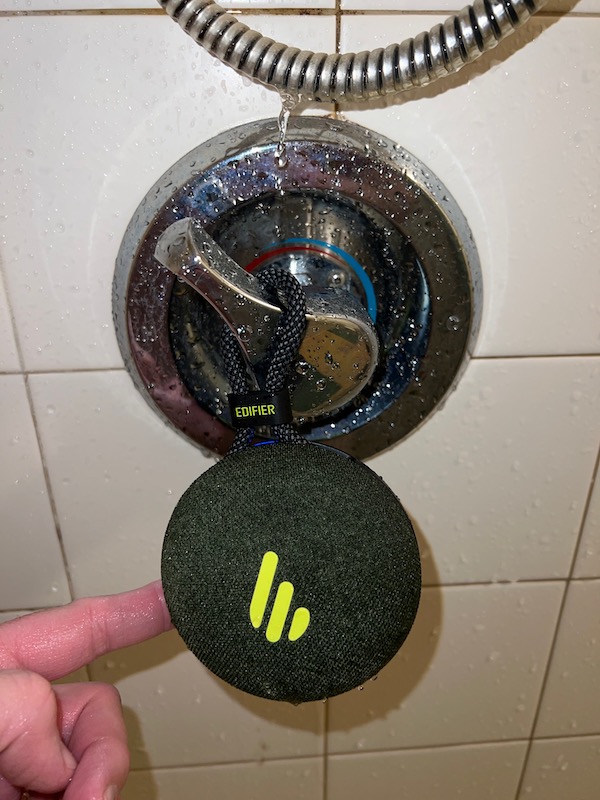 I've used two other water-resistant Bluetooth speakers before, with hope that I could listen to podcasts in the shower. Those speakers suffered from a problem that this one also has – it's hard to understand spoken words while I'm taking a shower. The sound of the water masks what high frequencies are actually there and leaves me with a boomy audio quality which makes it hard to understand what's being said, even at full volume. This wouldn't be as much of a problem for music if you just want something with a beat or you already know the music you're listening to, but if you're trying to hear and understand what people are saying, this isn't a great speaker for that purpose.
Lastly, I don't usually critique company's web sites while writing these reviews but in this case, I was kind of confused by the product page for this speaker. There are a few sections that seem to have been copied from another of their speakers because they mention features and designs that don't apply to this speaker.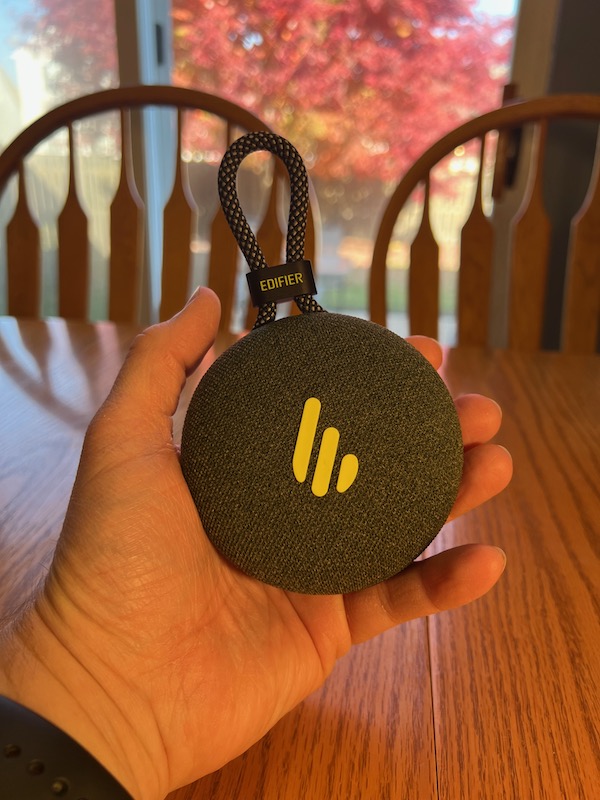 What I like
Lightweight
Portable
Water resistant
Good volume for a small space
USB-C charging
What I'd change
Buttons on the top surface of the speaker
Audio quality, especially in the high-mid and high frequencies could be better
EQ options either onboard or through an app would be nice
Longer charging cable
Final thoughts
Overall the Edifier MP100 Plus is a great Bluetooth speaker to have on hand for individual or small group listening, either while watching movies, playing games, having a party in a (small) backyard, etc. If you want something to listen to podcasts or catch up on the news in the shower, keep looking.
Price: $59.99
Where to buy: edifier-online.com and Best Buy
Source: The sample for this review was provided by Edifier. For more information visit their site.