We use affiliate links. If you buy something through the links on this page, we may earn a commission at no cost to you. Learn more.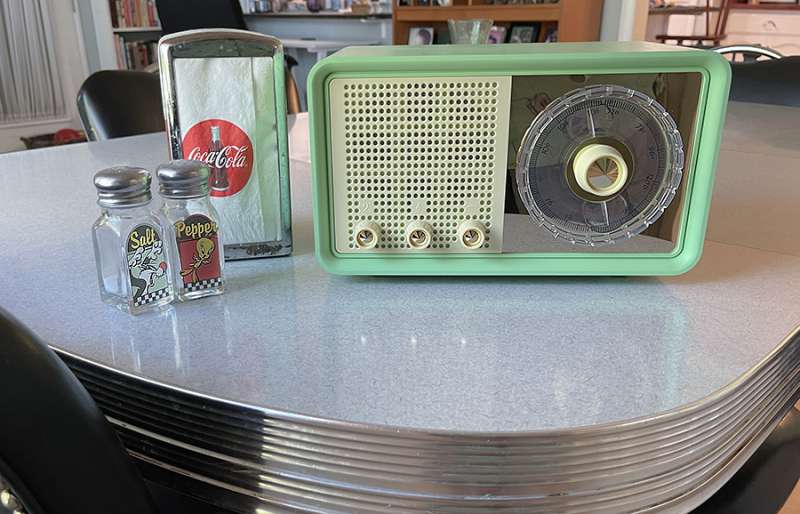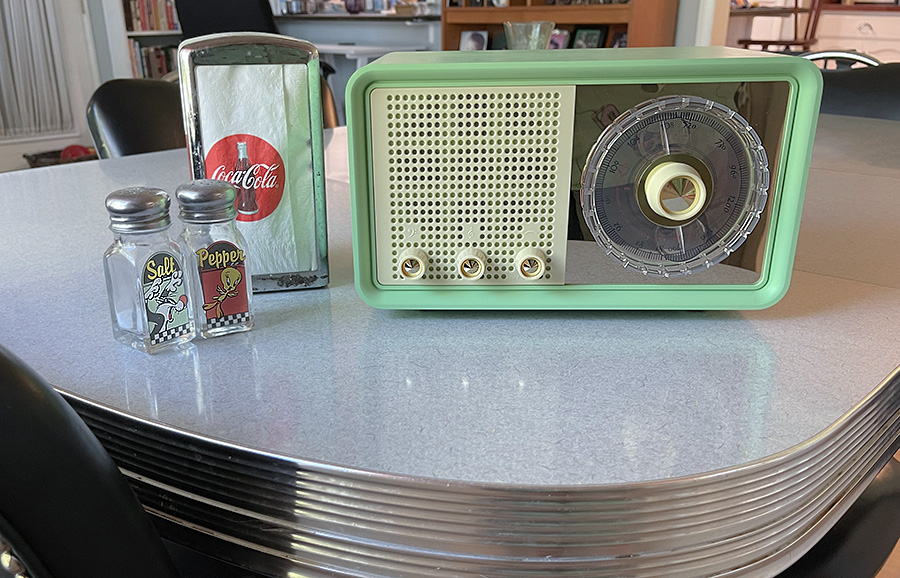 REVIEW – Let me say upfront that I am a fan of mid-century modern design. I love the clean, uncluttered lines, the smooth expanse of wood in the furniture, and especially the "atomic ranch" look of that period's TVs and radios. Mid-century also recalls a simpler time that I'm sure I look back on with rose-colored glasses. It's in that nostalgic vein that I fell in love with a radio that could have easily sat on my parent's kitchen table back in the 50s and not looked out of place. I'm talking about the Muzen Original III AM/FM Radio & Bluetooth Speaker.
Yet, while I appreciate the look of the designs from this classic period, I don't appreciate the tube and pre-transistor electronics. I like my gadgets as modern as they come—on the inside. In their Original III, Muzen has created that perfect hybrid between old (looking) and new. I call that a modern retro win.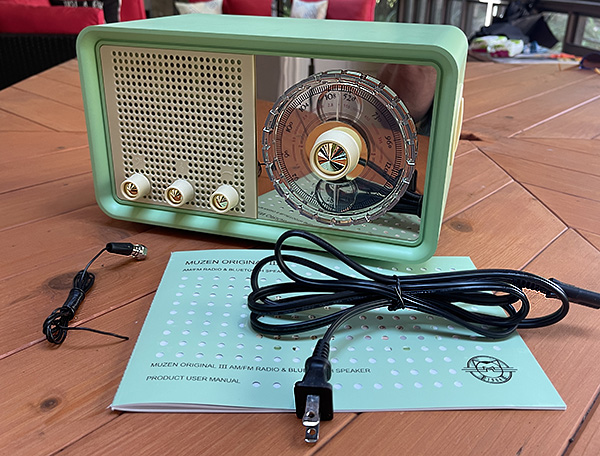 What is it?
The Muzen Original III AM/FM Radio & Bluetooth Speaker is just that, It's a table-top AM/FM radio that doubles as a 4.0 Bluetooth speaker. It is also an audio speaker for external devices via RCA cables (not included). Think iPod, CD player, or a turntable with audio out capability.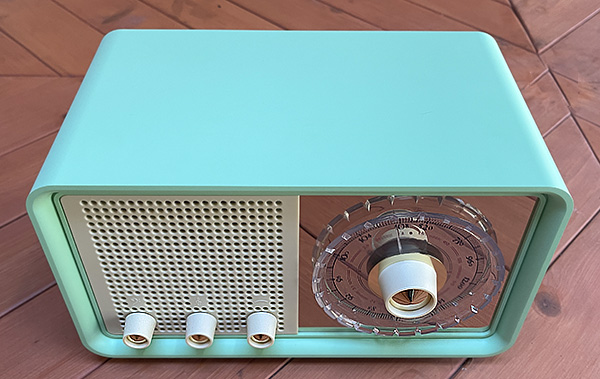 The Original III comes in one color (at least in the US)—a pale, almost lime green. The shell is made of high-quality matte plastic on a metal frame. The build is solid with excellent fit and finish. I couldn't find any seams out of alignment or loose-fitting parts. Two rubber strips are inset into the speaker's bottom which helps to keep it in place on a smooth surface.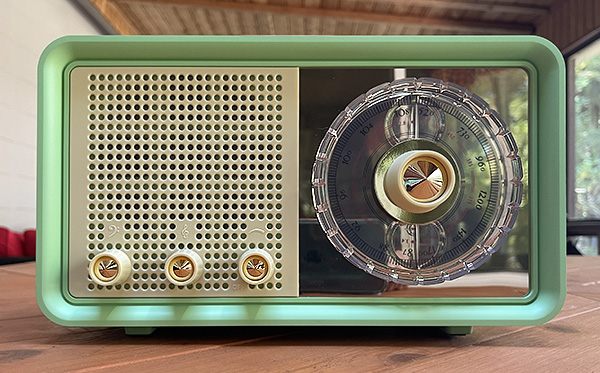 The front consists of the speaker, sound knobs, and radio dial. The side panel has an analog rotary band switch for AM, FM, AUX (RCA input), Bluetooth, and Pairing. All the dials and knobs are analog. Nothing is digital—at least on the outside.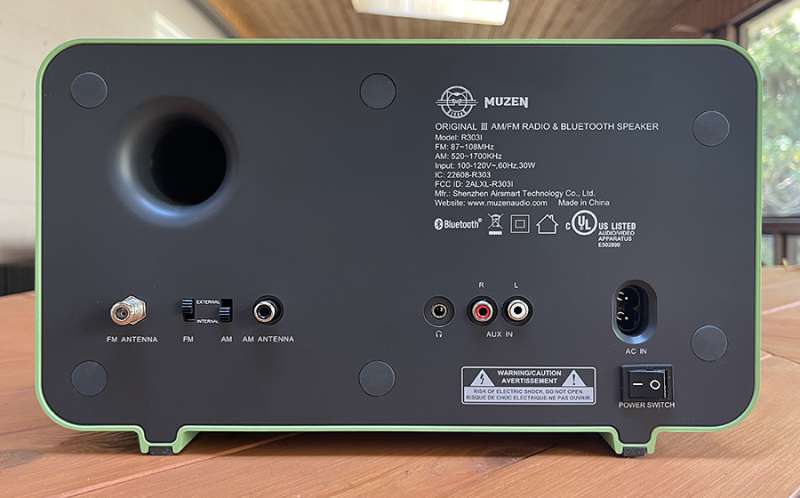 The back panel has ports for both external FM and AM antennas. Oddly, only the external FM antenna wire is included. In fact, any mention in the manual about the external AM antenna was covered with a white sticker. Since I live in an urban area, the Original III's internal AM antenna works fine. There are AM/FM on/off switches for connecting the antennas. There is a (stereo) headphone jack, Left/Right RCA inputs, and a port for the power cable. The Original III is not battery-powered.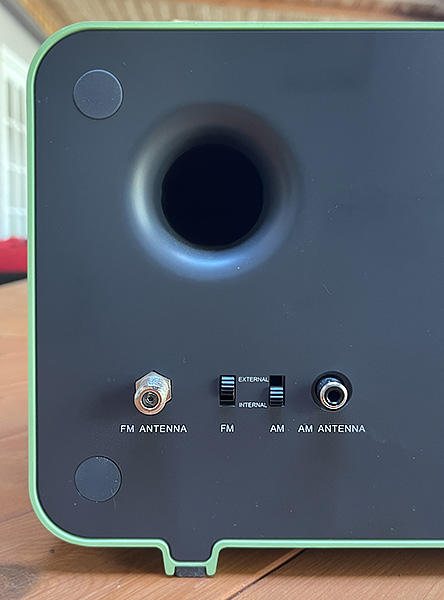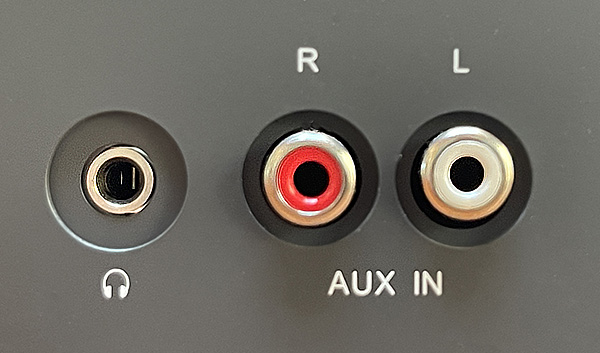 There is also a curved bass port at the back that can help the speaker have a better bass response for its size.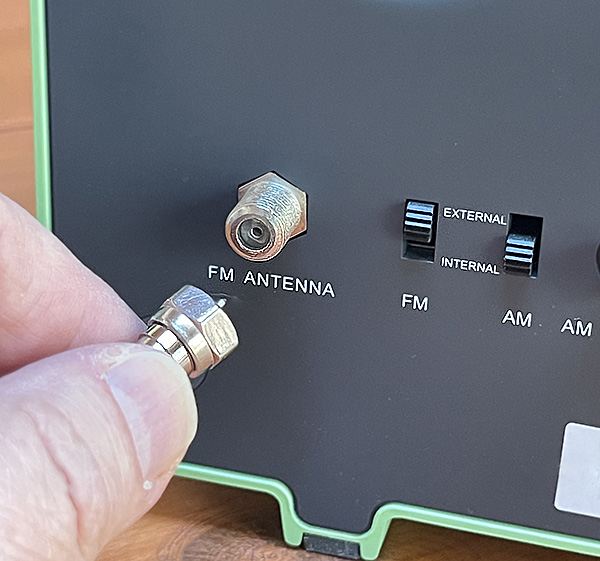 I live in an urban area, so I have no issues with either AM or FM reception. Rural areas may need the external antenna.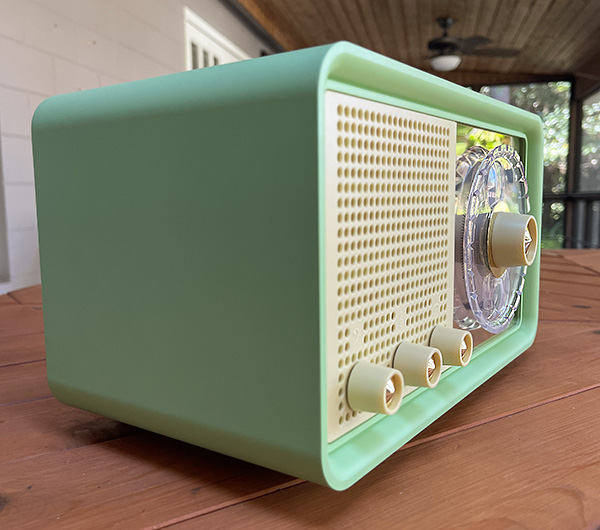 Specs
FM/AM radio, and AUX functionality
Zinc alloy frame
Dimensions: 6.3 x 11.42 x 6.46 in
Weight: 7.5 lb
Bluetooth version: 4.0
Frequency Range: FM 87-108MHz, AM 520-1700KHz
Maximum output power: 20W
Distortion: FM <0.5%, AM<1%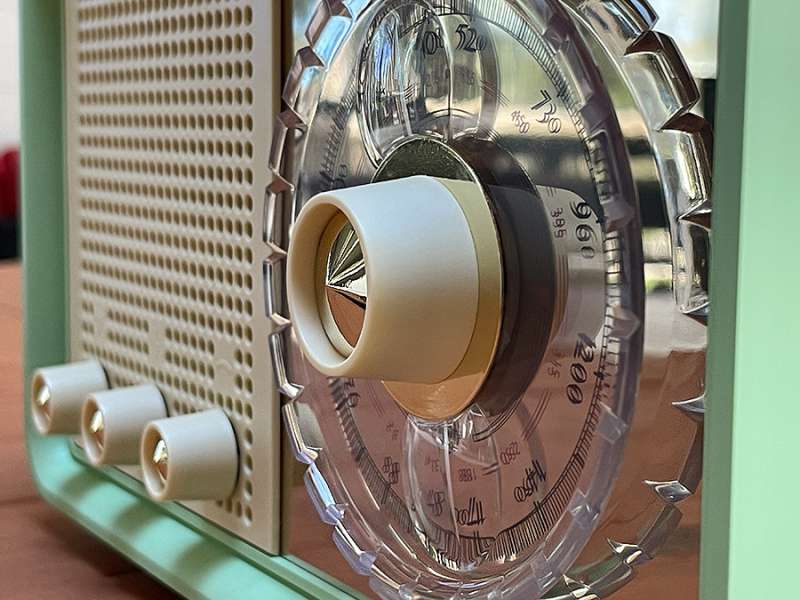 Design and features
As I said, the Original III (yes, there is an Original II) sports a retro-modern design that some may not appreciate, but that's their problem. It's freaking beautiful. Just looking at it makes me smile. If Muzen had asked me, I would have suggested a red version, but the green/cream look is growing on me. It's a radio/speaker that begs to be seen.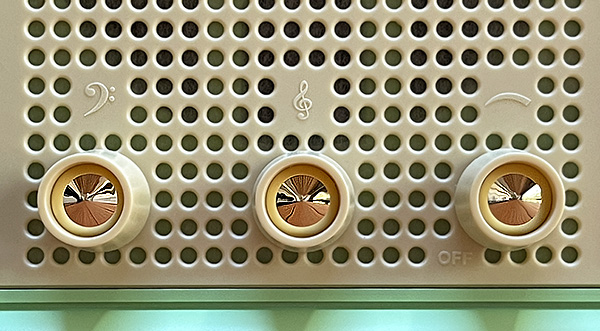 The front panel is divided into equal halves. The left side is covered by a cream-colored grill which hides a large, 4-in. mid-bass speaker combined with a 1-in. silk tweeter. Three rotary knobs are housed at the bottom of this grill: Bass, Treble, and Volume. Each knob is marked by a musical icon that denotes what each knob means. I'm not a musician, so I had no idea what the icons meant. However, my musician wife immediately knew that the icons stood for bass clef, treble clef, and loudness. Cool!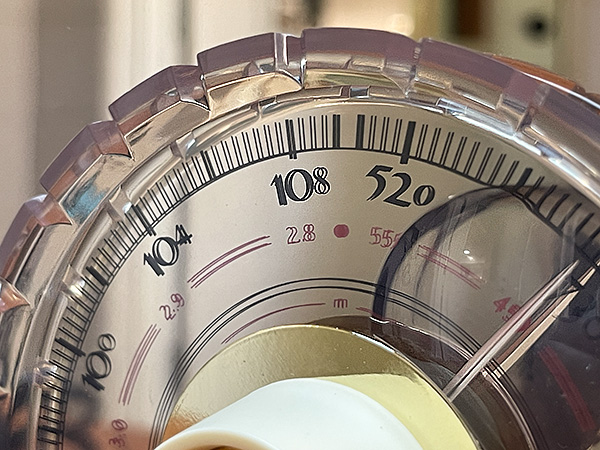 The right half sports one of the coolest old-time radio knobs I have seen. Behind the scenes, I assume that the dial is either digital or at least uses modern tuning techniques, but I can't tell. It looks, acts, and feels like an analog tuning dial from the past. It even has a bit of the frustration of trying to achieve that perfect radio signal by dialing back and forth over the desired frequency until you have the strongest signal possible. The dial is a warm-tinted clear plastic in front of AM and FM numbers printed on a mirrored gold backdrop. When the Original III is on, the dial gives off a back-lit glow. It looks cool but even better in the dark. 
The circular, printed radio dial is divided into halves—FM on the left and AM on the right. The dial cannot select AM and FM individually. If an FM station is dialed in and you switch to AM and turn the knob, the FM station will be lost and need to be re-dialed when switching back.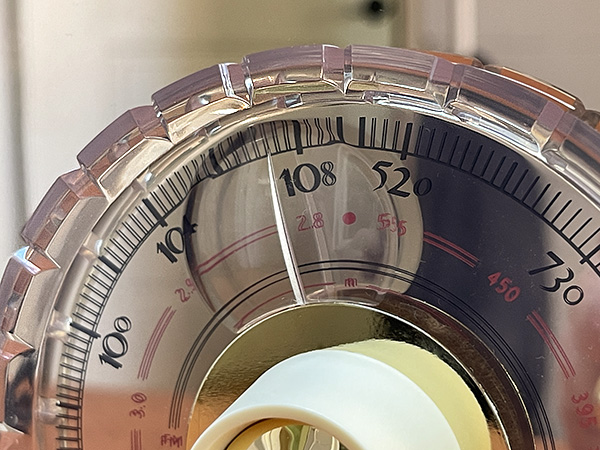 I'm not a fan of the font used for the radio frequency numbers. I find them a bit difficult to read. Muzen was wise to put magnifying "bubbles" on the dial making the numbers slightly larger and easier to see as the dial sweeps over a station frequency. I would have preferred more utilitarian, less designed numbers.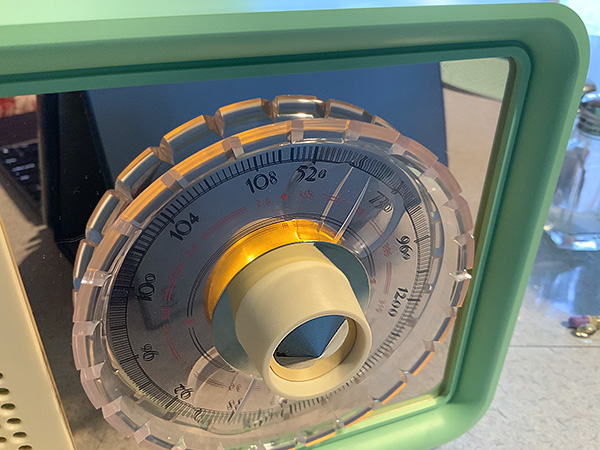 The radio sounds like—well, radio. AM is staticky sounding with poor audio quality. That's not Muzen's fault. AM in the US has never had decent sound quality. However, I applaud Muzen for making it sound as good as AM can. 
FM obviously sounds better—it always has. The audio is richer with more bass presence with none of the static found in AM. That's not to say FM is audiophile quality. Far from it. Again, not Muzen's fault. FM audio is similar to satellite radio. It's good for what it is, but for serious listening …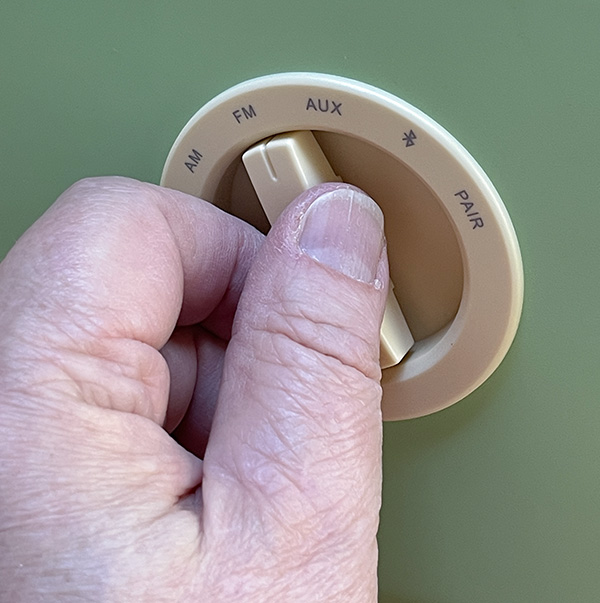 Next up the audio quality ladder is Bluetooth. Of course, Bluetooth has its audio issues, but it is better than FM and way better than AM. I can easily listen to music streaming from my iPhone all day and be happy. Unfortunately, Bluetooth is only 4.o, so the range and dropouts may be more prevalent than if the speaker had the latest 5.2 Bluetooth. The Original III is not a brand-new radio, so it had the latest Bluetooth codec at the time. Hopefully, Muzen will update the codec in future versions.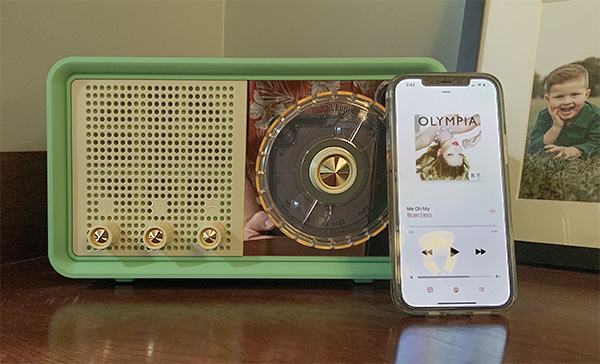 Then there is hard-wired. Face it, wireless can't compete with wired—yet. We won't be able to say that in a couple of years. RCA wiring from a CD player or turntable is the way to go if you want to hear your music on the Original II in its best quality. Having said that, if you're going to go through that kind of trouble connecting a CD player to speakers, you're probably going the stereo bookshelf or computer speaker route and not a single speaker. As good as it is, RCA may be a bit overkill for a single speaker.
Keep in mind that the Original III Radio/Speaker is mono—like most table-top speakers. However, the overall sound is clear and rich (with Bluetooth/RCA at least). I can turn it up with no discernible distortion.  Muzen states that the Original III performs best in a room of about 350 sq. ft.—a good-sized bedroom. I believe it. The speaker's specs (listed above) are quite good for a speaker this size.
Note that the included headphone jack is stereo.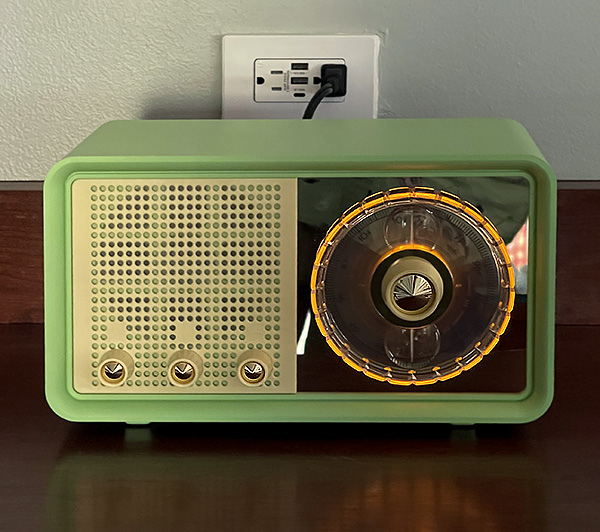 What I like
Wonderful mid-century design
Modern tech under skin
Great fit and finish
Nice sound in Bluetooth and wired connection
Decent sound with FM
What I'd change
Expensive
The numbers on the radio dial are a bit hard to read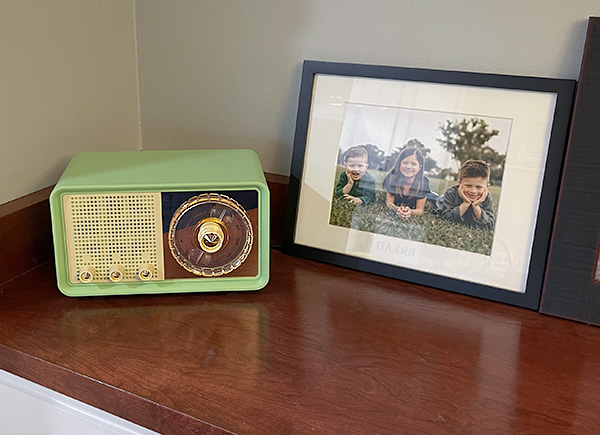 Final Thoughts
There's a lot to like about the Muzen Original III AM/FM Radio & Bluetooth Speaker. The only serious quibbles I have are the limitations of radio tech in the US. But Muzen has done the best with what we offer, and that's admirable.
More importantly, The Muzen Original III is appropriately named—Original. Muzen has taken what makes older radios so cool and married it to modern tech, giving the Original III the best of both worlds. It is like having your cake and eating it, too. 
Note: If you like the design of the Original III but not the price, Muzen makes smaller, more affordable retro radios. I have not heard one, but they look cute!
Price: $399.00
Where to buy: muzenaudio.com and you can find their smaller speakers on Amazon
Source: The sample of this product was provided by Muzen.