We use affiliate links. If you buy something through the links on this page, we may earn a commission at no cost to you. Learn more.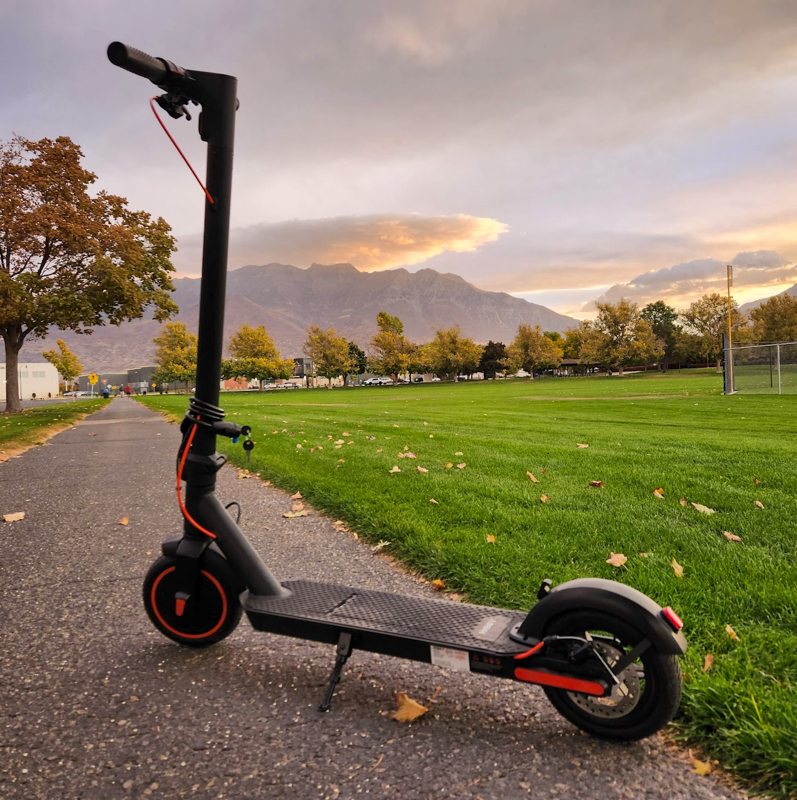 REVIEW – I've reviewed or purchased a half dozen electric scooters over the last few years, and I've definitely refined what I'm looking for in a good commuter scooter. First, it needs to be portable/foldable for public transport or stowed in a trunk for last-mile quick trips after a journey. Second, it needs to not get flat tires. As much as I love the smoother ride on air-filled tires, I've been stranded miles from home twice now with flat tires, and had to walk home both times. Finally, it's gotta be at least a little zippy. The <15 mph scooters all feel dreadfully slow to me now. The Hiboy S2R seems to meet my latest list of requirements, so I was excited to take it through a few weeks of random trips around town to see how it held up.
What is it?
The Hiboy S2R Electric Scooter is a fairly straightforward electric scooter, though it has some hidden tricks up its metaphorical sleeve that differentiate it from the pack. Pointlessly gendered brand name aside, it's very similar in size and functionality to the various rental scooters plaguing sidewalks across the globe these days, so if you've ridden those then you'll be at home on the Hiboy S2R electric scooter. The spec sheet quotes up to 19 MPH, rider weight up to 22o pounds (I just squeeze under this limit), and a removable battery that can be charged directly (so you can carry it to an office or into another location to charge it while leaving the scooter body in a trunk or chained up outside).
What's in the box?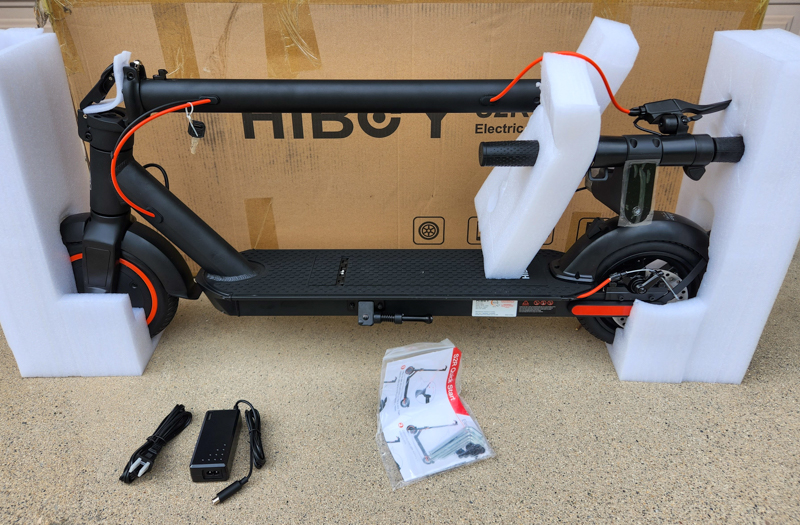 Hiboy S2R electric scooter
AC charger
Hex wrench and screws
Manual
Hardware specs
Max Load: 220 lbs
Max Speed: 19 mph
Max Range: 17 miles
Max Slope: 15%
Operating Temperature: 14-104°
Motor rated power: 350W
Battery: 36 V, 7.5 Ah
Charge time: 4-6 hours
IP rating: IPX4
Dimensions: 45.7 x 16.9 x 45.3″ unfolded, 45.7 x 16.9 x 20.5″ folded
Weight: 30.8 lbs
Design and features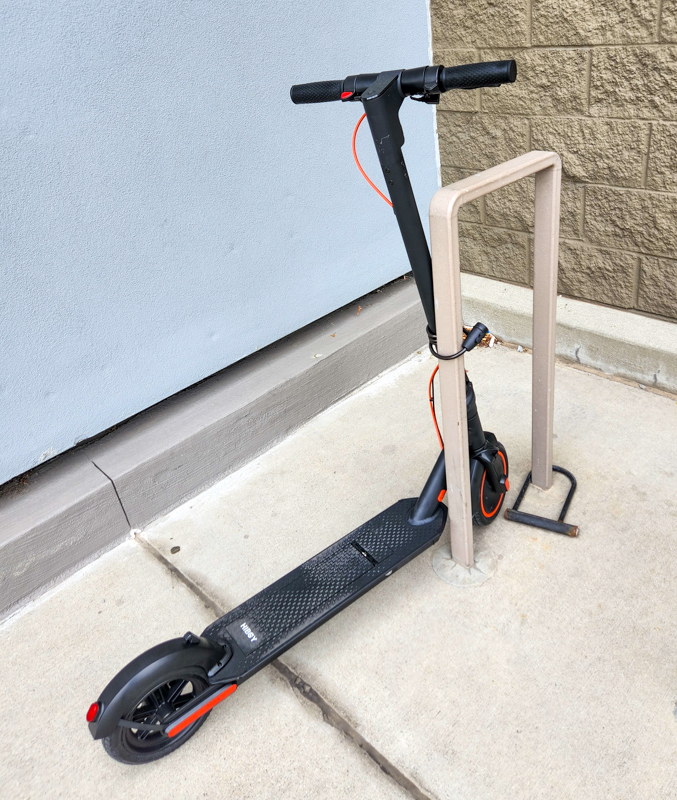 As previously mentioned, the Hiboy S2R electric scooter is very similar to many of the prolific rental scooters you may have encountered in your town. It's basically the classic kick-scooter design, with a battery and motor added.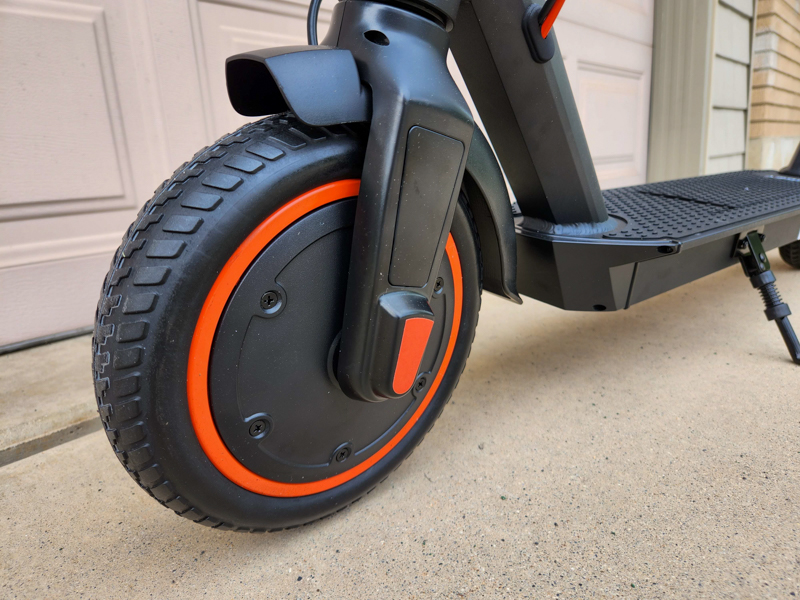 In this case, the 350 Watt motor is in the front wheel, and is a bit more powerful than most of the other scooters I've tested/bought. Notice the solid rubber tires in the pictures above and below as well, they offer good traction and the fenders keep mud and water off the rider.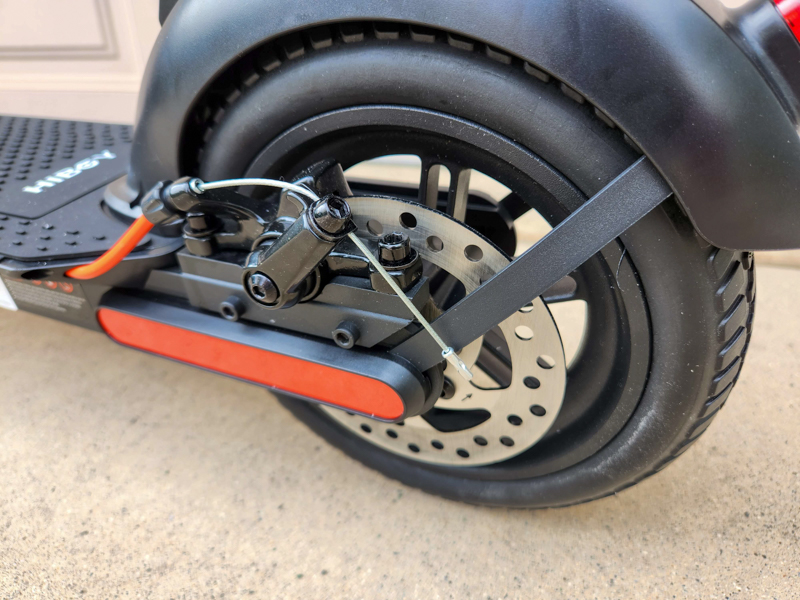 The back wheel has a single disc brake. This was capable of stopping very fast when pulled sharply. Reflectors are strategically positioned all over the scooter as well.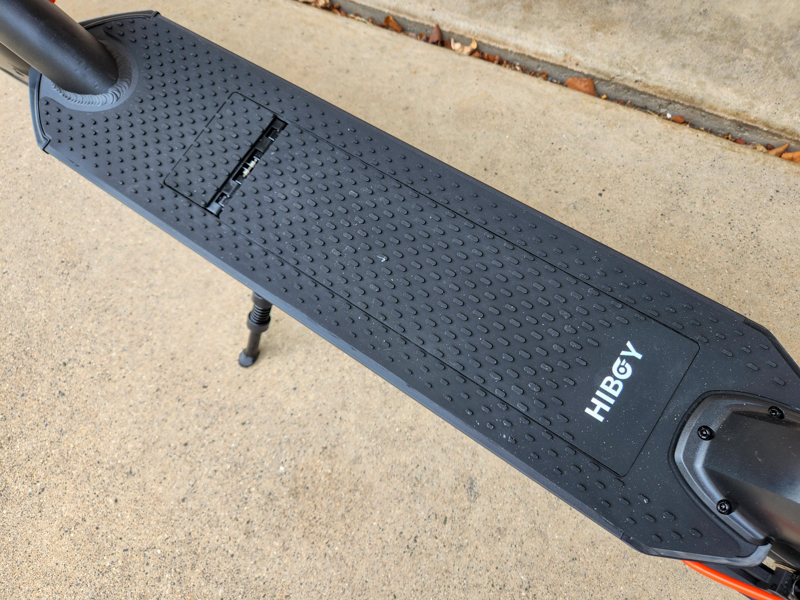 The deck of the Hiboy S2R Electric Scooter is on the shorter and narrower side of the scooters I've tested. Just one of my large size 13's nearly takes up the entire deck, I have to ride with the back foot at a 90-degree angle or with just the ball of my foot on the deck and the rest hanging off. This isn't a difficult thing to do, but on longer rides, it can lead to more soreness.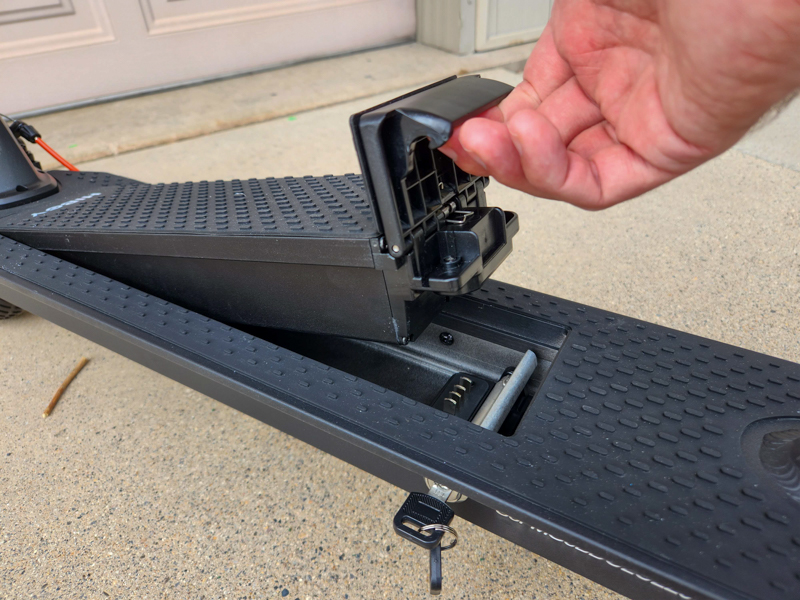 The battery is a simple removal process – simply turn one of the supplied keys, and the handle pops up so you can lift and remove the battery. There's a charging port directly on the battery so you can charge it indoors (great for commuting or charging in extreme temperatures – lithium-ion batteries don't love charging in extreme temps).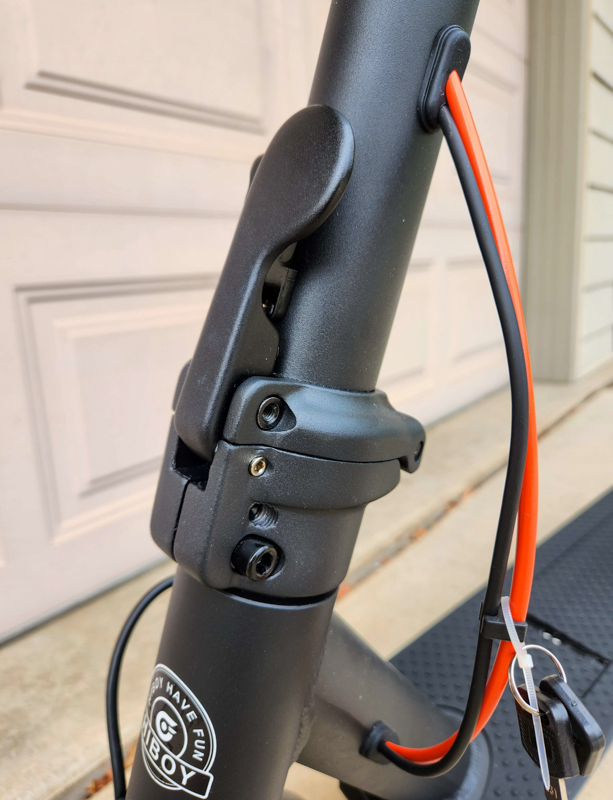 Moving up from the deck of the scooter, we find the folding mechanism. This was one of the smoother folding mechanisms I've used so far, and it features a locking function and appears to be quite sturdy. I can detect no wobble or play at all in this hinge, or in the Hiboy S2R electric scooter at all.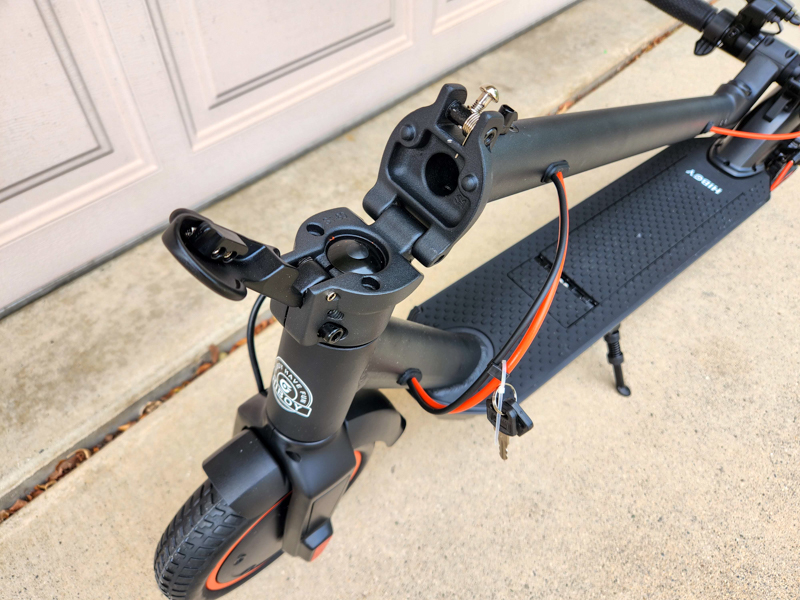 I like that Hiboy doesn't run their cables through the inside of this folding mechanism like some other scooters do – this lessens the odds of accidentally pinching said cables when unfolding it and locking it back in place.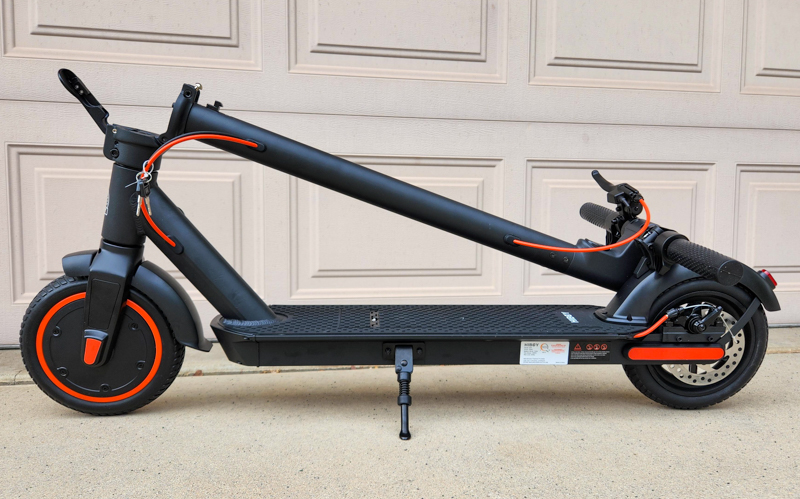 The handlebar clips into a hook on the back of the scooter for one-handed carry when folded, and it was easy to move around at just over 30 pounds.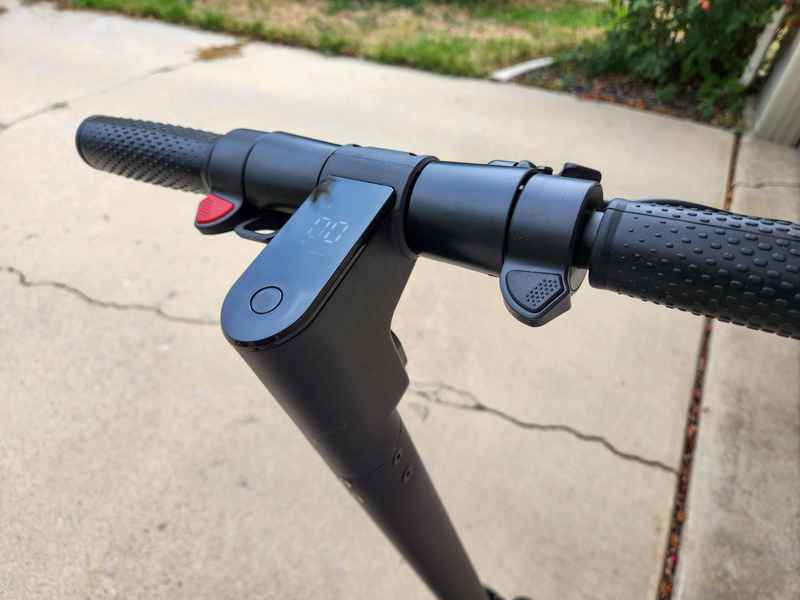 The handlebars and display are solid and high quality. In a first for me, there are two twist throttles: the right one is an actual throttle control, while the left one is an electronic regenerative brake. There's also the mechanical lever around front on the right side for the rear disc brake. I thought this would be awkward to use, but I ended up loving it more than the other scooters I've tested so far. I only used the disc brake for emergencies (of which I had none, but I did slam them on a few times to make sure they worked, and they did quite well at stopping me very fast). By sticking to only throttle and regenerative braking, I got some good range out of the scooter.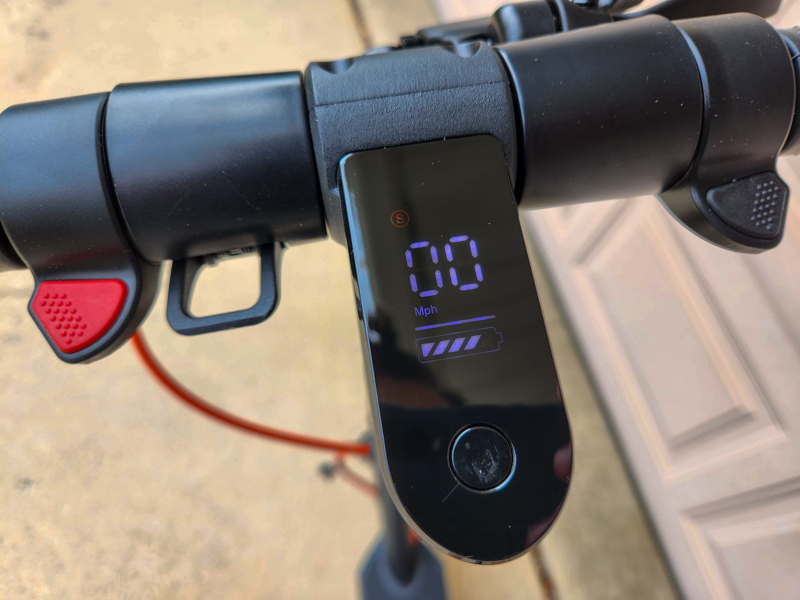 The display was easily readable in all conditions, though I did have to squint a bit in direct full sun if I had sunglasses on. The "S" logo at top indicates speed mode (green/yellow/red for different modes), a speedometer shows current speed, and a 5-bar battery meter shows the battery charge remaining. Changing functions are all accomplished with the single power button (single press to change modes, double press to turn on the lights, long press to turn off/on).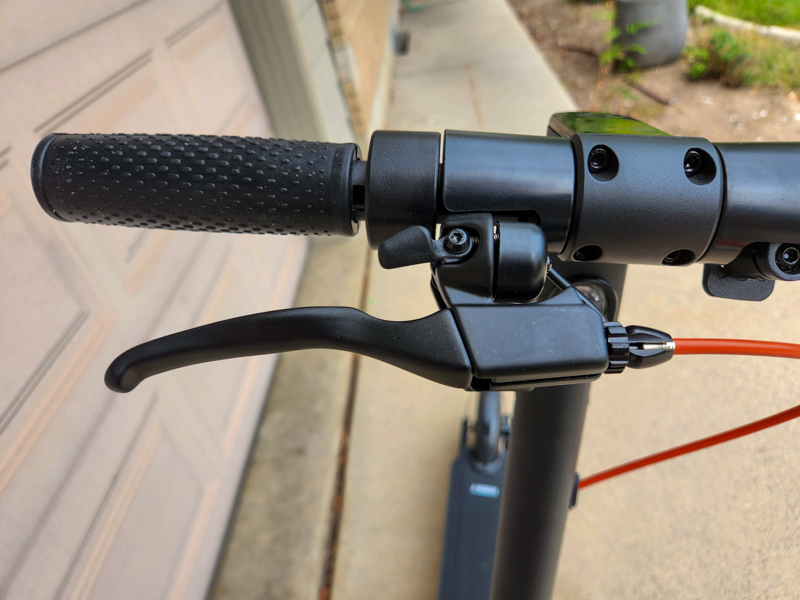 The mechanical disc brake lever was well adjusted out of the box, and the little clicker-bell is nice for warning pedestrians of your presence.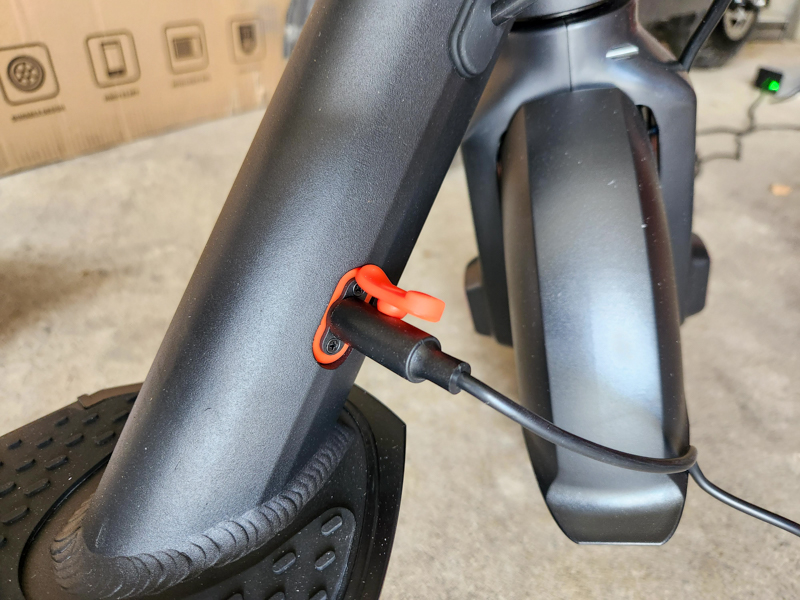 A weather-sealed DC charging port on the frame is shown above. The charger itself has a red/green light to indicate charging status, and fully charges the scooter from dead in 4-6 hours.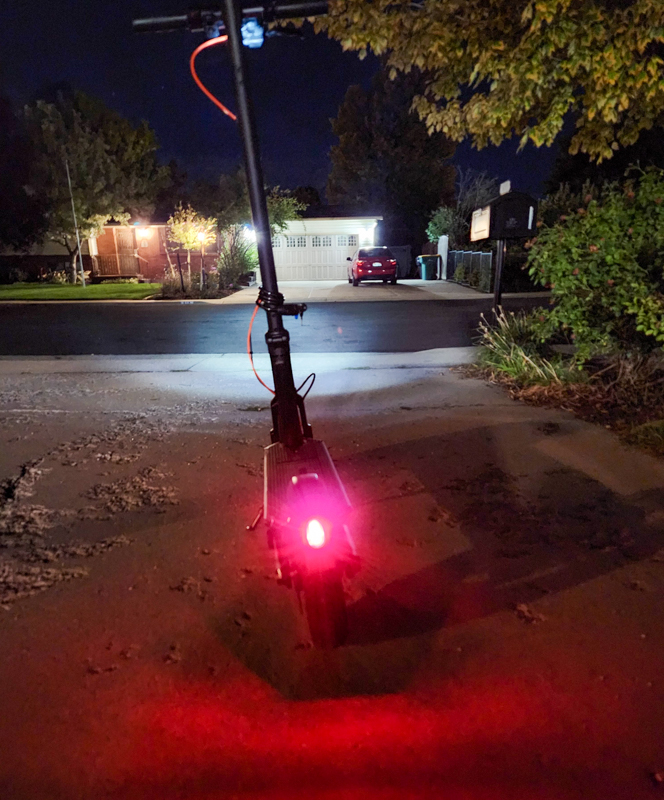 The lights were bright both front and back.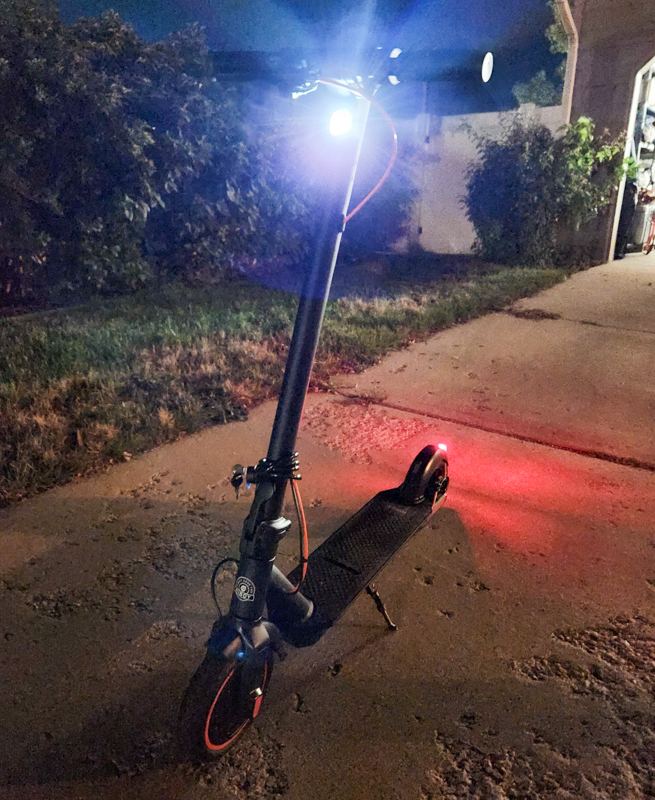 I really like the placement of the front headlight. I've had a couple of scooters now that place their headlight down near the front tire which is both worse for visibility of the road, as well as visibility to other cars.
Setup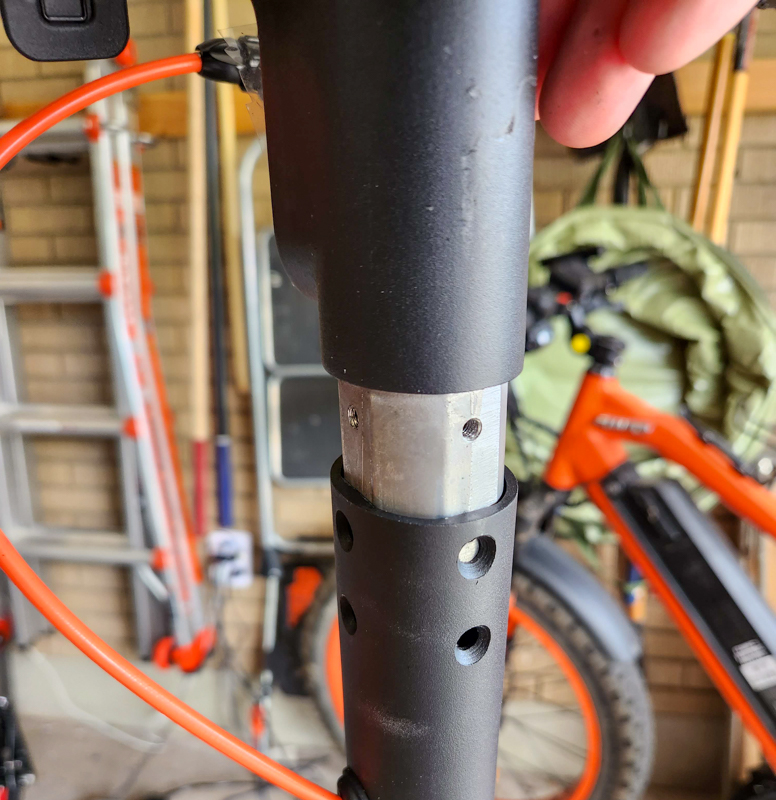 The setup of the Hiboy S2R electric scooter was as simple as slotting the handlebars onto the frame…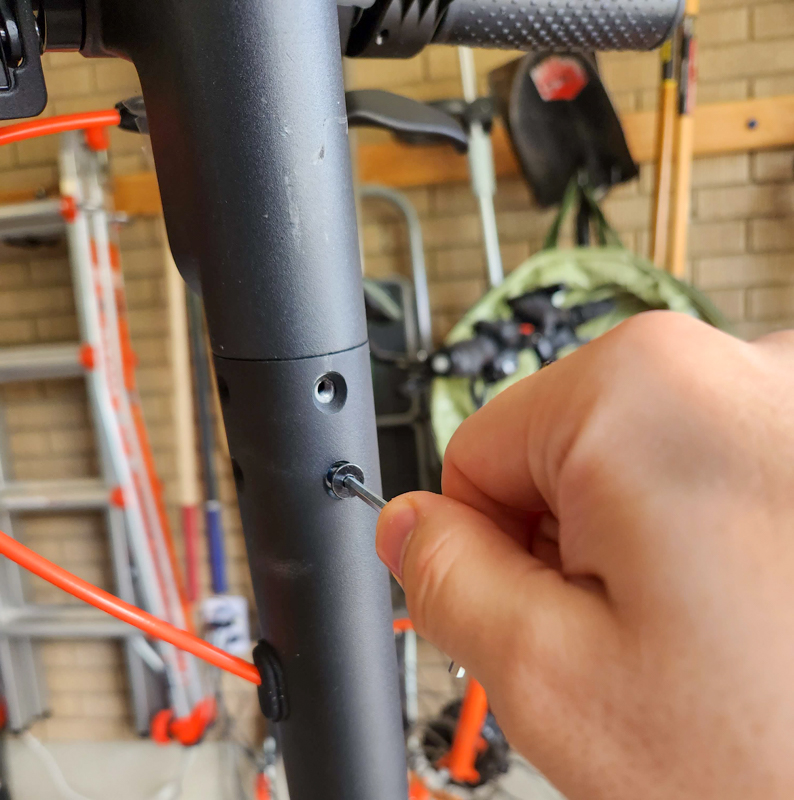 …and screwing them in with the provided screws.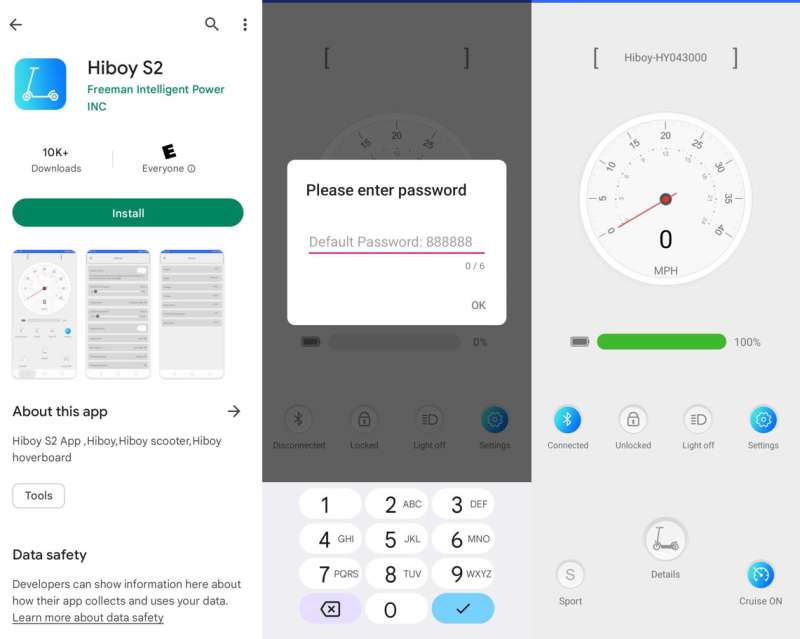 I then downloaded and installed the Hiboy S2 app from the Google app store (tested on Samsung Galaxy Fold 4). It connected to the Hiboy S2R Electric Scooter without any issues, and allows you to control lights, speed mode, see exact battery percentages, and set your desired cruise control speed (default is max speed). The app was easy to use, and I like that it didn't require me to create a password or hand over a bunch of personal info.
Performance
The Hiboy S2R electric scooter was a great all-around commuter scooter. The short narrow foot deck was a bit cramped for my large feet, but for all but long rides it wasn't a big deal. It gets up to speed fairly quickly and tackles light to medium hills with ease. On really steep hills, you're probably going to need to assist it a bit with kicking or get off and walk, but this is true of nearly any scooter. The solid rubber tires had good traction, but you can definitely feel every bump and crack in the pavement as you ride. I quickly learned to ride with my knees bent a bit to help absorb shock, which made things a lot smoother but adds to rider fatigue on longer rides.
The cruise control is a great feature I didn't know I needed: you hold the throttle until you reach max speed (or a lesser speed if set in the app), then the scooter will beep at you and you can release the throttle and it will continue at that speed until you hit the brakes or the throttle again. If you're going up a slight include when you do this, it sometimes set to cruise control at 15/16 mph, but you can hold the throttle again once on level ground and the scooter will accelerate to the max speed of 19 mph and enter cruise control at this higher speed again.
I rode the Hiboy S2R electric scooter for about 10 miles on flat and light hilly areas and had the battery drop to about 33% before recharging. For subsequent rides, I usually plugged in after riding and was always topped off. The quoted "up to 17 miles" is likely with a very light rider and probably around a closed flat track in ideal conditions, so I always expect a real-world range of 50-75% of the quoted max range on any scooter, and the Hiboy S2R Electric Scooter seemed like it would meet or exceed that based on my longest rides.
What I like
No flat tires – ever
Novel separate throttle and regenerative brake levers
Simple but informative display
Cruise control
Good top speed
What I'd change
Some kind of shock absorption
Wider/longer deck
Final thoughts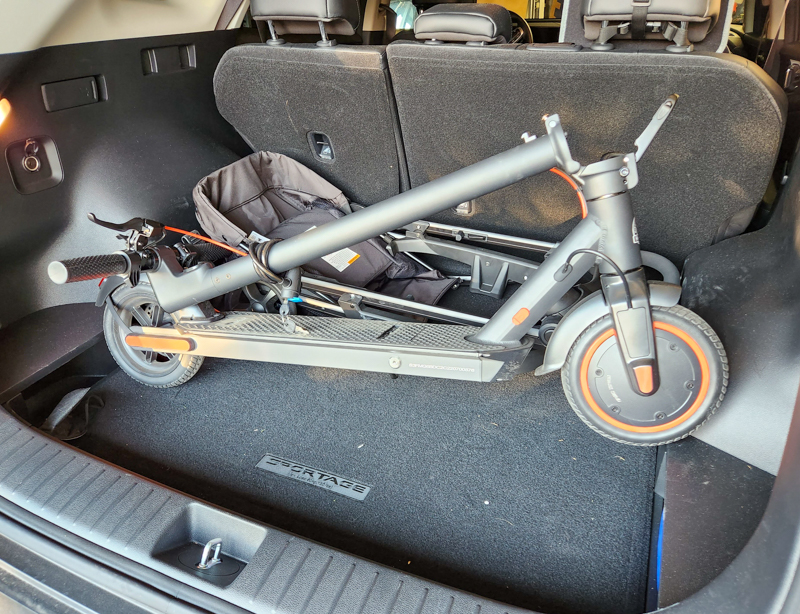 If you're looking for a decent commuter scooter that doesn't feel as slow as a brisk walk and folds up small enough to fit in most trunks, the Hiboy S2R electric scooter might be the one you're looking for. If you would find the removable battery to be nice to have, then that's an extra bonus!
Price: $569.99
Where to buy: Hiboy and Amazon
Source: The sample of this product was provided by Hiboy