We use affiliate links. If you buy something through the links on this page, we may earn a commission at no cost to you. Learn more.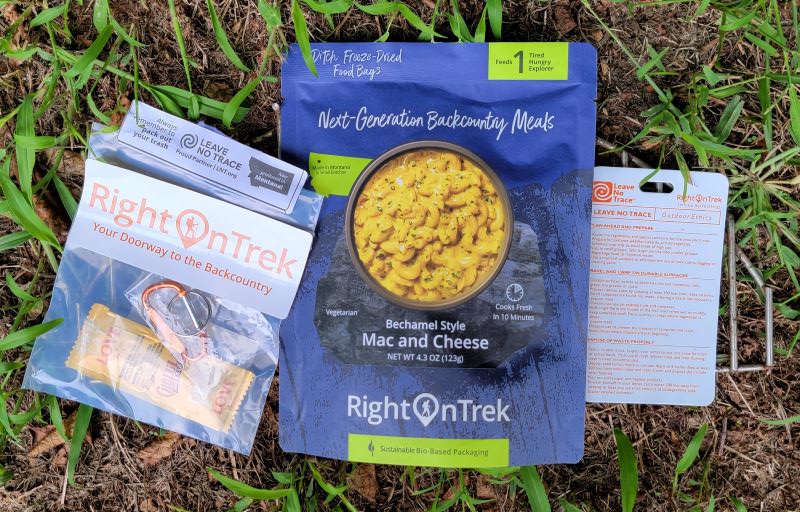 REVIEW – Very recently my partner has shared with me the wonderful world of hiking. I have exactly zero shame in admitting that when choosing trails, he picks the ones that have the most opportunities where we can stop and  "take in the scenery" (AKA Cat can remember how to breathe and not expire). What better time to have lunch? Now, exactly what to have for lunch takes some thought. Depending on the length of these hikes, the weather, and the time of day we go, all of these things can influence what kind of sustenance is packed. Not only that, weight and simplicity are factors as well. While I would love a home-cooked meal at the peak of the mountain, I don't want to drag an entire kitchen-worth of equipment and ingredients up the trail. I'm always game to try new recipes and this product by RightOnTrek caught my eye. The sample I got to try was the Next Generation Backcountry Meals Bechamel Style Mac and Cheese, but will it fuel me to climb down or fling myself off the mountain? Let's see!
What is it?
RightOnTrek Next-Generation Backcountry Meals are freeze-dried camping/backpacking meals. The Bechamel Style Mac and Cheese flavor that was sent to me is comprised of dried pasta, cheese-flavored powder, dried spices packet, and a single serving of a popular brand of hot sauce. It is a certified vegetarian meal, but would certainly not be a disagreeable partner to some protein. It is easily prepared with 8 oz. of boiling water.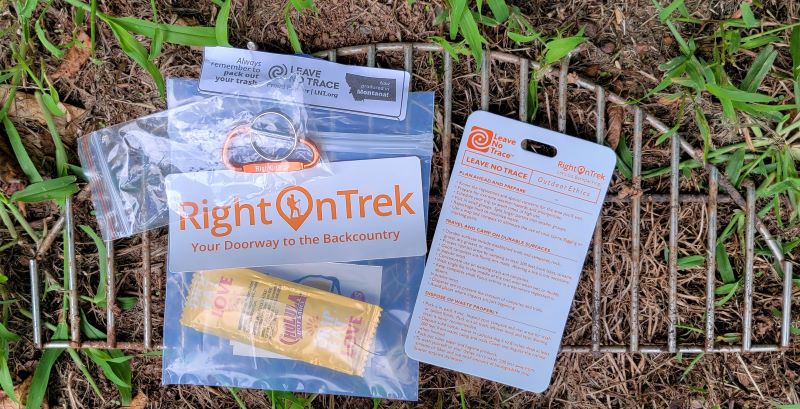 What's in the box?
Freeze-dried Next-Generation Backcountry Meals Bechamel Style Mac and Cheese
RightOnTrek brand sticker
Leave No Trace information card
small carabiner
Nutrition specs
Here is the nutrition facts and ingredients list: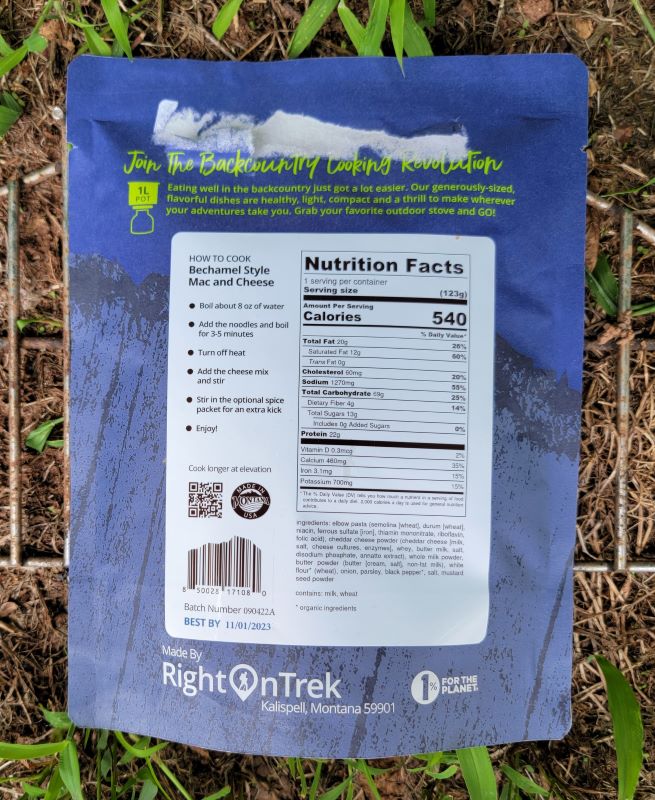 Heavy on carbohydrates and protein for only 123 grams, this entree could easily sustain a day-hike without needing to load up on bars or overly-salty snacks.
Preparation
This wouldn't be much of a review without the taste test. Let's get cooking in the great (backyard) outdoors!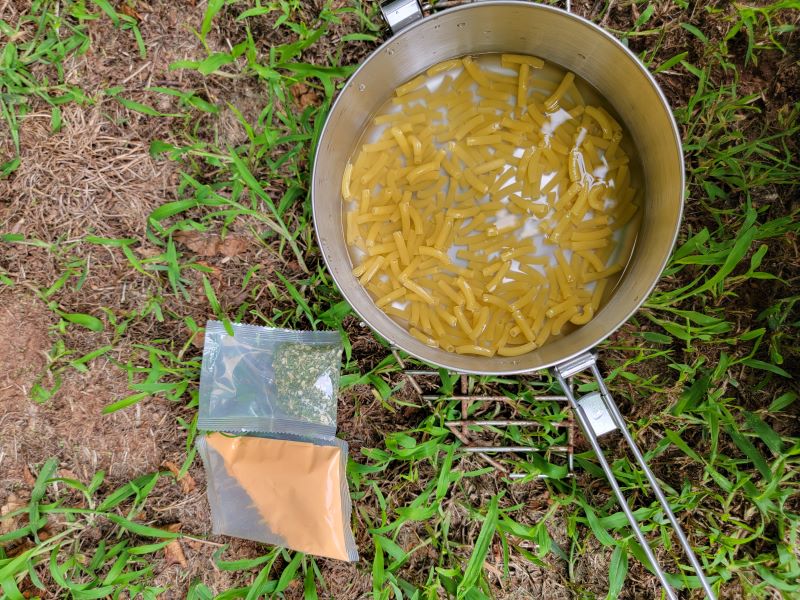 In order to test the RightOnTrek Next-Generation Backcountry Meals under similar conditions to its intended use, I set up my folding backpacking stove in the backyard. I used a 1.6-liter stainless steel pot and a little less than the full 8 oz. of water as directed; I like my pasta a little more on the al-dente side. I stirred the pasta occasionally, breaking up any big clumps of noodles. By themselves, their flavor was on par with any dried pasta from a box. Nothing to write home about on its own, but I appreciate the consistent dedication to quality that results from RightOnTrek getting small things like this right.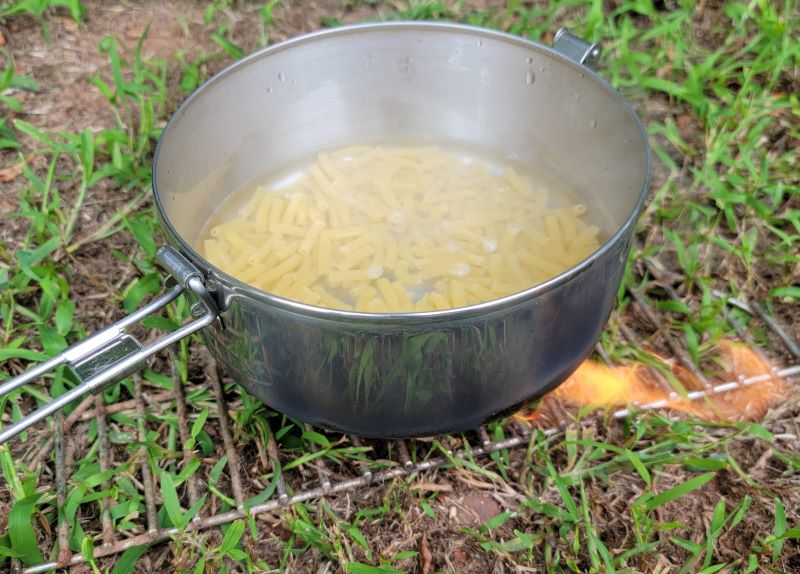 Don't be like me and forget to cover your pot to help the water boil faster. Once it does begin to bubble, add the pasta and boil to your desired doneness. My great-grandmother always recommended 1 or 2 minutes less than what the directions say on the package. Once the noodles are tender, don't you dare drain that glorious pasta water; that will be the backbone of the sauce. This could also be an argument for adding a bit more water if you live your life on the saucier side.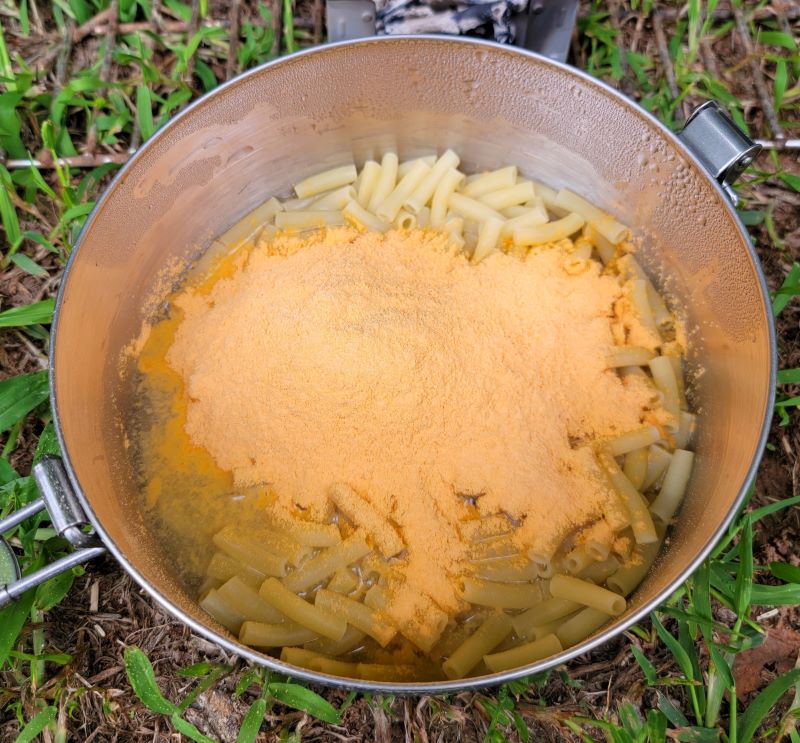 Now we do the fun part. Add that glorious-smelling cheese powder and take a moment to appreciate the aroma. This is not your childhood boxed mac and cheese. A bechamel sauce, typically, is made of butter and flour cooked down into a roux and mixed with milk and whatever seasoning you want. RightOnTrek has managed to bring a very robust cheese flavor to the table with this mixture.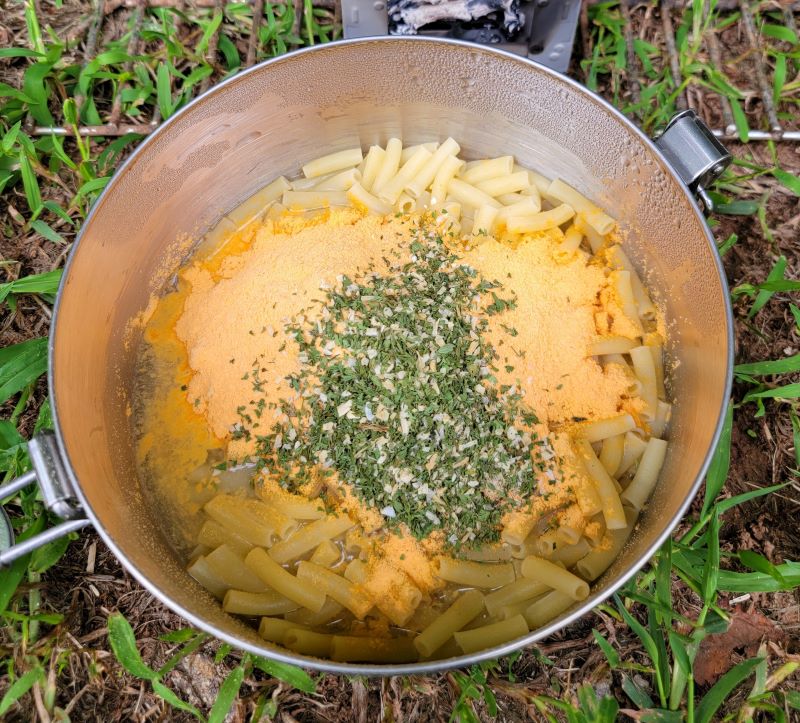 What would life be without a little flavor? The seasoning packet included with this RightOnTrek Next-Generation Backcountry Meal, as pictured above, is comprised of onion powder, dried parsley, black pepper, salt, and mustard seed powder. The directions state to add the spice packet for an "extra kick", but I am of the opinion that it is necessary in order to experience the full range of flavors as intended. Now, we mix.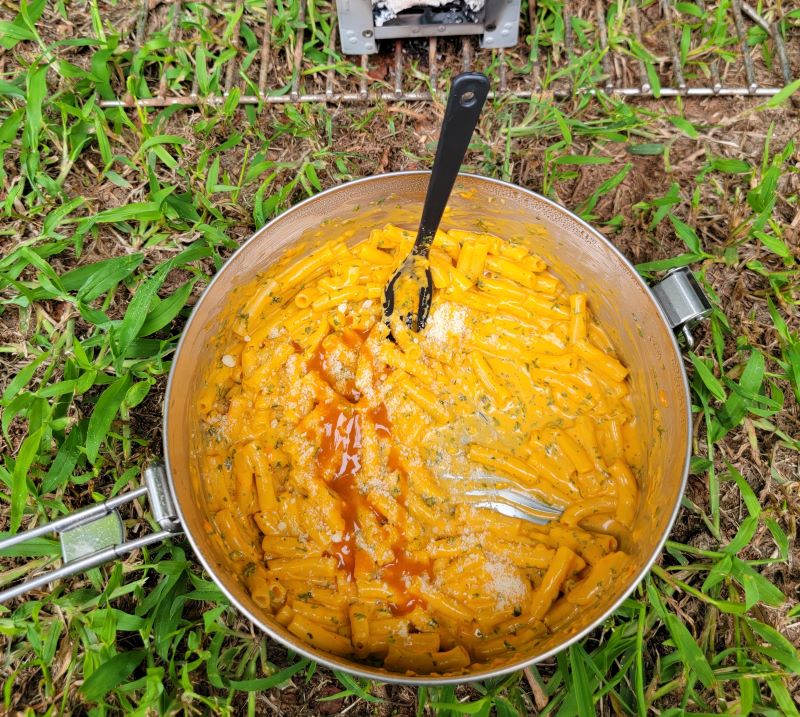 As I mentioned before, RightOnTrek gets a lot right in this package. They offer a packet of hot sauce and parmesan cheese, both of which were added generously above. Season to your heart's content and enjoy; you've got yourself one of the most objectively delicious freeze-fried/backpacking meals I have ever had the pleasure of having. I'm usually one to just grab whatever good MRE menu I can find at my local surplus shop, but this is high-end backpacking food and deservedly so.
What I like
Flavor. I would argue the most important metric because a freeze-dried meal can be as nutritious and stable and light as you want, but if it's not tasty, I'm not going to bring it with me.
Flavorful extras. Hot sauce and parm on my mac and cheese. What big name-brand boxed mac and cheese can boast inclusions like that?
Weight. I am by no means an ultra-light observer, but I will freely admit MRE's weigh quite a bit more than this package. Granted, they contain a more diverse snack collection in addition to the entree, but weighing probably around 130 grams total and still being filling is nothing to sneeze at.
What I'd change
Pasta shape. Listen, it was difficult to come up with things I would change. That said, I would prefer a different pasta shape, perhaps something with more of a texture to hold onto more of that silky sauce.
Clean up. Again, see my note above. The sauce is so luxurious that if not cleaned immediately, it WILL set up and require some real elbow grease to remove.
The packaging. The packaging itself is perfectly fine for its purpose, but I would love to see some sort of resealable closure at the top. Thinking along the lines of the included Leave No Trace guidelines, it would make using the bag to collect any garbage or waste just a little easier.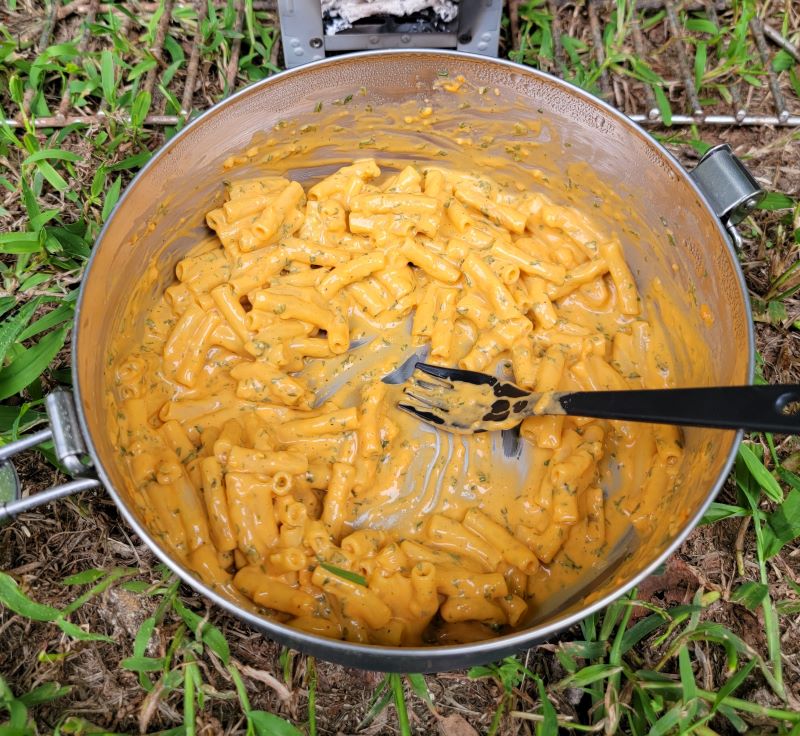 Final thoughts
Make no mistake, if mother nature invited me over for a picnic I would absolutely bring some RightOnTrek Next-Generation Backcountry Meals. RightOnTrek is well worth its weight in your pack. Because of fairly classic components and a couple of plus-up options, I was genuinely surprised by how delicious this freeze-dried meal was. Also included were an always-appreciated brand sticker, a small carabiner perfect for a backpack zipper for easier access, and a little plastic card illustrated with the Leave No Trace principles; this little plastic card would have earned my repeat business by itself. As guests in the great outdoors, I do believe it is everyone's responsibility to keep nature as nature intended. It's easy to roll up a few plastic garbage bags to keep with you on hikes just in case trash crosses your path.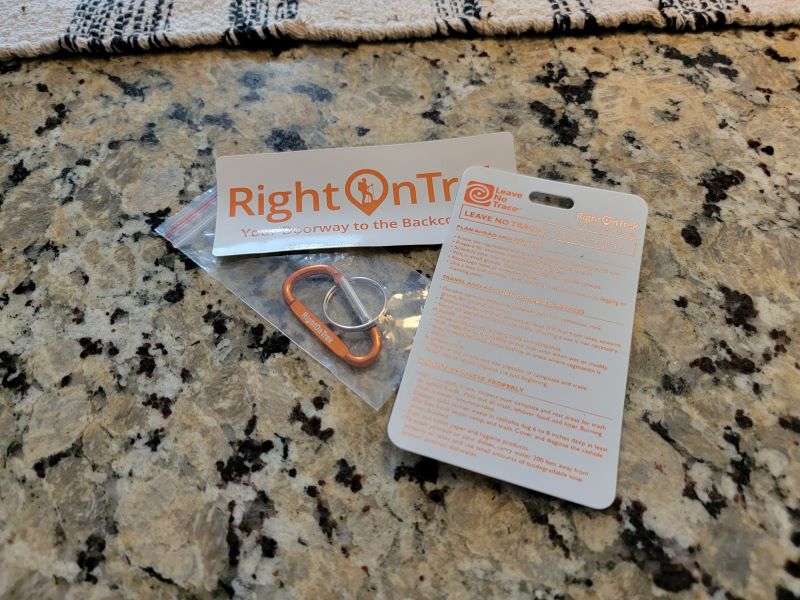 It's hard to appreciate the colors of the forest if you can't see straight from hunger. Do yourself a favor: treat yourself to a fancier-than-usual freeze-dried meal for your next hike. Extremely simple to prepare, it will leave you more time to enjoy that special lunch spot. The carbohydrates and protein will help keep your muscles going strong through that last leg back to the parking lot. The flavor is better than some baked mac and cheese that I've sampled. Stay frosty and eat well on the trail! Check out some of our other meal replacement bars and shake reviews.
Price: $6.49-$9.99, 1 person (at the time of review, this flavor was not available. Check the website often for new creations and reliable favorites)
Where to buy: RightOnTrek
Source: The sample of this product was provided by RightOnTrek.