We use affiliate links. If you buy something through the links on this page, we may earn a commission at no cost to you. Learn more.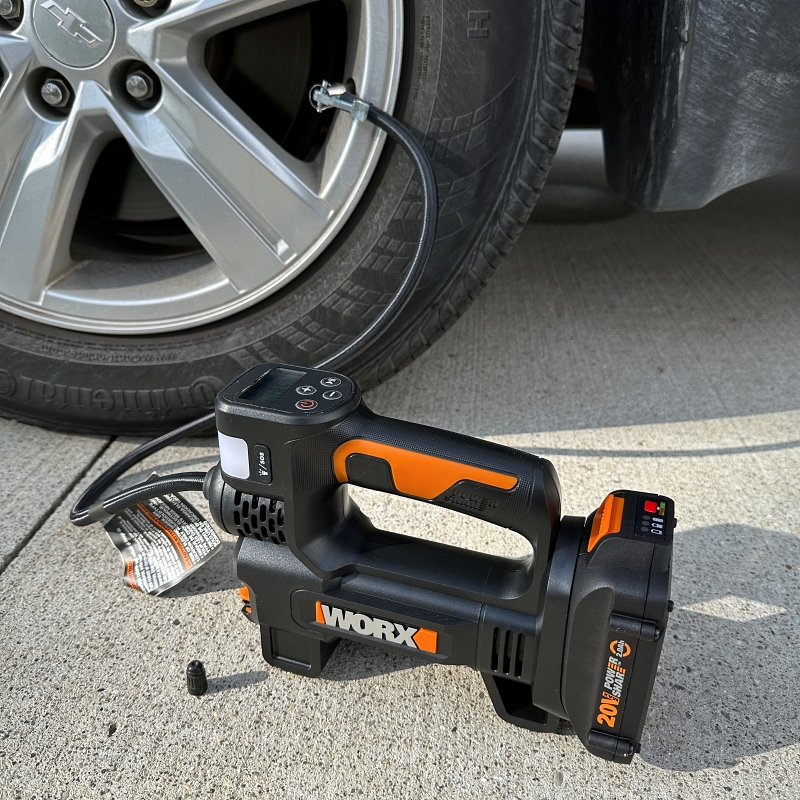 REVIEW – There's not a lot worse than having to pay for air to inflate the tires on your car or bike. Not to mention finding a place that has an air pump these days. I own a portable inflator, it is nice, but it needs to be plugged into your car's 12V outlet. That can be a real pain, especially on cold winter days, and the long cord you have to work around. When I got the opportunity to review a cordless portable air pump, I was all in. I am also familiar with the company that makes it, Worx. I reviewed one of their battery-powered lawnmowers in 2019, and it's still going strong. With that in mind, let us look at the Worx 20V Power Share Portable Air Pump Inflator.
What is it?
The Worx 20V Power Share Portable Air Pump Inflator is a high-pressure 20V portable air pump perfect for inflating tires, sports balls, and other small inflatables.
What's in the box?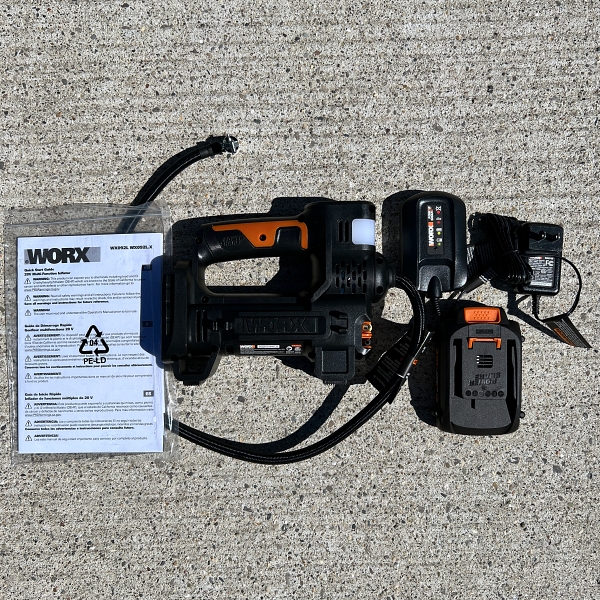 Worx 20V Power Share Portable Air Pump Inflator
Sport Ball Needle
Presta Valve Adaptor
Tapered Adaptor
High-Pressure Hose
2.0Ah Battery
0.4A Charger
Hardware specs
Voltage – 20V Max
Capacity – (1) – 2.0Ah Battery
Max Pressure – 150 PSI
Inflating Efficiency – 215/55R17 tire from 0 to 36 PSI in 4 mins 5 seconds
Inflate per Charge – 4.5 pc 215/55R17 tires per 2.0Ah
LED Light – 100-200 Lumens
Machine Weight – 1.78 lbs.
Design and features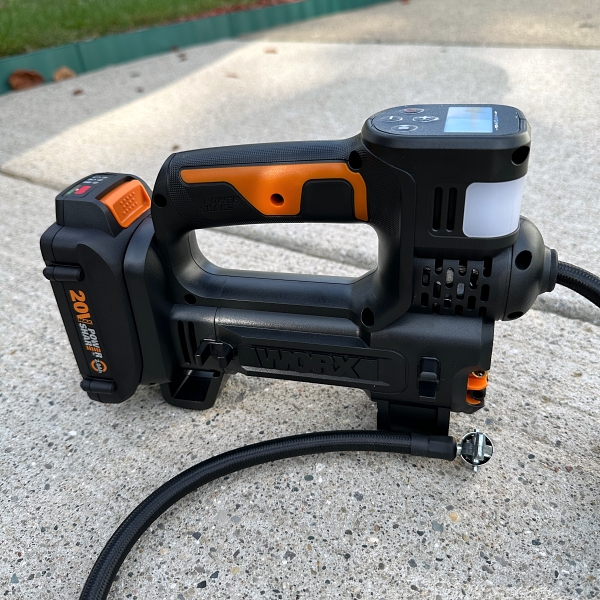 The Worx 20V Power Share Portable Air Pump Inflator, as the name suggests, is small and lightweight. The body is made of hard plastic, and the design has a built-in handle for easy carrying.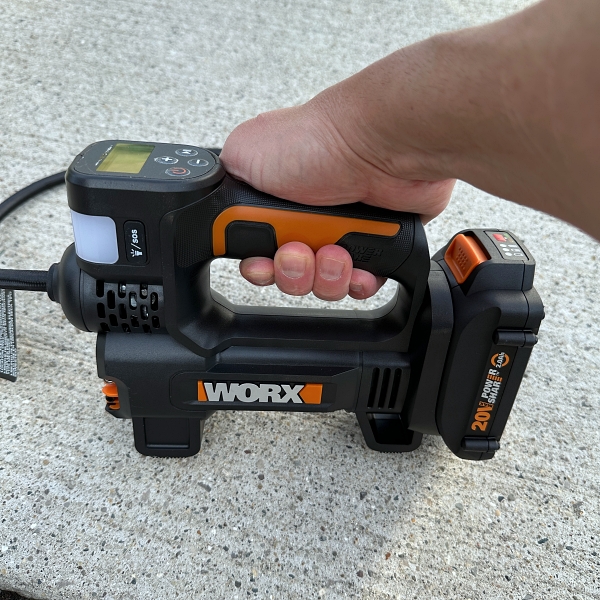 The backlit digital LED gauge display and control panel is located on top of the handle. There are buttons for power, increase and decrease psi, and start and stop.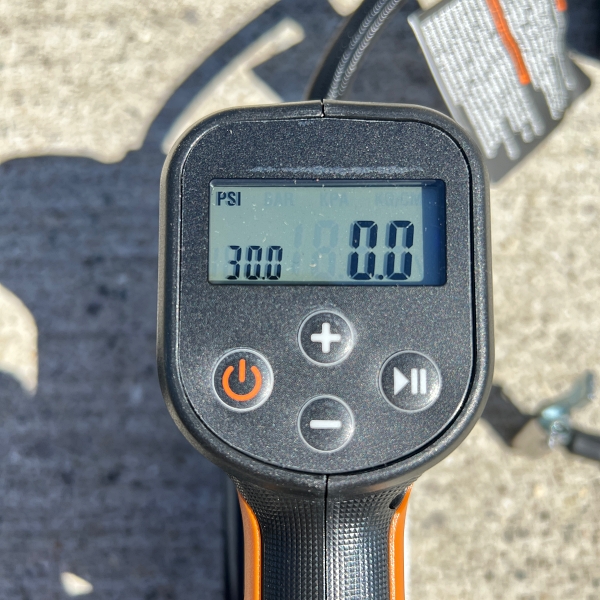 Just below the display, there is an LED light. The power button for the light is located on the left side. The light has two brightness settings and a red flashing emergency light.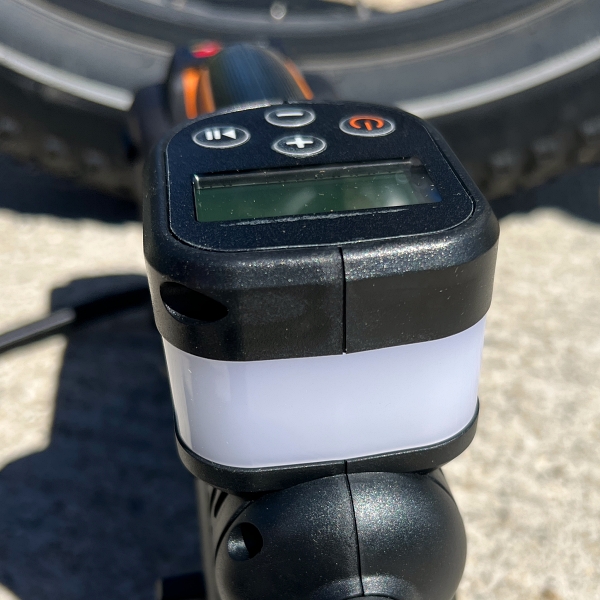 The 2.3-foot high-pressure hose extends from the front of the pump.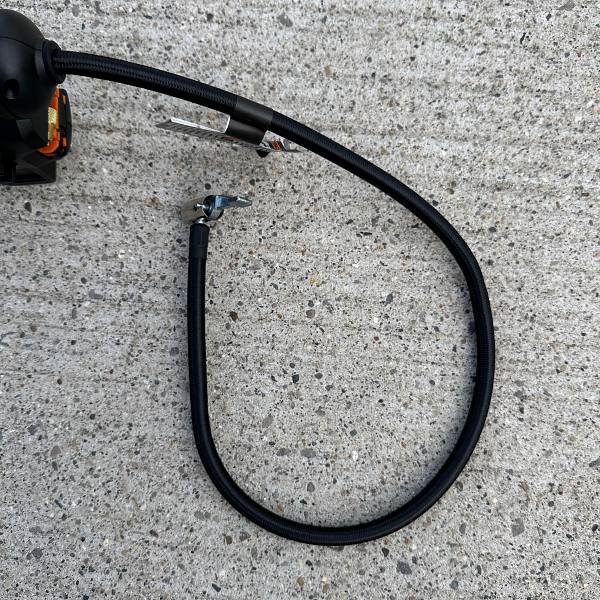 The Worx 20V Power Share Portable Air Pump Inflator has a clip below the hose that conveniently holds extra adaptors. They include a Presta valve adaptor, a sports ball needle, and a tapered adaptor for small inflatables.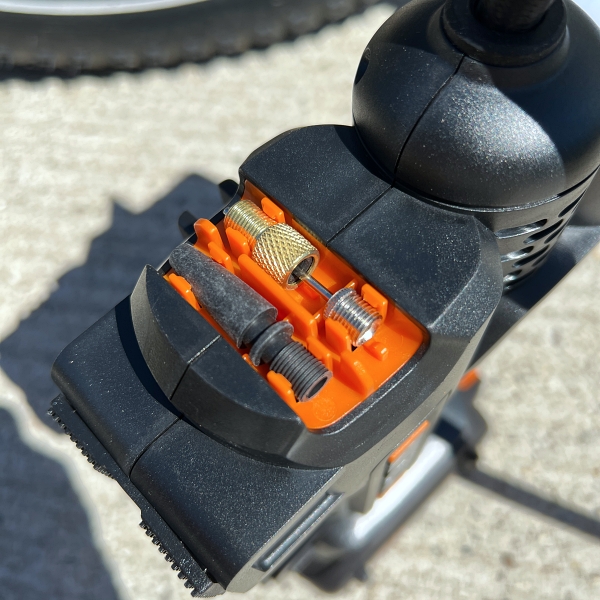 Two hard rubber textured feet on the bottom of the pump provide stability and protection from harsh surfaces like cement and gravel.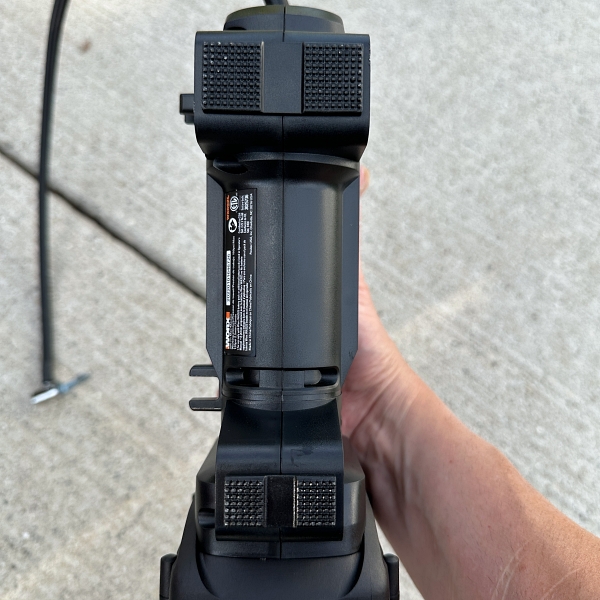 There are 2 clamps on the side of the Worx 20V Power Share Portable Air Pump Inflator to help keep the hose organized when not in use.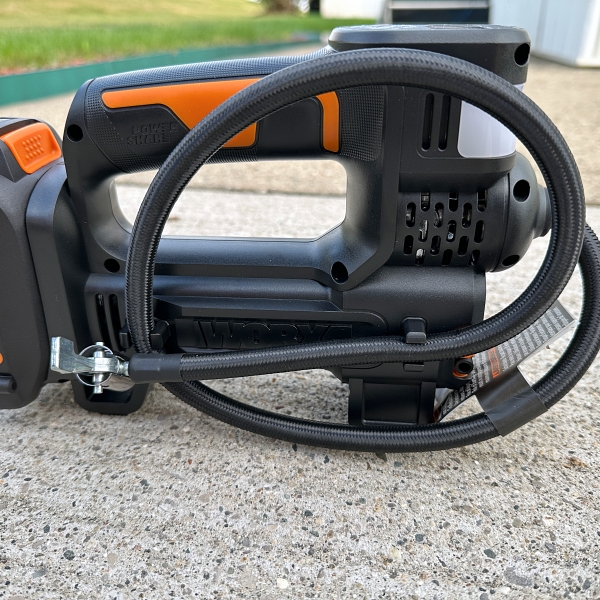 The pump is powered by a 20V battery that can be charged using the included charger. While charging, the green indicator will flash. Charging is complete when the indicator light is solid green.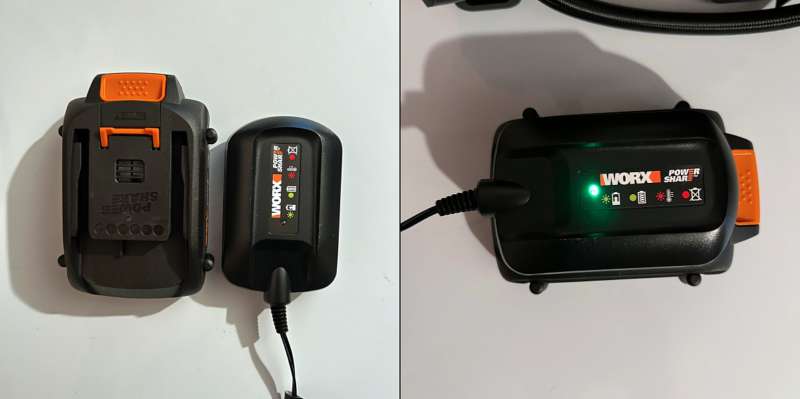 The battery also has a built-in power indicator. Holding the red button will show how much power the battery has left.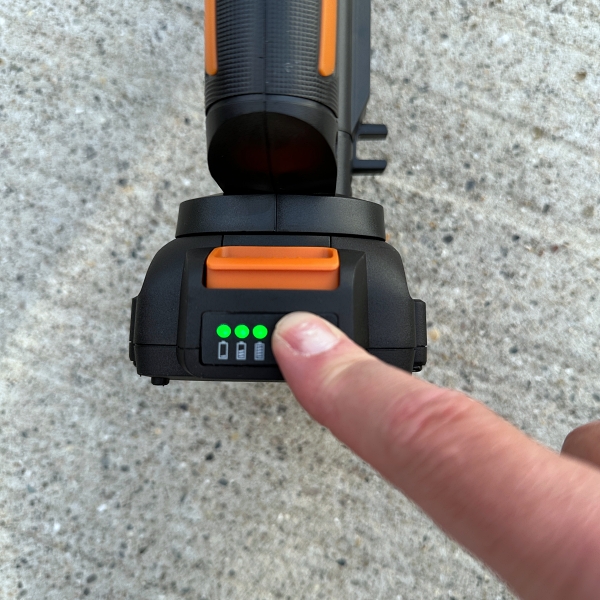 Aside from powering the Worx 20V Power Share Portable Air Pump Inflator, the battery is part of Worx Power Share. That means the battery is compatible with over 75 Worx 20V products. I reviewed their 20-inch lawnmower (which I love).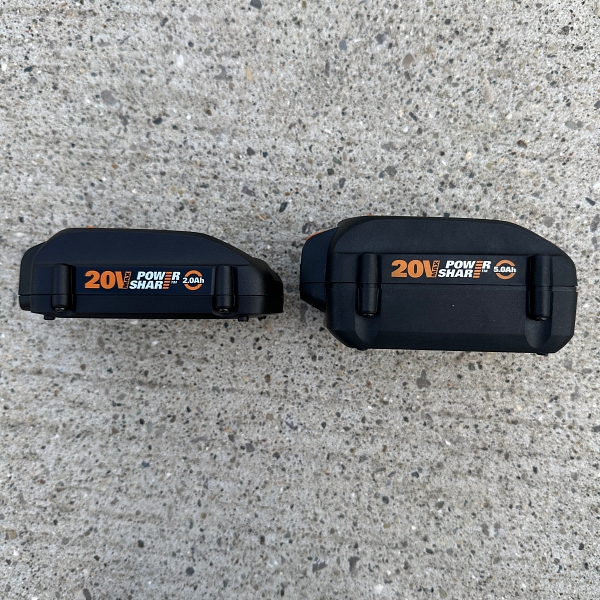 The mower uses two 20V batteries, and one of those batteries did indeed work to power the air pump. Definitely, a nice feature if you ever plan on owning one or more of their devices.
Performance
The Worx 20V Power Share Portable Air Pump Inflator is easy to use. Simply attach the air chuck to the tire valve, select the proper psi, and hit the start button. Once the tire has reached the preferred psi, the pump will shut off automatically.
I tested the pump on my e-bike's 41/2-inch fat tires. I set the psi to 30 (both tires were under 25 psi), and inflated both tires in under 30 seconds. The Worx Portable Air Pump is not just for bike tires. The 20V battery supplies enough power to inflate any tire up to 150 psi.
Overall, I really like the Worx Portable Air Pump. The inflation hose is the perfect length, and the compact design makes it portable and easy to transport and store. The built-in light gets plenty bright enough if you have to use it in low light or dark conditions. And the emergency red flasher is a nice touch.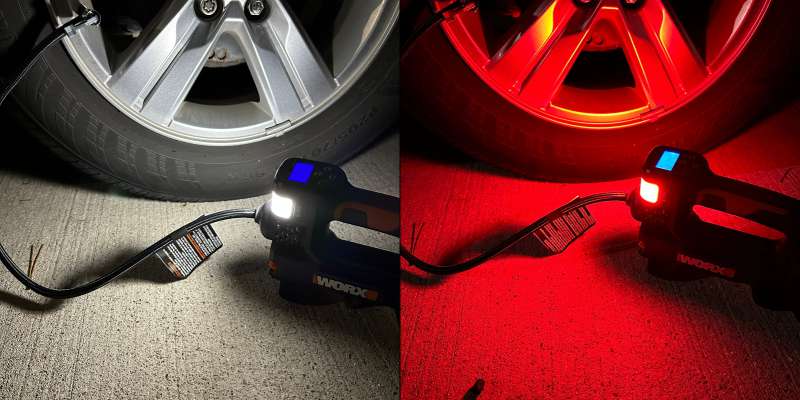 I also like that it comes with extra attachments that clip right onto the pump for storage. And I like that the battery is compatible with other Worx 20V tools.
What I like
Cordless
Portable
Easy to use
Power Share battery
Built-in light and emergency flasher
What I'd change
Final thoughts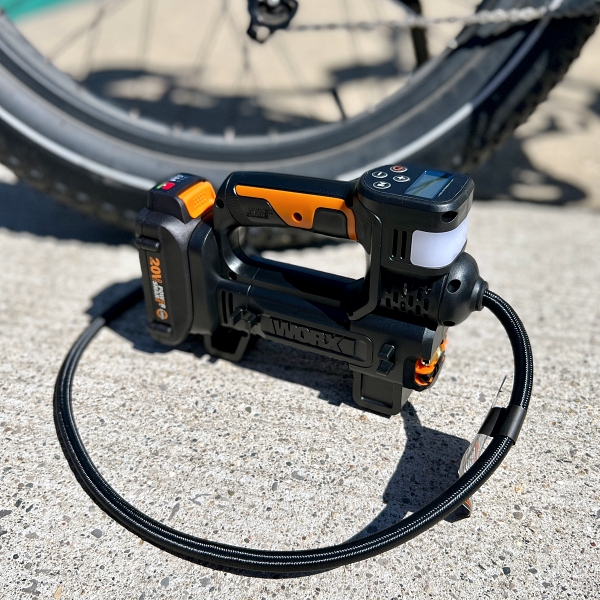 If you need a portable solution for inflating tires, sports balls, or other inflatables. It is hard to go wrong with the Worx 20V Portable Air Pump Inflator. Check out some of our other Worx tool reviews.
Price: $93.80
Where to buy: Amazon
Source: The sample for this review was provided by Worx.